Well hello team! Nothing like switching over to a new blog platform and then never hearing from me again 😉 A lot has been going on. You can definitely tell Spring is in the air and all clients want a PIECE of the action! I love it. I love my clients! (knock on wood) This week has been like chicken soup for the soul seeing all of them re-energized and our months and weeks of work coming to fruition… for example, this dining room here coming together…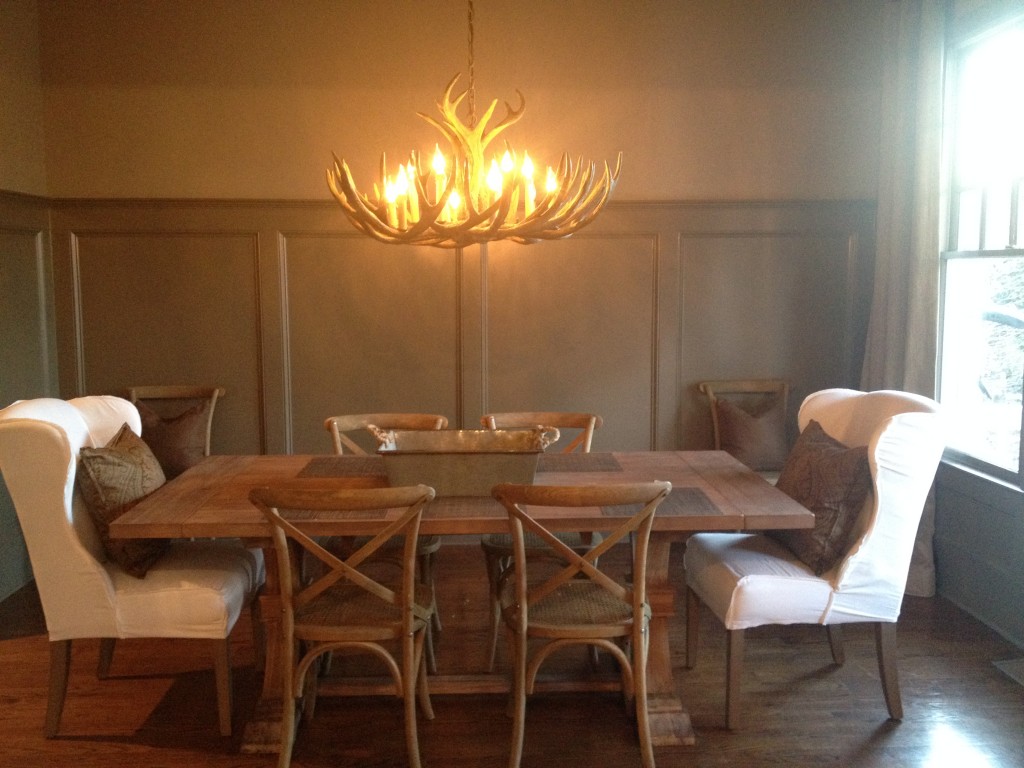 We are awaiting a large case good piece for the back wall and an OVERSIZED metal bar cart to the left for happy hour! I wish you could see the pretty herringbone wool window treatments better or the great metal tray from Restoration Hardware that will run the length of the table, with tons and tons of vanilla tapers but you will. This client is all about "Garden and Gun" and I'm very excited about what's to come.
Here's what we were working with initially…a really bad cream on the upper walls and eggplant throughout. ALL GONE.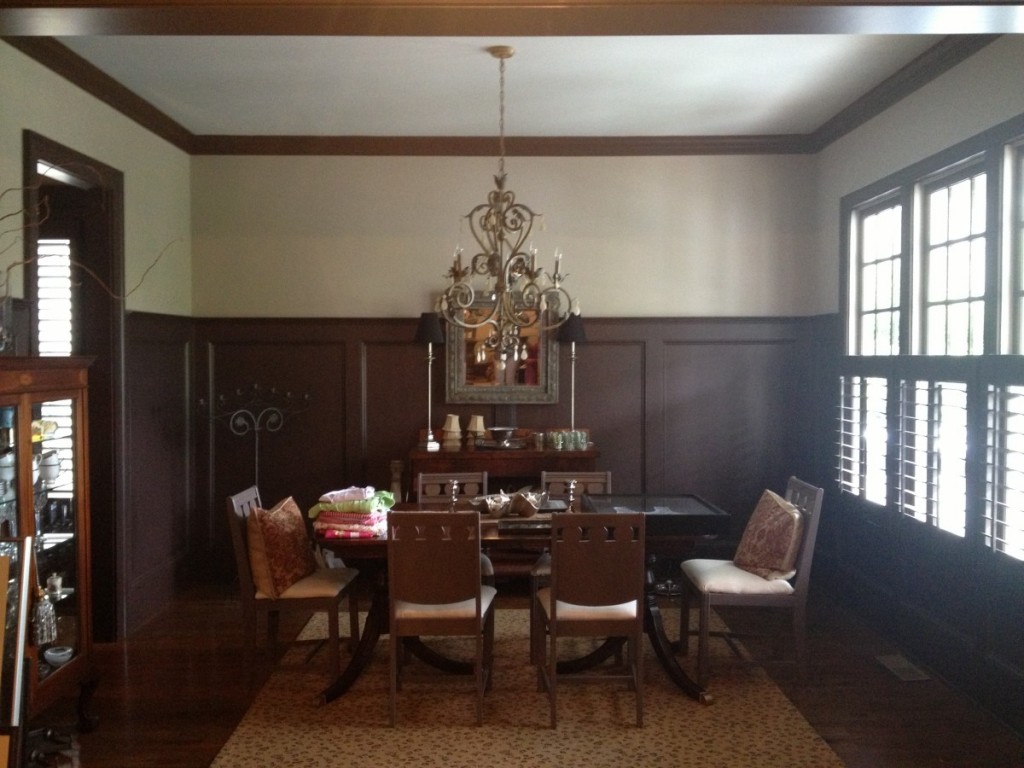 No better feeling than Spring right?  And getting everything in your house freshened up for the good times that will roll this Spring and Summer!
"let the good times roll
let them knock you around
let the good times roll
let them make you a clown"
So its work, work, work, day and night until school ends. Throw in selling your home and this girl's straight crazy. I don't think my kid's beds have ever been made so much?  Its kinda nice having the whole fam pitch in on keeping this beast clean, kinda like "who are you and what have you done with my family?".
SO last we talked, I was going to update you on attending the Design Blogger's Conference right? It was right here in Atlanta and my favorite girls were all in attendance.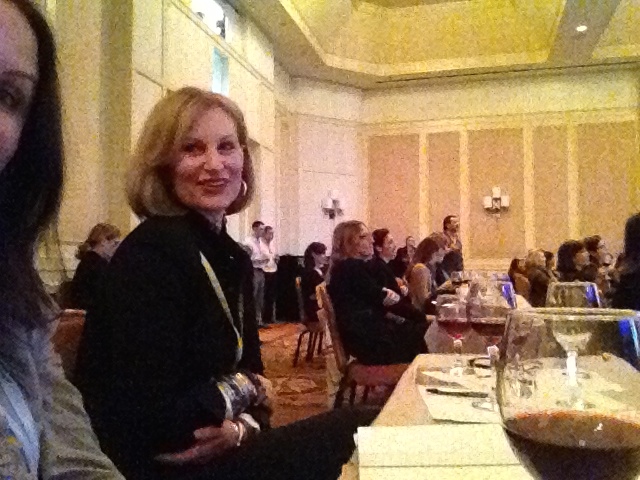 ( a nice surprise wine tasting at the end of our session. The Prosecco was to die for. I've faded from P, a little too sweet for me as of late, but this one was off the chart. I promise to track down the name of it for you!). 
It was kinda like going back to college, hanging with the girls, feeling SASSY, but the rooms were much nicer and we weren't all broke. Hah. There were a lot of sessions, and great insight and presentations from some of the best in the business (Candice Olsen, Timothy Corrigan, Tobi Fairley, Jeffrey Alan Marks and on and on). My big take-a-ways were bringing your blog and your business all under one brand NAME, so I tried to achieve that in my new blog header.  You'll notice my j. schoenberger design logo has taken on a bigger presence. But of course Vreeland Road is my blood, so I'll never lose that, regardless of what the experts say. xo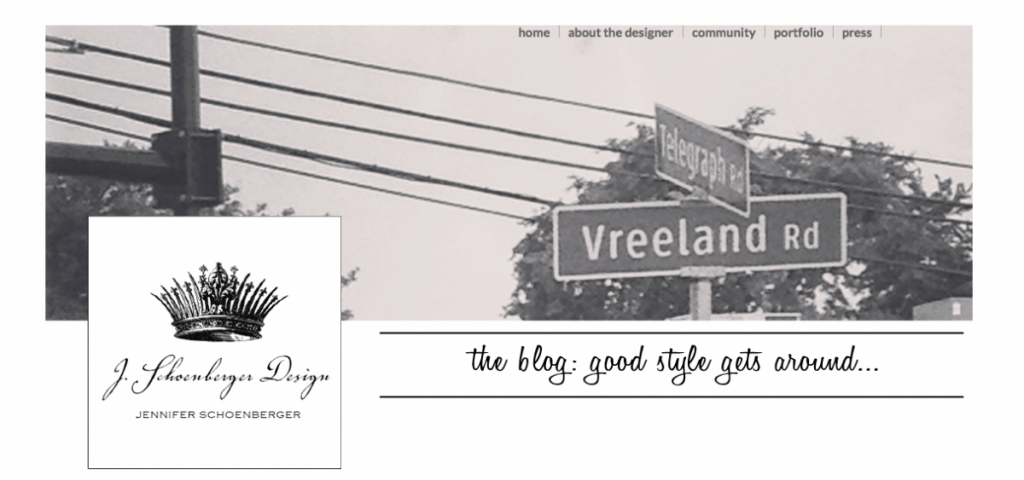 The second take-a-way that piqued my interest was a suggestion from Paloma Contreras of La Dolce Vita blog fame, and that was to have a few monthly feature stories and set an editorial calendar.  So I'm making that my goal and my feature story ideas were:
"A work in progress" In this field it takes months, sometimes years to achieve the final look of a project. And I thought it might be fun and interesting for my readers to see the progress along the way? Maybe some of the initial scouting photos, the befores, a few inspiration shots thrown in, and of course the intel, the method to the madness and the sources because life is about SHARING and CARING right? Work hard. Be nice. Good things happen.
My second monthly feature idea (don't get crazy Jen, two? Oh yes, maybe even three – holy moly) was "J. SHO SPOTTED". I sift through my iPhone pictures some days, while chilling in a waiting room, or getting the oil changed and think, this is so worthy of sharing right?? This would inspire me? This HAS inspired me and now I've translated that into my client's new dining room, etc. So once a month I'd love to share the latest and greatest images I've snapped on my journey of explorations. Nothing worse than constantly surfing through your phone for an image to show a client and at over 1,ooo images, it takes awhile, your eyes really start to hurt, and oh shit, I thought I deleted that pic for the hubs?! #whoops
Lastly, I was thinking about a "FAB FIND FRIDAY", just a quick and fun new product I found that I love.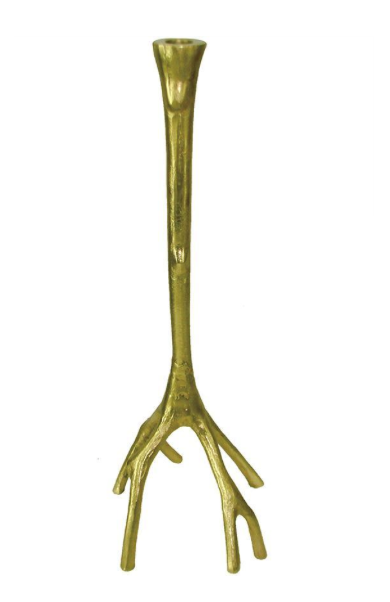 Like these twig gold candlesticks from a client meeting yesterday. Ordered three of them! They are super tall too. LOVE LOVE LOVE. Comes in silver too, from The Home Decorator's Collection.
And come Friday, maybe a great cocktail recipe thrown in too? Like all these ideas from a restaurant we dined at on vacation…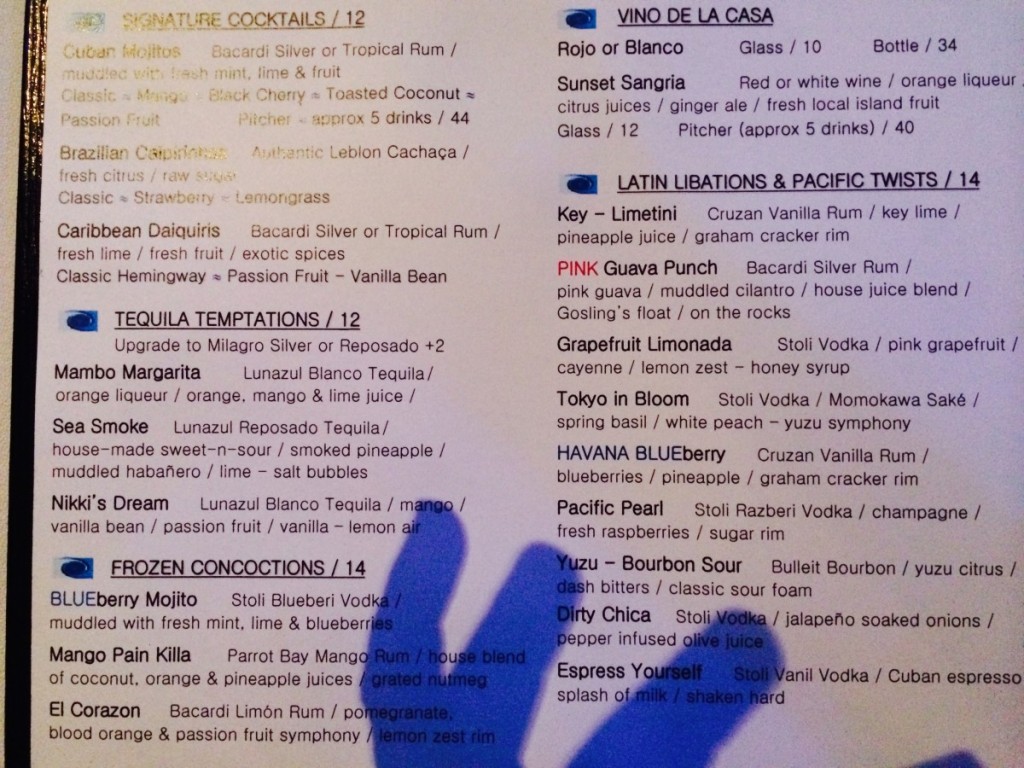 Heck its the weekend right? Time to dance on the table!
So there you have it, my new set of goals for THE ROAD. What hopefully lies ahead. In a nutshell bringing better content, knowledge and inspiration to you, my lovely lovelies. In addition to the above race track that is life right now, our family took a little vacay down to the Virgin Islands over spring break and I hope you won't mind me sharing the images with you next time we meet here again. Some design, beautiful scenary and a lot of just crazy us.
Have a great week and a great Spring! Here's to new beginnings! So happy for my Michiganders who ride here. Big Poppy said last night it hit 60 degrees (!!!) and that is HUGE news in early April after a long, cold, hard Winter.  I love my southern friends and family that are born and raised here, but folks YOU HAVE NO IDEA the DARKNESS, lol. I remember those sixty-degree days with great fondness! We'd most likely skip class and if lucky enough to get an outdoor table at the Peanut Barrel sip brews and eat the best burgers all day long. Good times! So soak up those rays while you can! xoxo
Jenny from the rock