Hello friends!!!! Just four more shopping days left! Are your little people going mad crazy with excitement for Santa to come? We're soaking up every second over here. Pretty sure this is the last year my oldest believes Santa is coming down the chimney :-((( He did mention to Dad not to make a fire in the fireplace Christmas Eve so there's still some magic there. xo
All the technical parts of the home were repaired and improved before the design begun. This included checking and fixing all the windows, plastering the walls, and checking for damp, we also checked over the HVAC system in the house, by a reliable company similar to that of
T.E. Spall & Son
. We also made sure to keep an eye out for any signs of pests living in and around the house. If we had seen any signs of that, we would have contacted a pest control company, like
https://www.pestcontrolexperts.com/
. That way, we could have ensured that the pests were removed properly. After all the boring parts were done it was time for the exciting redecoration!
Let's jump right into another FABULOUS show house compliments of the design mecca known as Atlanta. I'm sure you have many holiday errands to run!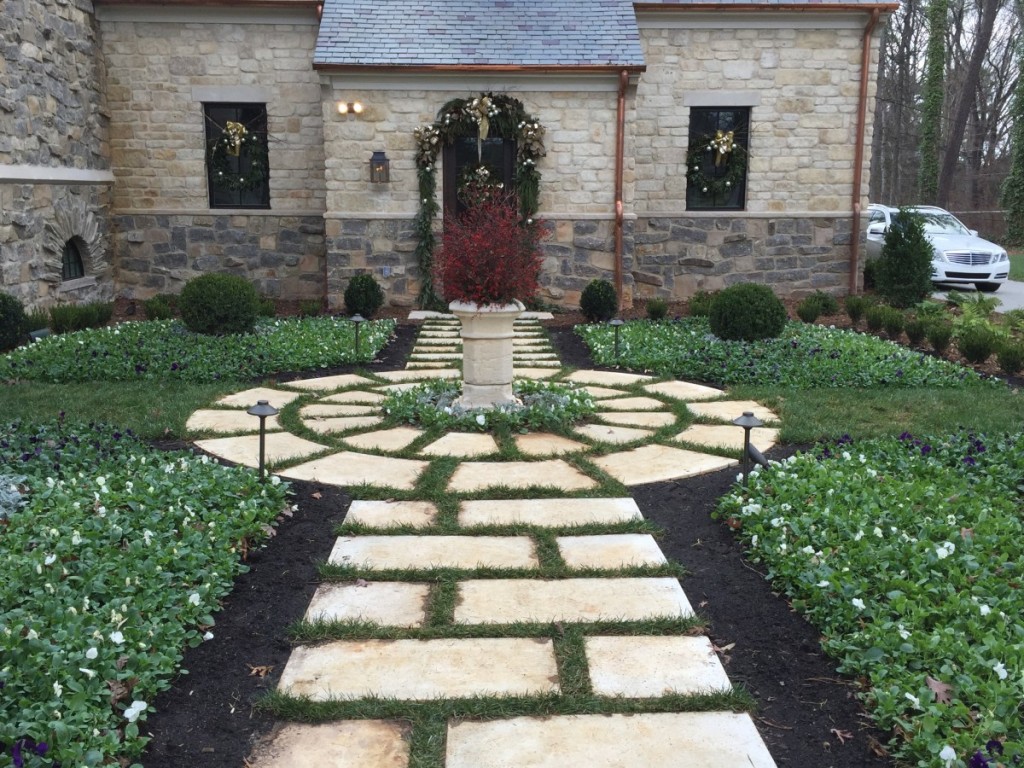 The size and scope of these show homes blows my mind. I try to imagine who might live here and hope they have a lot of help! 🙂 The first space was by Barbara Westbrook Interiors. She's incredible!
Touring these homes is like a walking education for designers so it was important for me to pay attention to the details…like the monochromatic trim and tied tassels along the top of these window treatments. I absolutely loved them and have seen similar west palm beach window treatments that I might have to look into…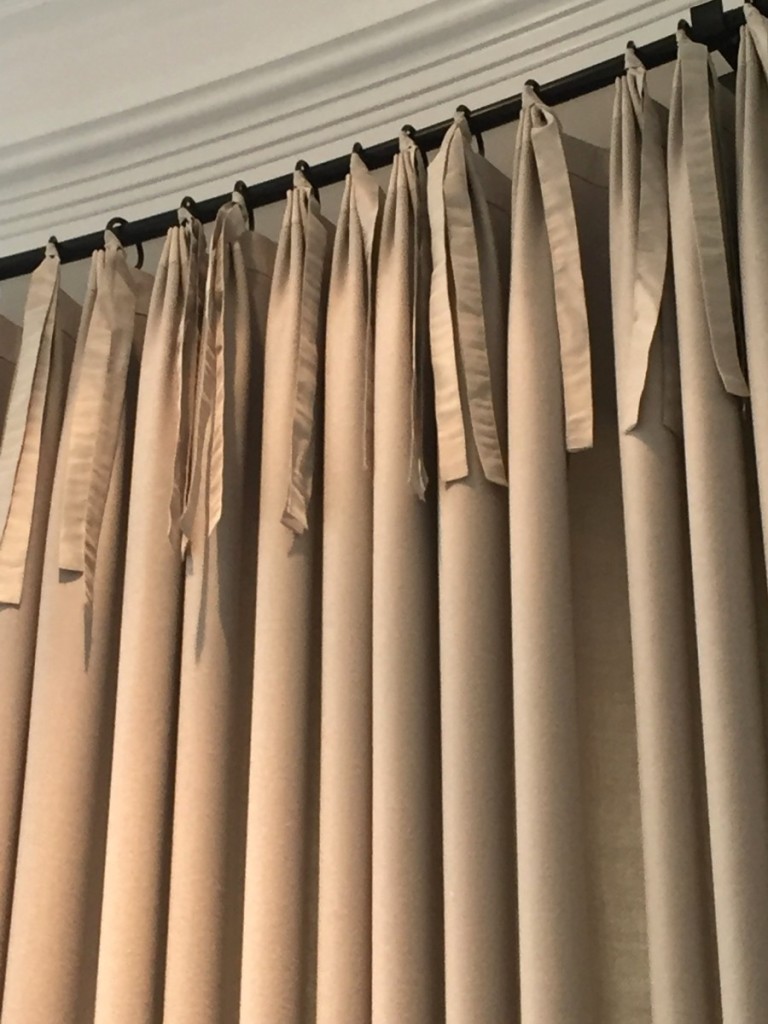 The dining room was STUNNING and roped off??? Guess they didn't trust us touching the china! hah.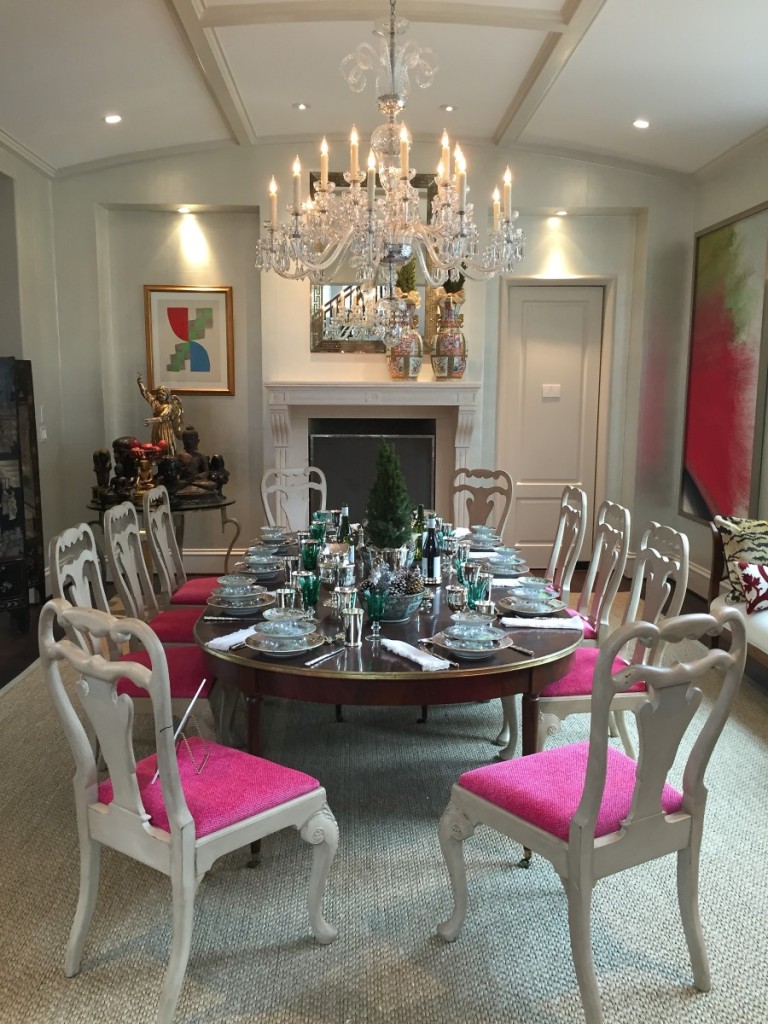 Moving into the kitchen and breakfast space designed by another Atlanta GREAT Robert Brown. You gotta pinch yourself for living in this amazing design community with so many crazy good resources.
The hood was a window with board and batten boards underneath (and I love how you can see the rustic screws too).
I'm always on the hunt for new library books, and this one looks like it would be interesting!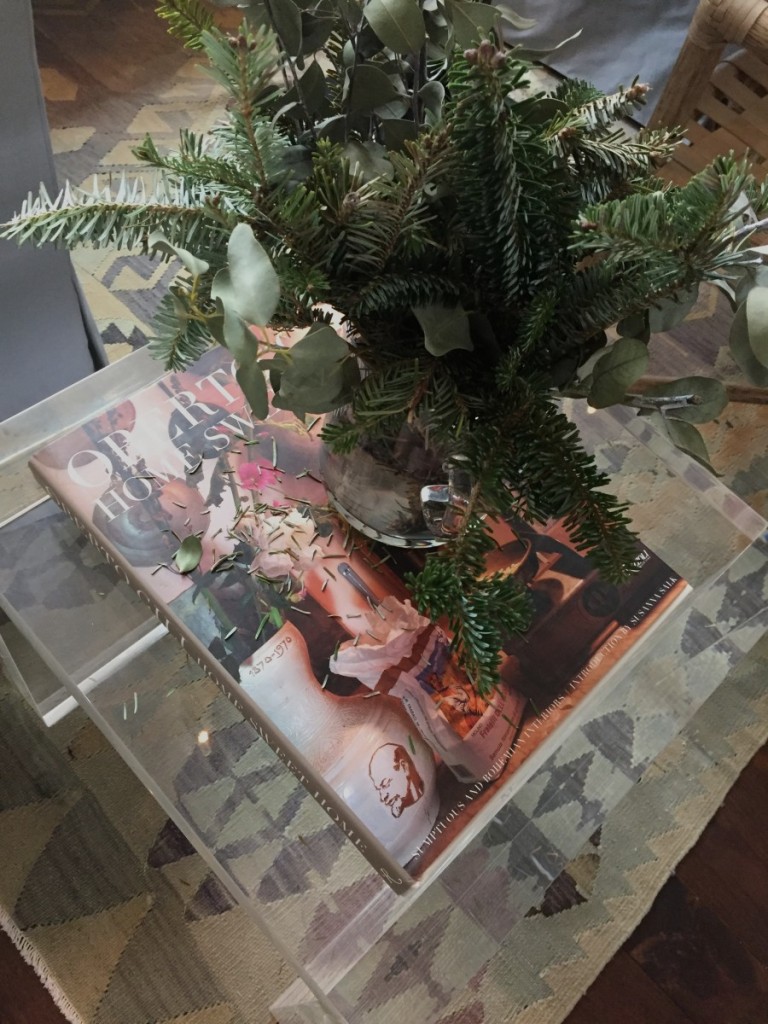 This next space! WHOA. I now have a new favorite designer to stalk follow! Lindsey Coral Harper is nothing short of a design badass. This is her magnificent space she designed, with faux finished trim to look like marble?! And her mix of traditional furnishings with some funky cool mid-century bohemian pieces, you can't help but think they may have previously lived in Palm Springs with some lovely lady lolly gagging in her Lily Pulitzer caftan, contemplating her next cocktail :-))). LOVED every inch of it.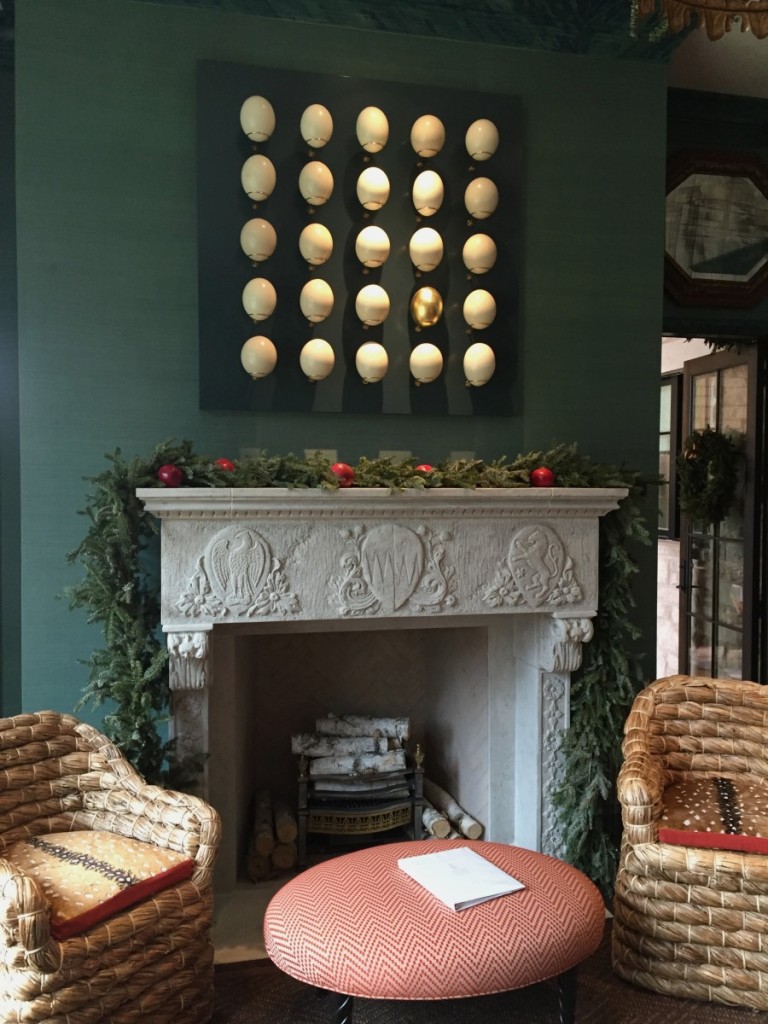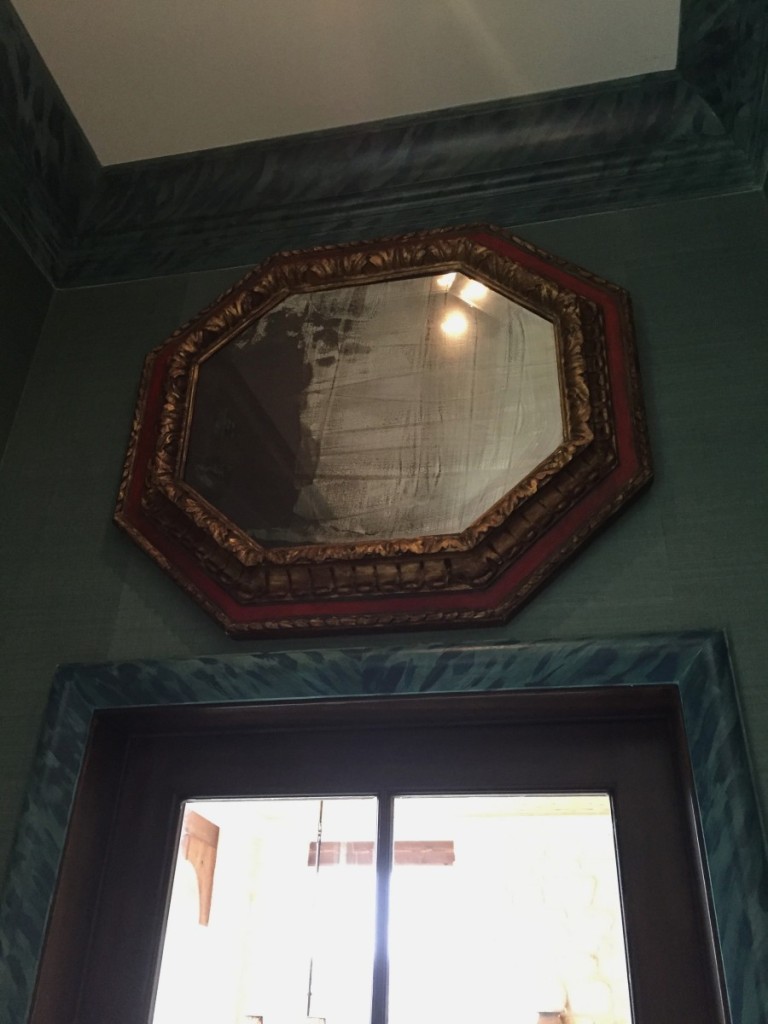 Contrasting color welt trim on the pillows, details, details.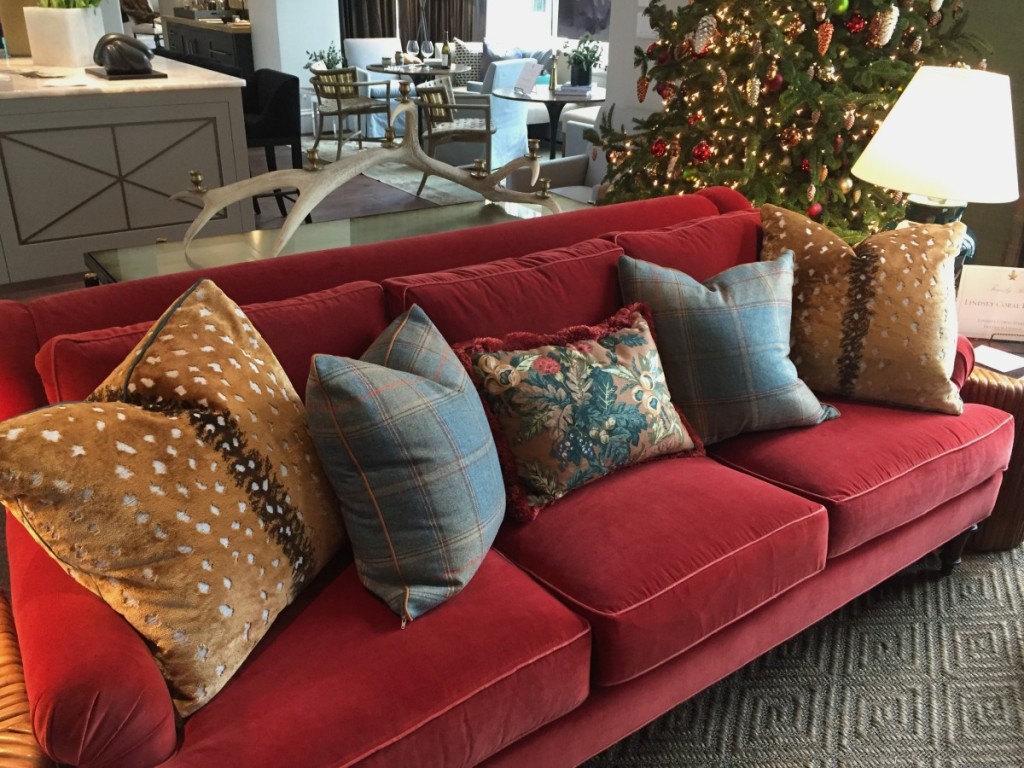 These shelves perfectly styled…
all of these wonderful traditional elements mixed with these bohemian babes…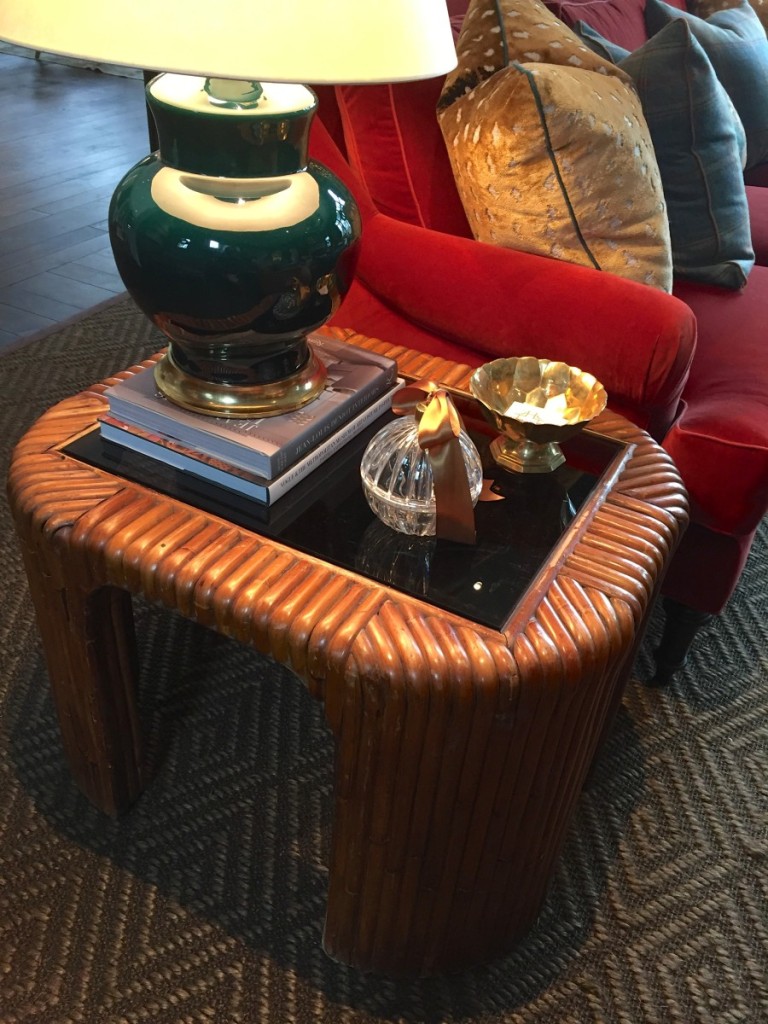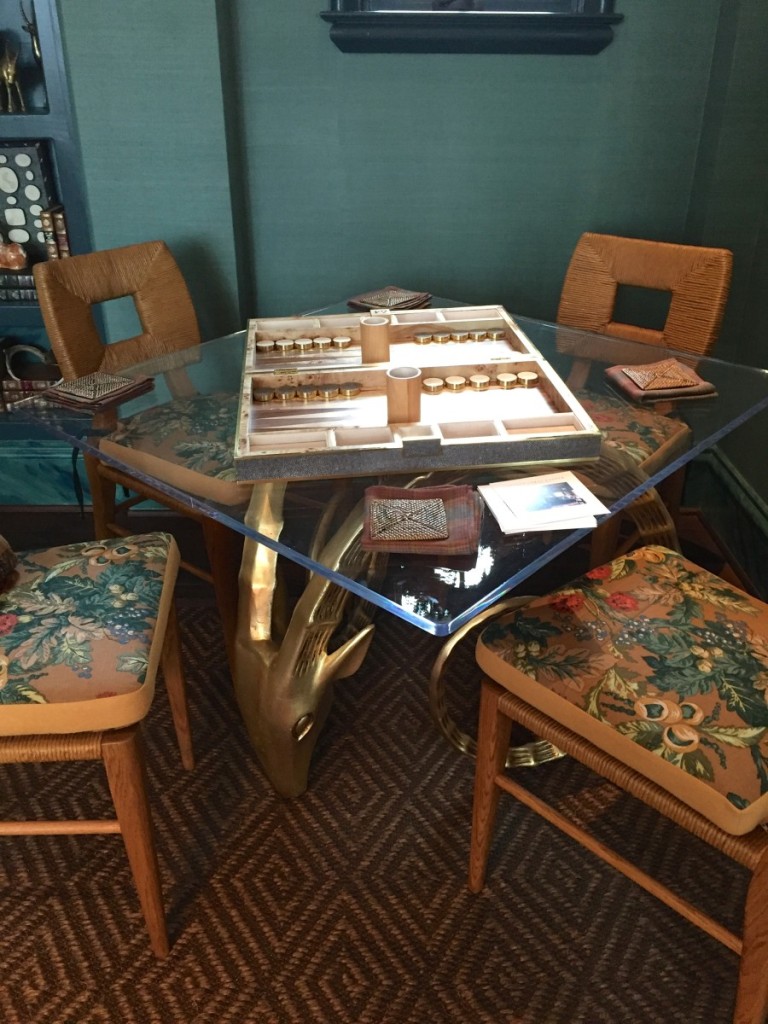 Just wow! A touch of traditional, masculine, bohemian, antique (those mirrors over the door!) and the rug. I want that patterned rug in my life.
My sweet friend Heather Hogan Roberts of Ivy & Vine designed this hallway and powder room. Her work is so fun and delicious! And so is her IG feed HERE.
Gorgeous monogramming. Details that make a house a home.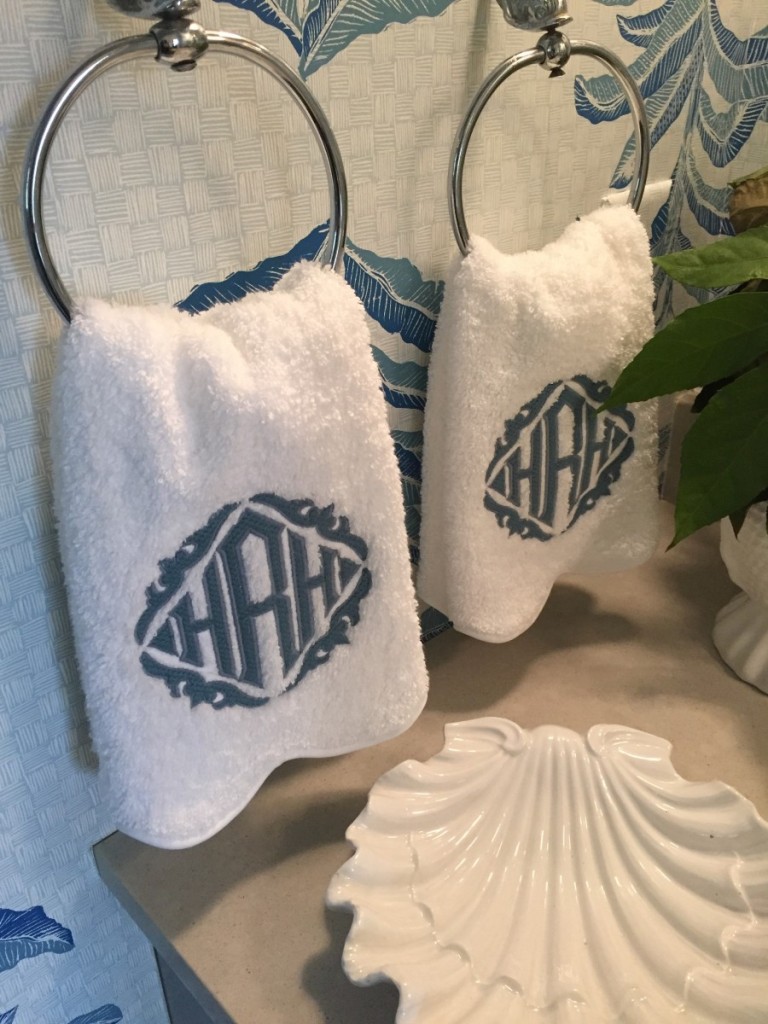 The loggia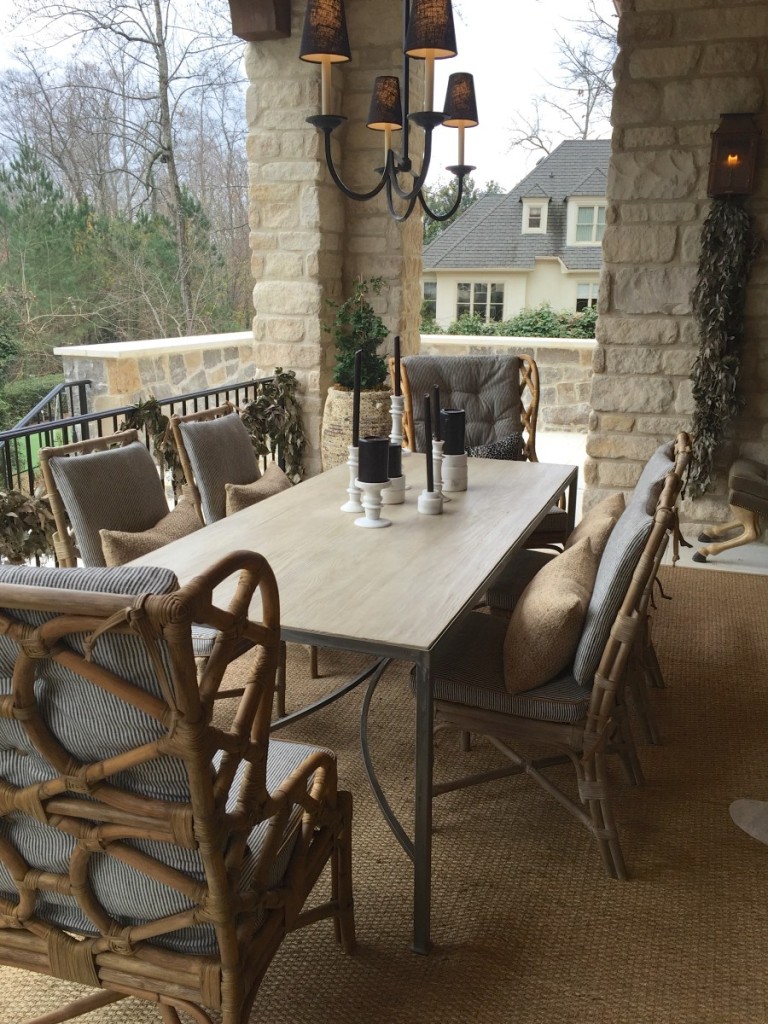 Loved the lion head in the fireplace. Do you all recall my last post where we talked about styling the fireplaces in show houses with whimsical elements. There is always something fun to take note of ;-))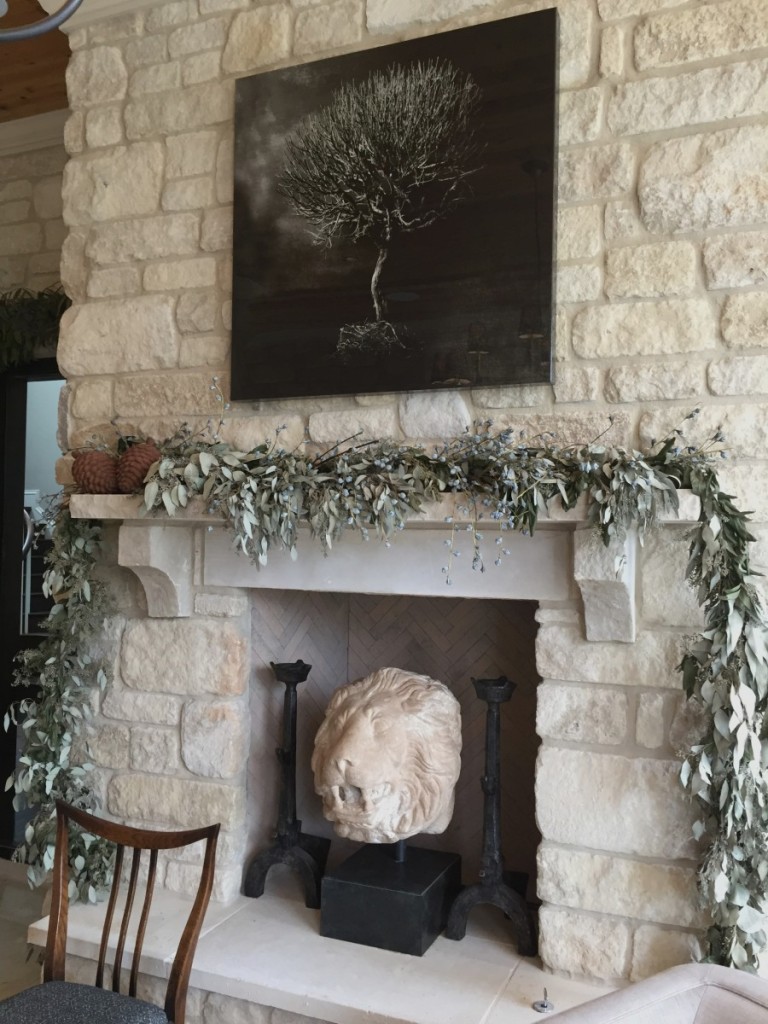 My friend Kerry Howard did such a beautiful job on his mudroom and laundry room. Unfortunately my iPhone pics couldn't quite capture it because of the window glare, but this mirrored piece of art I LOVED against the cork and gold wall covering. Shortly after spotting this beauty, I was lucky enough to spot them at Scotts…another gorgeous topic post coming soon. Total treasure hunt, every time.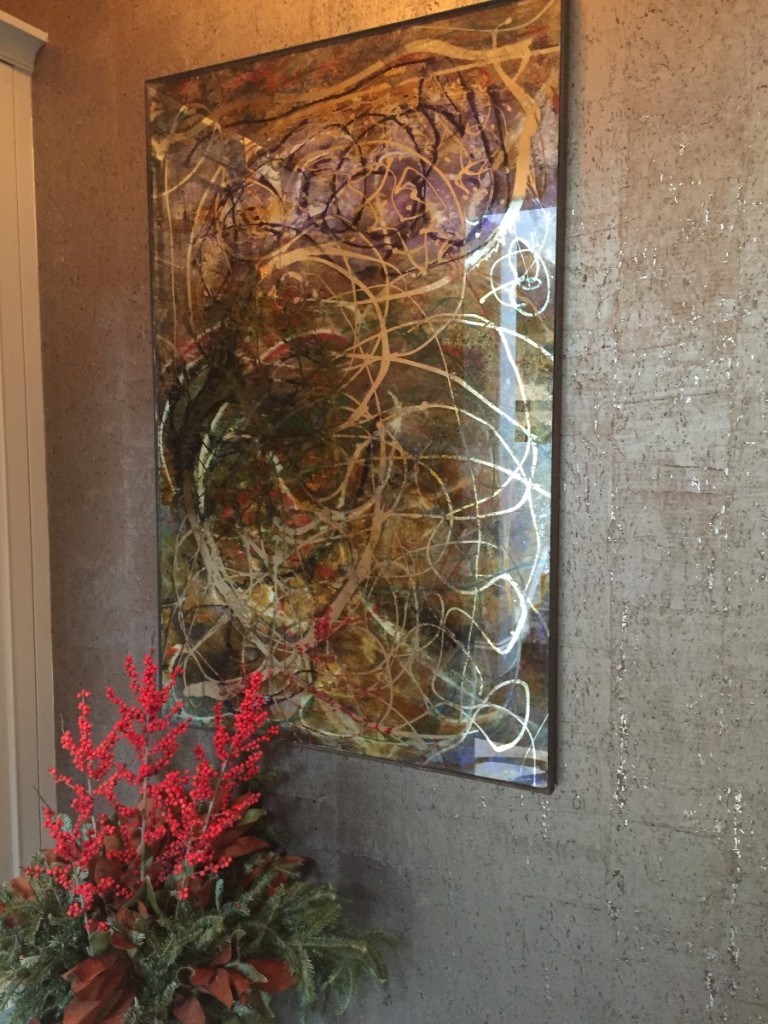 My next new design crush to follow, Joel Kelly Design….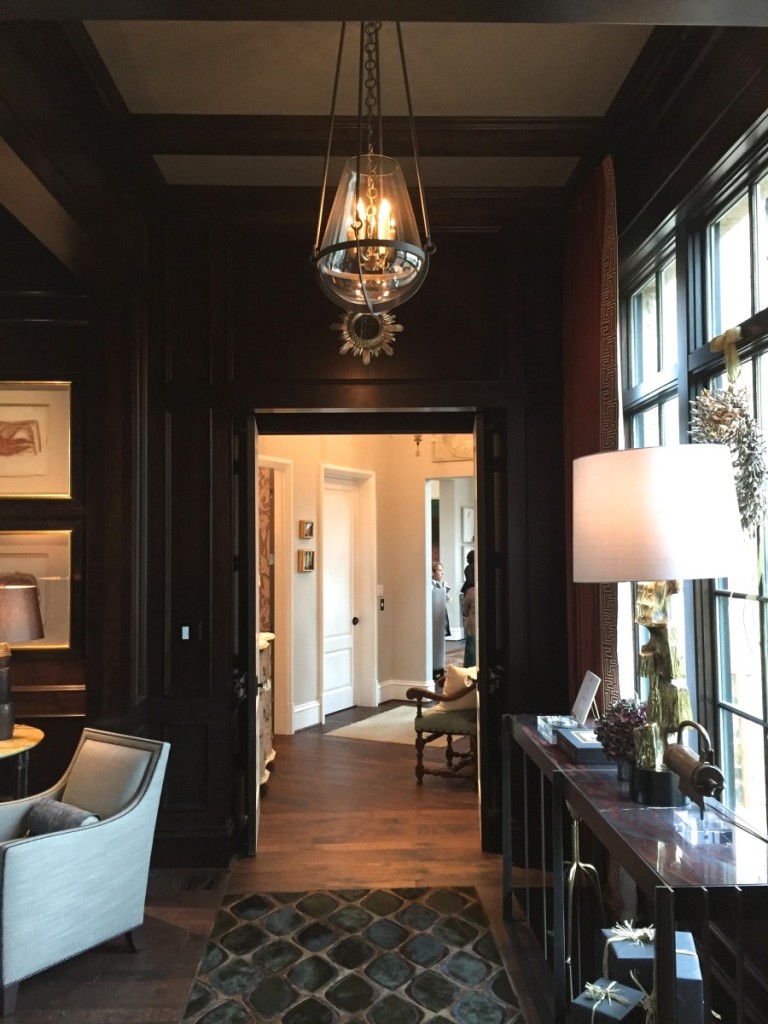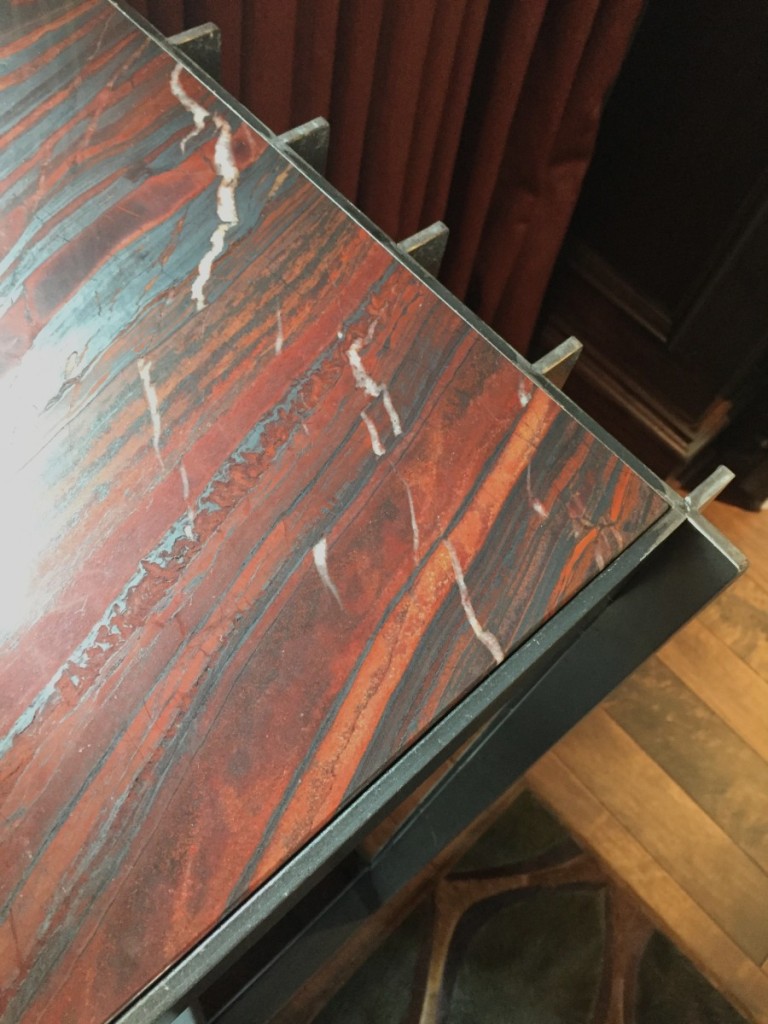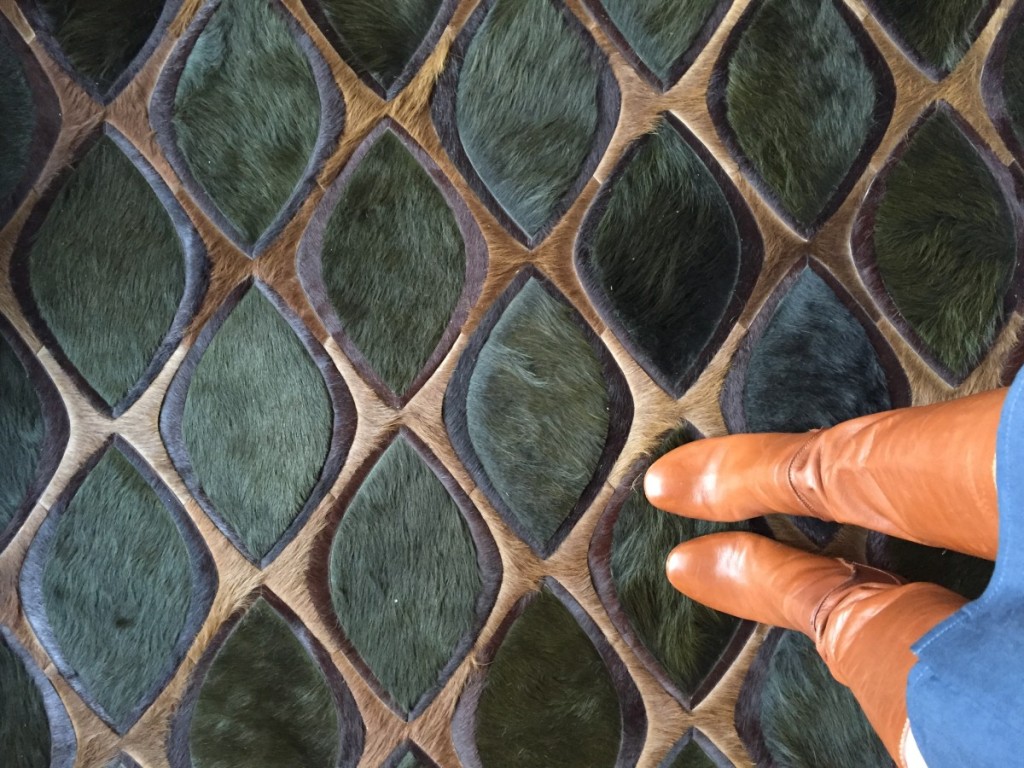 I love how Jessica Bradley took all those magnolia leaves and tucked them into the top of the mirror for your holiday decorating bag of tricks.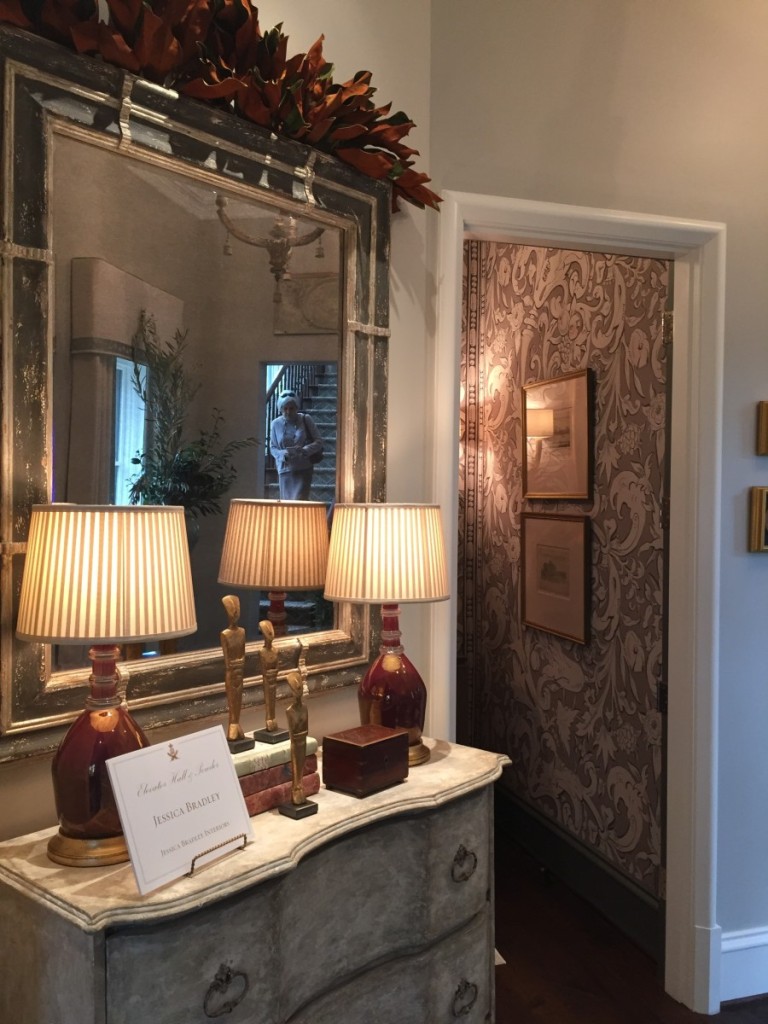 And her gorgeous trim selection. Trim is every designer's love language.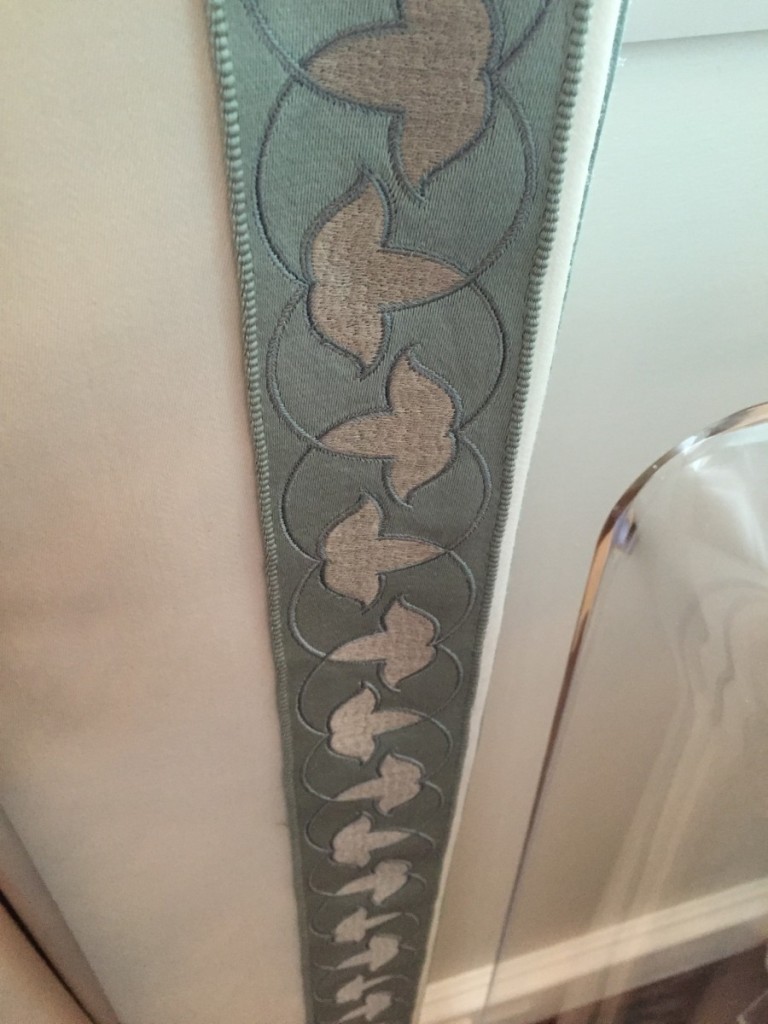 This powder bath NUTZO!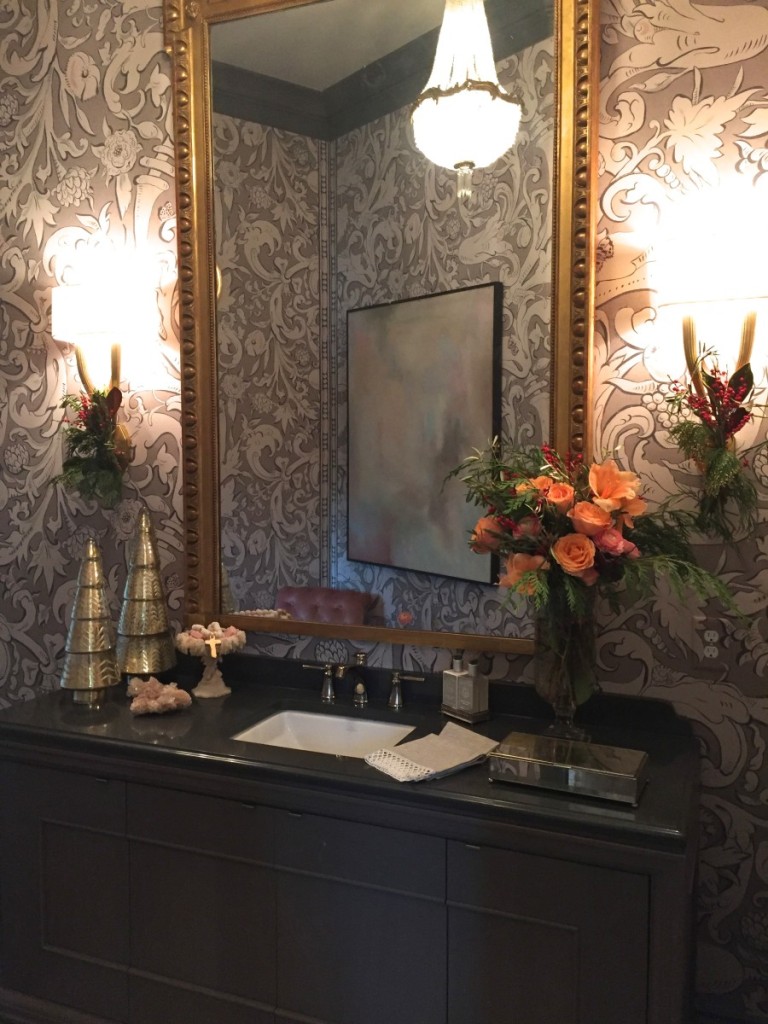 I'm obsessed with wall brackets and wallpaper so this space was such a treat!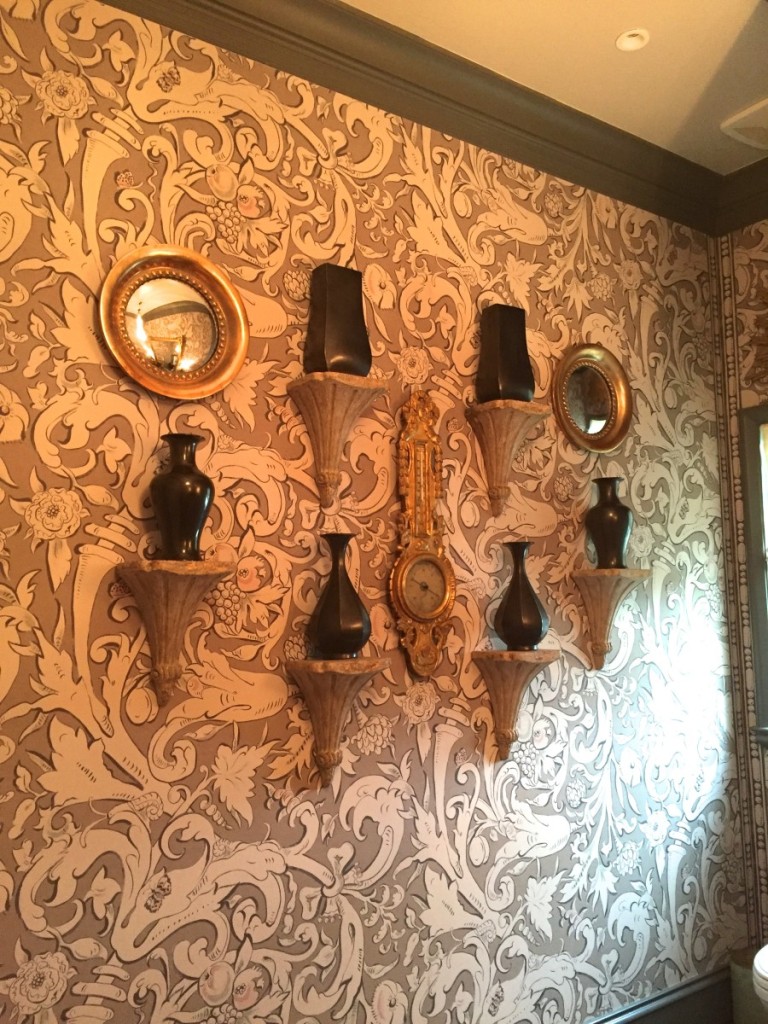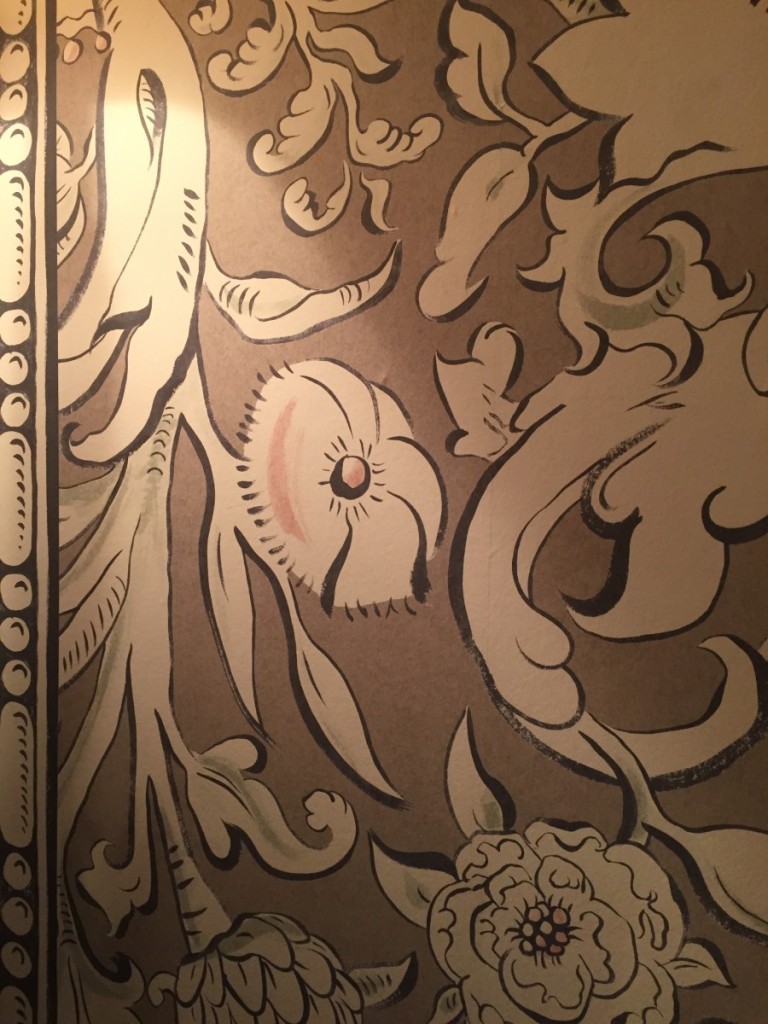 This floor! I imagined it as a kitchen backsplash someday, cover the entire wall with it.
Loved the pattern on the stair runner of this natural fiber rug too! Really need to up my patterned rug game.
And was totally crushing over the blush toned tree with coordinated gifts wrapped in pink ribbon. Magic!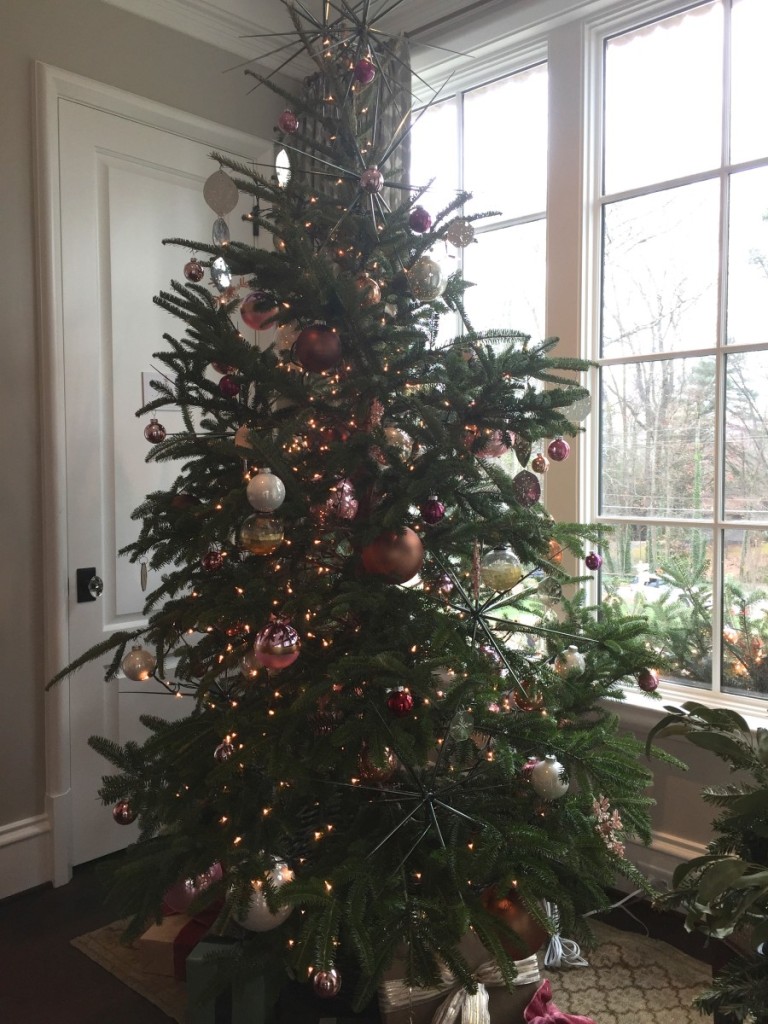 Took note to research this window treatment fabric in every color way…loved it.
These big star urchins can be found at Z Gallerie, weigh nothing and easy to put together (we have some on our tree this year, that post also coming soon).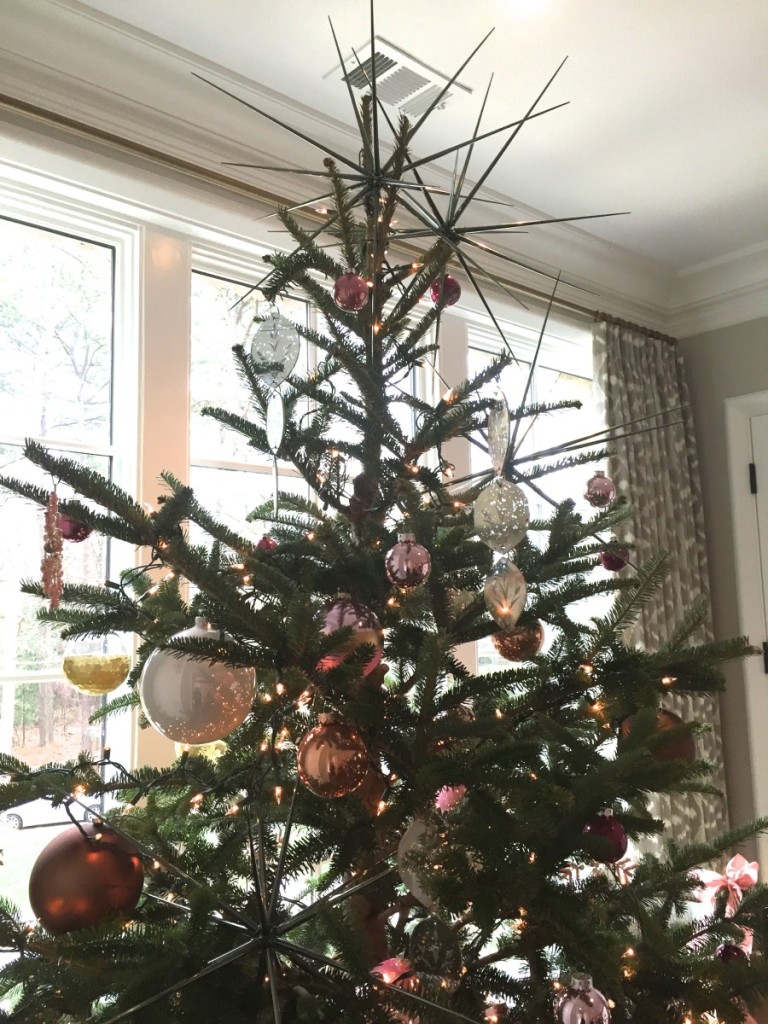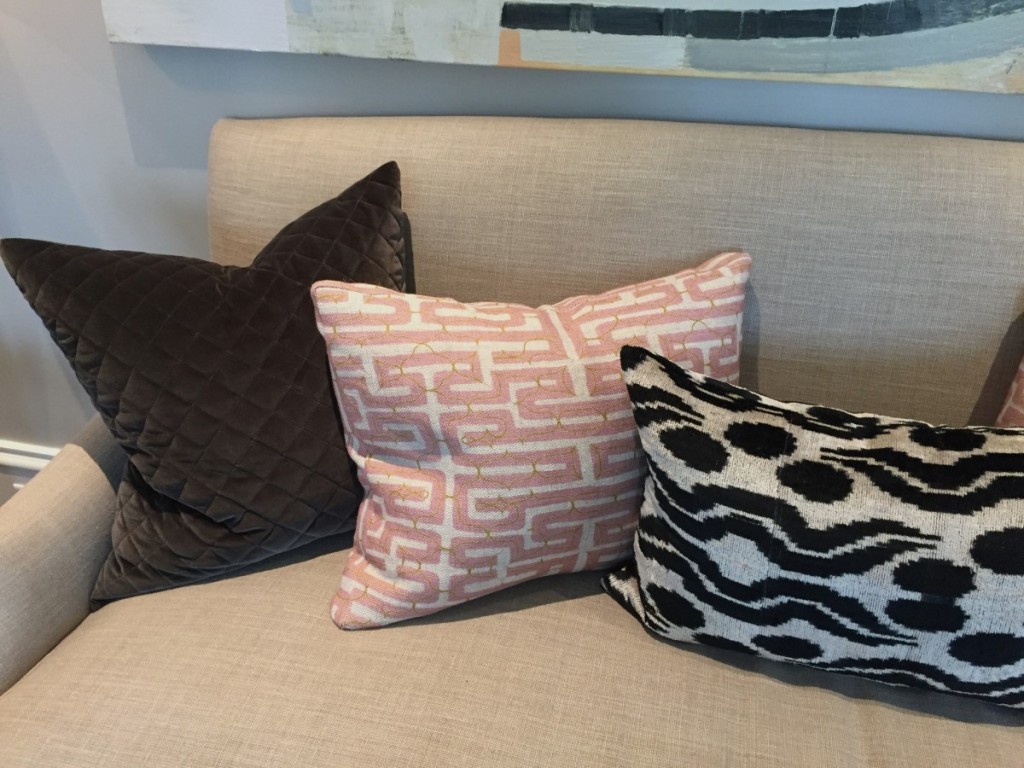 More books to add to cart on Amazon…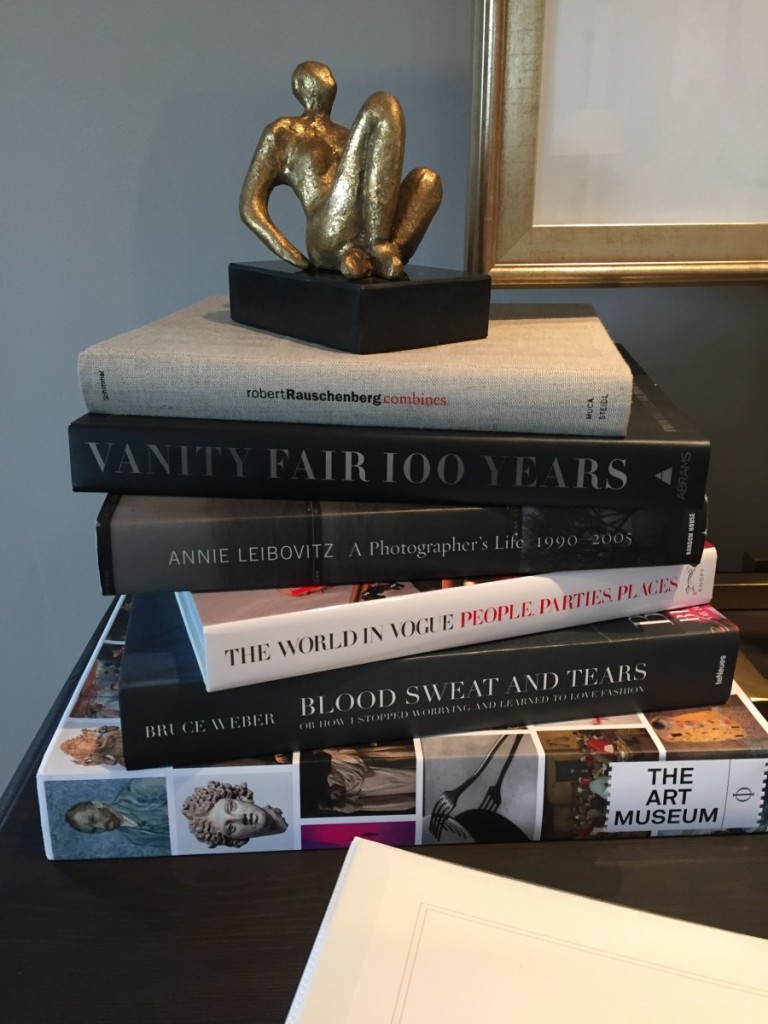 This artwork GAH!
And rounding out my trifecta of new favorites to follow, is this ADORABLE, so colorful, so styled space by Mallory Mathison Inc.
It was so well done! You can see how hard she worked and her attention to detail (insert hand clap emoji).
Such an astounding kids room/bunk room by _________ like whoa.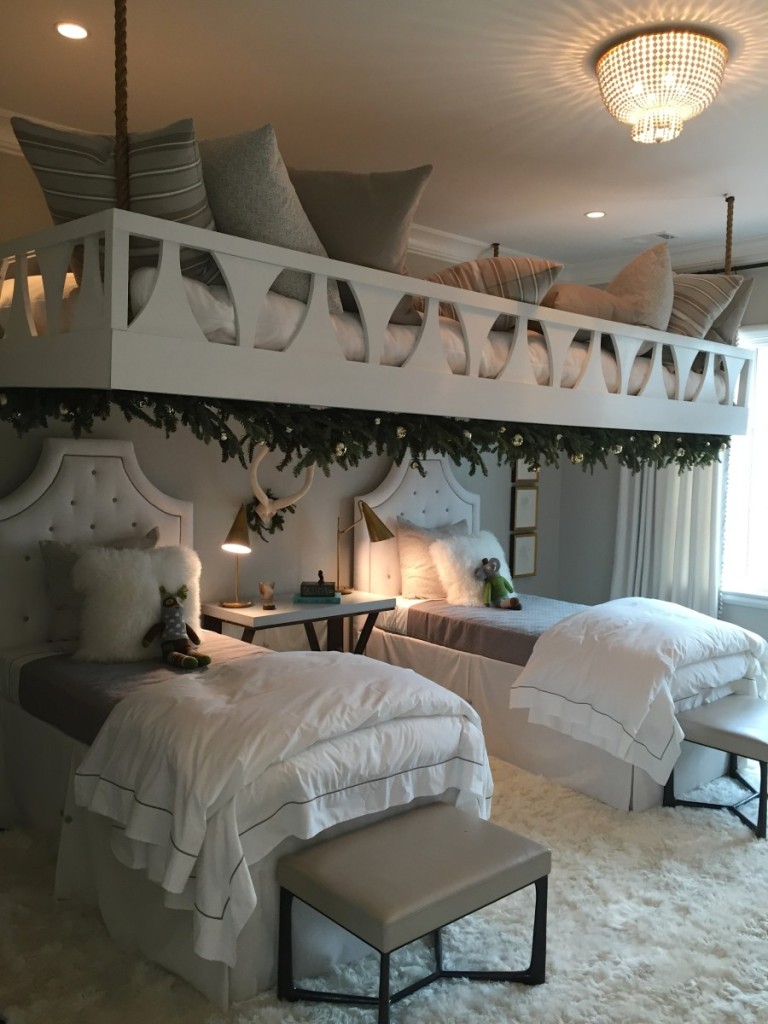 A teen bedroom space, that was off the chain and too big and too overwhelming for me to photograph (and I was starving lol)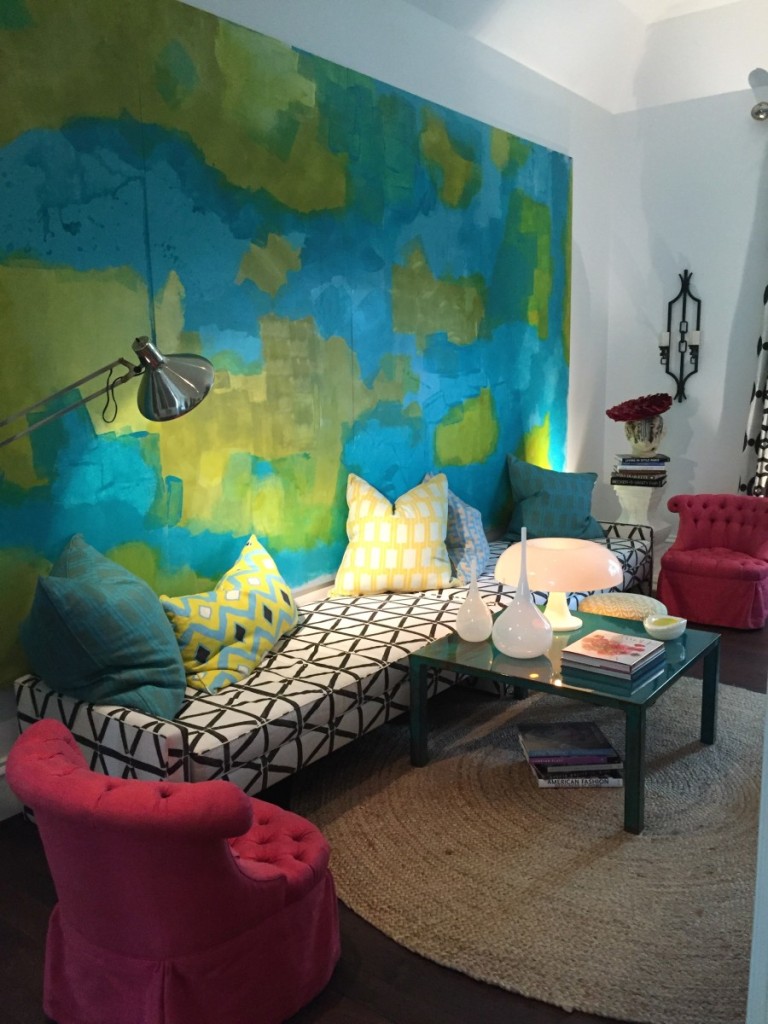 But one of the details I wanted to point out, is the Murano glass ash tray pictured here (that looks like a shell)…this is a glam way to store and display jewelry on your vanity and you can find a lot of them inexpensively on Ebay. I noticed this in Mary McDonald's dressing room years ago and have been collecting them for my closet ever since. One of those little design details that makes me happy daily. And your jewelry should have a pretty "and happy" place to rest…any fans out there of the book, the life-changing magic of tidy-ing up…"does this spark joy?" I've taken the whole spark joy to new levels all over our home. HAH. And in daily life too…haha. I decided my neighborhood intranet "nextdoor" was not sparking joy, so I deactivated my account. And bam, joy sparked ;-)))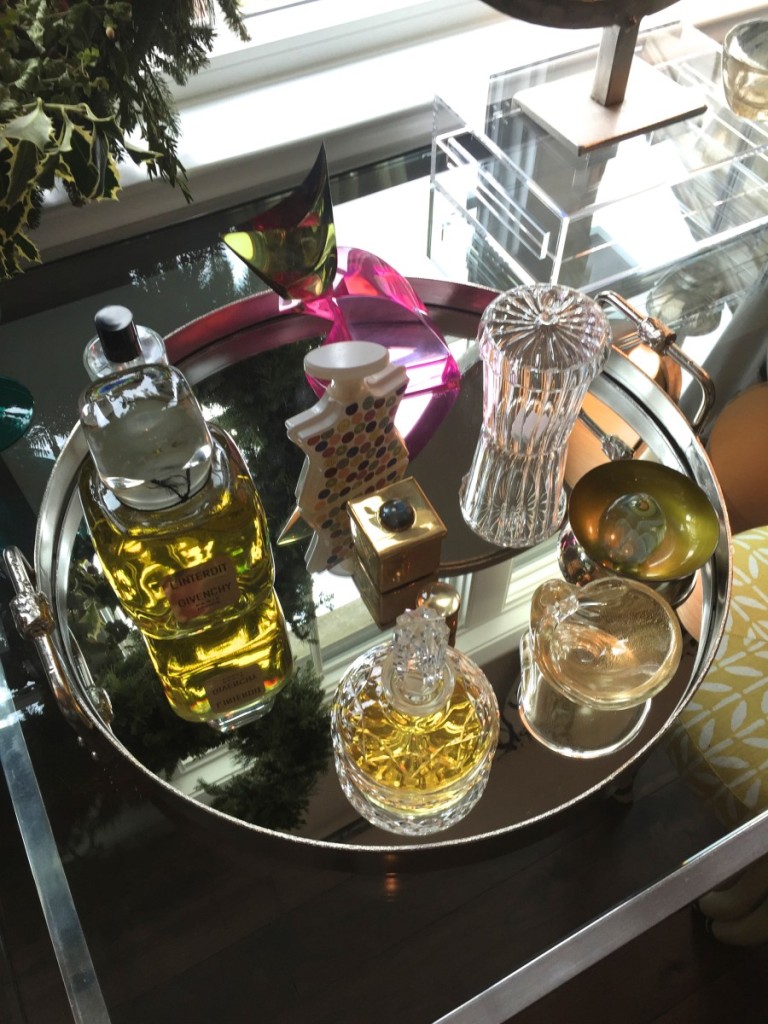 A few more details to mention, like this fab print…does this spark joy when you look at it? Does me and I really want one!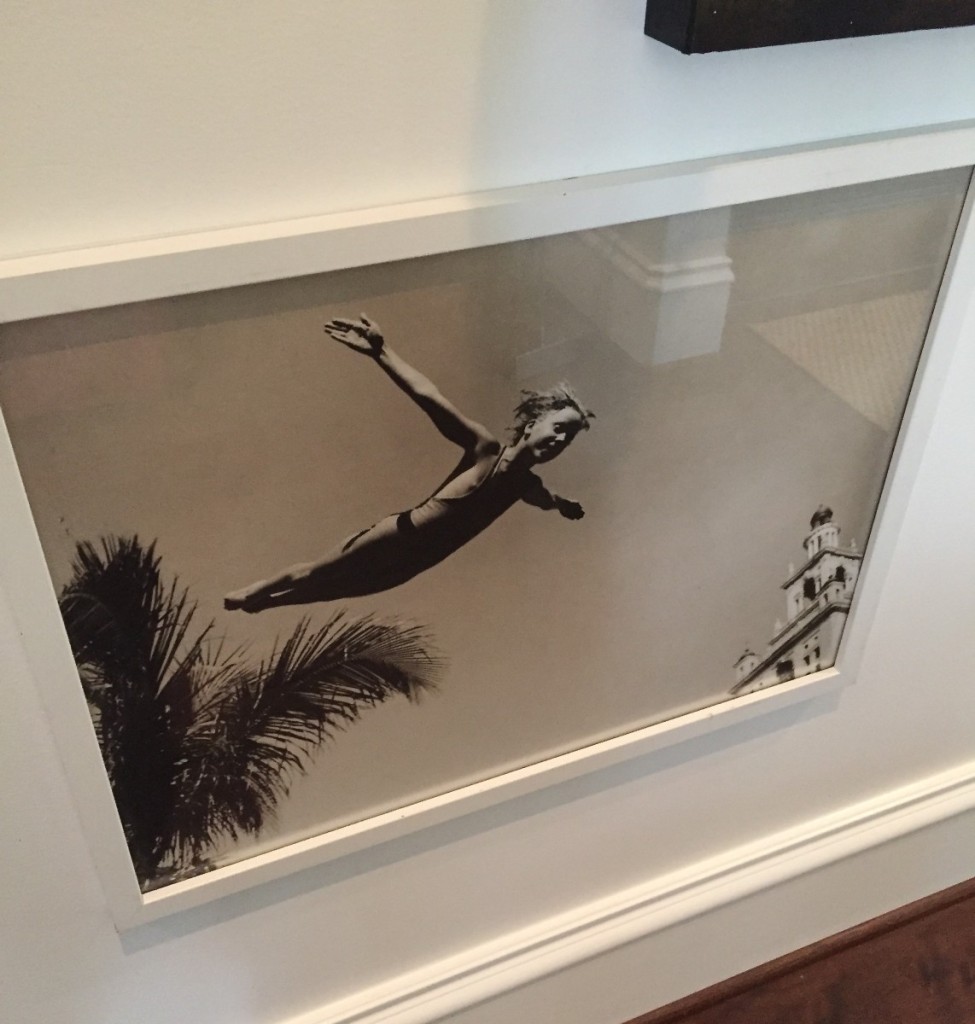 Loved the juxtaposition of this modern penny tile with a beautiful, more traditional rug in the bathroom.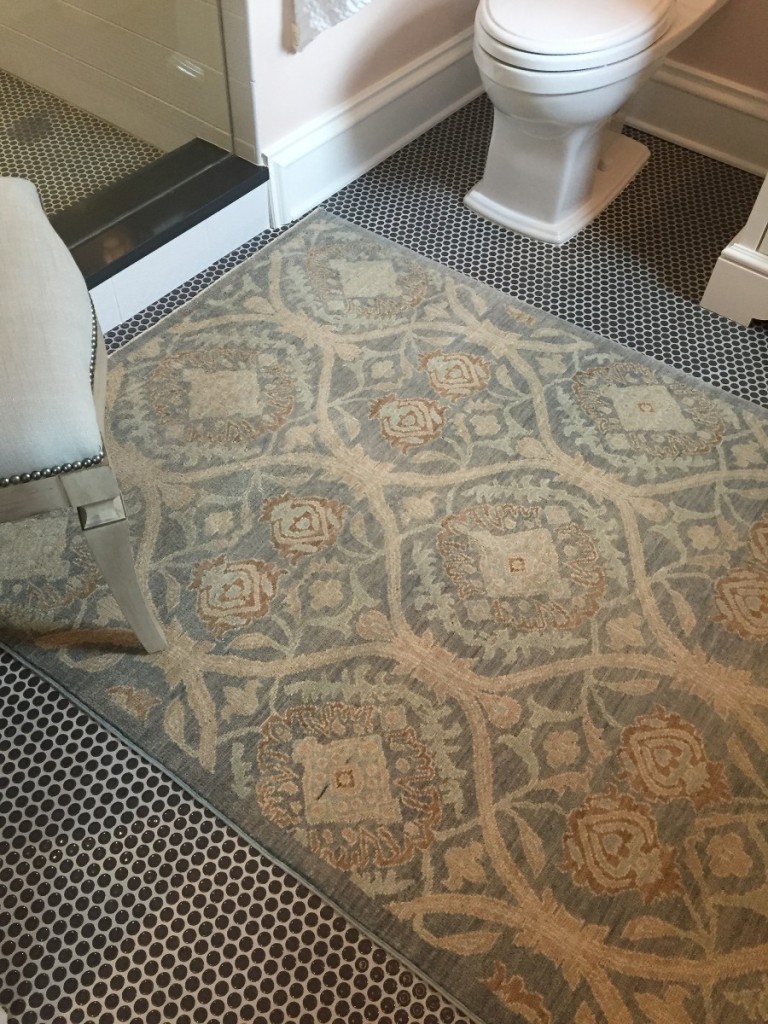 More pretty backsplash tile in the upstairs laundry…because a house this big, of course has a laundry room on every level. Man alive.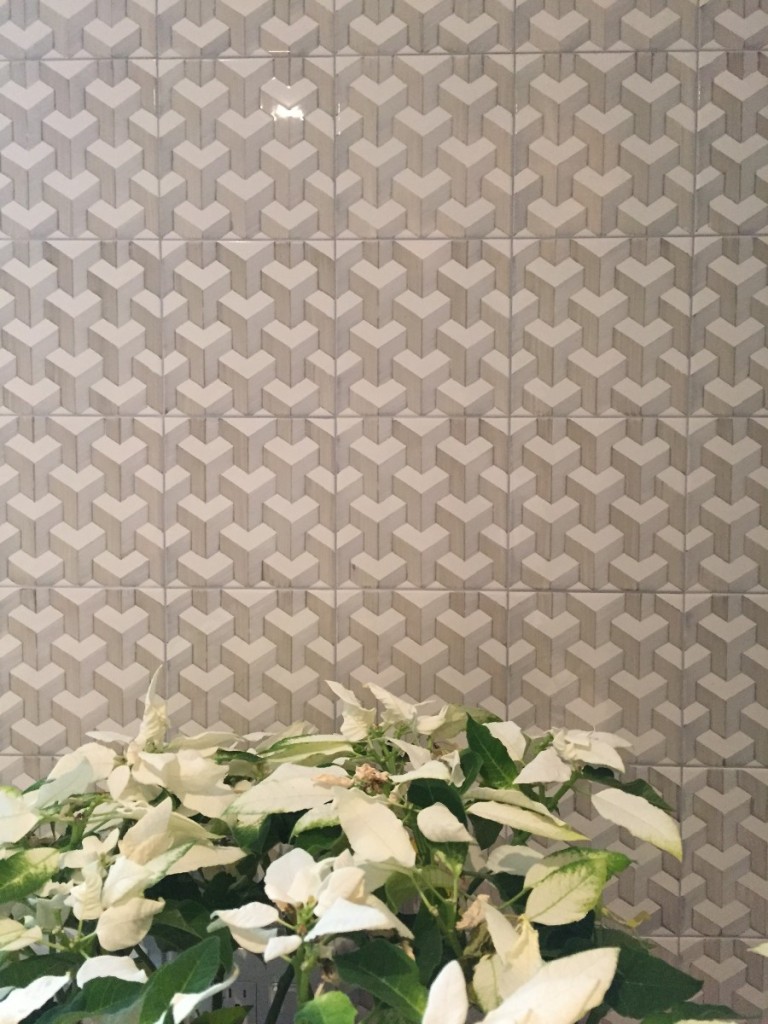 And a rustic ladder to hang towels is always a great space saver!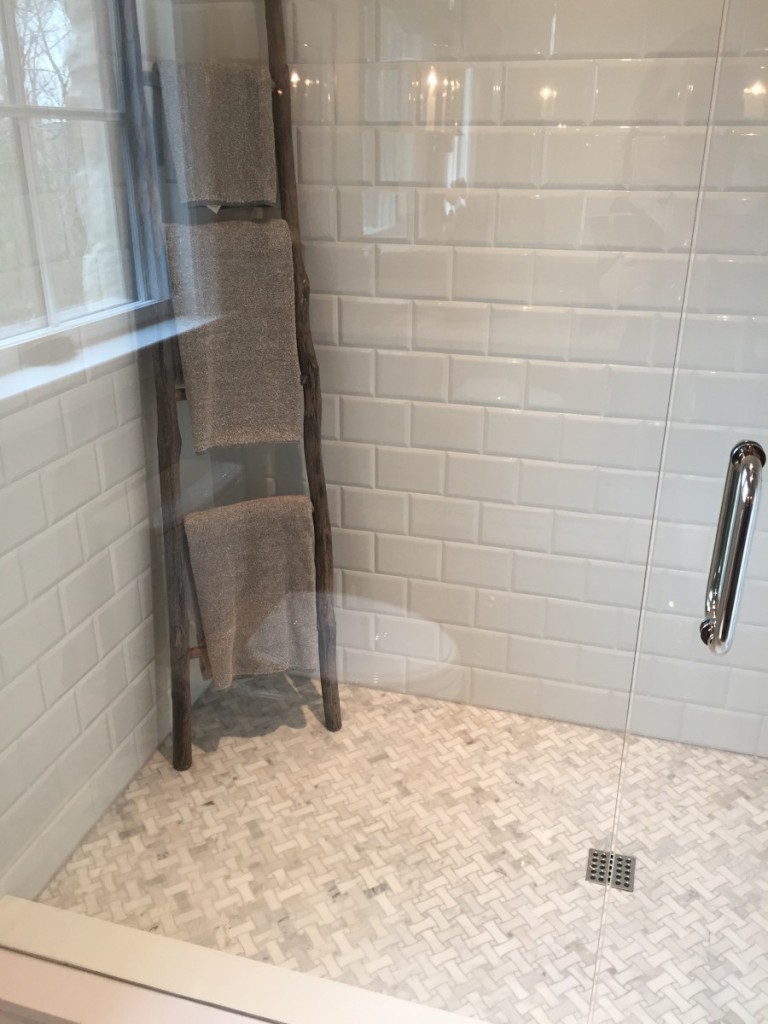 I used similar hardware like this in the show house from home depot (?!) and it looks like blown glass with bubbles inside of it…perfect for a bath.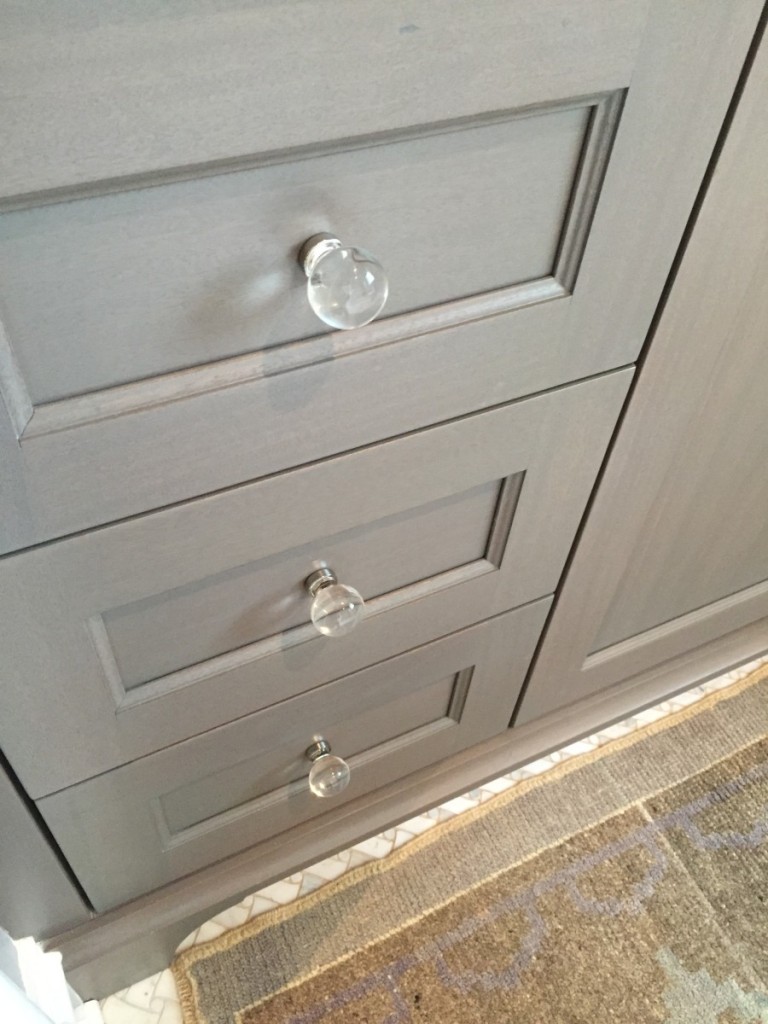 These candle holders I thought were cool…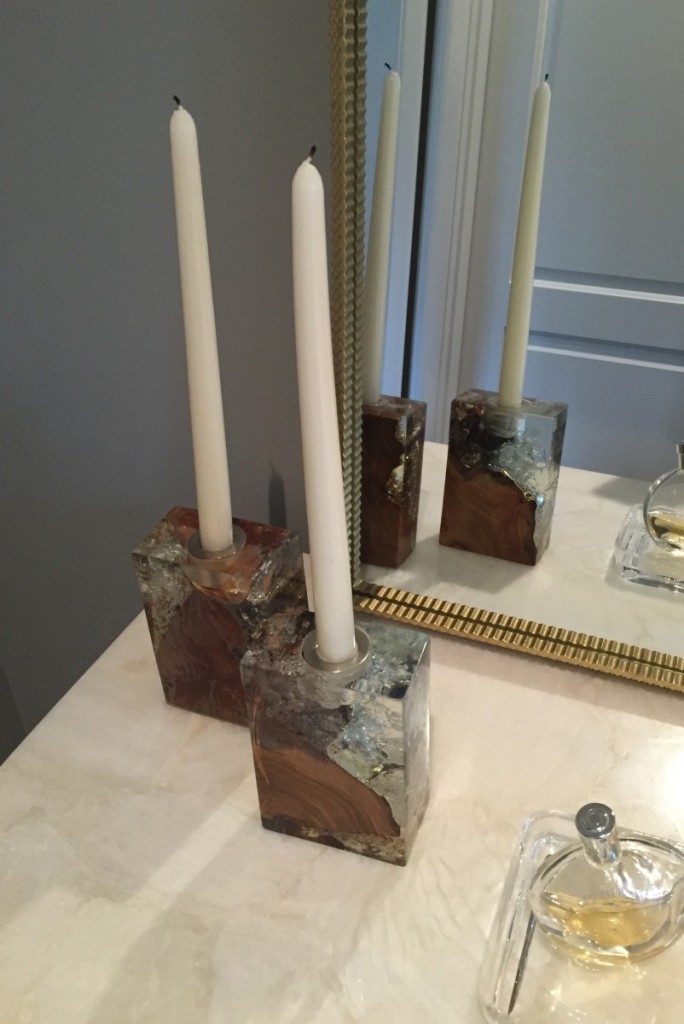 And at the end of every holiday show house, there are holiday table settings for you to touch and feel. I thought these napkins were great and looked like low maintenance! No ironing (ironing does not spark joy ;-)). You can find them at Boxwoods in Atlanta.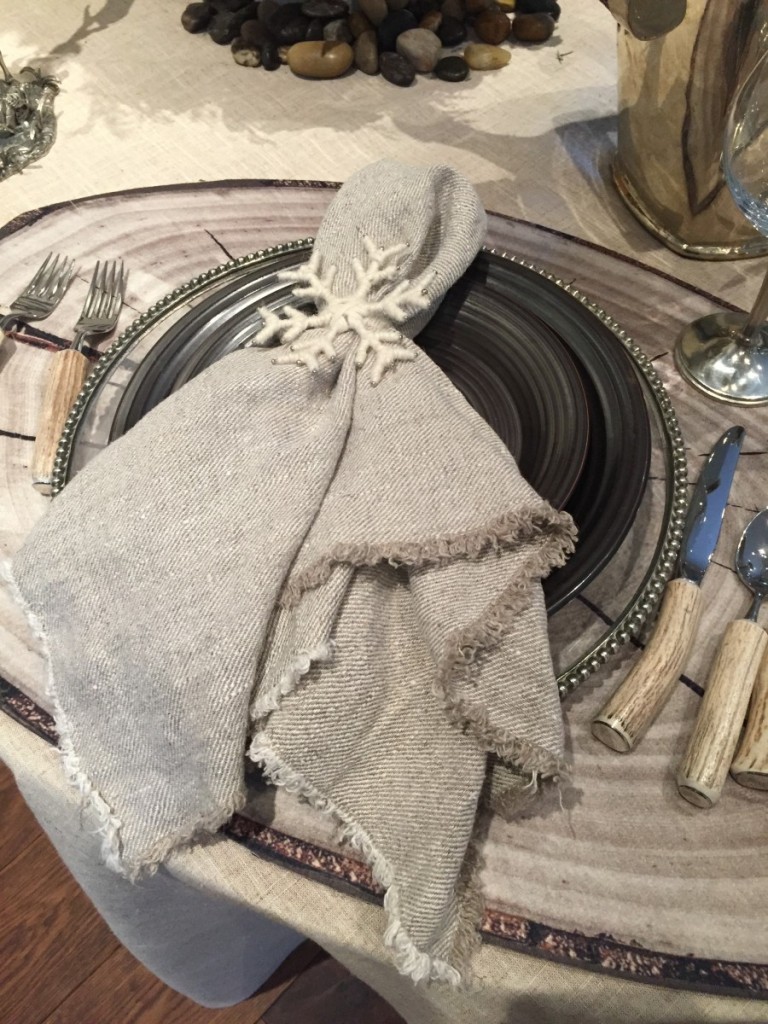 This big metal tub from France made me happy so I took it home!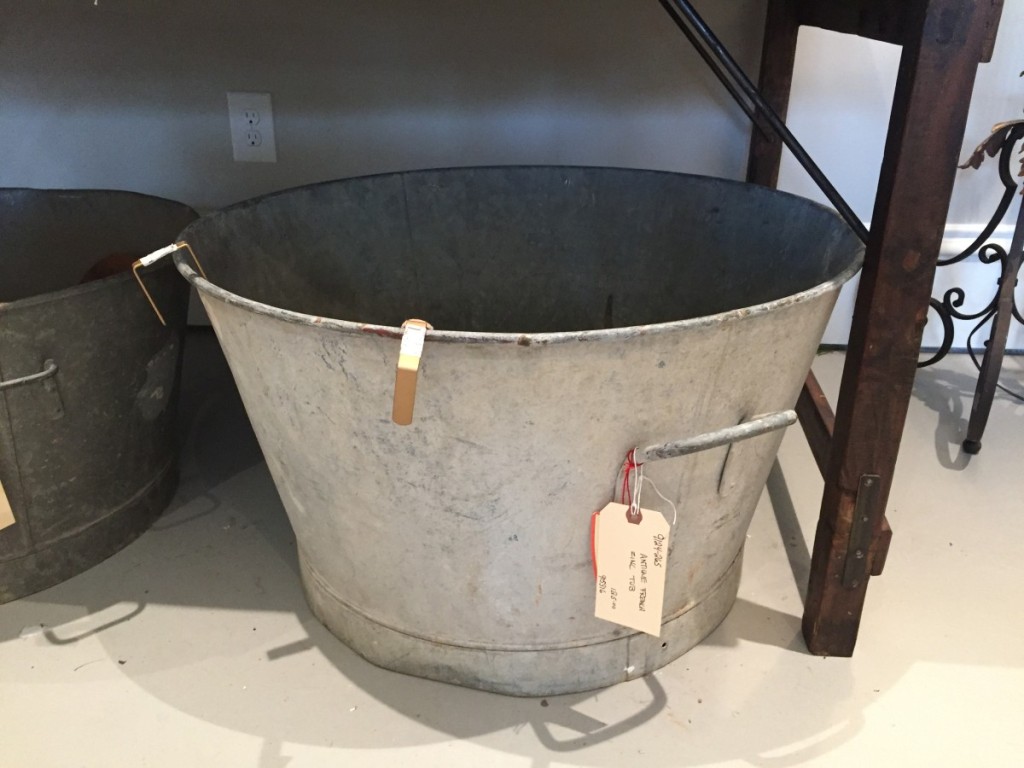 Here it is, housing our keeping room tree and presents for now and firewood for later.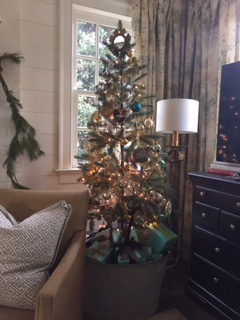 Happy holidays friends!! I hope you enjoyed the tour and can incorporate some new ideas into your home. I'll be back to wish you all a very merry and blessed Christmas (and share our holiday home with you too)!
xoxoxo
JENNY FROM THE so excited for my kiddos to wake up on Christmas ROCK