Can you stand it?! I thought my little pipe dream of plucking up some of my favorite cottages on my childhood street, was a way-off, distant daydream for when the kids were old and off to college. But thanks to my hubs (hubby of the year!) as well as a friend who told me about somewhere like Money Expert, it happened last month! He gave me the green light to purchase a charming 1928 cottage I've been in love with for years (it has a unique sloped roof line for our town – my first attraction to a home is the roof line) and that I actually played here as a child is kinda cool too. I just couldn't stomach to see it go again to someone who wouldn't love it as much as me! :-))) And what better way to cook up some major momentum for my hometown charity I'm launching, "Charm School" than this great new design project/journey?! So without further delay let's take a look at the work we have ahead of us. I want to use every creative outlet, budget-friendly, earth-friendly, recycle, course of action possible to make her SHINE AGAIN and showcase the fact that great STYLE does not cost a fortune.
Here she is, the little dumpling!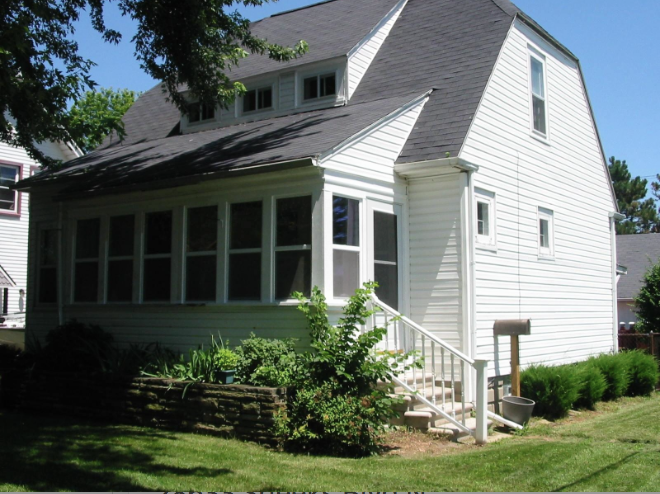 And she already has a name, more on that in a bit.
So whenever I see "home build in 1928" my mind thinks tons of character, original hardwood floors, solid core doors, vintage hardware, plaster walls, probably a small kitchen, one or 1.5 baths, hopefully a cloths chute ;-), lots of great trim work and character…kind of like the house I grew up in across the street from here.
Detail of the plaster work on my parent's ceiling…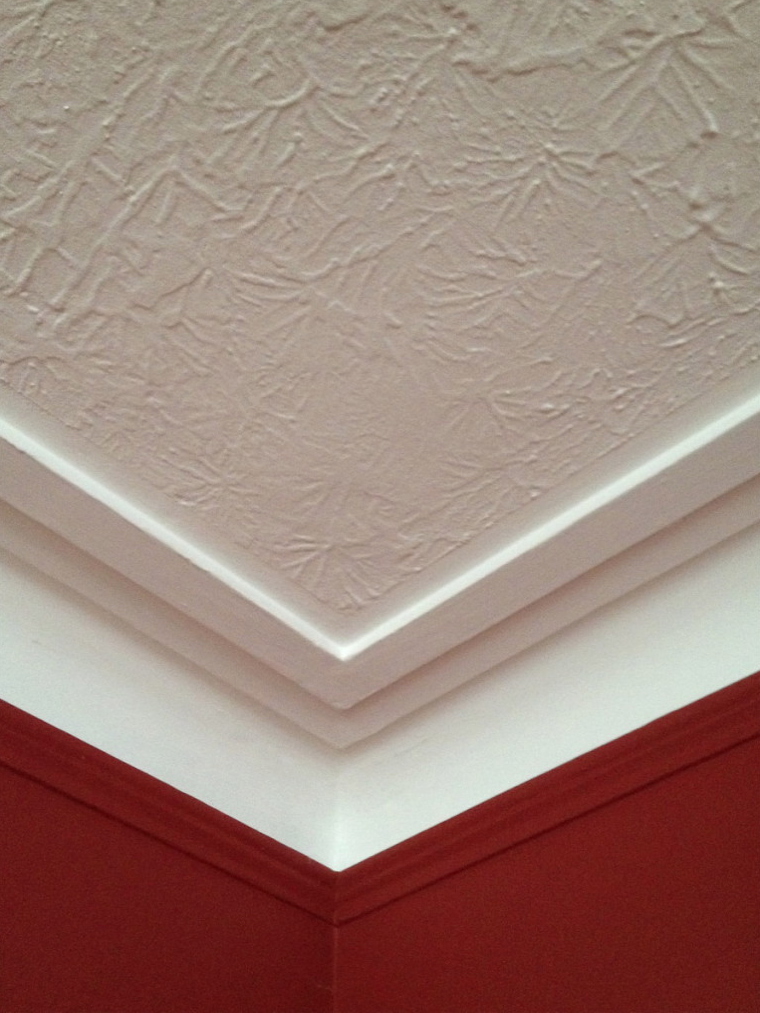 More original trim work and interior door detail of my childhood bedroom and our favorite thing growing up…the cloth's chute!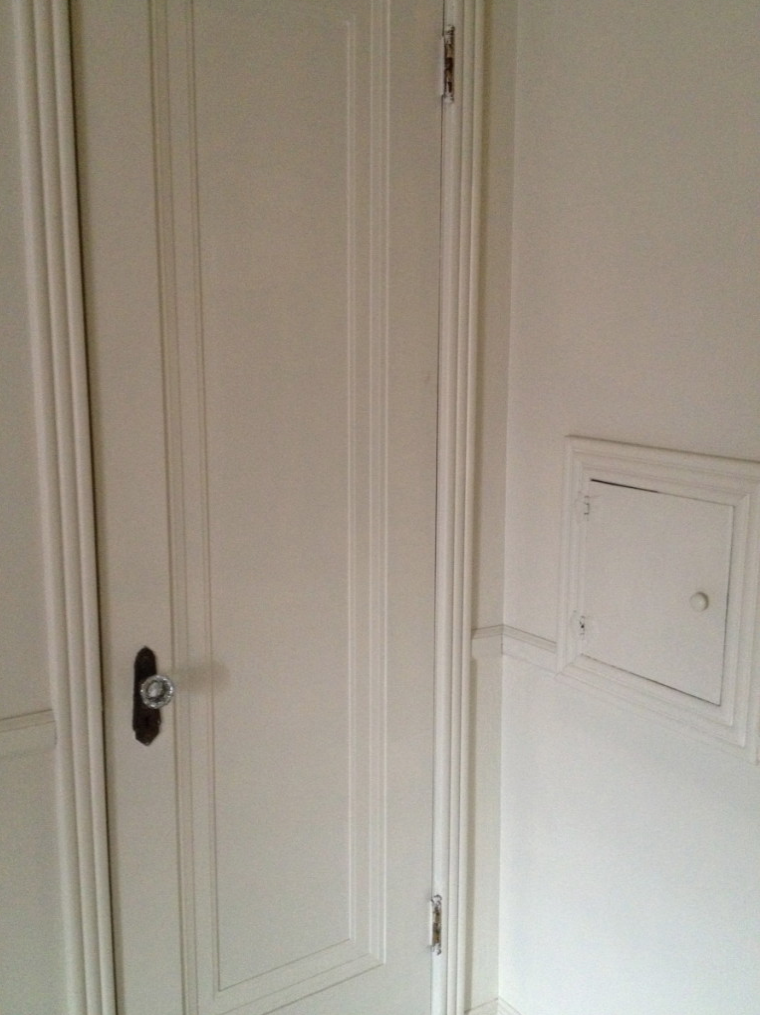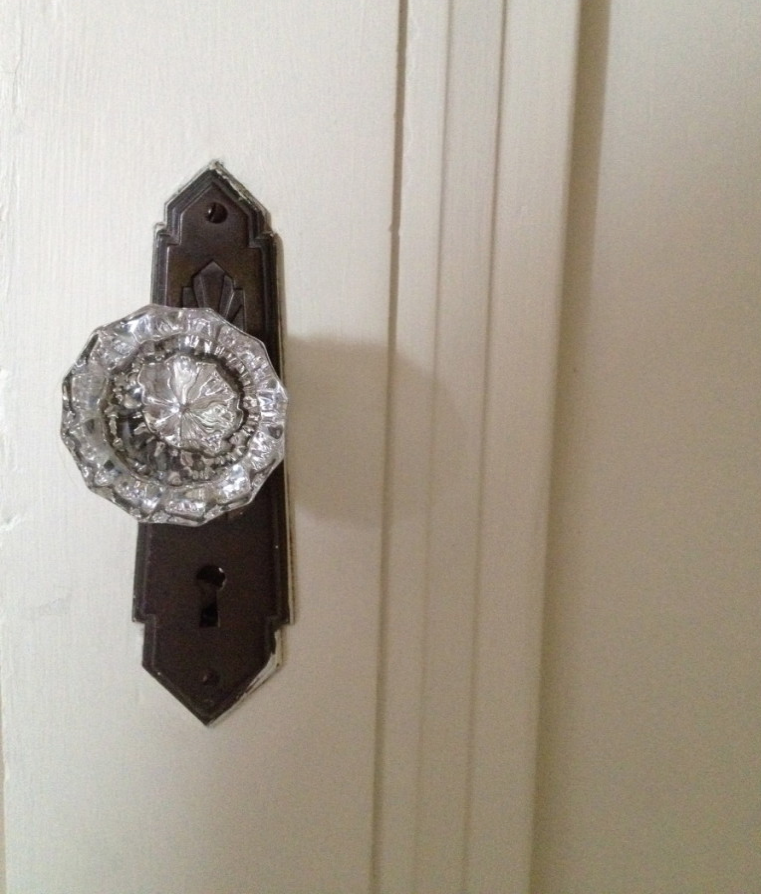 I'll never forget building our first home here in Georgia, and the realization "they just don't build em like they use to!" I walked around my parent's home and said DAD do you have any idea what this home would cost you to build in today's world? But yet these little jewel boxes back home, go for peanuts!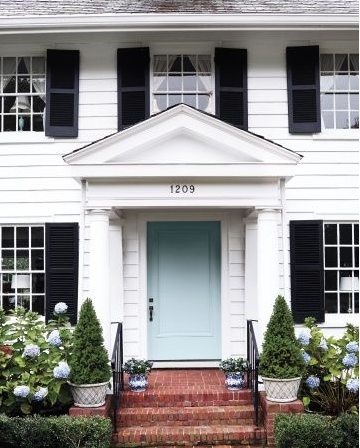 (martha stewart)
The color palette for the home will be white, black and light blue. I fly home next month and will plan the entire home in three days! When I'm there, I'll videotape the home for our next post.
I plan on landscaping the entire front yard this Summer, in a blue hydrangea, purple lilac, French lavender kind of color palette. If there is one thing we all miss terribly from our childhood, it is the enormous lilac bushes that grew across the street from our home. We would pick them for days and never make a dent. They were third base during some heated baseball games…"third base are the lilac bushes!"… and when the wind blew, the smell would fill our home. It was the BEST.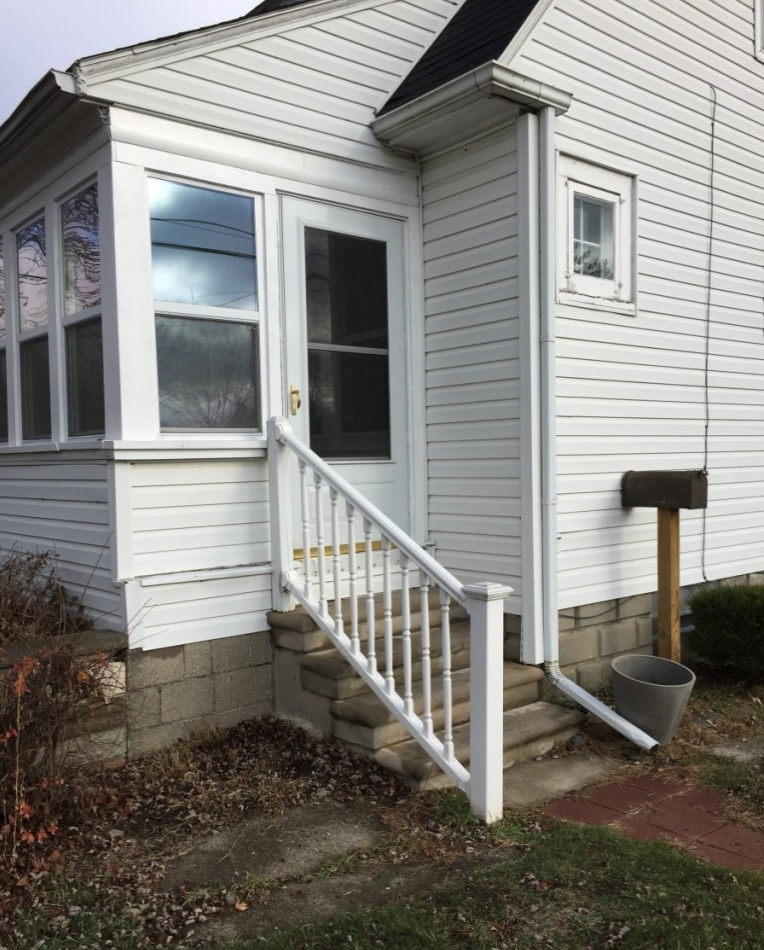 First thing's first, the entrance. Gotta make one right? Everything here is so rigid, too tight and straight. No more! I'd love to blow out the front steps and take em the width of the porch, so you're not all discombobulated walking in and out but not sure budget is there at this point. So expanding and making the front door more welcoming would be a plus. I'd like to roll a path to the edge of the driveway and along the side of the house to the back yard (the back yard has major garden potential. It's almost as if no one ever planted a bush or tree back there ever – really sad). We'll mark off every beginning and end of paths with pairs of sculptured boxwoods, adding layers every Summer, until we have this great collection garden vignettes. Maybe a lamp post too or a little white picket fence accent? Key words here are welcoming, inviting, charming.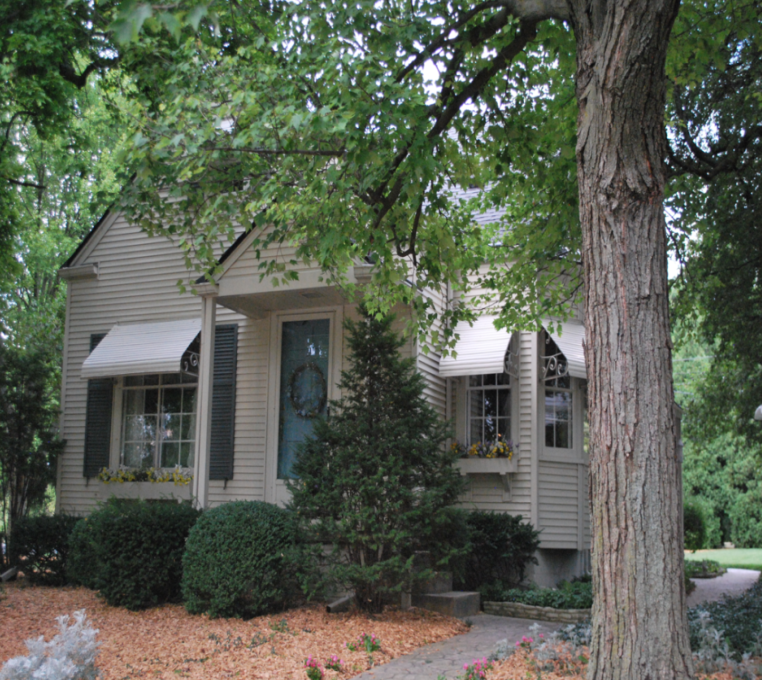 This home down the street has always been an inspiration to me. My whole life, Mrs. N. was cute-as-pie working in her yard with her big Holly Hobby sunbonnet hat.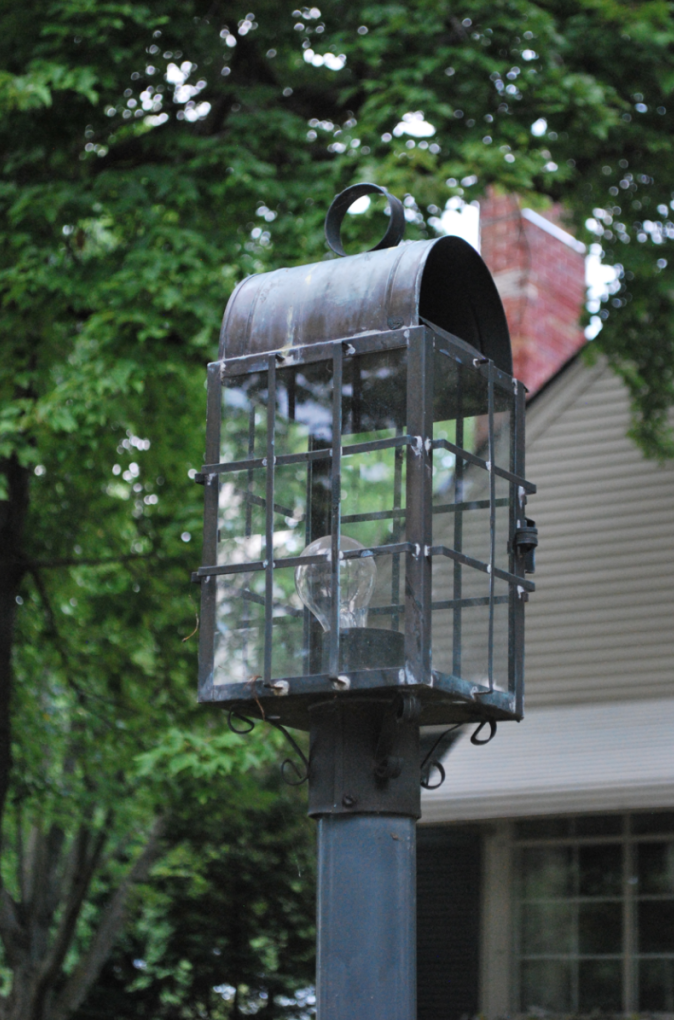 Love her light post too! The world needs more charming light posts, or better yet gas lanterns.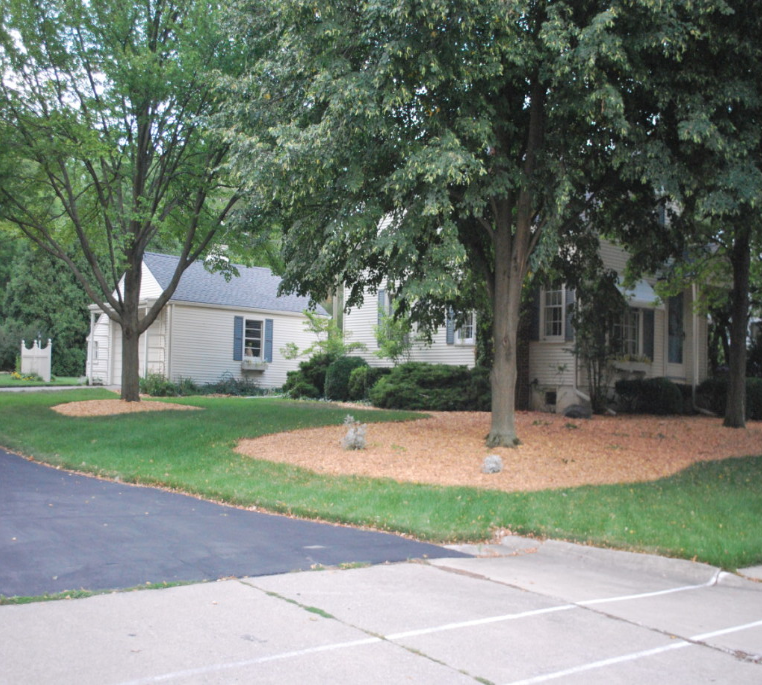 She also has a side-entry garage, like our new charm school house, and I hope our side view is as pretty and polished someday too.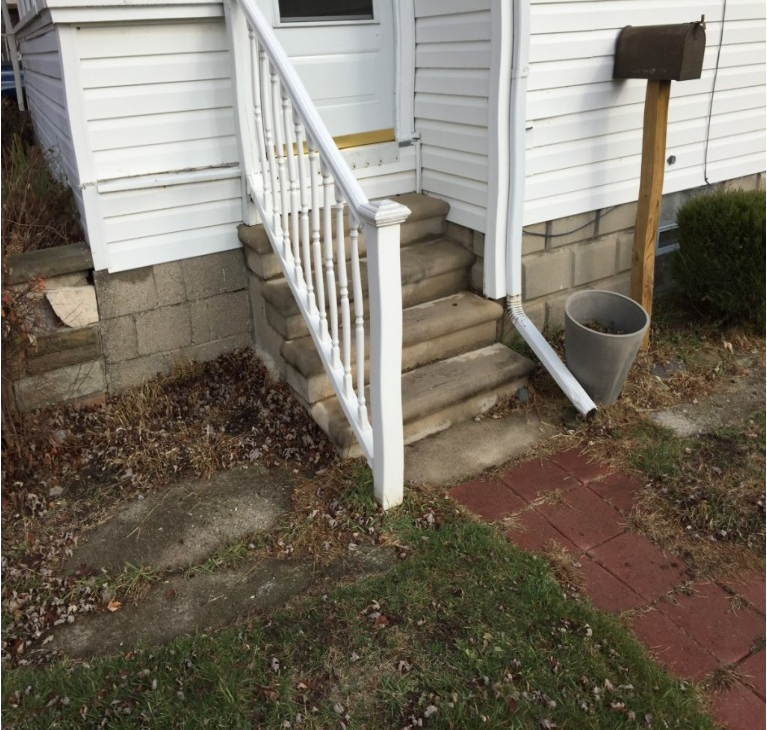 So there are a lot of these red pavers things, like everywhere. I'm thinking we can repurpose these in a fun, tasteful and creative way at some point this Summer.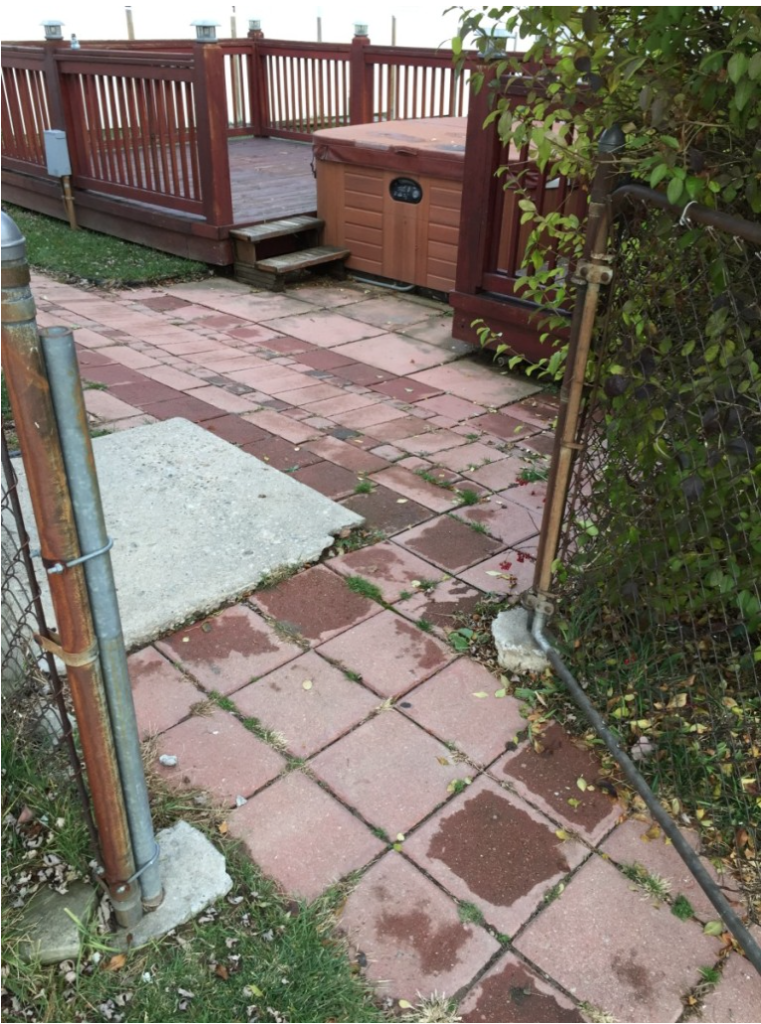 I want to repurpose as much as possible, except for the hot tub, hah, and this awkward floating deck in the middle of the yard. I think platform decks are cool, when placed in the right vicinity and scale of the property. This one, not so much. Maybe we relocate it towards the back yard, back of garage or next to the house?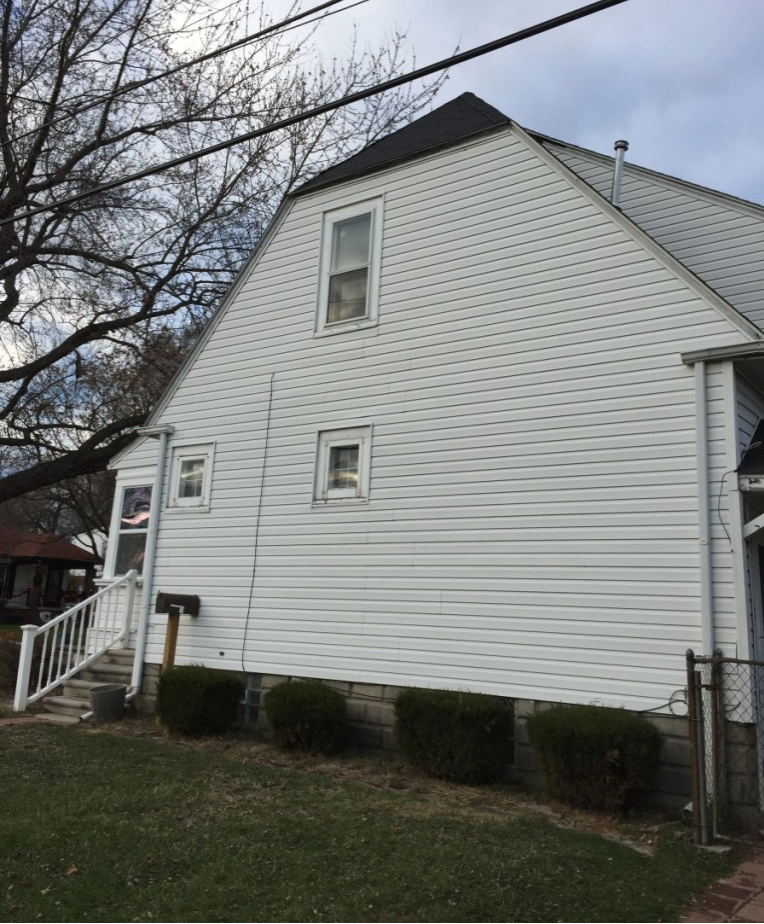 All the landscaping will flow in waves instead of the straight and serious. And I'd like to add real board and batten shutters (they are easy to construct) with real hinges and shutter dogs to hold them in place. Our goal is authenticity. I'd like to paint all the exterior window mullions a pale pretty blue this Summer and the house needs a good ole power washing for sure. I'll be putting Big Poppy and the Hubs to work! :-)))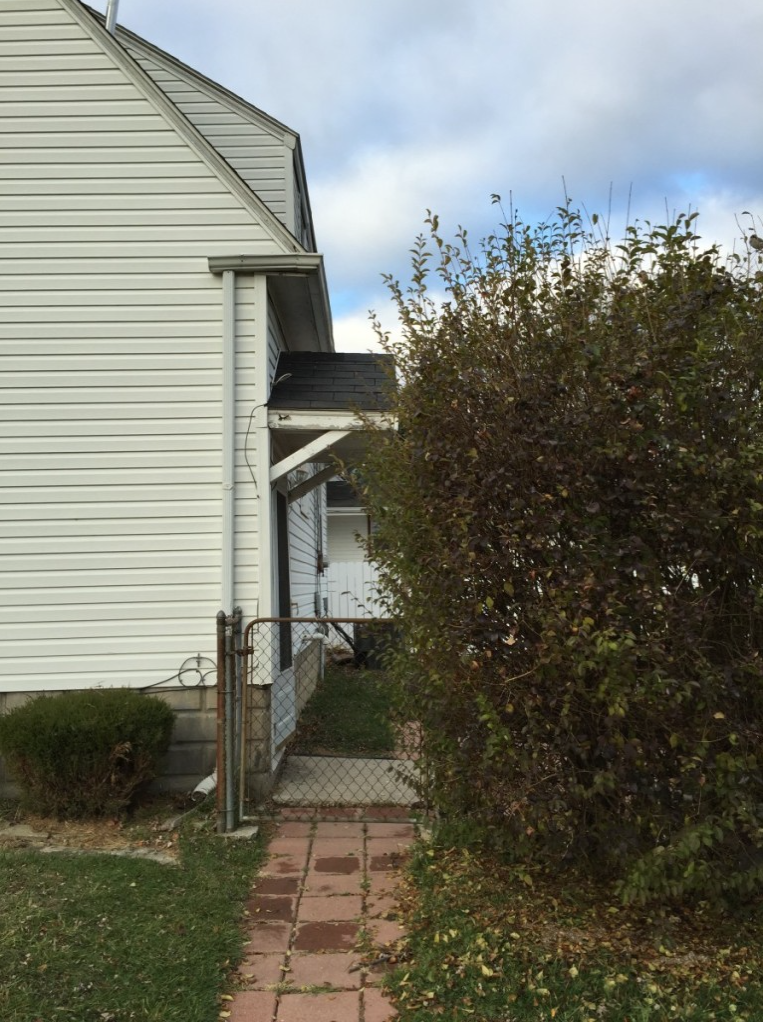 Can we please outlaw the chain link fence (and metal awnings!) like now? The actual chain link part isn't so bad, hey its geometric, maybe framed in wood would be a cool modern take for a Midcentury house, but by itself, it's depressing aeh? So this section is history as well as the overgrown bushes (go figure the only bushes they planted are constricting your entry). We will replace it eventually with a white picket fence and arbor and expand the footprint towards the driveway so it's not so cumbersome to get through gate, in back door, with groceries in hand. And I want the arbor to be visible towards the street.
In my daydreams, I want all the homes I hope to fix up, to have a big American flag, tasteful house numbers, an arbor with climbing roses and some white picket fence flavor somewhere on the property.
Here is a beautiful example of a custom gate with arbor. So lovely!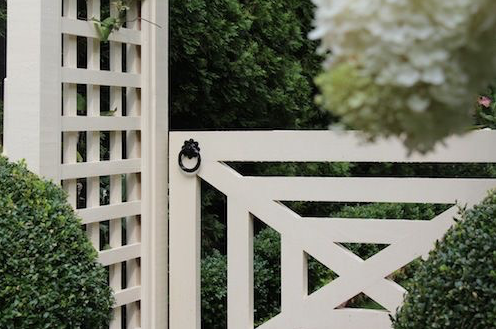 More of those pavers I was telling you about…we've got our work cut out for us! All of this is getting blown up and the hot tub is for sale if you know anyone interested.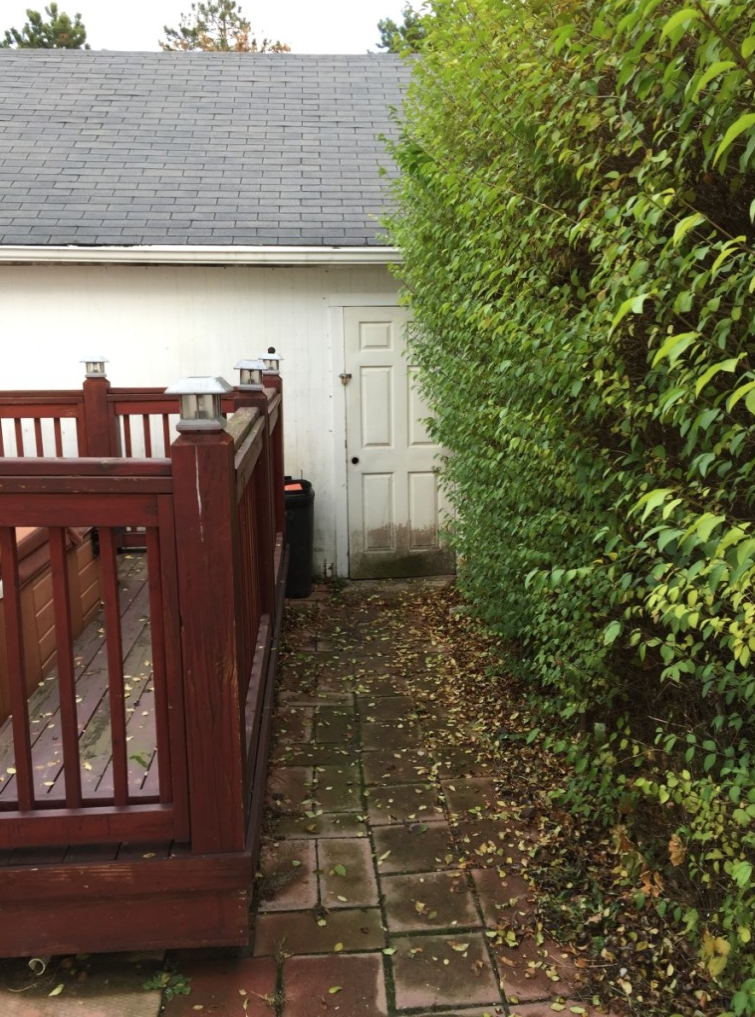 This picture of the deck gives you a better idea of its not so great placement. The stain color is the worst. Sorry not sorry.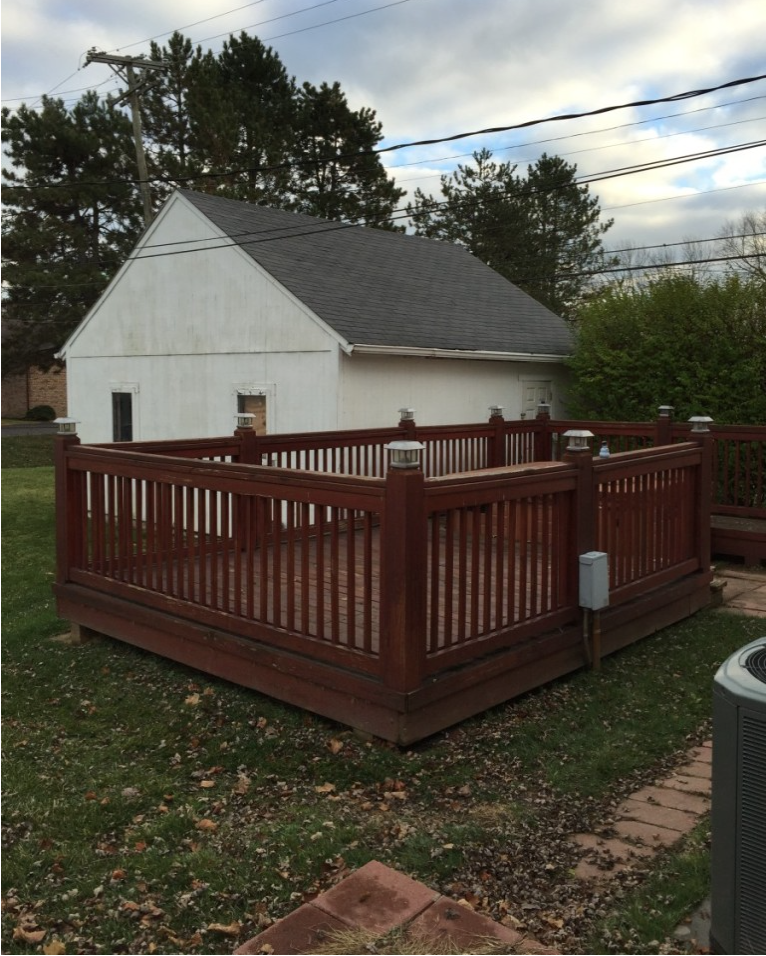 Good news is the house has A/C, which was not all that common back in the days when we were fighting over fans. Bad news is, they couldn't have picked a worse spot to locate the unit so I'm going to see about getting it moved to the side of the house, other side of the fence. Hoping my big brother can handle this for me. I'm going to paint the entire stone foundation black, so it disappears behind new landscaping.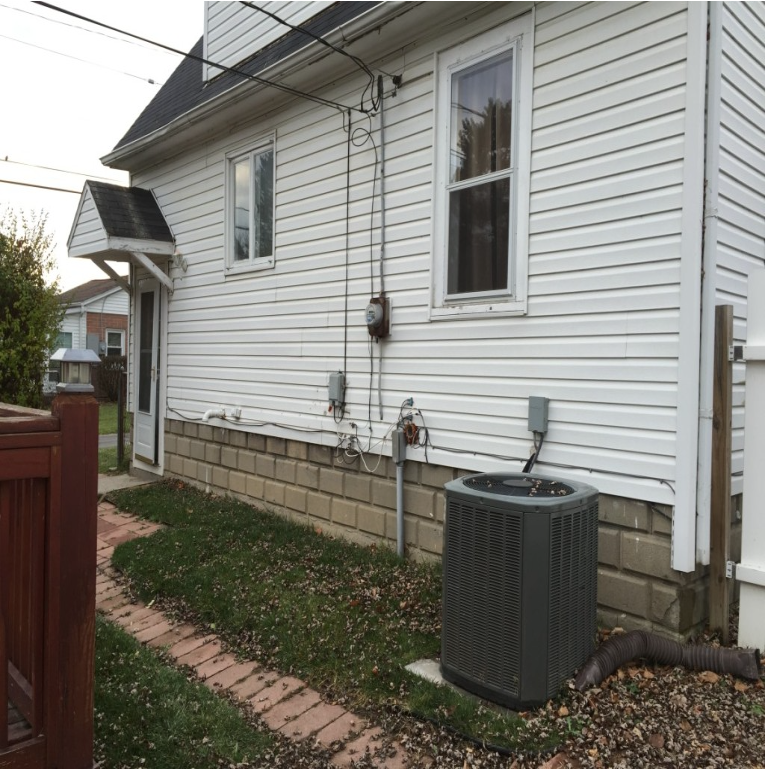 Let's talk about that garage AND how cute its going to be wrapped in board and batten ;-))))) More lilac bushes and Evergreen trees along the back property line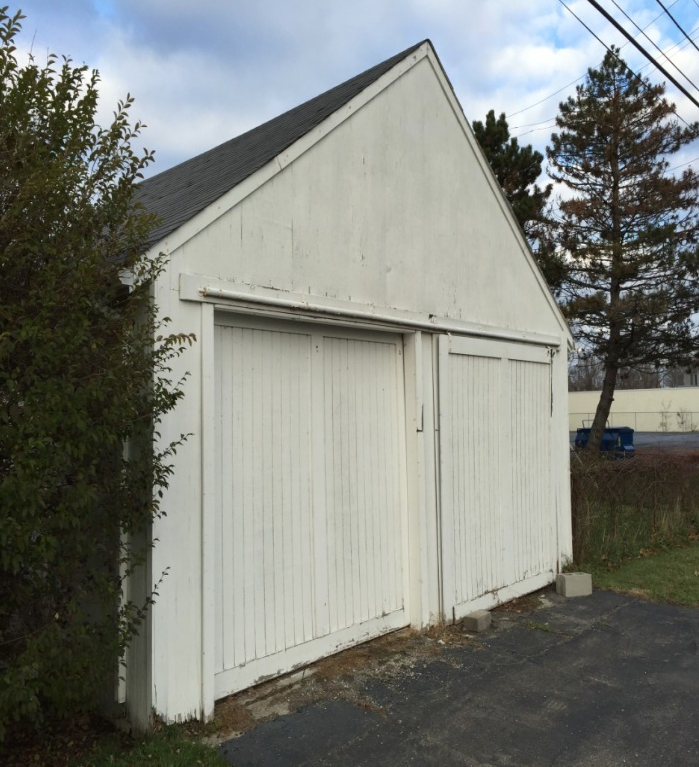 Our garage inspiration photo…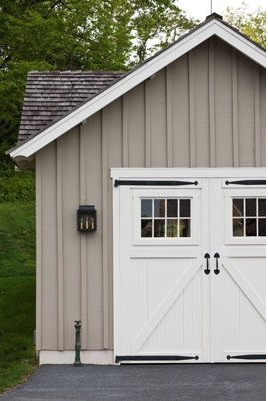 (keller williams realty)
If money grew on trees, I'd cut out this entire two-door mechanism, hardware, etc., and relocate it to the back of the garage, where you could open it for entertaining…wouldn't that be cool? Block party! And then install a more conventional, automatic garage door. But for now, she stays. I've got someone to from a Garage Door Repair Toronto company to come and take a look at the door's springs just to make sure they're safe and secure as it is a pretty old garage door.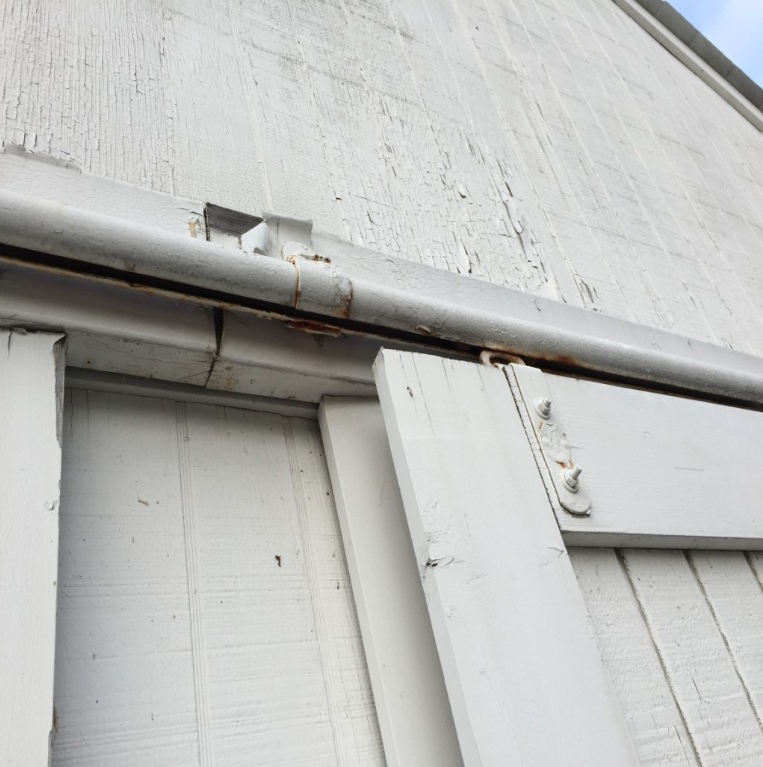 Can't decide if I should paint the doors black and/or add my favorite "x" motif to each panel? Have to see what Uncle Pauley, my carpenter, says about that.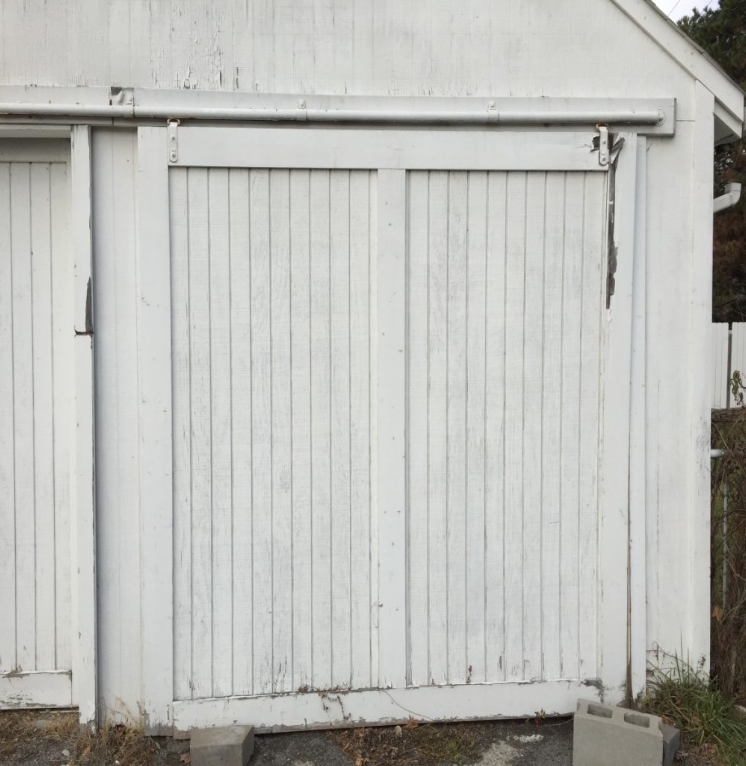 I love that it is a side entry garage. I'll trim the edges of the driveway so they are looking sharp and tight. The poor home just needs love!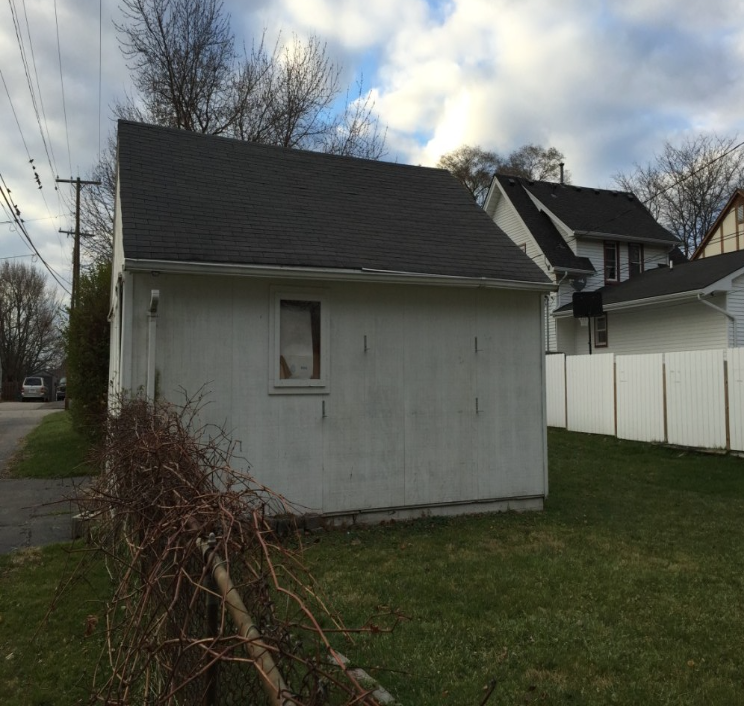 I'll be poaching a ton of Mom's hostas…not an ounce of landscaping back here. I figure we'll start in pockets, key places of interest and build from there.
Okay, time for the inside!
Front porch, carpet, eew, and the fan, gone-zos. Ceiling will be painted "ceiling porch blue". No brainer. Again, everything needs a good scrub, power wash.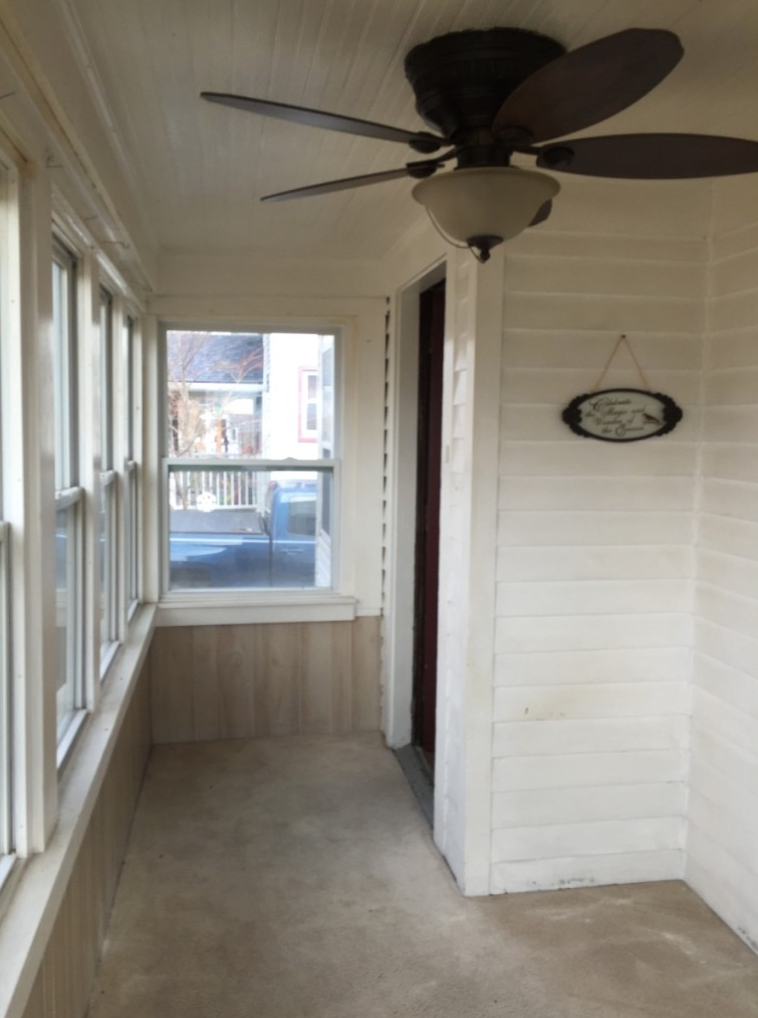 We started demo on the floors and nothing but particle board underneath. Bummer. No pretty wood floors to paint a pattern on. So I'm thinking the painted porcelain tiles. Give it some muted color and pattern. They are low maintenance, affordable, durable and stylish. We'll finish off the look with some outdoor drapes (and hopefully start a trend…can't say I've seen any outdoor drapes around town yet?) and make it cozy and create lots of interest from the street. As a kid, I rode my bike past homes all the time and wondered what it would be like to live there and would like little dreamers to do the same when passing by here. BTW the front yard has a 100 -year-old tree with all these big arms perfect for a tree swing! I'm thinking there use to be one when I was little. I can't quite recall.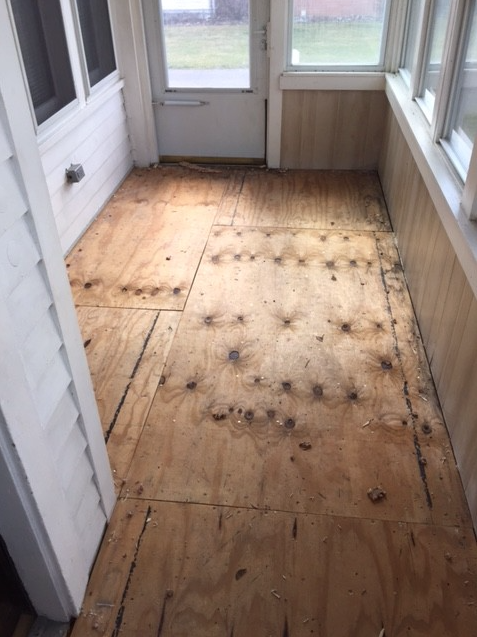 Big beautiful original front door with original hardware. This little niche will be covered in some left-over grasscloth from our foyer. The look on airport security's face when they scan my suitcase next month…wallpaper, scones, drapes, hardware. Although I'm sure they've seen it ALL.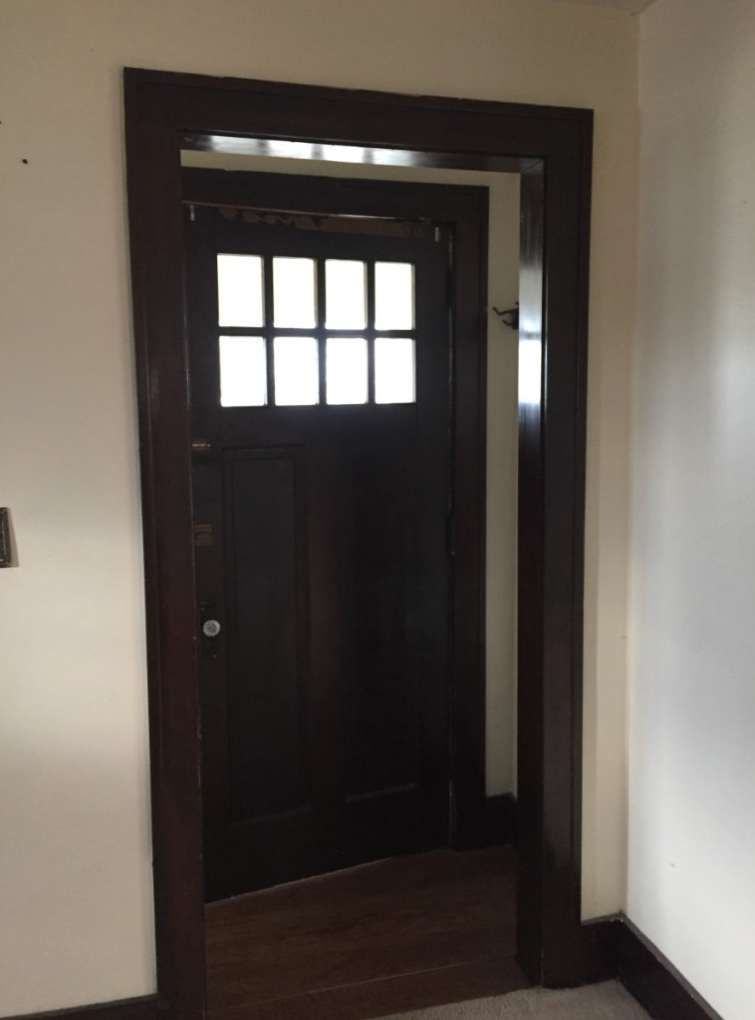 All the interior knobs are original glass. Notice the two mismatched screws. This kind of stuff drives me nuts. Designers are very detailed (or insane). Take your pick. ;-))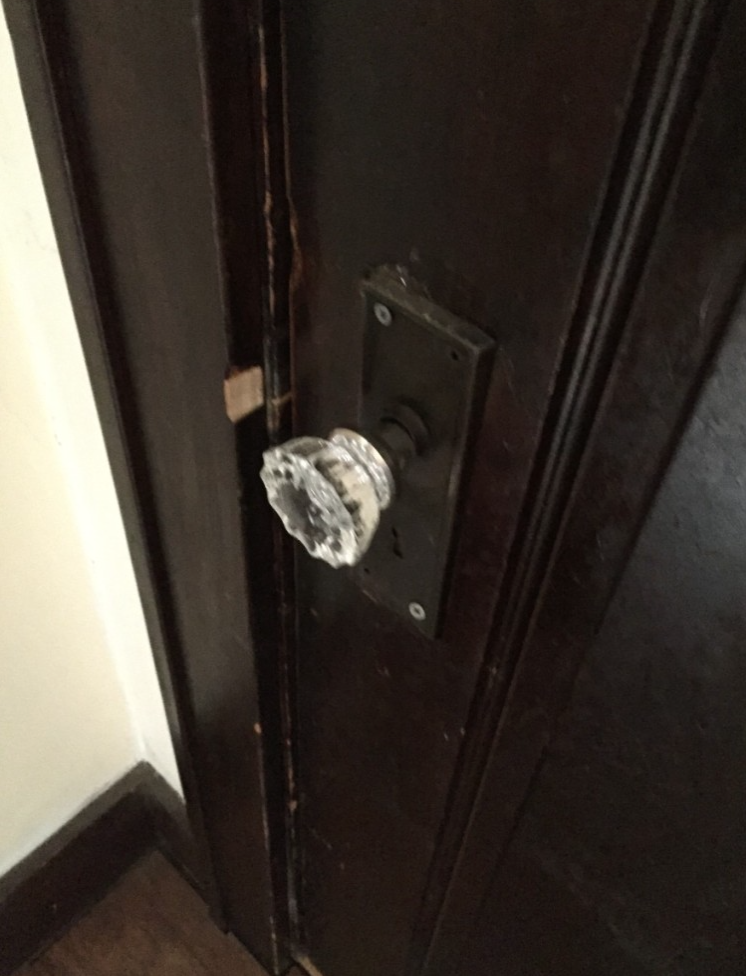 All interior doors will be painted black and the walls and trim "Swiss Coffee" from Benjamin Moore. Contemplating painting all interior mullions black too. Because we are on a budget, we have to get as much design bang for our buck with PAINT. I'd love to be able to bring in some professional interior house painters to make my life much easier, but my budget doesn't quite allow for that. The living room is wired for two sconces – yay! Love sconces. And you know that ceiling fan's day's are numbered.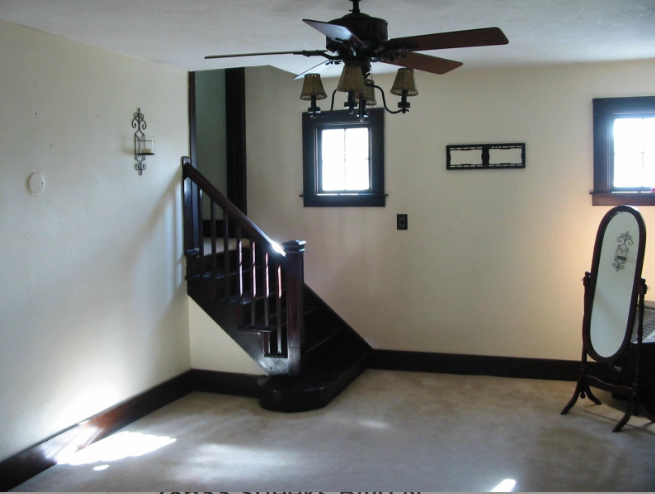 I LOVE the stair rail and how the bottom stair rounds the bottom.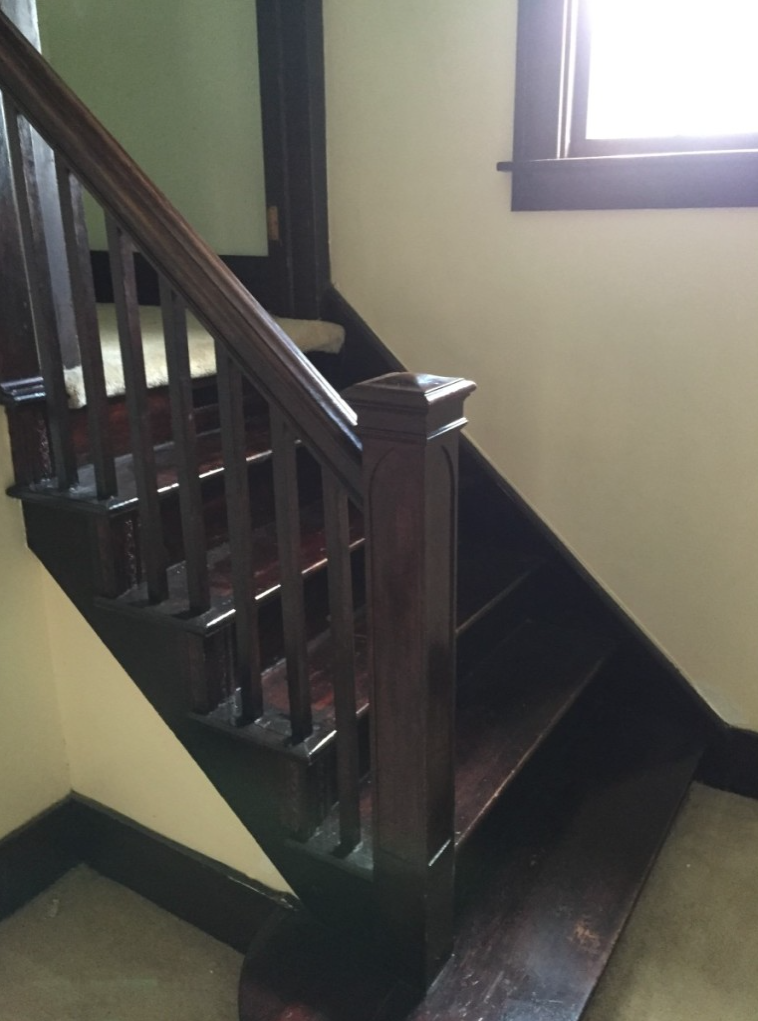 I had a feeling the home was chuck full of original hardwoods and happy days – it is!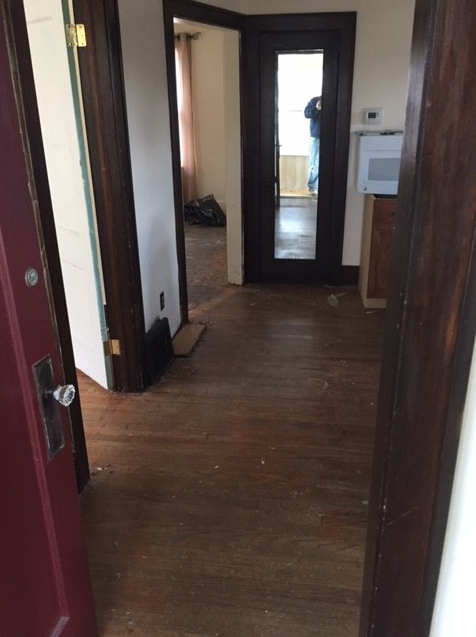 To the left, is this great bonus room with all these windows (and this funky chandelier that's coming home to Atlanta with me if I cannot find a worthy place for it here).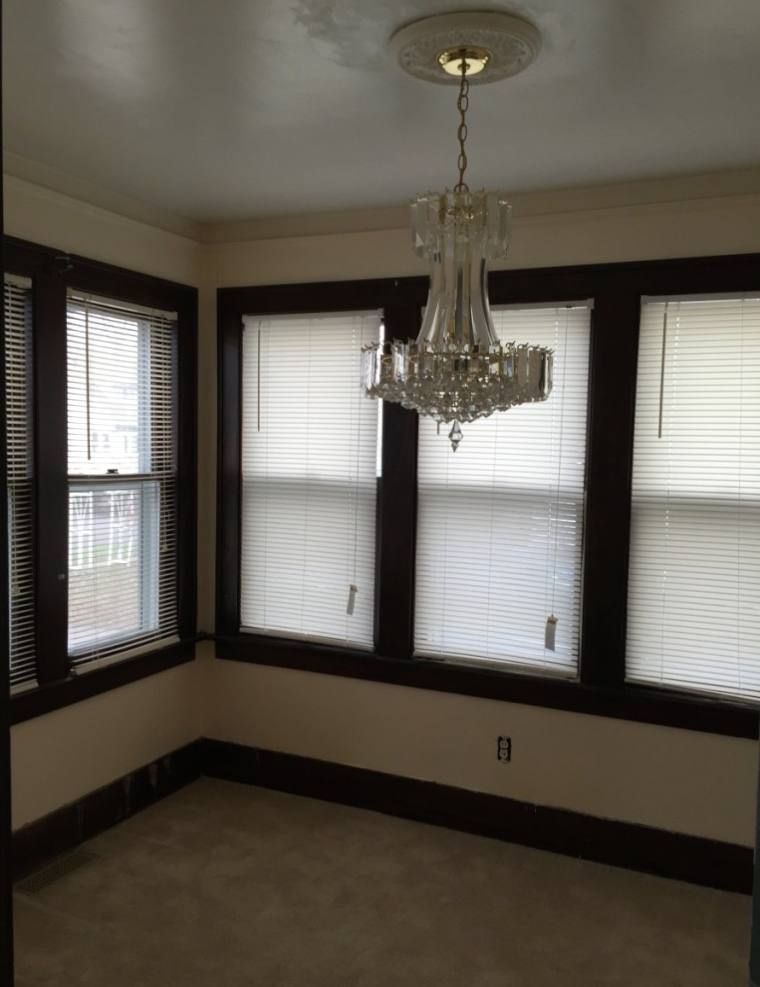 I'm thinking a big paper lantern might be a neat juxtaposition to the ornate ceiling medallion and look really cool from the street, through all those windows. Blinds are coming down and I'll outfit this room with black out lined drapes. Whoever gets to rent this house, I hope will appreciate all the great window treatments I'm putting in it.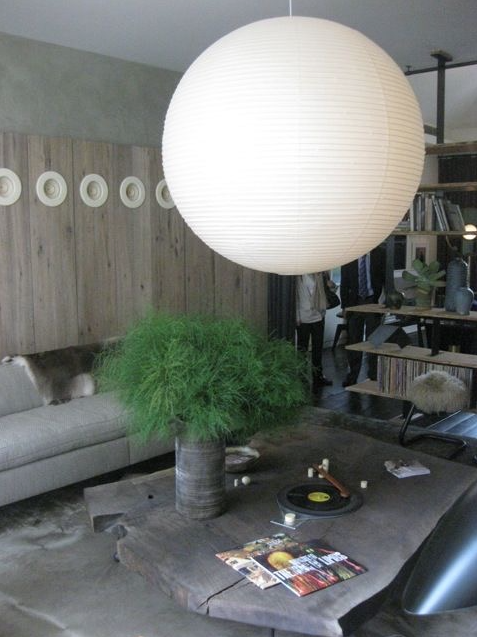 (the exuberant home)
And maybe we get a little crazy with the ceiling medallions and add a few or five or ten clustered around the center ceiling? That might be fun!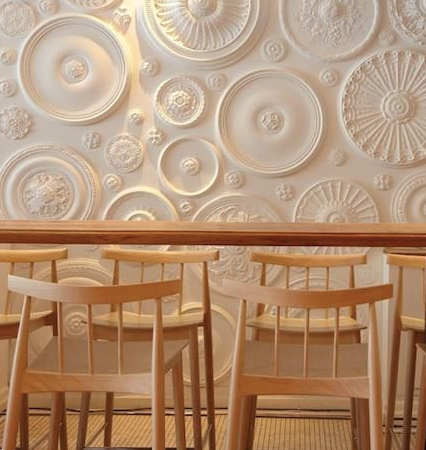 (remodelista)
Decorating this place will be a blast, I have heard about a few furniture companies out that are interesting especially when it comes to finding beds and mattresses. If you're interested you might want check out something like Leesa. This home is a two bedroom, tough sell, so we are going to line the entire back wall of this bonus room with IKEA cabinets for major closet and storage space, making it a third bedroom. Here's a few examples.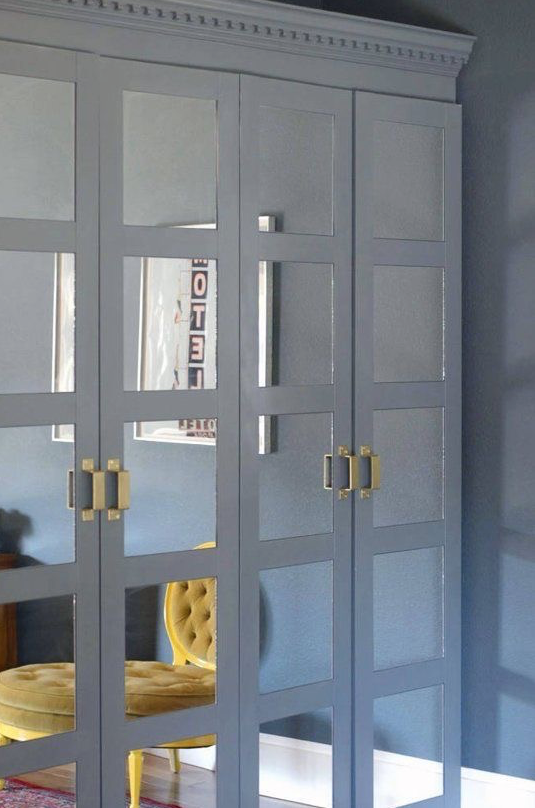 (little green notebook)
(jenna sue design)
One of the other key selling points of this home, for me, was that the basement is partially finished and stubbed for another full bath so we'll have to trick it out down there and make it feel not at all like a basement but more great living space. It has some decent natural light too. Better some than none!
Here is the dining room…I'm not really sure if the ceiling is original. I think it might be one of those paintable wallpapers. I'll have to get a closer look. If it is in decent shape, we'll accent it with a pretty color. I've been stalking the lights at World Market, Lowes, Home Depot and IKEA trying to come up with a cohesive, affordable but stylish lighting plan.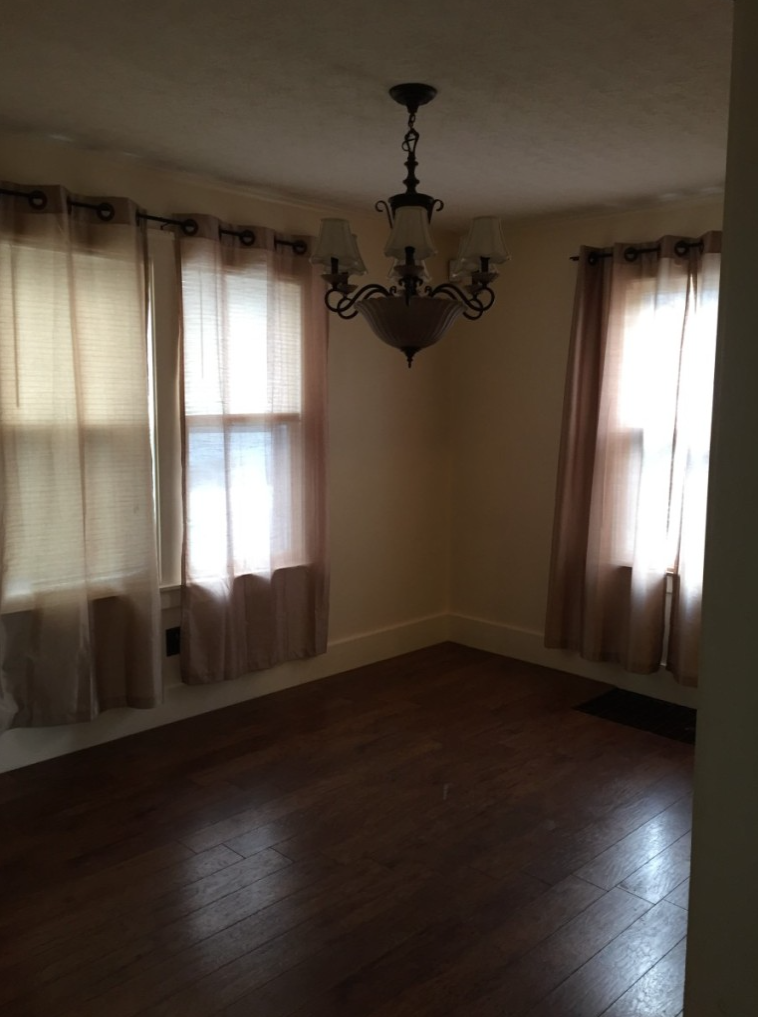 These ugly glue down floors were ripped up as well, revealing originals underneath.
And rounding out the first floor, the very small kitchen.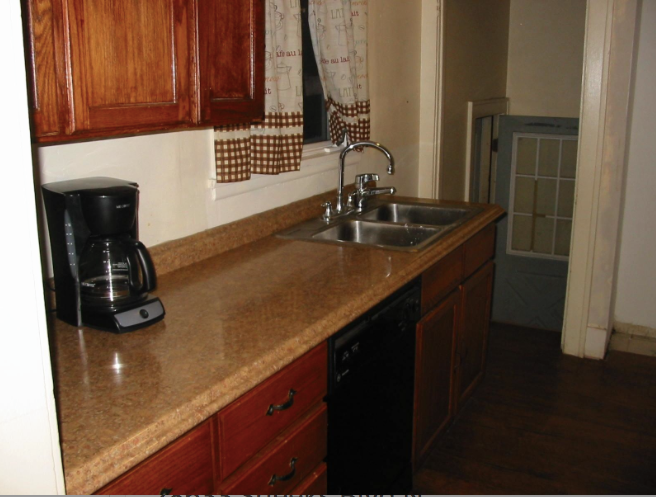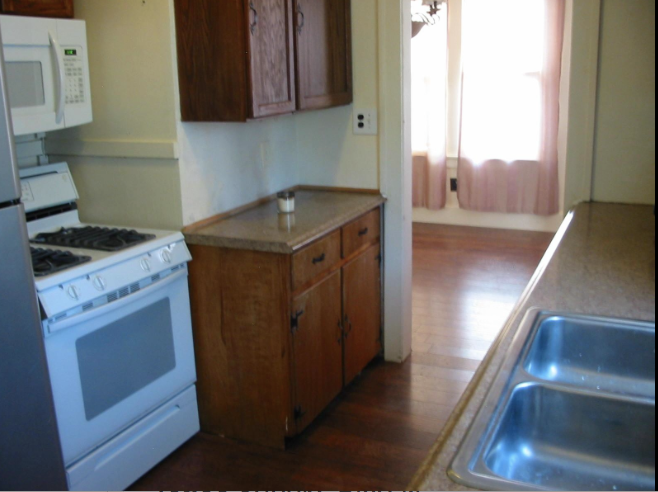 But we love a good kitchen design challenge! Here it is gutted and ready for some serious help…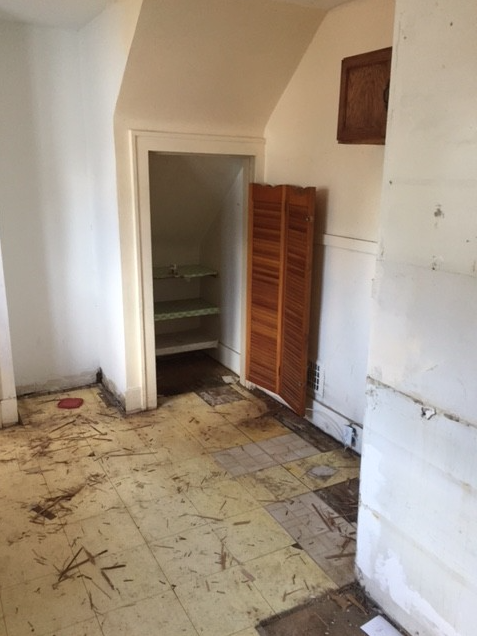 We're going to steal from the coat closet (the bump out you see on the left…all the more reason to add those IKEA closets in the bonus room) and possibly knock down the wall between the dining room and kitchen for obvious reasons. Again, I'm dying to get in there and start measuring and sketching out a more functional, cottage kitchen. We'll be using IKEA cabinets, a countertop that looks like marble and exposed shelves, for starters.
Down the stairs to the basement. Notice all the hodge podge trim work everywhere (and the flipping cable cords). Drives me nuts. Because the finished basement is going to be such a necessity for a home this size, this back stairway has to be well designed and feel comfy and inviting. I promise, it will. Pulling out all the tricks in my bag for this project!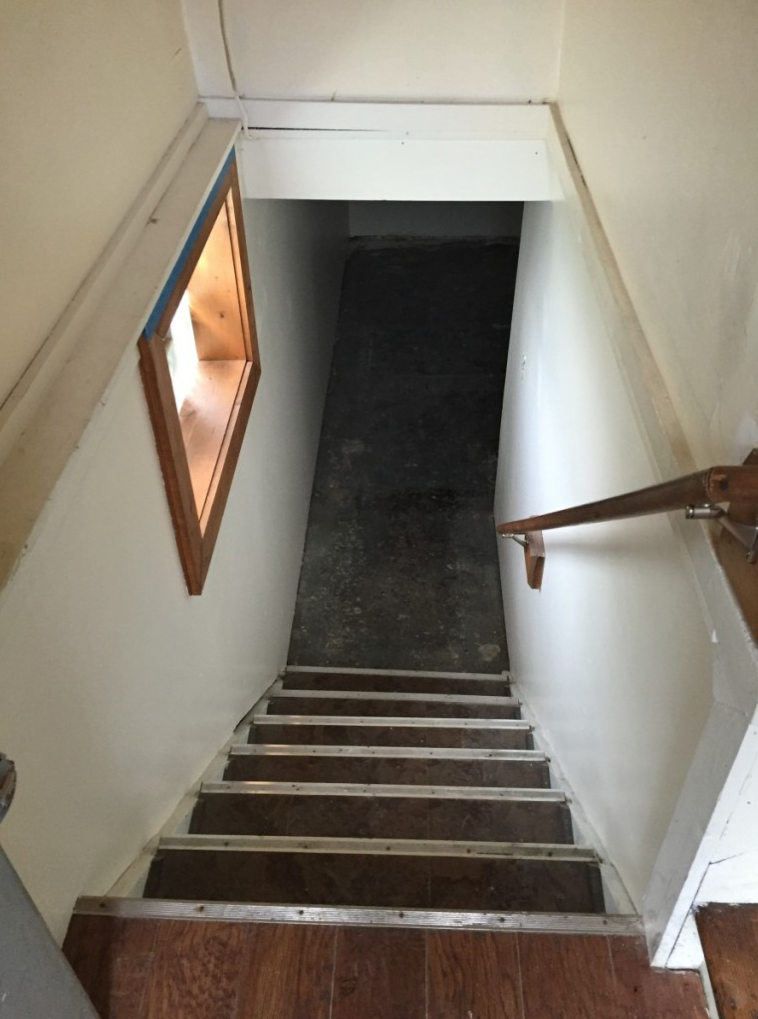 Starting with this small square landing when you walk in. We are covering it in brick. The nice thing about a small cottage home is you have all this opportunity to add great texture and style in small, affordable doses. I think brick will be a great first impression at the back door, with your wet and snowy boots. The stairs will be covered in a rough and tough berber. Remember it gets really COLD in Michigan. We gotta keep things cozy where we can.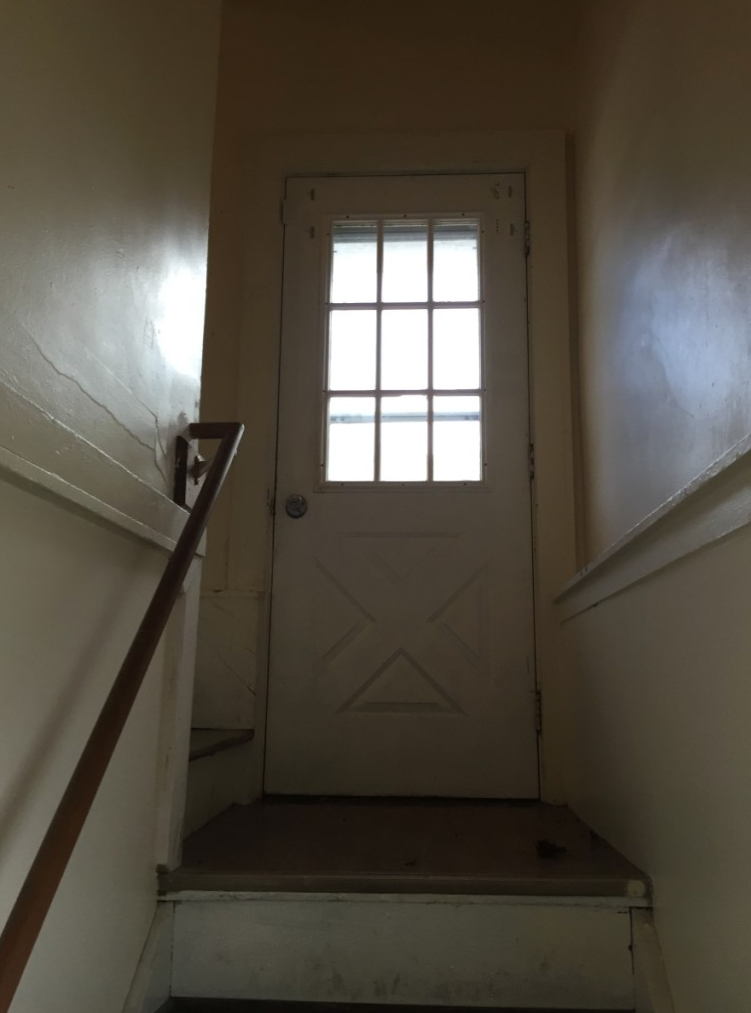 This poor home, it so needs a good paint job! Clients are still surprised when I tell them to paint all their interior doors dark. If this door was black, we'd never know it was so DIRTY. I'll get some great pics of the basement next month to share.
Upstairs hallway and more carpet. All has been ripped out. The entire home top to bottom is hardwood, except for the kitchen. So we need to decide on a floor finish! I really want to do a white wash kind of look. Keep things bright and cheerful.
I'm crazy about all the angles up here. Angles look great wallpapered! ;-)))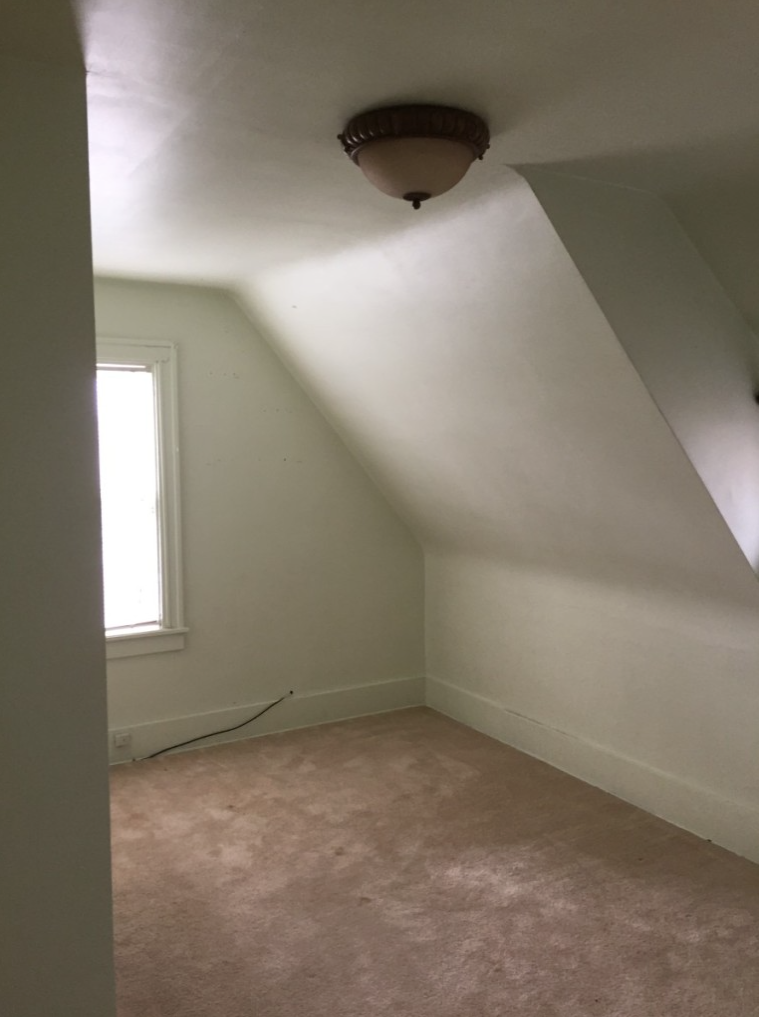 The cable cords are really annoying ;-))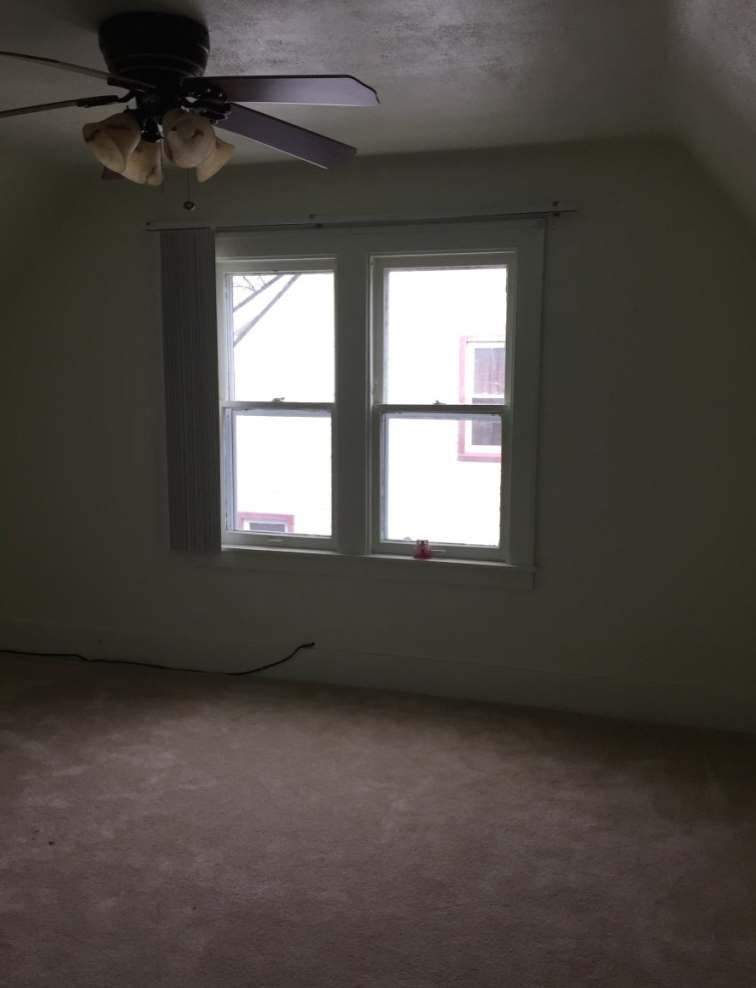 And lastly the full bath upstairs that will get a total face lift, again, because of its size, it won't take much. The le toilet is conveniently tucked behind the door, out of sight. We like that.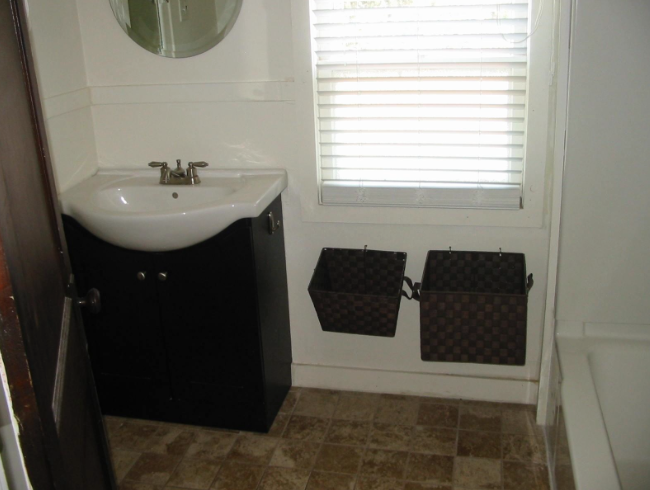 Old school medicine cabinet stays. Strip the hardware.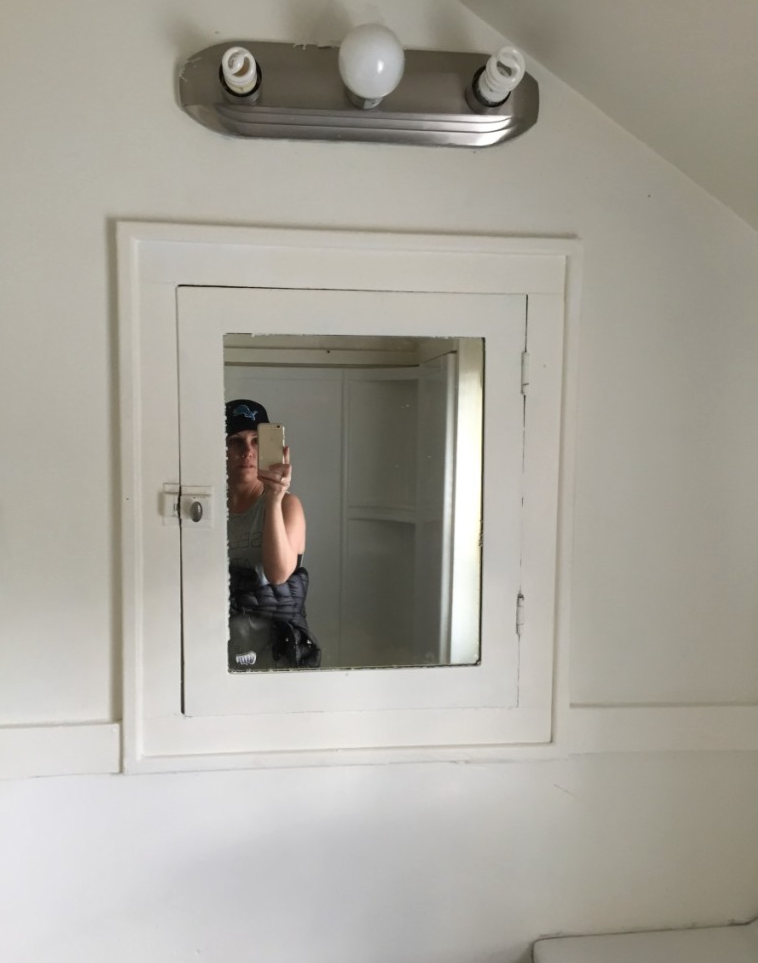 I really like the idea of painting the trim around the medicine cabinet black, and maybe all the trim in the bathroom and bedrooms upstairs, black like the picture below. This house will have a very cohesive, consistent black, white and textured theme throughout.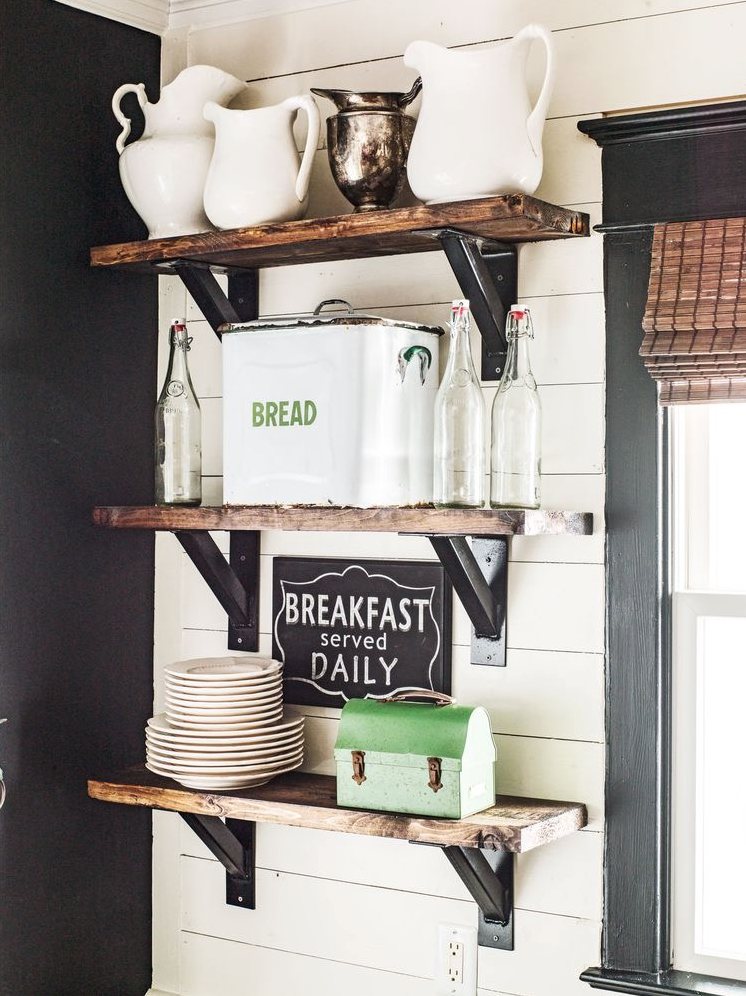 (country living)
I can't help but think of Tobi Tobin's home in House Beautiful when I think about this home's design. I went wild when I saw it featured! And blogged about it here.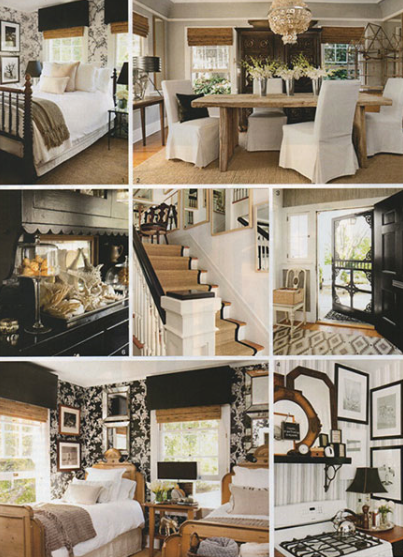 So team what do you think?! I've completely lost my mind? Hah! I will admit every time I think about this house, it brings a big fat smile to my face. I'm super excited to see it come to fruition. I hope you'll follow along as I embark on my very own fixer upper / rehab attic in my little hometown of Flat Rock, Michigan!
And I'm counting on all my hometown friends to help spread the word, check in here (and on Instagram) on the progress and ask for help on their own homes! I want this home to serve as the poster child for charm school and inspire and ignite others to get EXCITED about their homes!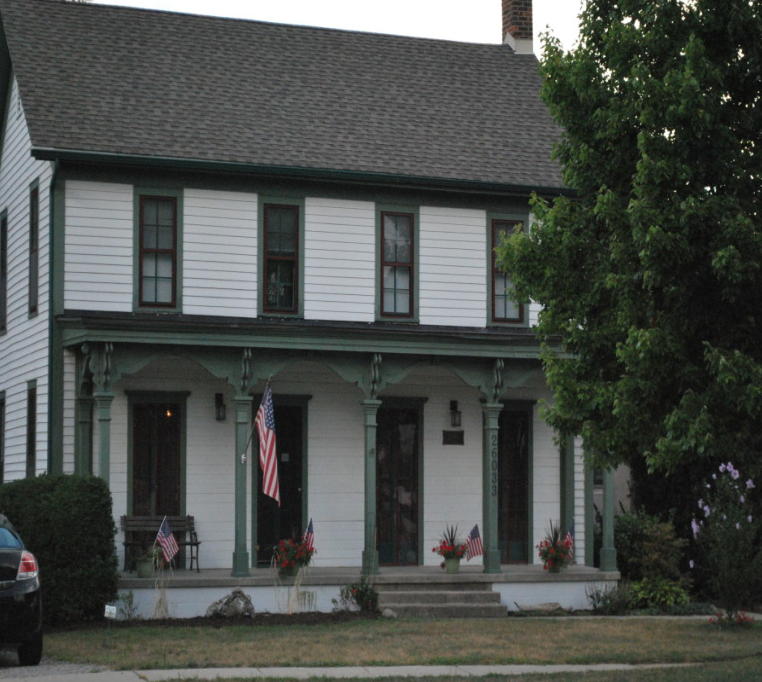 Now that I'm officially a taxpayer, I filled out the city planning survey, and suggested the city award folks a beautification award (like the home above). I know they use to do this for businesses in town, why not homes? Maybe even section off the neighborhoods and start a Home Owner's Association for each quadrant. It will do nothing but help home values and put money in people's pockets, while instilling a sense of community pride and knowing your neighbors better. I don't know what I would do without the love and support of my neighbors here in Georgia. I totally get where Moses was going with "Love Thy Neighbor" :-)))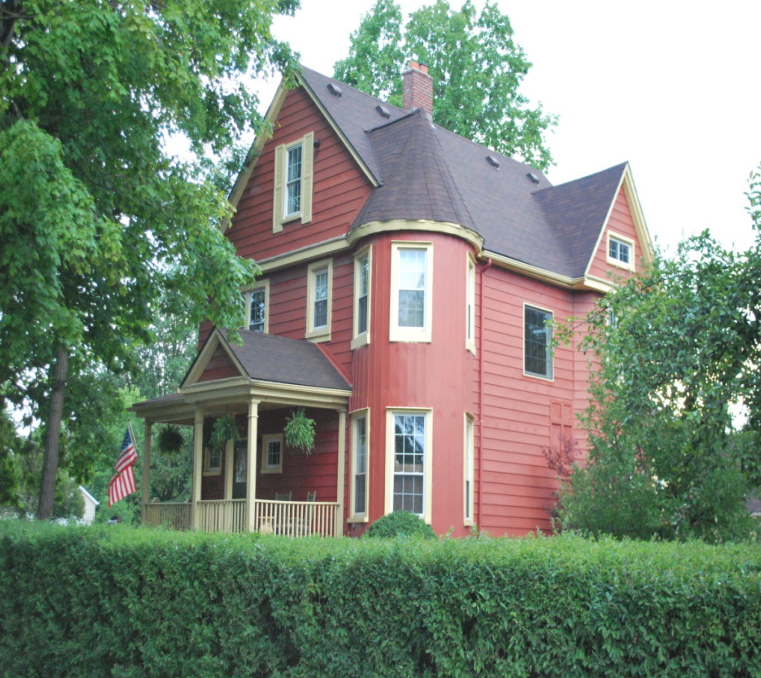 The sweet folks that moved into this house, painted it red and line their entire curb with flowers every Summer, like Charlevoix in Northern Michigan. I'd say that's worthy of a mention. I've started a pinterest board HERE called "Level Pebble (CHARM SCHOOL)" loaded with easy and stylish ideas to get you in the spirit.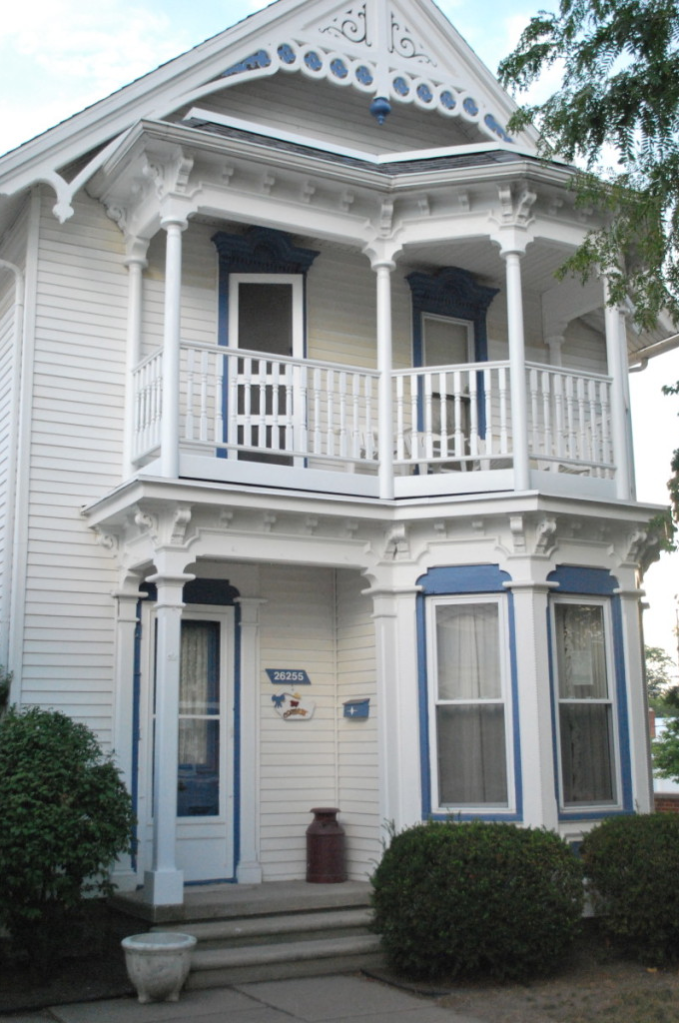 Mom was a big fan of this home and did an amazing sketch of it below…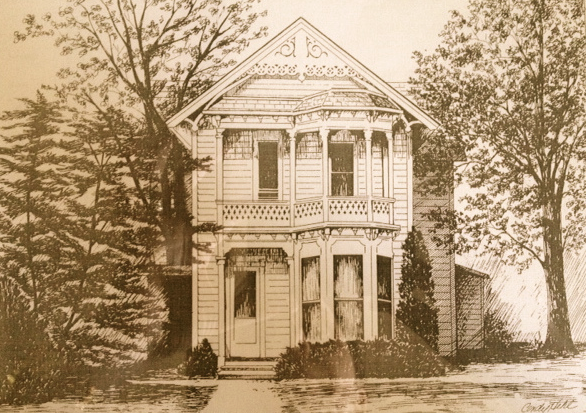 NOW about the name of the house…I'll never forget the day I finally had enough money to buy my first Kate Spade bag, you know, the black rectangular nylon shape everyone was carrying in the late 90s. However, I didn't want to be like everyone else, so I chose a different style. It was called the "Elise" I believe (one of my best friends -perfect) and the sales lady explained that Kate names all her bag styles after her friends and family. Wow HOW COOL is that, I thought,as I sat there a second day dreaming about a day in the life where I made something I could name after my badass family and friends. Then again recently I read about Gwyneth's new make up line and how all the lipsticks are named after her girlfriends. I don't know if I'll ever have enough homes in "The Rock" to remodel and name after friends, but this first one is FOR CERTAIN going to be named the Lori Ann house, after my best friend who lost her battle to Lupus weeks after her 40th birthday. I can't even begin to describe what a shock that was to all of us or what its like to drive by her childhood home we played in when I'm back and cry in front of my kids. :-((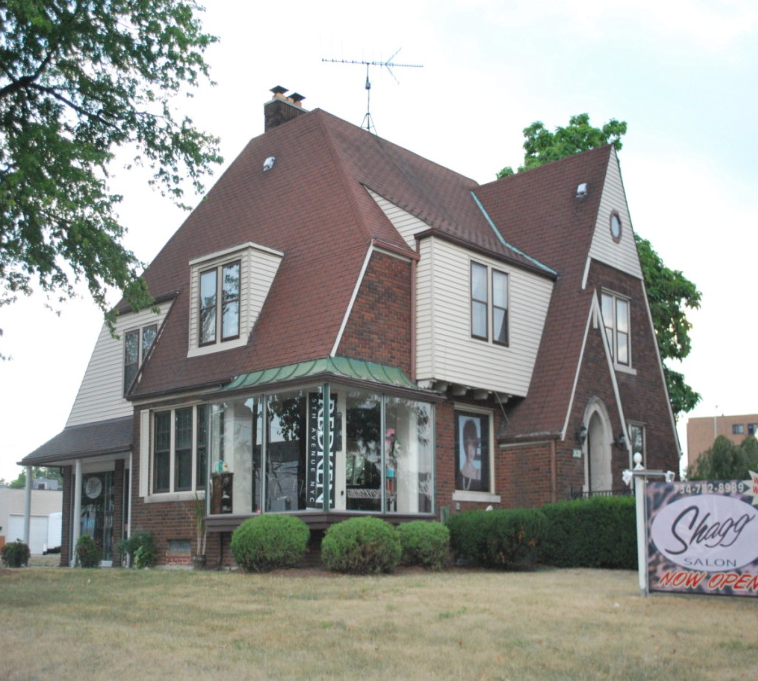 (Lori's childhood home. When she lived here, her Mom had a dress shop downstairs, The Julia Shop, and they carried Esprit cloths! Remember those?)
I never in a million years thought Lupus could take her life. So without a doubt, my first little dream cottage will be in her honor. Mom's got her house, my Sister has hers, my Mother-in-law built her dream cottage on Torch, this one's all for Lor. xoxo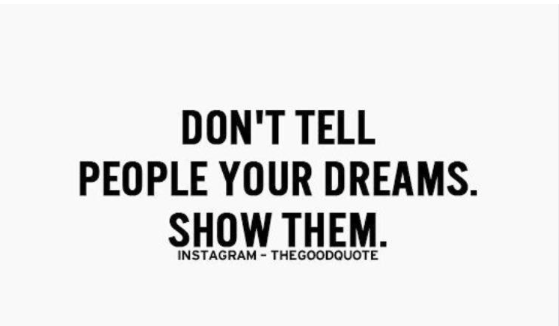 So there you have it! Thank you all so much for stopping by and sharing this new adventure with me! I want to take a moment to thank my reluctant Husband again in helping me get started and make a difference in my hometown that was so good to me growing up. Giving back is the spice of life.
Have a beautiful and CHARMING day team!