So I've been on a bit of travel tear lately. It all started with the college roomies trip to Scottsdale (we try and take a trip once every 12- 18 months, if we can swing it), while a friend here in Atlanta offered up the opportunity to visit Santa Fe – all in the same week. Santa Fe has been on my hit list for years so I somehow finagled both (the Hubs is really rocking that "hubby of the year" crown I coronated him with last post ;-)). And away I went for ten days. No one to take care of or worry about but me???? Glorious. Admittedly I was a little bit intimated, worried I'd get homesick, but alas, I returned a recharged, grateful, wife, mom, designer and sold the whole fam on returning to Santa Fe again someday soon.
Here are all the great colors and inspirational pics, starting with Scottsdale, great climate, great hikes, great views, including this one of Camelback Mountain from our rock star rental.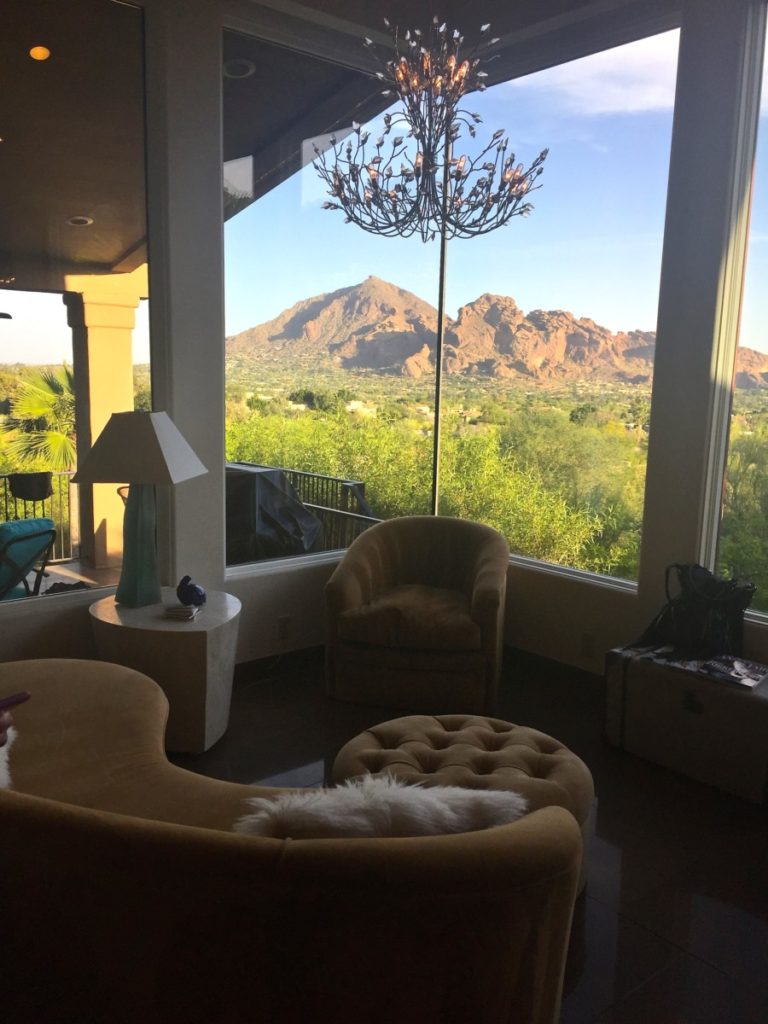 Hit some well-designed, trendy spots and the spa at the Fairmont.
Shopped in Old Town Scottsdale and discovered an amazing vintage clothing boutique, maybe the best ever. You can follow her HERE.
I had a day to kill in between so the hubs scored me a rental car and I shared a few laughs with strangers – rolling dirty with my smart cart, into the airport car rental…"going somewhere?!"  The Sparty girls sent me on my way with all the leftover food and wine.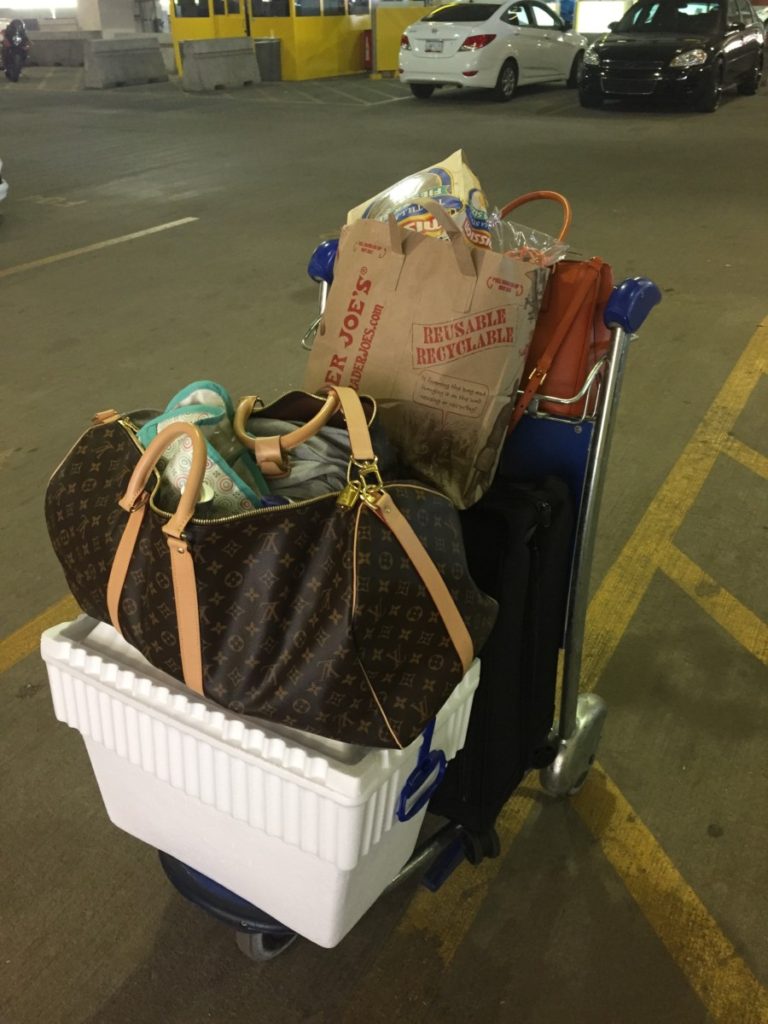 The views were absolutely amazing. Such a beautiful country we live in! It was a great road trip. Took me back to the days Mike and I drove from San Fran to Atlanta. To think about what life was like back then, pre-children, no worries, jobs waiting for you in the next city, just rolling.
Once I made it to Aunt Betsy's house in Santa Fe, I had an entire day to kill before the Atlanta/Birmingham contingent showed up. I was absolutely enamored with Aunt Betsy's home! So collected and styled to a T!
Every time you turned around, something new and shiny to catch your eye…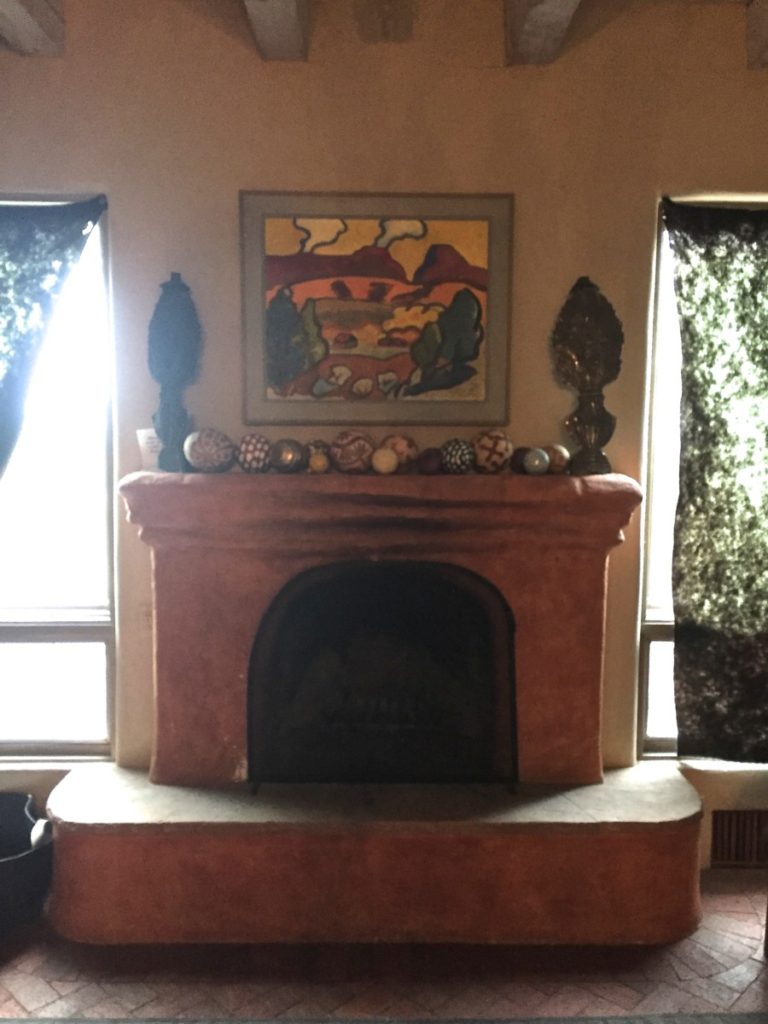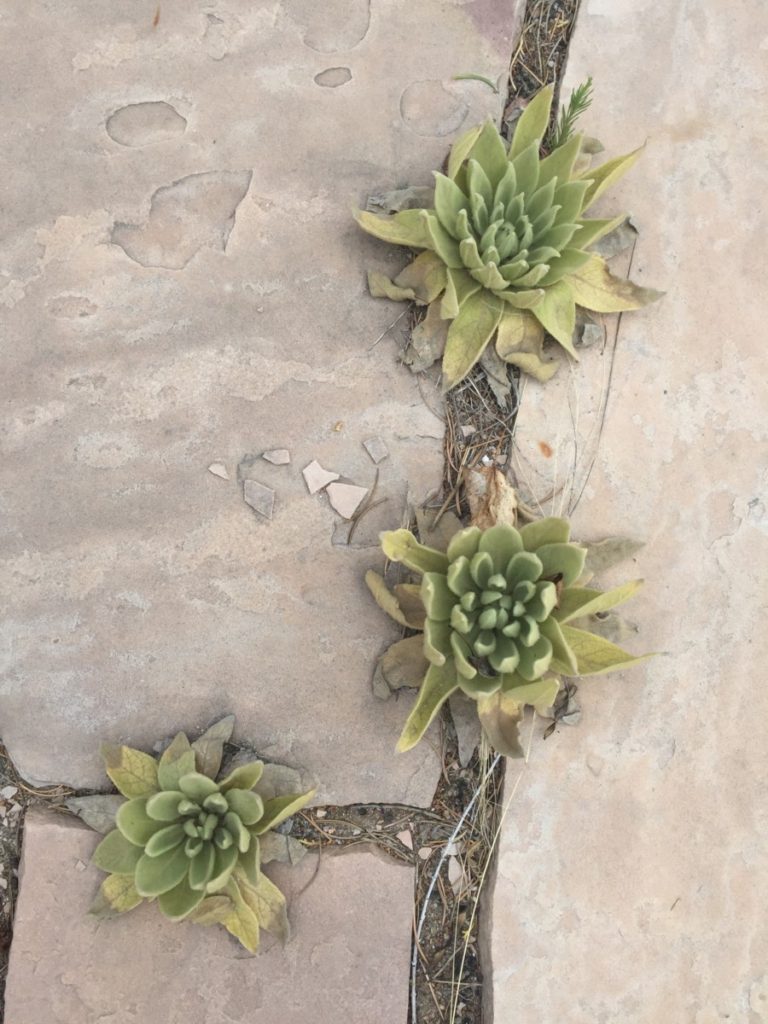 So much awesome color, texture, architectural elements. The home reminded me so much of Papa Maurice's and Grandma Jan's first cottage on Torch Lake. Cozy, collected, loaded with textures and colorful patterns, all weaved together so eloquently. I have to dig out some pictures, you all would love it. I still dream about it and wish I could bring it all back, but with a little of today's twist thrown in.
Then it was time to investigate one of the most amazing, charming and unique towns this country has to offer. Truly!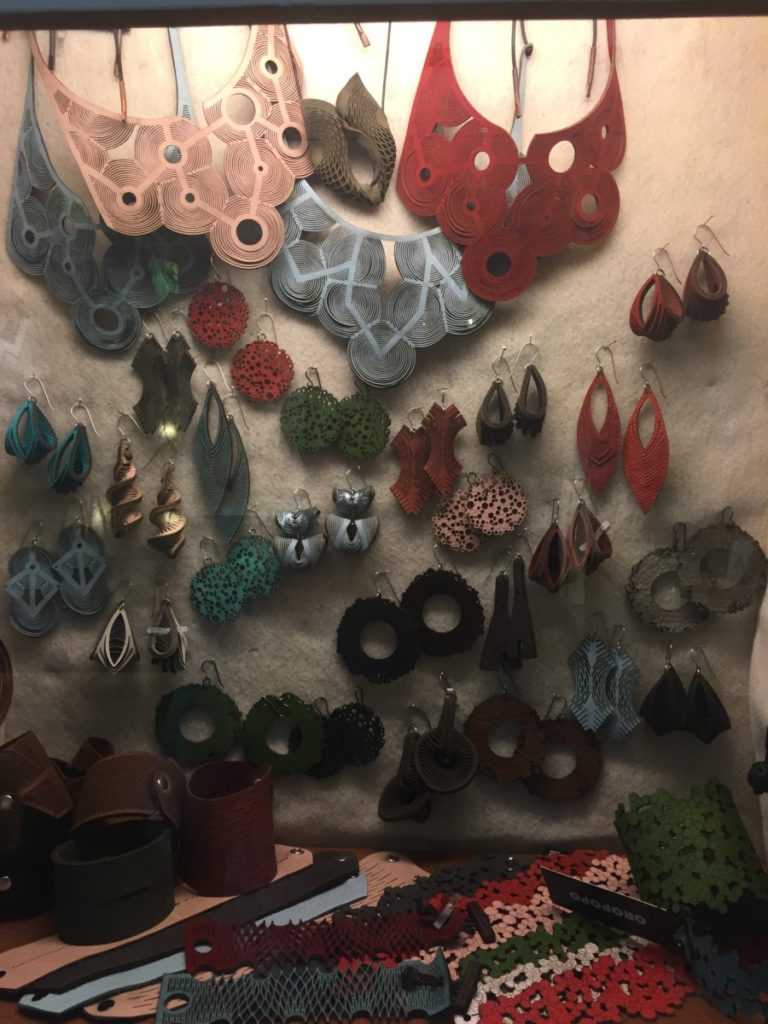 The lobby of The Saint Francis Hotel. Amazing cocktails.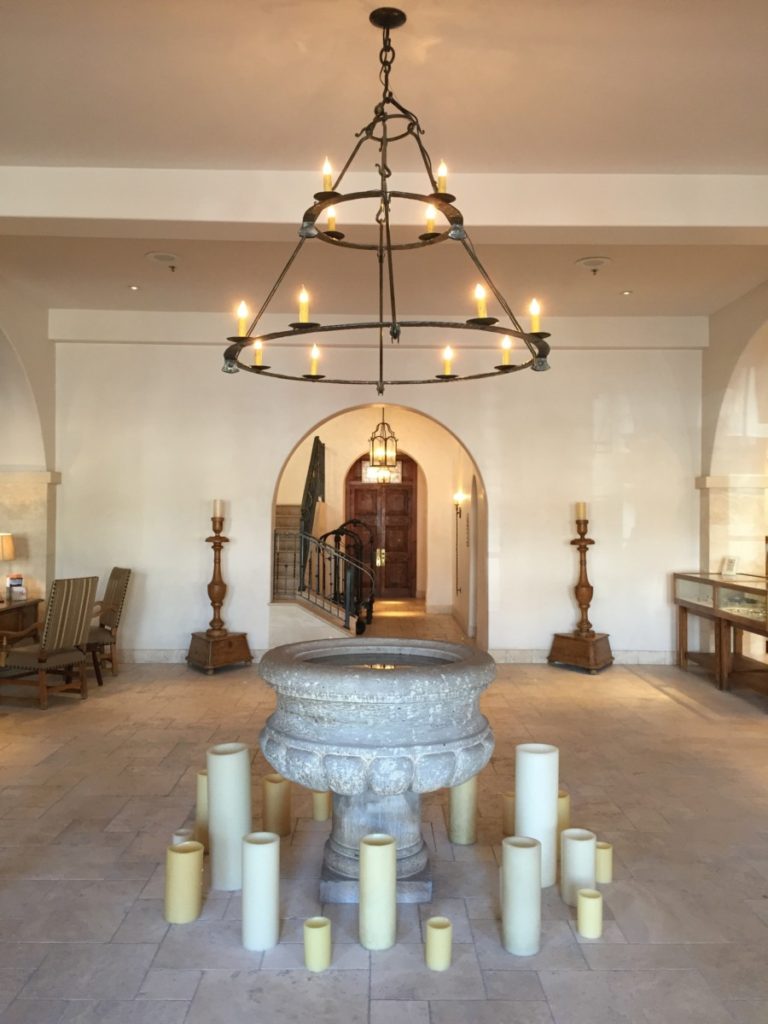 the most beautiful drinking fountain I've laid eyes on…
The shopping in Santa Fe, to use a beaten-down term, SICK.
This guy's candy shop was off the chain. Such an artist!
Mom had these awesome beaded ornaments from the 70s! I wish they would make a comeback.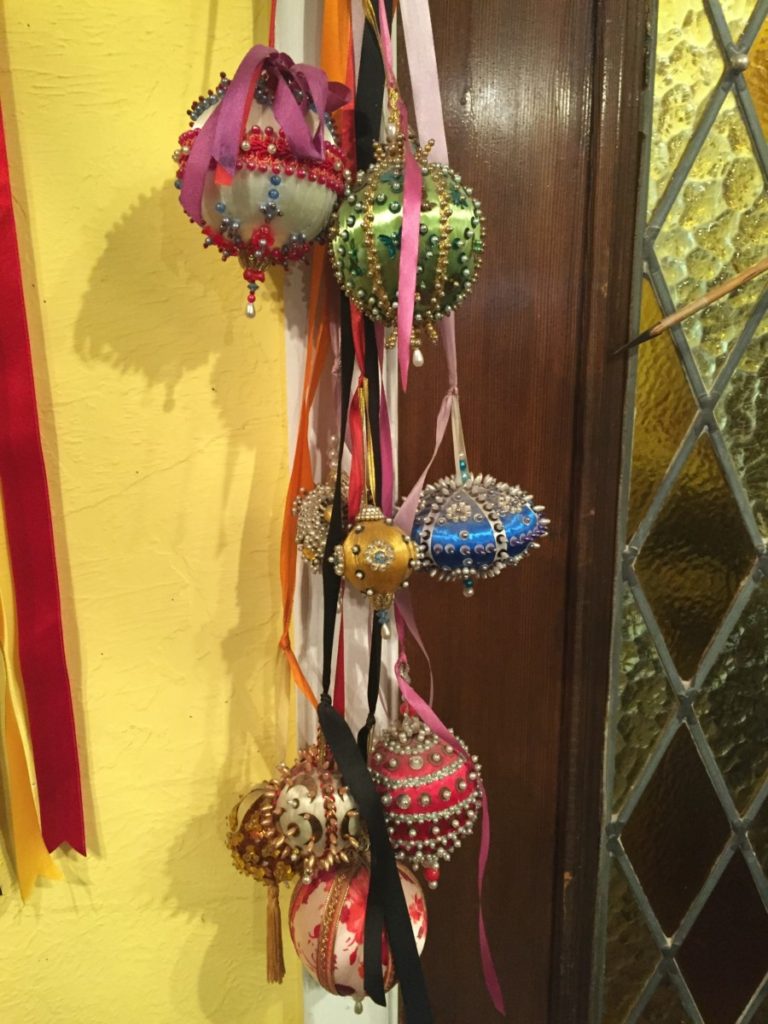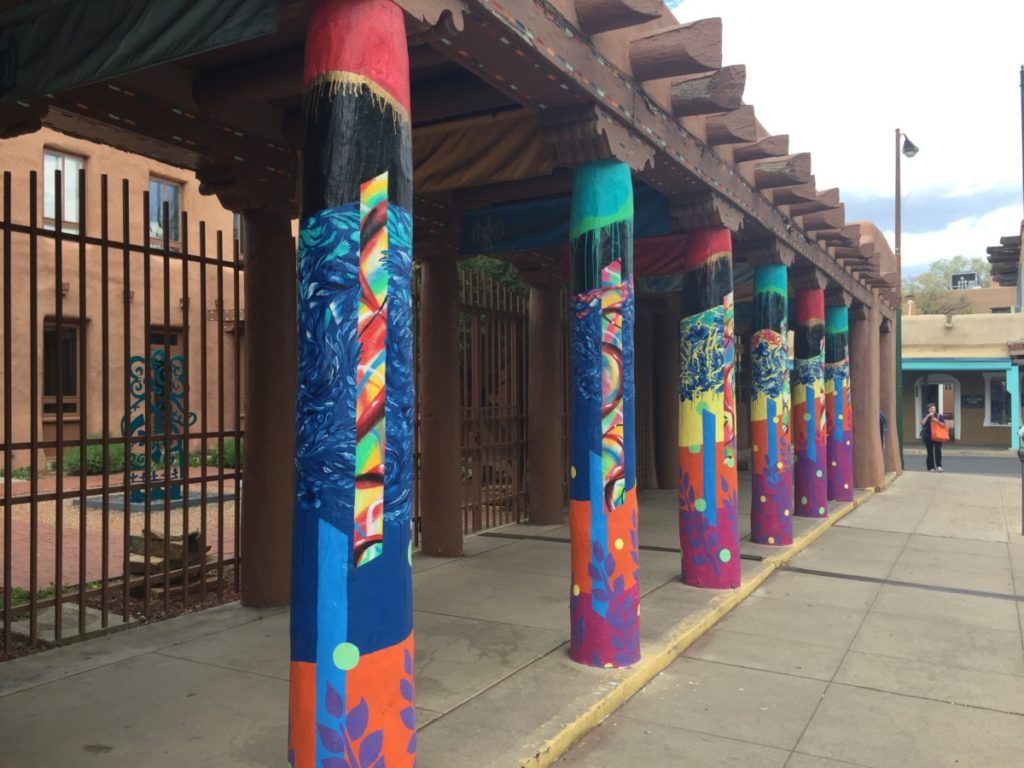 These boots! What a dream. Too bad they were the price of a small car. I just can't help but think how many people you could feed for the price of something like these. You hope whoever buys them, spends ten times that amount helping others. Luckily for us Americans, they probably do. We are a very philanthropic nation, thank God. Let's keep it up! We can always do better. Too many babies hungry. I keep telling myself to set aside a day to investigate and research philanthropies that are near and dear, and get those donations set up on automatic draft. Ten, fifteen, twenty, any amount makes a difference.
The floors in this studio were magnificent!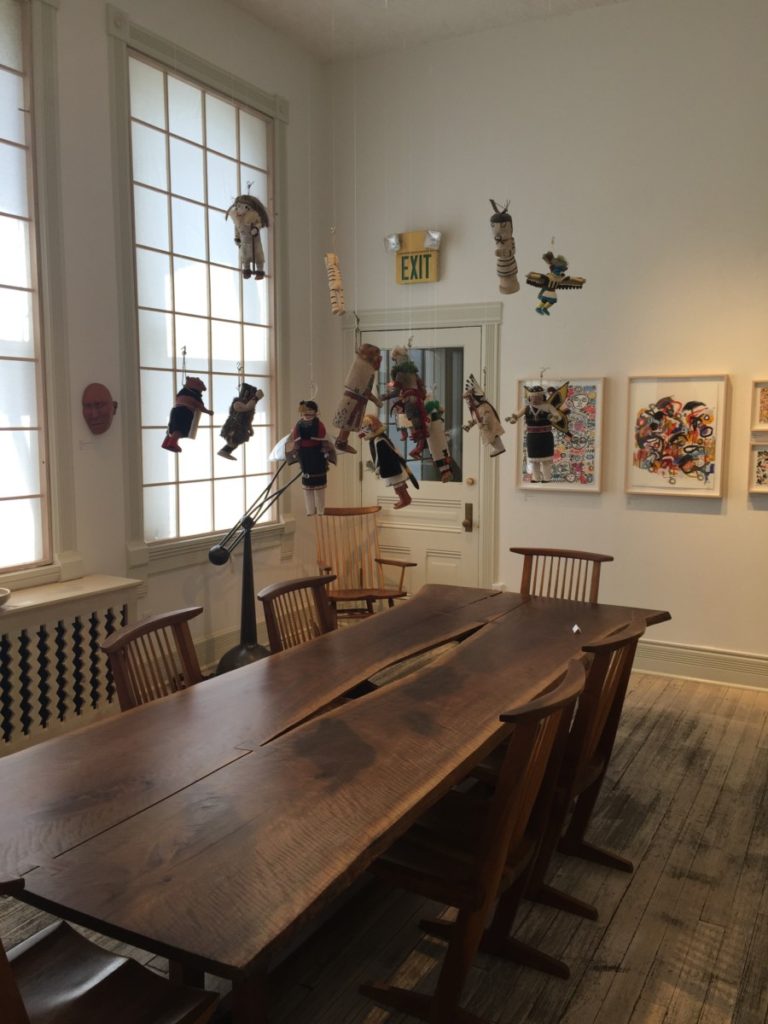 I spotted this ribbon in the studio and it had actually come from the candy shop above?! Does that man have a great eye or what? Folks like him set my world on fire. God bless the creatives, the artists, the renegades.
Pretty much every building and home looks like this, unreal.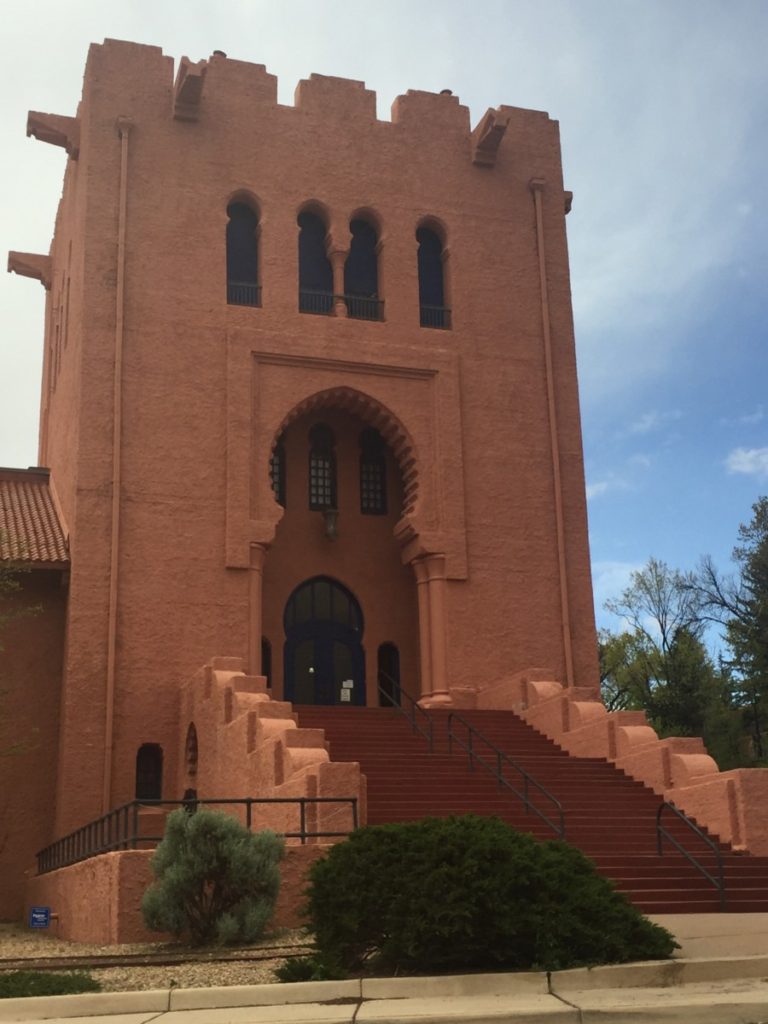 Highlight of the trip was hitting the rail yard flea market and farmer's market. Total party!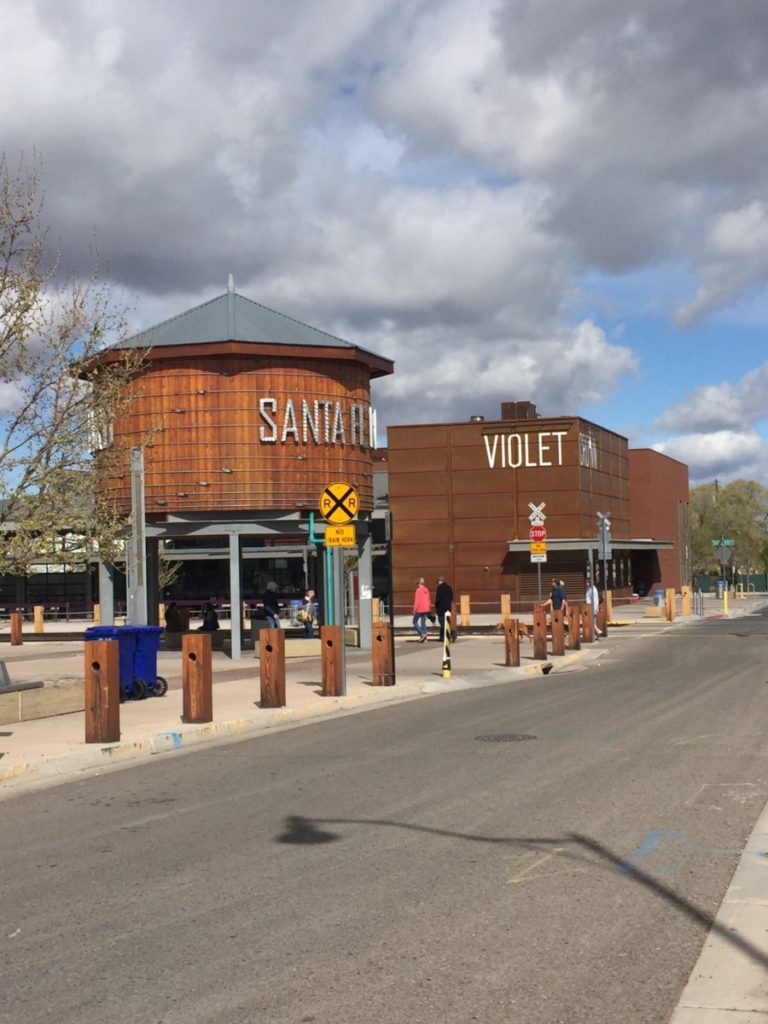 Just take a gander any which way for beautiful vistas.
We met fashion designer Randolph Duke and his business partner Tracy. Two of THE most fashionable, colorful and fun people I've ever met. They were an absolute blast. Every time I rock one of their necklaces or piece of clothing, I think of them and wish good things for their adventures in Santa Fe.
This mirror, all disco. I told Randolph if you lived in Atlanta, I would bring every single client I had to your shop or warehouse. Such great objects to layer in that little bit of sass, texture, authenticity to any space, style.
Jesus! My savior!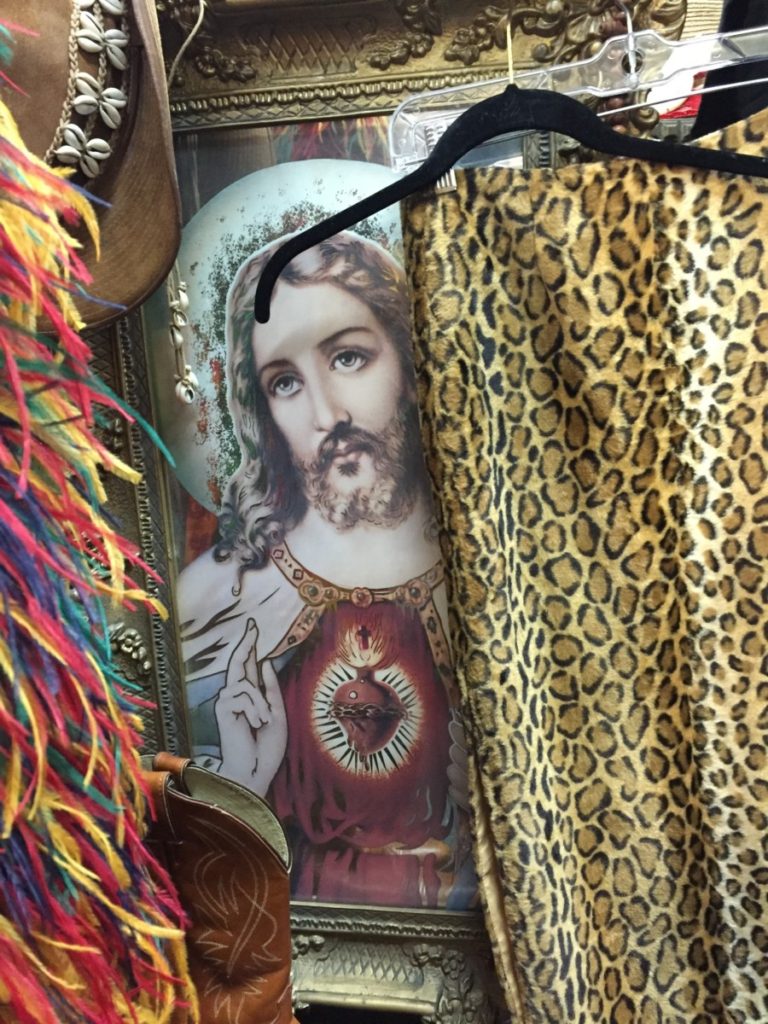 I should have asked how much the sunglasses were. Dang it. They are awesome.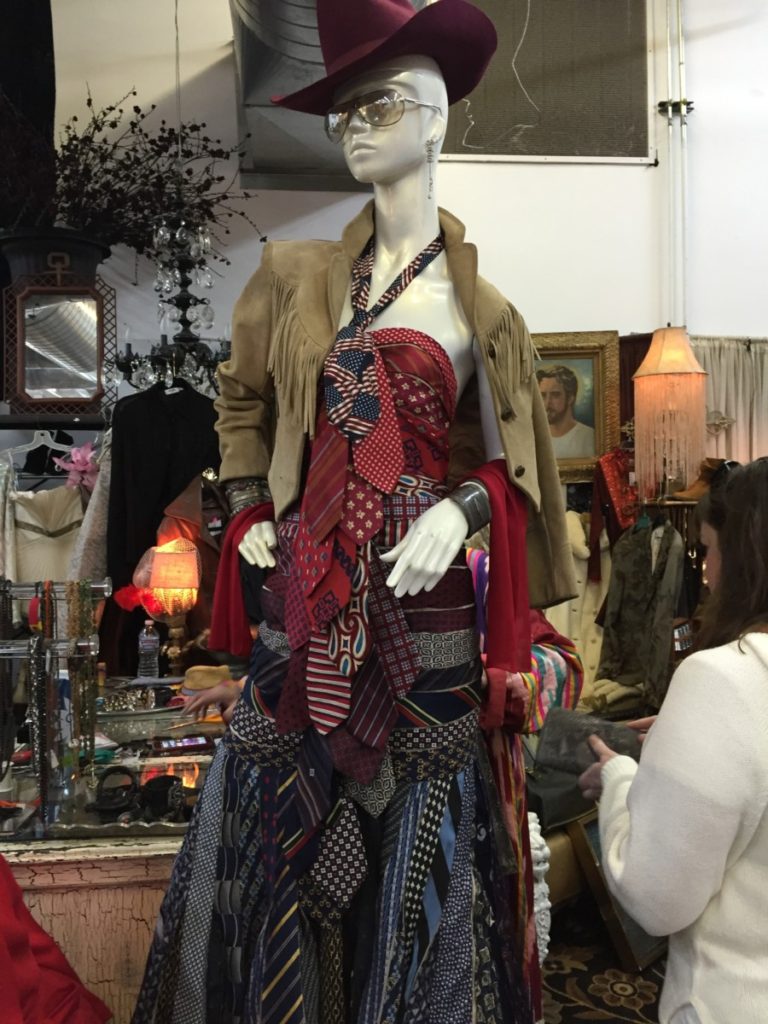 Found another great booth where everything was half off (it was the last week of the flea, feeling even more lucky having known this). Did I mention my suitcase weighed in at 68 pounds? Yikes.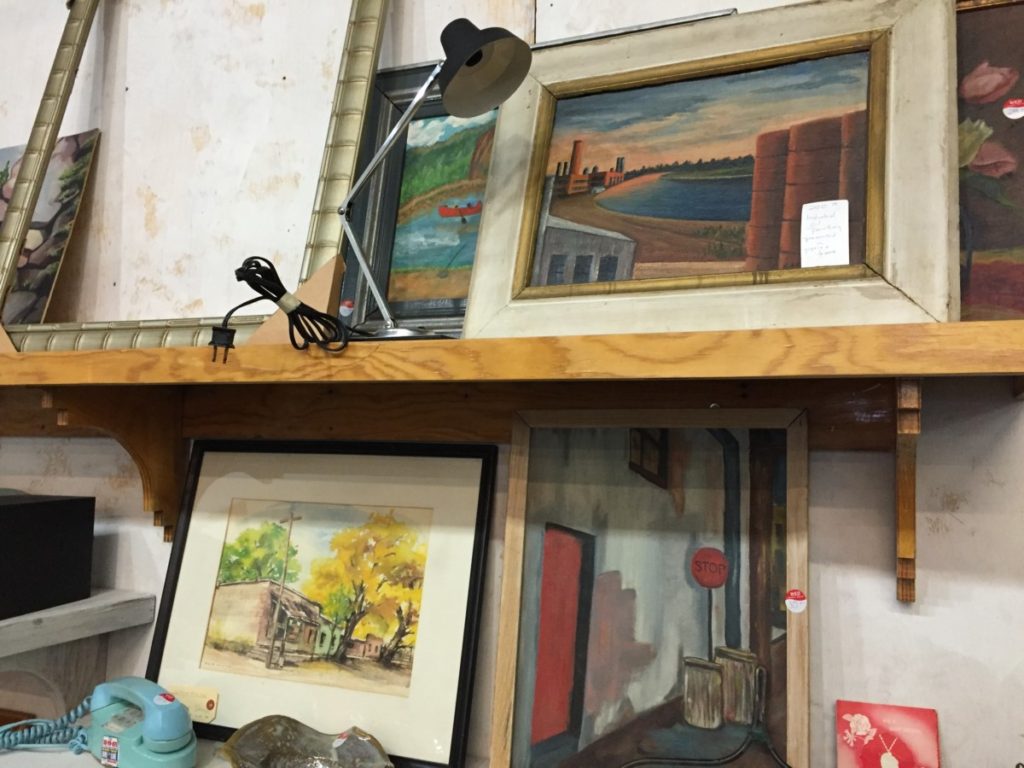 Really wanted this Last Supper painting and wishing I'd made room for it in my suitcase…its the Last Supper Jen?!
Grabbed this killer ashtray for the hubby and his cigars. He LOVED it. Good call mama.
The Farmer's Market…so good! So fun! Great music and amazing food.
And if that wasn't enough goosebumps and goodness for one day, we came across this amazing home store…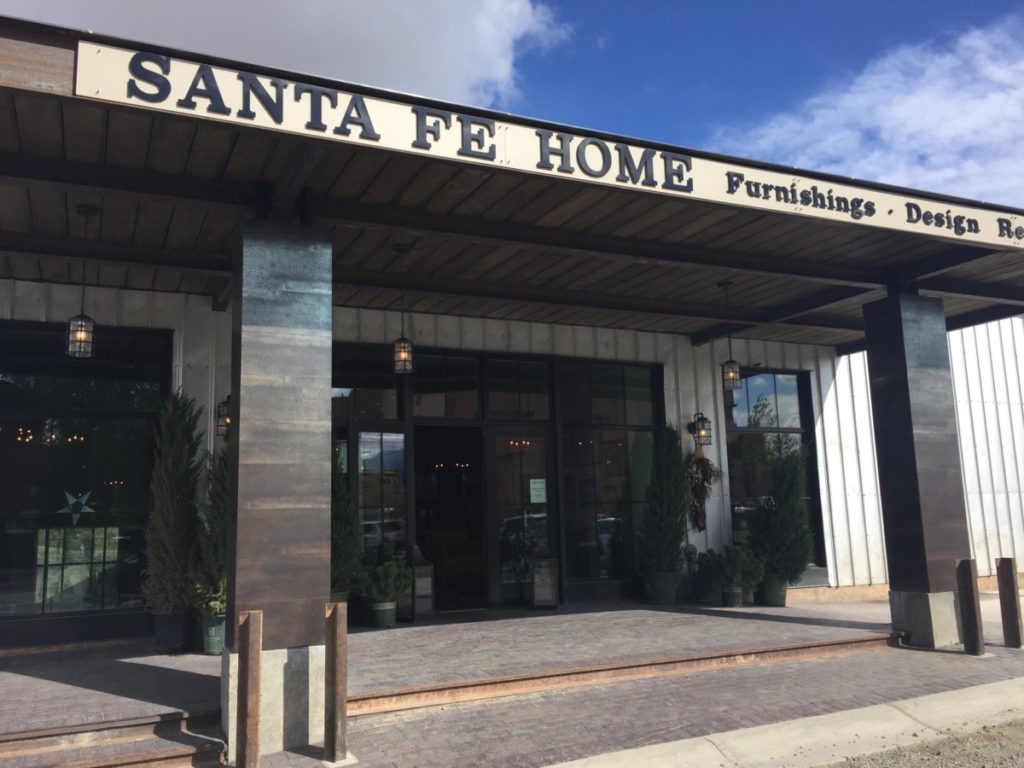 Again, one of the best I've been to. So well curated! Immediately I started firing off pics to my designer babes back home. Every one see inspiration and details differently, you just never know how you might inspire someone else. Hence, why blogging and sharing these pics is so fun and a lovely art form. Even as I add them to this post, I'm spotting new colors, patterns, (sunglasses?! arrrr)  I didn't noticed before.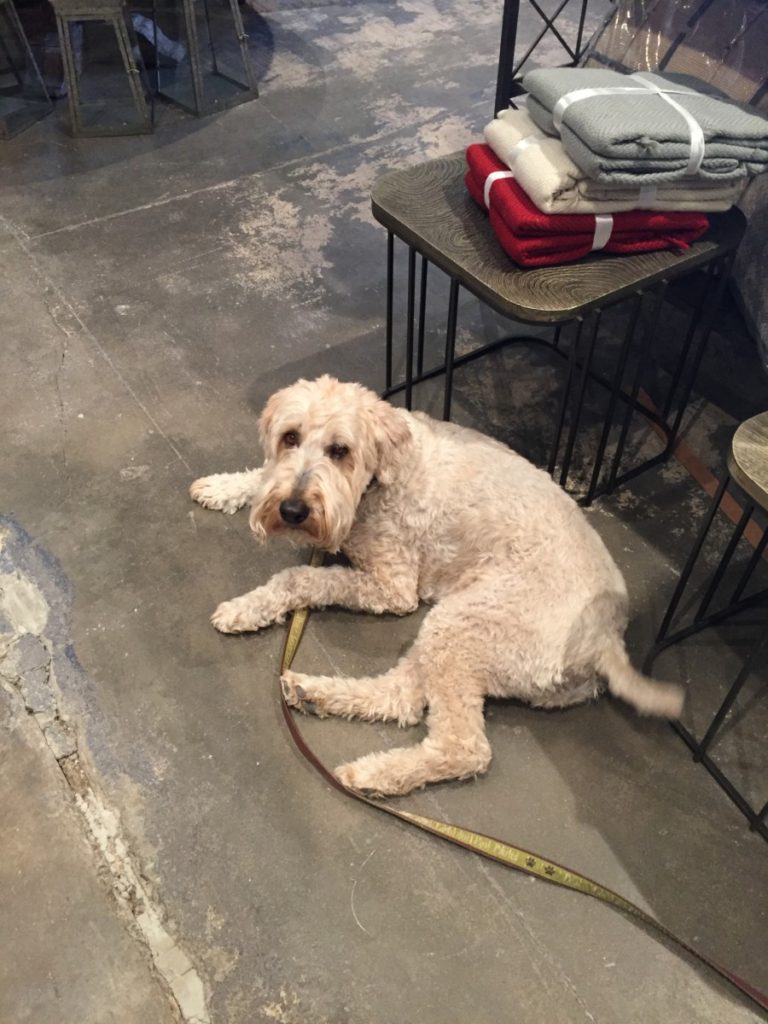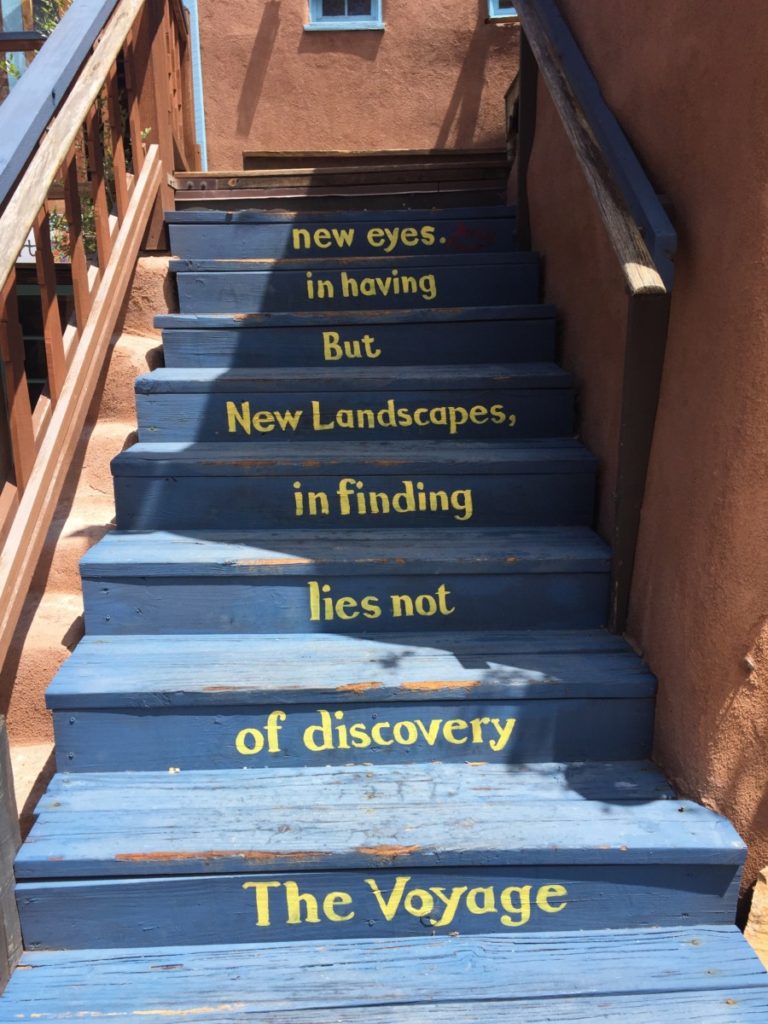 This type of fence is EVERYWHERE in Santa Fe and a gorgeous, affordable option. So much great texture and crust…two of our favorite words! And so functional too. The perfect axis of design.
Fell hard for this table, what a great bar table it would make!
And last but not least, some beautiful hiking at Bandelier National Monument. Incredible! If there is one thing our government does really well, its our national park systems.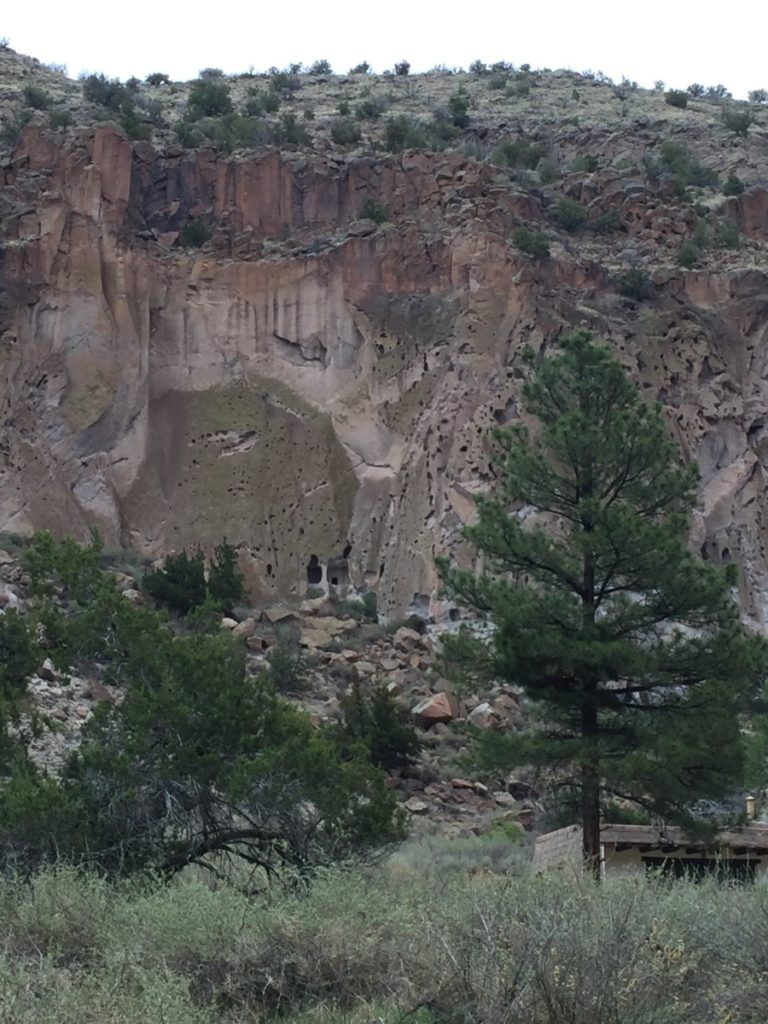 Overcoming my fear of heights! ;-))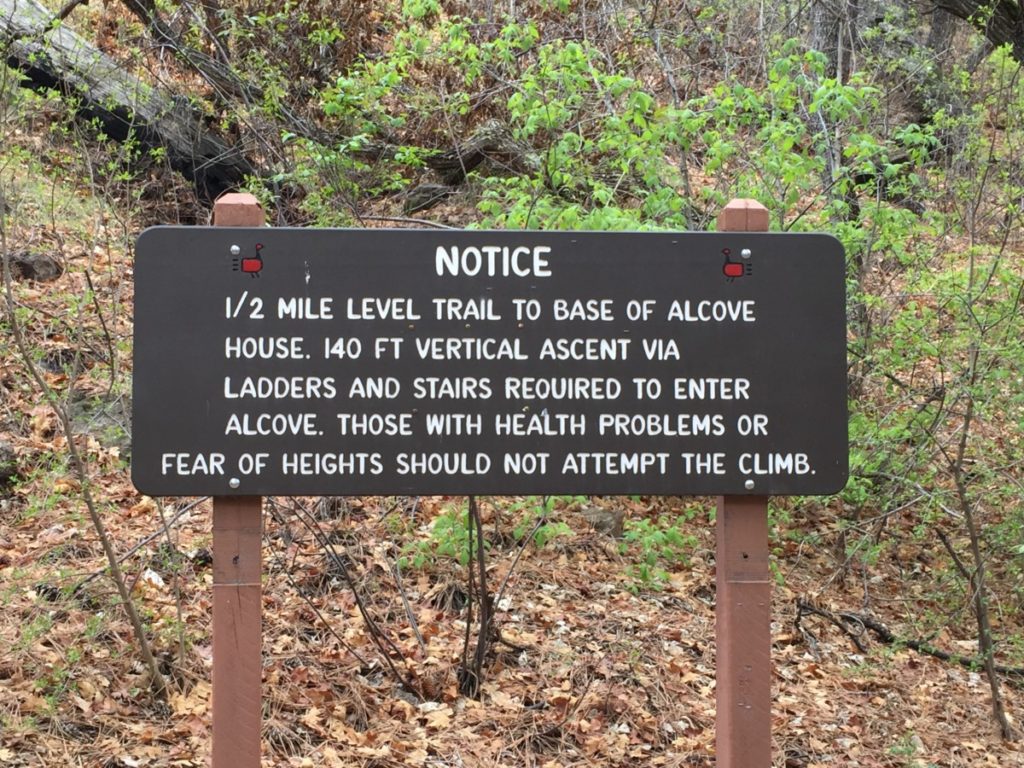 Last night in paradise!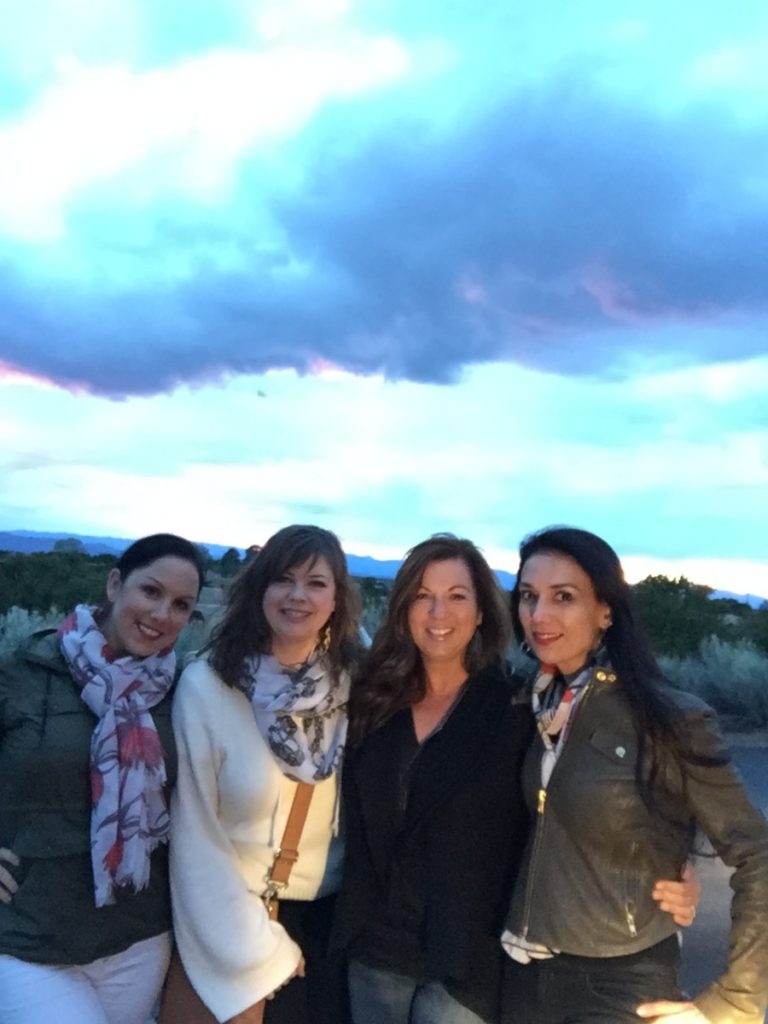 It was a beautiful tour of the Southwest. A great, chicken-soup-for-the-soul trip in such a scenic, artistic part of our country.
I hope you have a great week! I spent this past weekend with hosts Shaw Floors at the Atlanta Food and Wine Festival and some of my design sisters from the Southern Living Designer Network. It was fantastic to see them again and the folks from Shaw were hyper generous and so informative and passionate about their products. A great collaboration. I will be back to share those details, a Charm School update and my tour of London town for my birthday! Cheerio!
Jen