What's shakin bacons? THREE more days ;-)))) The greatest birthday ever is almost HERE. And here we are flying in on two wheels with our holiday home tour. Come on in!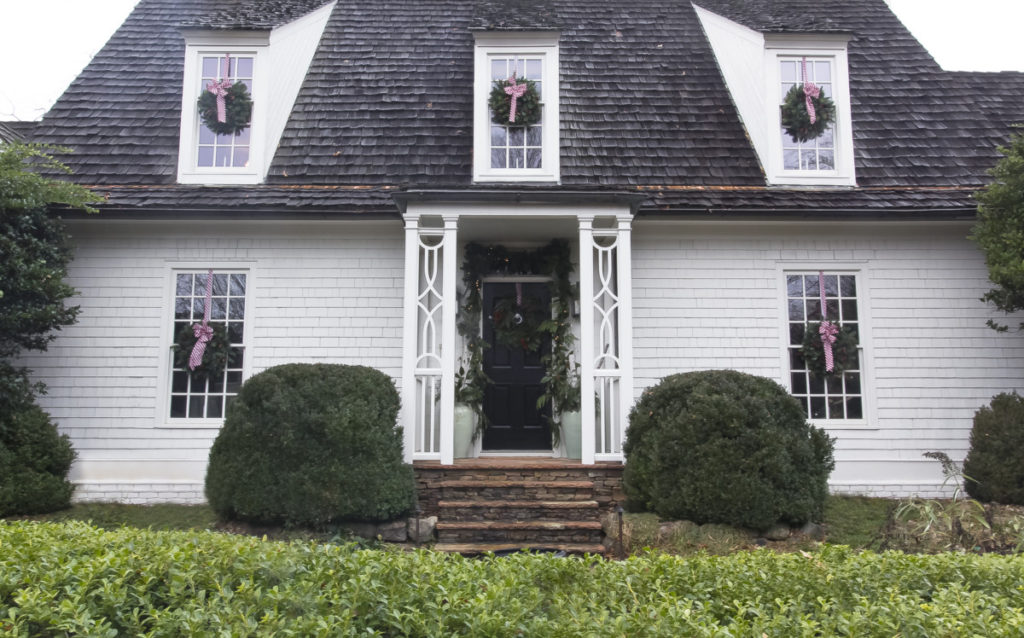 I spent an awesome Sunday afternoon with my yard and clipped all this stuff for the front and back doors. Went all naturale with Mom Nature…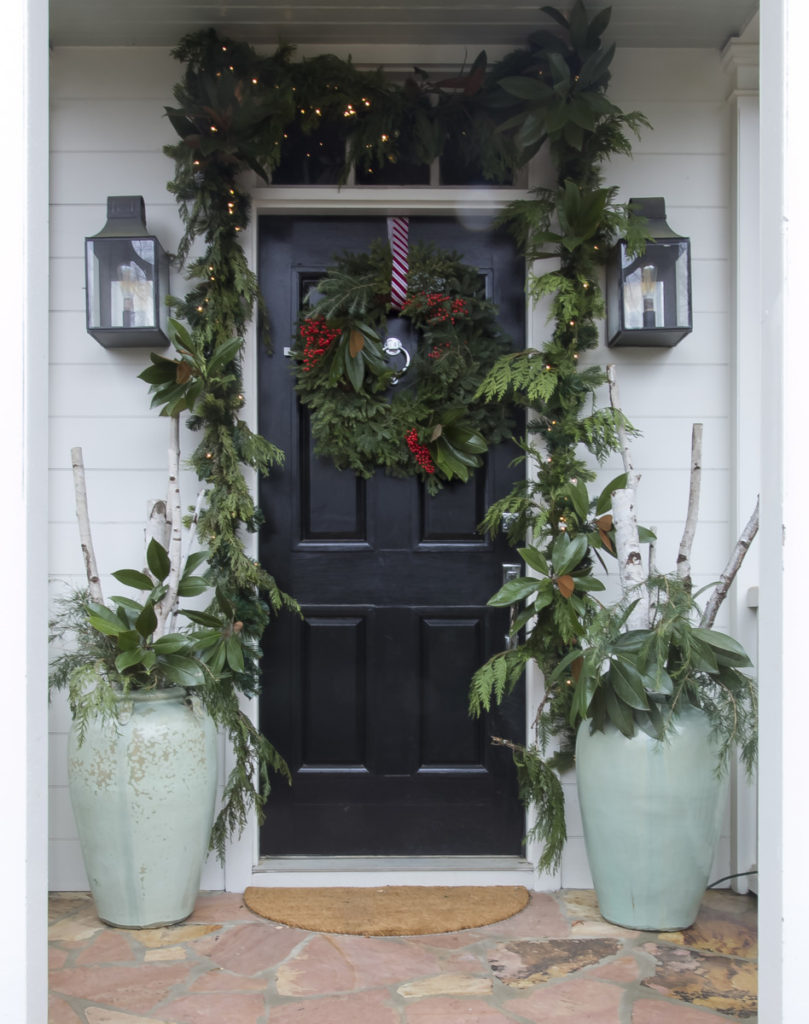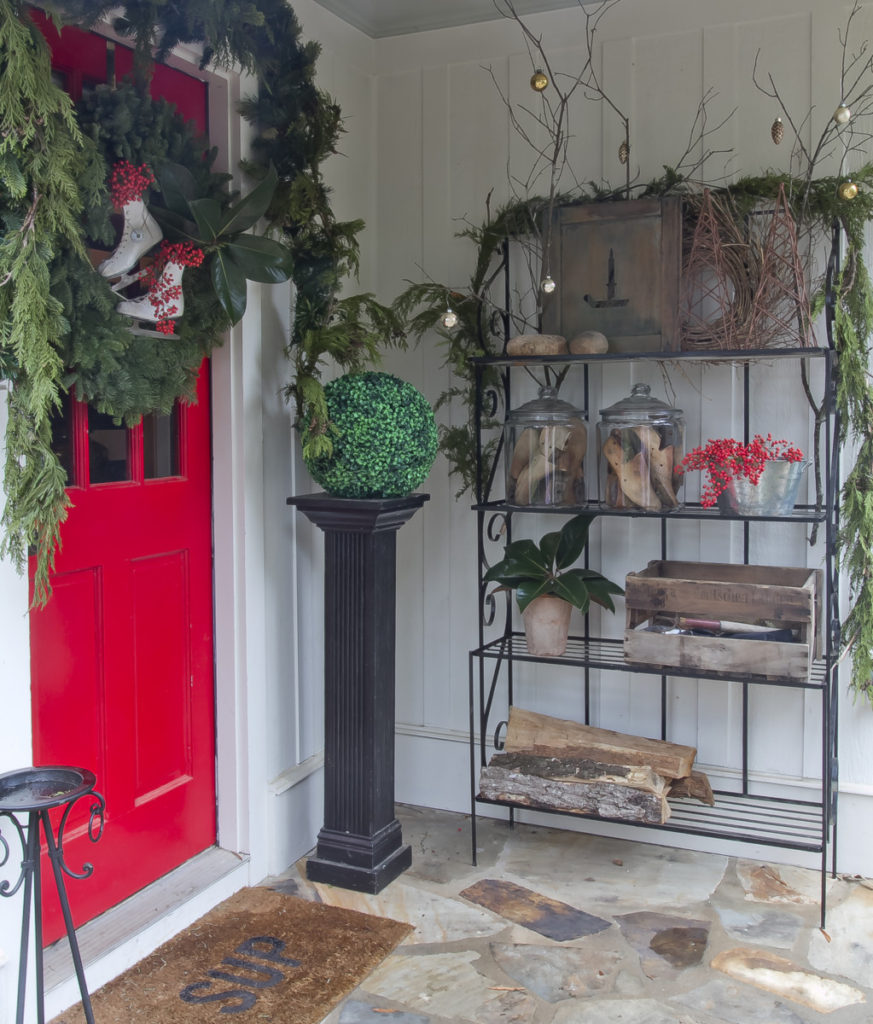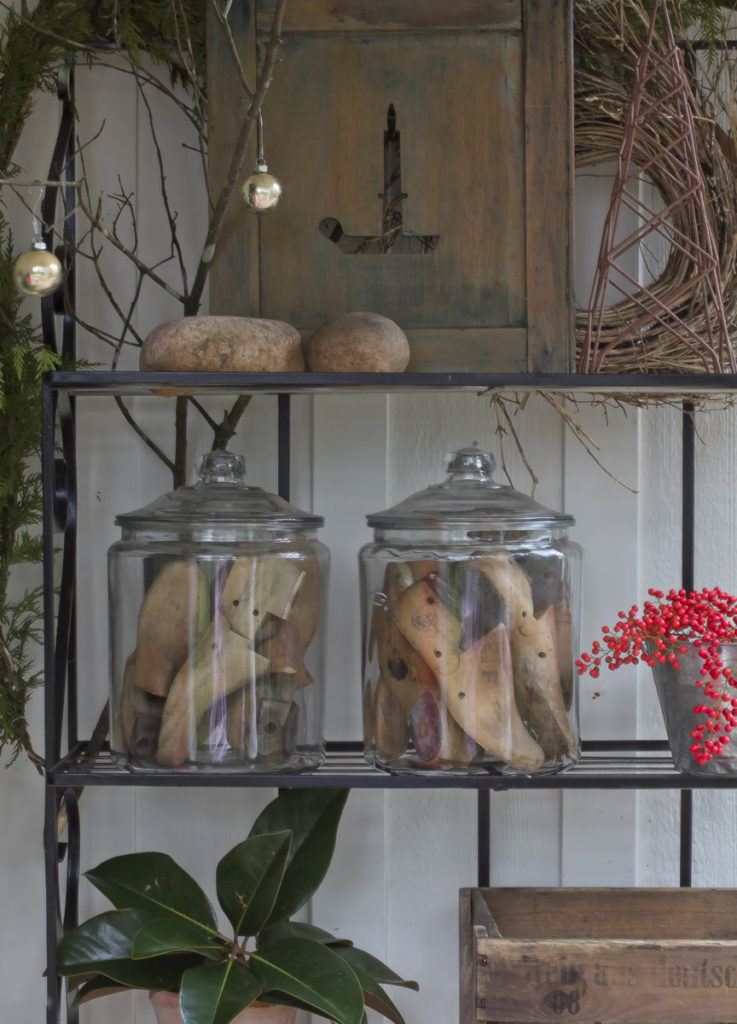 I love a red door. Good feng shui.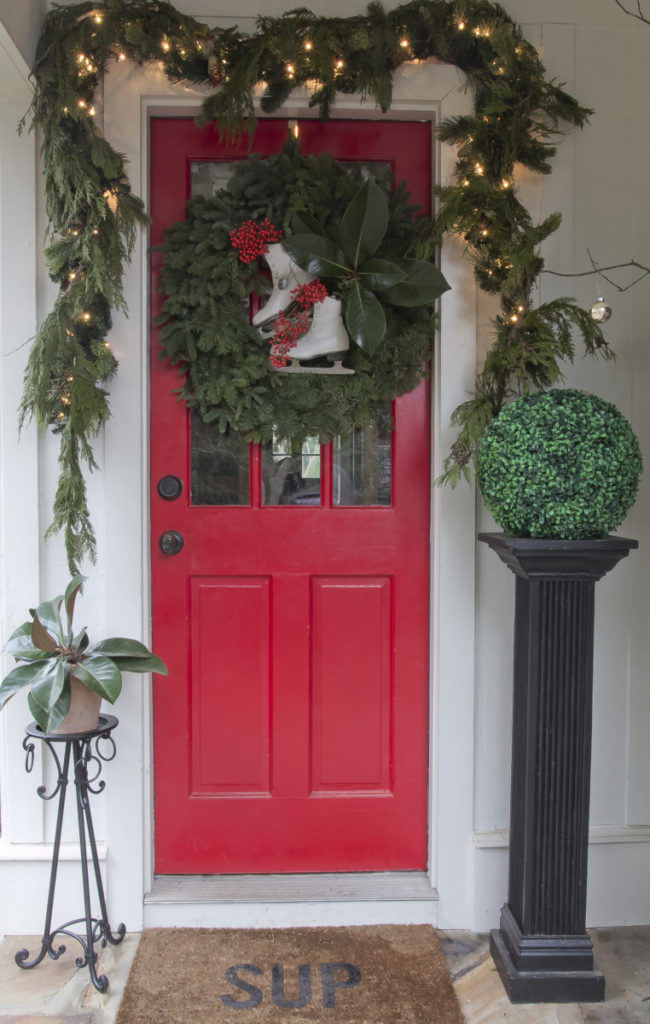 My childhood skates…they always hurt like heck, or maybe it was because we were freezing in Michigan.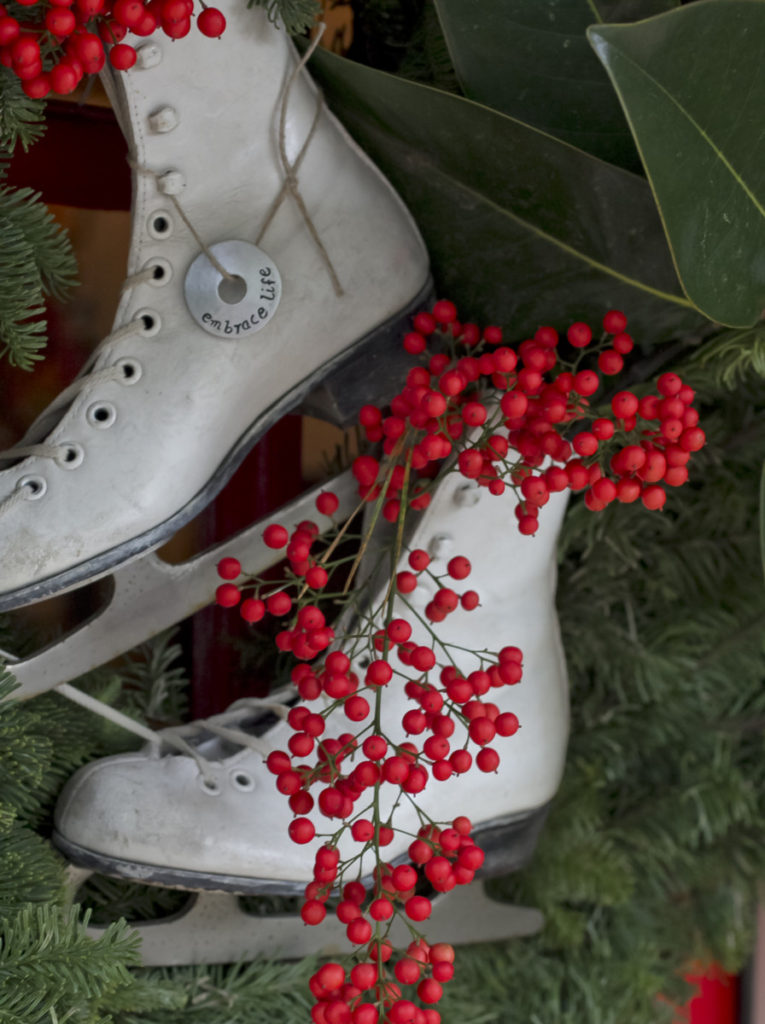 We put a tree in the foyer this year so you could see it from the front when you pull up. Its artificial and was in the man cave last year. Like most things in our home, it got put on rotation. My faux finisher and I experimented and painted over my grasscloth. Bold! But the color just wasn't jiving. Tried to be something I'm not and coming full circle back to my neutral ways. In the end I'm really happy with it and its a completely custom finish, done with love. Here here!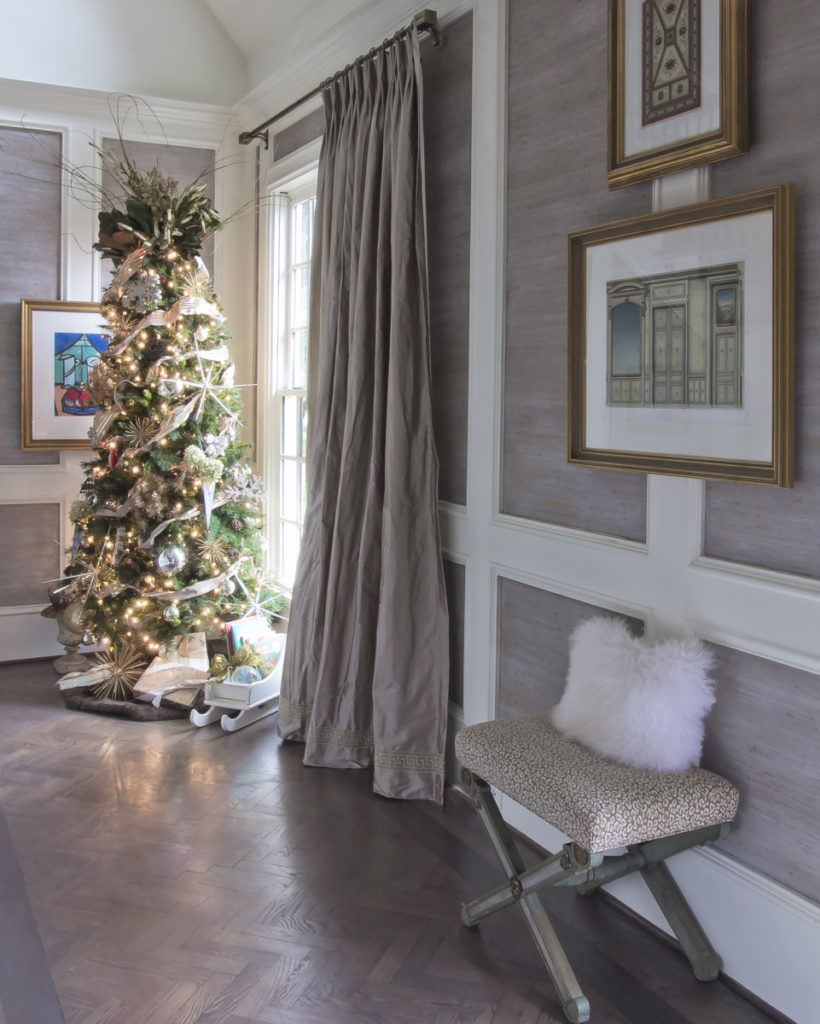 I carried these limelight hydrangeas home from the neighborhood white party last Summer and they dried beautifully. I recalled seeing Lisa Luby Ryan's Christmas tree with fresh hydrangeas in vases in a favorite Veranda spread and thinking how luxurious! Fresh flowers on a tree?!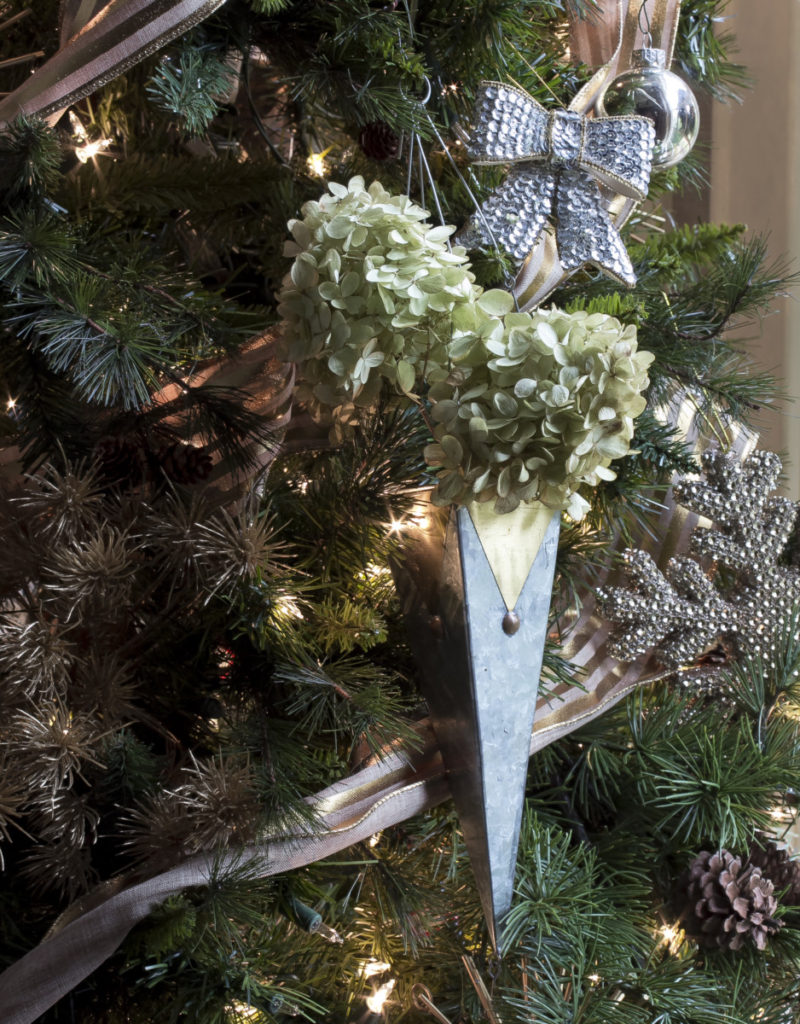 LIGHTS ON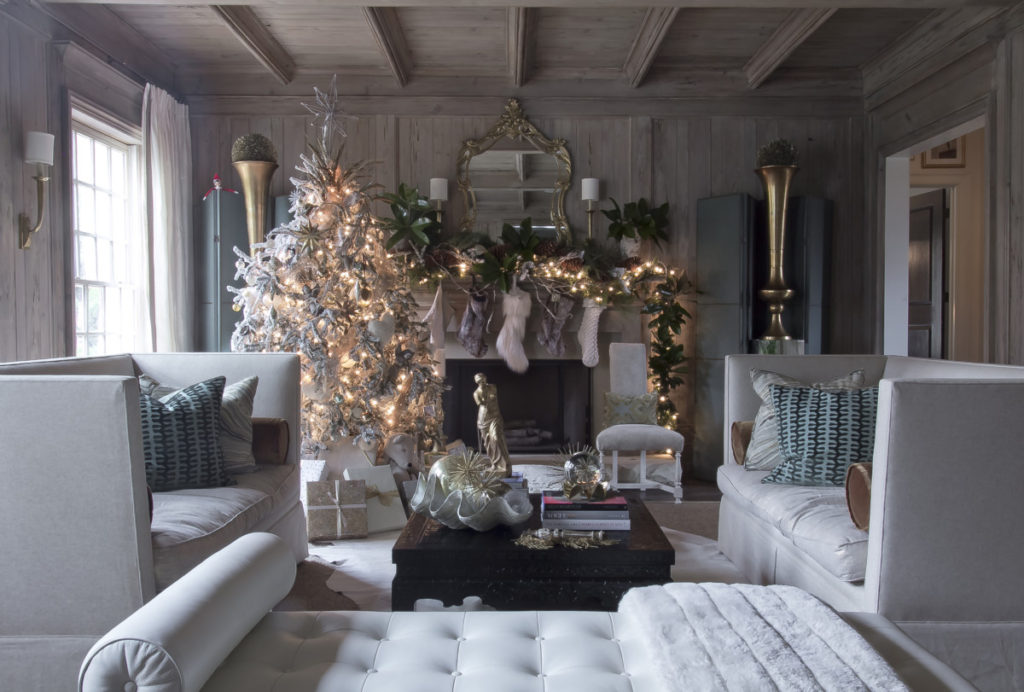 LIGHTS OFF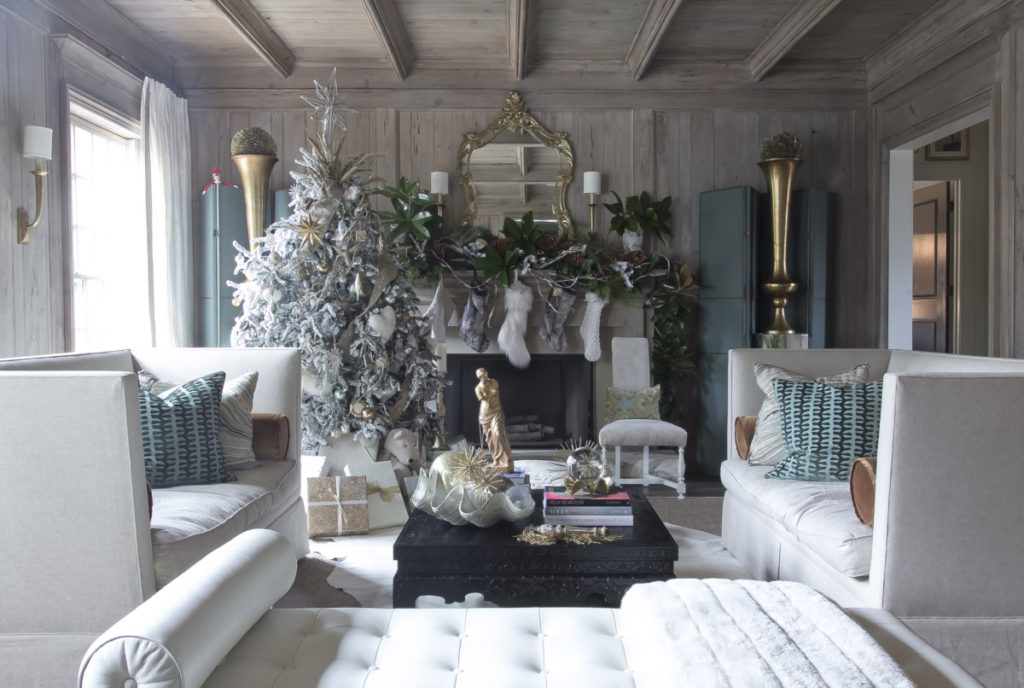 (Elf-y had the bright idea to show up, top left, the day of the shoot. And God forbid he moves during the DAY!)
It was interesting to see the lights on, lights off picture difference. I think I prefer lights on. Id wanted to try a flocked tree for years and finally pulled the trigger. This is kinda like Mom's designer tree. ;-)) Whatever she's in the mood for this year and neutral wins again. The kids help me with it every year regardless. I may move an ornament here or there when their not looking, wink wink, but the majority of it was all them…and then they get bored…and go find their phones :-(((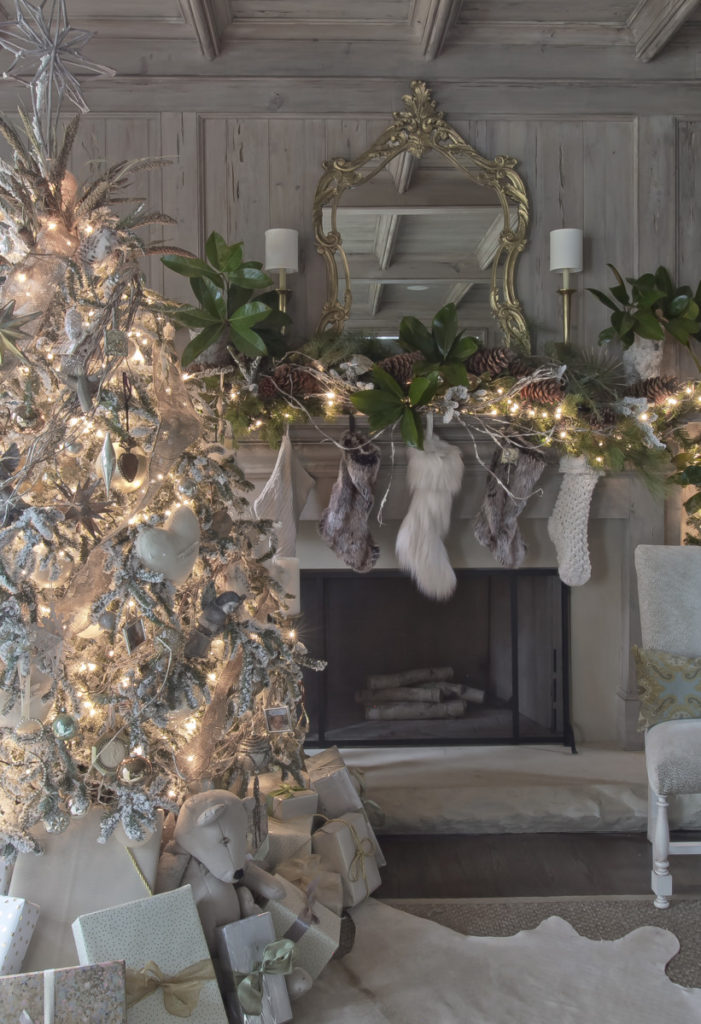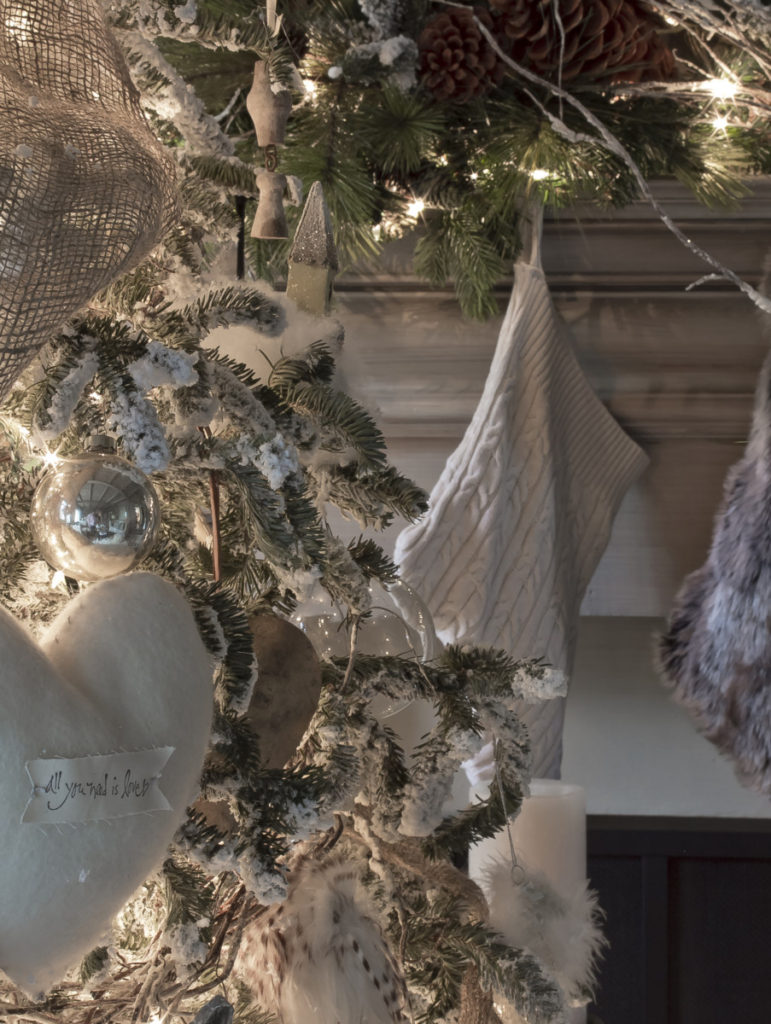 I recently acquired this coffee table from Scotts. It was all colorful and I sprayed it black. I'm loving the lines and texture it brings to this space. Probably one of the best pieces of advice I can give you, is to look at the LINES of a piece or object you are contemplating. You can always change the color to fit your theme. Scale is way more important than color. If its the perfect fit, go for it and customize it later.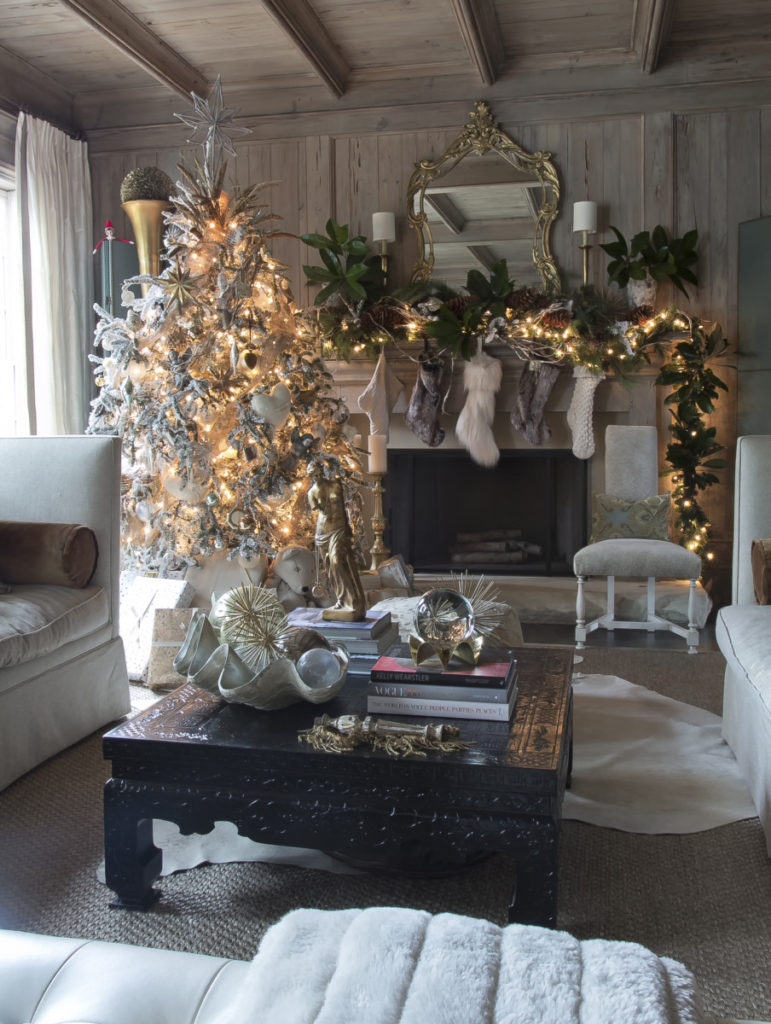 I had Jen shoot this cozy corner that had only seen that light of my awful iPhone pics since we moved in. I layered up some old gold frames over a leaner mirror and floated a favorite piece of art (both from Scotts) in front of the drapes. I think I'll bump it up a few inches, the artwork, so you can see it better. Which is why its always a great idea to take pictures of your interiors. You almost always notice a detail you may not have otherwise – blaring!  You're like how the hell did I not see that?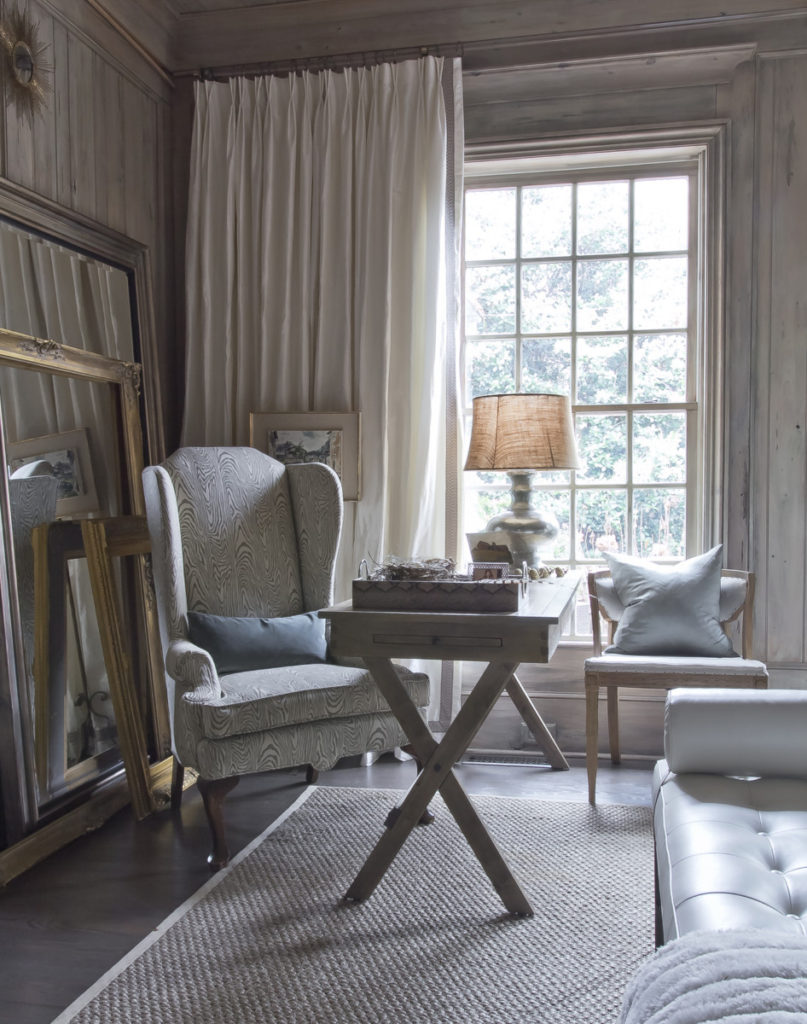 With new coffee table up here, the old bleached out cypress trunk from High Point, down here,  rotated to the keeping room…I still haven't gotten this room quite right in my mind. It's close but my alter "farmhouse style" ego keeps creeping in. Secretly I want a white farmhouse with a red barn so I'm thinking one room in my house can be farmhouse-y to keep the peace.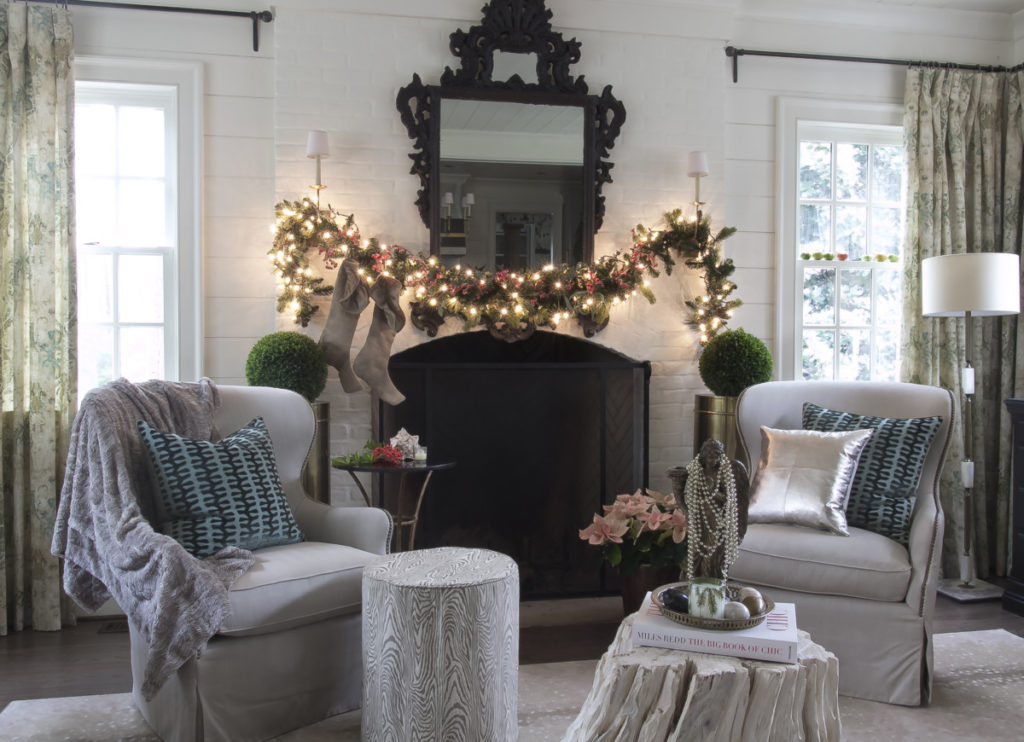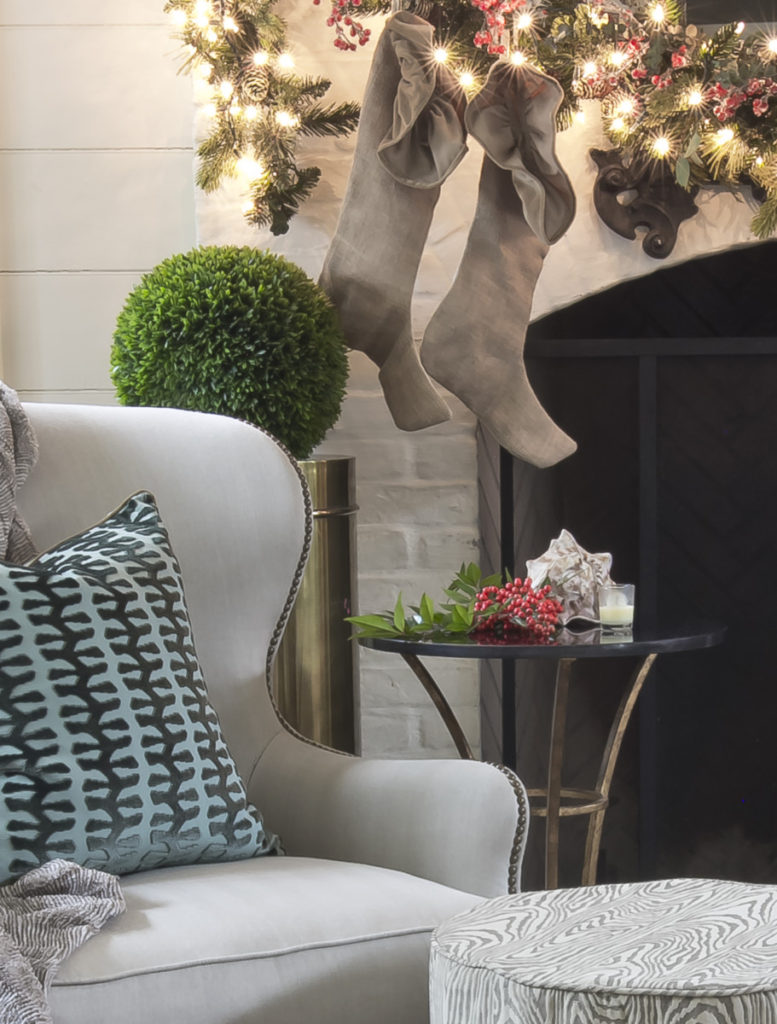 This room is where we spend the majority of our time, the smallest space in the house, our keeping room, kitchen area. Very telling if you ask me! ;-))) #biggerisnotalwaysbetter. BTW notice the tomatoes in the windows, the kitchen garden was a hit this Summer (see HERE) and I cannot wait for next year!  Especially now that I've learned some things. WE were pullin tomatoes out of there til early December. Our first garden, as we NEVER had the sun or space in our old yard to plant one and what a game changer! NO idea a vegetable garden could bring such joy. We were able to plant four little raised boxes (in a small piece of our back yard that was basically a bunch of nothing) and a kitchen garden was born.  You don't realize how small a space it takes to produce major amounts of food. I just can't say enough about it. No wonder people LOVE to garden.
Okay I'm happy we talked about that, back to Christmas…the exposed shelves in our kitchen, all decked out for Santa and sugar addicts…
Couldn't resist this sweet sign to the North Pole from The Queen of Hearts. 1,998 miles thatta way…Santa better haul some a-s-s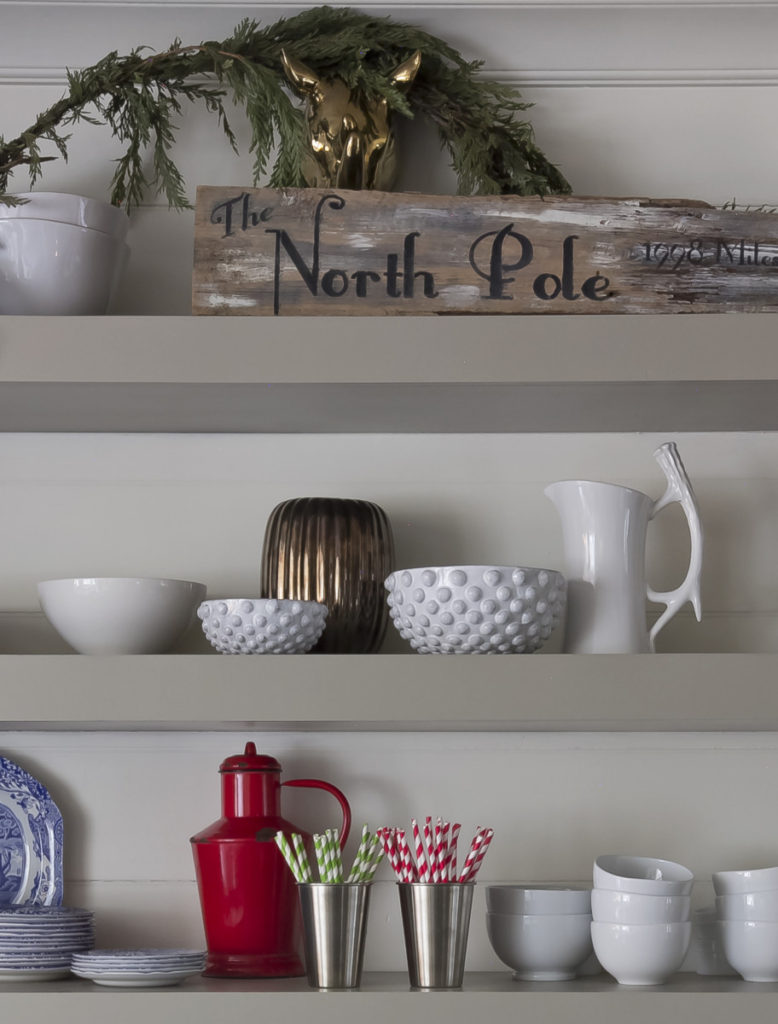 Across the hall from the Kitchen is our dining room. When this space was originally designed it was intended to be a dining room/library and the dining table actually creeped out into the main galley way leaving space for a bench or piece of furniture in back. That drove my symmetrical ass nuts so I moved the chandelier back to center and I'm learning to love the built ins and not freak out they are styled with pretty things instead of practical things. ;-))) Let it be.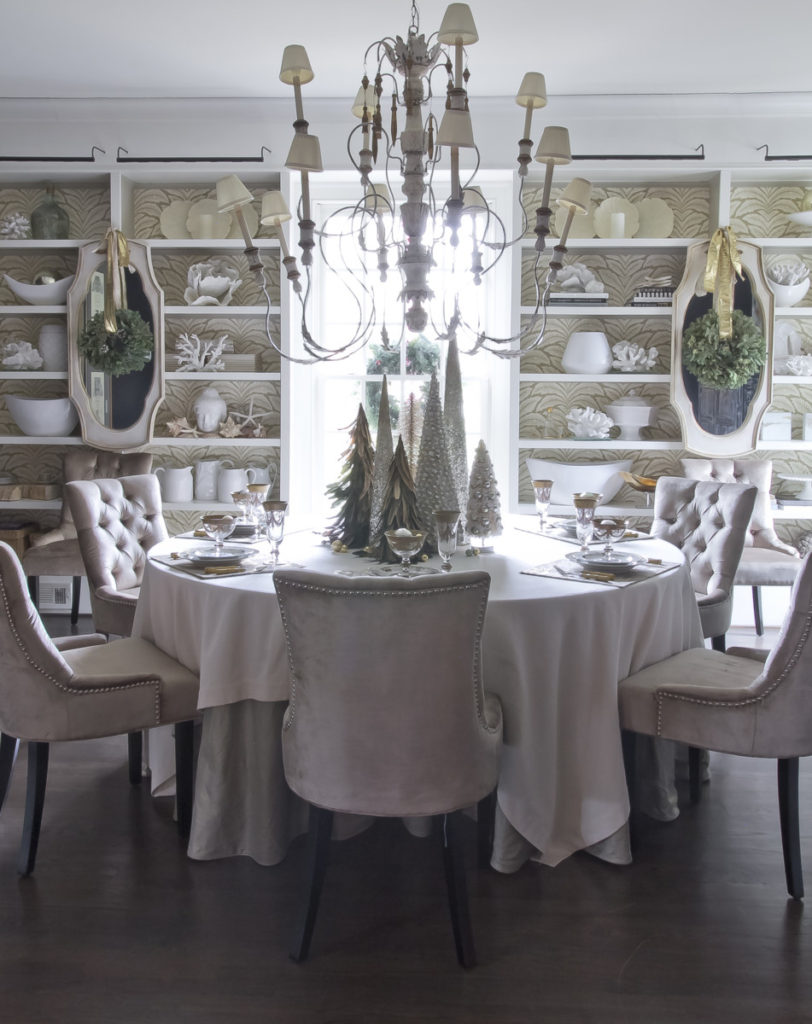 I mean I do read all the design books so that's something functional…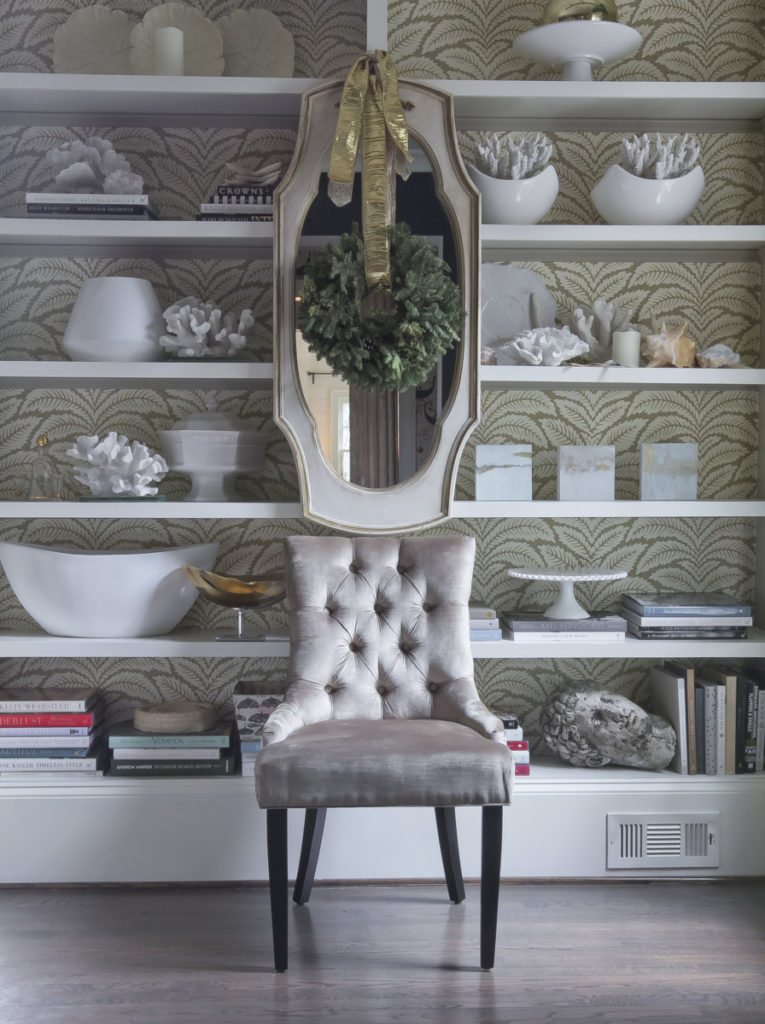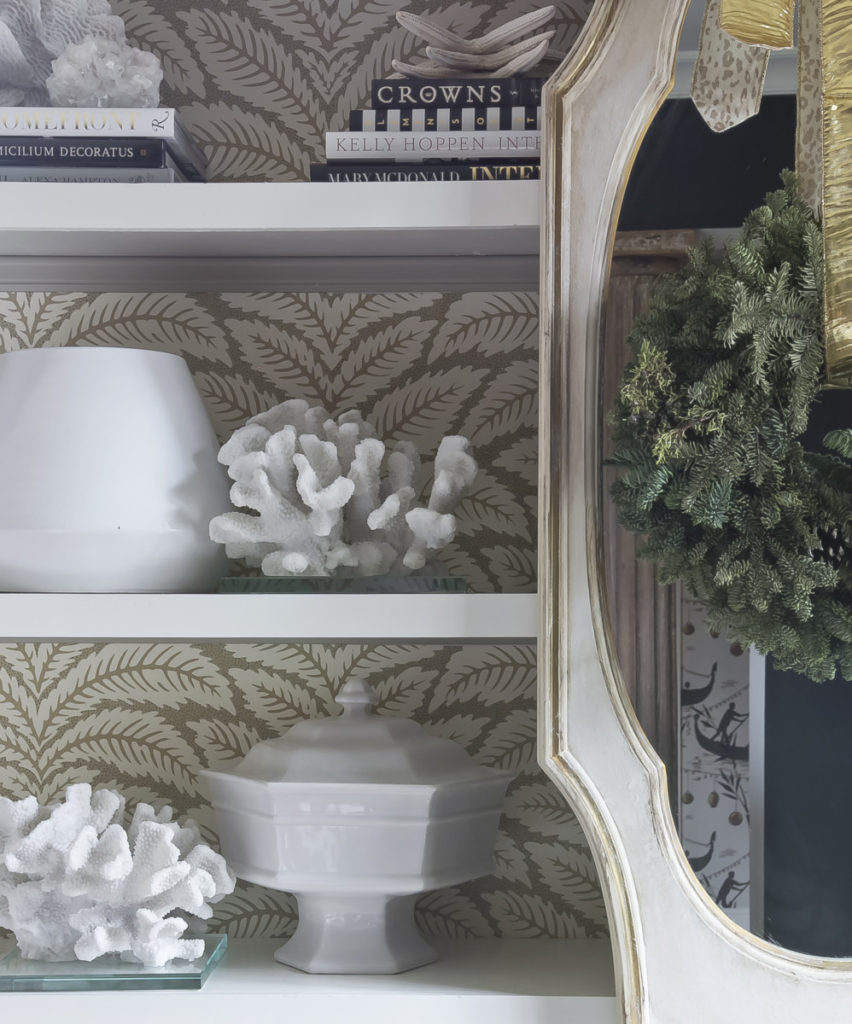 In addition to the flocked tree, we got craz-A and tried another new species of tree in the man cave, a Silvertip Fir or as we like to call it, our Charlie Brown tree, chuck full of homemade, vintage, family heirloom, childhood ornaments. All in one breath!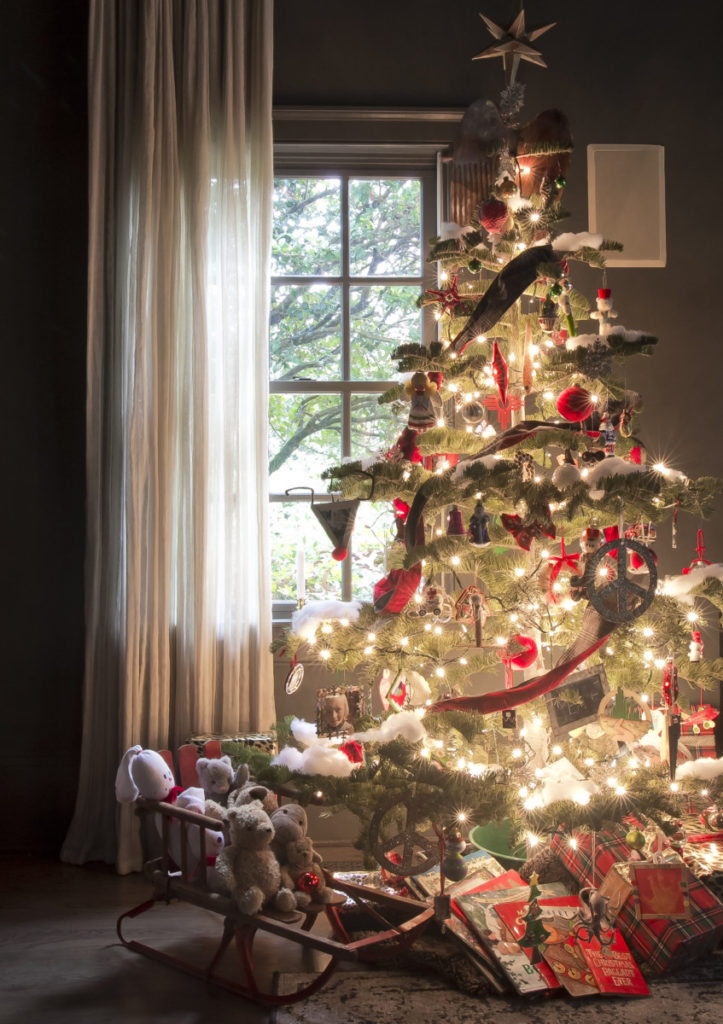 This cross-stitch ornament below is two-sided, and I remember being SO excited about picking your patterns in the fourth grade! I went with the sleigh and a Christmas tree on back. I've hung onto it ever since. Rest in peace Miss Angelos. You were an awesome teacher.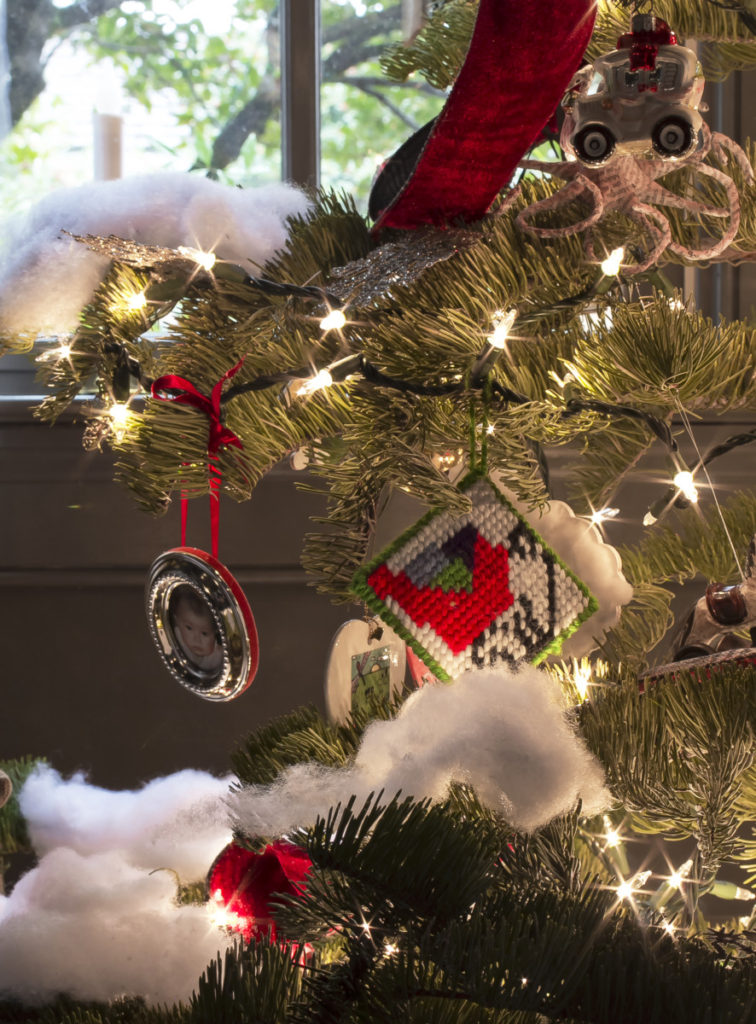 Another thing I tried with the family tree was taking the left over "snow" from Mom's village and make it look like snow on the branches above, because after 18 years in the ATL this Michigan girl is ALWAYS dreaming of a white Christmas…just like the ones I use to know…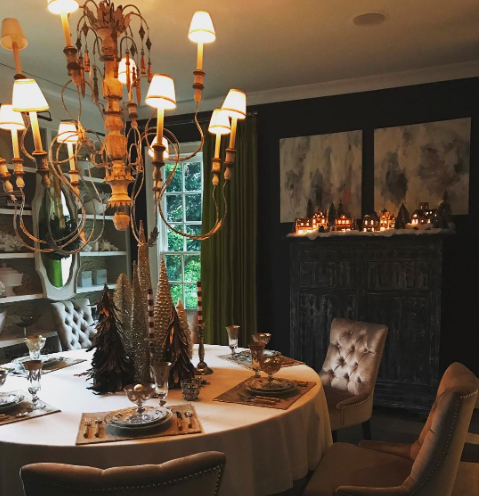 Sophia and I have started to add some additional Department 56, Dickens Village buildings from antique stores for $7 and $10 a pop. This year we added the bakery 😉  Bonus, she lovvves putting it together every year…which is huge! She gets all excited when the boxes come out and says "its our tradition Mom" and my heart smiled (I'm sure Moms did too).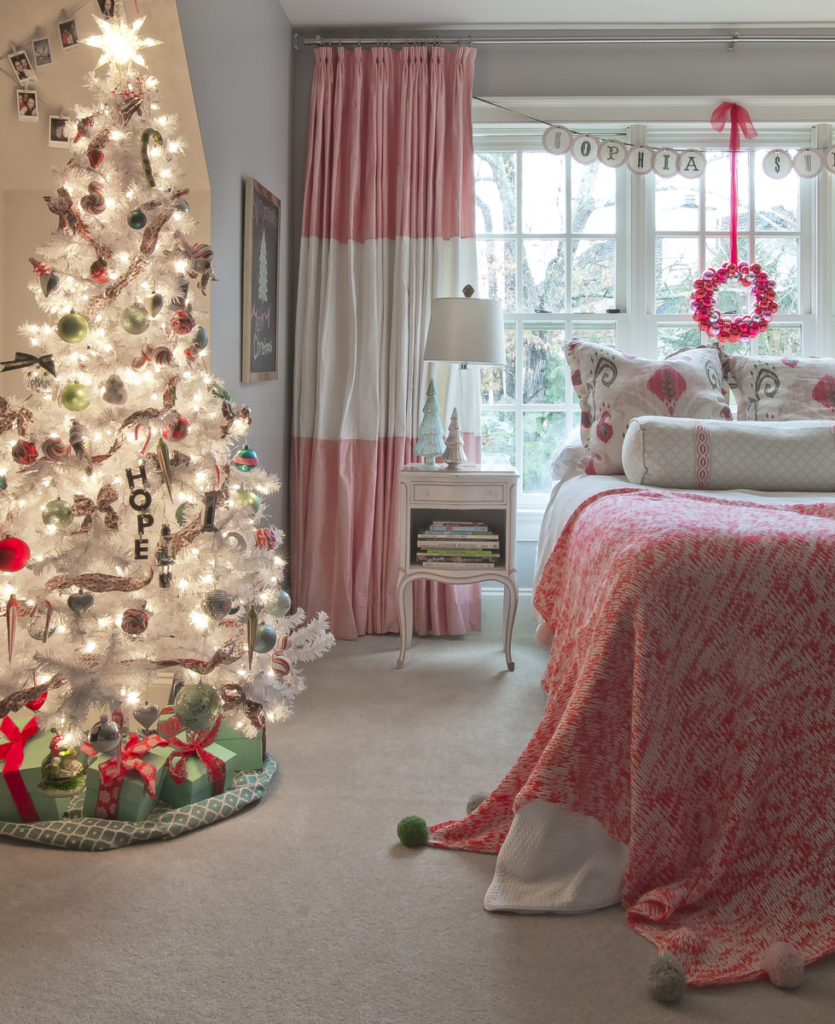 Speaking of Sophie Sunshine, she decorated her own tree this year in her room with candy colored ornaments. We took perfectly-colored Tiffany boxes and wrapped them in some old school Martha Stewart for Kmart Christmas ribbon. Her Kmart Christmas stuff was the best! I'd drive miles to the nearest Kmart twice a year for her Christmas and Spring stuff. The wreath is also from her Kmart line. Sophia had asked for some pillows and Christmas stuff for her birthday to make her room "cozy for Christmas" (who's child is this?!) and I was lucky to find the sweet throw draped over her bed from Target to gift her and ratchet up the texture factor. Designer Mom approved. Target's like the best boyfriend a girl ever had. Never breaking up with Target.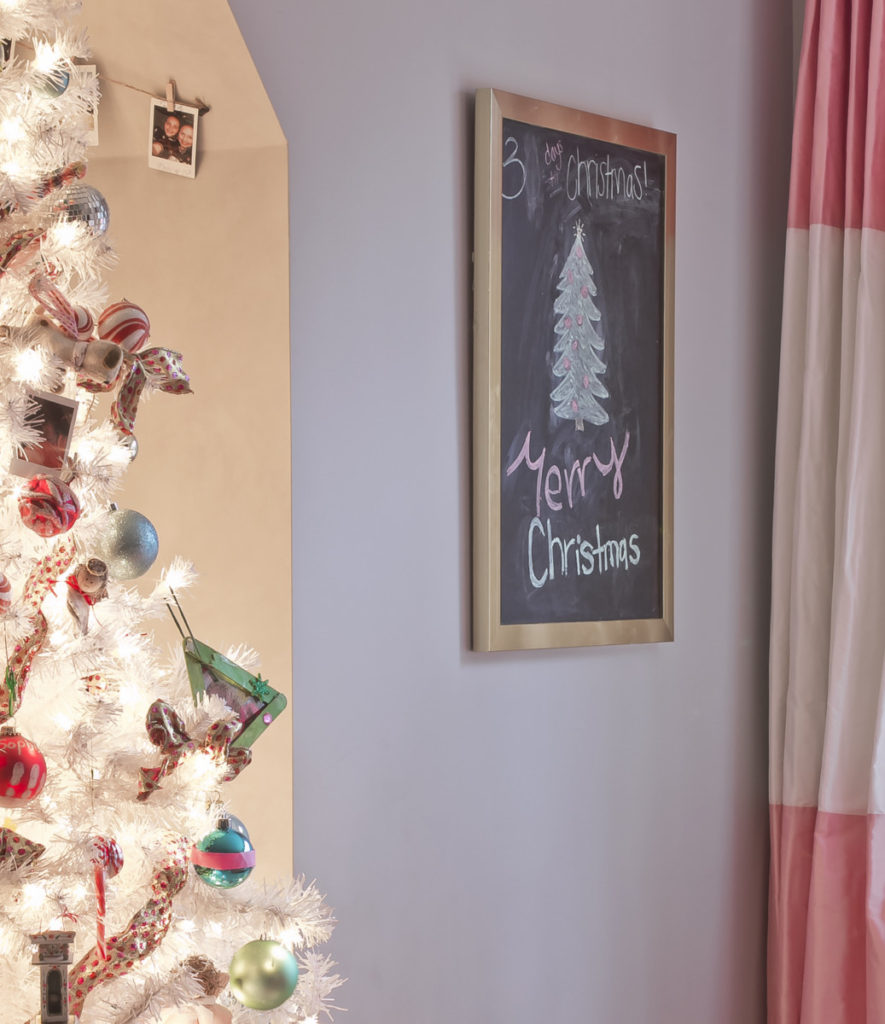 Merry Christmas friends! I hope you enjoyed the tour and have your sweetest, most gratifying, peaceful, perspective holiday yet! The blessings are endless in this great Country of ours and we need to stop and smell them. We made it another year! Think about that. A lot of folks hurting this time of year and no other season lays it on thick like Christmas. So much talk about "movements" this year. Well I've gotta movement. Its called kindness. I sprinkle that s*** on everything and it hasn't let me down yet.  Super contagious. Super addicting. Love to all! Be back soon with some more awesome kindness to spread from this year's charity installs. TIS THE SEASON! Get out there and smile big!