Hello team,
How goes it? I've been a mad crazy designer these past two weeks, on the hunt for one-of-a-kinds to wrap up some projects before Summertime hits. I wanted to share what's out there, A LOT of pretties, A LOT of potential, but where to start?
How bout Home Decorator's Collection? You know that catalogue that shows up every month, now owned by The Home Depot. Well they opened a retail space here in Alpharetta and its nice to see and feel some of that good looking eye candy you see on line, JUST to be sure. Some score, some do not.
I love this ottoman layered over a hide rug for a large master bath suite. Bring in some softness to all the hard lines a master bath entails and give it a touch of luxe. At $279 it definitely made the score list.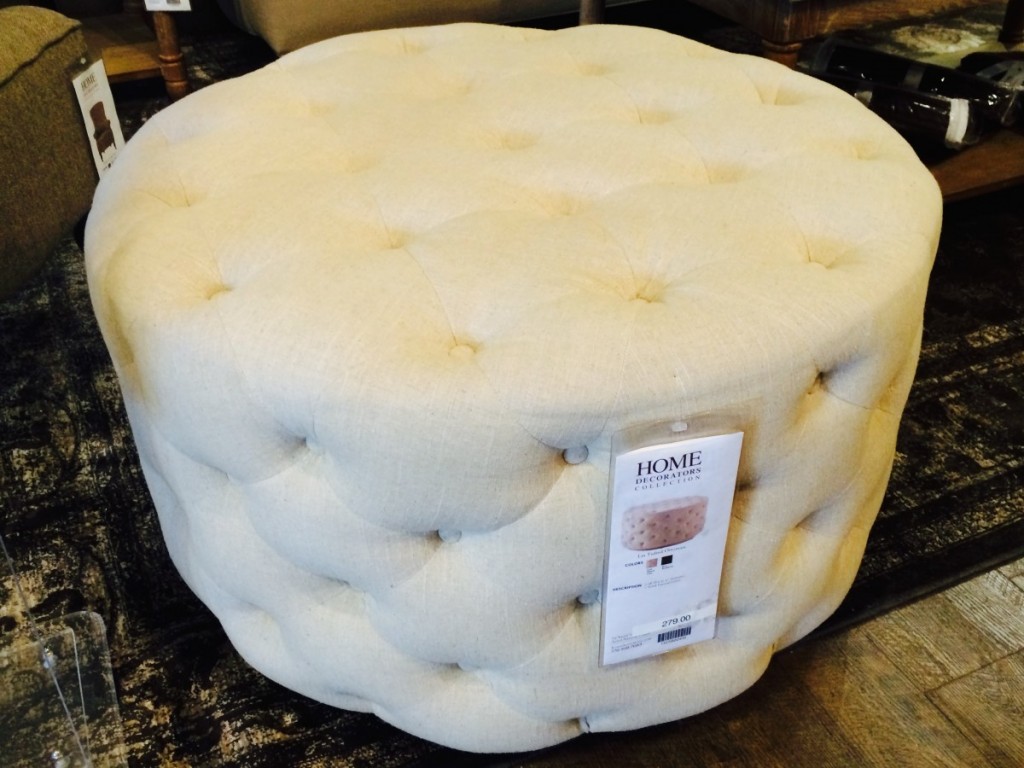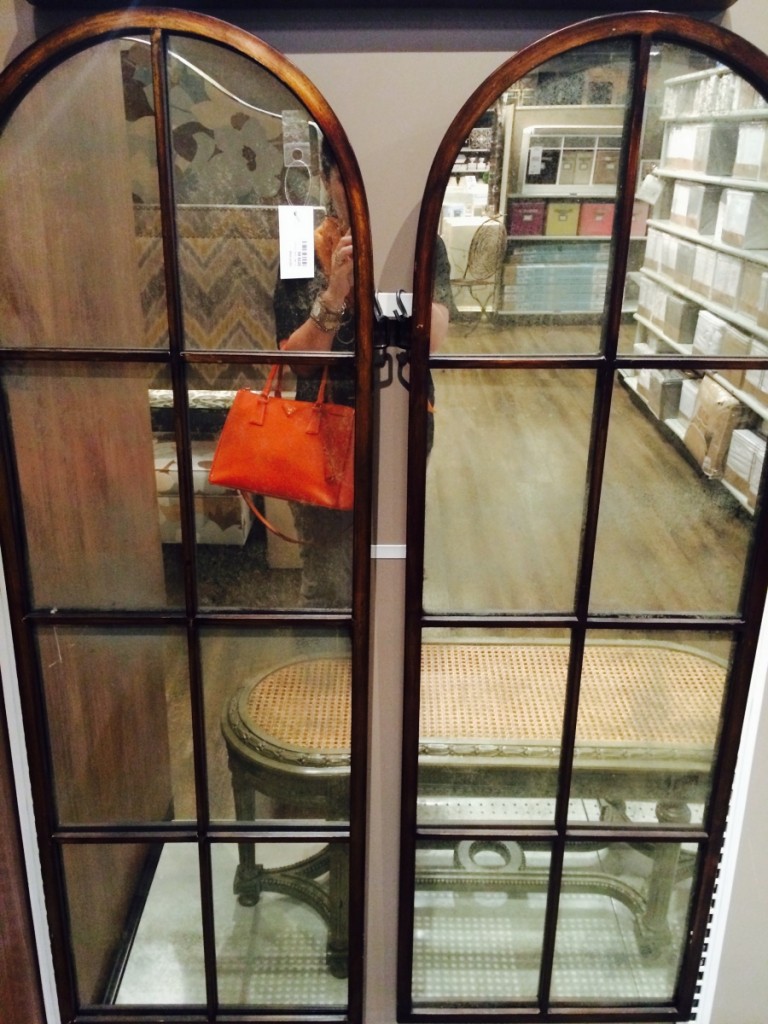 The pair of mirrors were rock solid as well as this fanciful take on a starburst…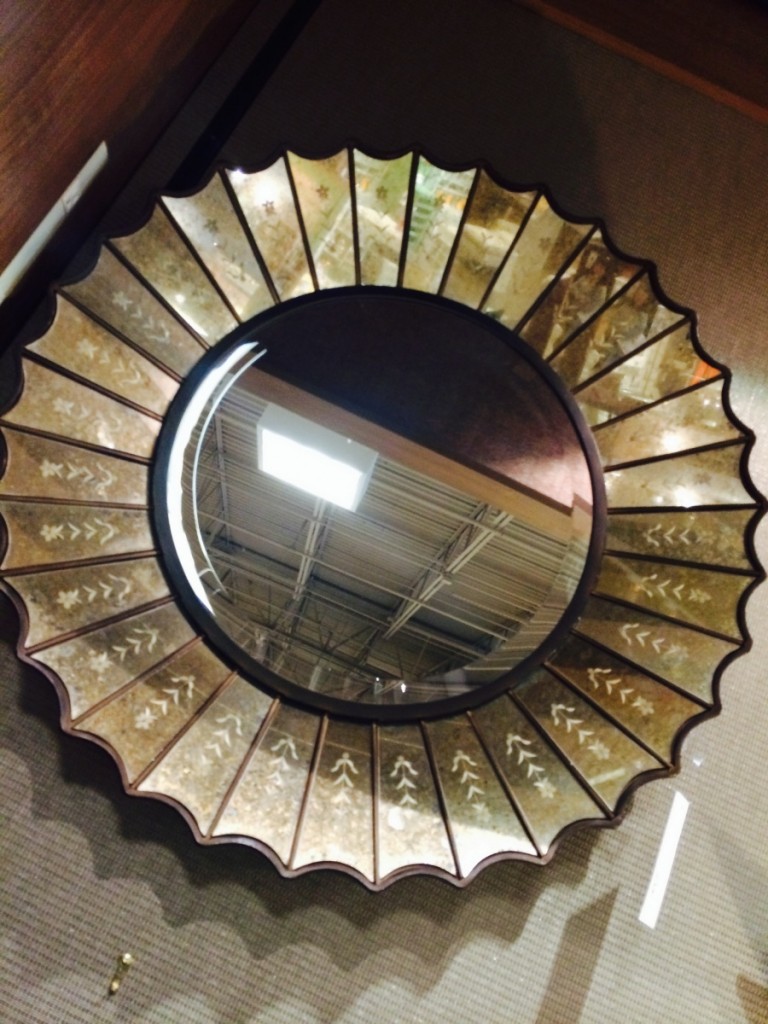 I've had my eye on a sofa/chaise for our beach place and this would run right in front of the dead space of the 1980's door wall that doesn't open. We really need a sofa we can all pile onto and with limited square footage, this one may do the trick once I flip the t.v. to the other side of the room, whenever that may be.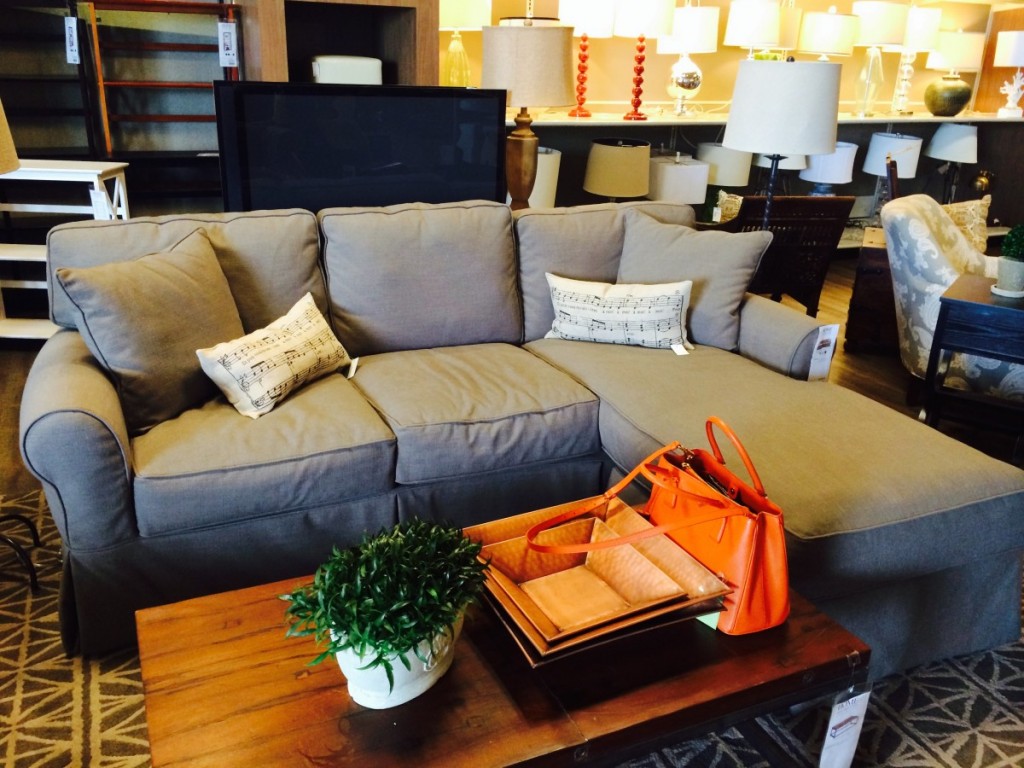 Notice all those good-looking lamps in the background, good stout sizes too, but this one in particular, beautiful as a pair in a bedroom…
More pretties worthy of mention. Nice finish on this table…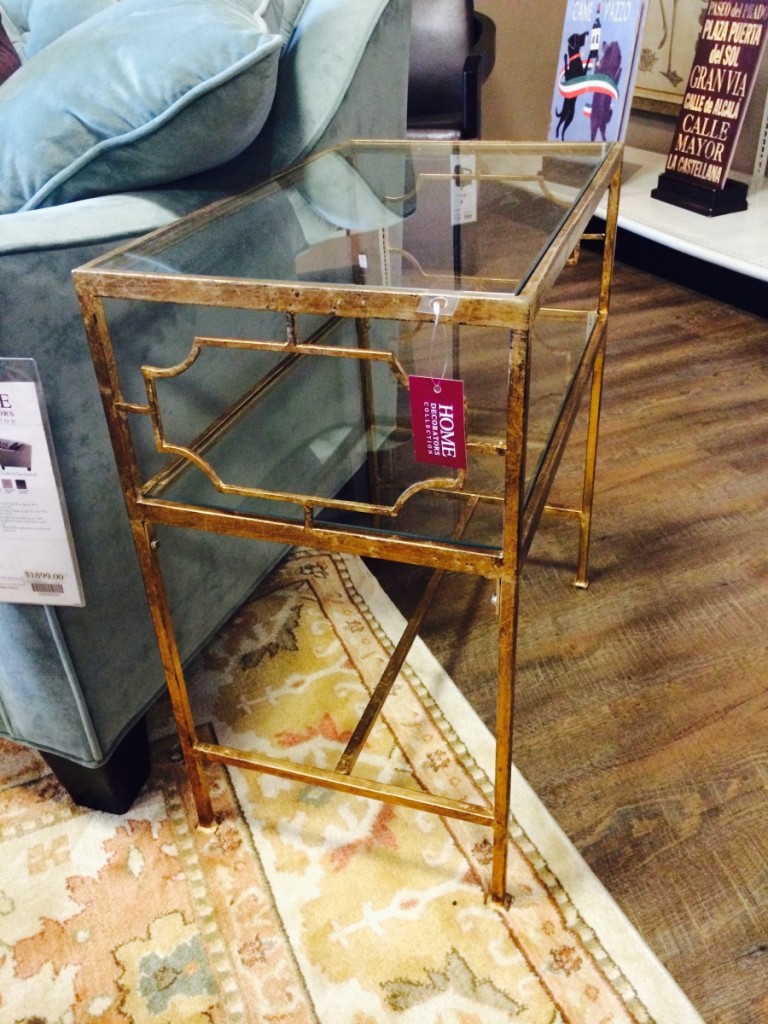 $199. Love the pleats. Put me with a pair in front of the fireplace.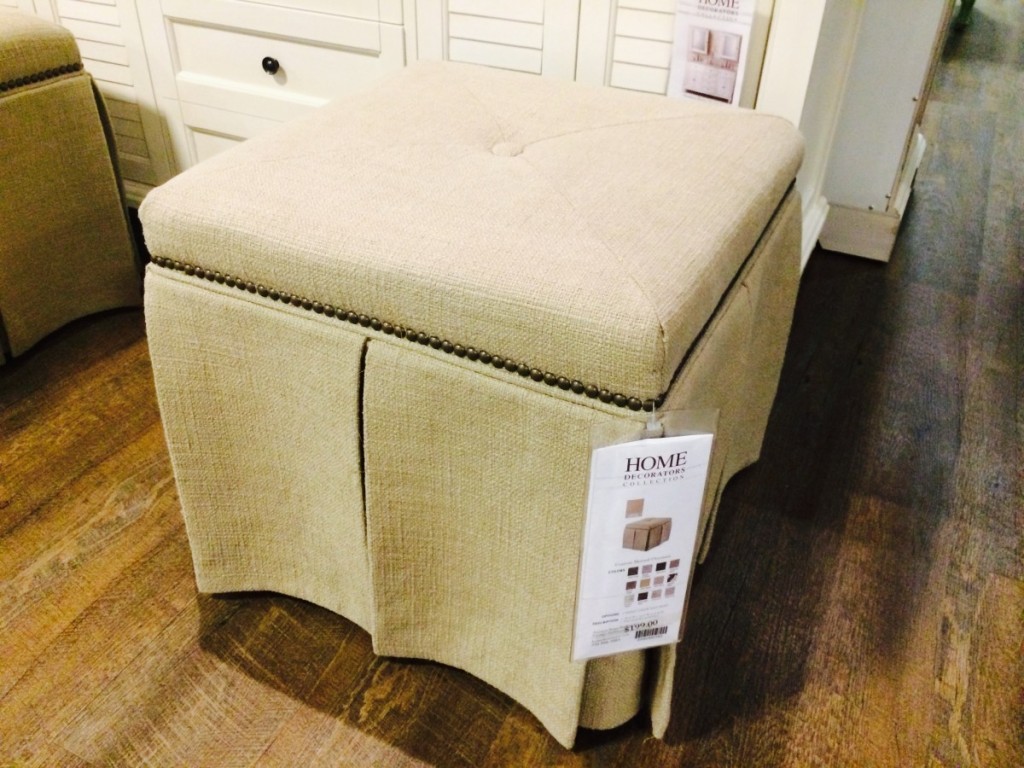 Never under estimate the power of large accessories and well-edited accessories (aka you don't need a lot), these all fit the bill…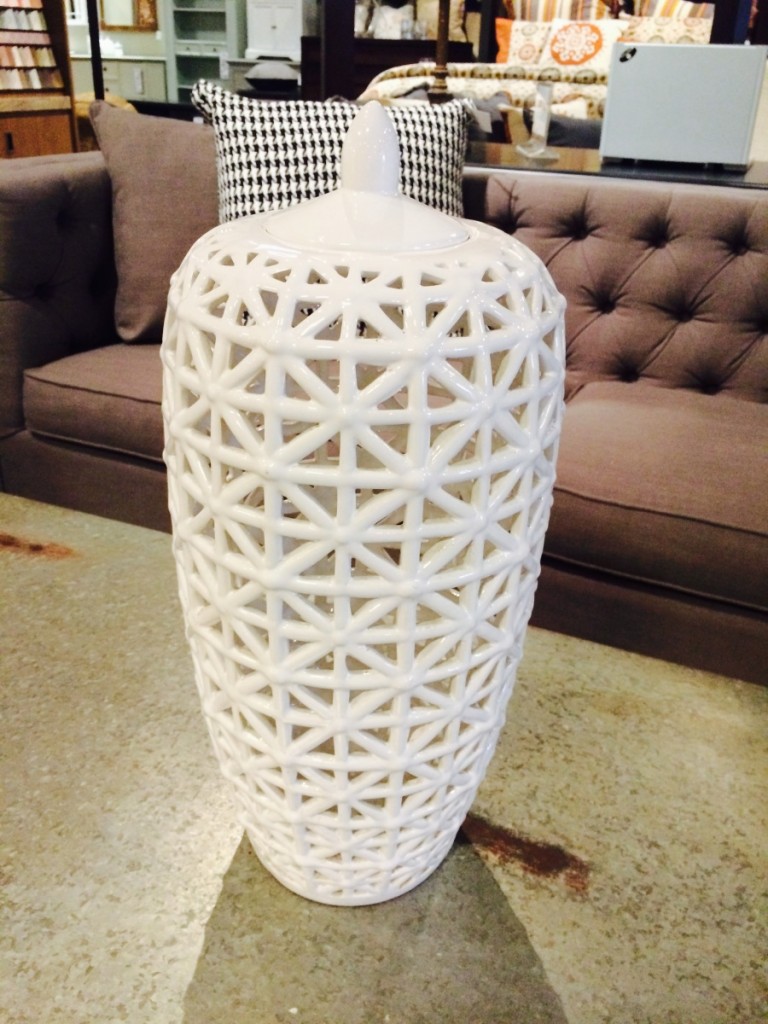 Fretwork, very in style in both home decor and fashion this season. I'd like a pair of shoes that look like this.
Black and white, also on trend, would make some fun cookie jars in the kitchen.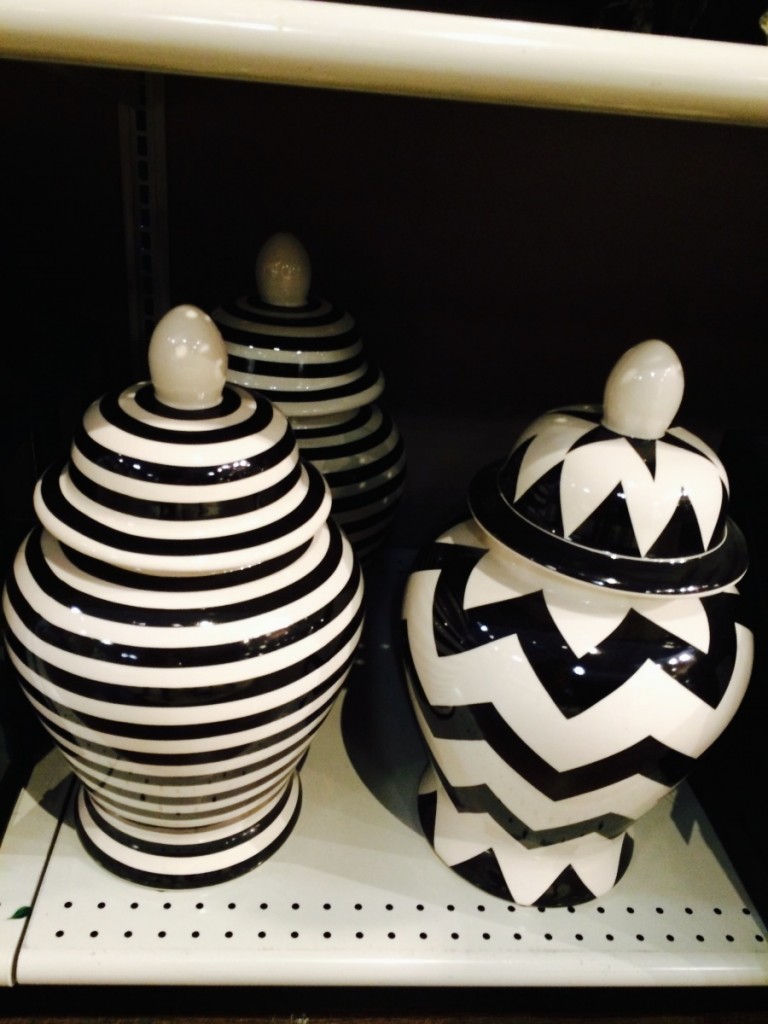 These lanterns were massive with loads of possibilities.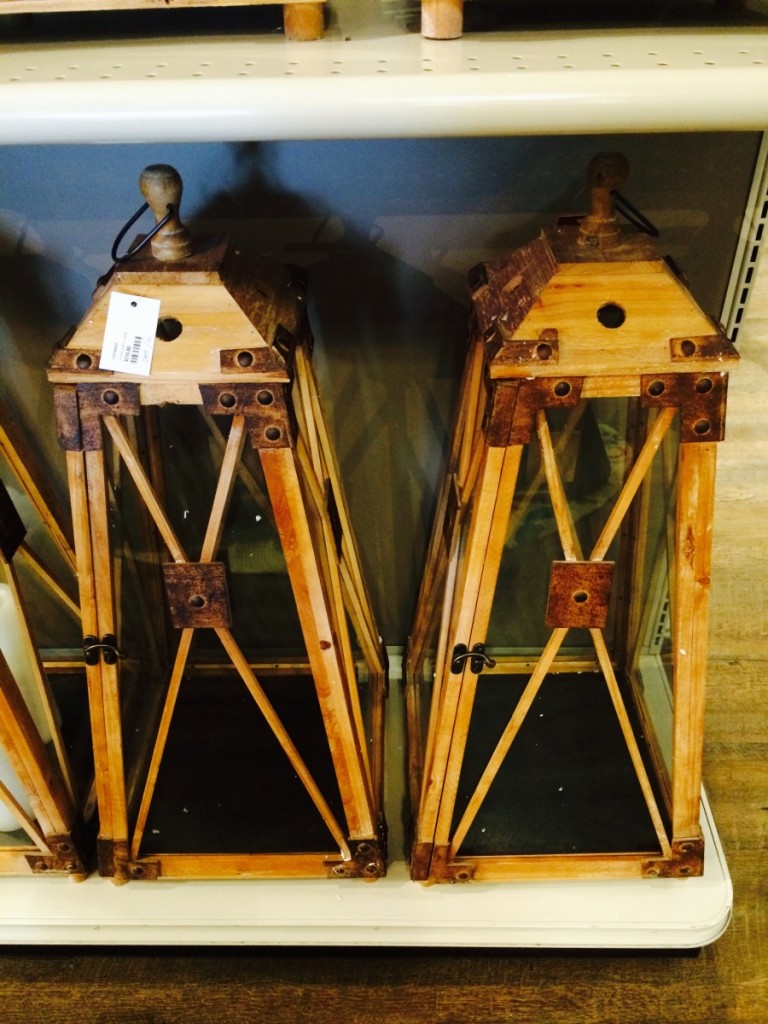 Need a side table? Indoor or out?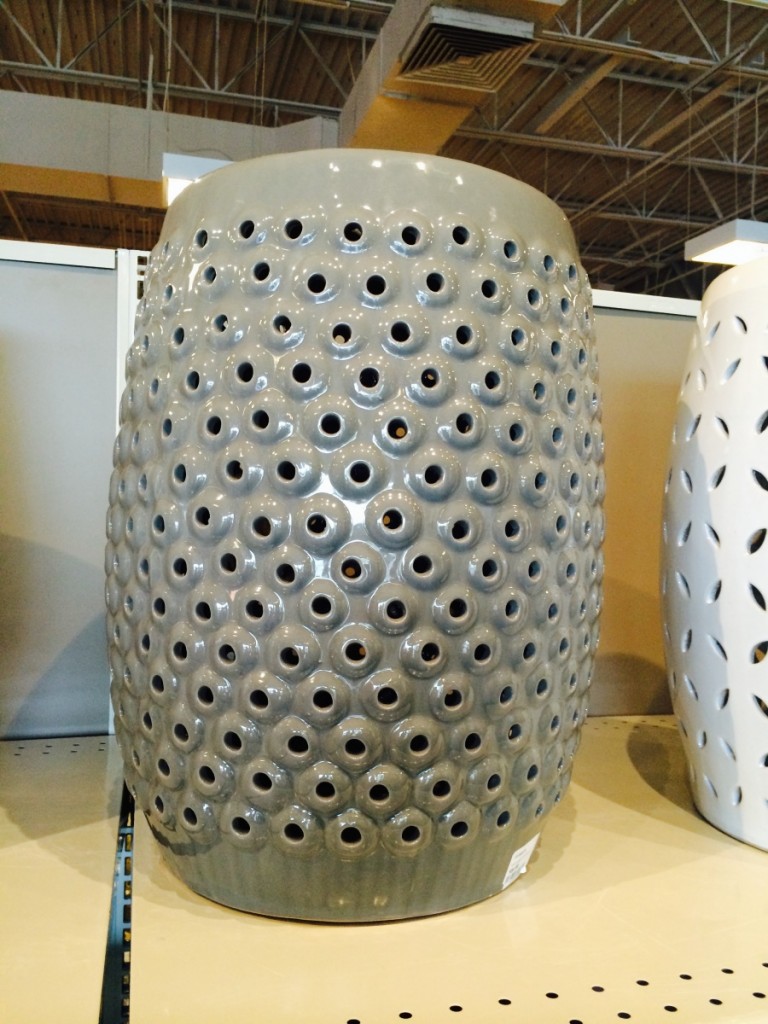 These are also great for the shower!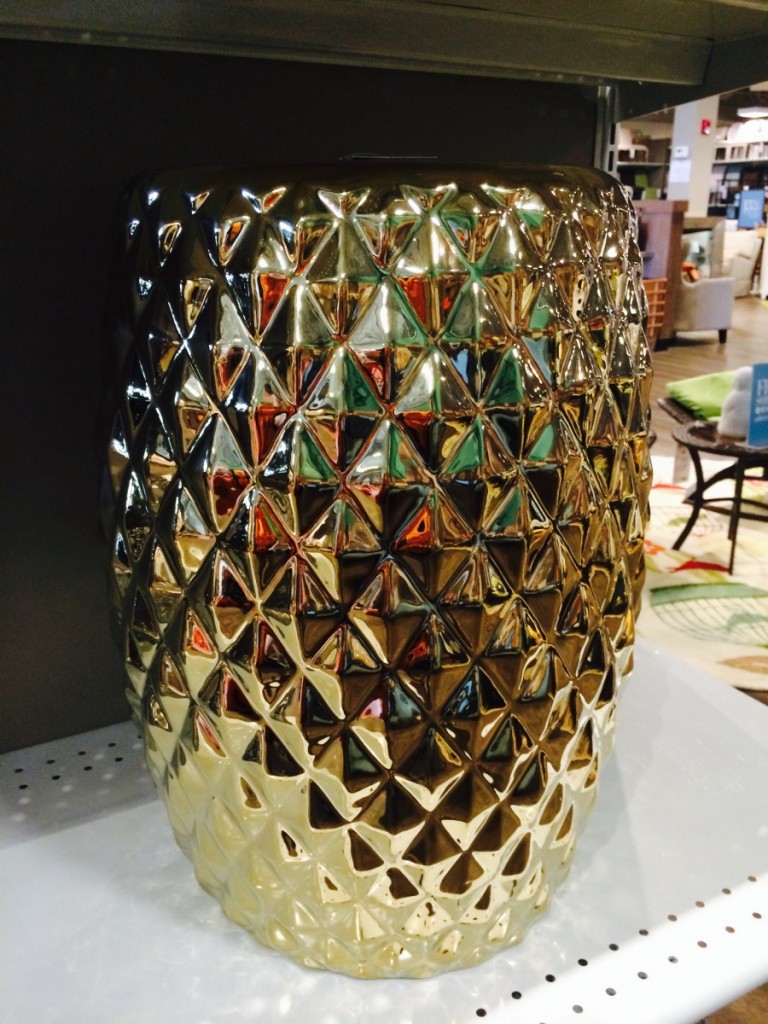 well maybe not this one…but perfect for outdoor or rustic indoor.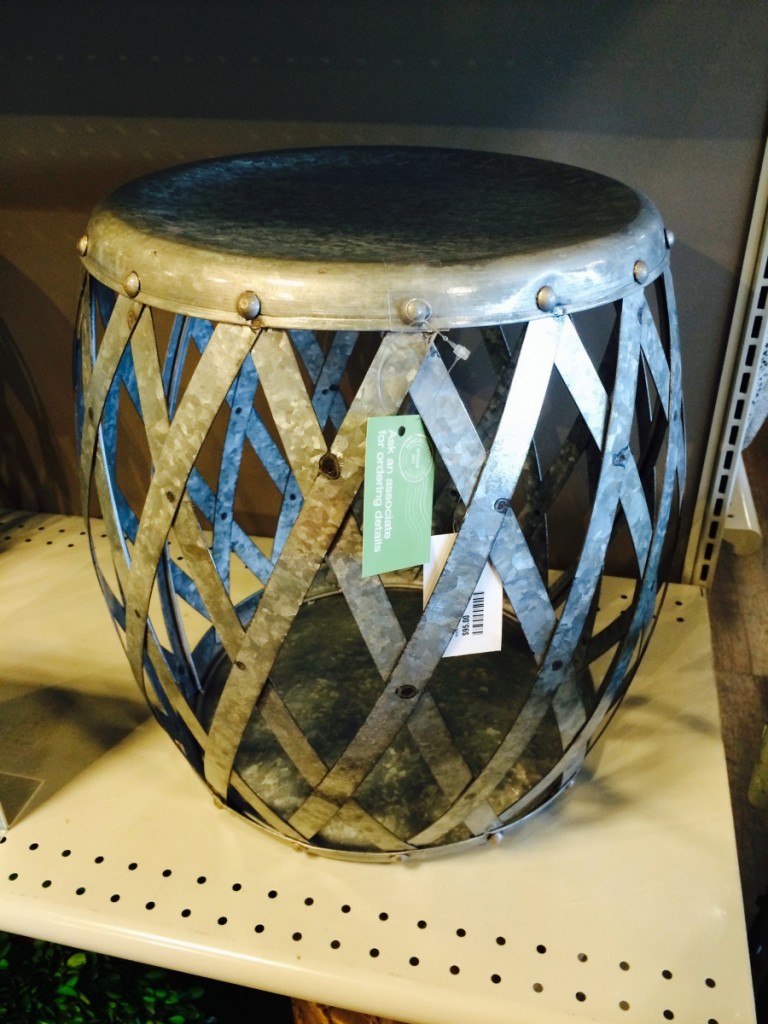 Cocktail table? Again, indoor or out…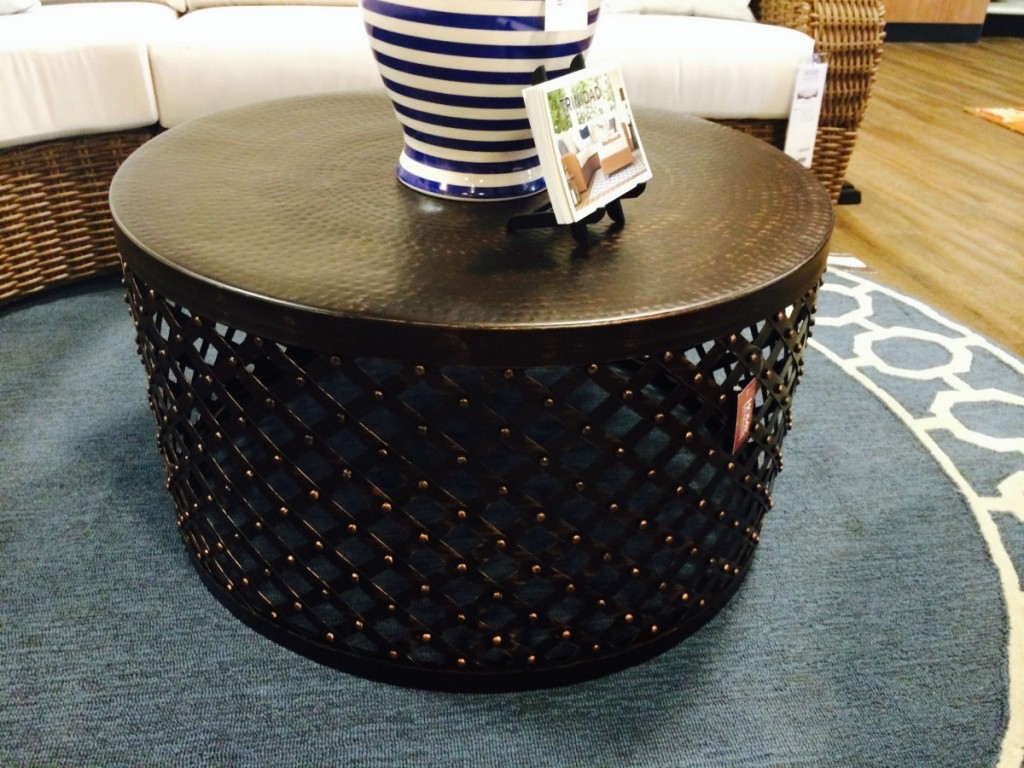 And lastly, the perfectly scaled bench for an end of bed or layered under a console table, at the price, you can recover and make her your own in a snap…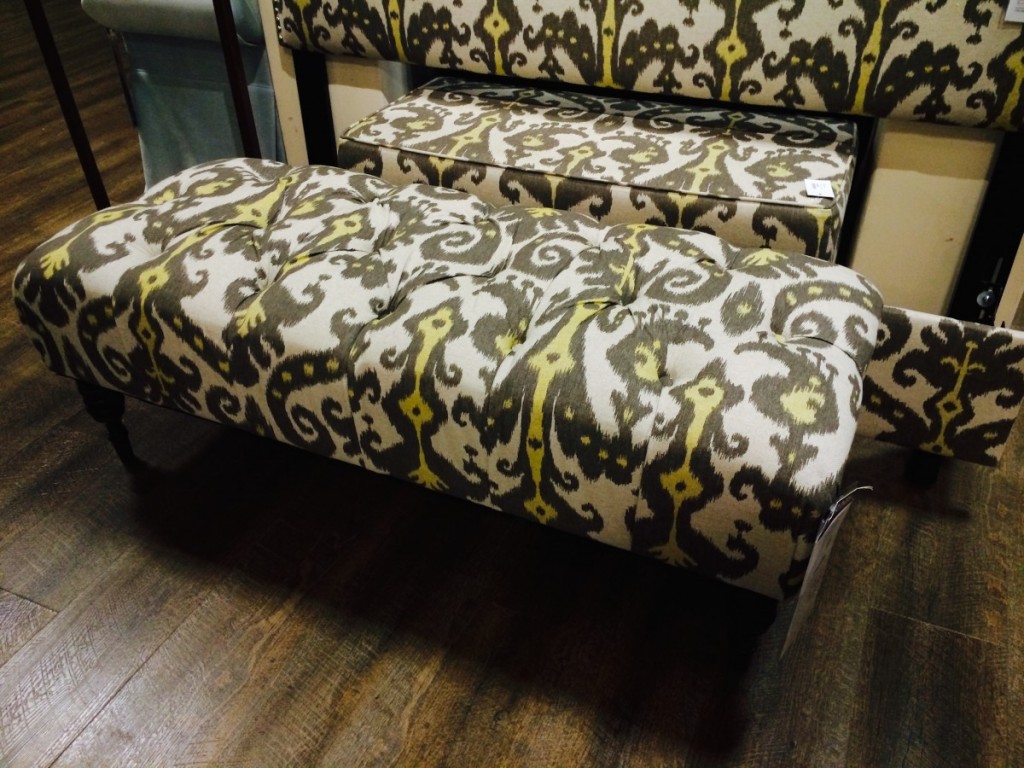 The locals may have heard of Kudzu Antiques in Decatur. I was picking up a massive chandelier from Solaria recently and they needed some time to get it ready. No problem, let me just run into Kudzu across the street and see what we can find.
LOVE the sofa and the stories it could tell.  I pictured some mid-century lanterns hanging from the ceiling, on each end, in a Palm Springs type of pad, somewhere back in the day.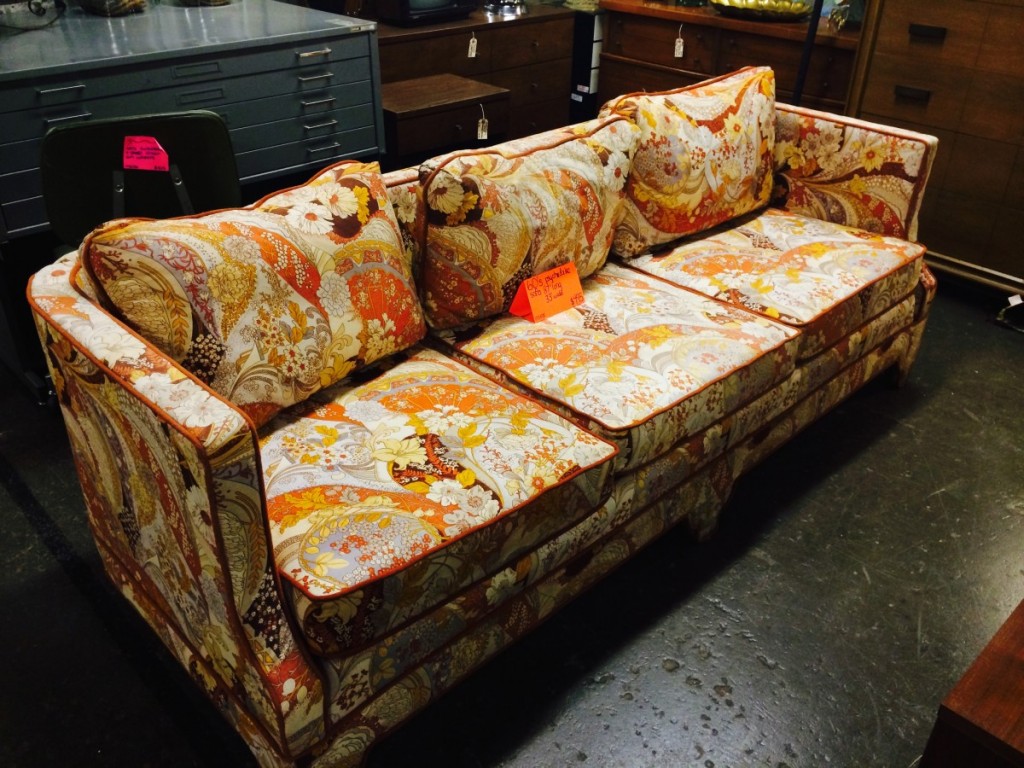 This old window frame was massive, at least three feet wide, and what a statement she'd make in your home, over your mantle, above your bed, you name it.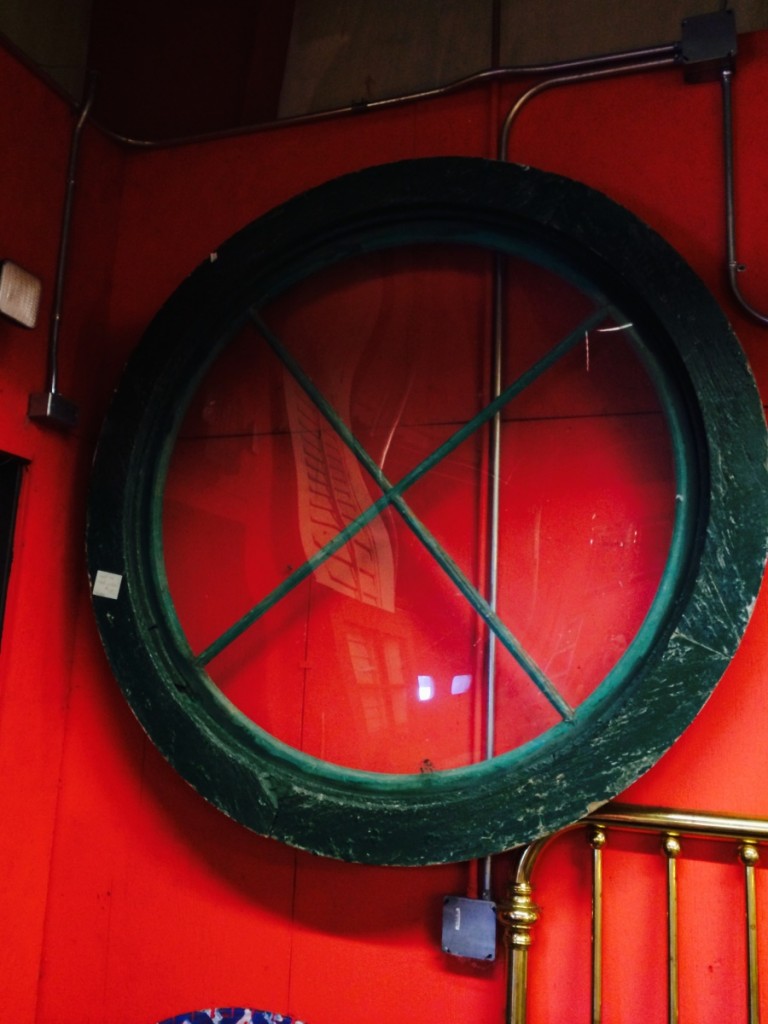 Love these vintage pin up girl prints for my bachelor's basement bathroom, located just off the bar. Perfect.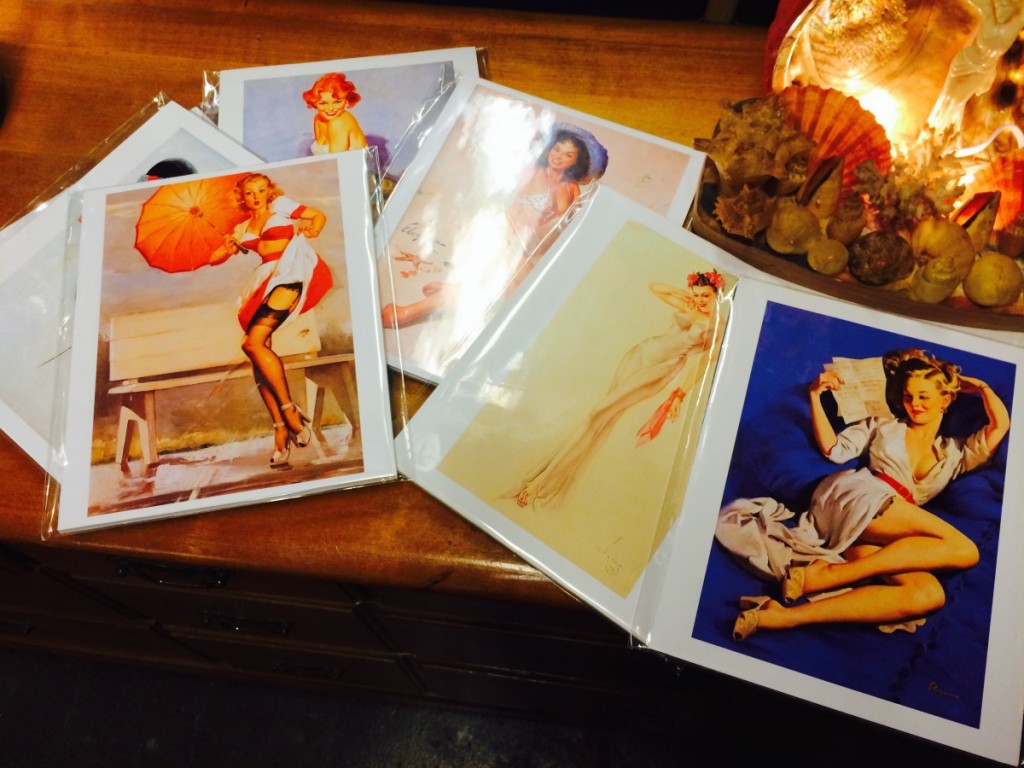 Big ole brass scalloped tray, pretty on a table or hung on the wall.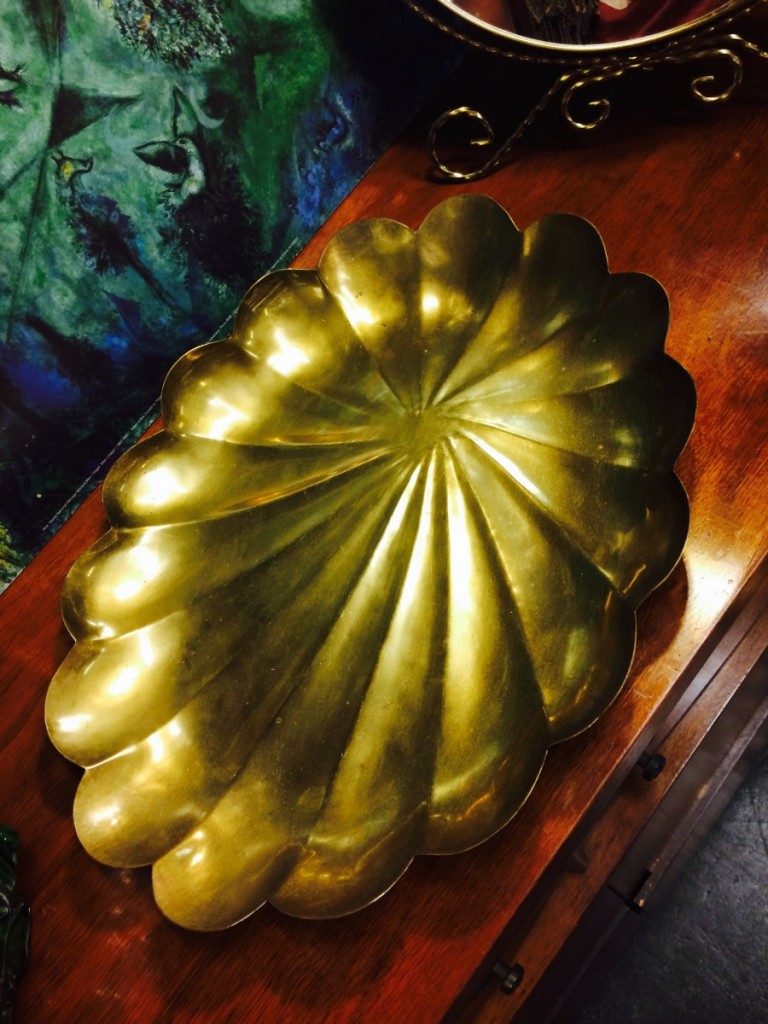 How cool are there doors?! Maybe they came out of the same house as the sofa?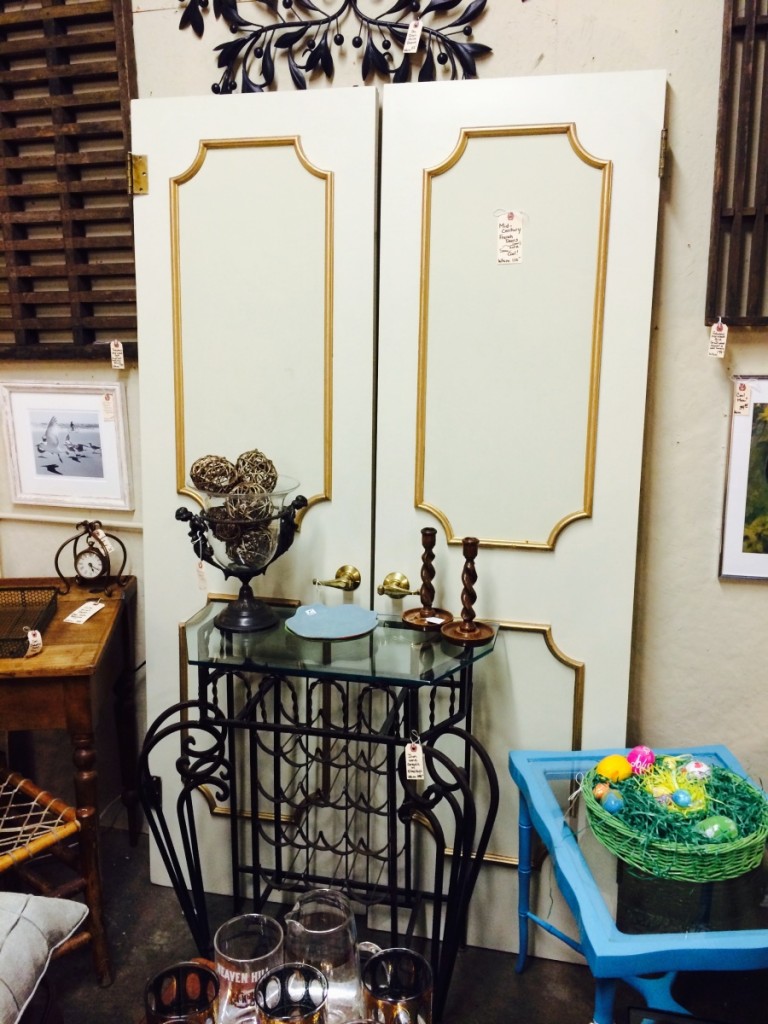 Sometimes its the kid in me or its for the kids 😉 Kermeee!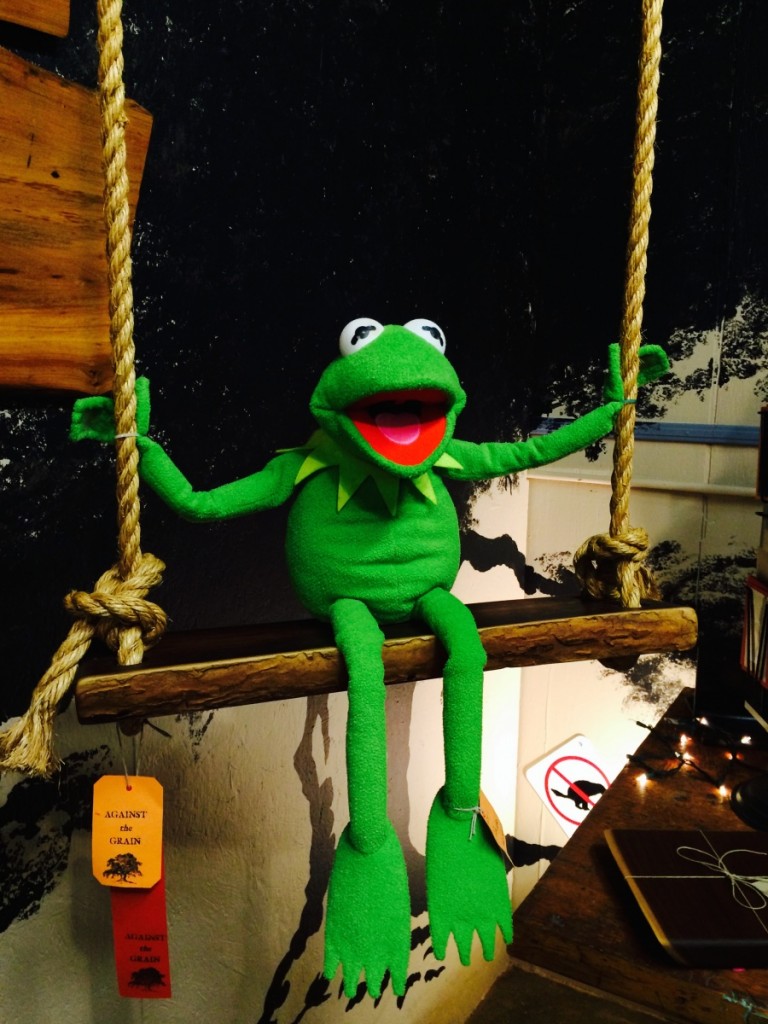 This is what we call getting side tracked. Focus Jen, focus.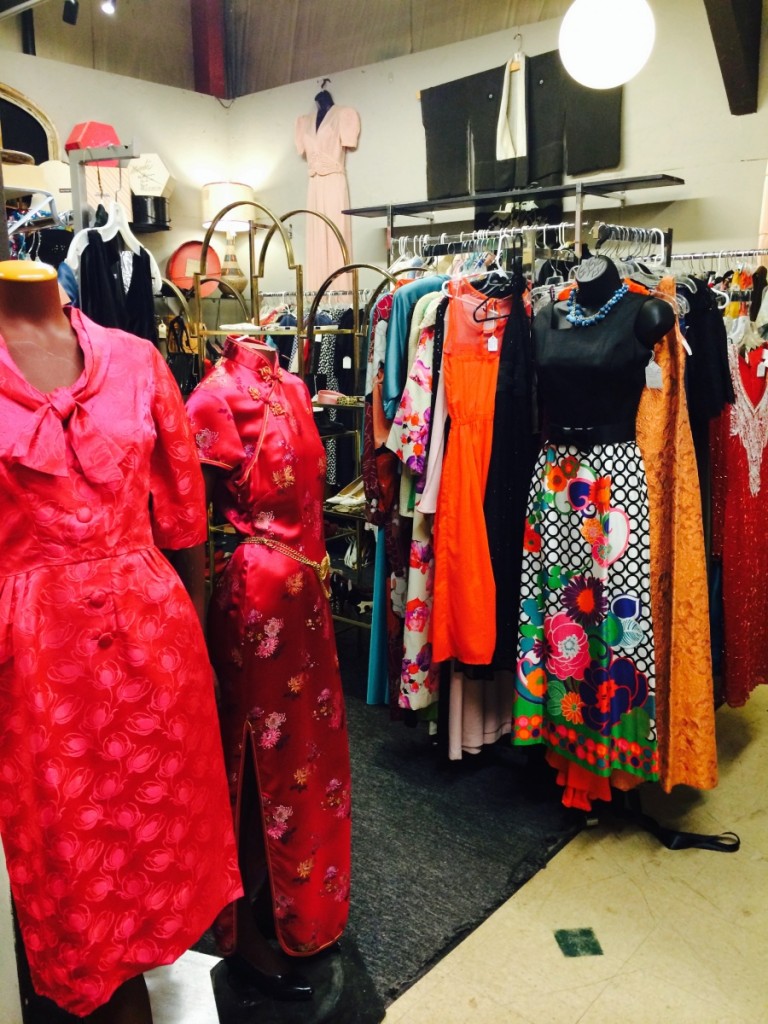 Not my size, dang it. Look at that heel!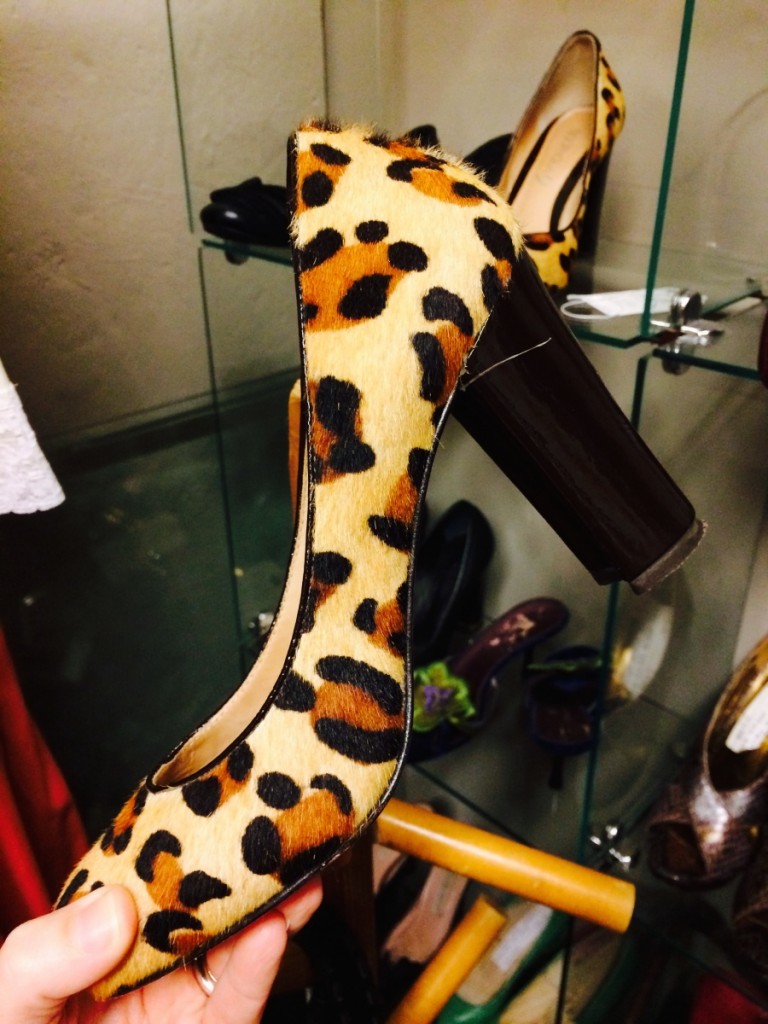 Again, not my size.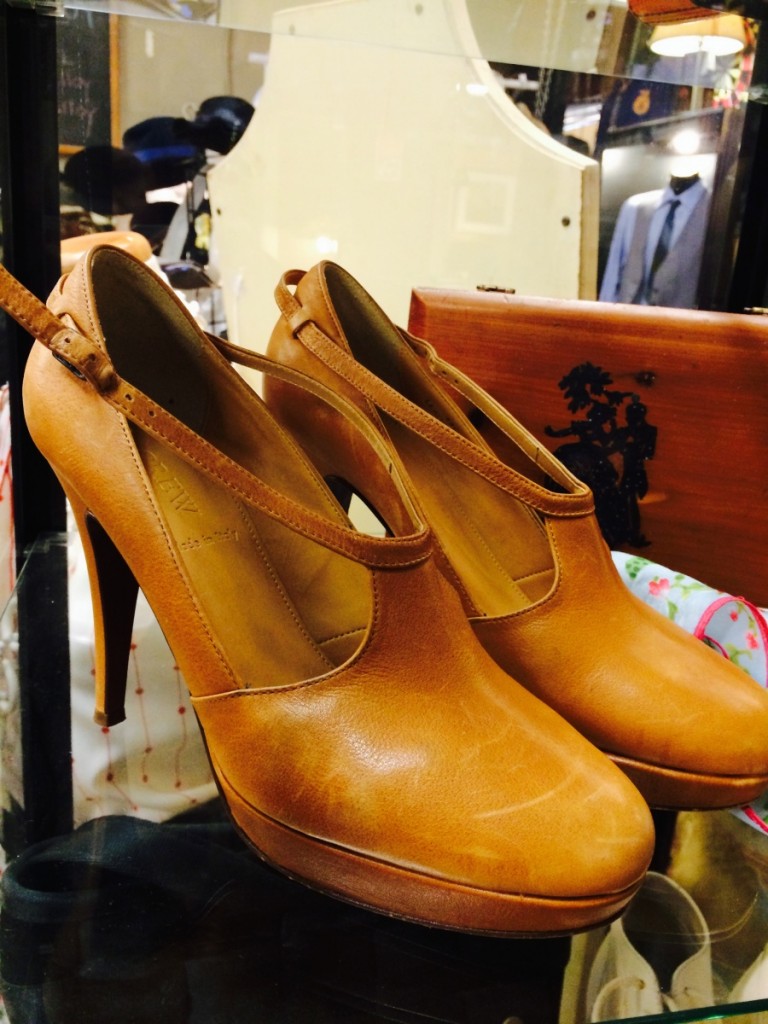 I've got a thing for chandeliers with sprays at the top. I kept coming across them, everywhere I went these past few weeks…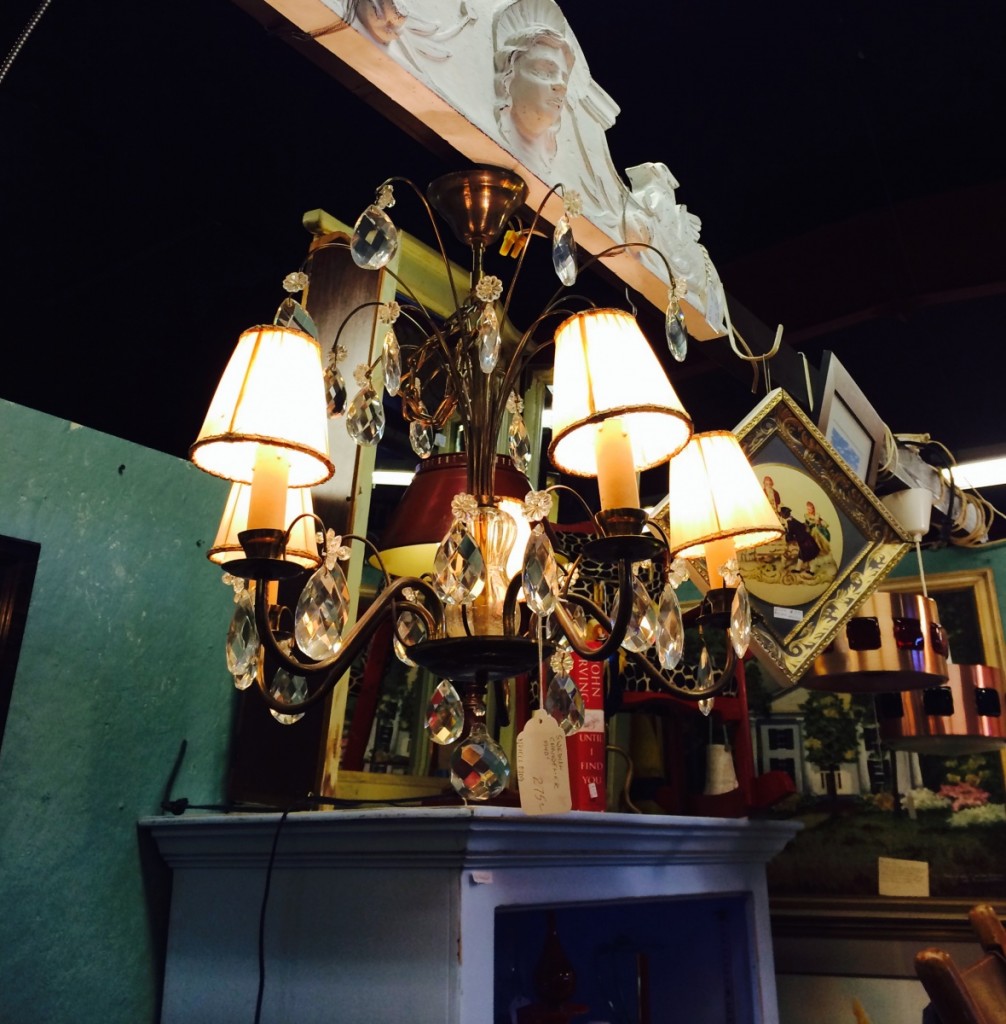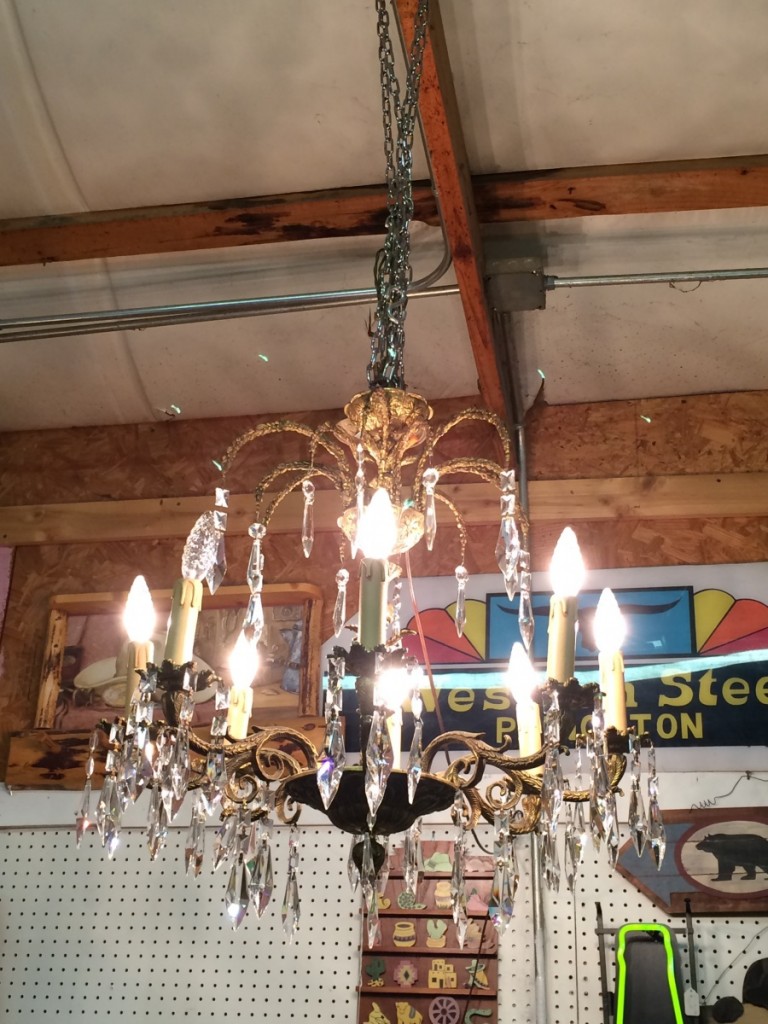 It was time to check out the new Green Bean Exchange location in Alpharetta. WHOA. Good, good stuff!
A pair…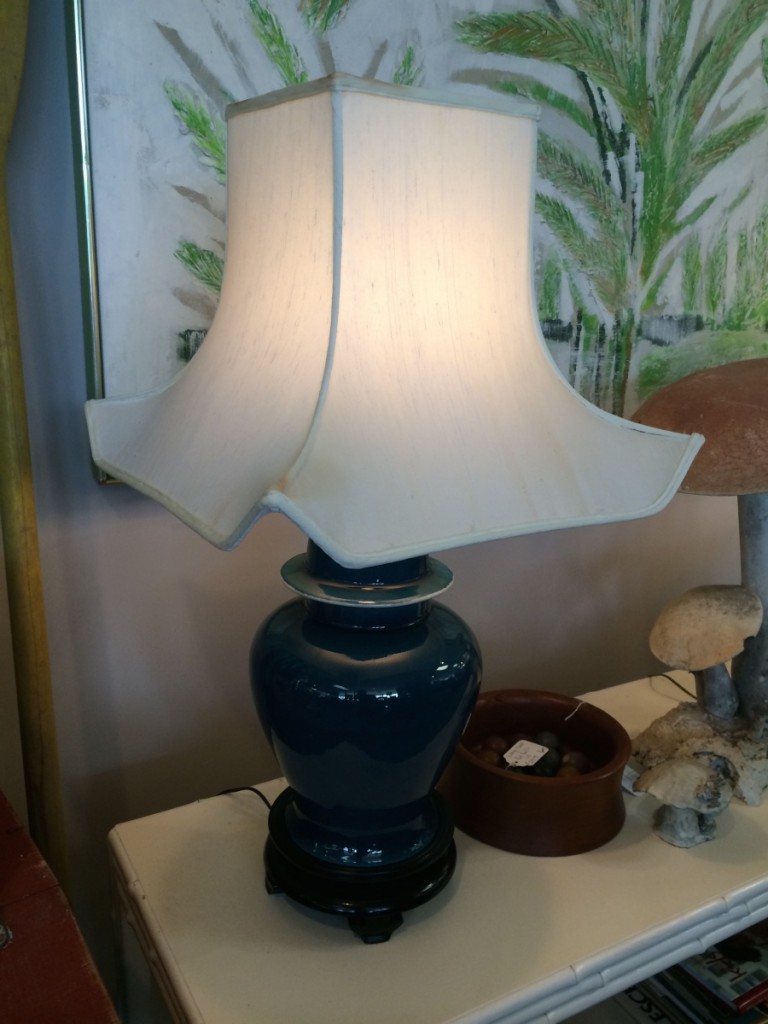 A set of four for $160! Restyled. Lots of fun.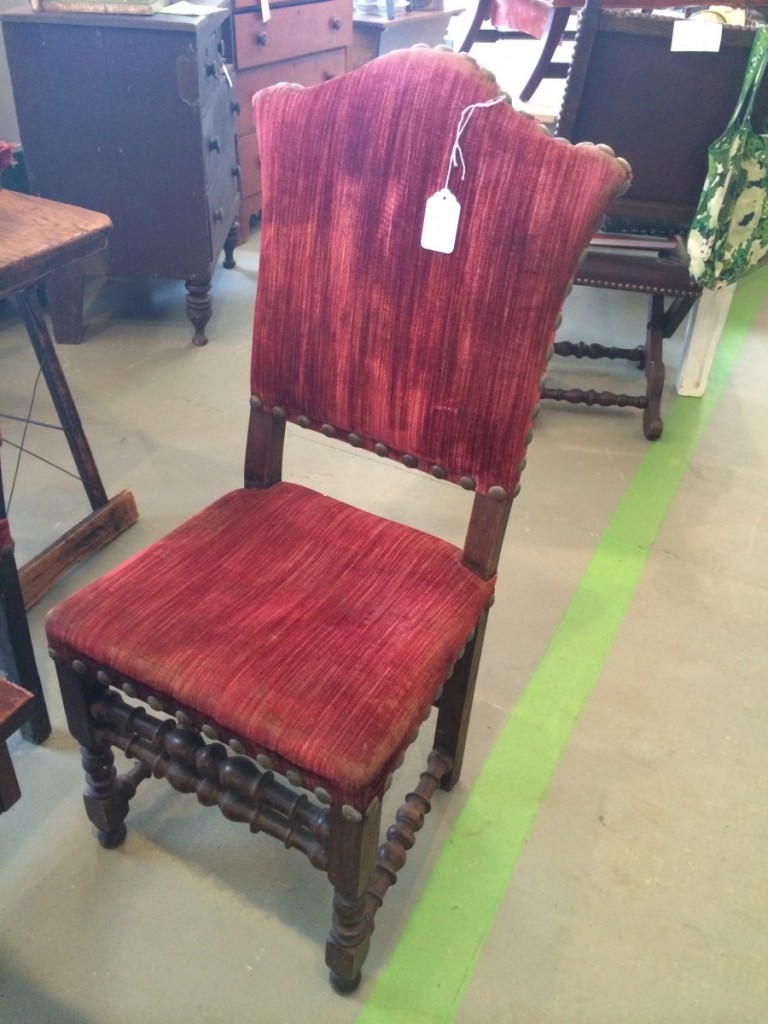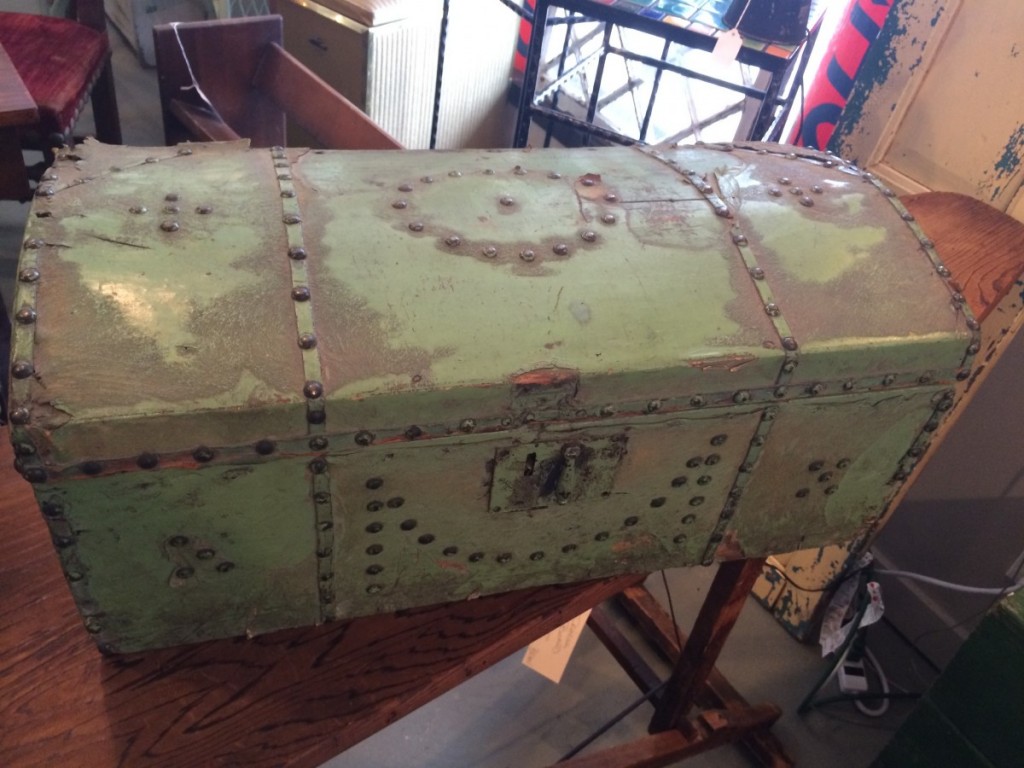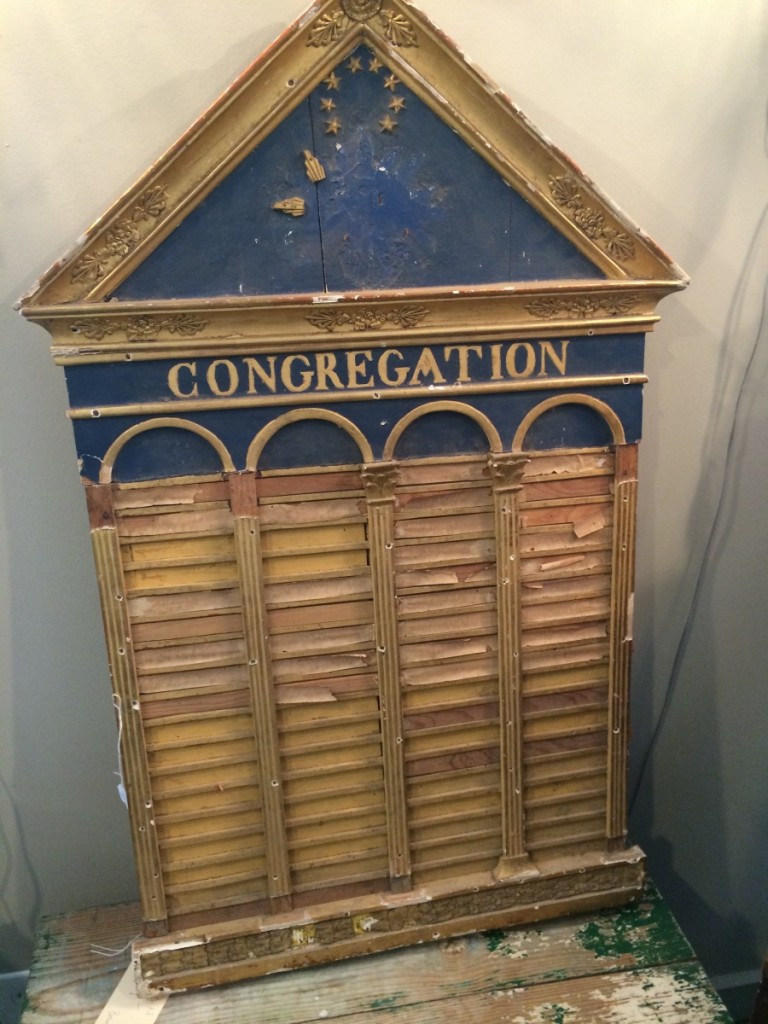 There were three of these, used indoors instead, in a bathroom perhaps?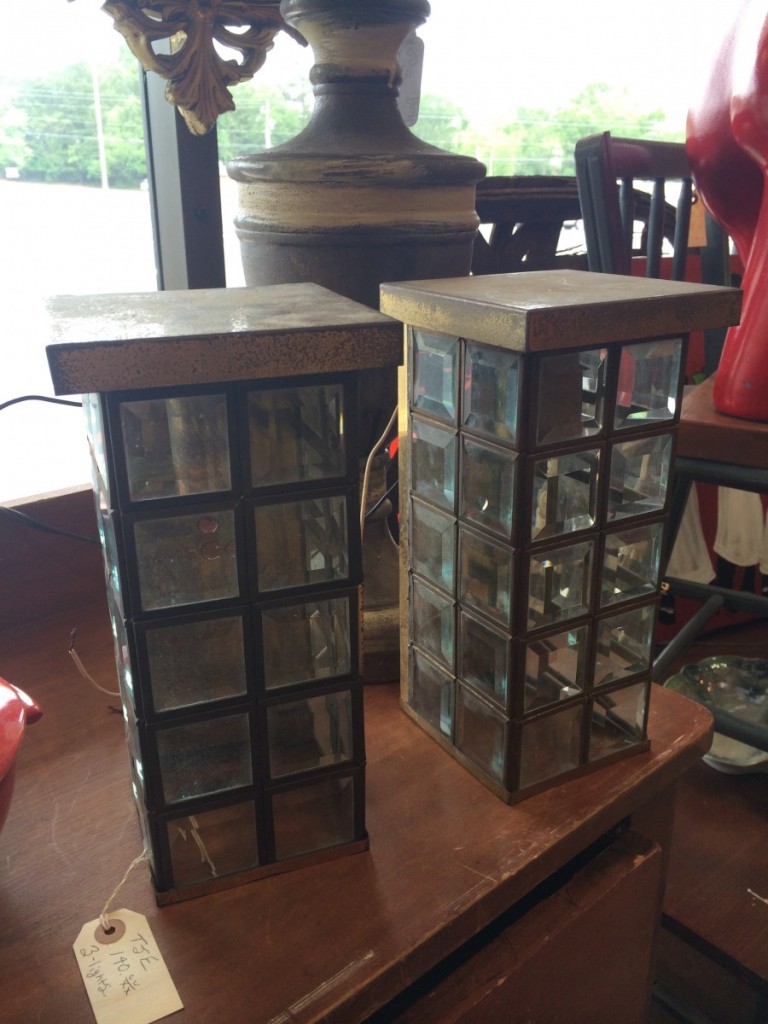 Loved this table base,  indoor or out.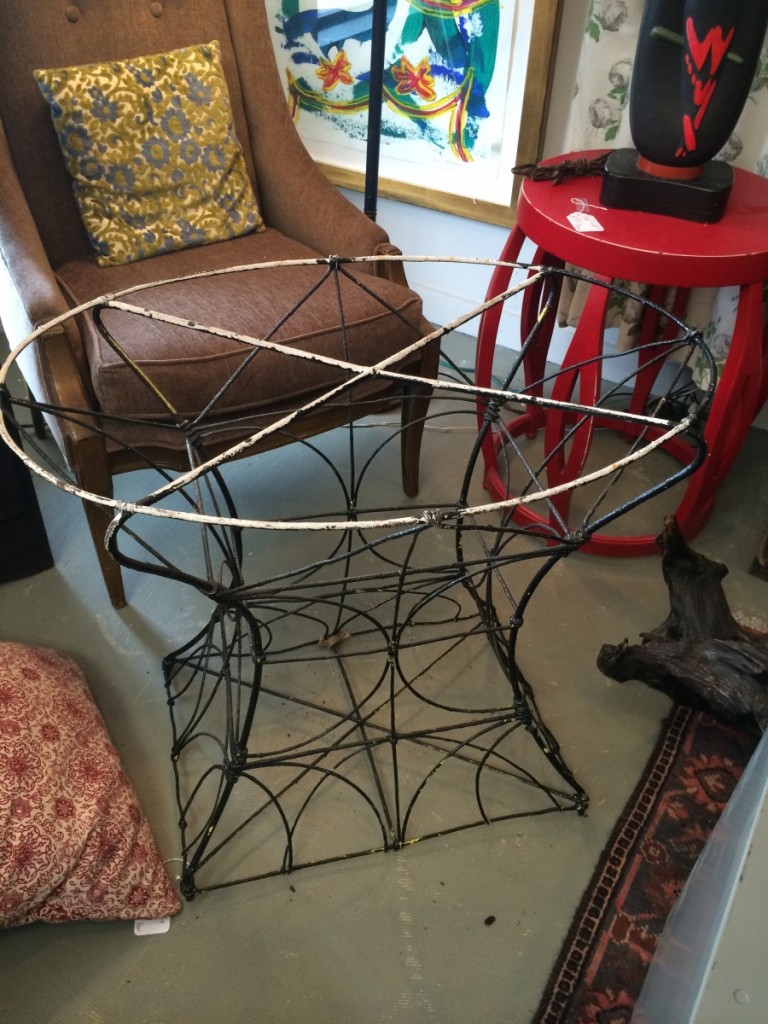 A steal at $99! In a new color, just set your vintage record player up top, with all those old albums, or a bar.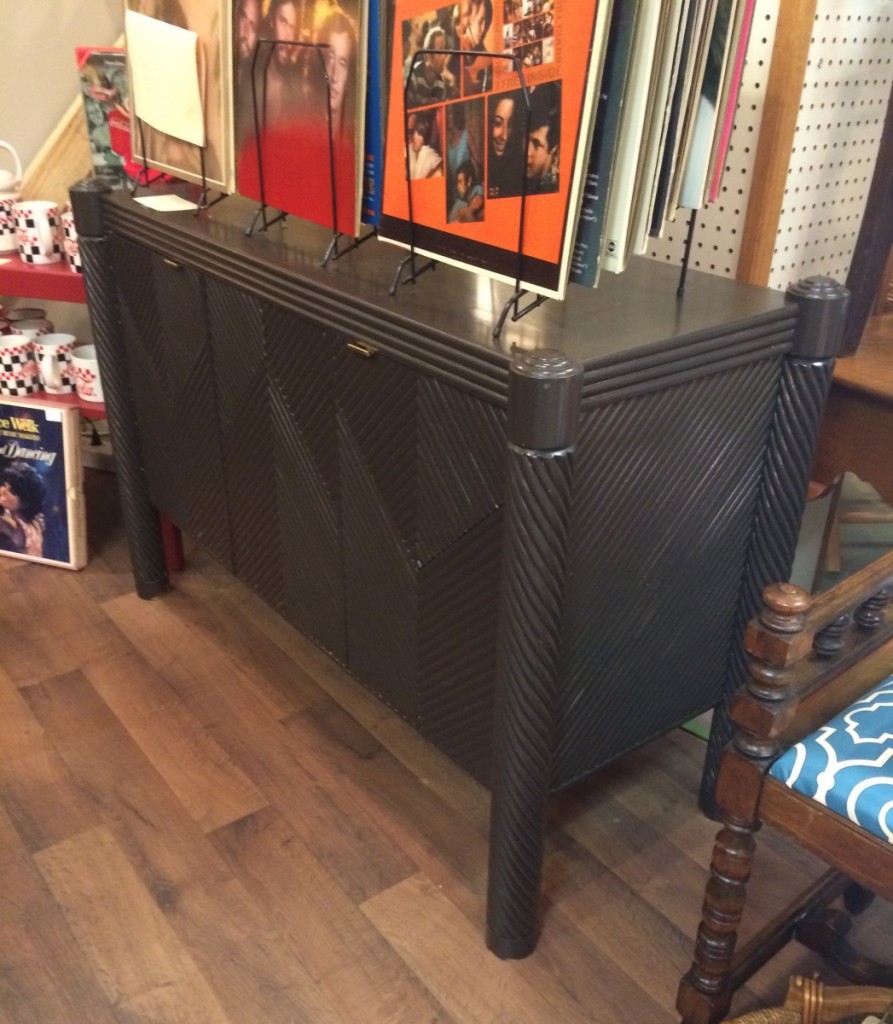 In need of a pop of color? No problem.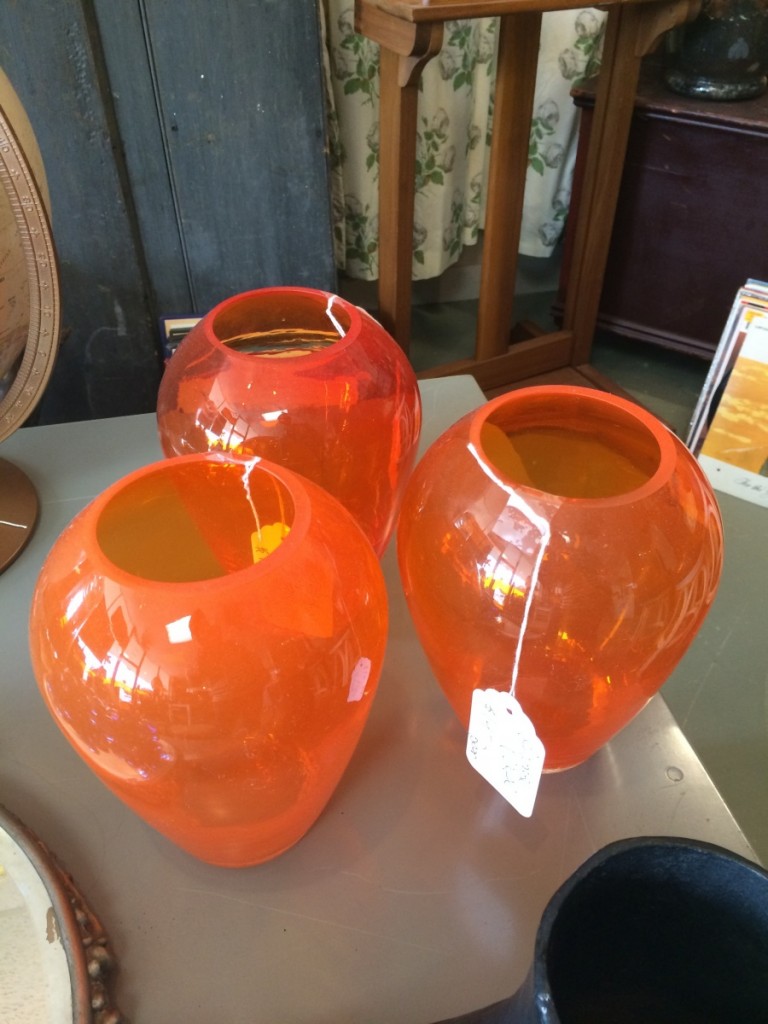 It was the perfect size for a side table…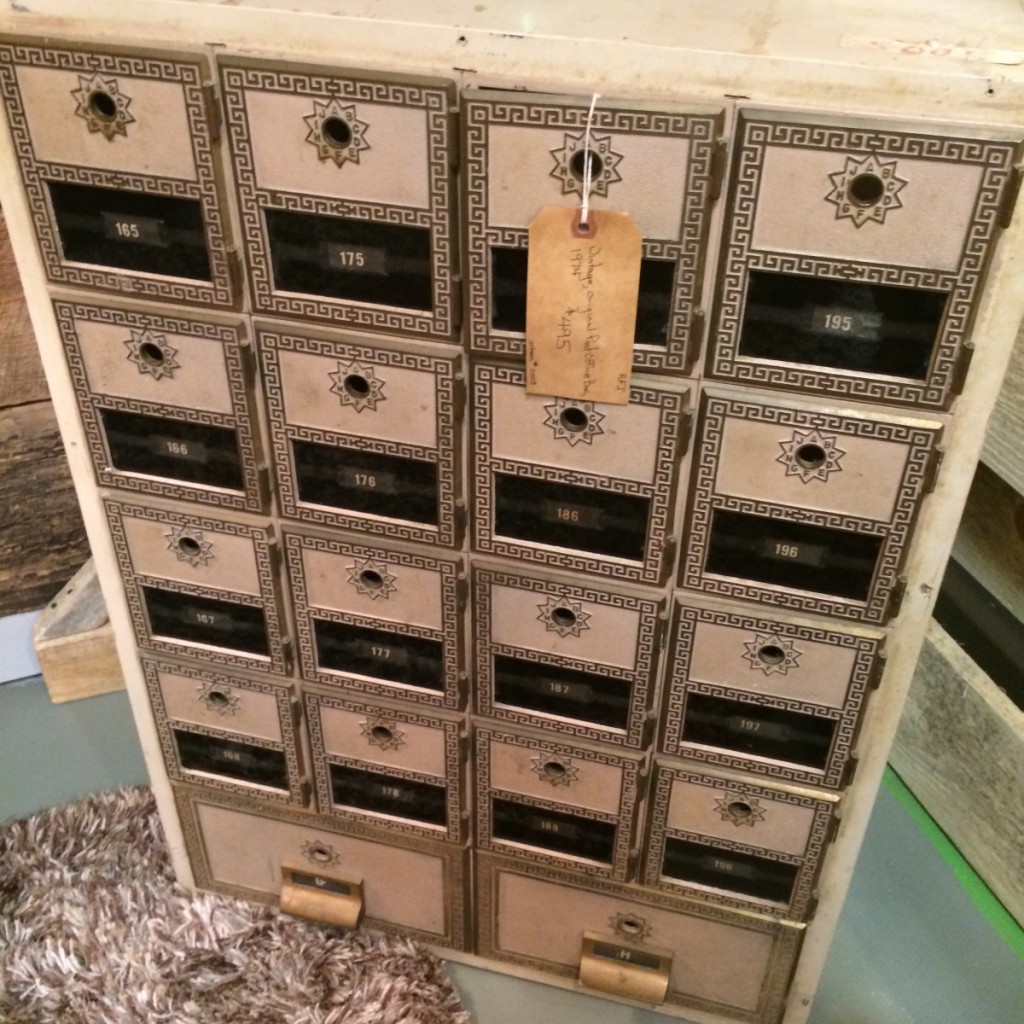 Way cool, I thought, a pair, even better. Again it had that Viceroy, Kelly Wearstler vibe I thought.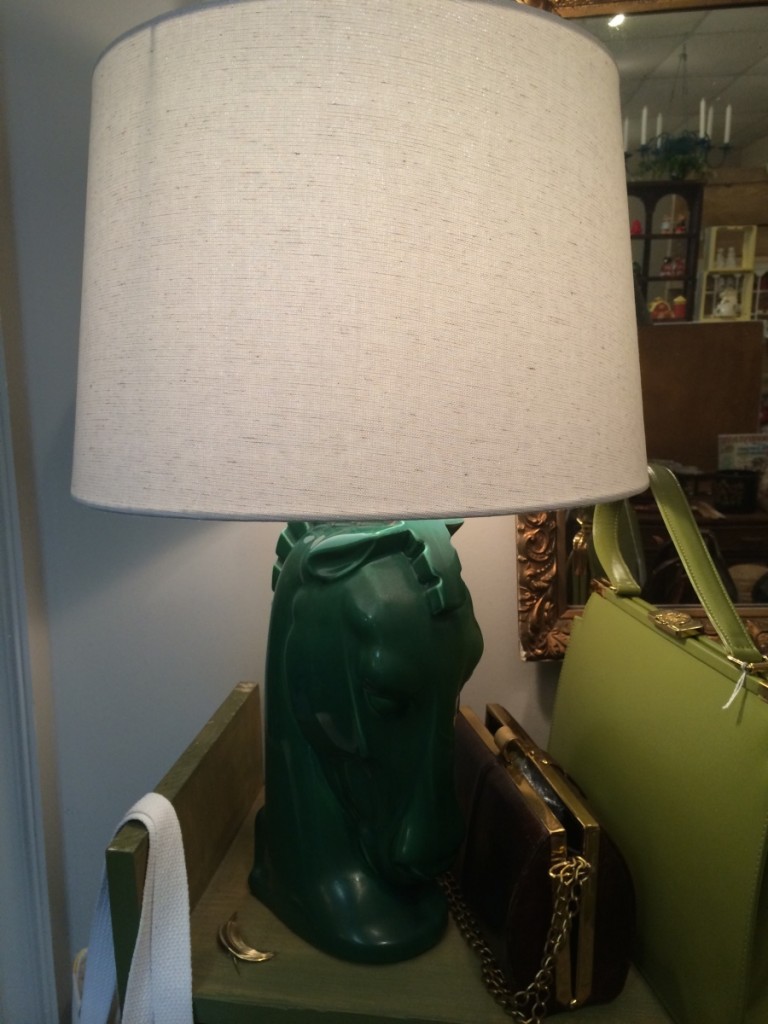 Walk away…you're here to work…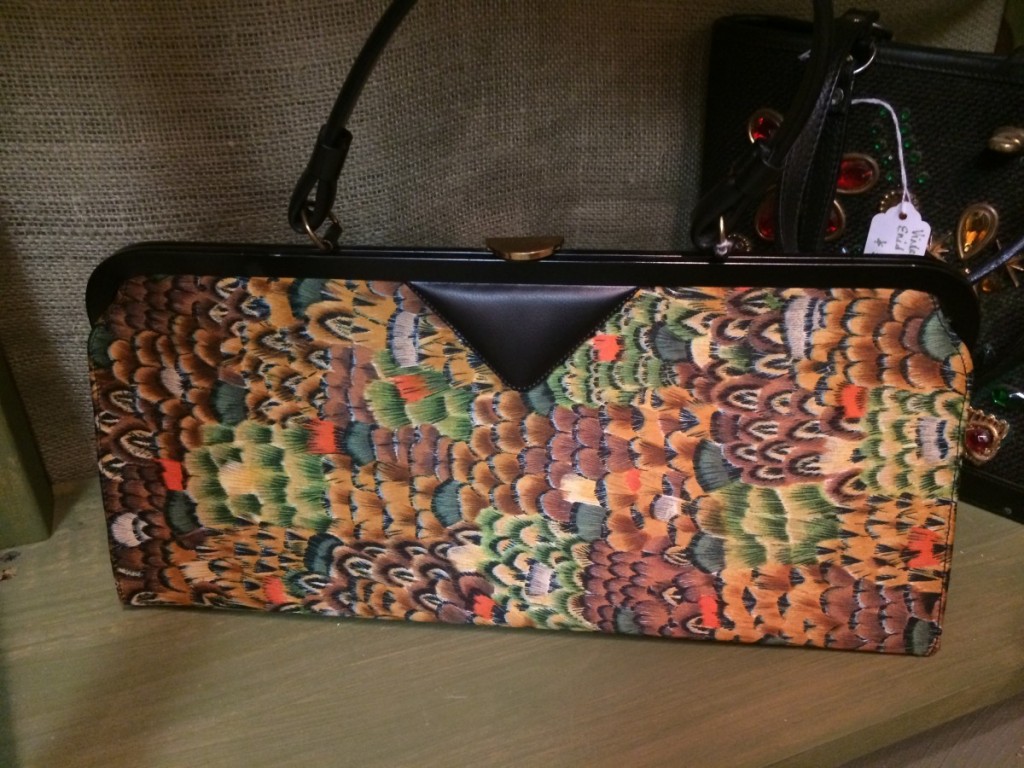 For you DIYers, I thought this lace swag was so pretty. Stay tuned for my neighbor's super cute grad party she threw this past weekend, where she makes chandeliers very similar to this, and hangs them all over the yard!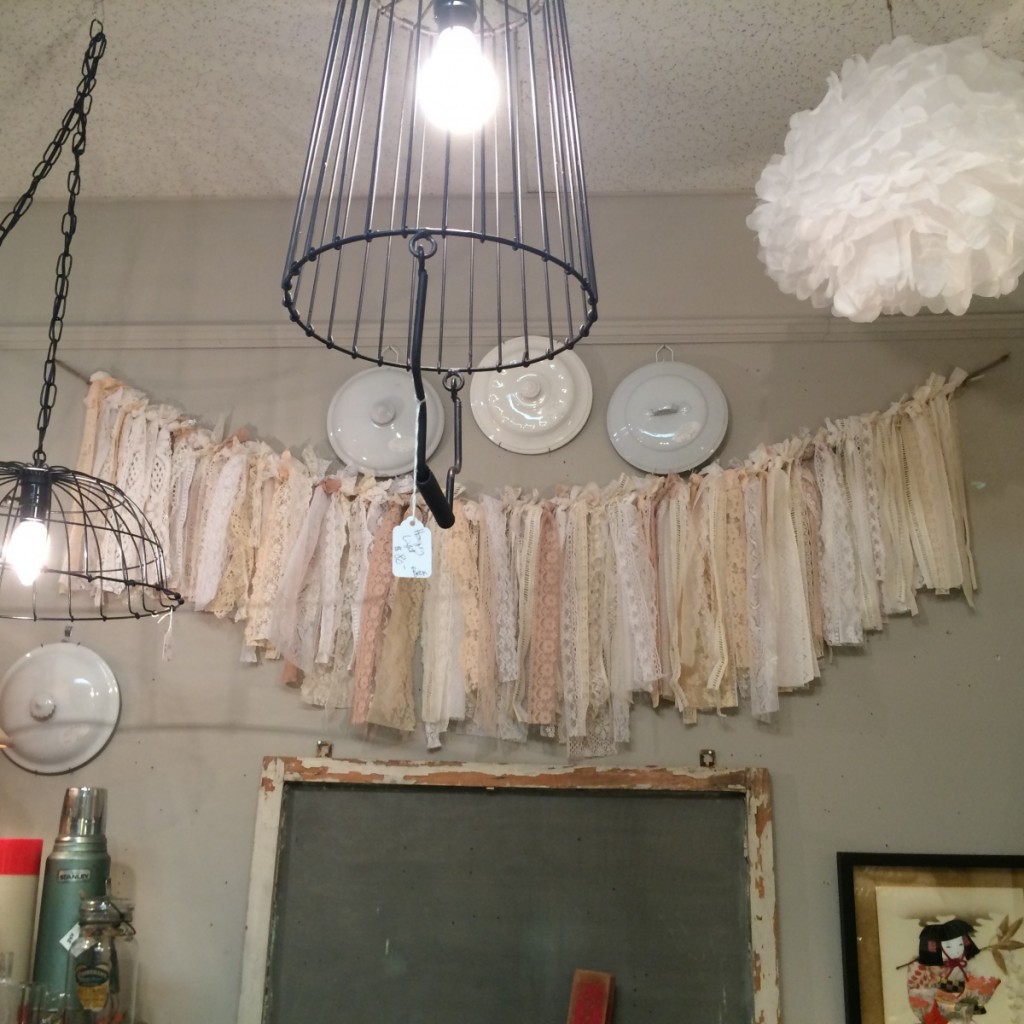 The fun thing about antiquing is I probably wouldn't have thought about Dennis the Menace ever again but here he is, saying HI! 😉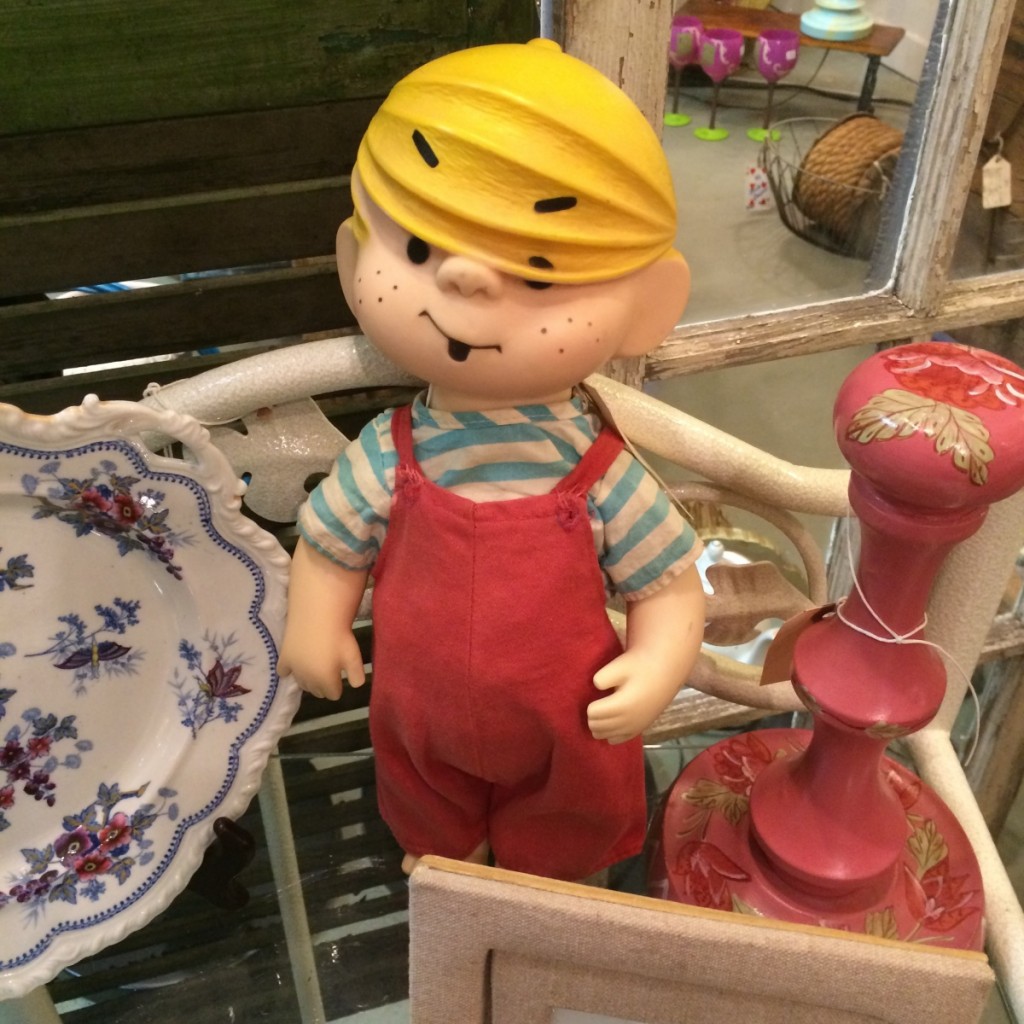 For the firefighter in your life…you just never know what you might find. This would be a great gift.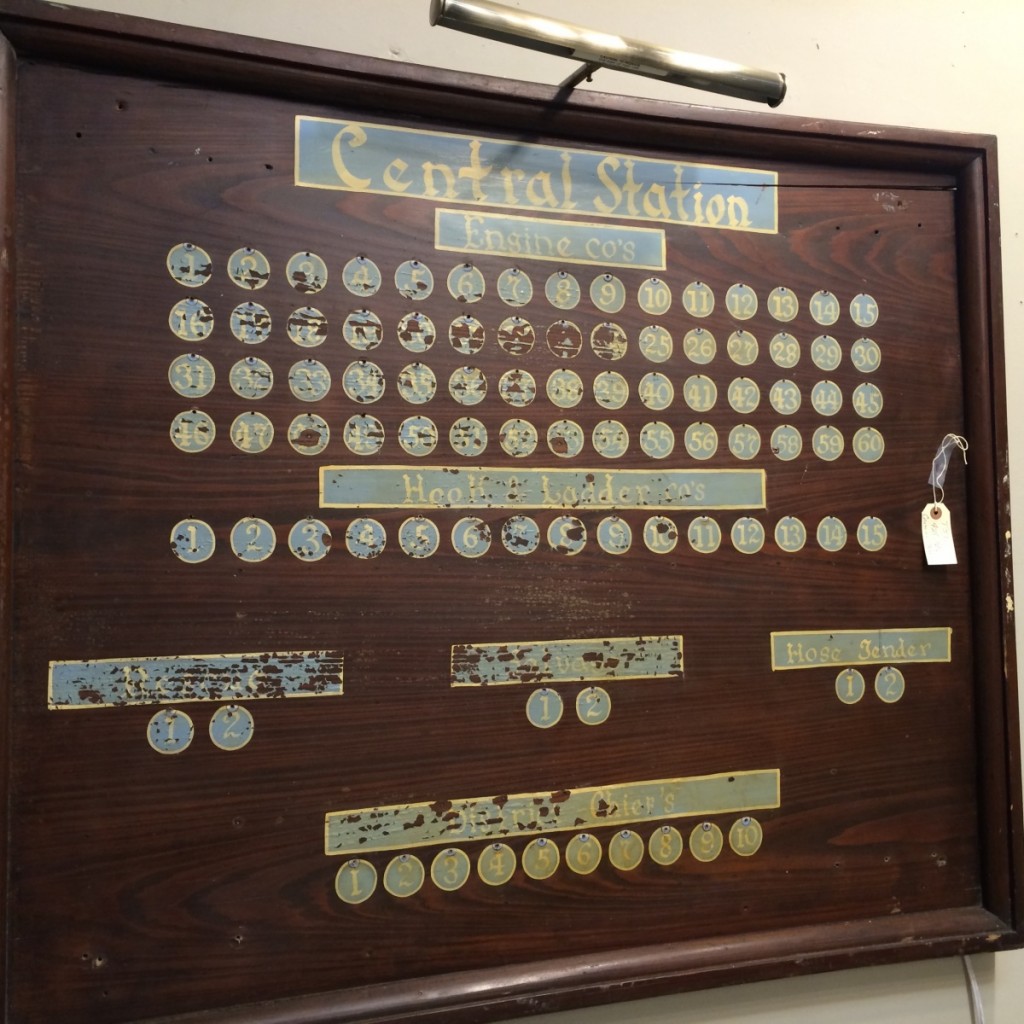 I decided to hit the Free Home Green Bean and these urns caught my eye. In a high gloss color, again they had that cool Kelly Wearstler, hipness to them. I could see them a top a pair of tables, maybe some books stacked underneath or all around.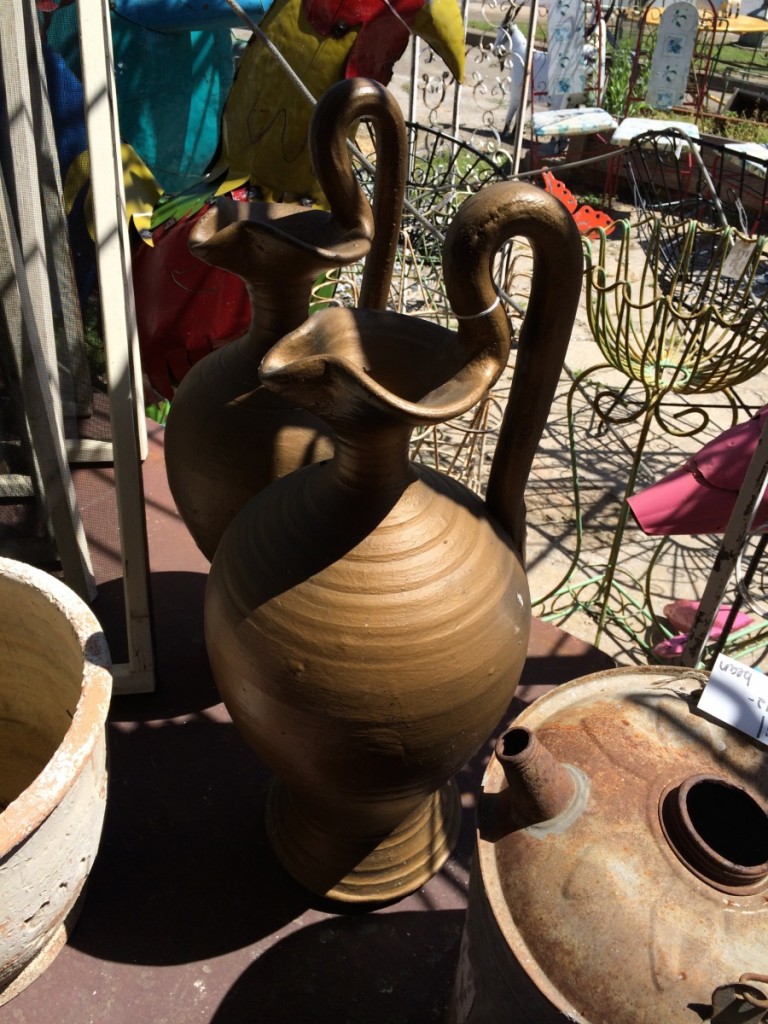 Digging this piece of wood for some texture and layers…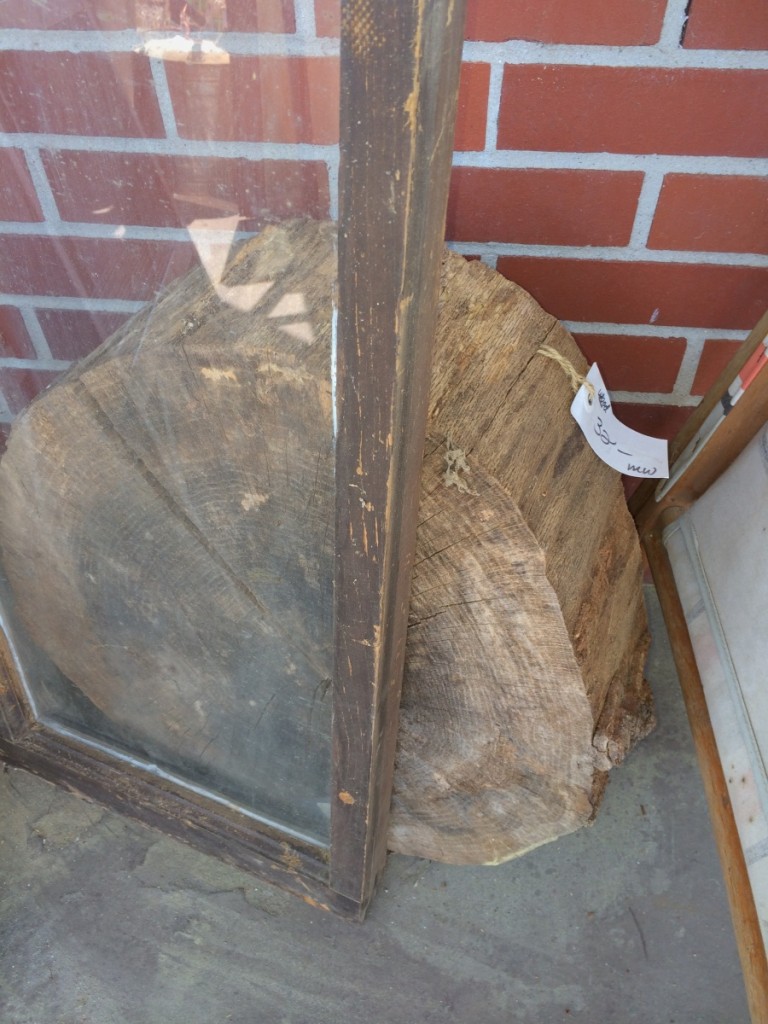 I hit the jack pot at the Green Bean in Cumming…this hand made lamp. Can't go wrong with REAL materials. I think a black shade with gold interior will look swank with it.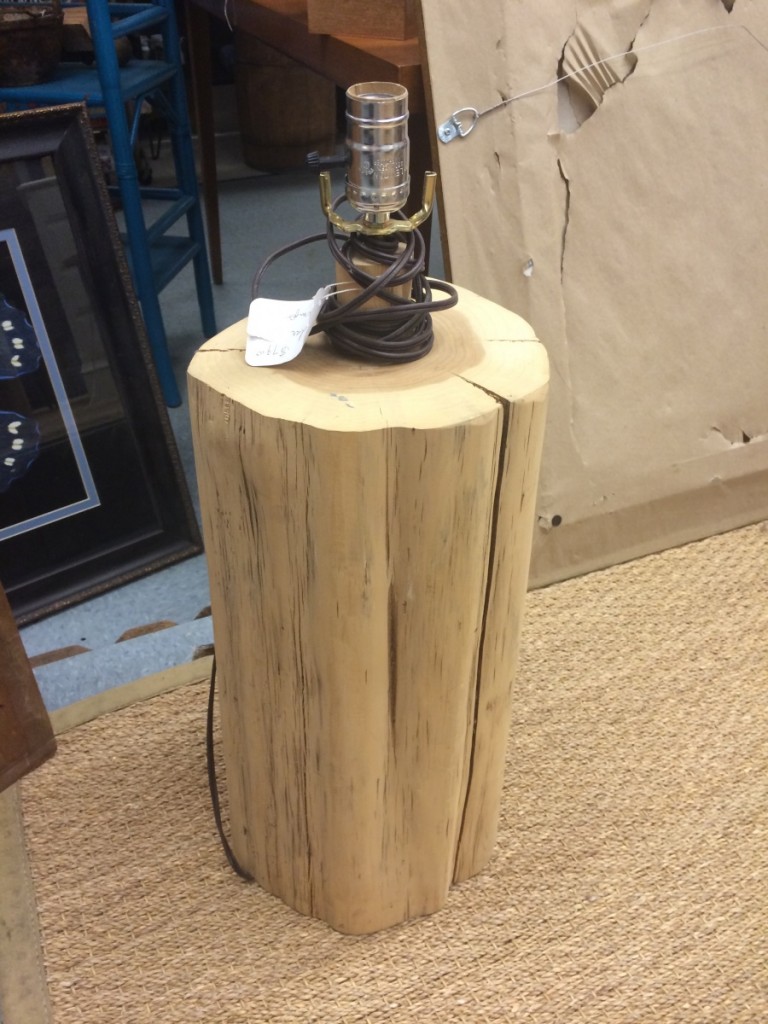 Totally digging this old 1920's photography lamp for my bachelor pad client as a floor lamp. Bonus, he's into the industrial look. Of course I'd love to keep it for myself. 😉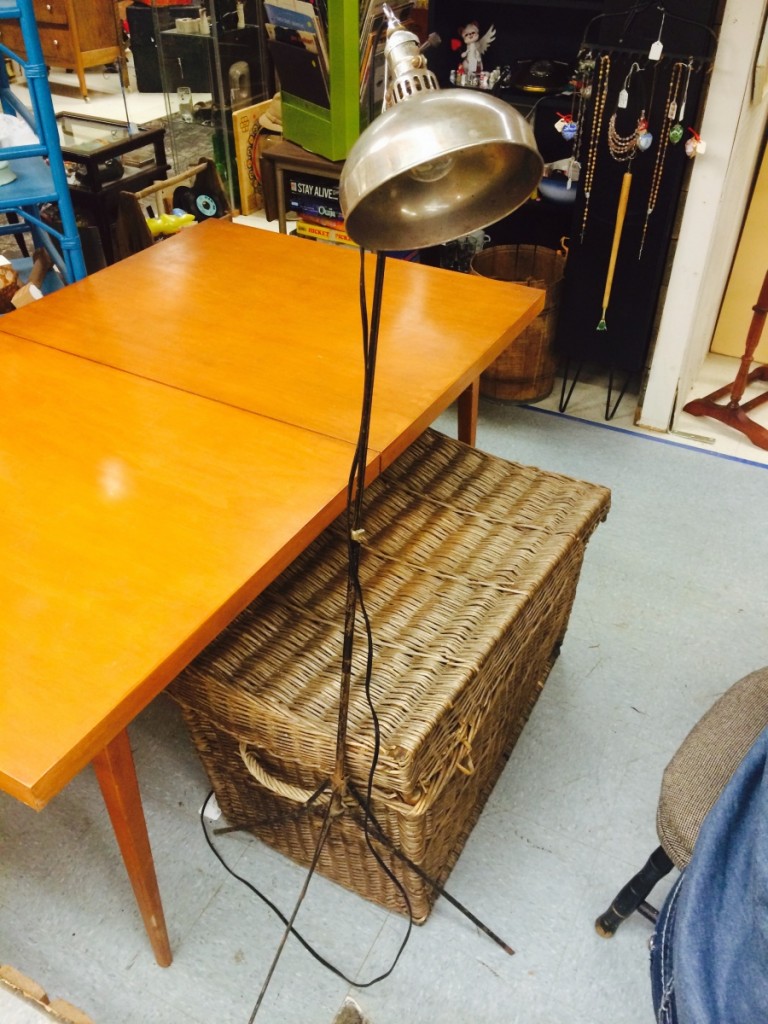 GORGEOUS brass bed, and so affordable. It so pays team to repurpose! Again, real materials too.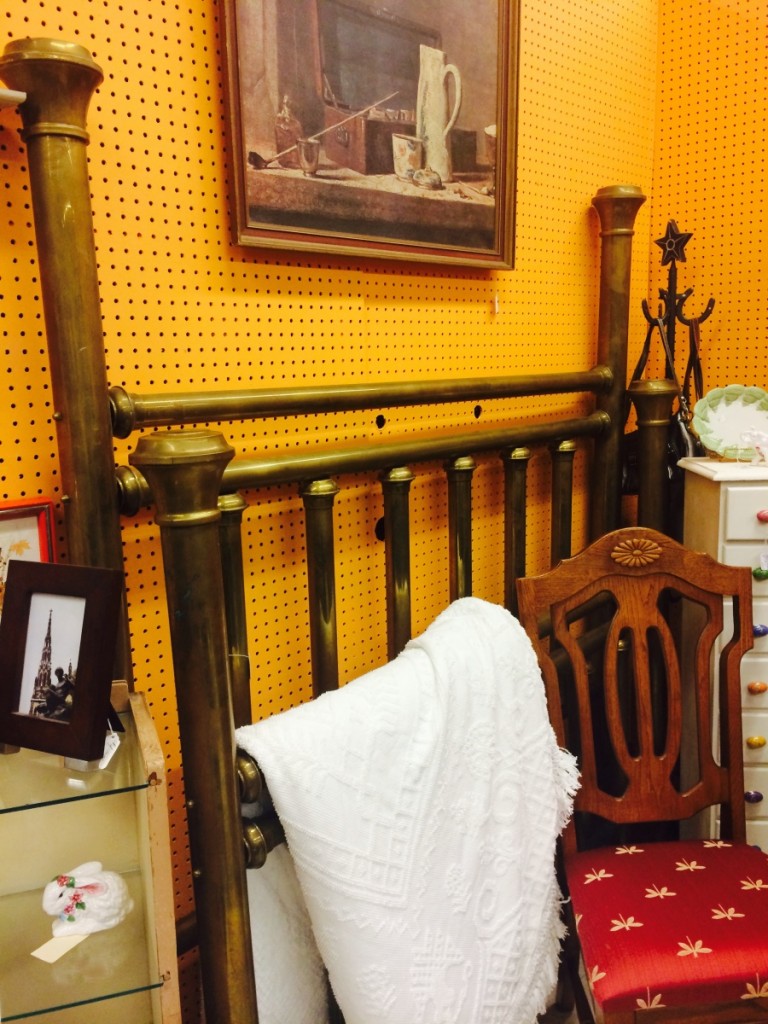 I may have gone a little coo coo but there was something about these candle sconces, in another color, that I liked, haha.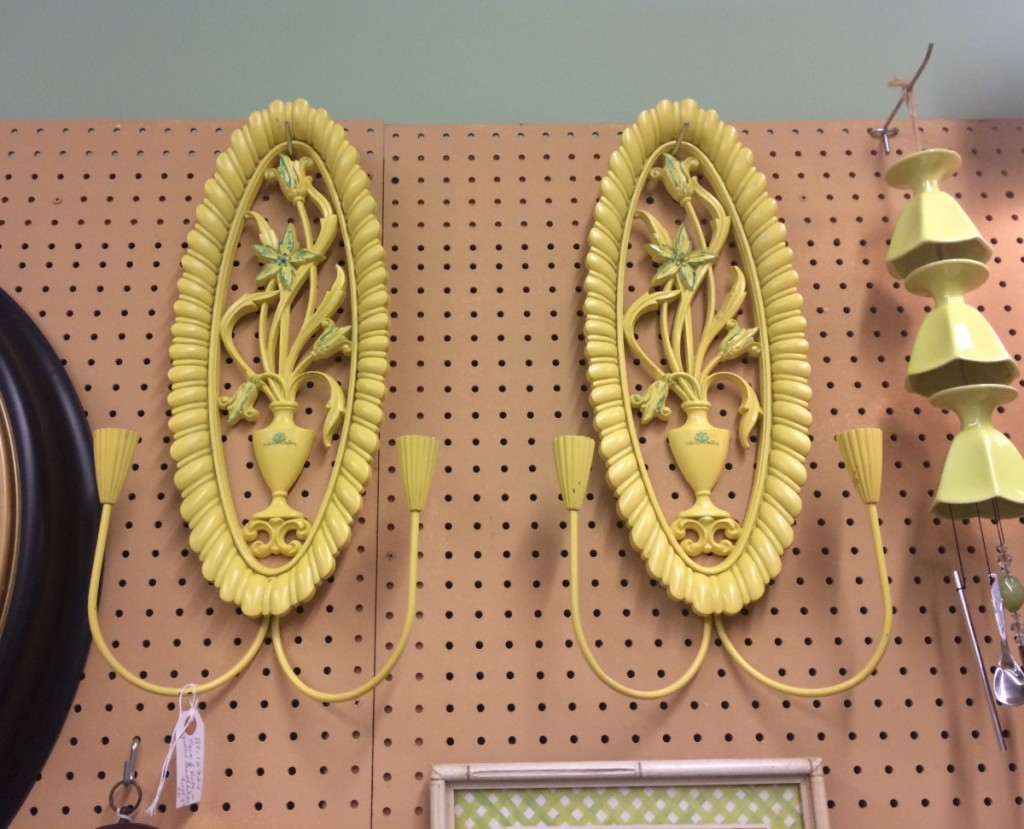 Part of an old window arch, would make great wall art!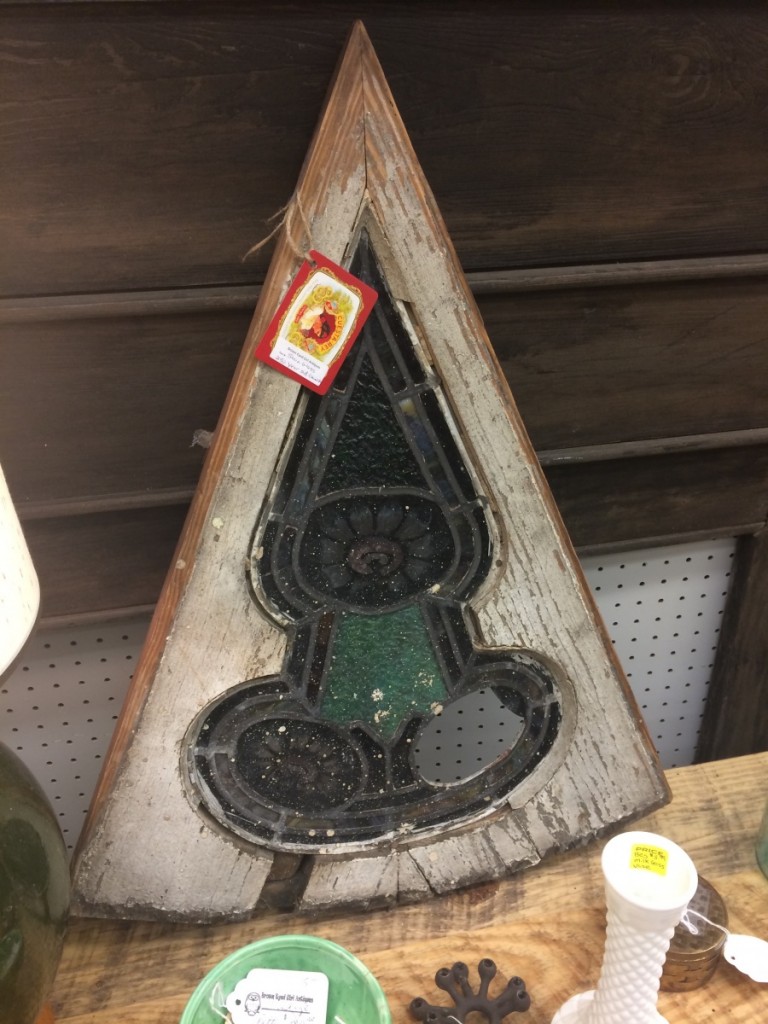 Step away from the chair that was only $49. NO MORE CHAIRS can come home!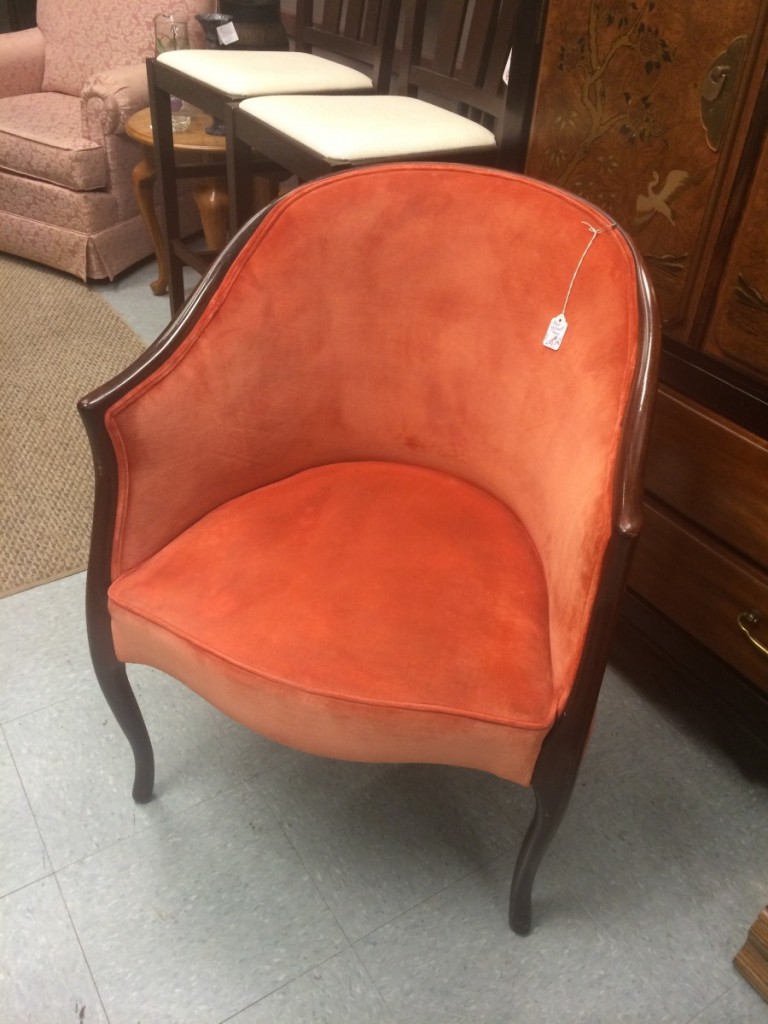 I bought the bald eagle lamp and the green etched glass lamp with stars. Will have some fun styling with new shades.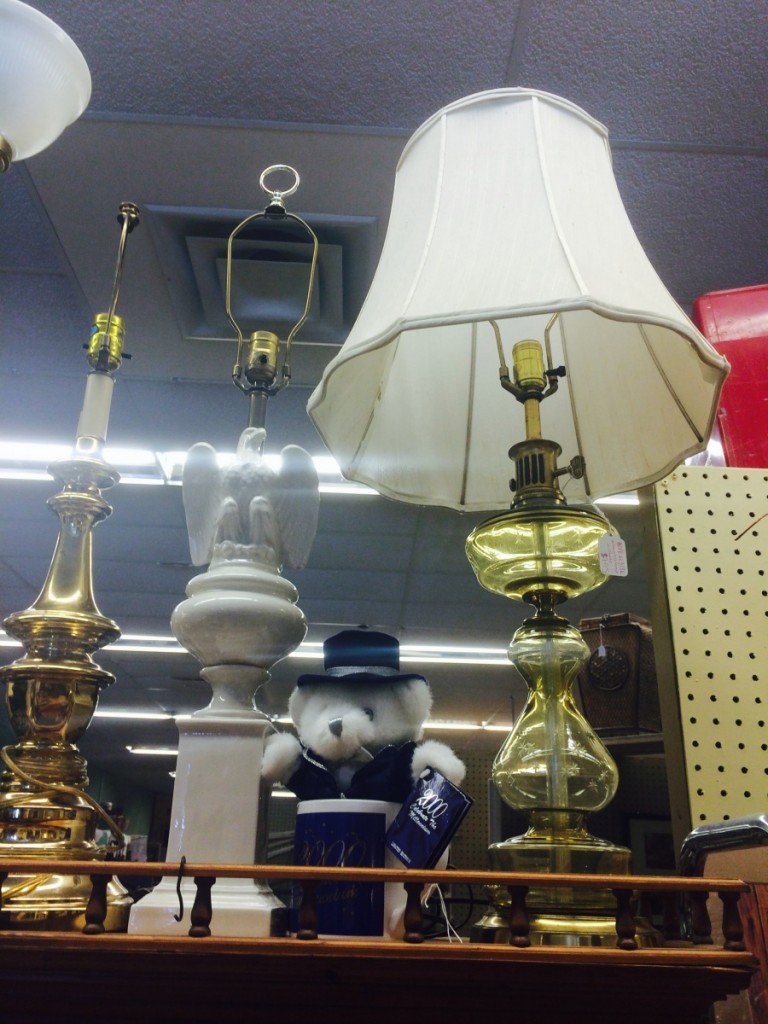 These tables are custom, any size you need, and she will stain the wood in any color!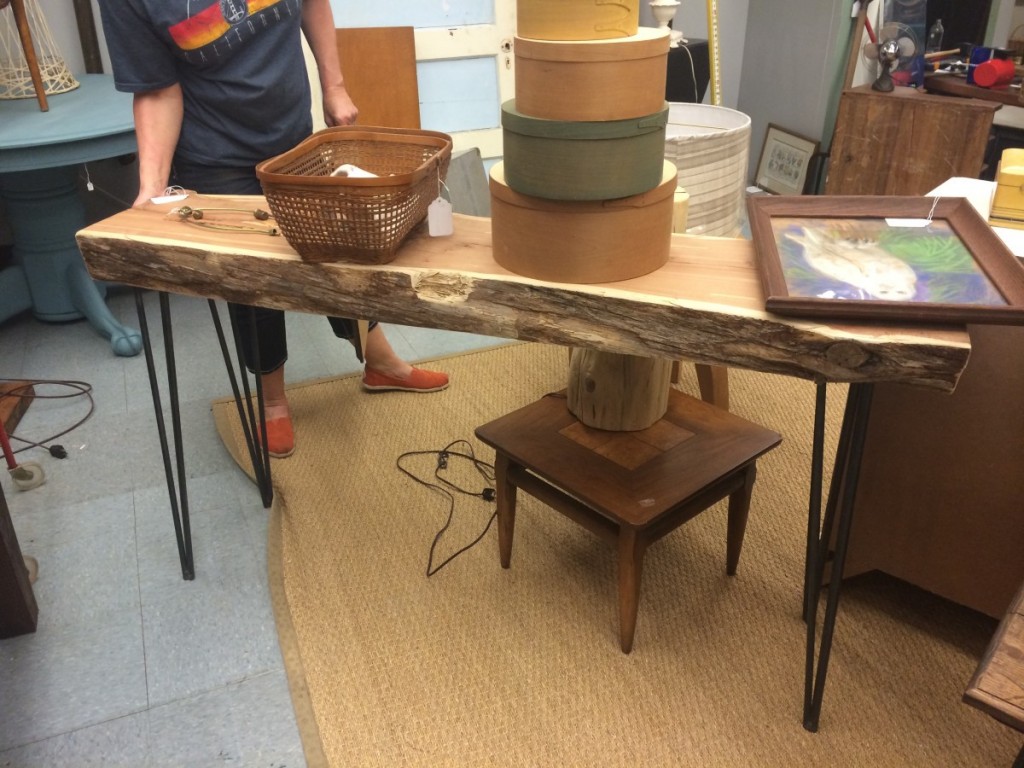 Now off the beaten path, to a place I hit from time to time and based on what I found, its going to have to be in the rotation much more often!
Loved the lines, down cushion, great price!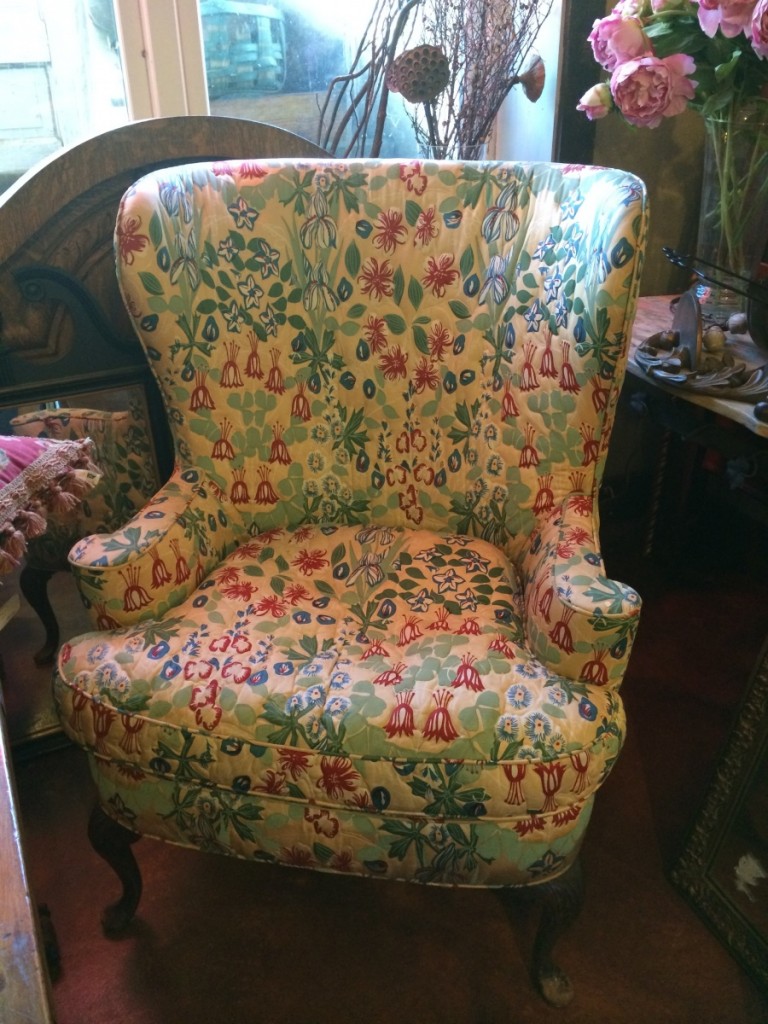 The pair, $50! Who doesn't love a room with matching twin beds?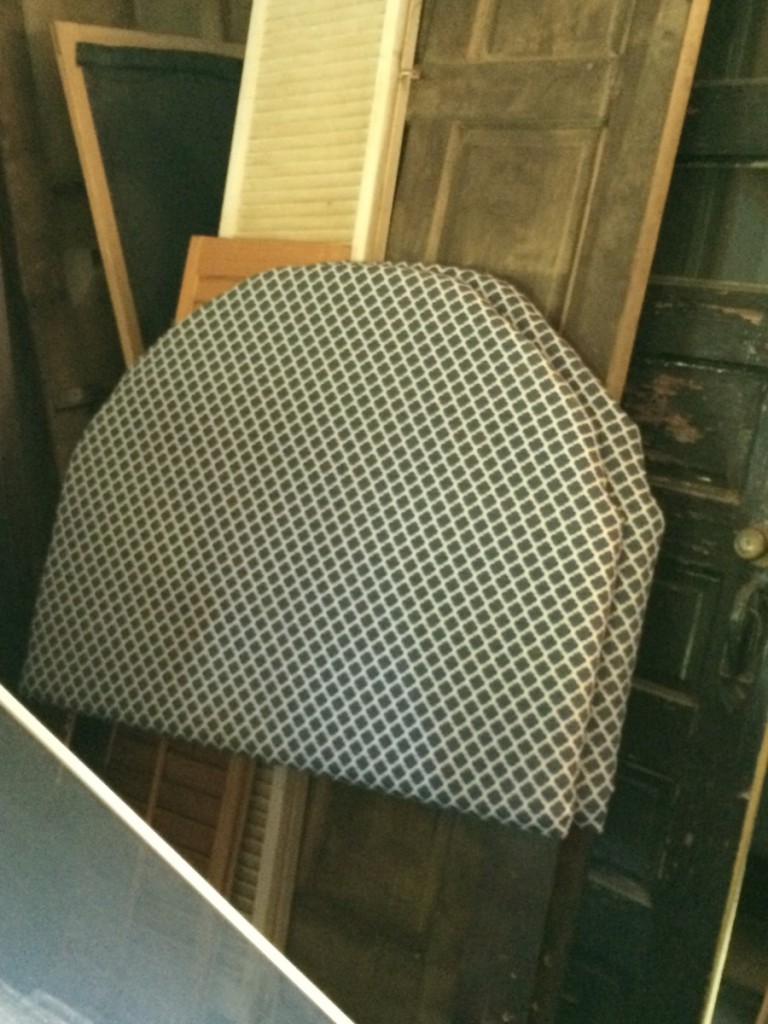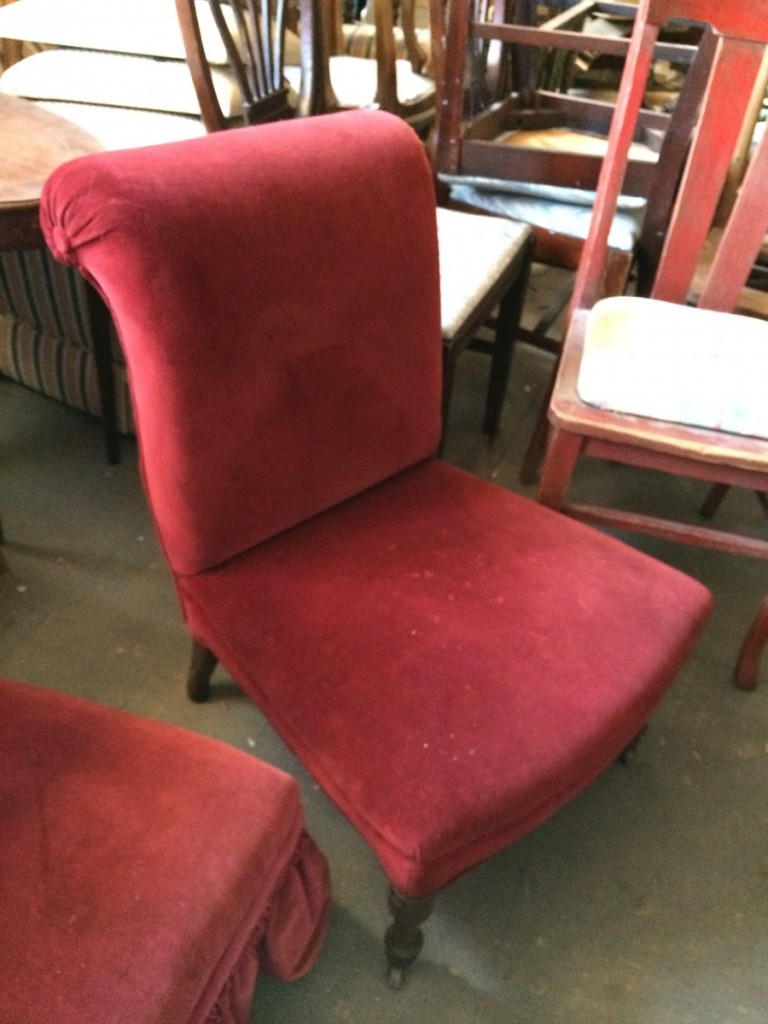 Does this next picture get you excited or give you the heebie jeebies? LOL. Me, excited! If ever you need some chairs, we've found our place!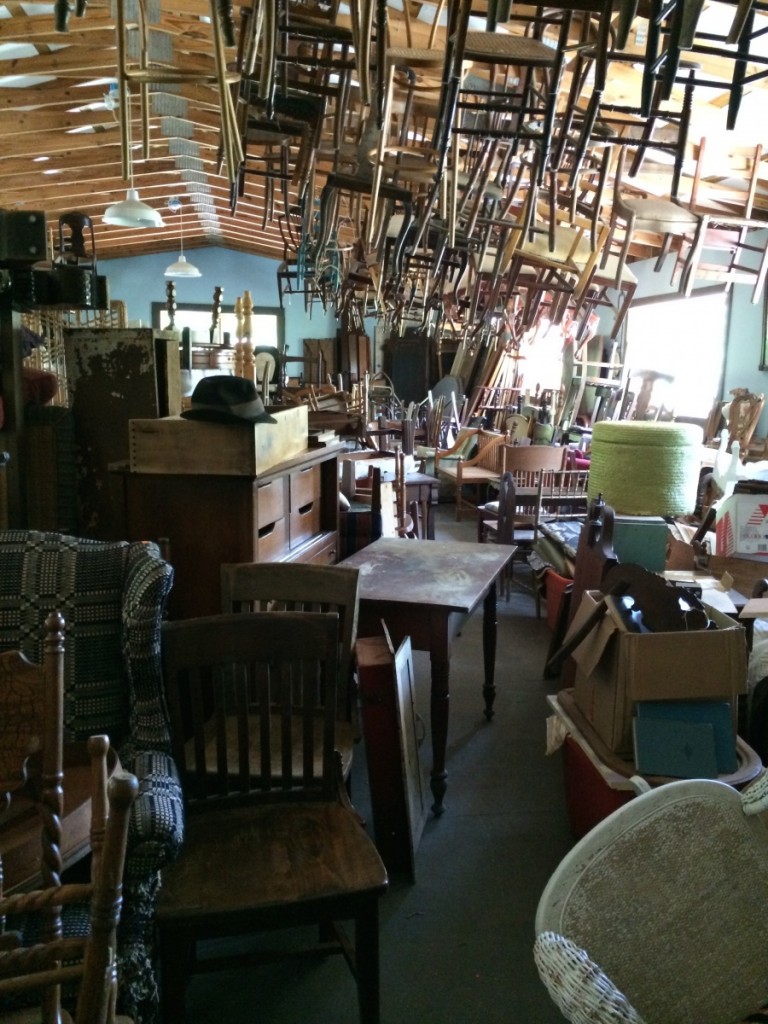 This little pretty was in the process of getting a make over…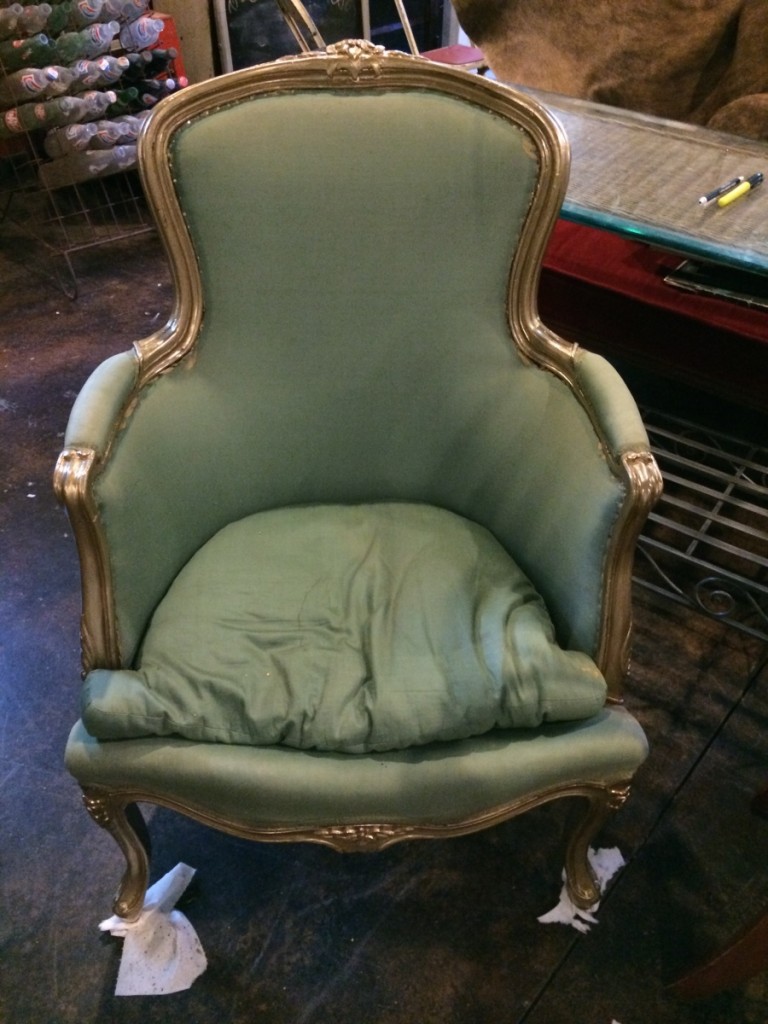 I think this next chair is the jump off point for my new home office, what do you think? Big thick box cushion on top. The perfect opportunity to use one of those fancy, expensive fabrics because you won't need much. But what a punch it will pack!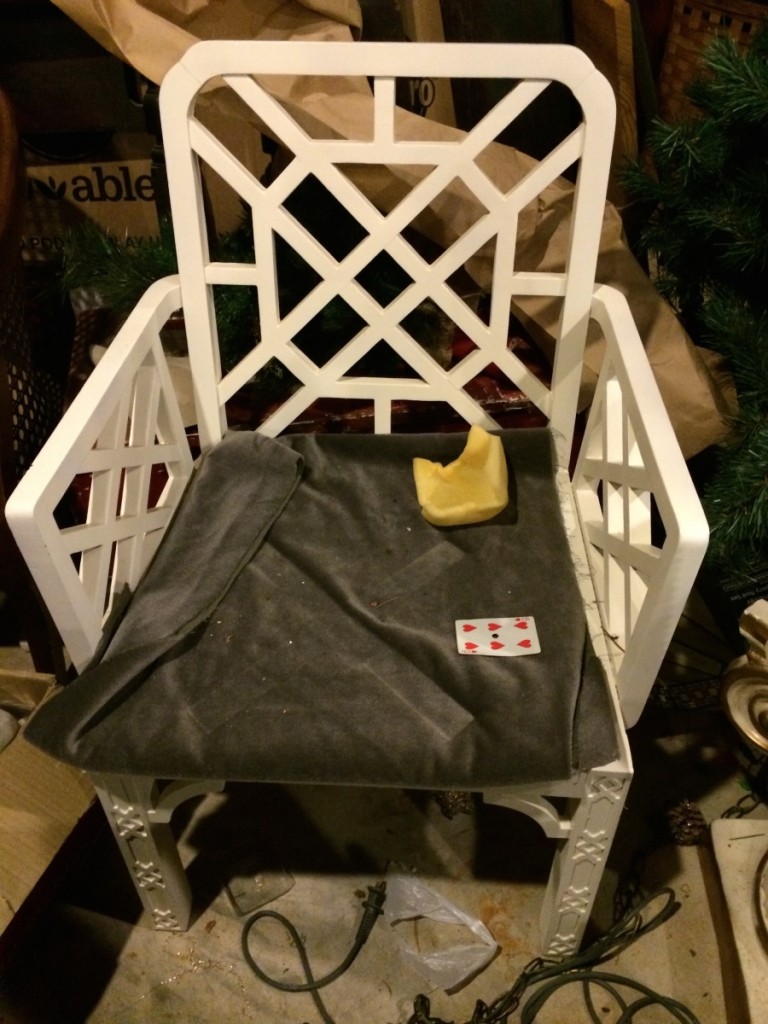 And I'm headed back today for these pagoda styled lamps. Hubba hubba. I can't stop thinking about them. They need some work but oh well, I can handle that. You're so worthy of my time sweet babies.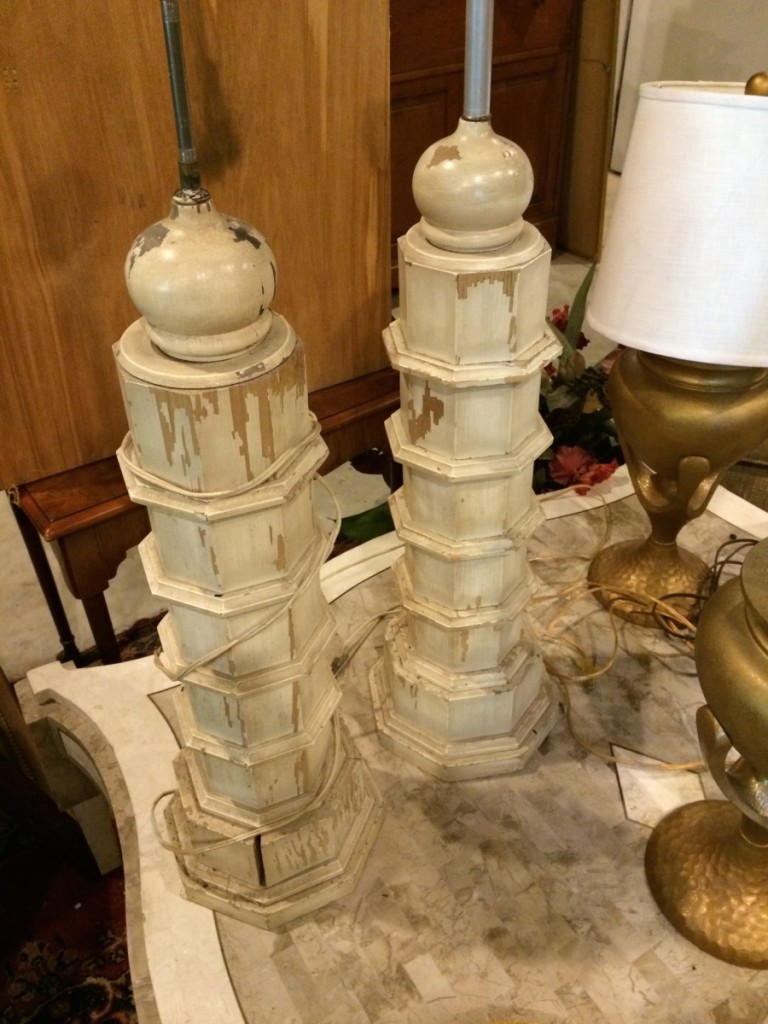 These sconces were great, with that little touch of brass.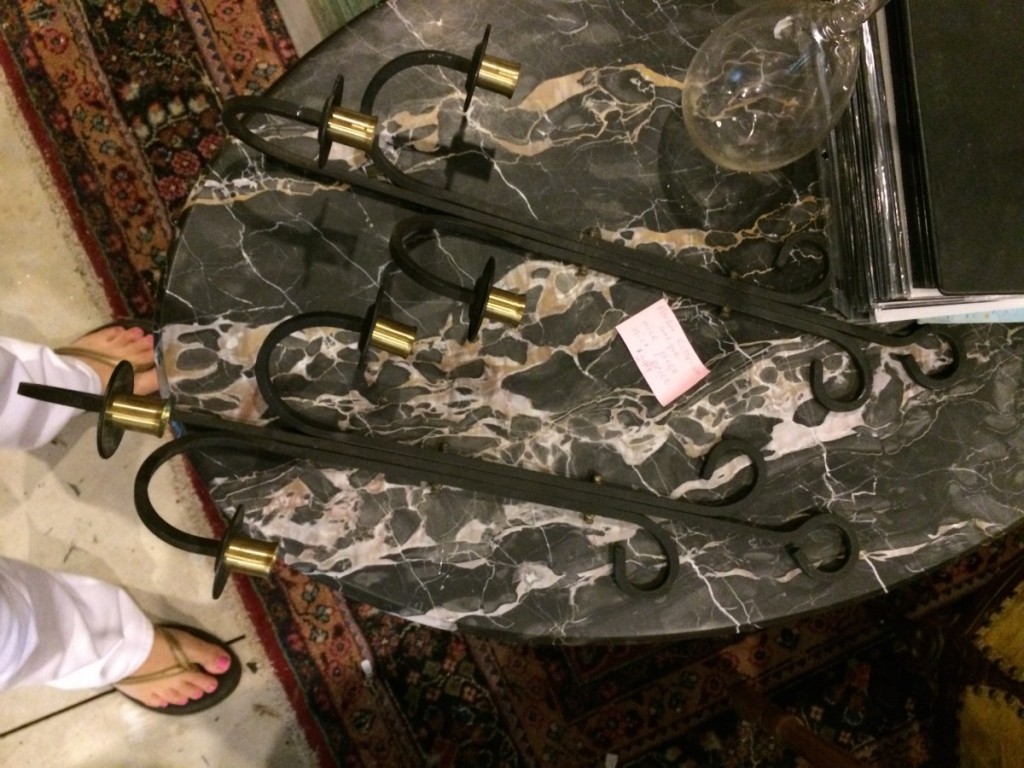 In a funky fresh pattern? Aeh whatya say?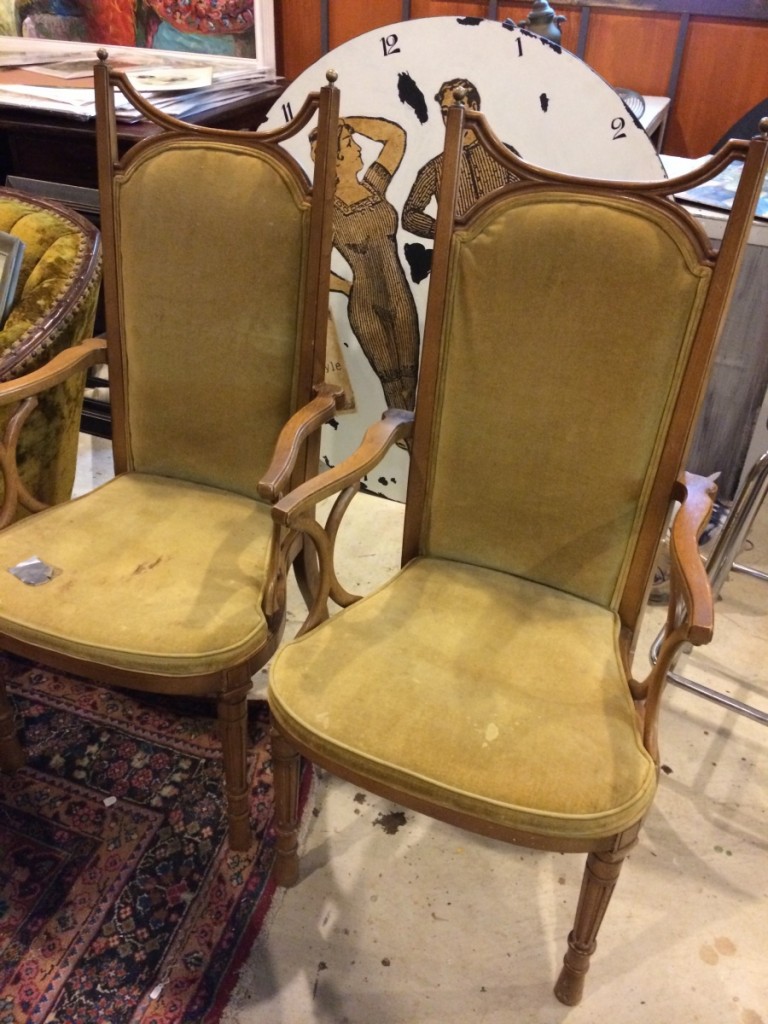 Loved this guy for a mix of seating around a breakfast table maybe? New color, black?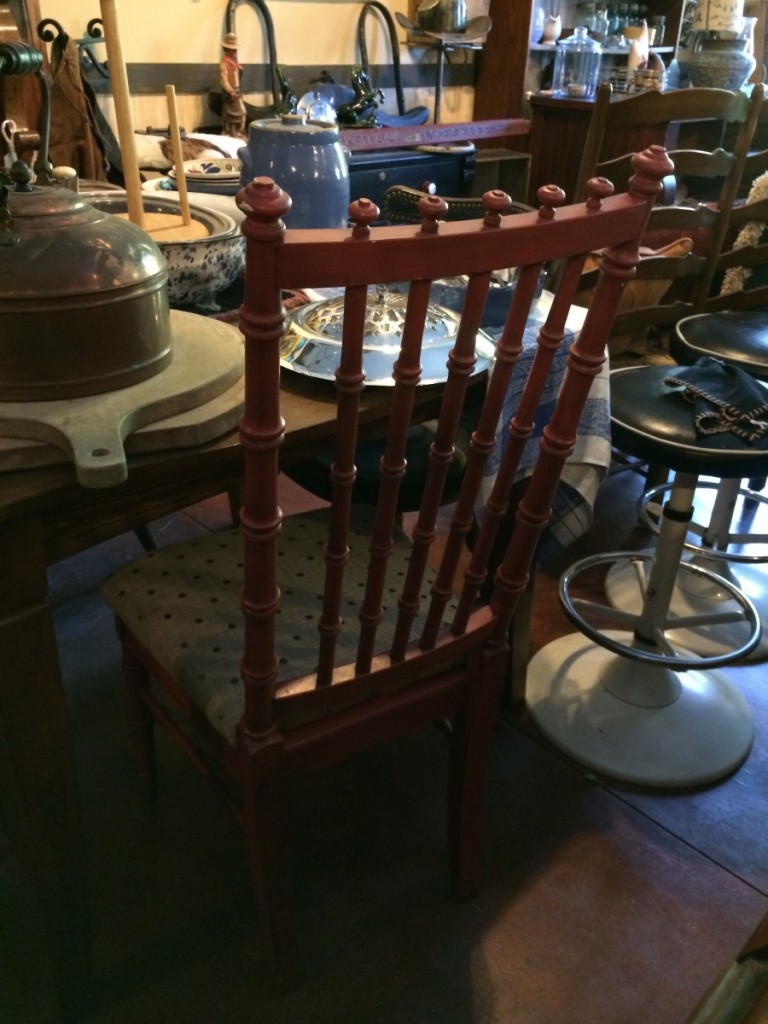 You could fill an entire two story foyer with all the vintage mirrors in this place, no lie! And artwork too. This place is a treasure hunt and the owner is awesome. She allows designers to bring back anything that doesn't work. Are you kidding me? That is extremely patient, priceless and generous in this business.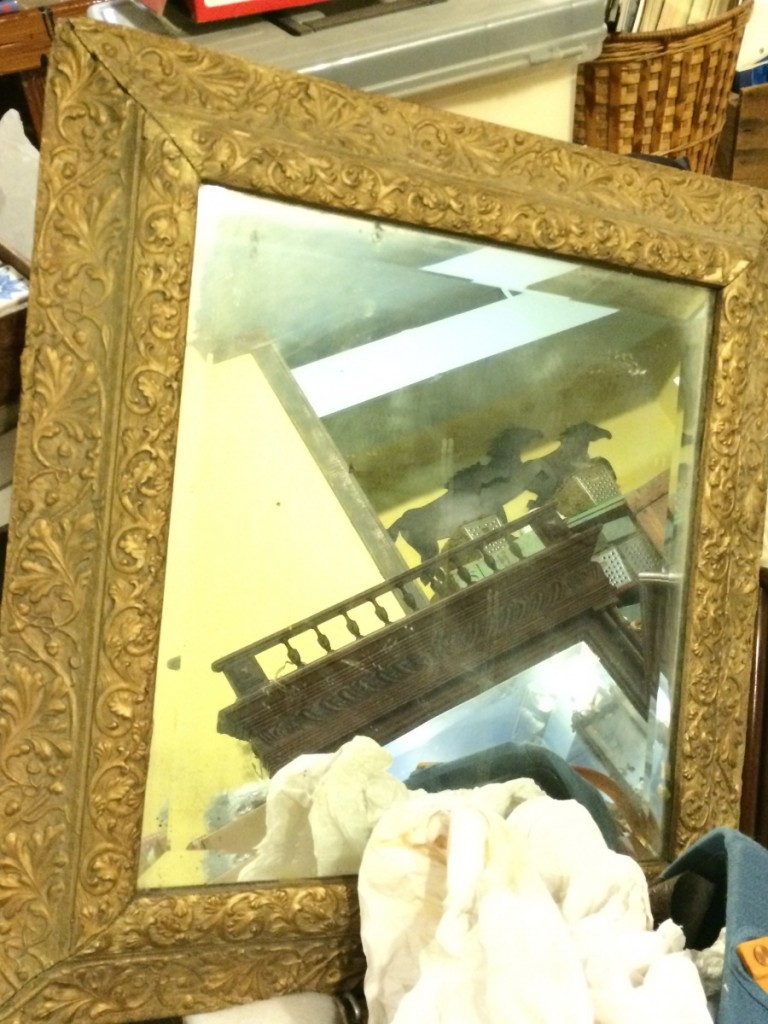 Notice the frame, how its a swag that doesn't go all around the mirror. Love when that happens.
Love this piece for a long table…fill it up randomly with air plants and succulents. It was HUGE. Or just a few silver orbs?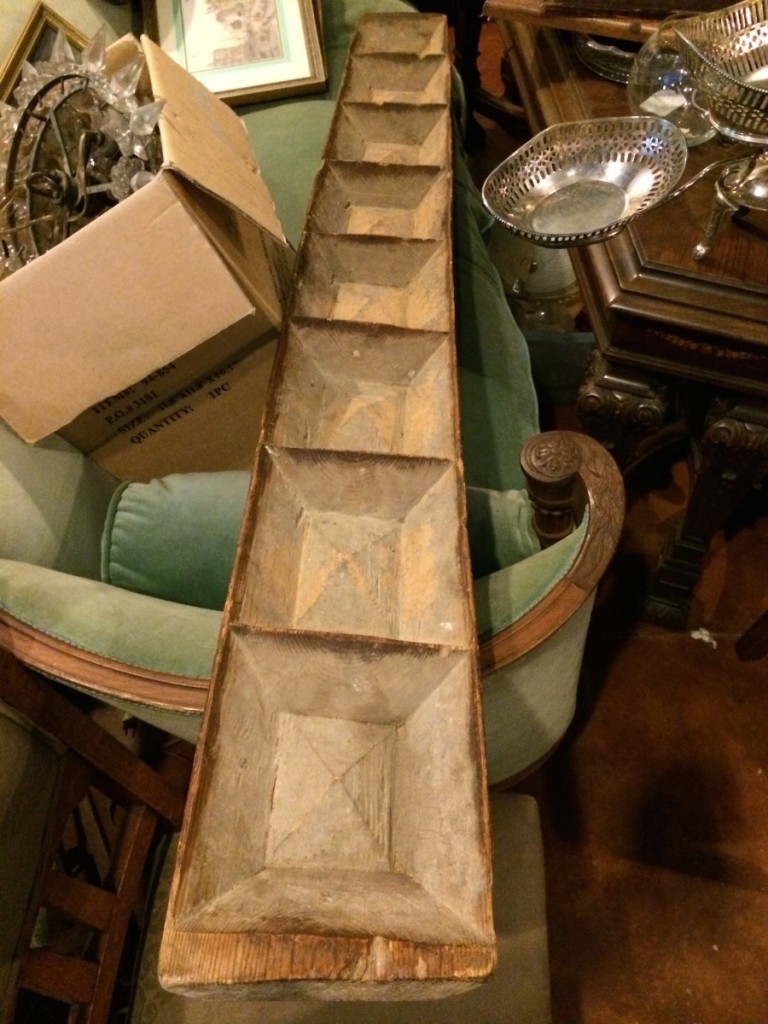 And of course sourcing and shopping wouldn't be complete without a run through Target and ADAC. These little x stools often go on sale for $63 and have tons of potential recovered and/or repainted.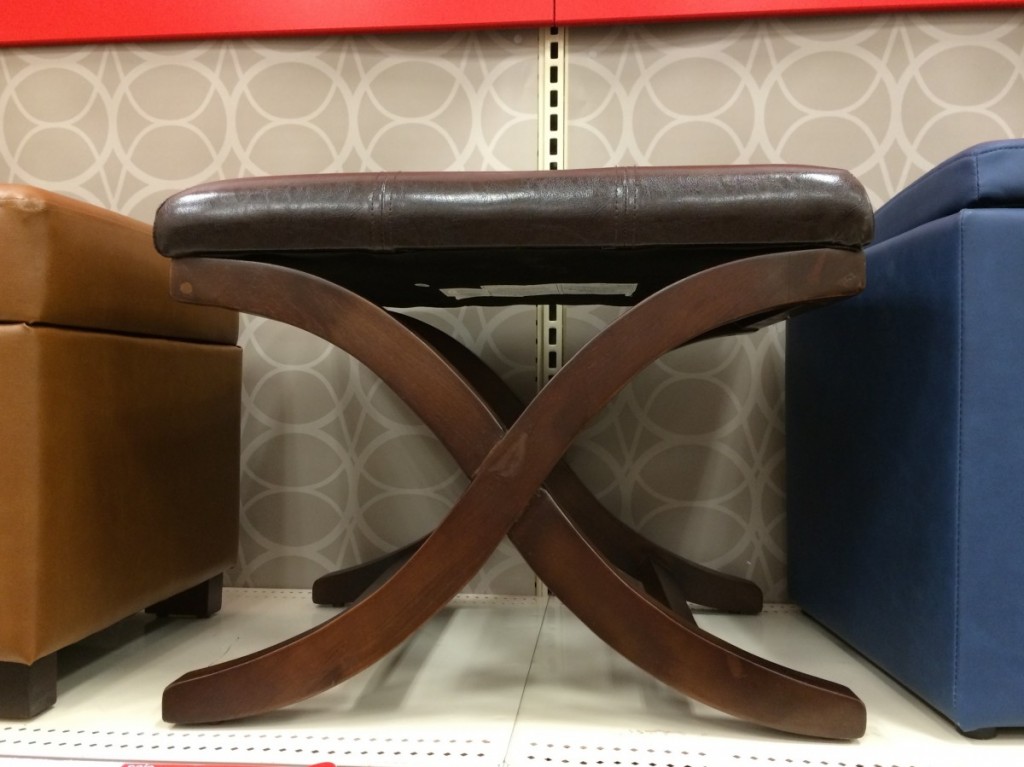 I used them here in a foyer, with new upholstered tops to anchor those sconces, easy peasy!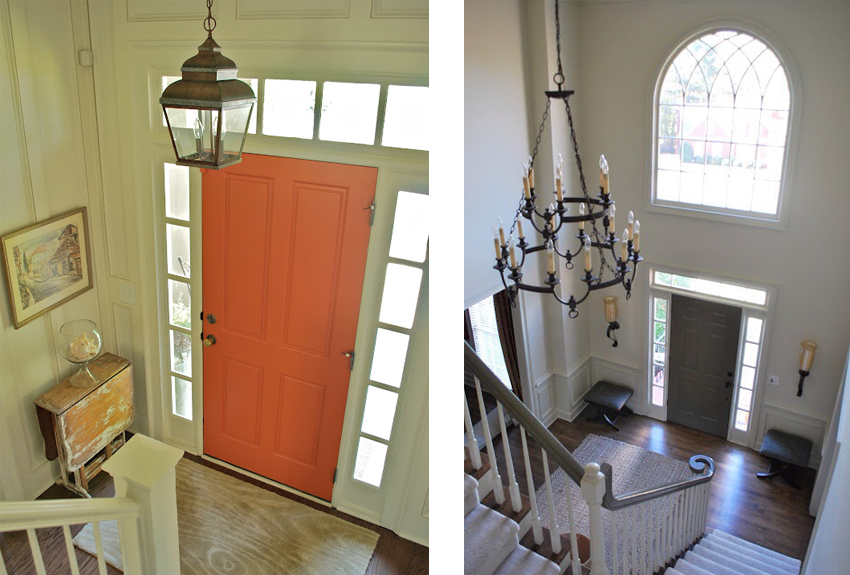 I also think these white-washed side tables could go ANYWHERE and are a great find for $59.99.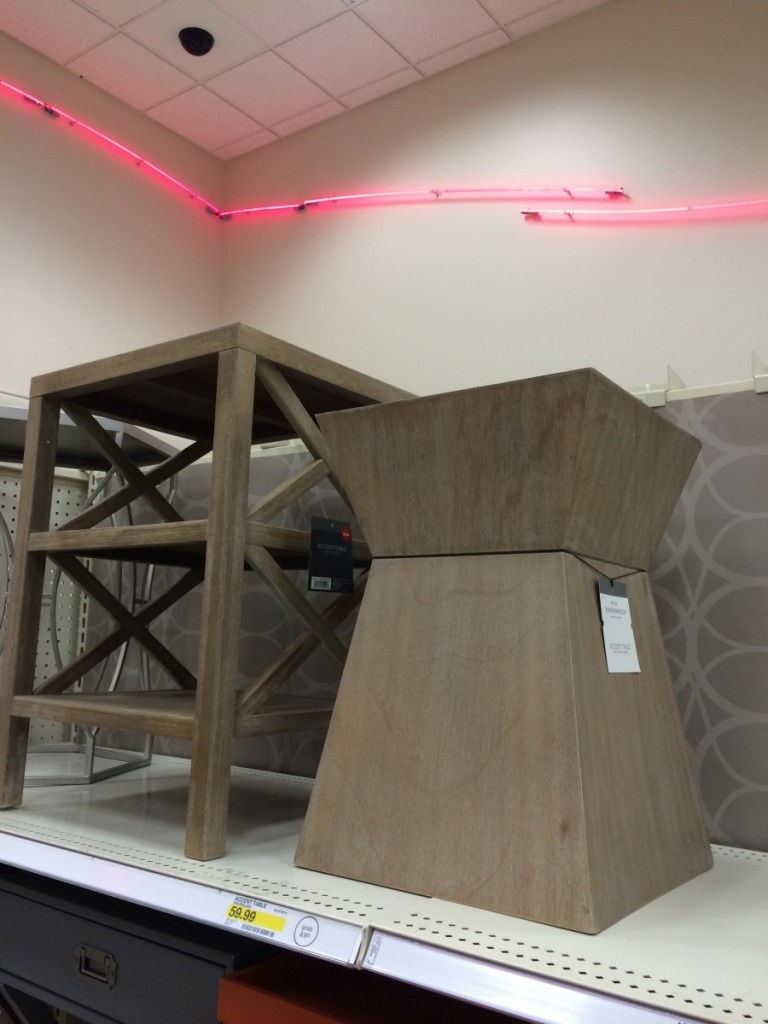 As promised I hit the new Jim Thompson showroom and was gaga. So much so, I barely snapped any pictures, I was so intimidated 😉 but picked up a ton of great new fabric samples to share soon.
LOOK at this amazing art wall – so perfect!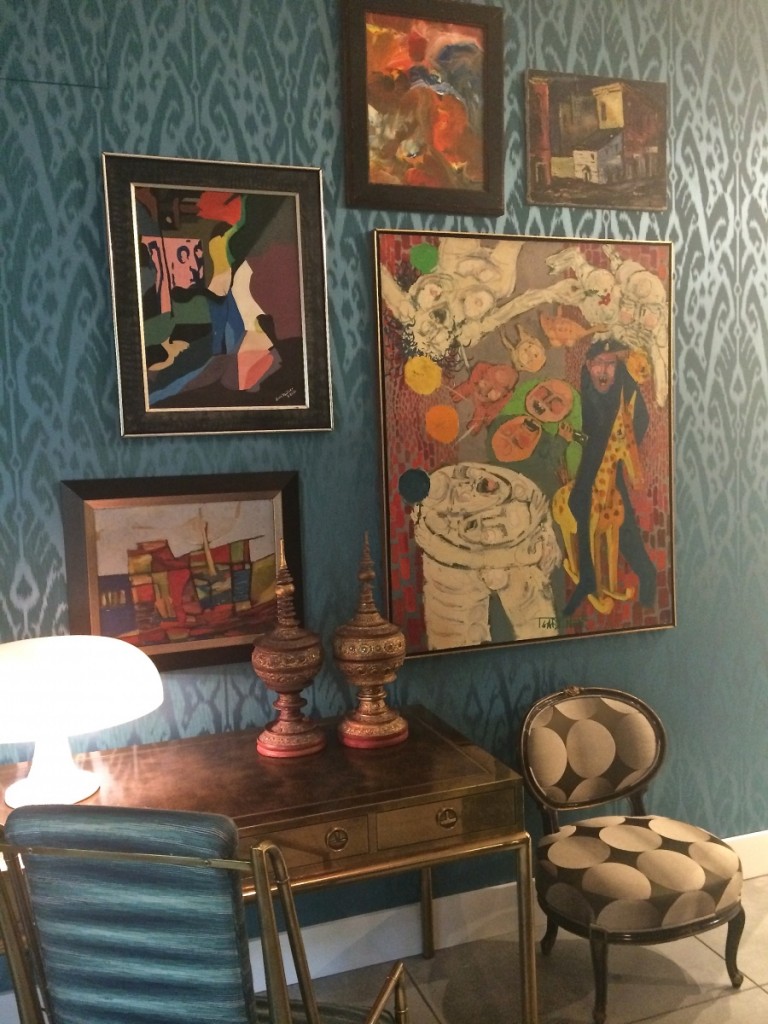 And this collection of glass goblets. I wish I had a more artistic shot of it, but you get the picture. It was stunning! They remind me of Grandma's old ribbon candy dishes, all those suckers always stuck together when you tried to eat one.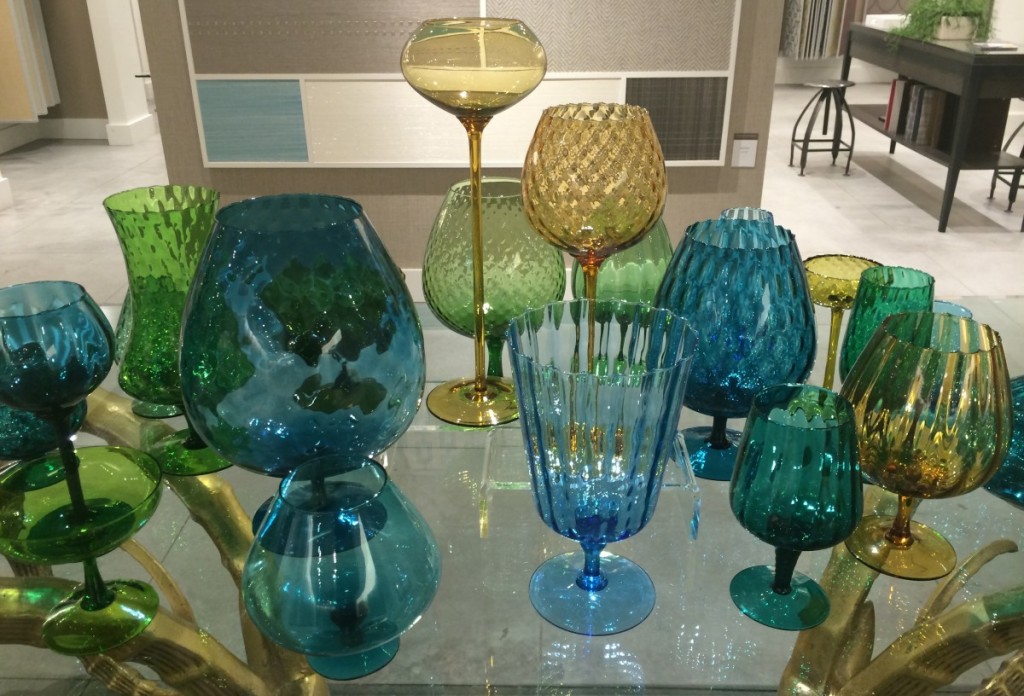 And for you sticker collectors from our 80s youth, I wish this next picture were a "scratch-n-sniff"…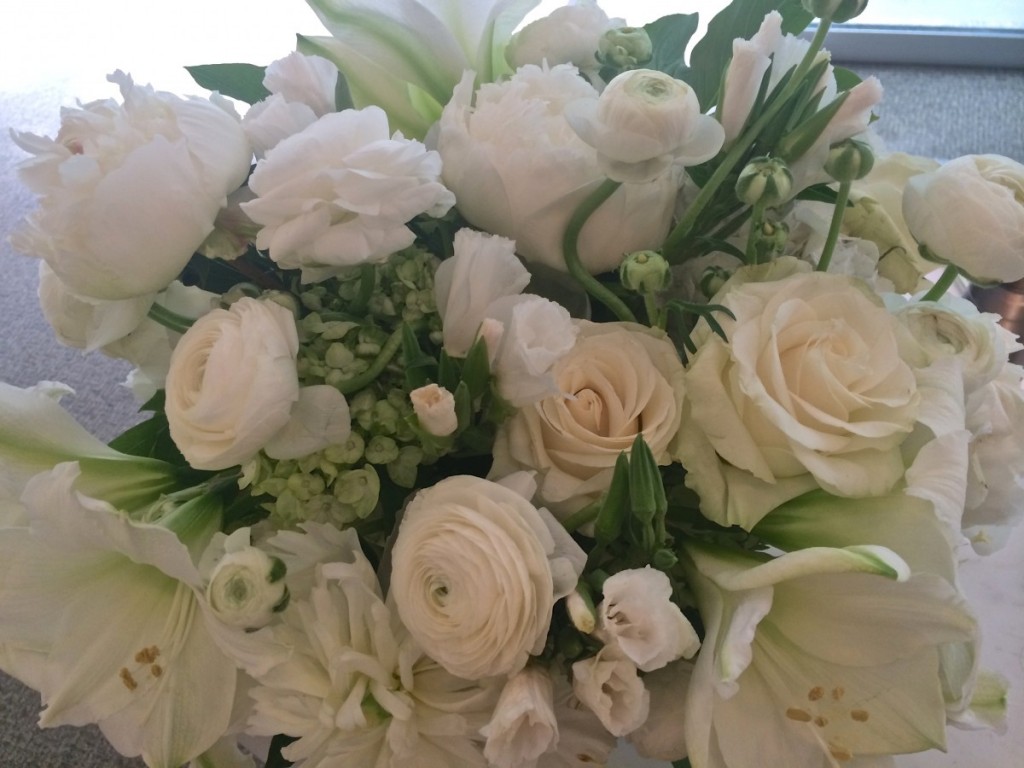 Isn't it great to know there are people out there that can put something like this together? Again, my picture doesn't do it justice, heaven in a vase. But being able to work with ART, ARTISTS and be around it all the time is truly the best. Every time I pull into ADAC its like the perfect trifecta of joy, excitement and gratitude. You just never know what you might see or who you might meet that shares all the same loves as you.
Cheers friends! I hope you enjoyed this picking, shopping, sourcing post and it gives you some mojo to hit some stores today for fun finds! #coloryourworldpretty
xoxo
Jennifer