Recently our dear neighbors of ten plus years hosted a graduation party for both their beautiful daughters, one college, one high school, with a lovely party, in every sense. Beautiful vignettes indoors and out and a food truck. I couldn't wait to share. You could so totally picture her home while flipping through the pages of Country Living. Were you born and raised on Country Living magazine? That was one Mom always had around. Its fun for me, especially on this Mother's Day weekend, to wonder what her taste in home design would be today. Every Summer Dad and I embark on some sort of home improvement project and I wonder, would Mom still love this kitchen wallpaper, what color would she want the dining room? Sometimes we think about going bigger and completely changing the exterior doors by looking at websites like https://www.doorsplus.com.au/store-locator/perth-doors/ for ideas, we can then paint and decorate it the way Mom would. My neighbor, Mary Kay's style, and a lot of her antiques remind me of Mom, so I'm especially biased. Also because we've made a lot of great memories here with our neighbors, our friends and Mary Kay is truly a one-of-a-kind heart and spirit. So Happy Mother's Day all you rock stars. And on to this rock star you will LOVE.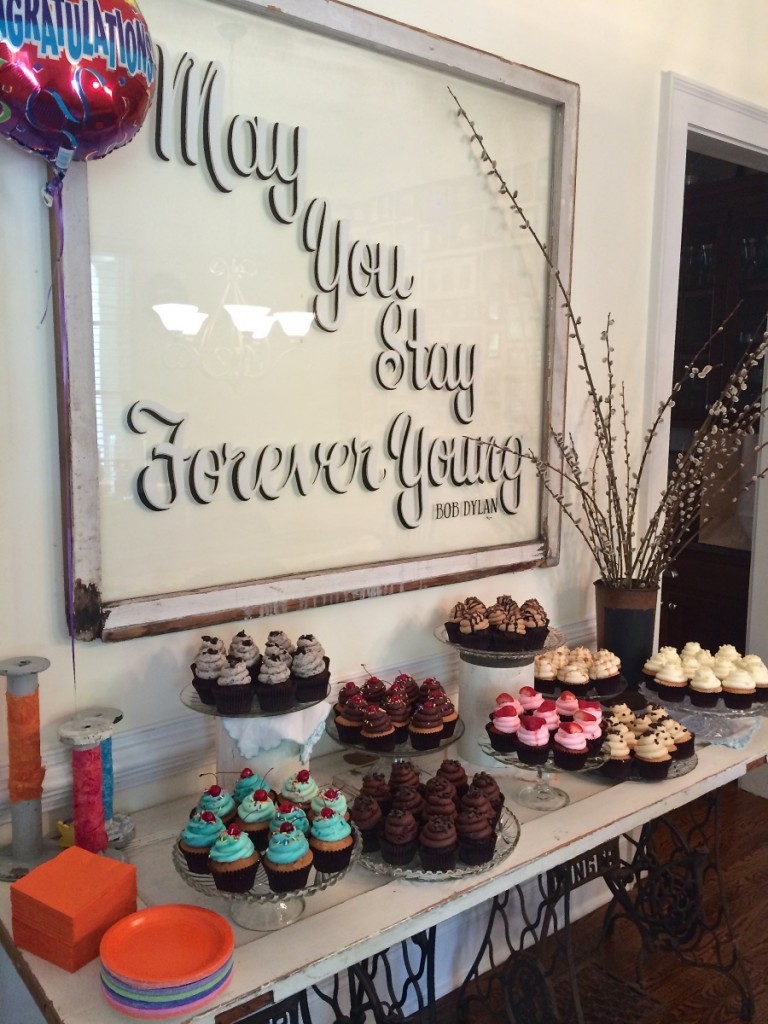 Cupcakes on vintage glassware, an old window, hand painted by a local artist FYI, and notice the table. Two vintage Singer sewing machine bases (spotted two of them yesterday at Scotts, easy to come by), topped with an old door for an instant and easy buffet, display space, desk in your home or cottage. Mom had her Singer sewing machine table in the dining room and spent many late nights there. The last thing she made, I believe, is a madras plaid shift dress for me in college, for some sorority function and I'm hanging onto it for Soph. Because "there ain't no way" Mama's ever getting back in that thing! I remember her making a dress for my bff Koko in high school that we had designed with these crazy, tacky sequin appliqués we found in New York City. We thought we were SO COOL designing a dress when actually we were SO tacky in our quest to express our fashion sense. HAH.
The candy bar, displayed at different heights, using stacked books, favorite titles from their youth, then and now. Doesn't every graduate get a copy of Oh The Places You Will Go by Dr. Seuss? With a $100 bill tucked inside – preferably. ;-))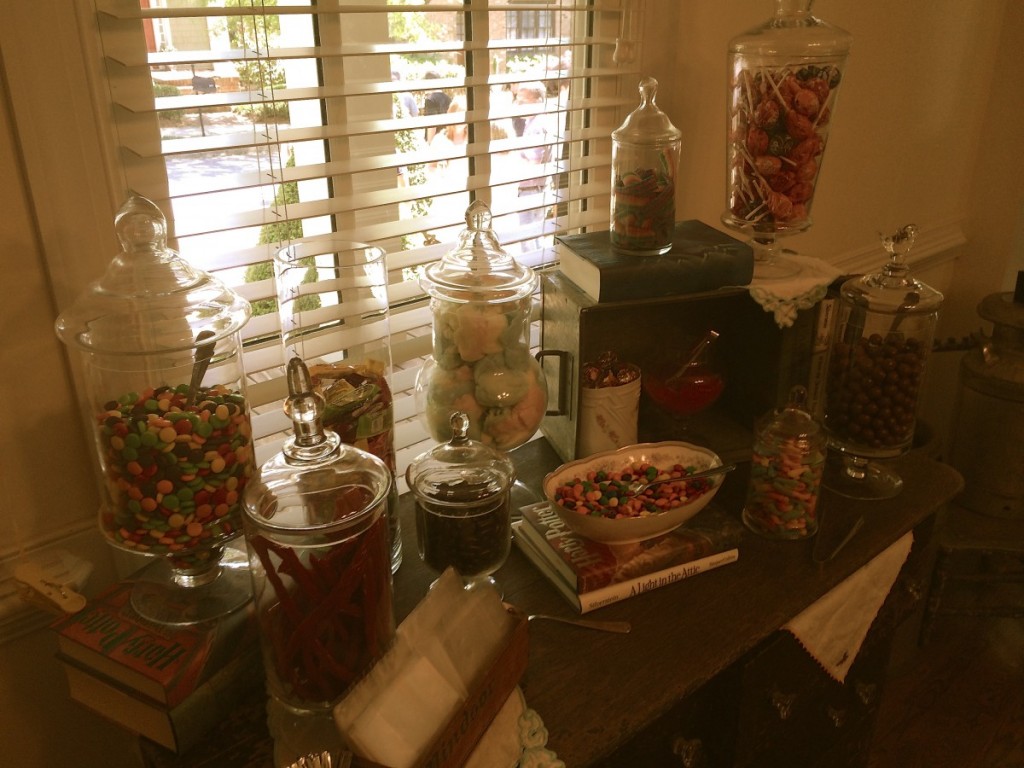 I love the simplicity, yet impactful of her centerpiece.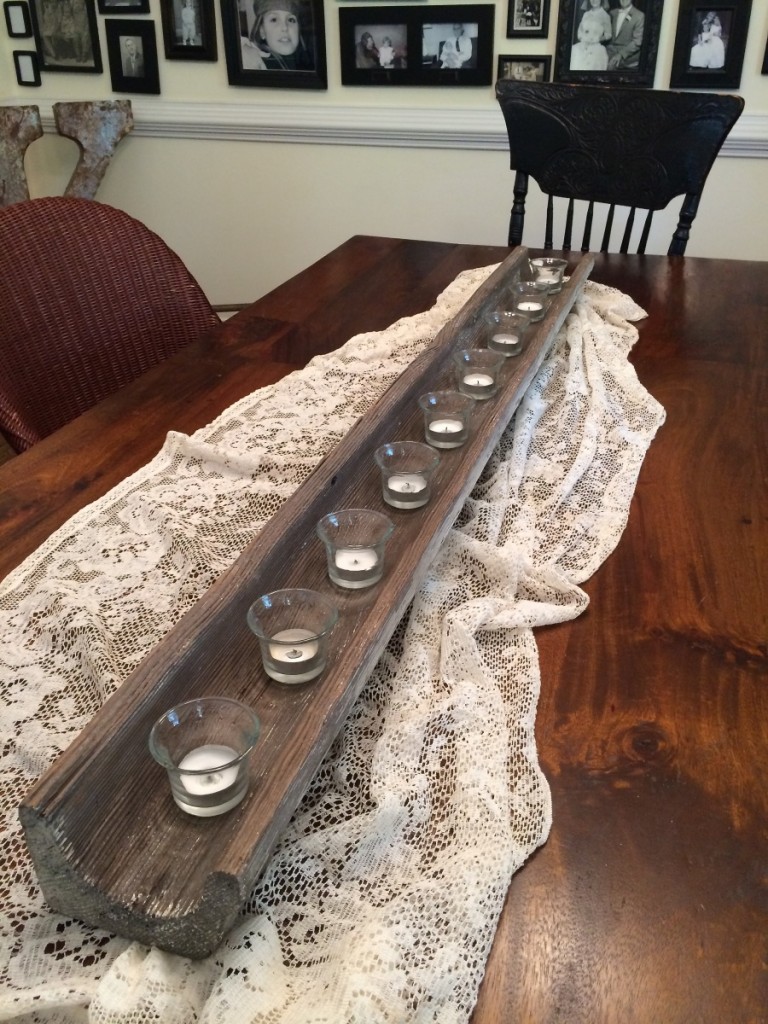 A slice of her AMAZING photo wall and more great vintage finds.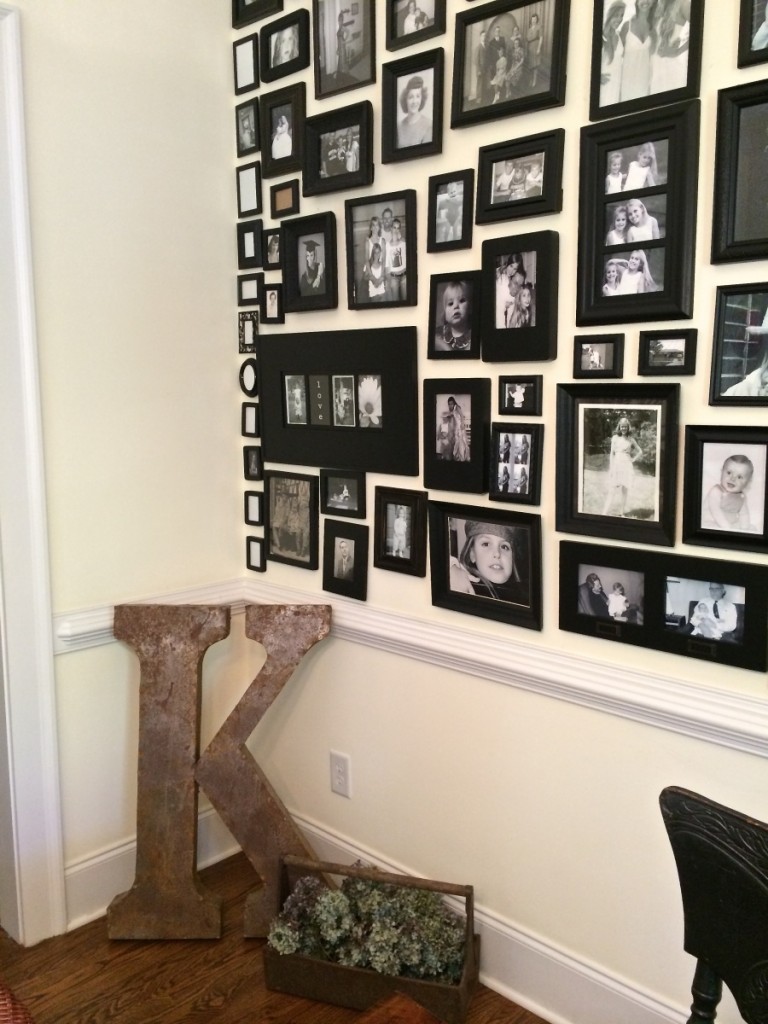 And old screen door, more than likely off the family farm, used to display photos. This is such a good idea for when you cannot seem to print or put photos in frames. You can switch them in and out, add, subtract all kinds of mementoes and feel good about it every time you or your family walk by. Money!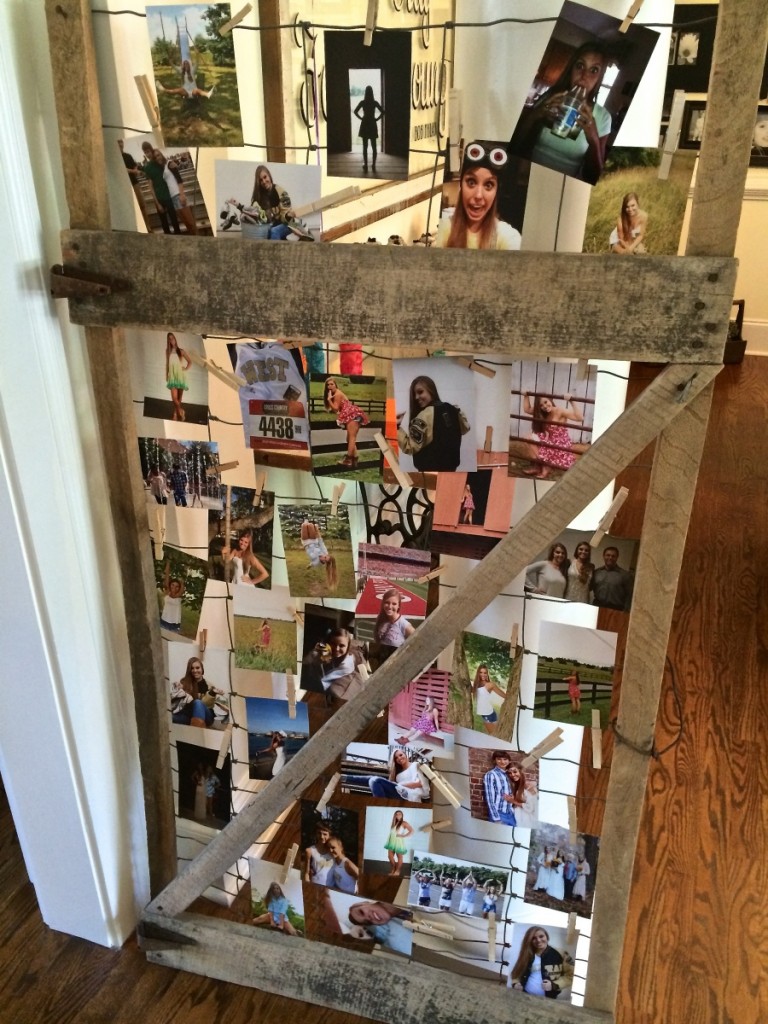 Before a word is on my tongue, you know it completely, Oh Lord. <3 <3 <3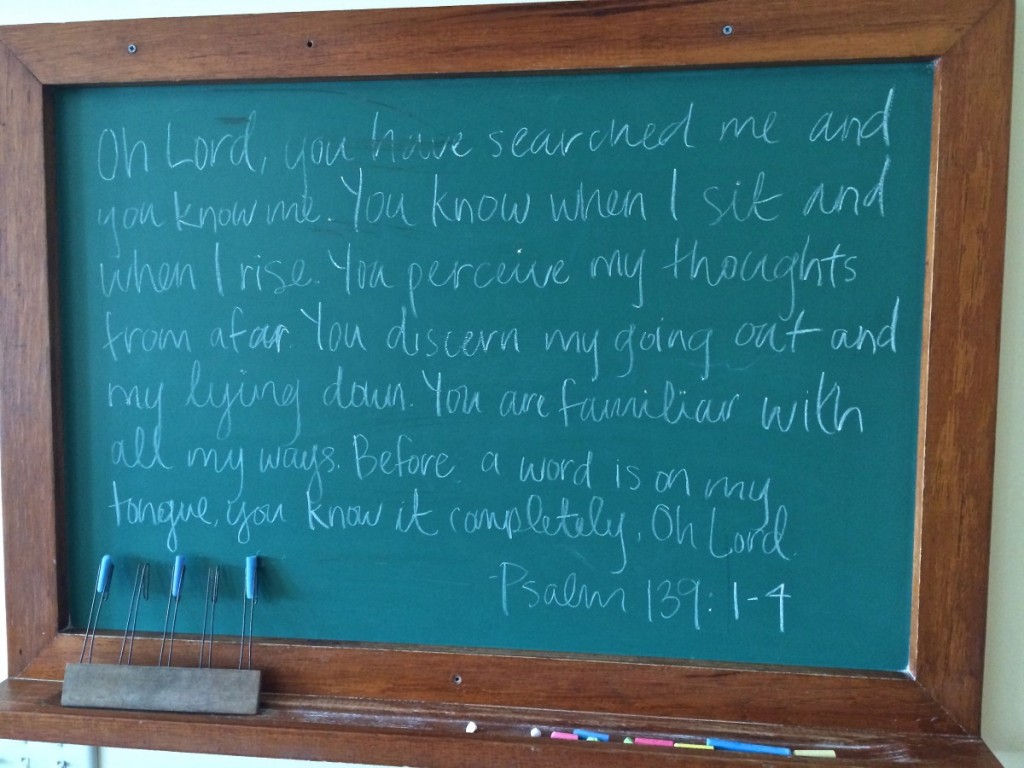 A collection of glass bottles displayed on a big round tray is one of my faves, with randomly selected ones for wildflowers. Dummy didn't get a better picture darn it. Should of grabbed an overview.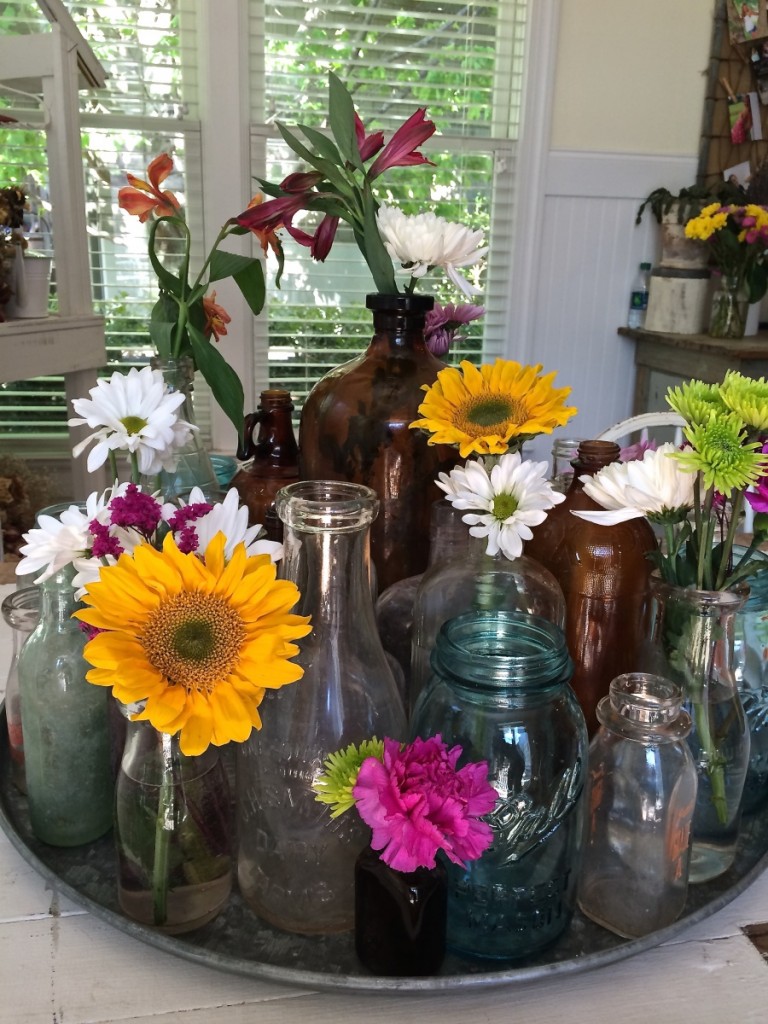 Year round this old fence turned pin board hangs here, overflowing at Christmastime. Again, the makings of a happy home. Constant reminders of love and what life is all about. Your home is your blanket. Cover up!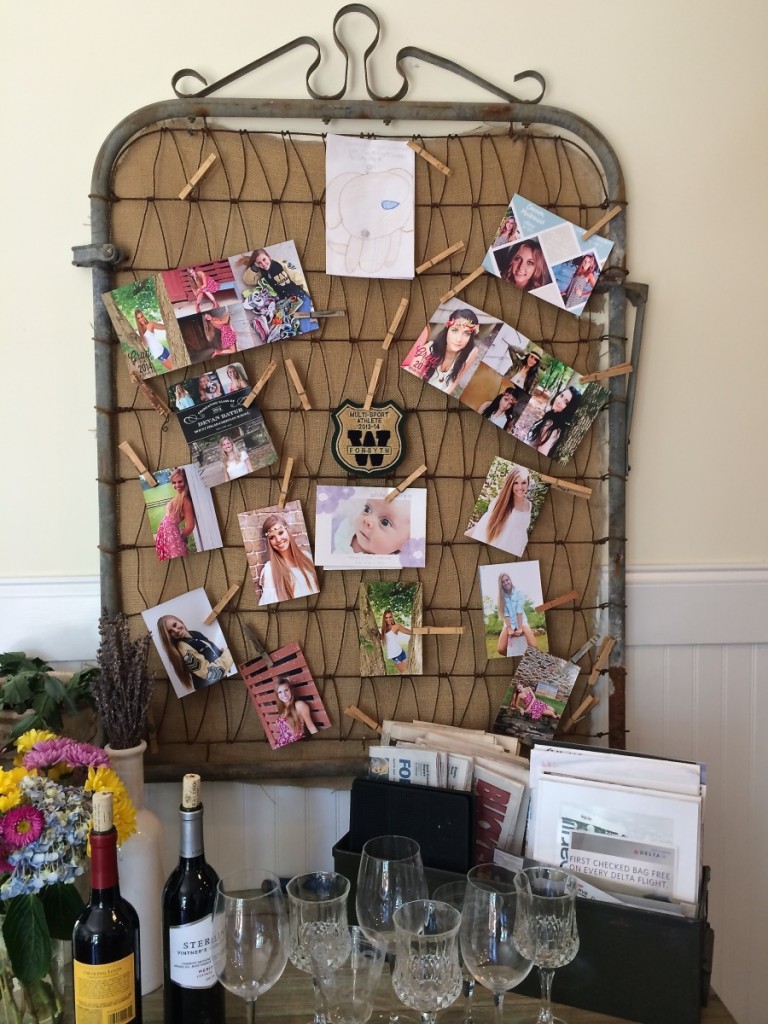 One of the things designers often stress is your home should feel collected and this next shot accurately displays that. Many objects aren't achieved overnight. Recall your family's best memories and adventures and symbolize them with objects that represent those moments.
"Take care of all your memories, for you cannot relive them"

– Bob Dylan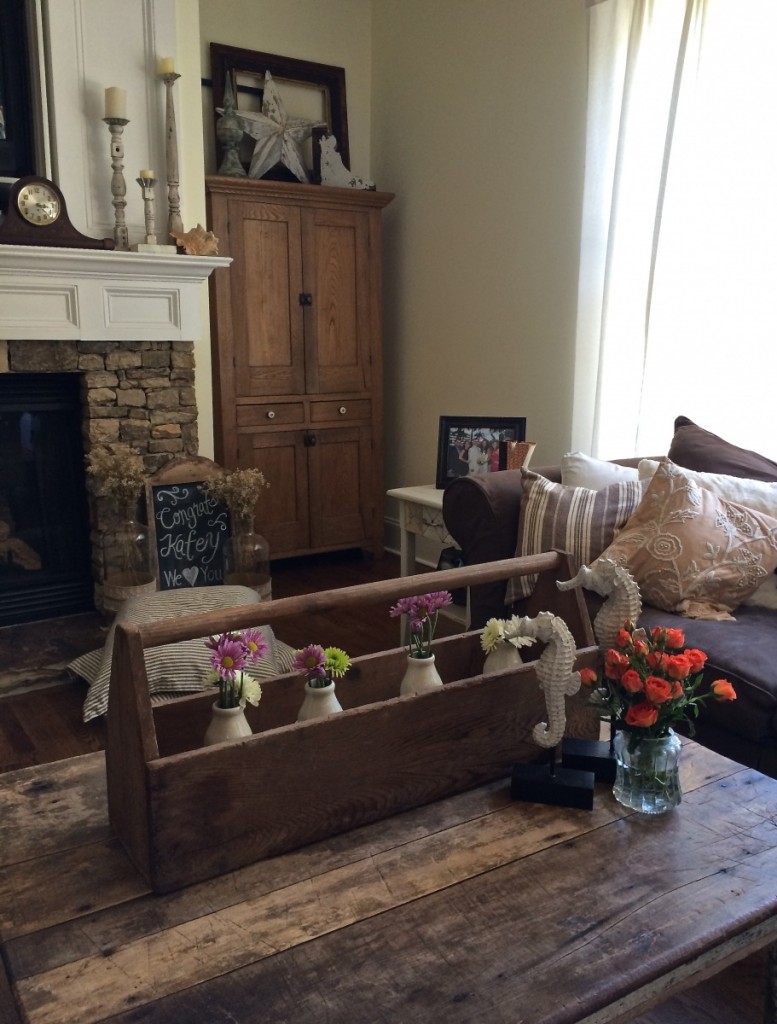 I love the patina of the coffee table and the milk jugs displayed inside the old tool box. Classic ticking represented. Never gets old.
Family heirloom and vintage quilts are displayed in an old cart, enhanced with twine, for extra support and an extra look. Remember the blanket comment ;-))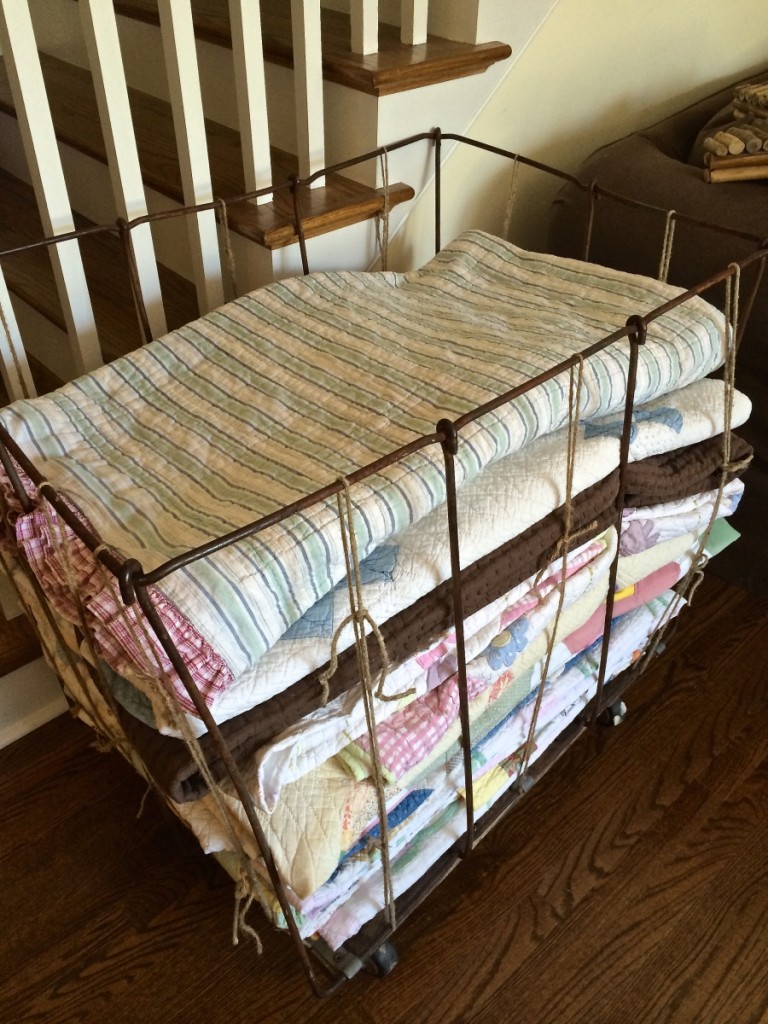 A close up of one of her many winner vignettes.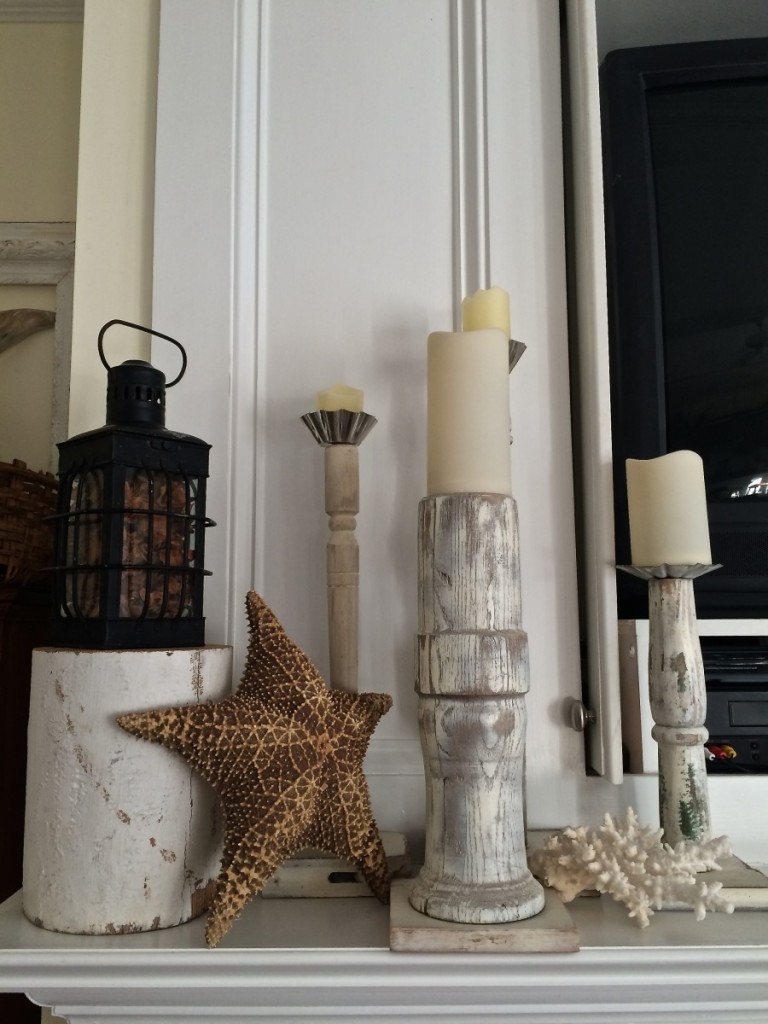 Old frames make the best backdrop and layering pieces. I've recently been picking up the old metal rings that come off barrels, as I find them. Just that little piece of round rusted metal, looks great layered with looks like these.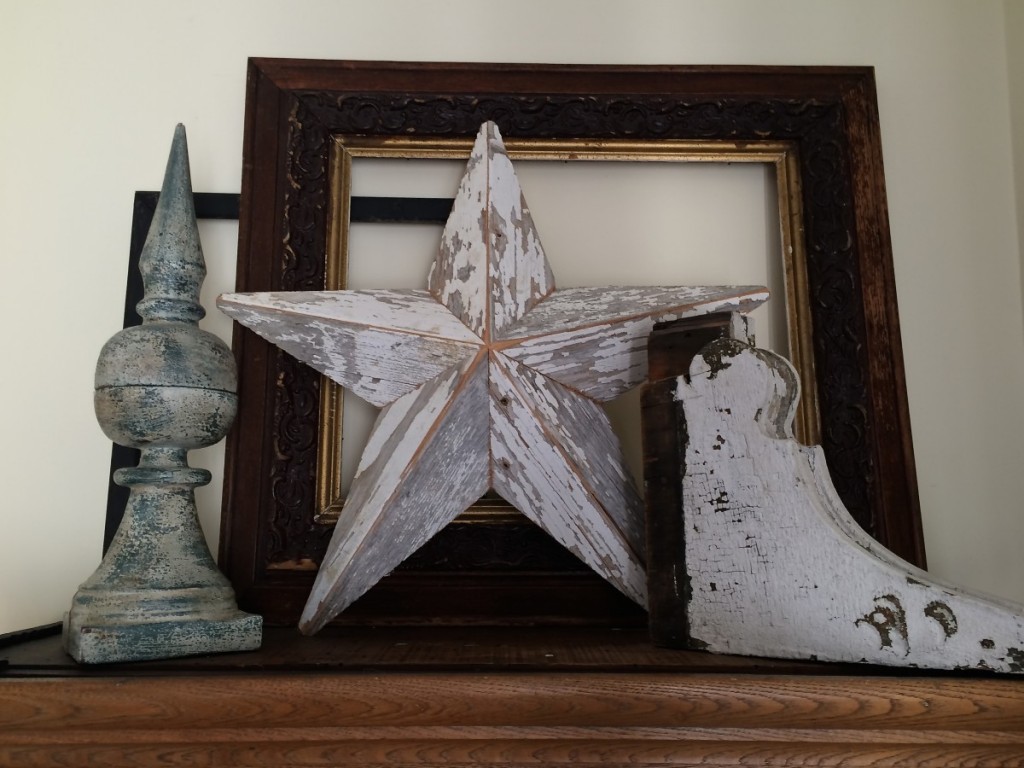 This is such a great idea! When you are out hunting, you come across some really beautiful, quaint, old mirrors. And if you are especially lucky, their mirror has started to "fox" and or patina in that special way they do, making all of us look better (lol). I really wanted my basement bar client to cover the entire back wall of his bar with finds like these and then somehow (hadn't crossed that bridge yet) float metal shelves in front of it for bar display. Somebody take this idea and run with it! And don't forget to report back! ;-))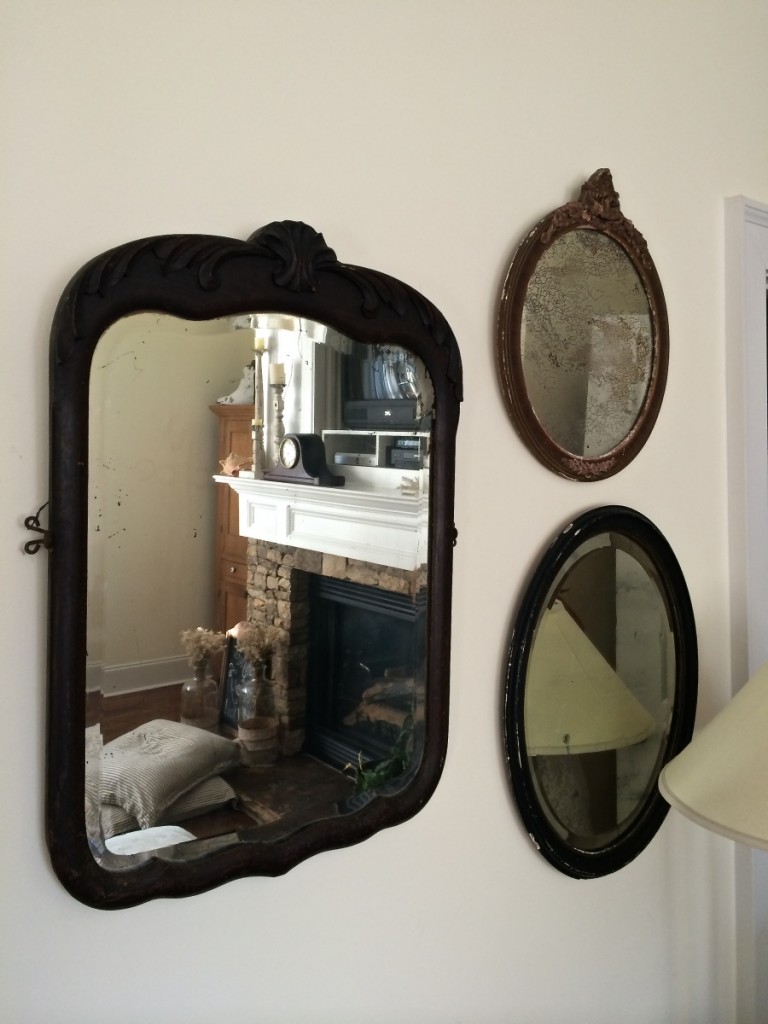 My dear friend and designer Lisa had the same idea with a bachelor pad in Chicago, but they covered the dining room wall instead. You're going to want to check it out and follow along HERE.
I mean even Mary Kay's pens and pencils have a cool place to sit!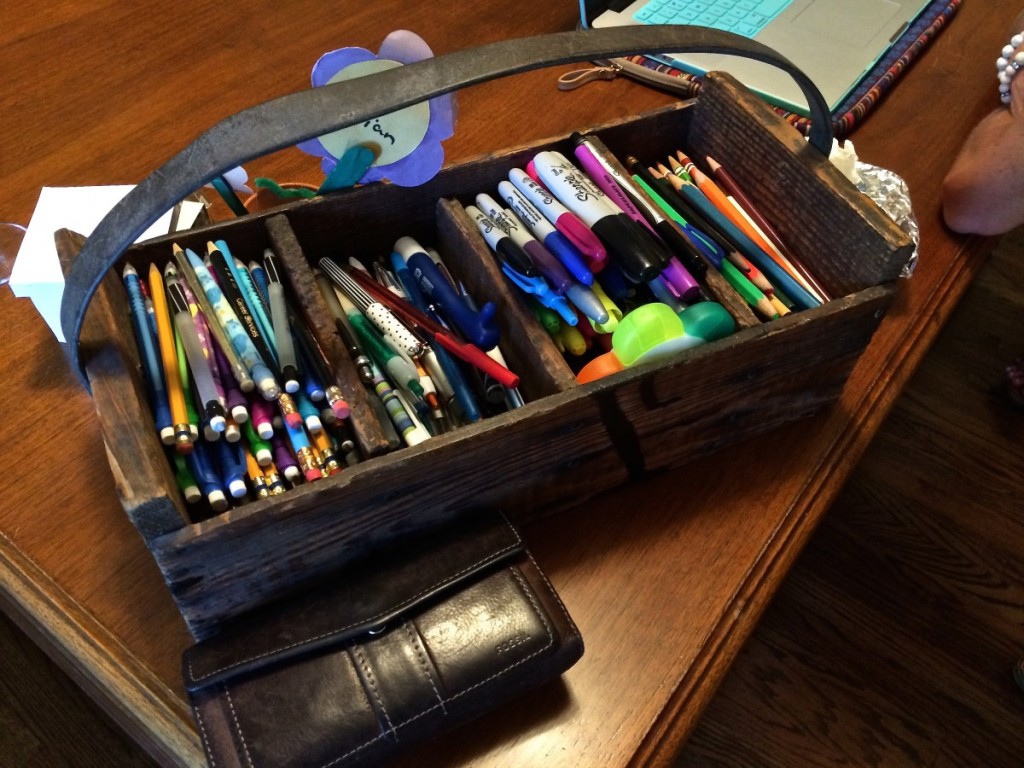 The menu board for the food truck and all the pretties and fun that await us outside…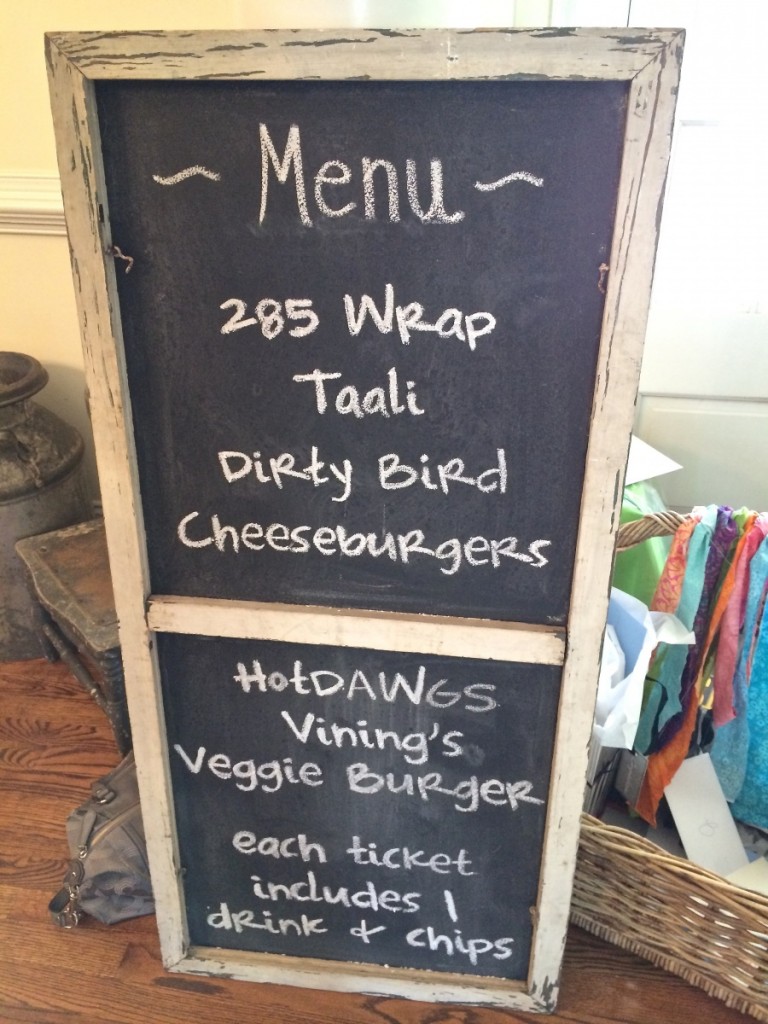 To give you a little background, Mary Kay just recently retired from the vintage rental business, although, clients continue to call and woo her back. Big surprise there. She's got major skills. And a gorgeous collection of family, found, vintage pieces mixed across many eras, like this cozy corner on their big front porch.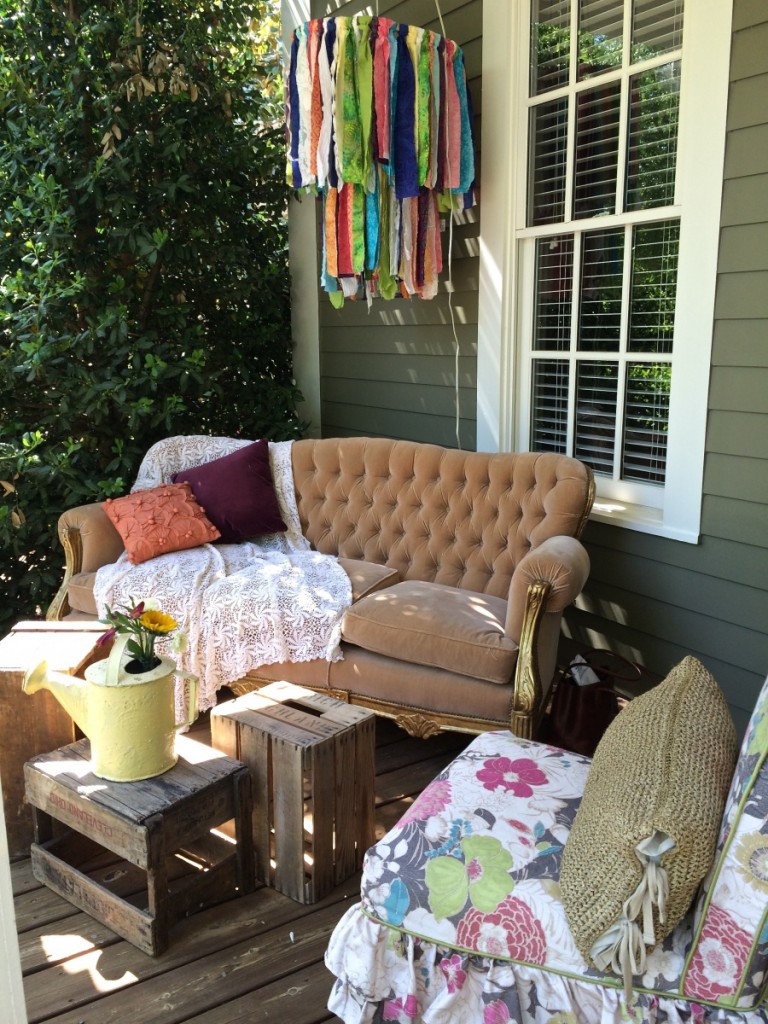 Another awesome (and simple DIY) display!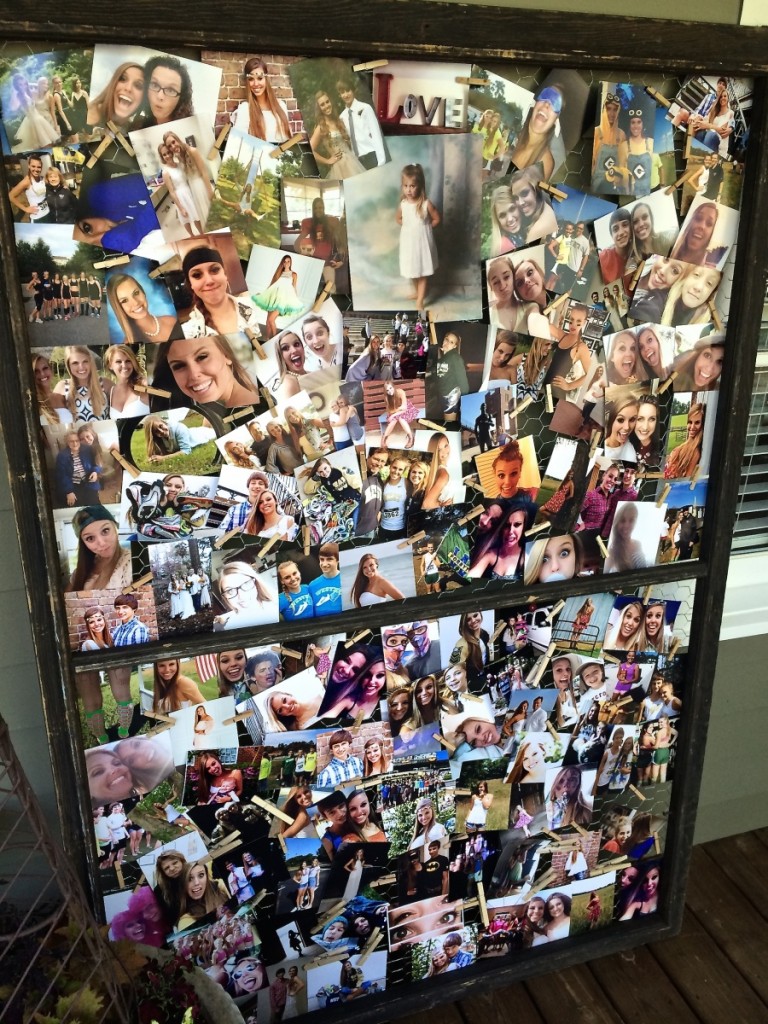 The chaise in the front yard, with the patch of wildflowers behind you, and the vintage metal fence behind that.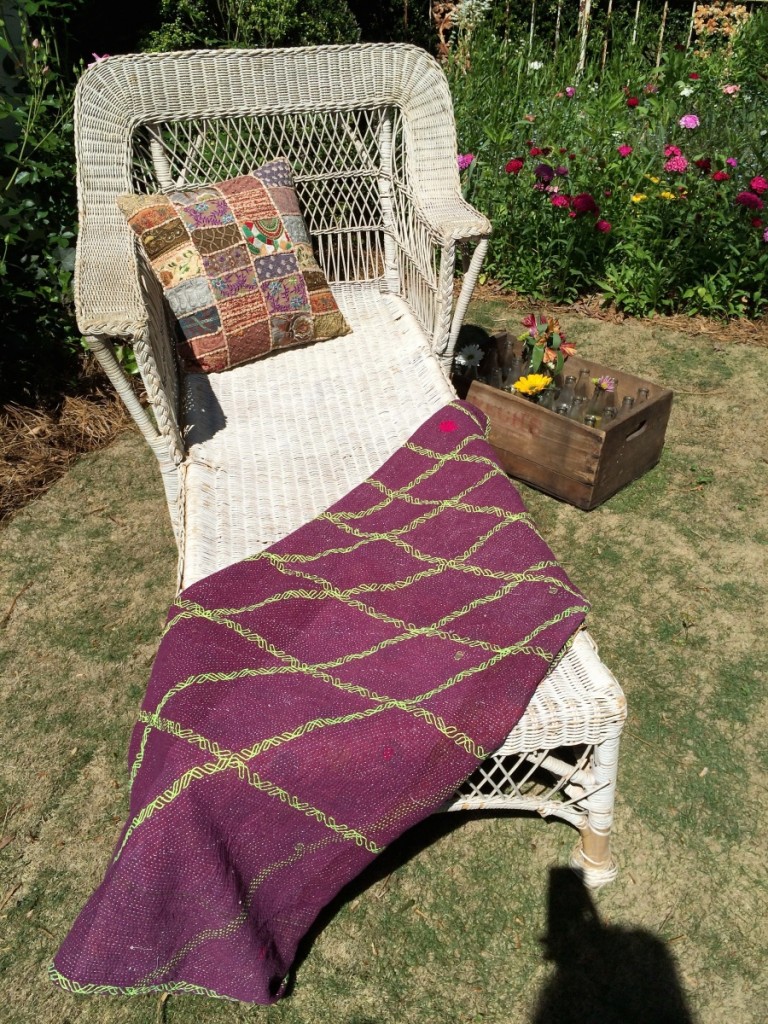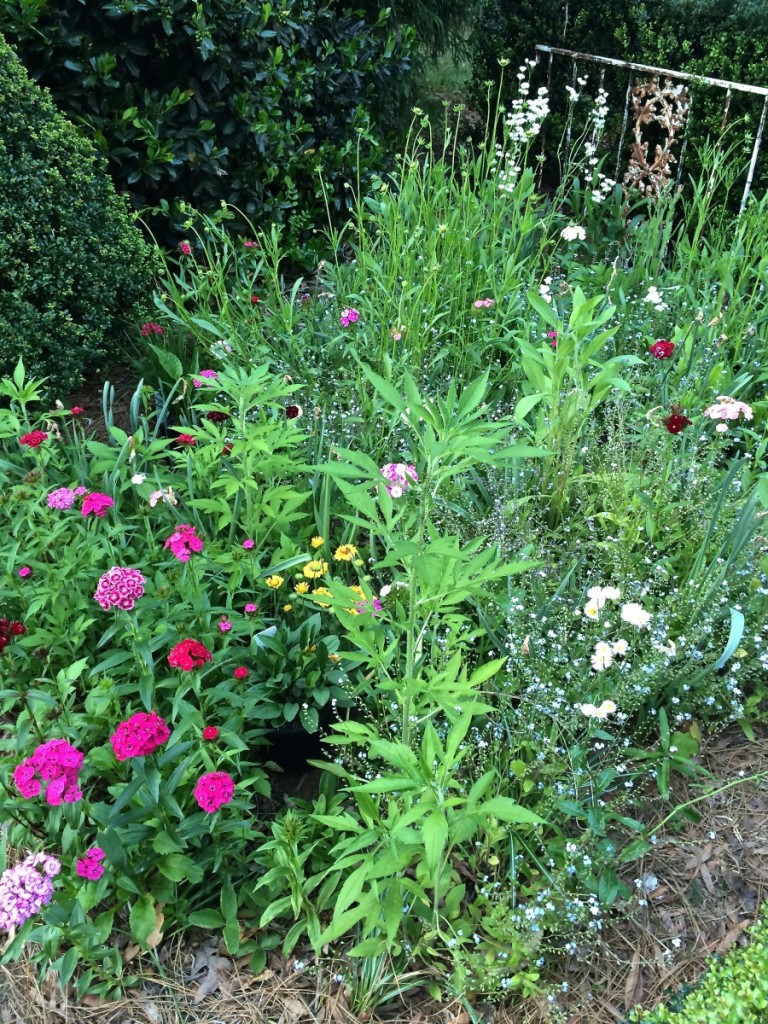 You get to really see the artistic visions from her vintage rental repertoire.
LOVE the tee pee made with vintage linens! All the teenagers posed (or took selfies ;-)) with pretty props standing in front of the tee pee.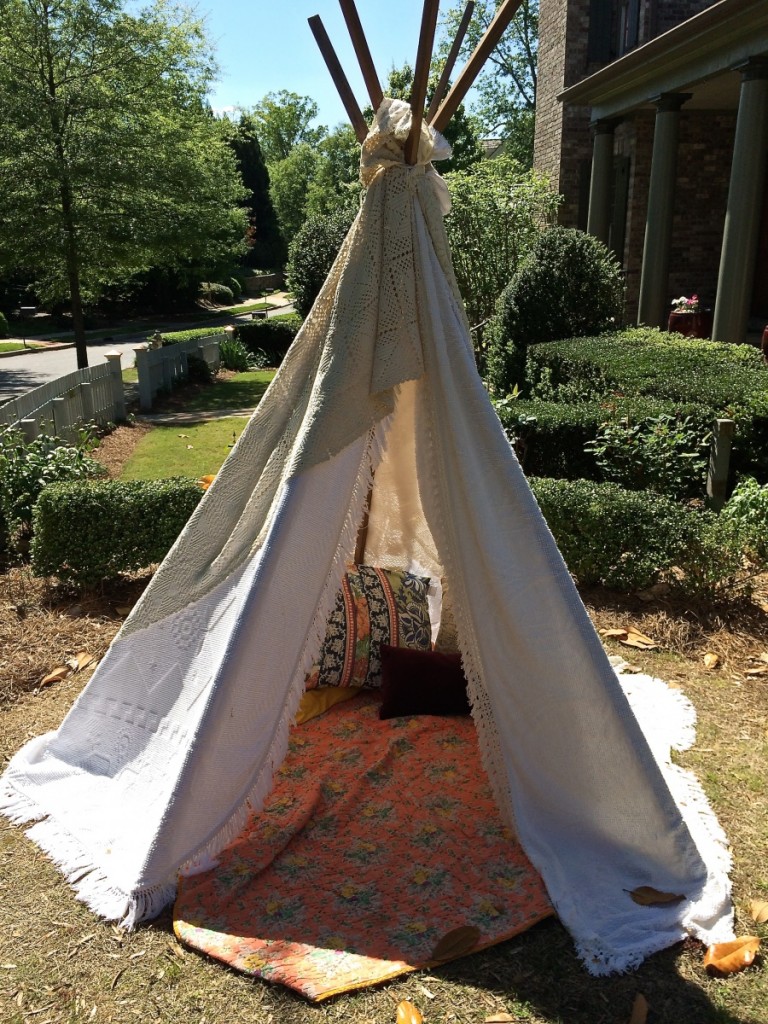 I missed a picture of the outdoor "door" table, set up with a mix of metal seating and three simple glass milk jugs lining the center with wildflowers. Its where you found all the usual suspects, wink, wink. In the shade sipping a beverage. We loved it all so much, it was voted "had to stay!" for impromptu happy hours or a lemonade stand for the kiddos. We were blessed with one more night, Sunday night pizza, where we loved on our precious new babies on the street while enjoying one of those magical weather weekends, mild, sunny and breezy, you never want to end kind. No one wanted to see the sun go down that night.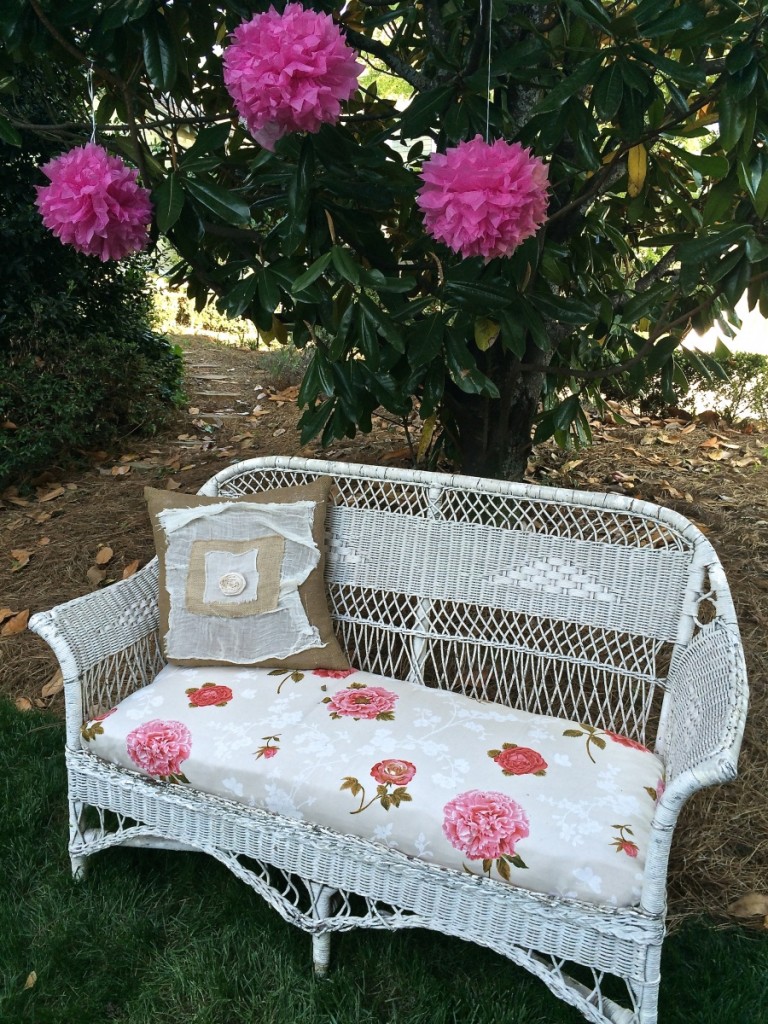 It's pretty close corners in our hood, reminds me a lot of my childhood home, where nothing but a single driveway separates you from your neighbor. Moses wasn't joking when he said "love thy neighbor" because you really have to love your neighbors. Having said that, you utilize space that maybe you would not. Its so true about living in the South, where you can create outdoor "rooms" and spaces like this sunk-in or "terrace level" patio space off the basement. How fricken cute are you? You know how many nights I've walked up on a roaring fire and ice cold Miller Lite (in a can the way we like it). We'll meet here after Friday night football games, just like my parents did, however, they didn't have to leave the back yard because the football field was our back yard (made spying on your boyfriend at football practice very convenient). As a kid, I'd run around the corner every Friday night and listen to spectators get a kick out of "look at those people in the backyard watching the game!" and be all embarrassed…ugh I don't know who those people are- not related!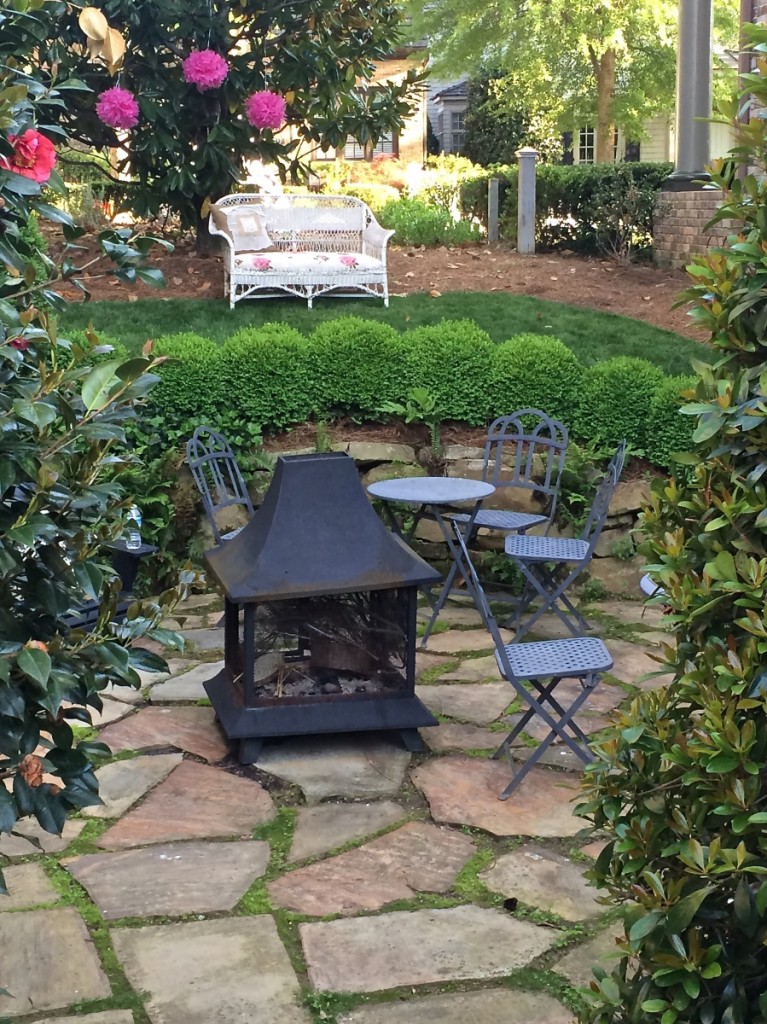 Another space saving and awesome addition is this swing, hung from the deck, as a lot of homes here have sloping back yards. Adorned with these colorful mobiles they have made, who wouldn't want to swing here…just a swinging… Would be nice to have a backyard like this complete with something like the south carolina storage sheds I've seen online. You'd be able to save space in the rest of your backyard if you use it as a storage solution. It could also make a nice little summer house to retreat to on hot days!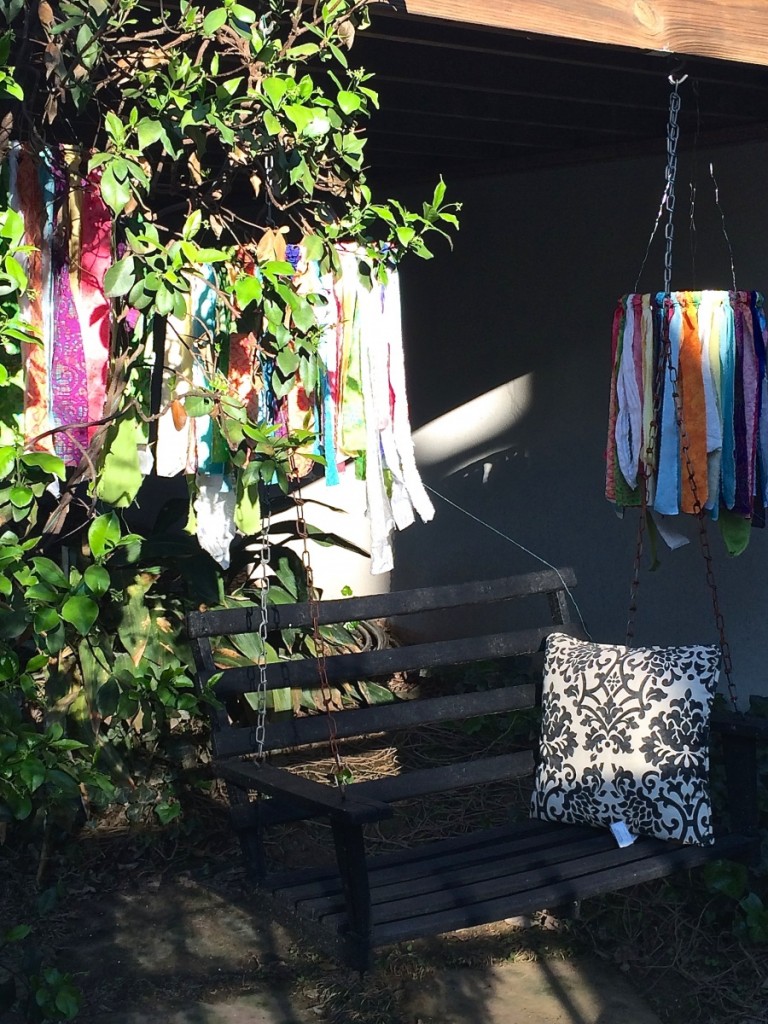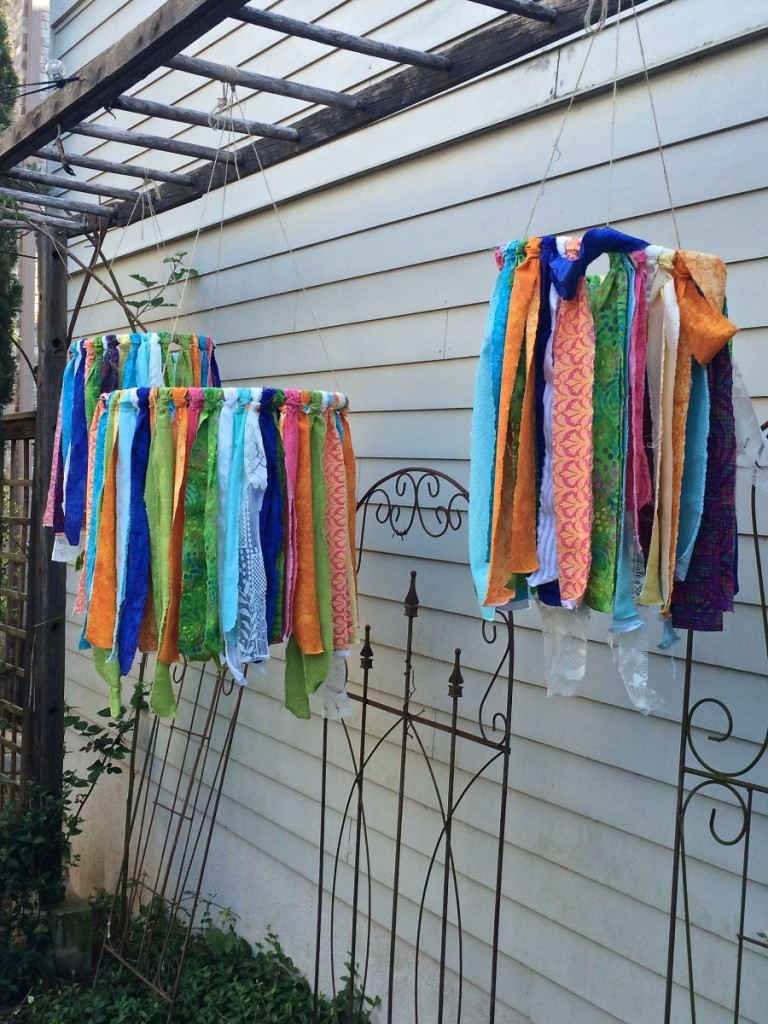 You know those moments when you go to a friend's house and they have just the killer piece, the piece you are gaga for and you're like hey man, can you leave this for me in your will? Hah. I'll take the sofa! Meanwhile my boy and his boy were playing "extreme croquet" in the backyard. Which is a great idea for your next party. Corn hole was set up in the neighbor's front yard. Can't go wrong with corn hole!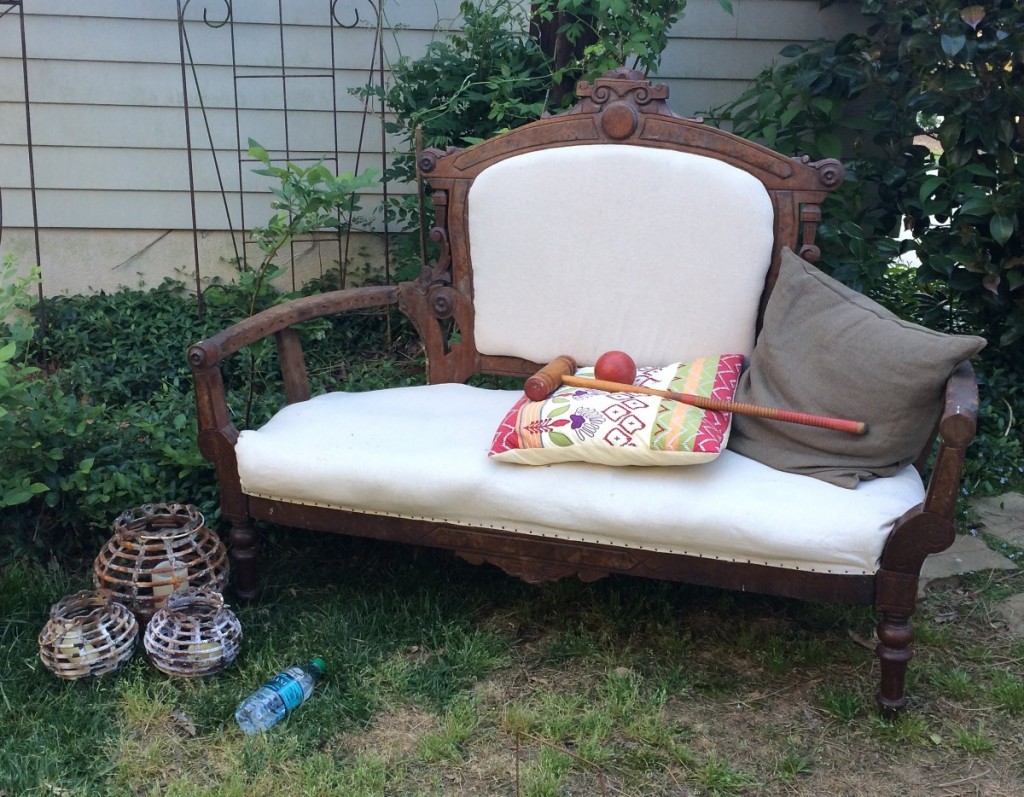 The girls have taken so many beautiful shots on this gorgeous Victorian piece throughout the years. They were so little when we first moved here?! I cannot believe they are all grown up and responsible, working full time or headed off to college. We can all feel really good about leaving the world in their hands.
The family visited Atlanta's food truck park before selecting Urban Taali to feed all of us. And it was gooood.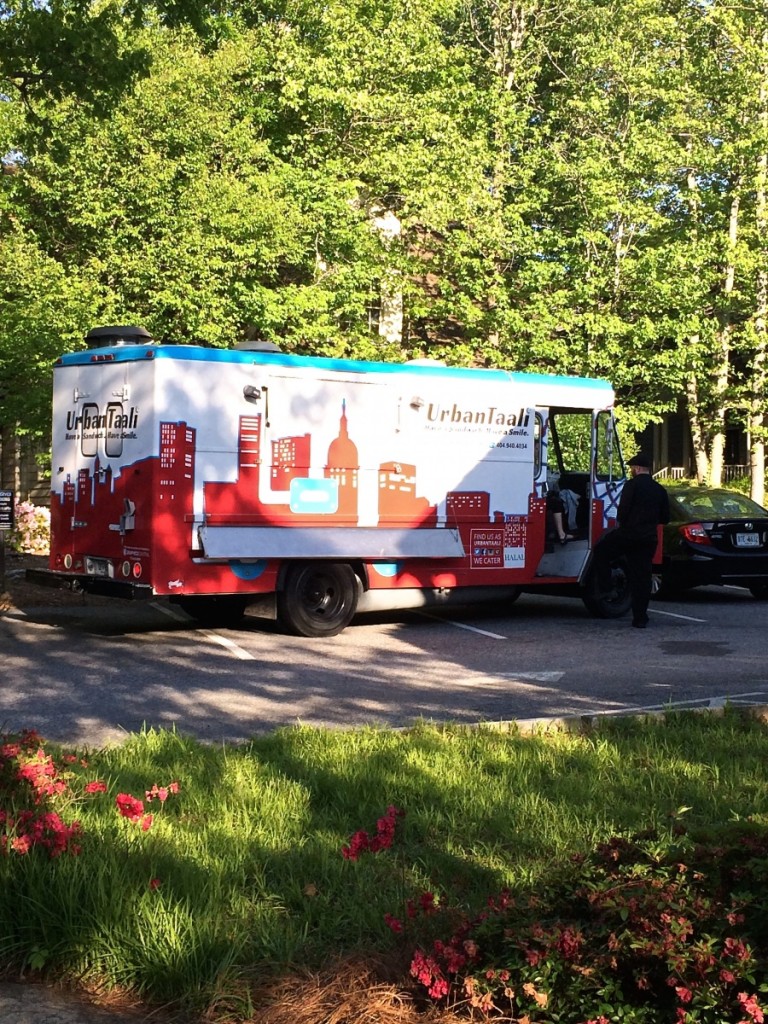 One last awesome, repurposed piece and message. xoxo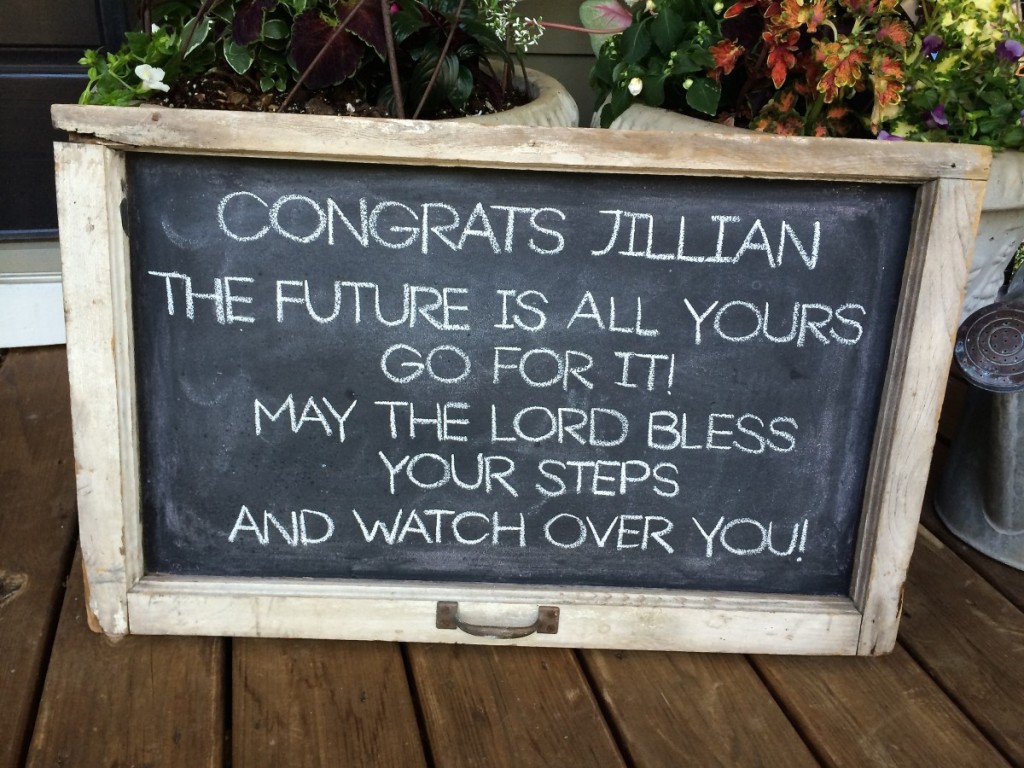 AMEN!
Have a happy Saturday all! If you have any questions about the gorgeous items you have seen here, how to make them, what their made off, etc., don't hesitate to ask. I'll holler across the street at Mary Kay and find out for ya.
peace out!