January market came to town team! Its a time to be inspired and see what's new in the lovely, wild world of design. Its a time when most designers in the Southeast head to Atlanta's Merchandise Mart to scope out all the goods and hob knob with fellow designer friends and industry partners. A festive time with showrooms serving food, beverage and playing great music.  Fellow designer babe Dorothy and I had a blast perusing new and old favorite showrooms. Here's what I loved (I love a lot), along with some serious styling/staging inspiration to take home and work into your own vignettes.
We started in Bobo where I've always loved how they lined up all these rocks on the table…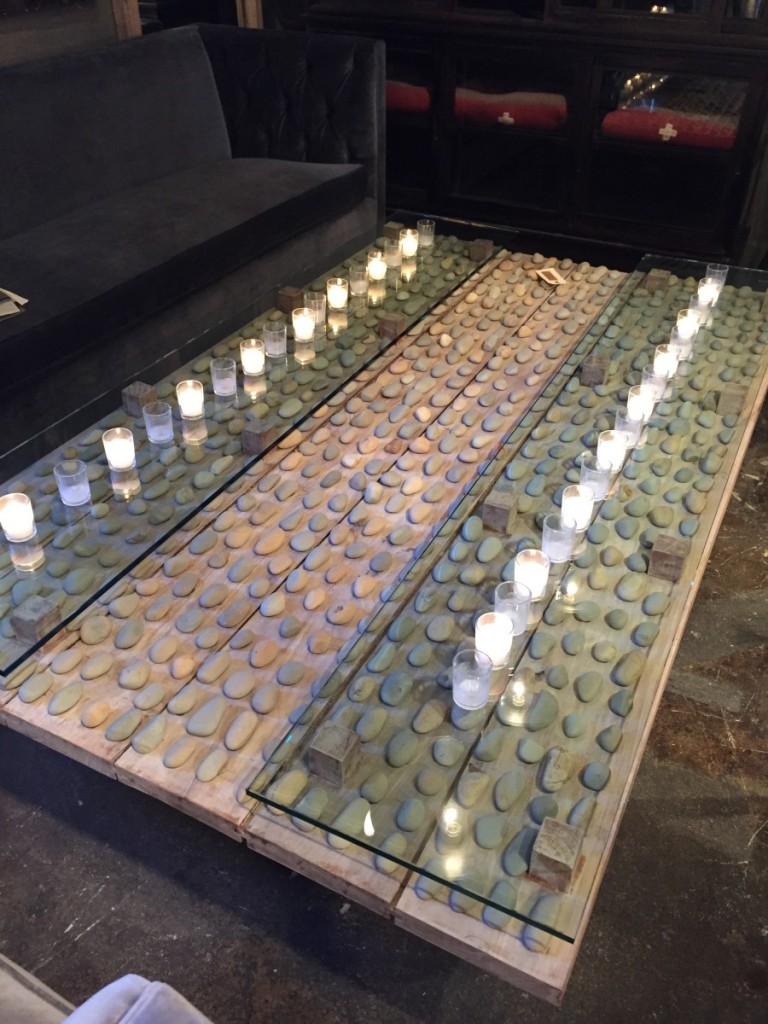 The perfect patina'd pedestal for your Steven Schubel inspired bust…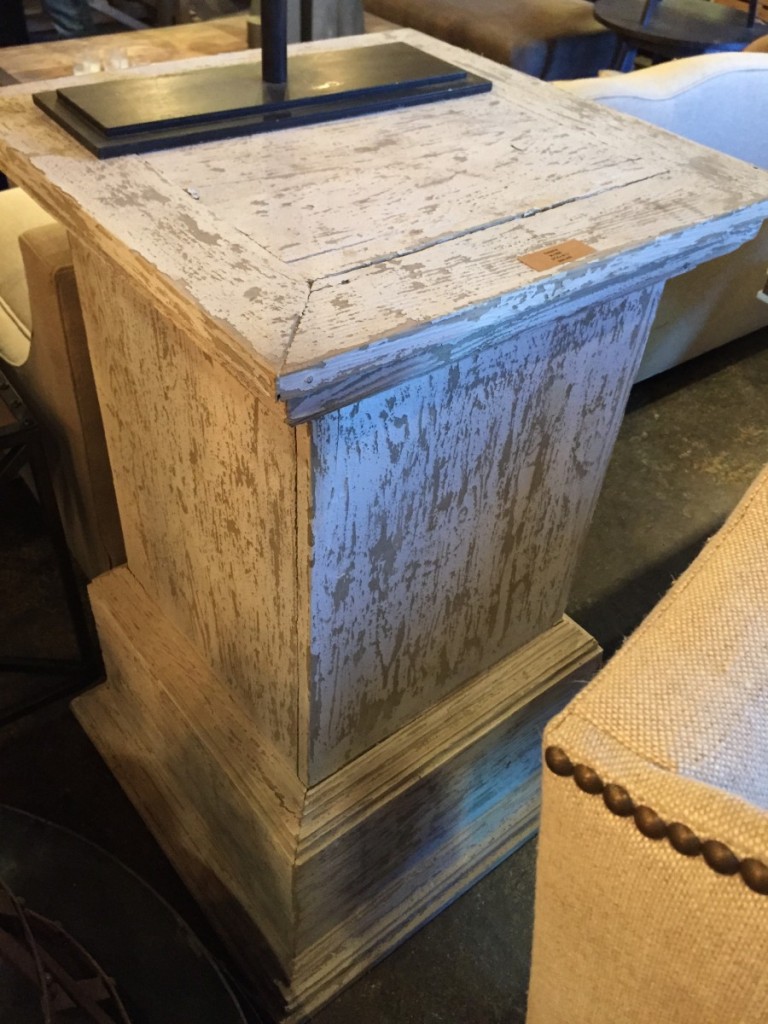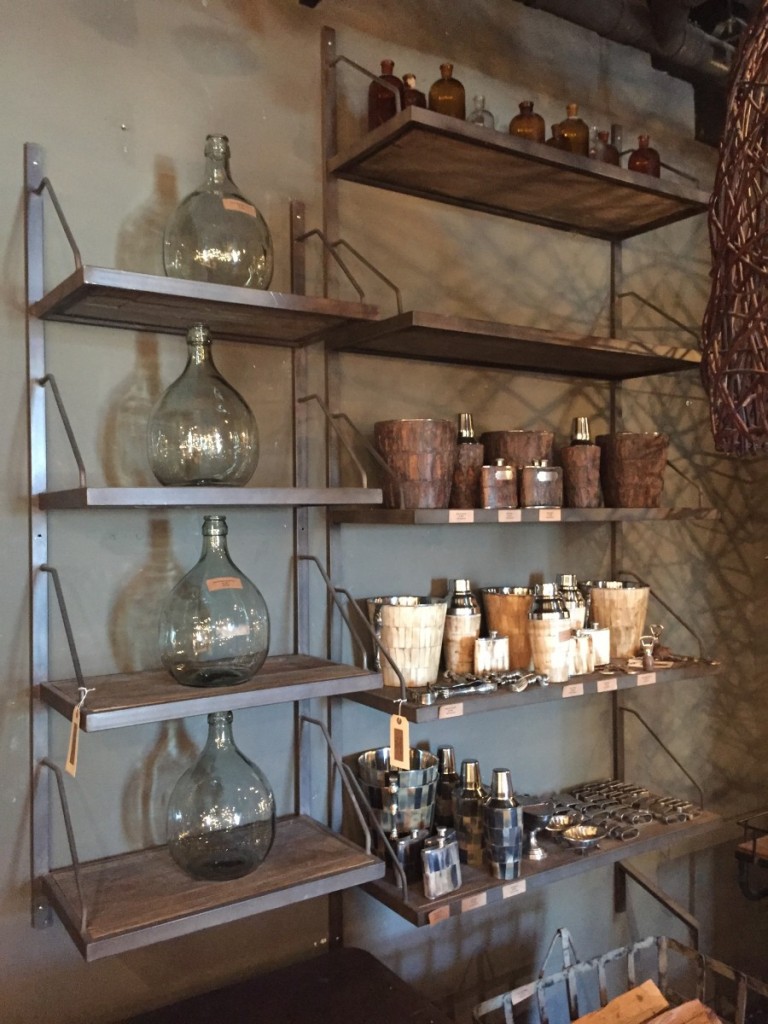 Great new server on display…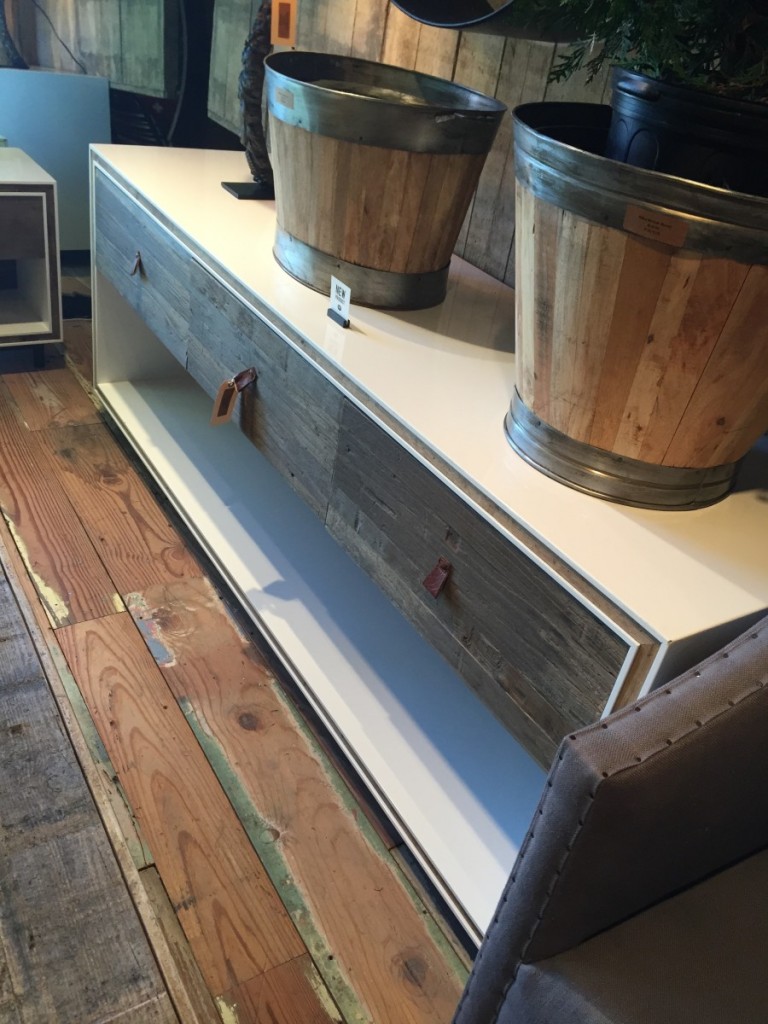 Gaga over the base of this table and how they lined an entire large tray with votives…sultry.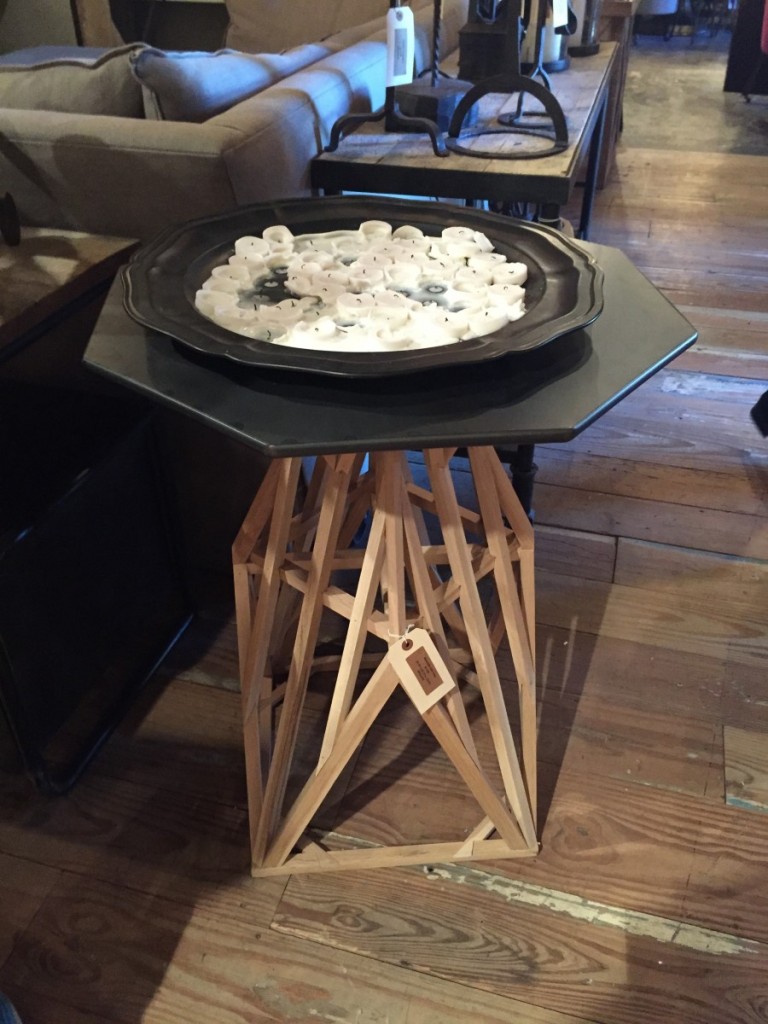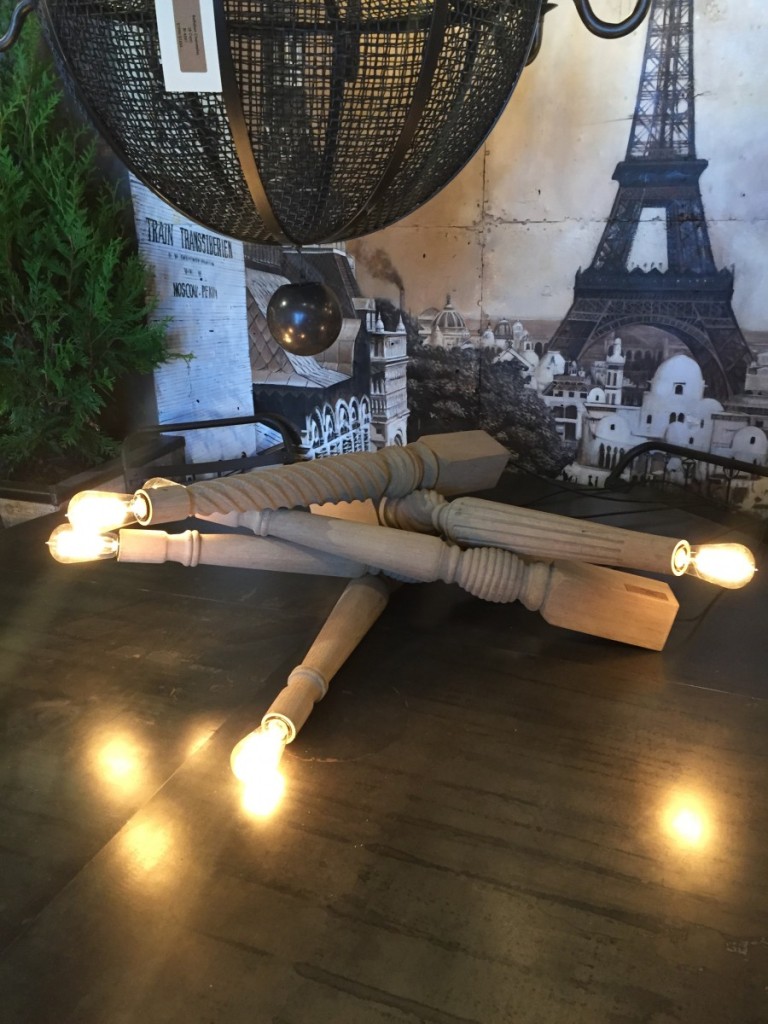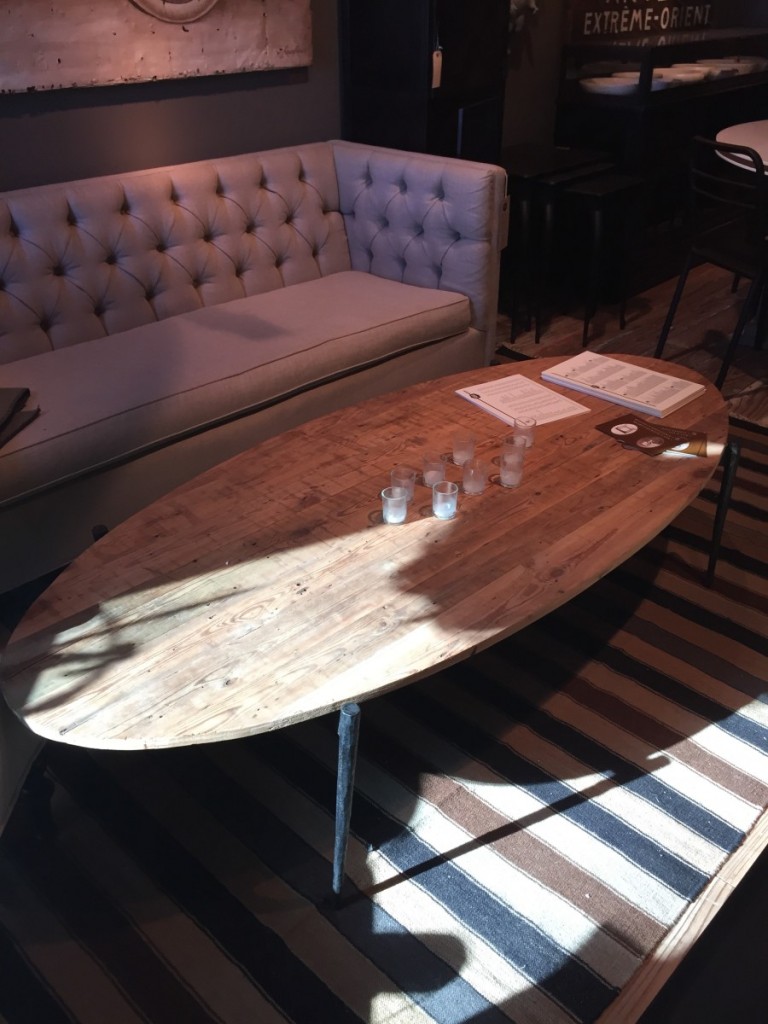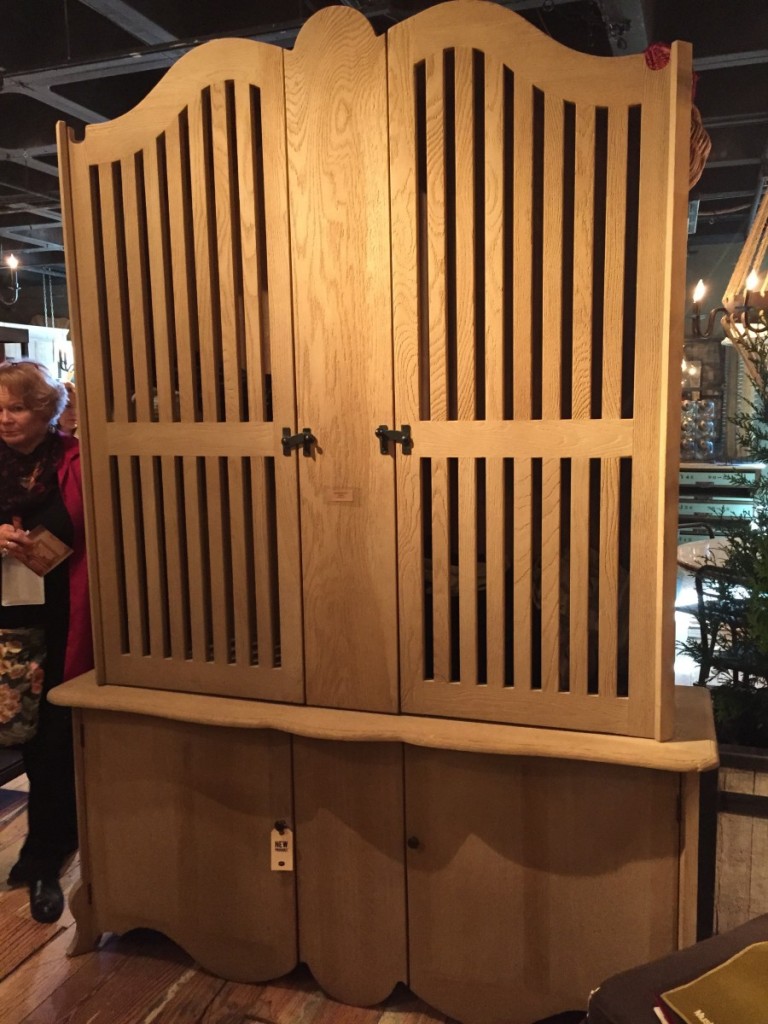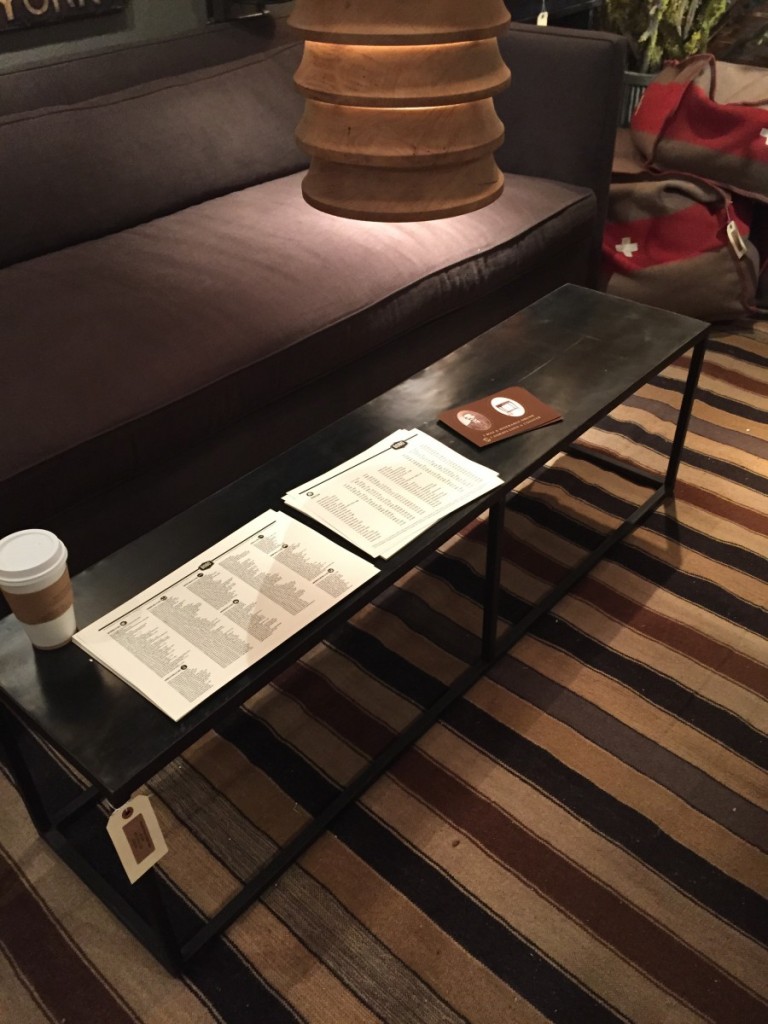 This table would be perfect between a pair of twin beds…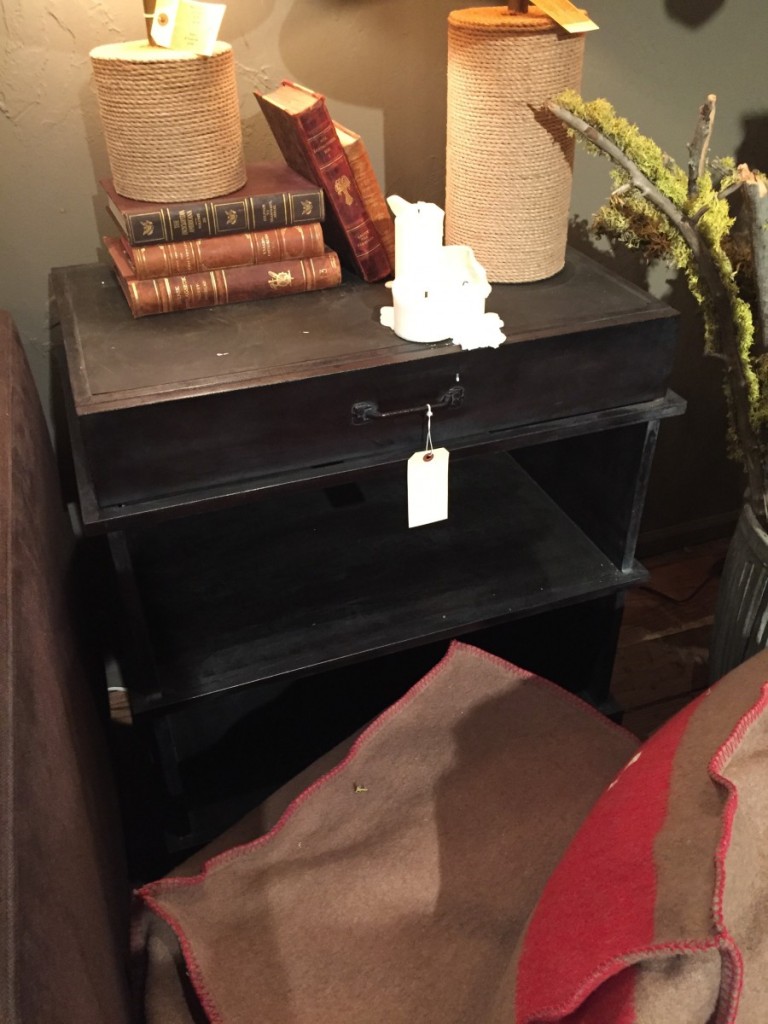 Loved this mirror for a client's basement bar but alas too big…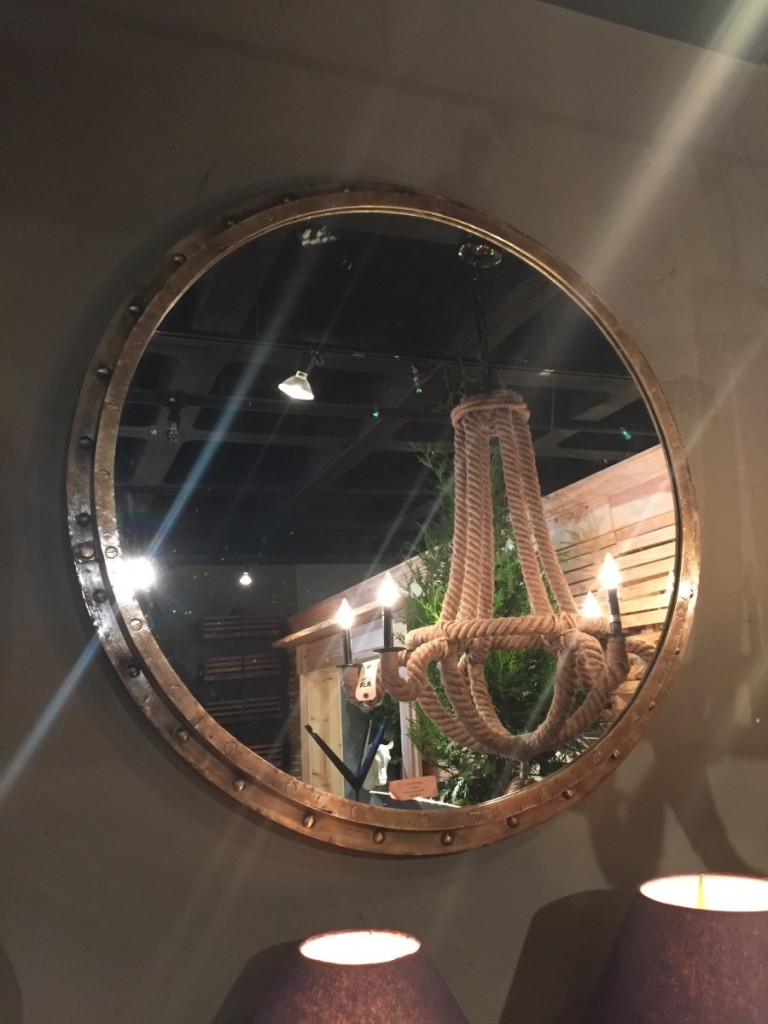 Here comes some mad styling…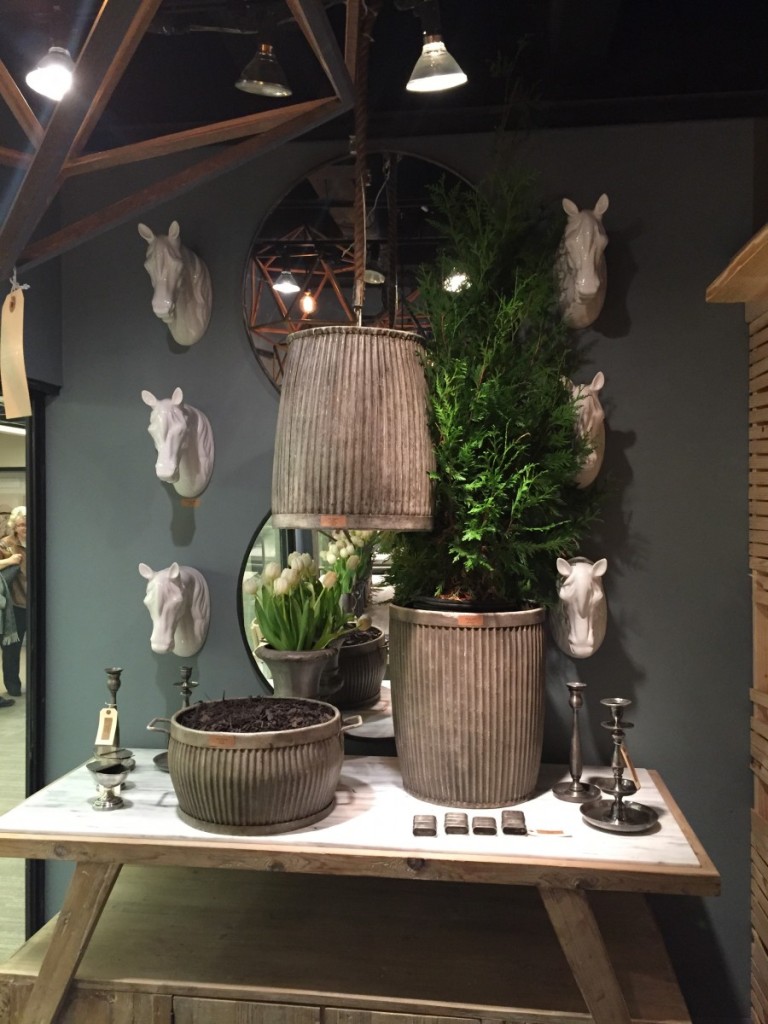 So digging the pair of round mirrors with "all the pretty horses" on either side. Notice the new marble topped kitchen island below. So good! You can see a better picture of it HERE.
And totally digging how they clustered all these lights together, hanging perfectly in proportion to each other…I picture in a restaurant entrance or intimate round foyer, with velvet drapes covering the walls in the background…now that's making an entrance.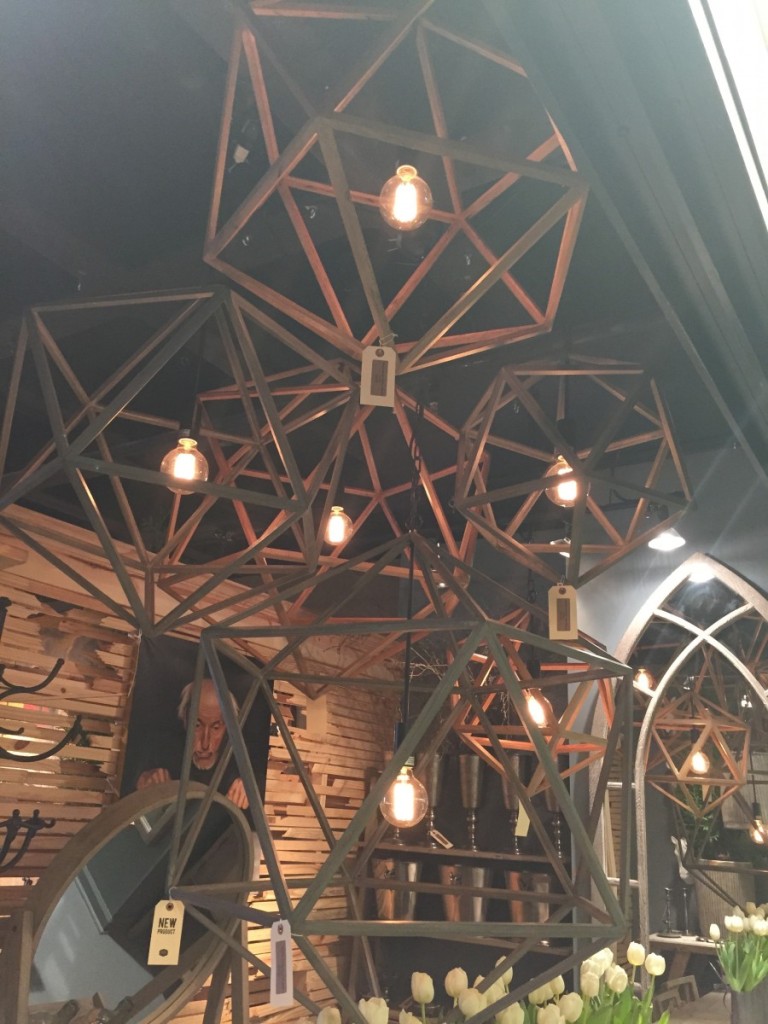 Quickly popped into Tritter Feefer and said hello to this hardware from Richelieu…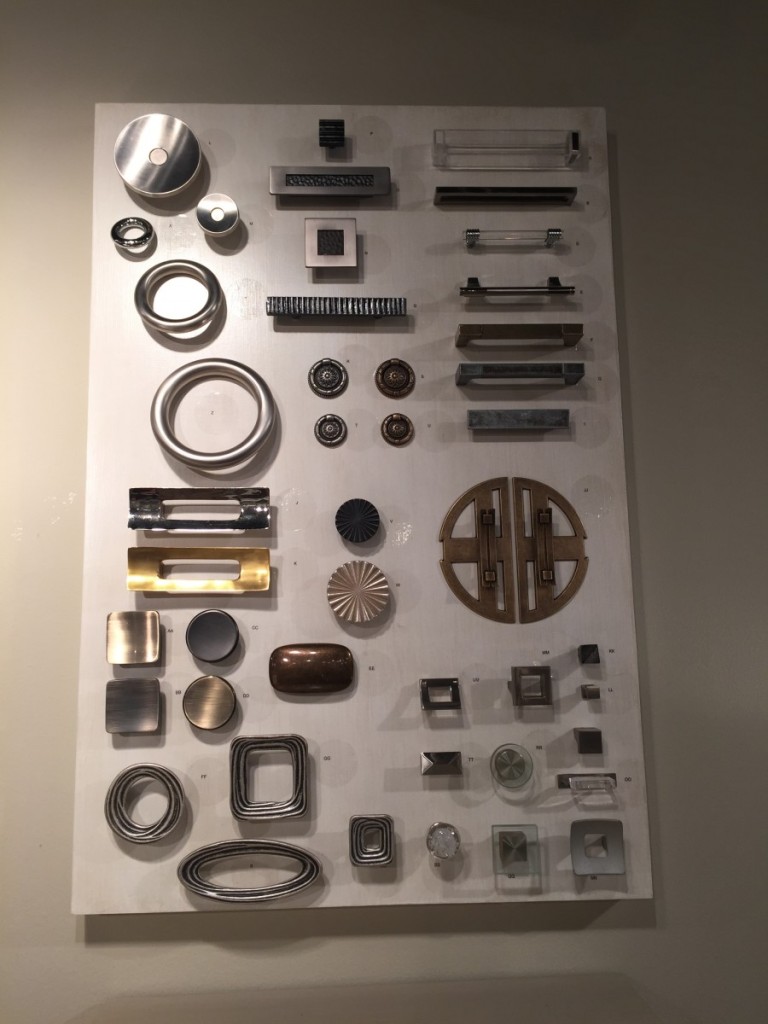 Likey this side table…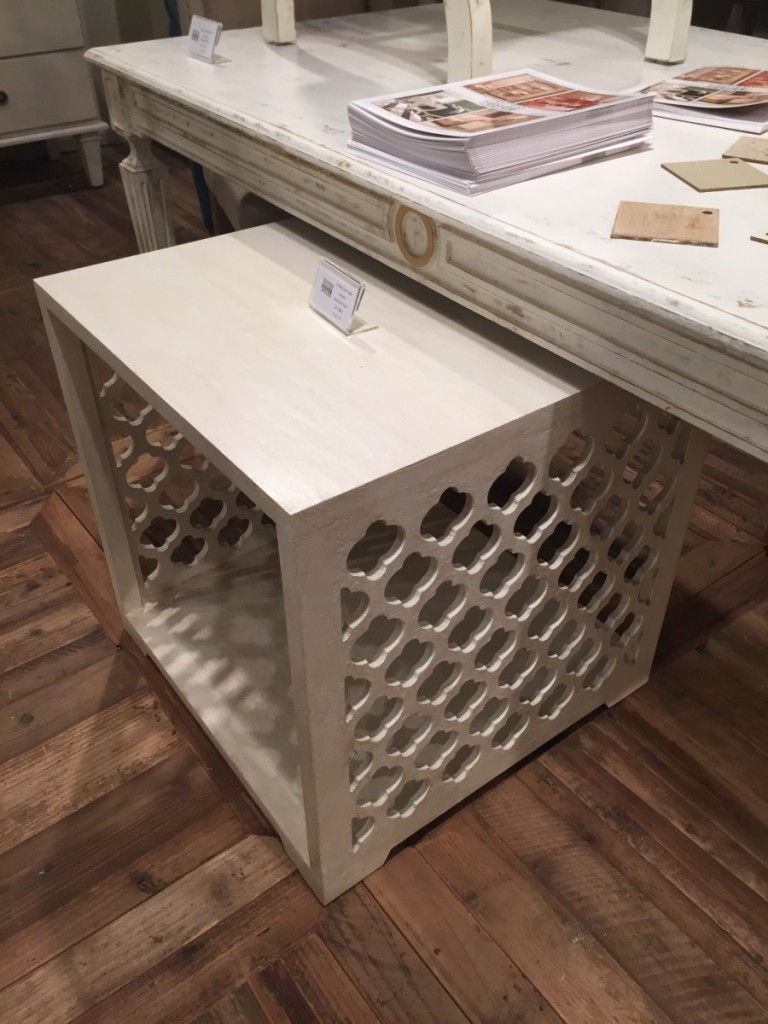 And fell in love with these funky ass sconces!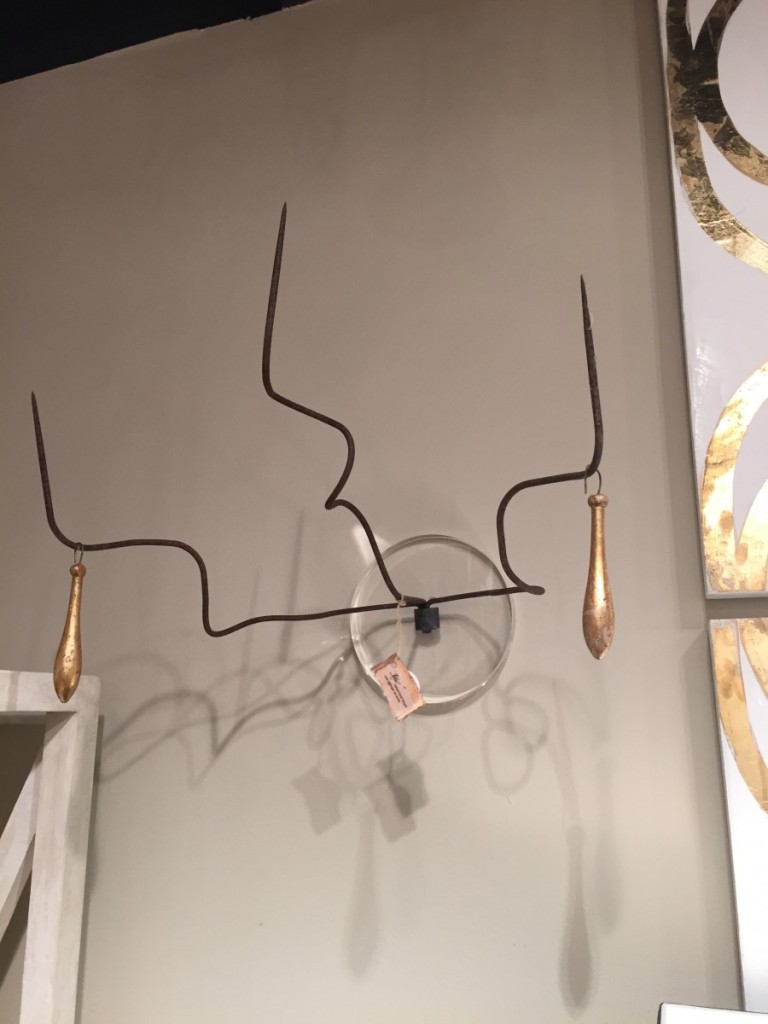 Moving into the Europe 2 You showroom, I discovered this console…
And this fabulous display! That's the kind of styling inspiration I'm talking bout team…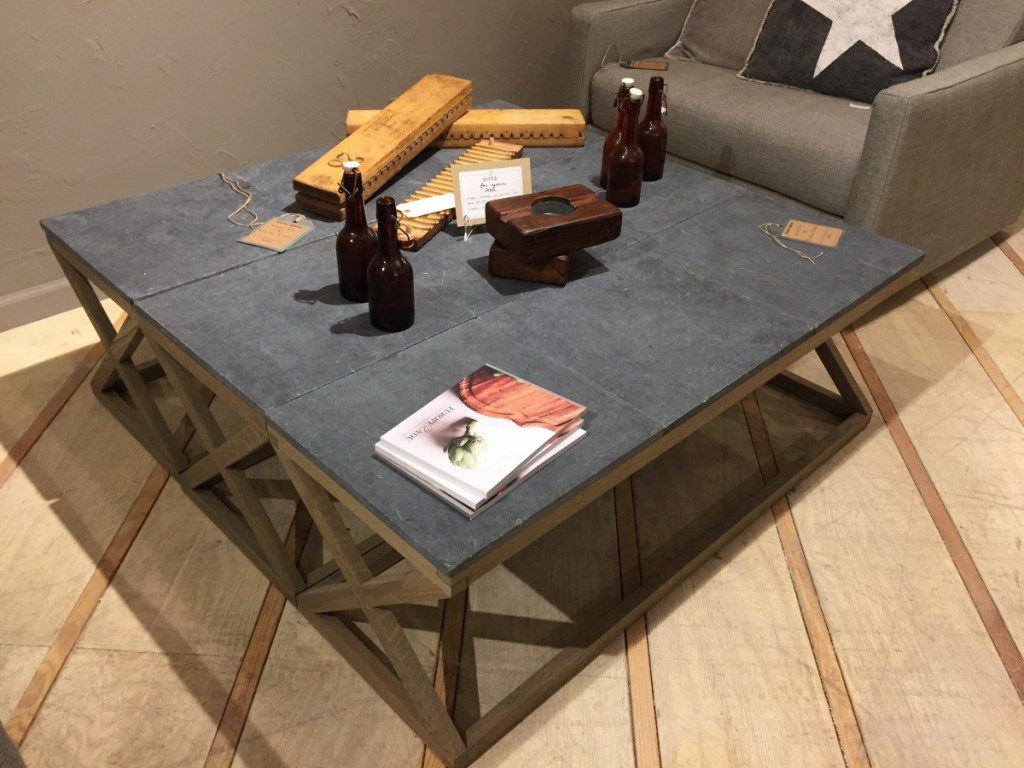 I'd someday like to start collecting these Italian olive jars, I think they're GREAT. Crusty goodness.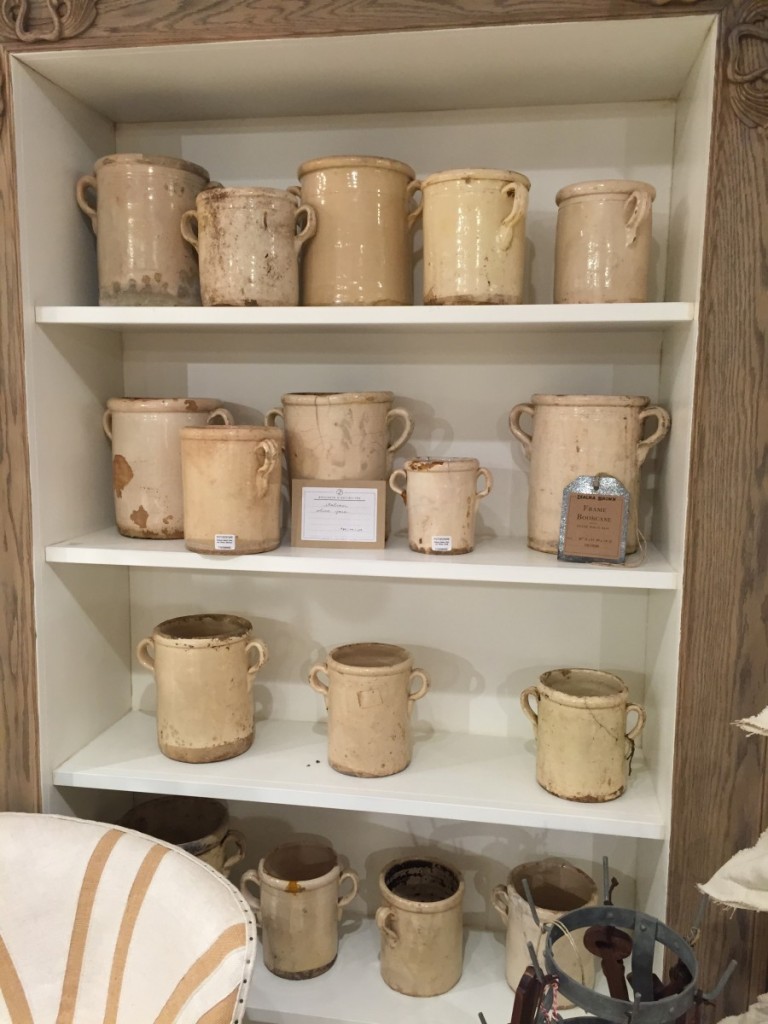 Popped into Uttermost where D was contemplating this mirror for a client. It was AT LEAST five feet tall…really really cool!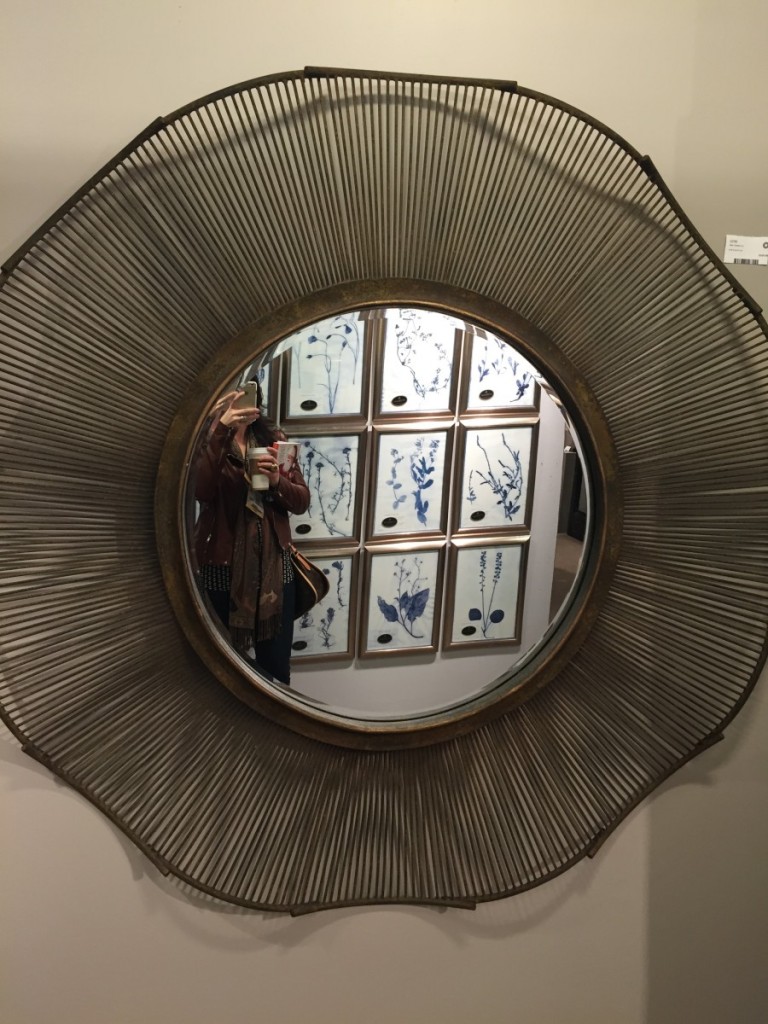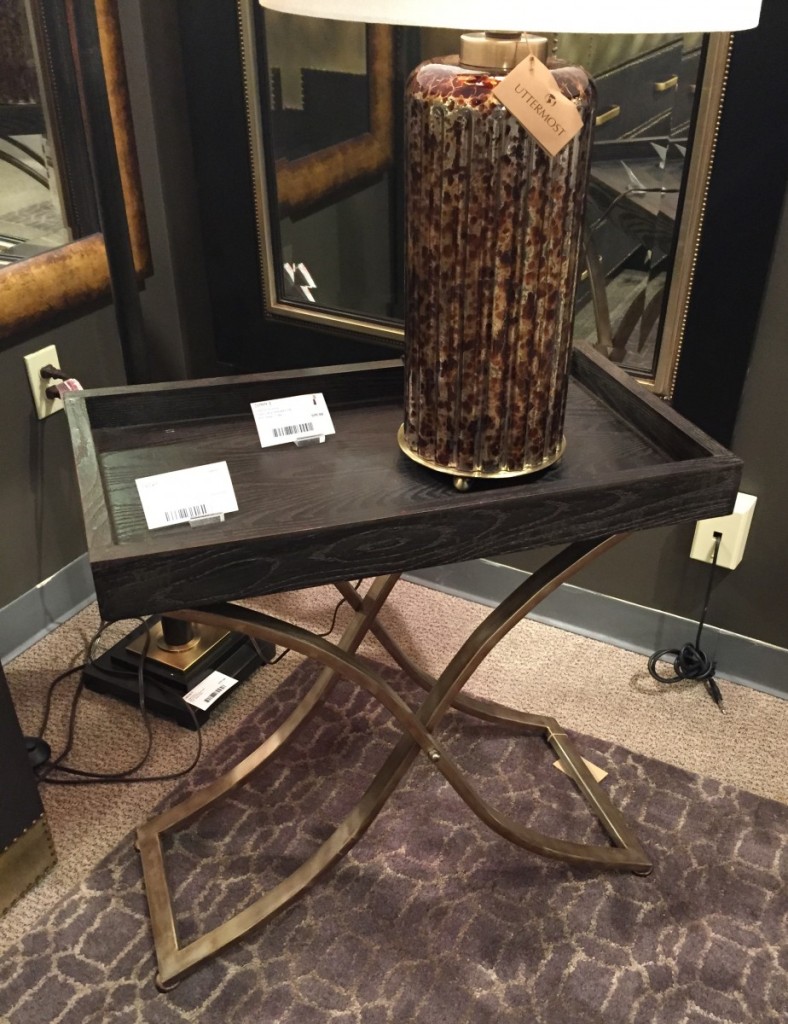 Always have to have a few of these little dumplings in every plan…jewelry…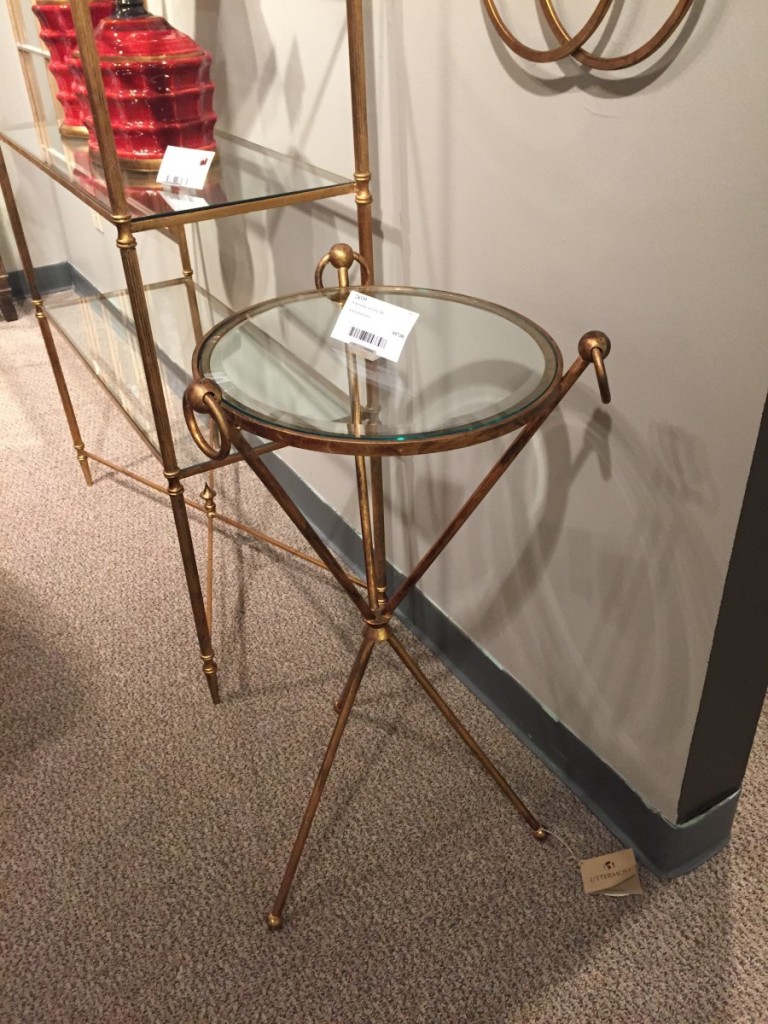 Love the bottom heavy shape and slope of this one…I was going to crack a joke about my own bottom but will refrain #punchdrunk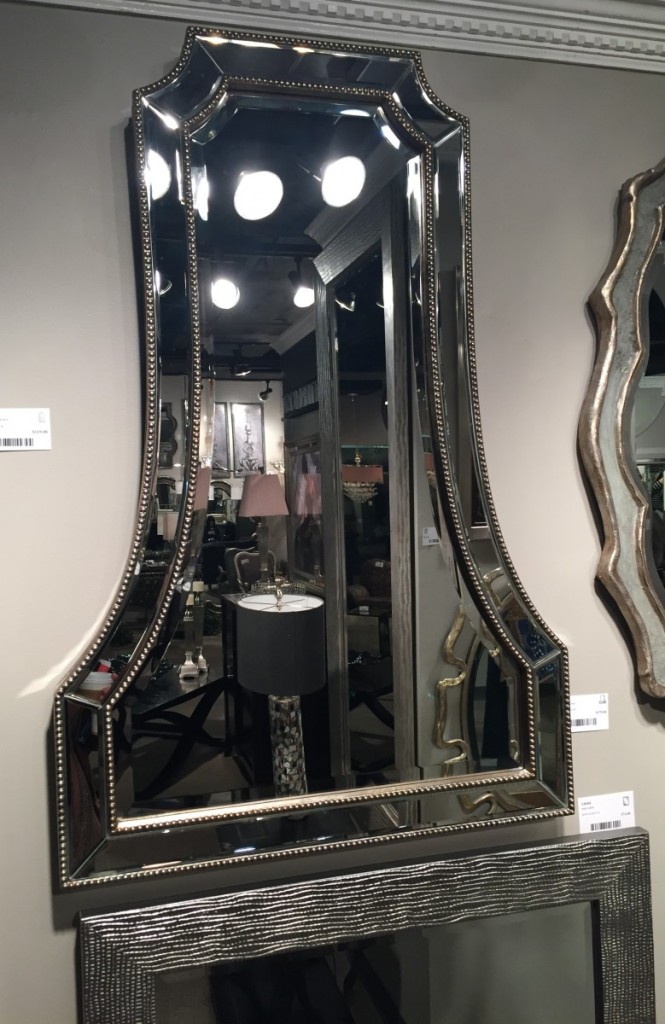 And lastly a new take on the x benches that are everywhere. Selfishly I thought about a pair of these for me somewhere.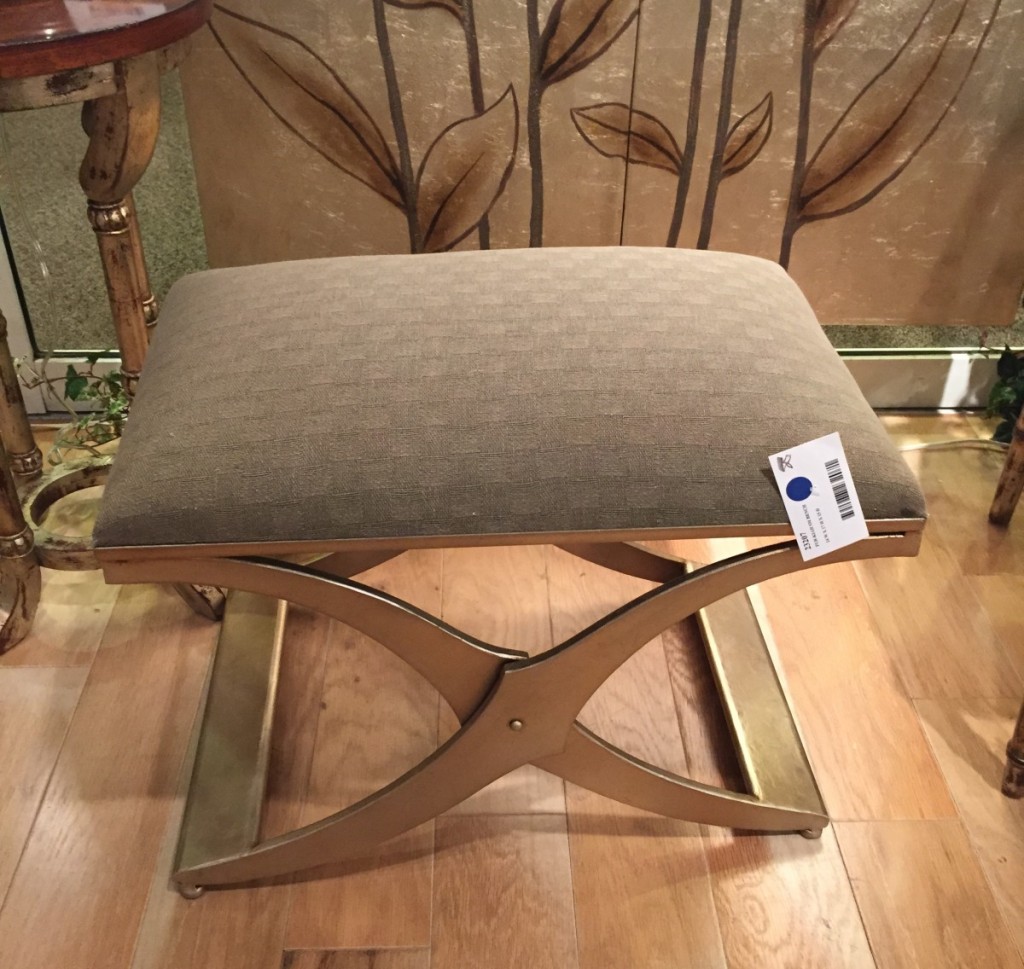 Hmmm…I'm forgetting where I'm at now…Regina Andrew! Yes, that's it.  Good ole I'm sexy and I know it Regina…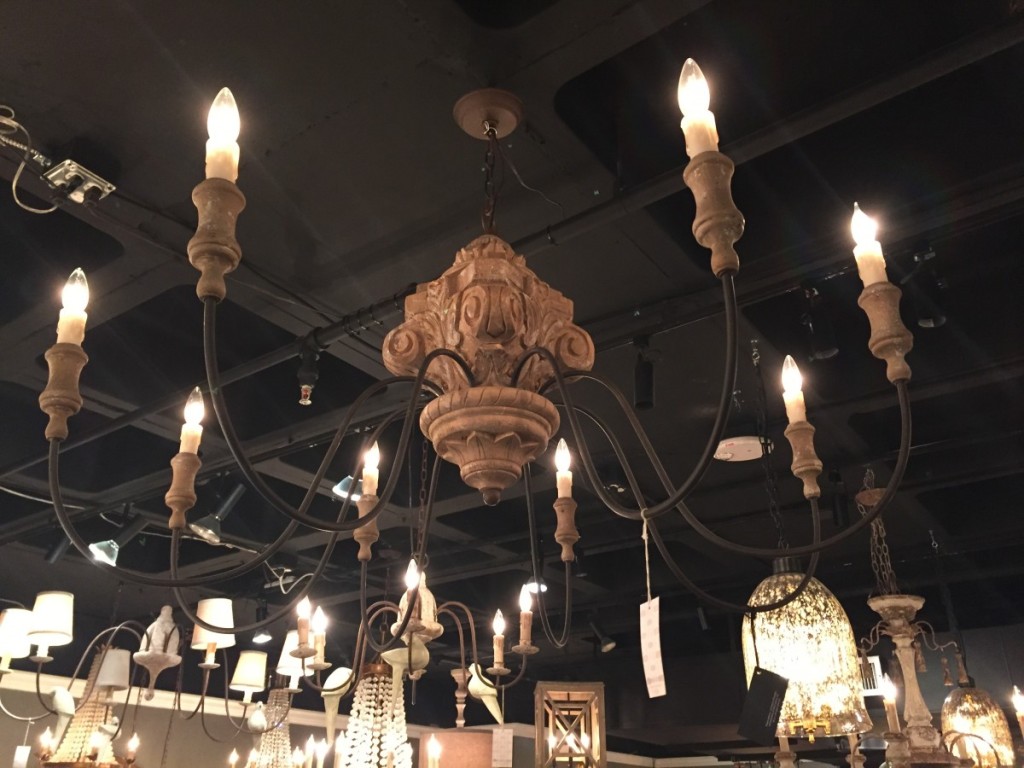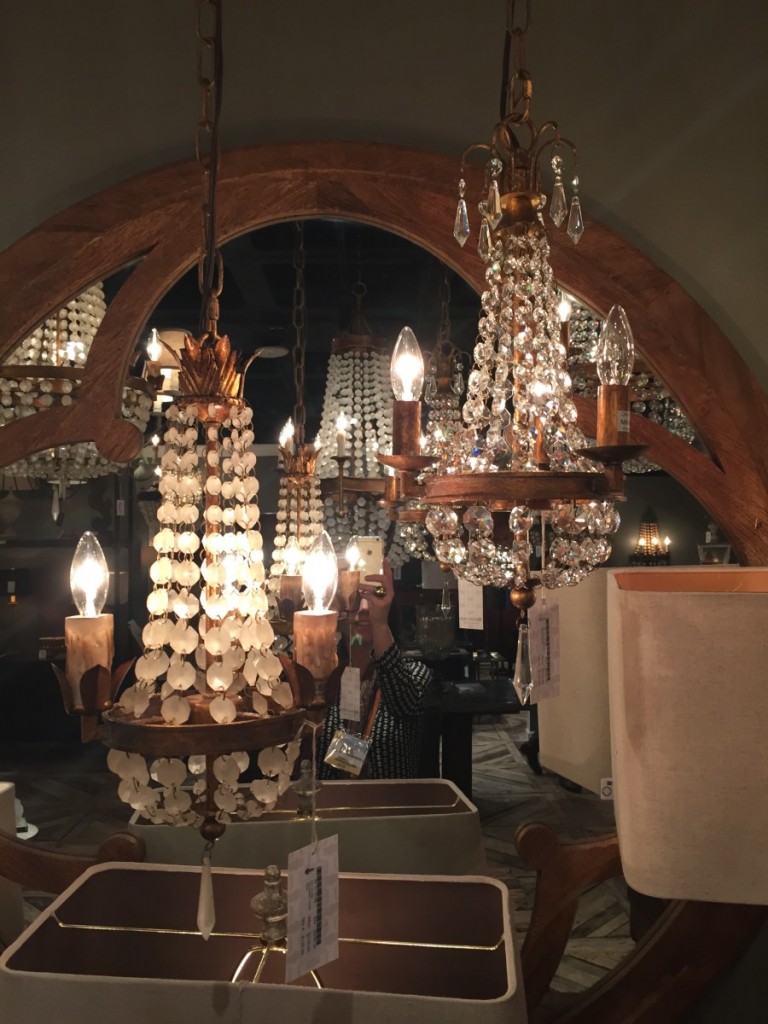 Yes this next picture is for sure Regina Andrew. I paid close attention to accessories this show as I want to up my accessories game this year. Having just the right mix of thoughtful and well-placed accessories makes all the difference.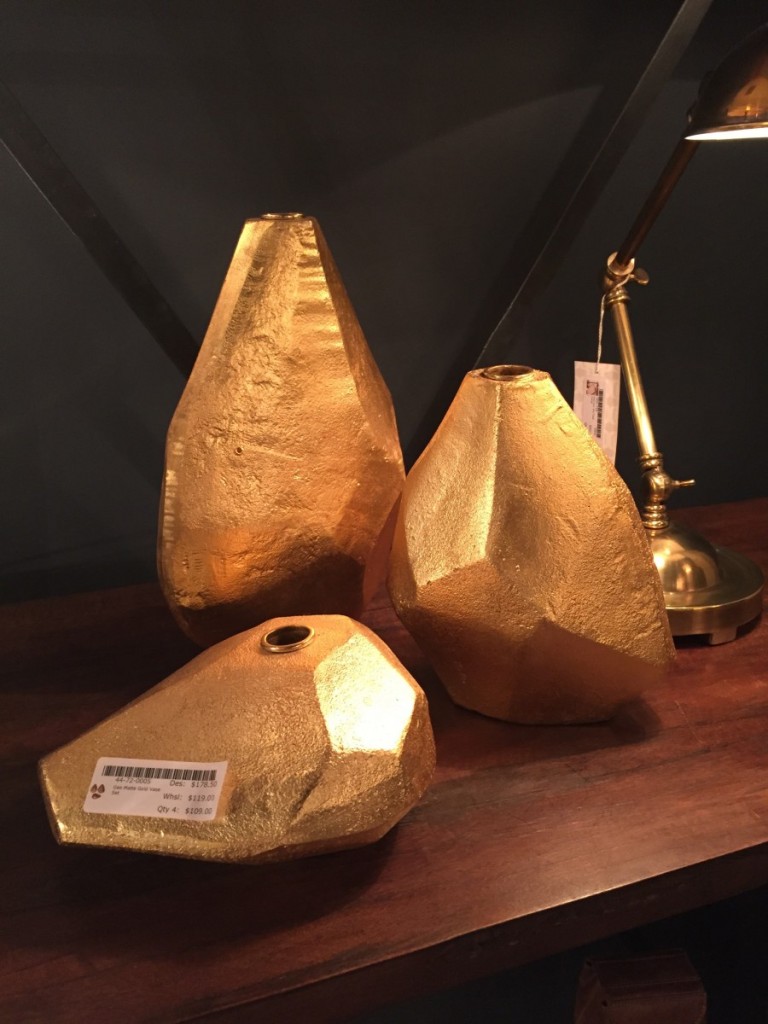 Killing it with all these lights coming up…
Like whack-job crazy about this one!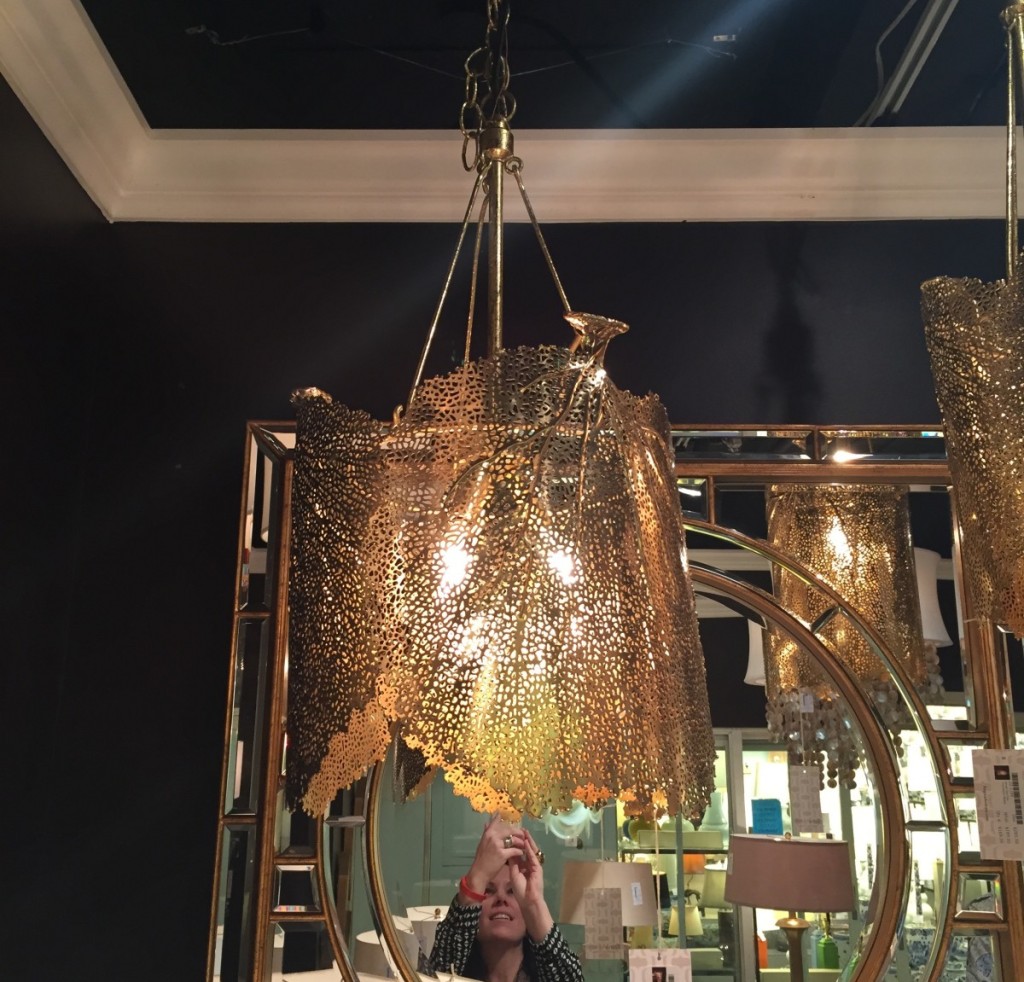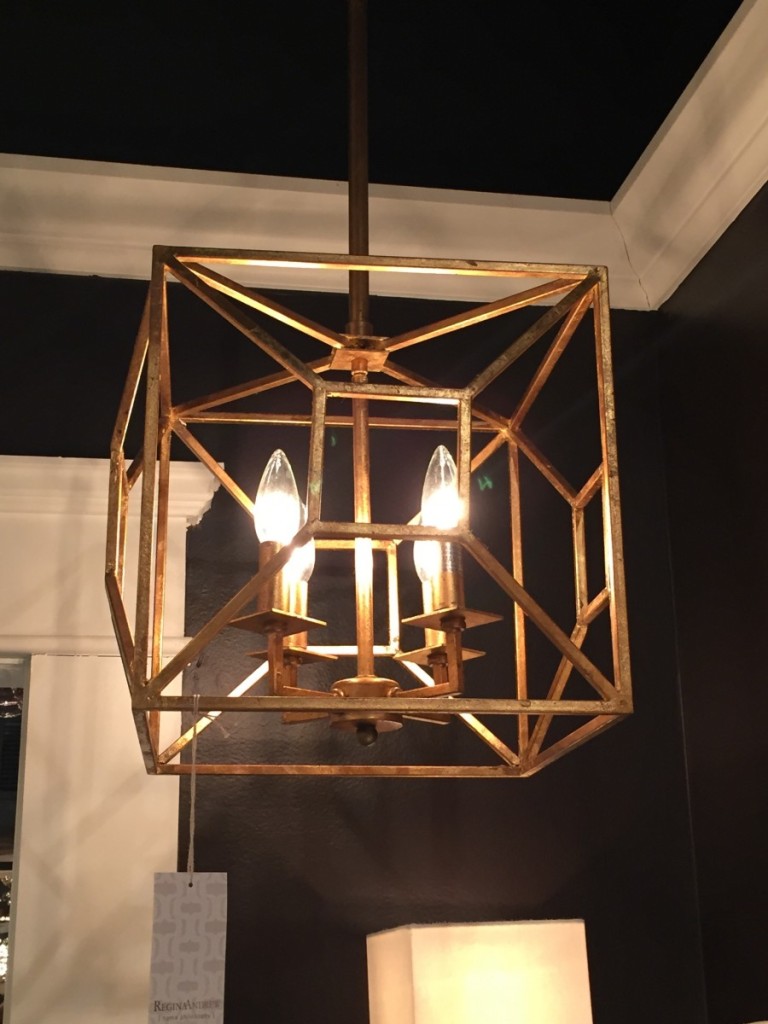 More fab accessories…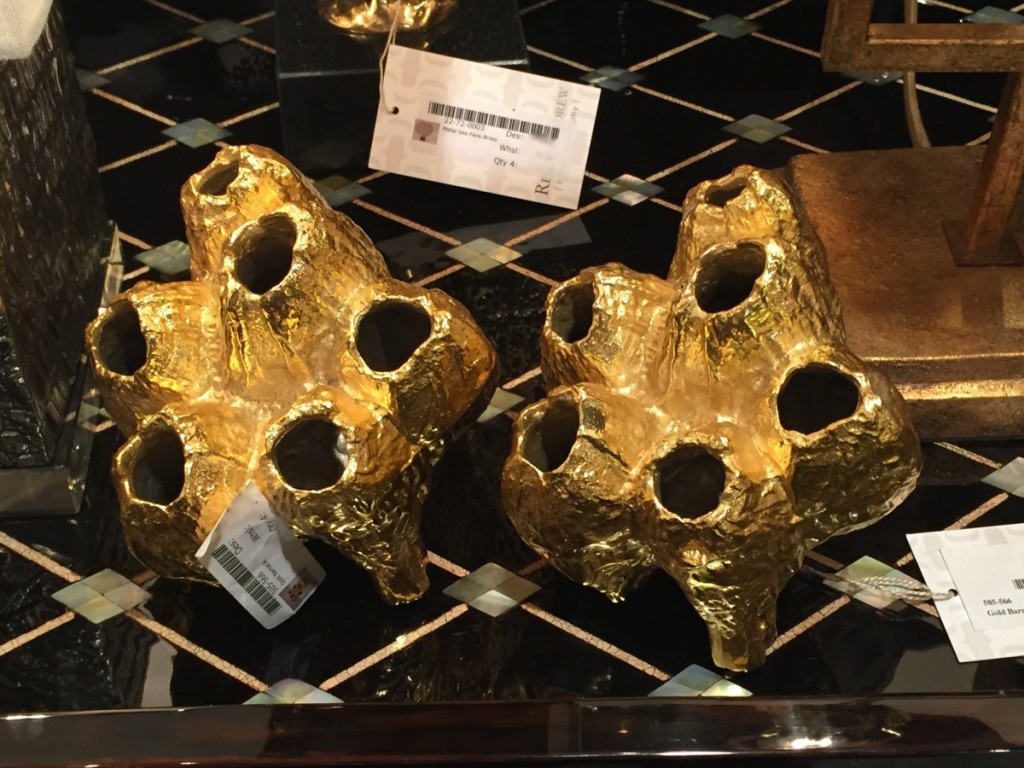 And more fab lights…this one was long and large!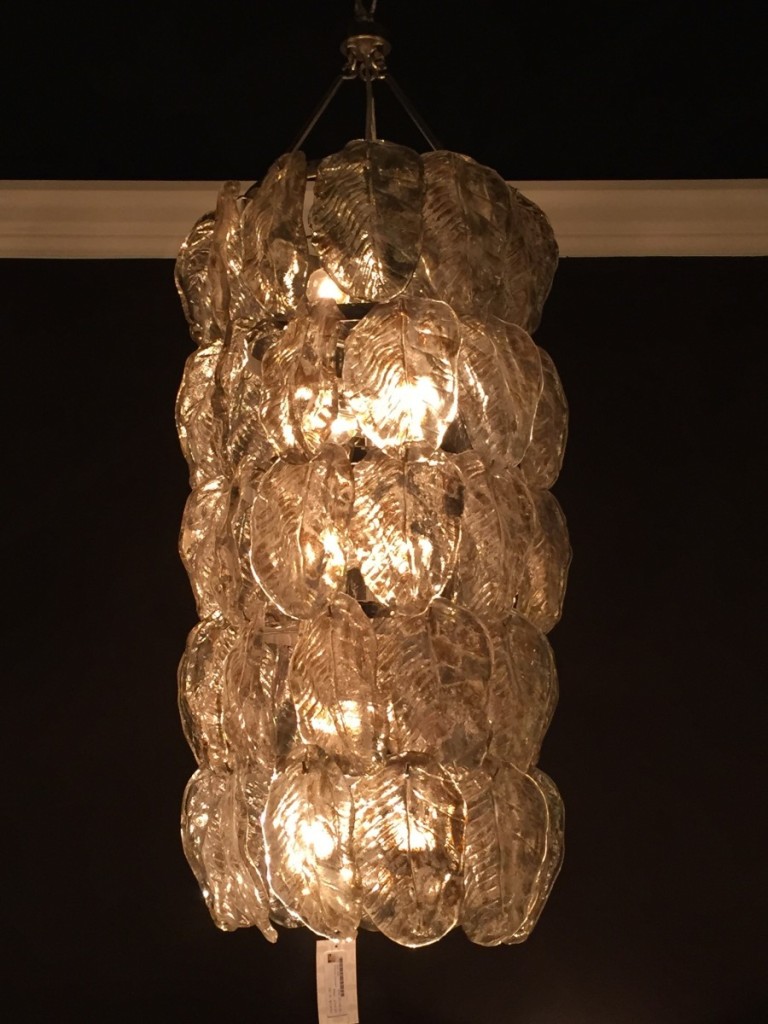 This curved bench had great lines, clean and the perfect size for a cozy little corner…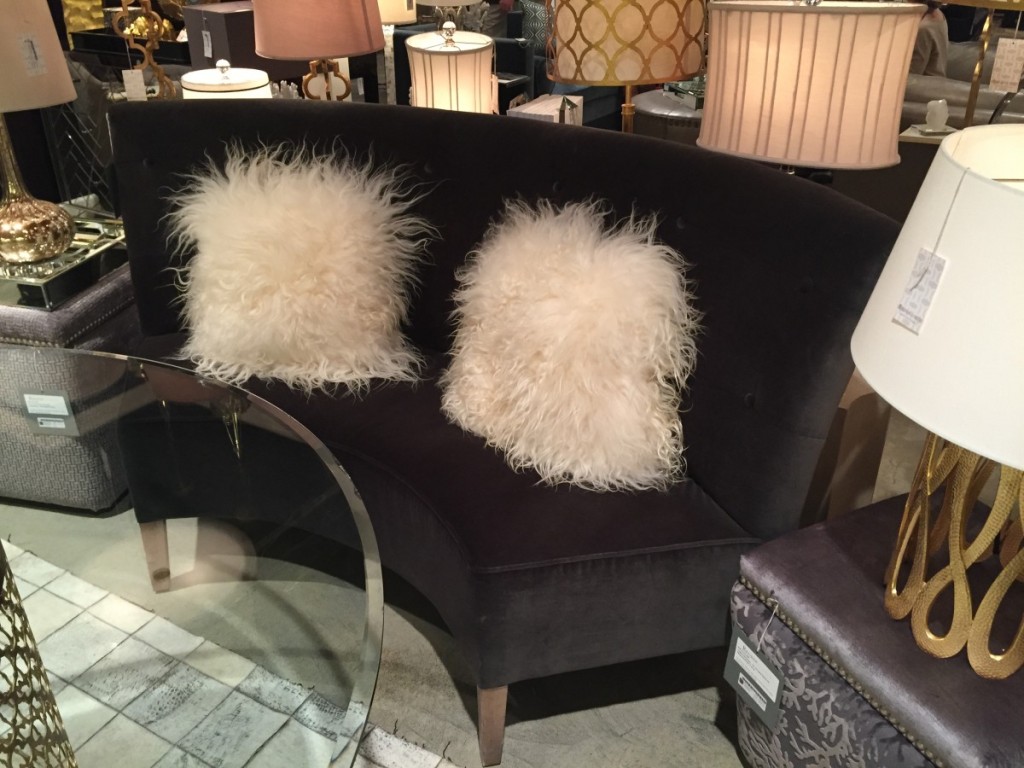 Then it was J. Douglas time…where we're like "okay break! Meet you back at the pillows".
LOVE…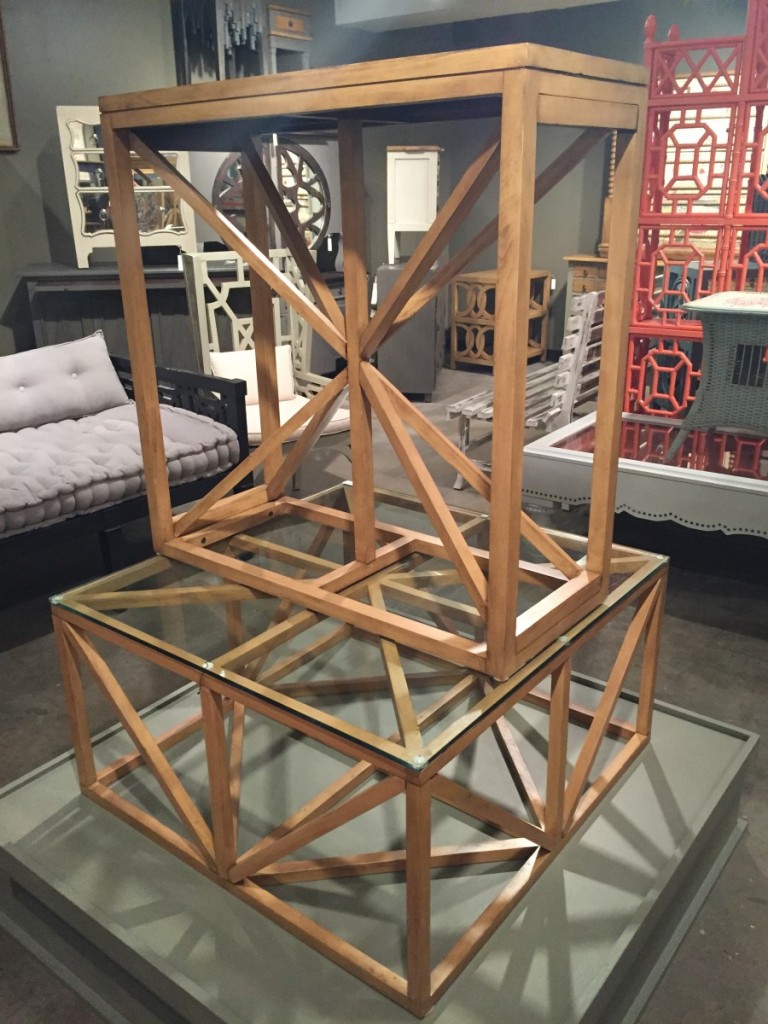 LOVE….what fabric would you select for this chair? I was thinking a dark velvet or mohair might be a different take? Steamy it up a bit.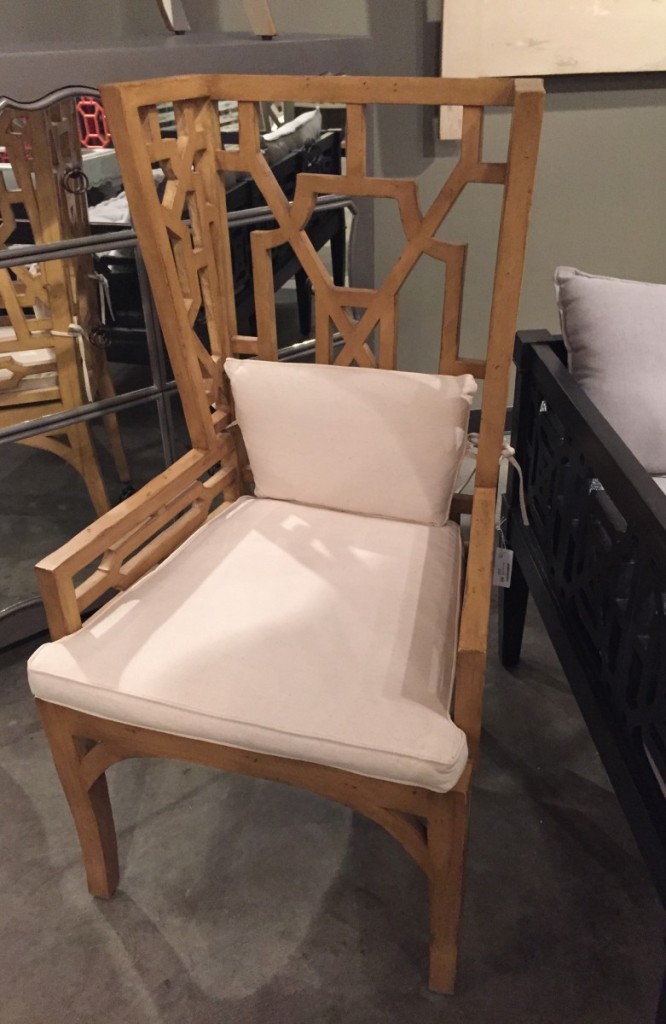 And love this little dumpling pendant…like five in a row, over a kitchen island…

And pretty much everything in this photo crushes it, if you're asking ;-))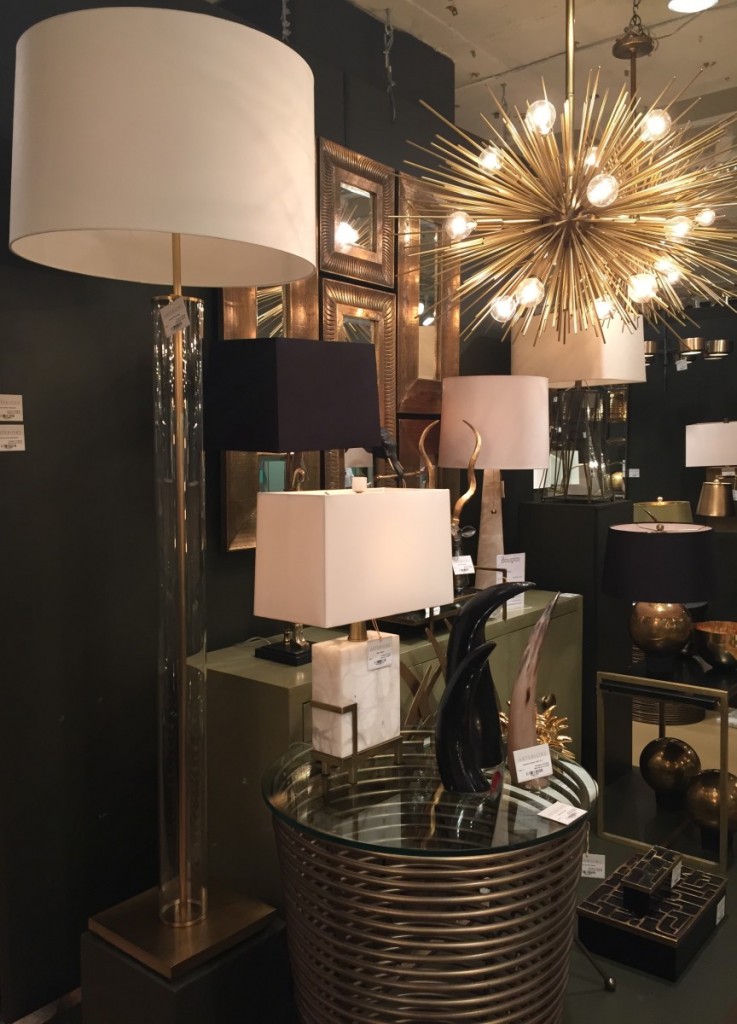 Especially these antlers! Gotta have you.
How cool are these gold rings, layered in your favorite vignette?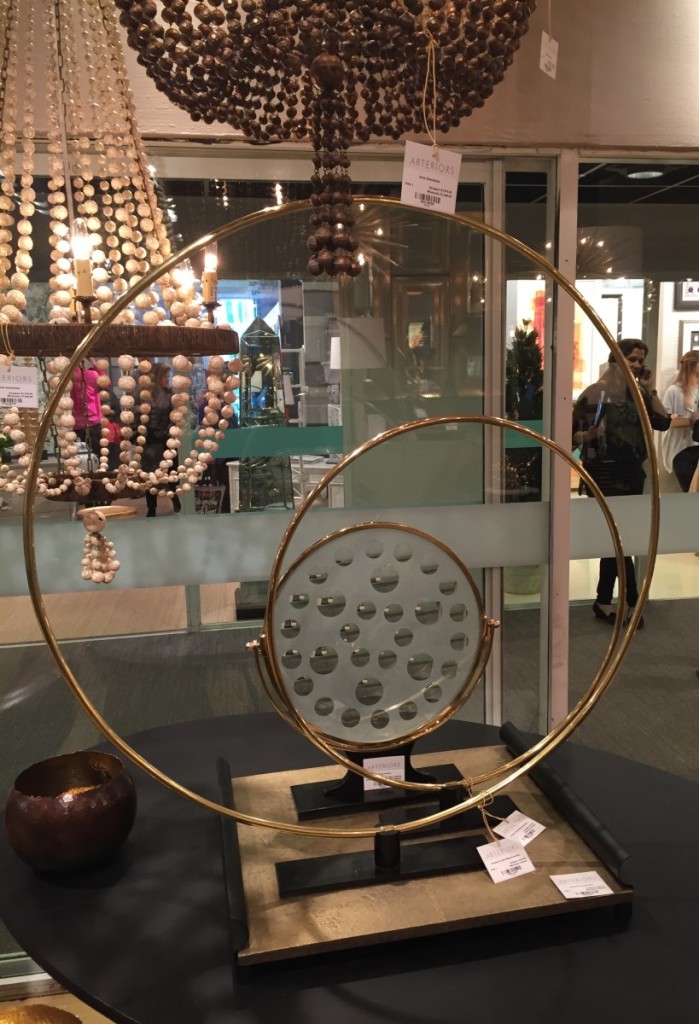 This floor lamp made my wish list, great mix of materials…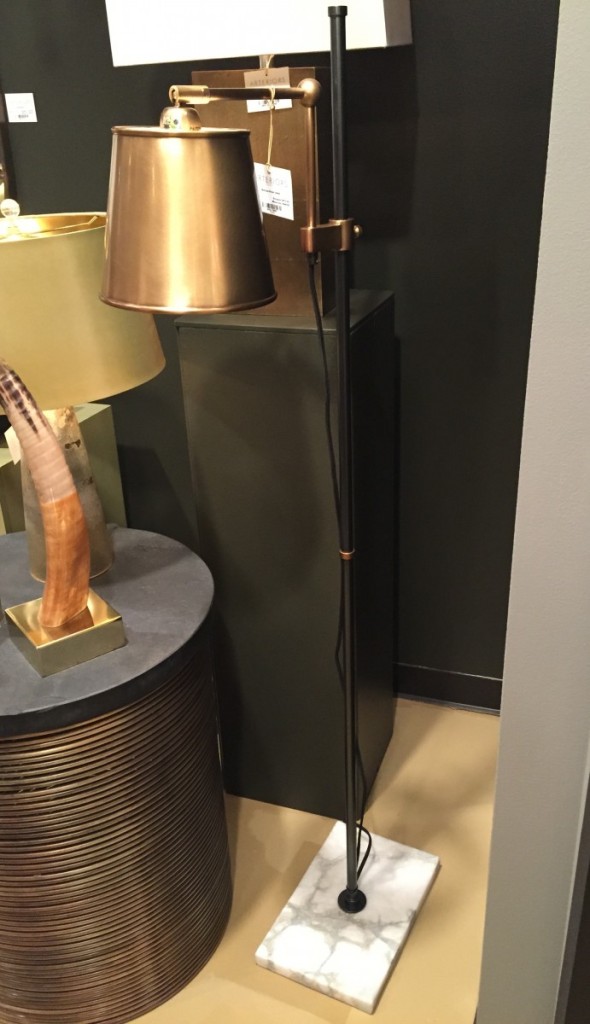 And this one we all know and love…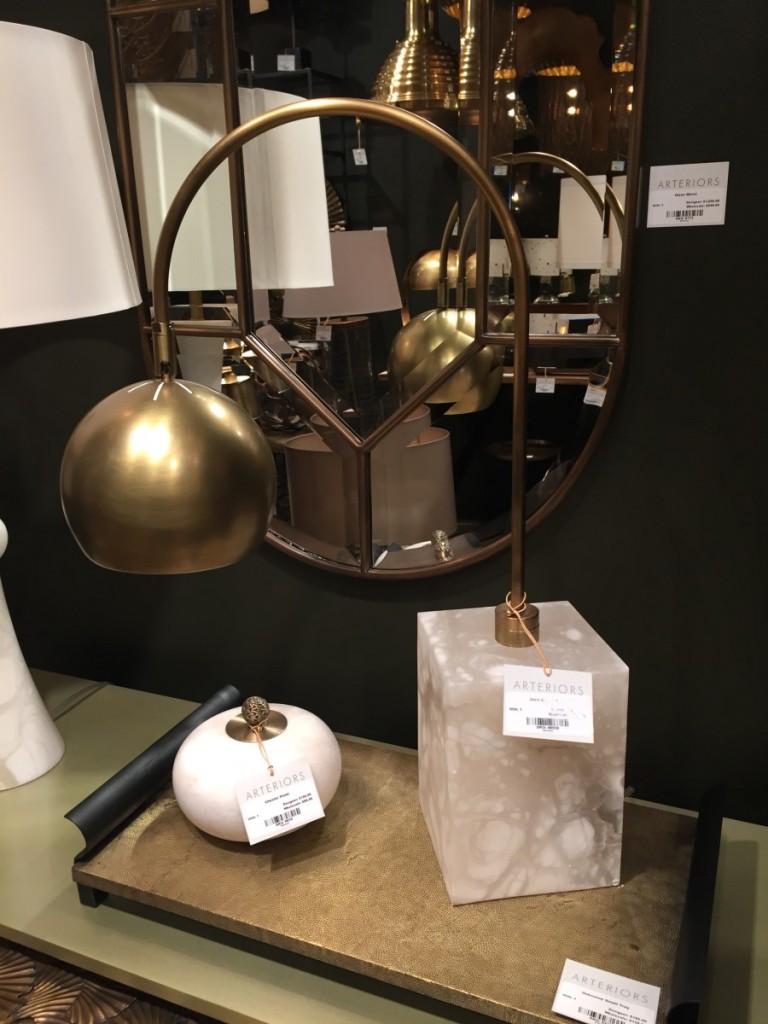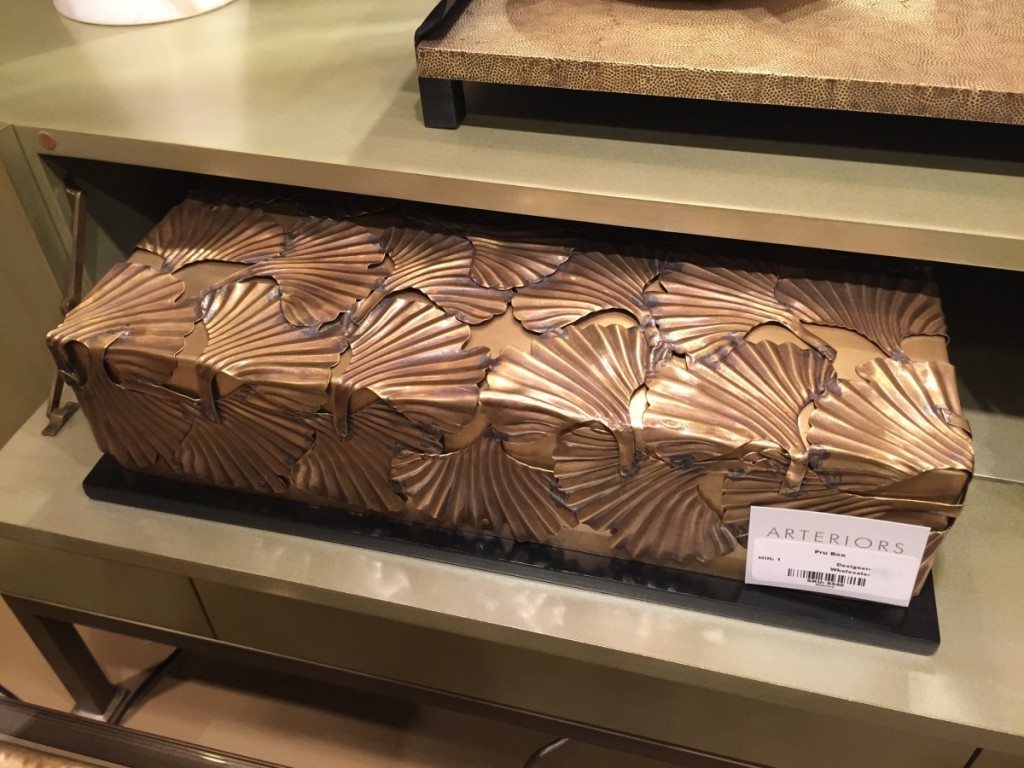 Probably my A number one find of the day though were these andirons! I'm going to be using them in a swanky new show house project I need to fill you in on…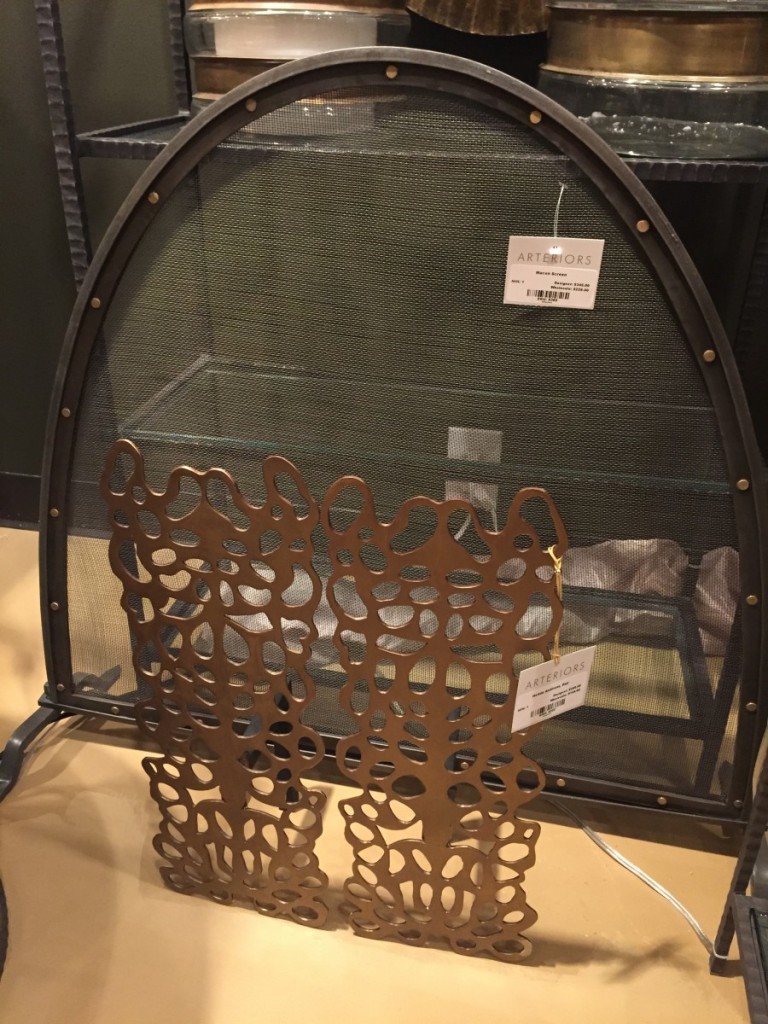 they make me so happy! ;-)))
such goodness!
This dresser will also be making an appearance in that show house I mentioned above…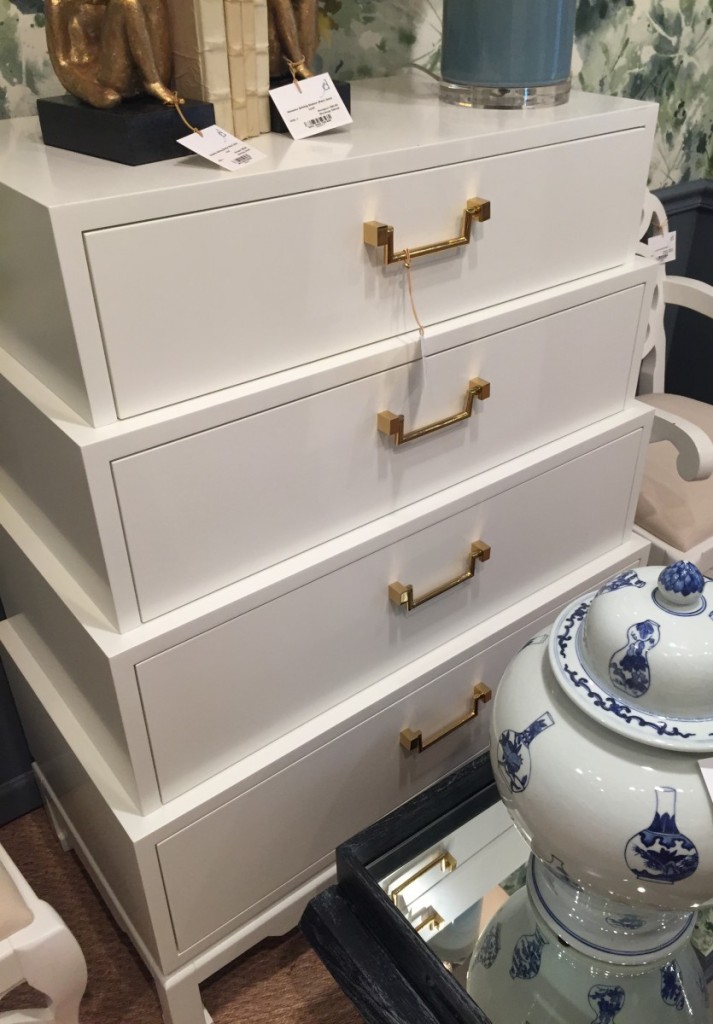 Along with this gold sheath table…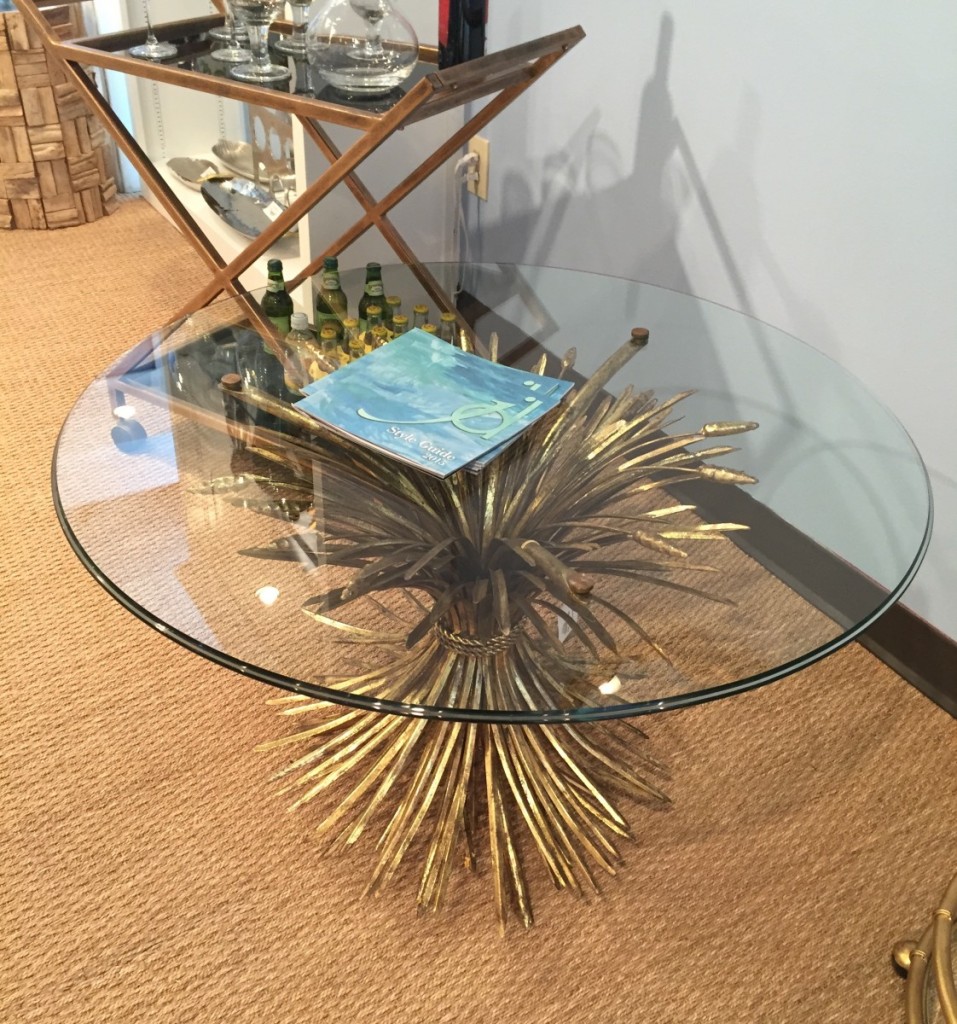 Let's get our Mary McDonald on…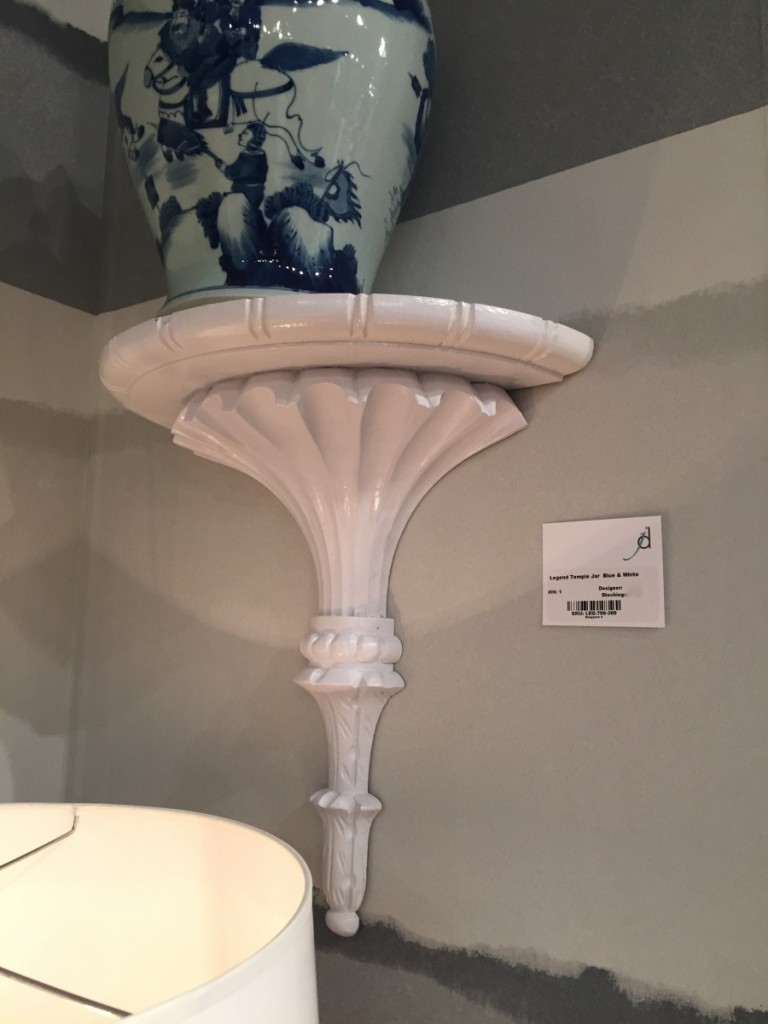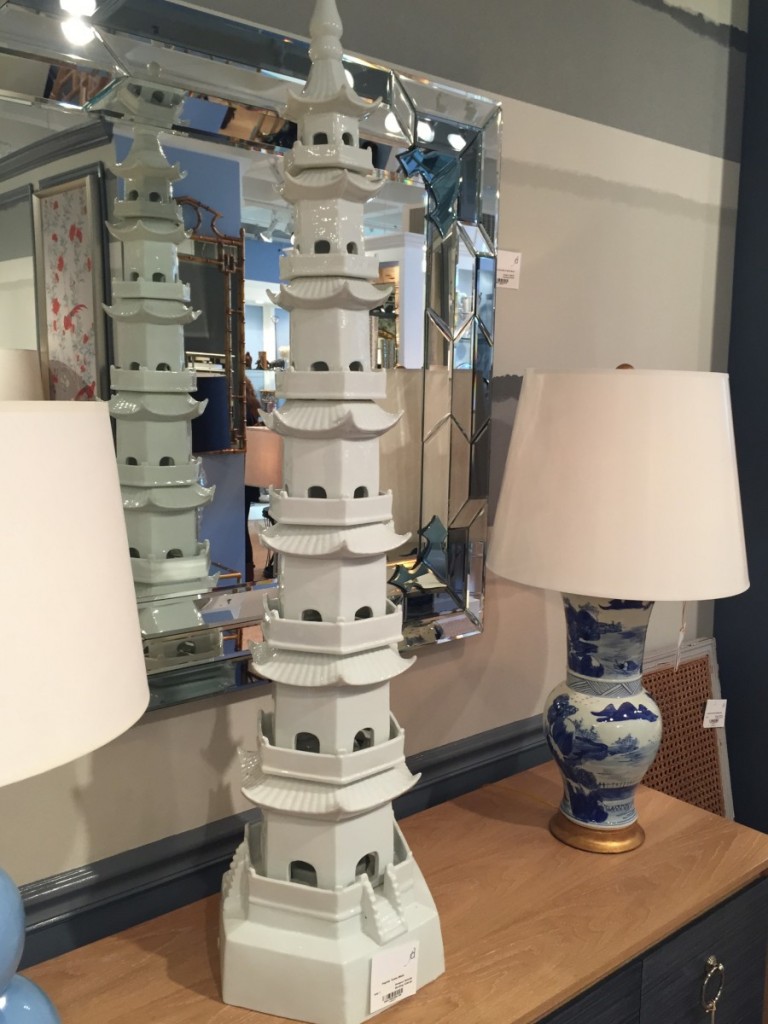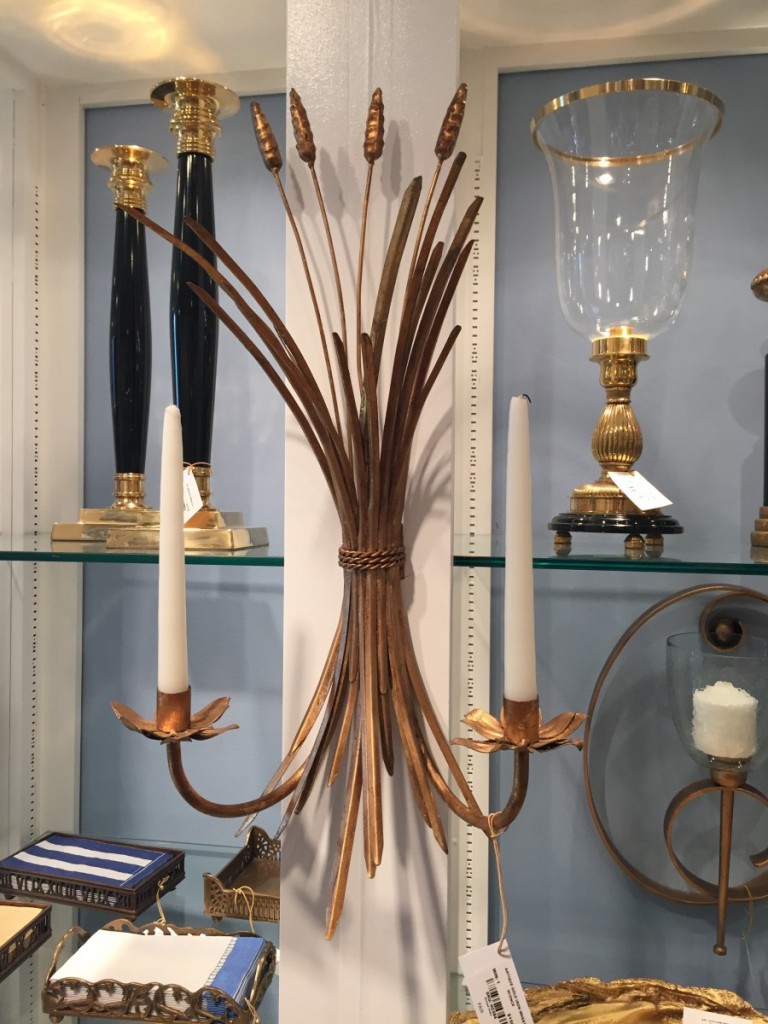 I know they don't look like much, but I was wild for these bamboo buffet lamps with lucite bases…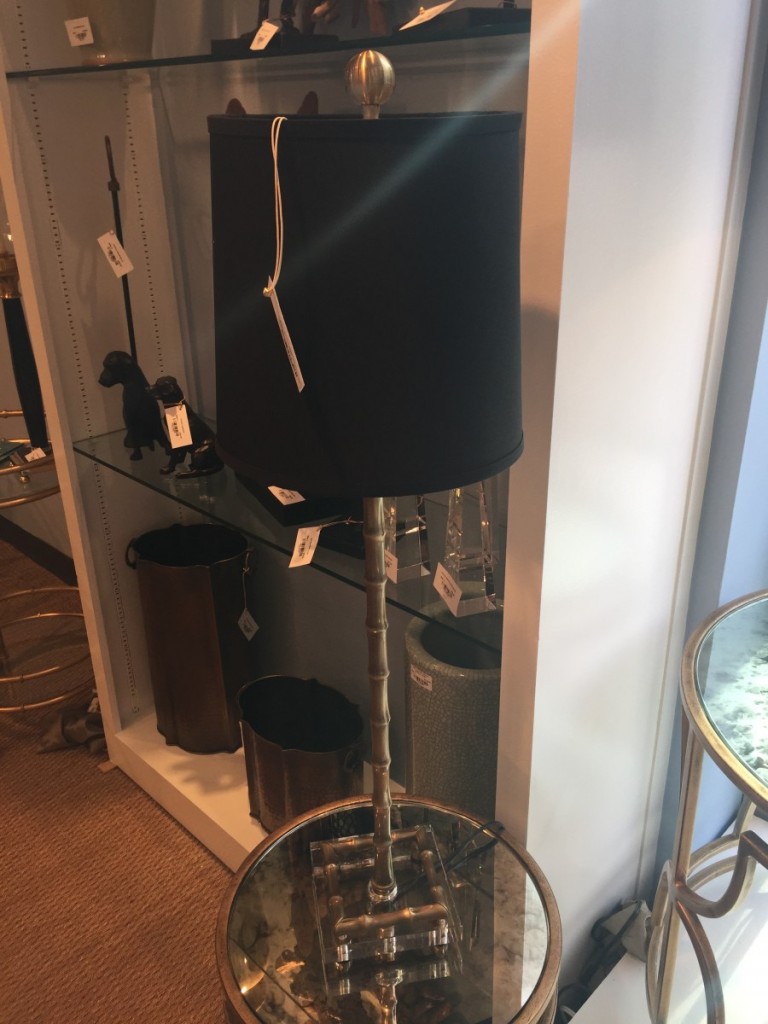 WILD. I've come to the conclusion that bamboo is one of my love languages.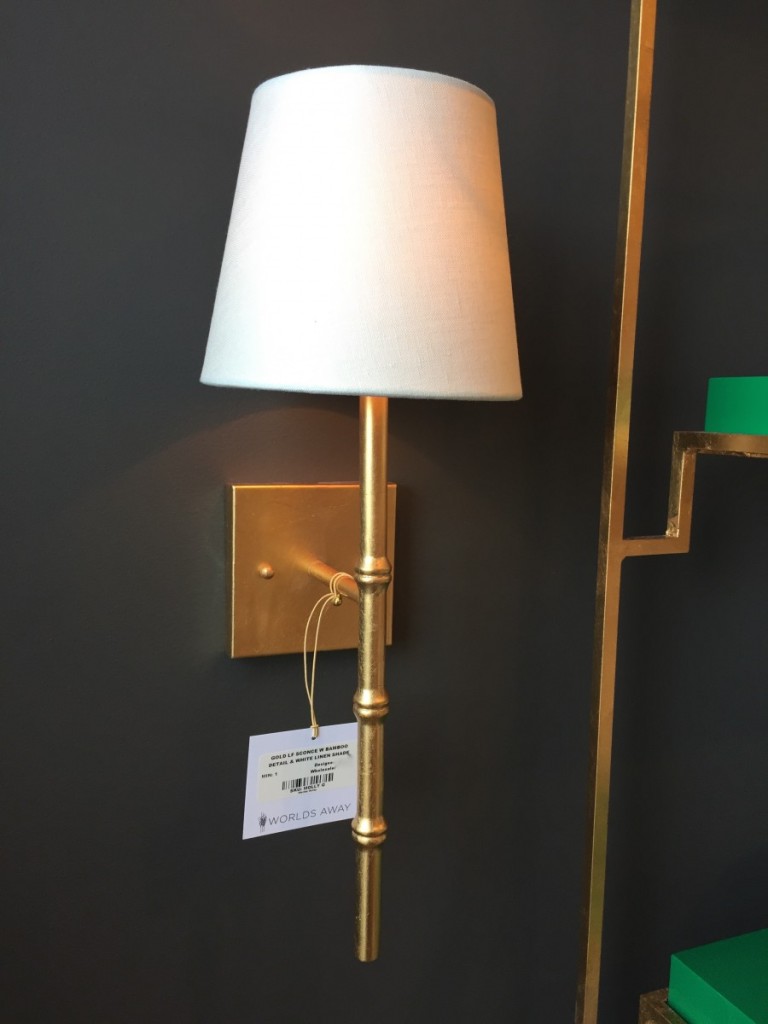 Love these for nightstands…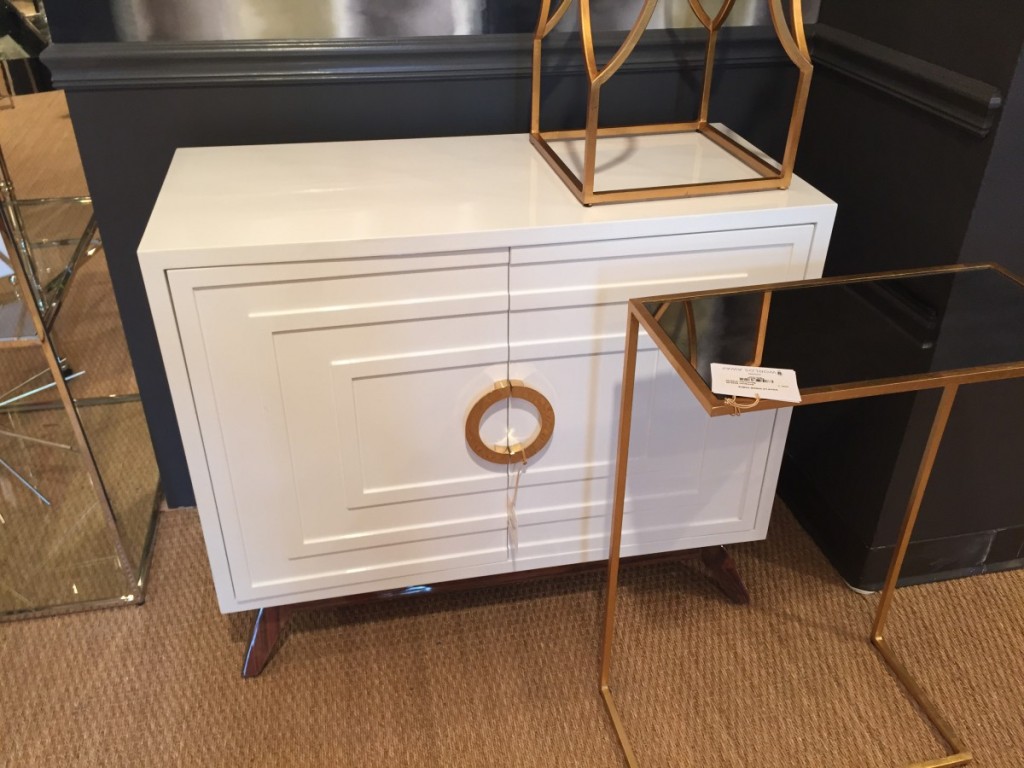 I was showing the hubs all my pics from the show and this next light he said, yeah, not a big fan of that. Rats, I kinda liked it. I think it would be cool over a round table. Ok moving on.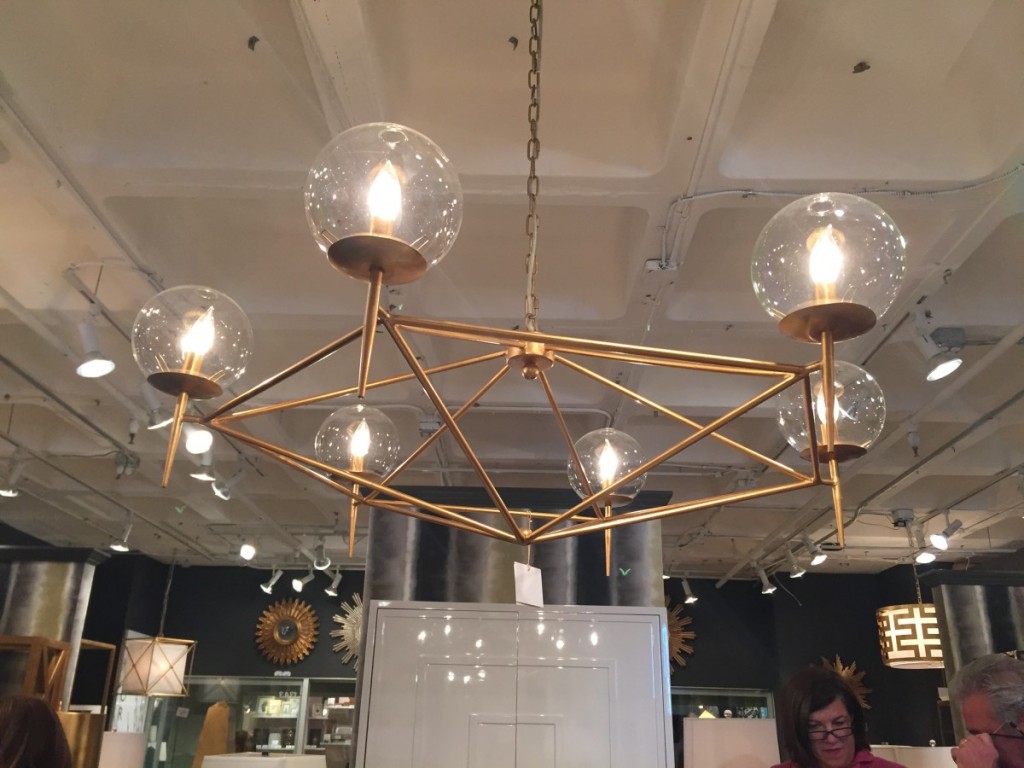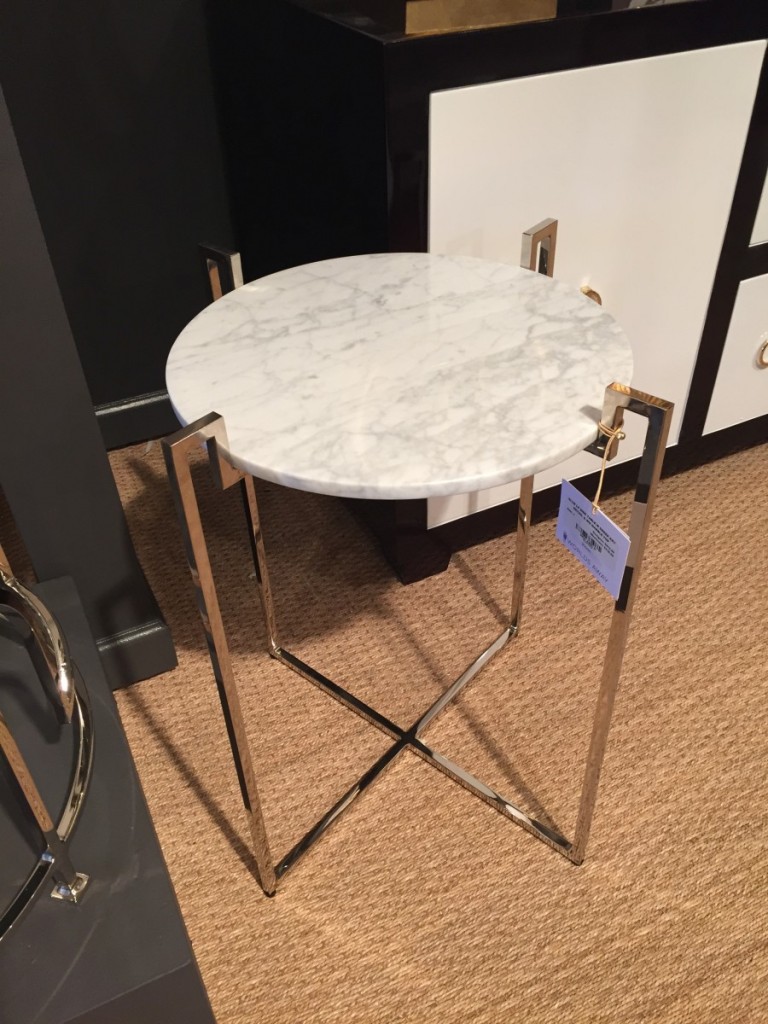 Insert music:  "take my breath away" by Berlin here…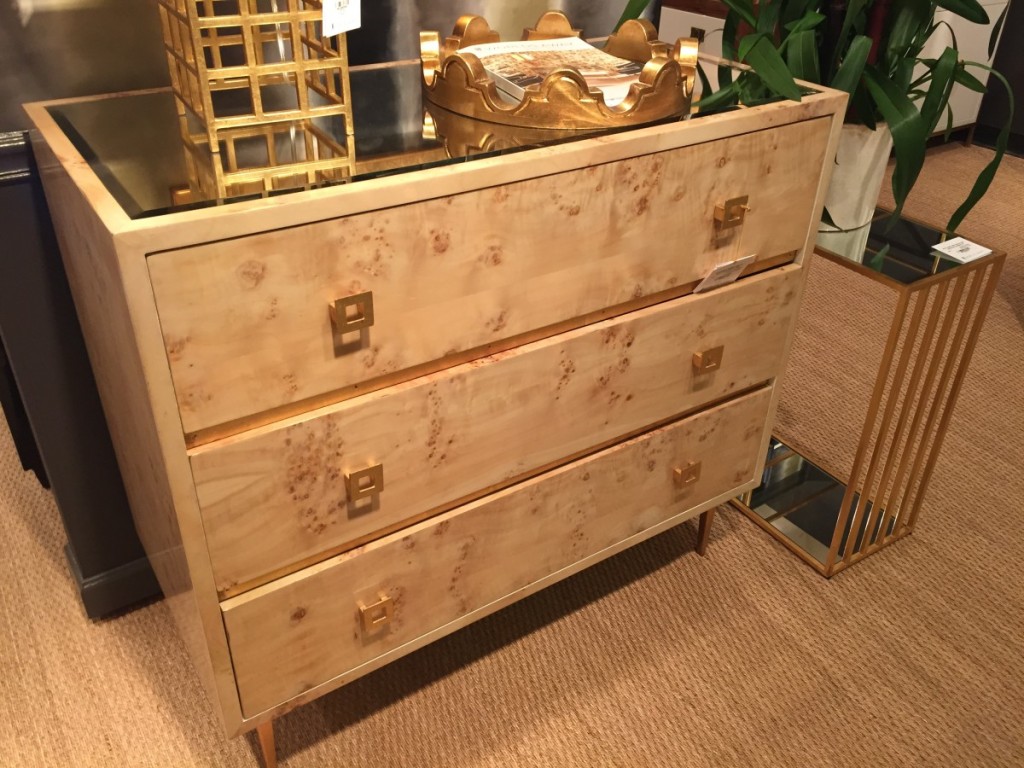 You're still the one clover table…I'd like you for the beach…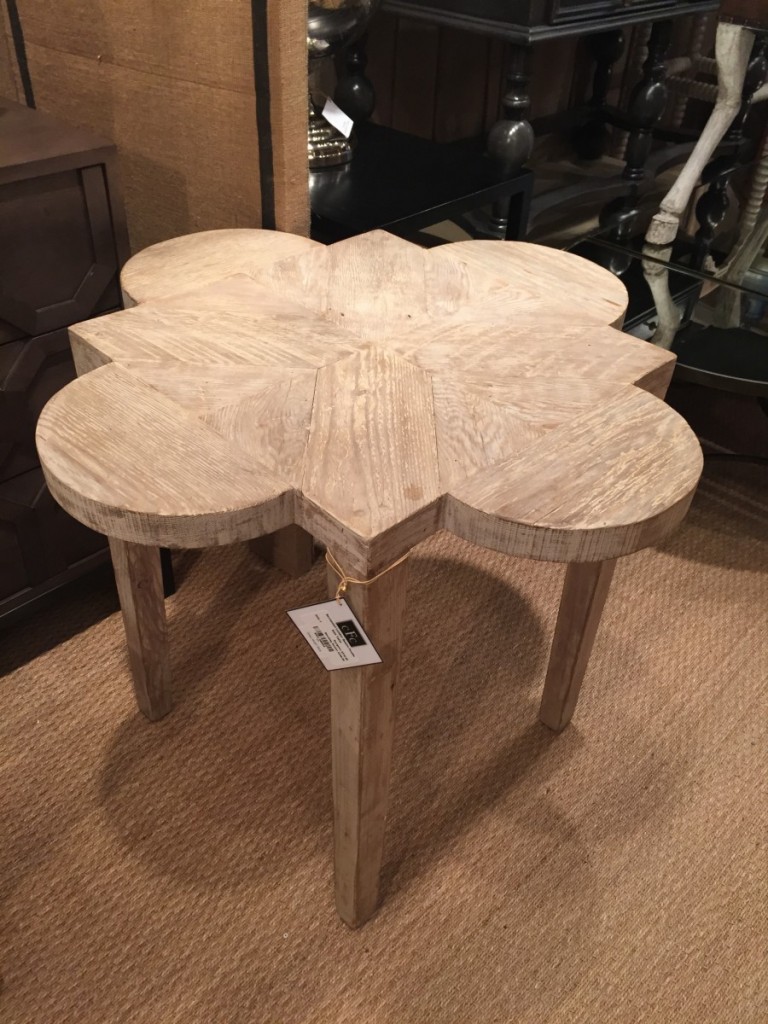 I did however have luck with the hubs on this horse hoof bench and he gave me the go ahead to maybe one day order some for the man cave…winning!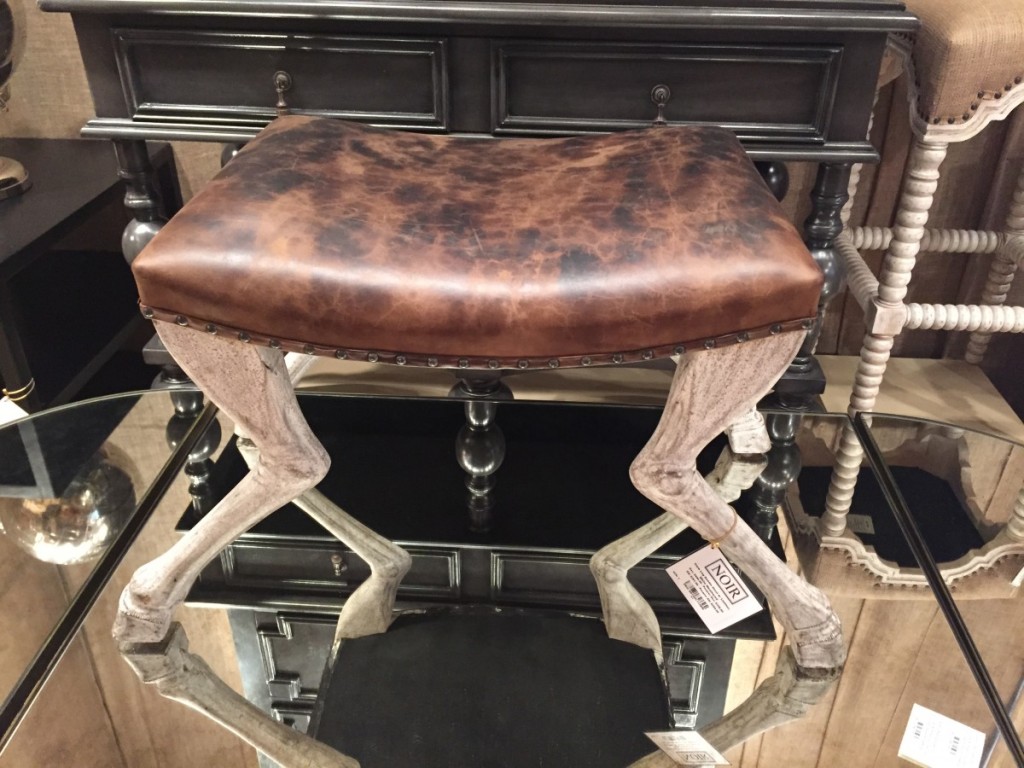 Another great nightstand option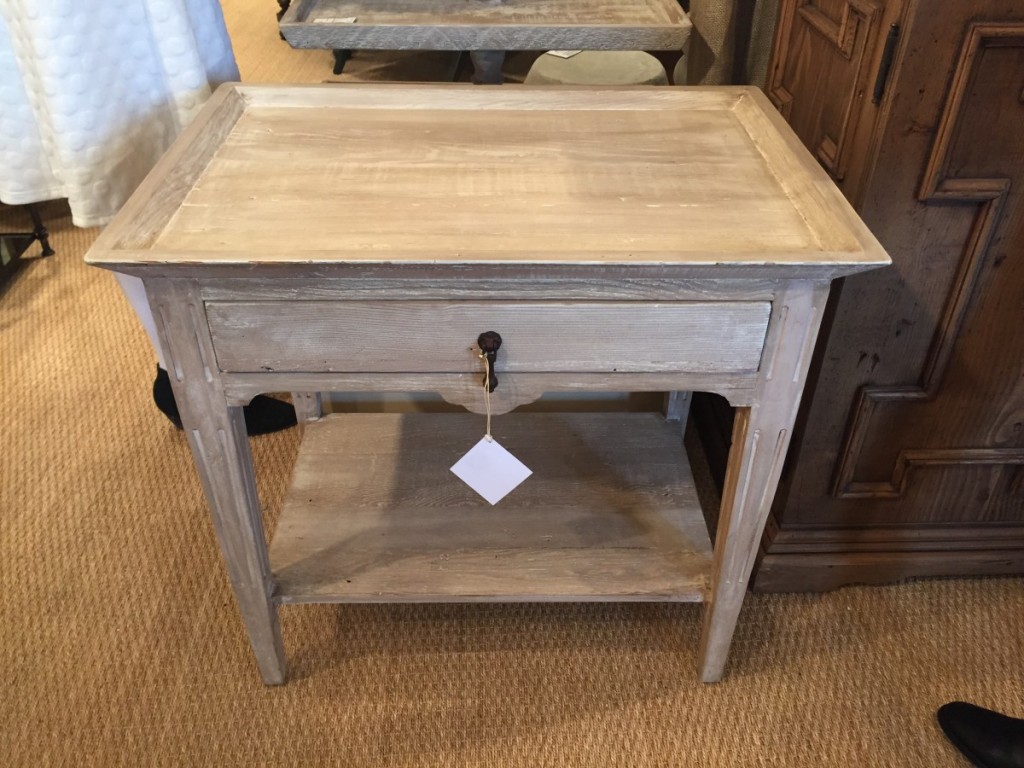 Would love to use a pair of these demi lunes somewhere…maybe a lake house…beach house…country house…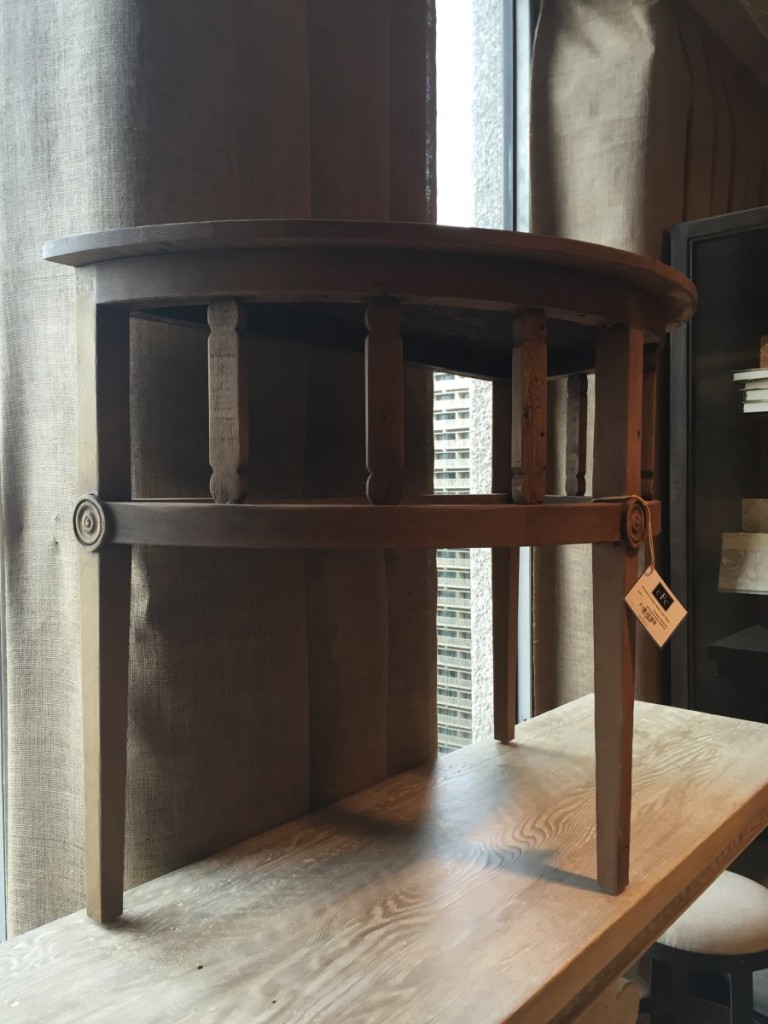 well hello Atlanta…it was nice to see the sun that day…hopefully you'll be back soon…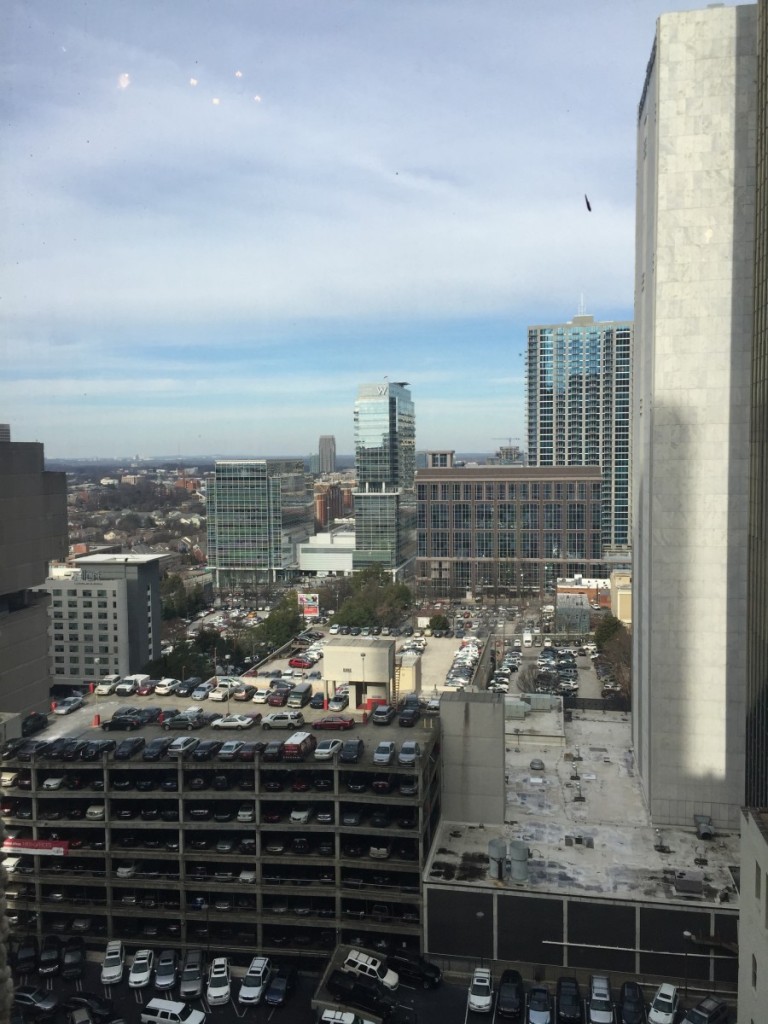 Another top fiver…this mirror! Boo rah!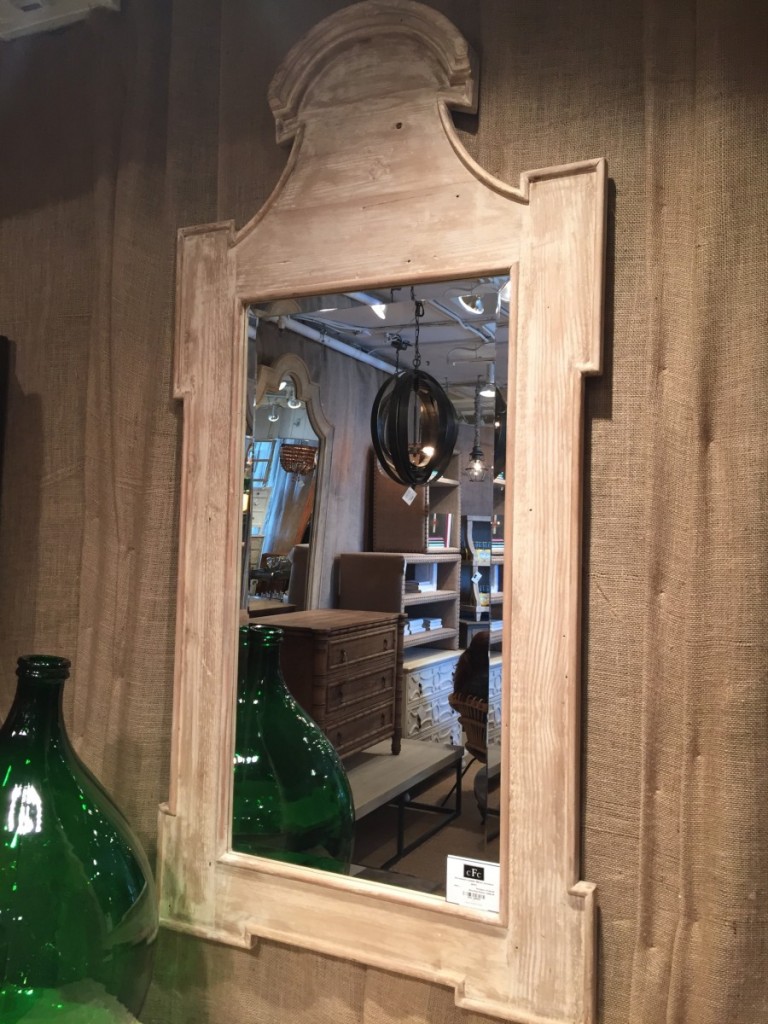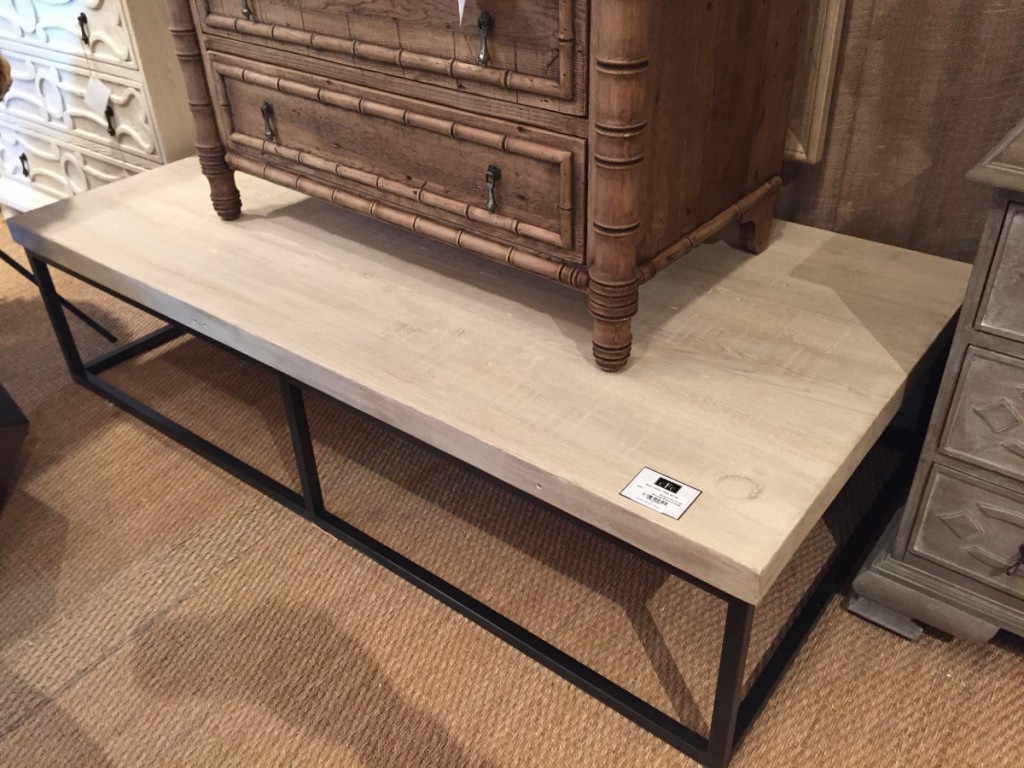 Discovered a great new showroom I'll be investigating…but fricken lost the card and cannot remember the name… I'll work on that and get back with ya.
Loved her dress with the leather trim and slyly took a shot of it, hehe.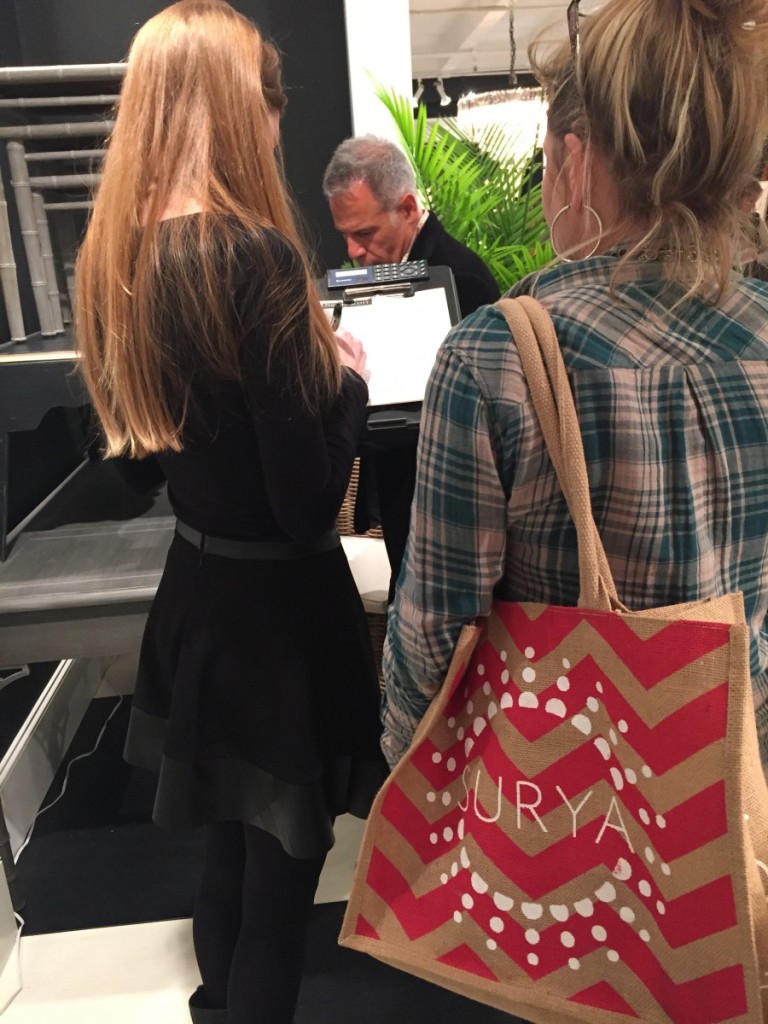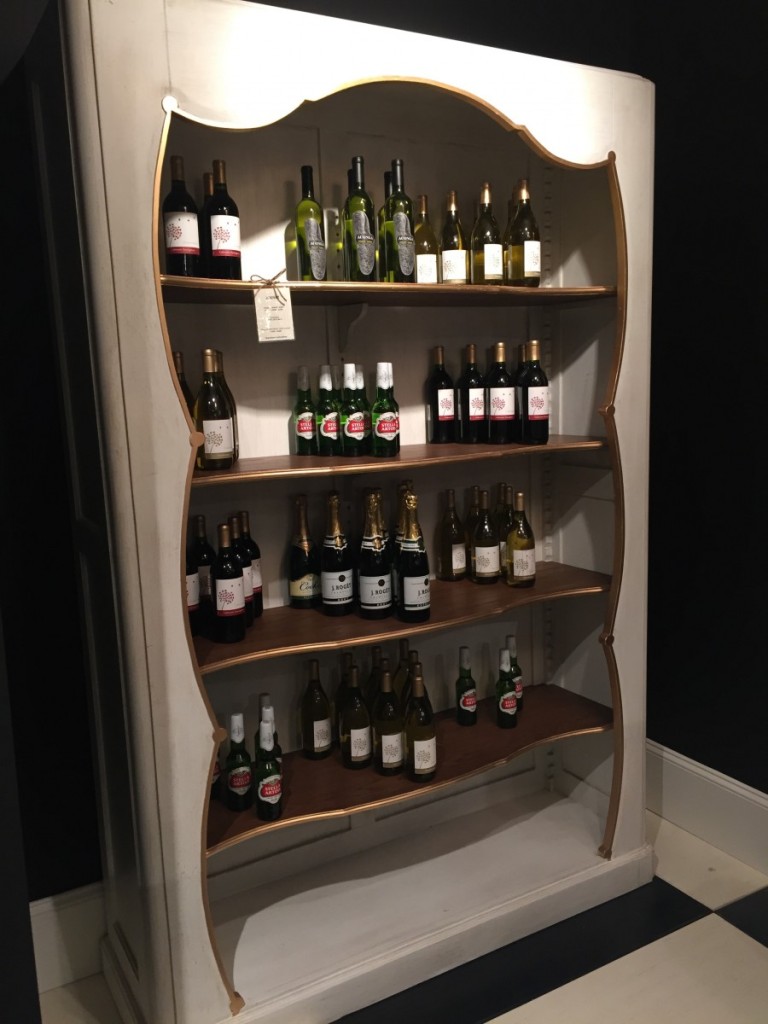 On to Currey and Co…damn I took a lot of pictures…
big fan of this for over a poker table or round table/intimate dining area…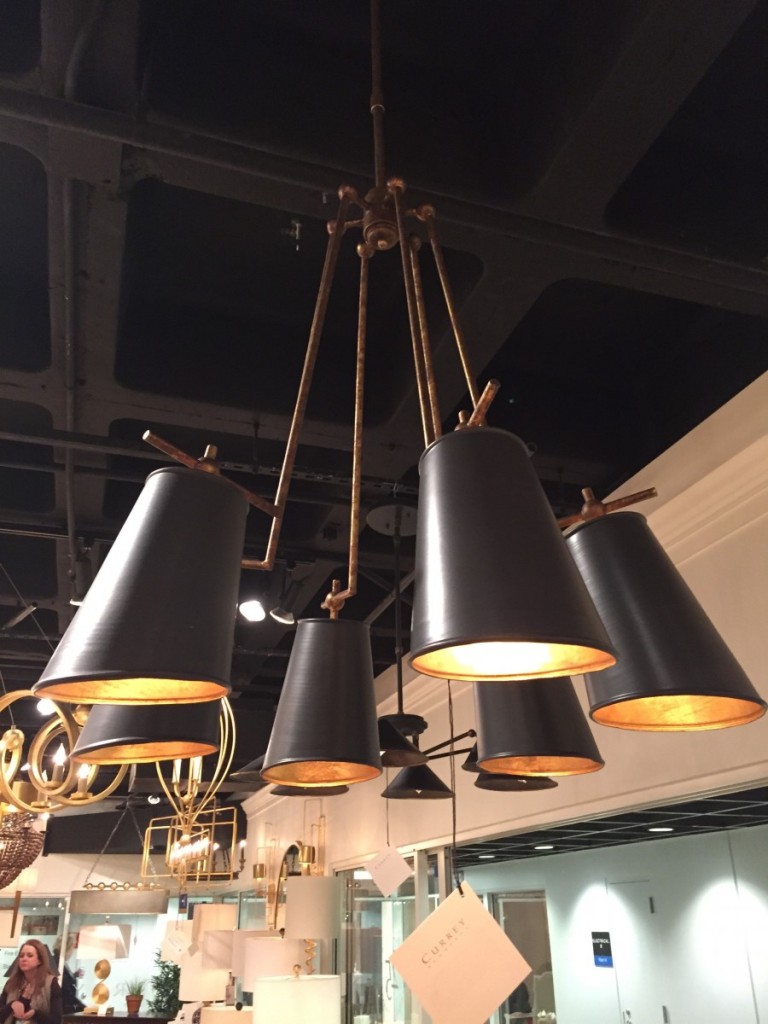 This next guy is my number one heartthrob at the moment…hoping someday he'll be mine…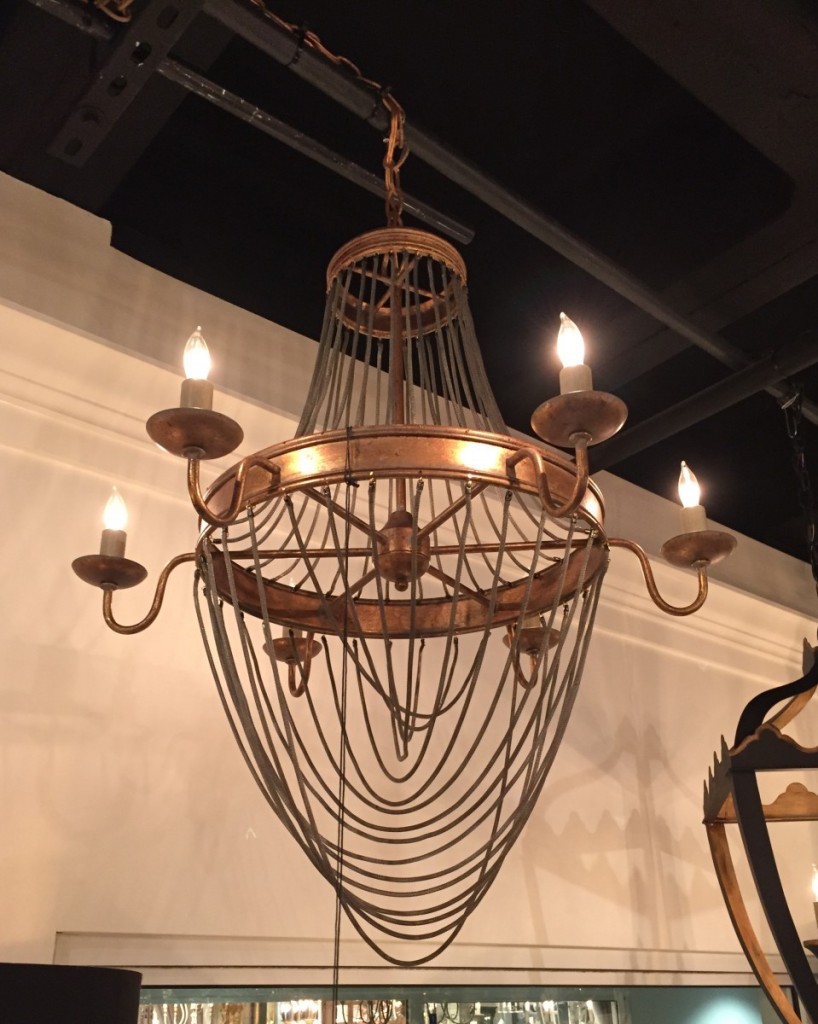 I loved how petite and simple these guys were and that small rectangular detail of the taller one on the right…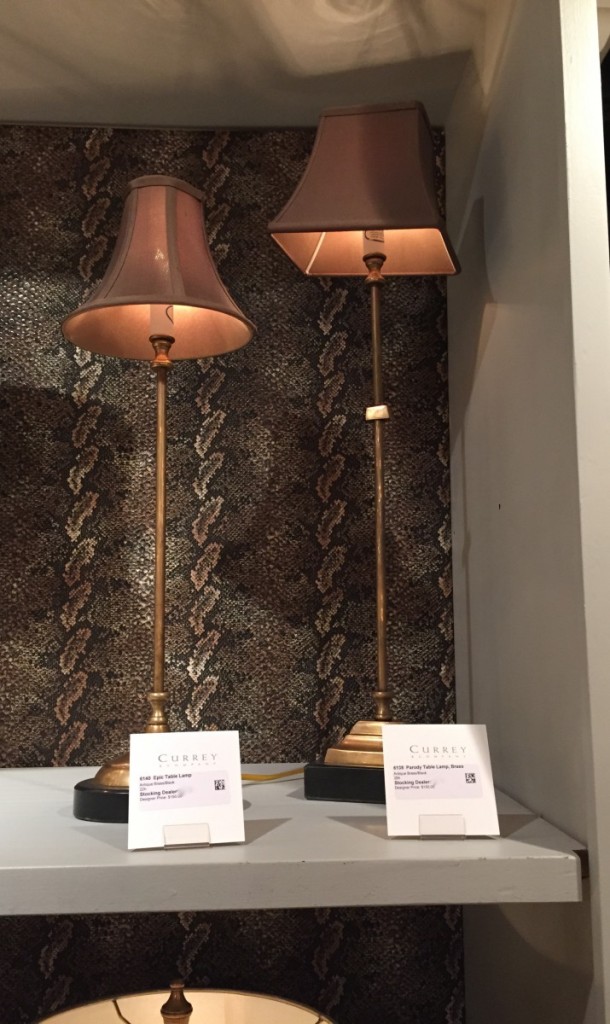 Next up  good ole Aiden Gray. These next two chandeliers are really impressive in person with their smoky quartz crystals…
This mirror is tons o fun and hides all your flaws! Perfecto!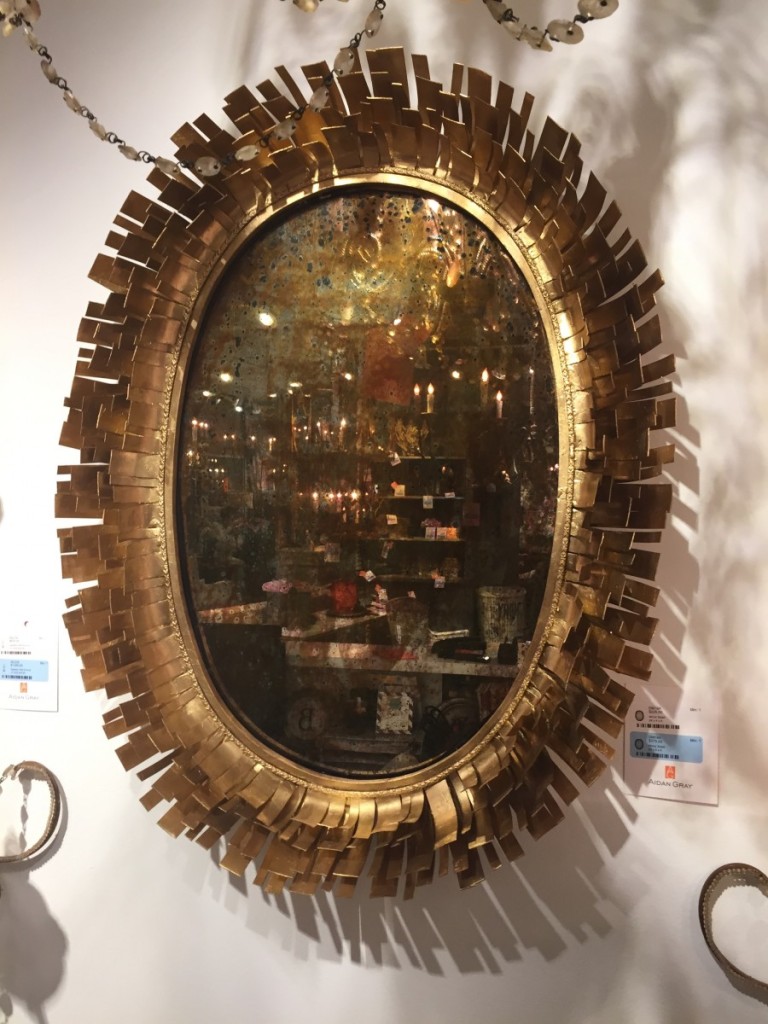 Super large and in charge…really really love this gal…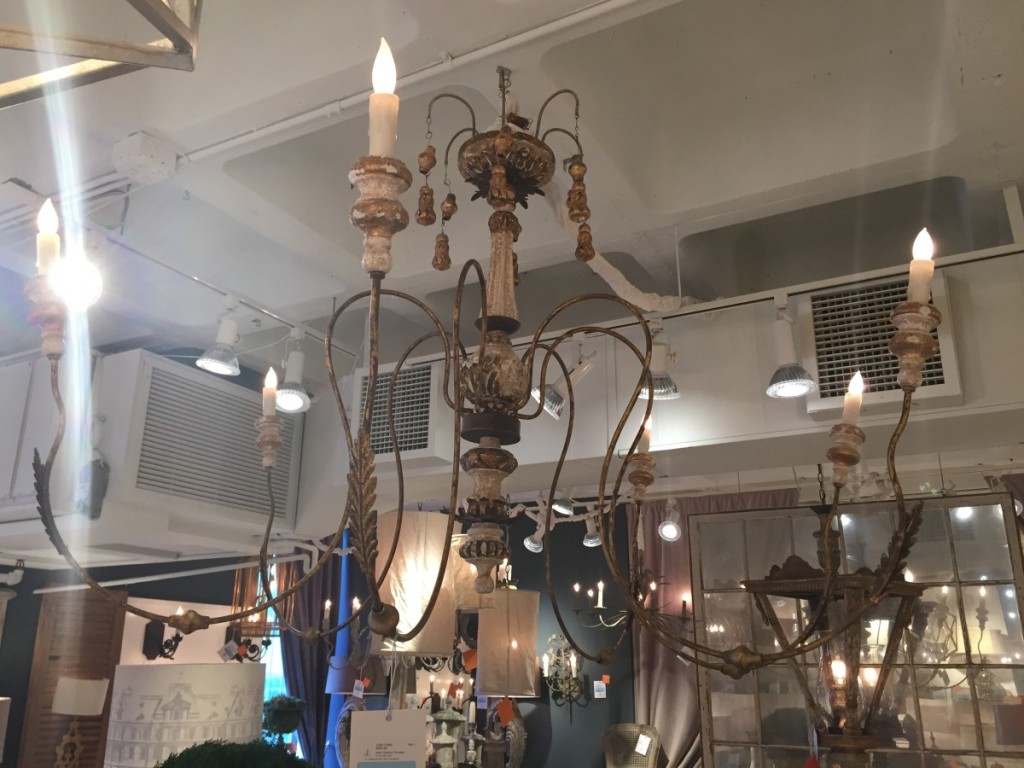 More like art than a mirror don't you think?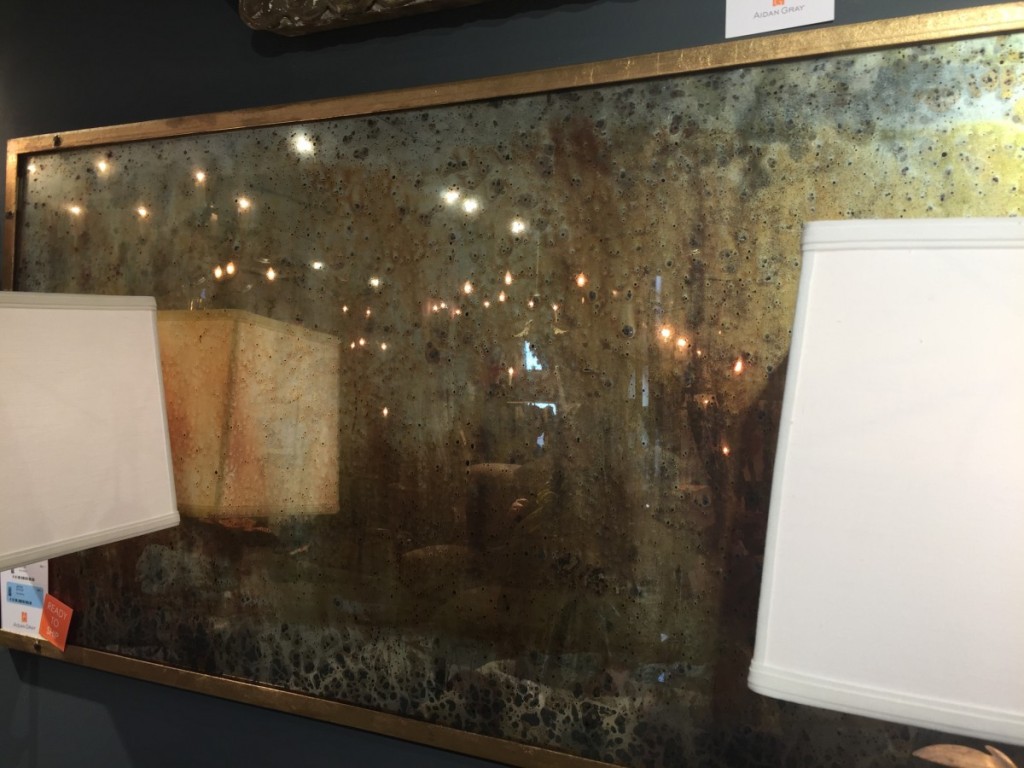 I think I need one of these to go with my logo??? ;-))
Another oldie but goodie…can you tell I'm a huge fan of the empire shaped chandelier?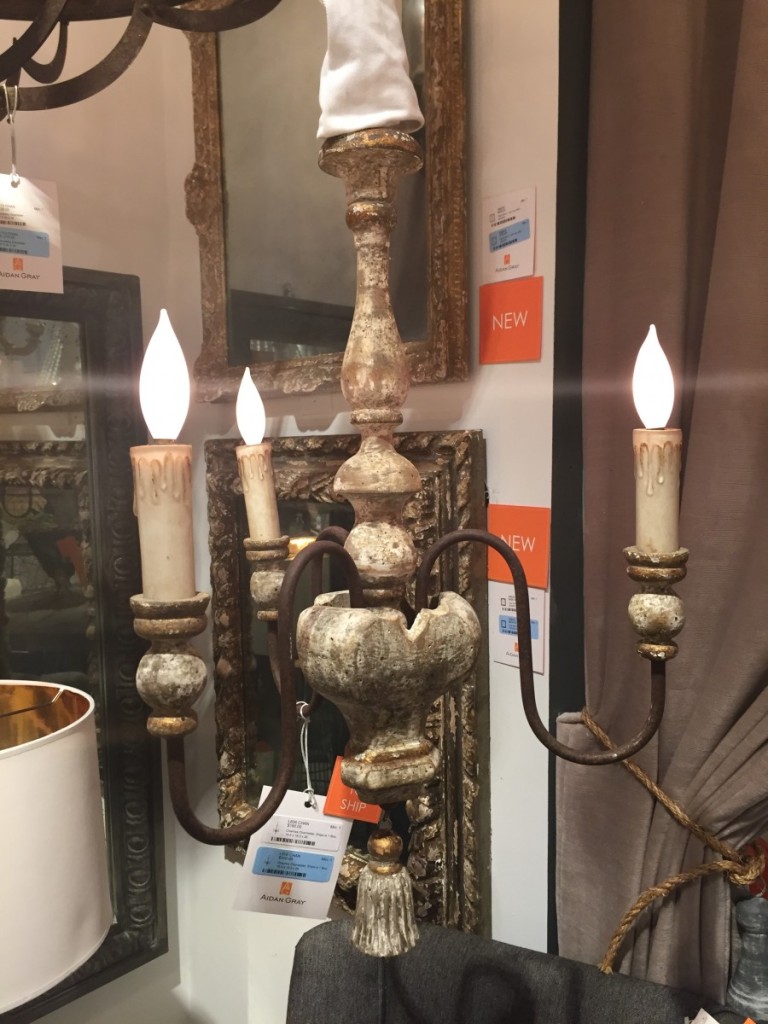 Gorgeous new starburst…can never have enough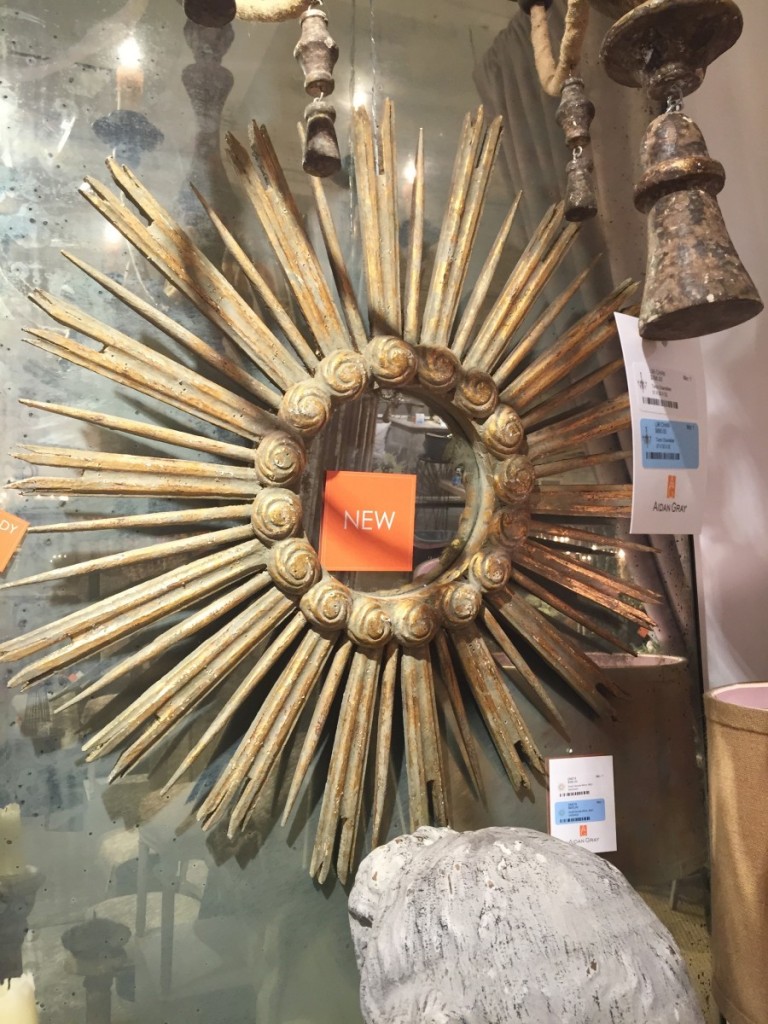 Inside or out, this garden sculpture is killing it.
This next one would be a great add to your foyer space…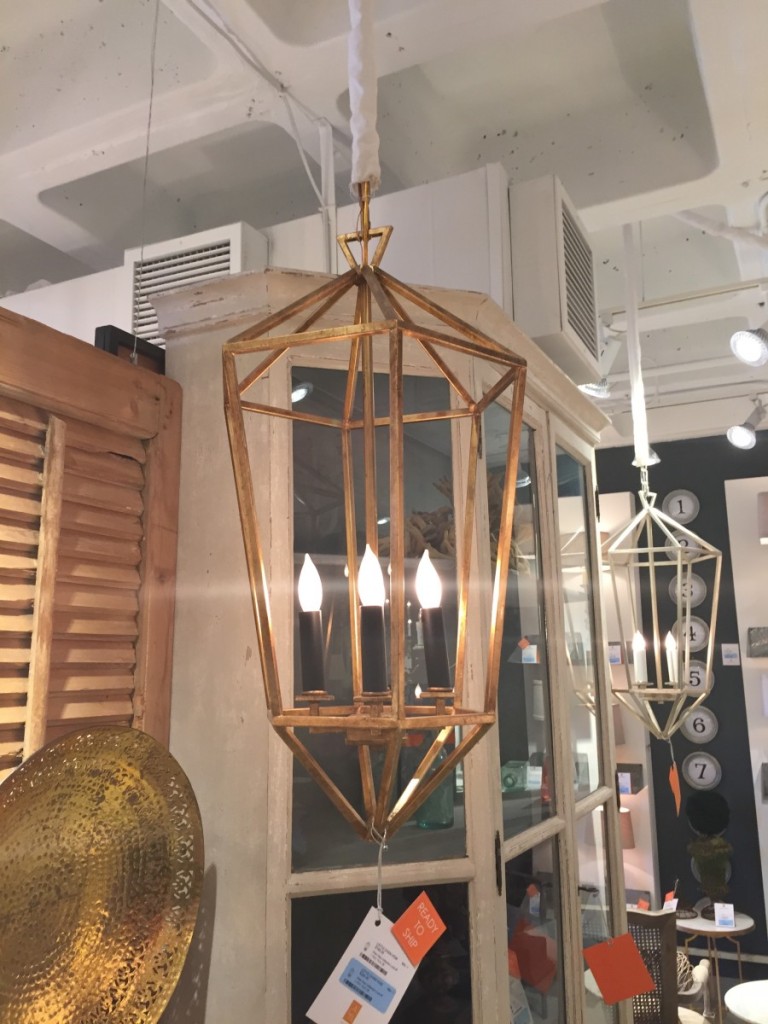 These shield sconces were SUPER oversized, SUPER fun.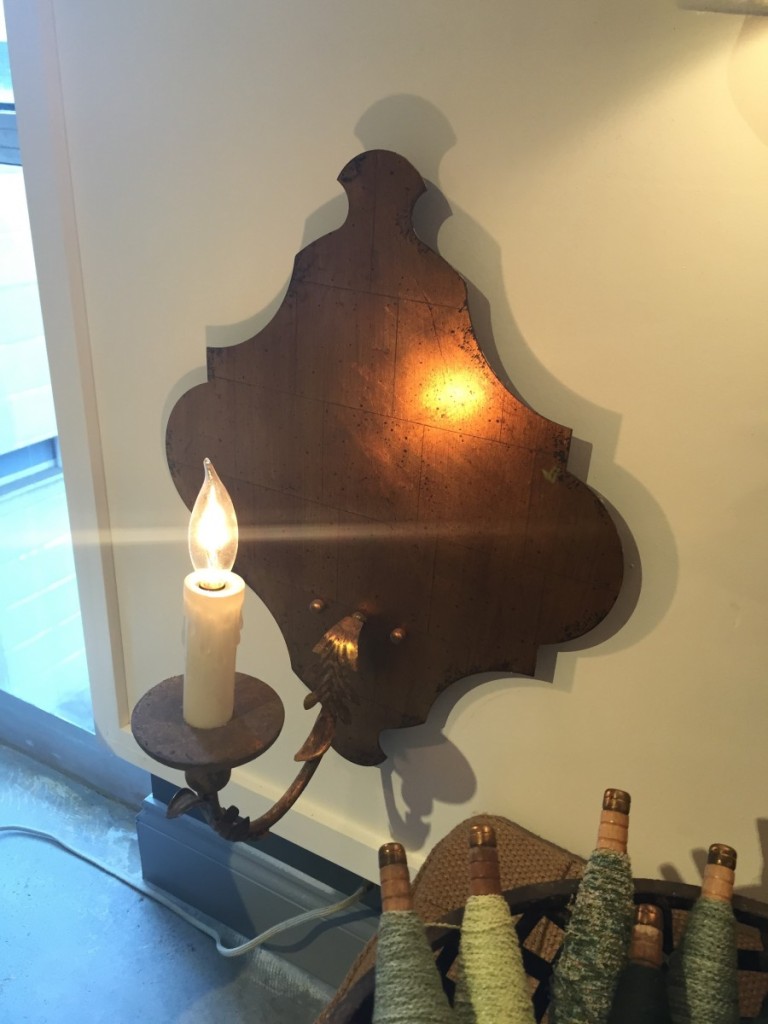 NICE work on the patina of this new writing desk/table team!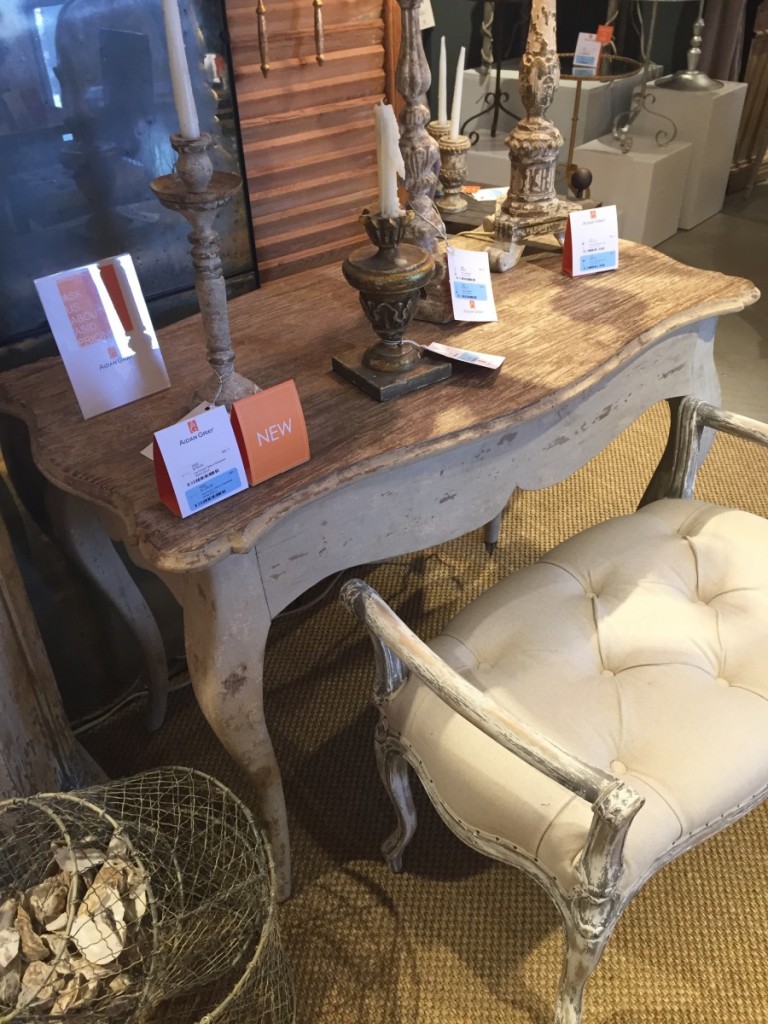 The love affair with foxed mirror continues…
It was about this time I started to run out of steam…I think I can…I think I can…
But we couldn't miss out on Gabby…check out the frame on this mirror…holy pairs would make a definite statement…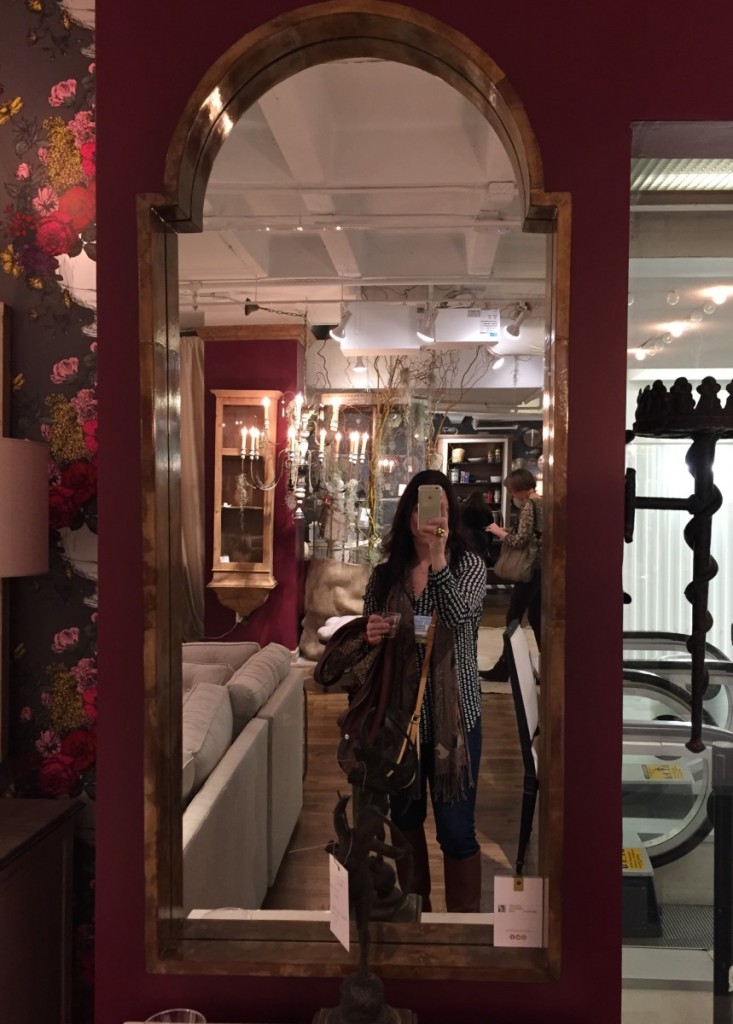 PRECIOUS wallpaper!!!!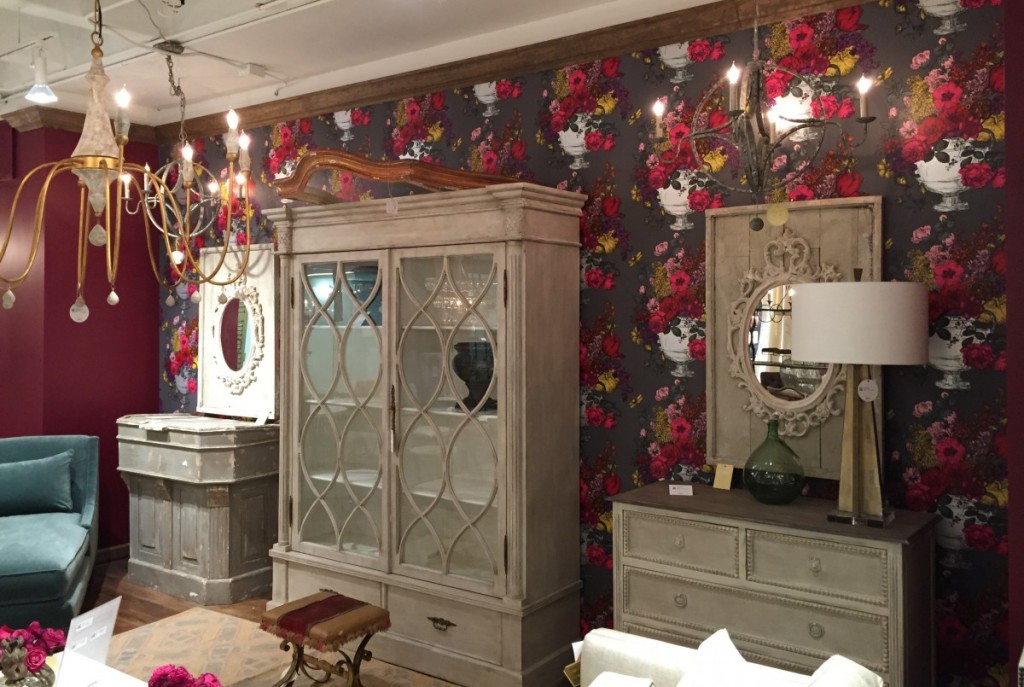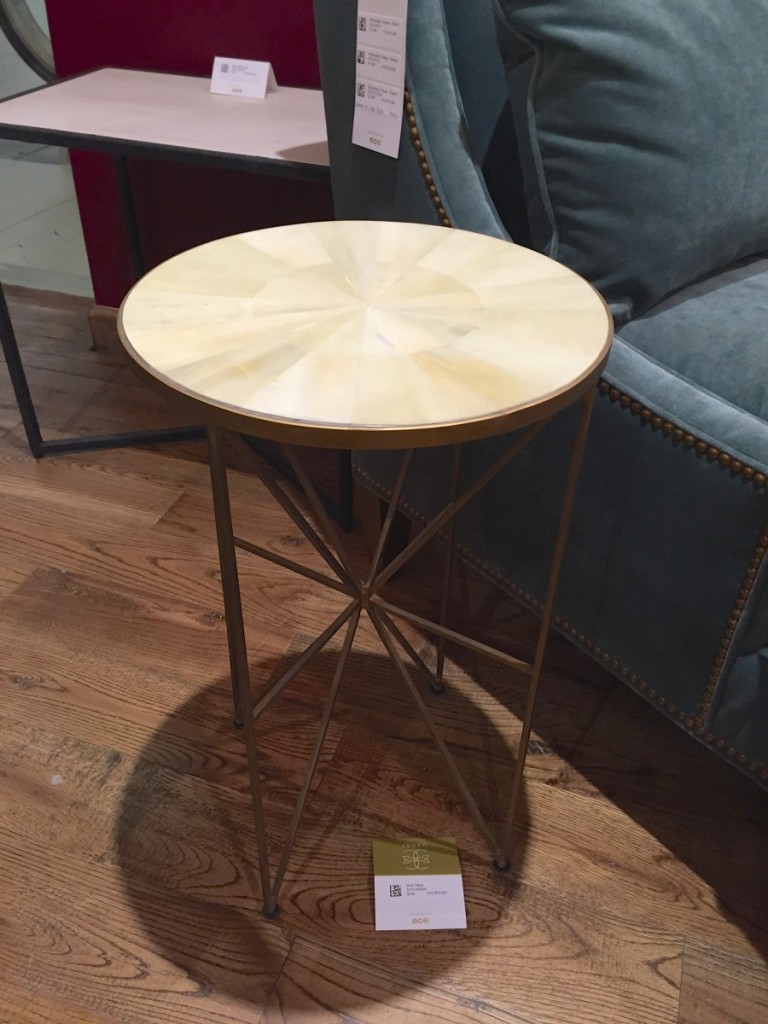 I LOVE THIS LIGHT and will be featuring it in the show house over the dining room table…the former choice just got booted.
I'm always on the hunt for new, unusual or different looking nightstands and these fit the bill…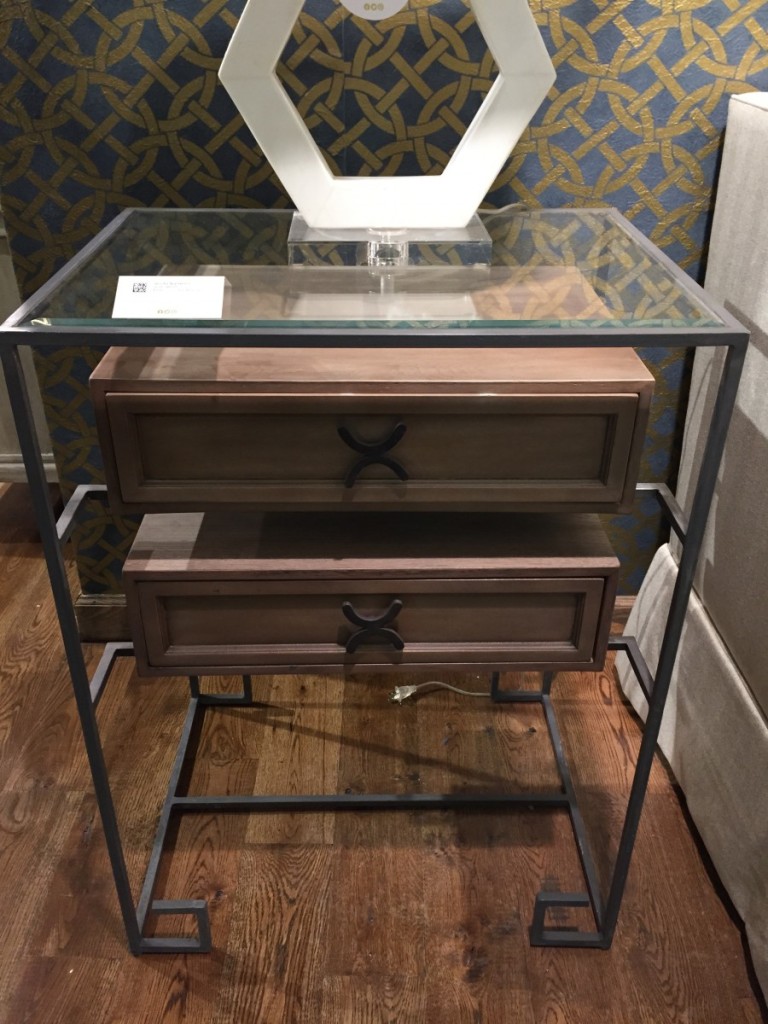 I want to use these for an outdoor space…cabana striped fabric maybe?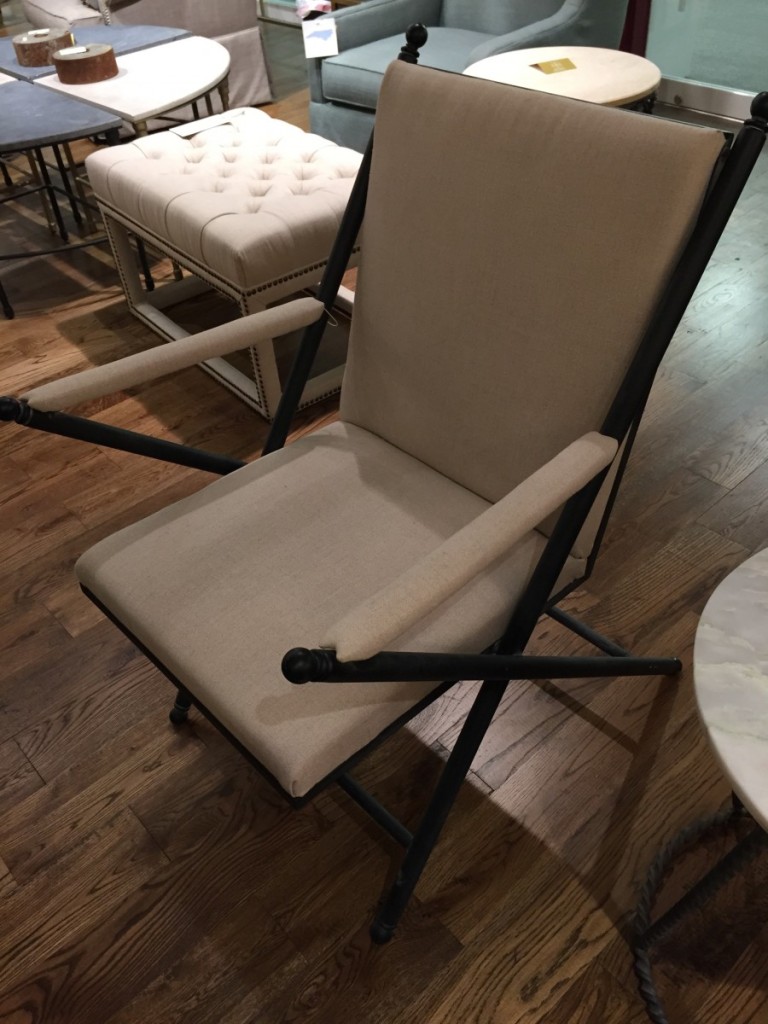 have long admired this little peanut…
And yay! We got to see my dear friend and fellow designer Kerry Howard (big daddy!) and his well-designed space, with some of my favorites included woo hoo!
I meant to sit inside the hands and forgot – poo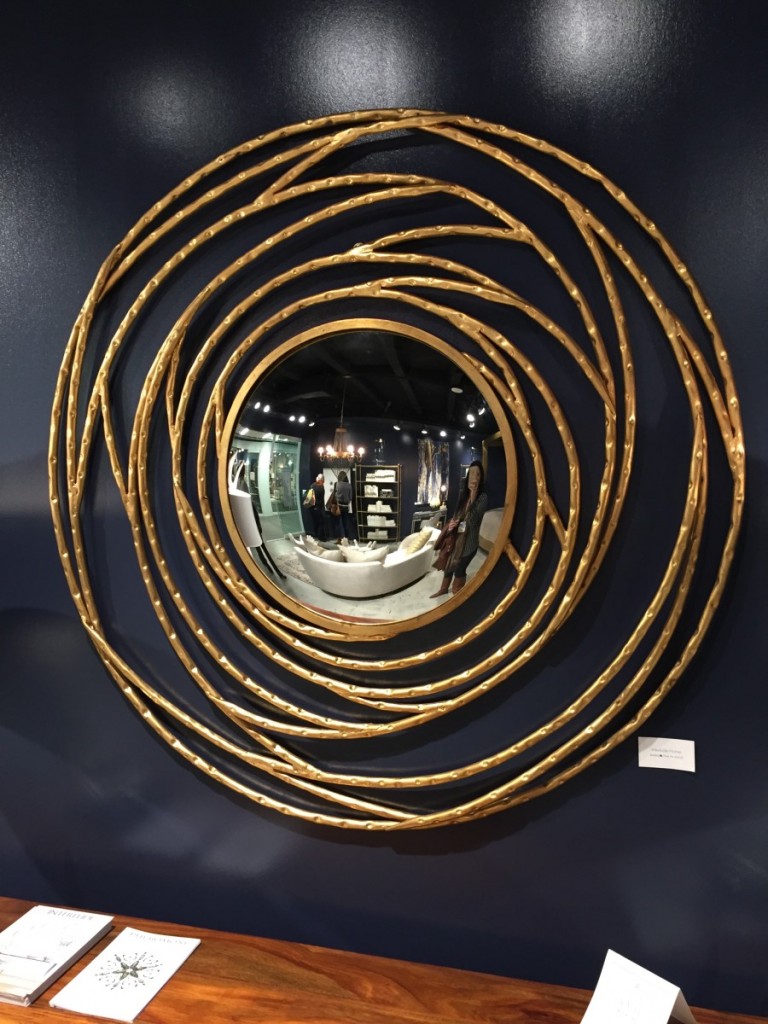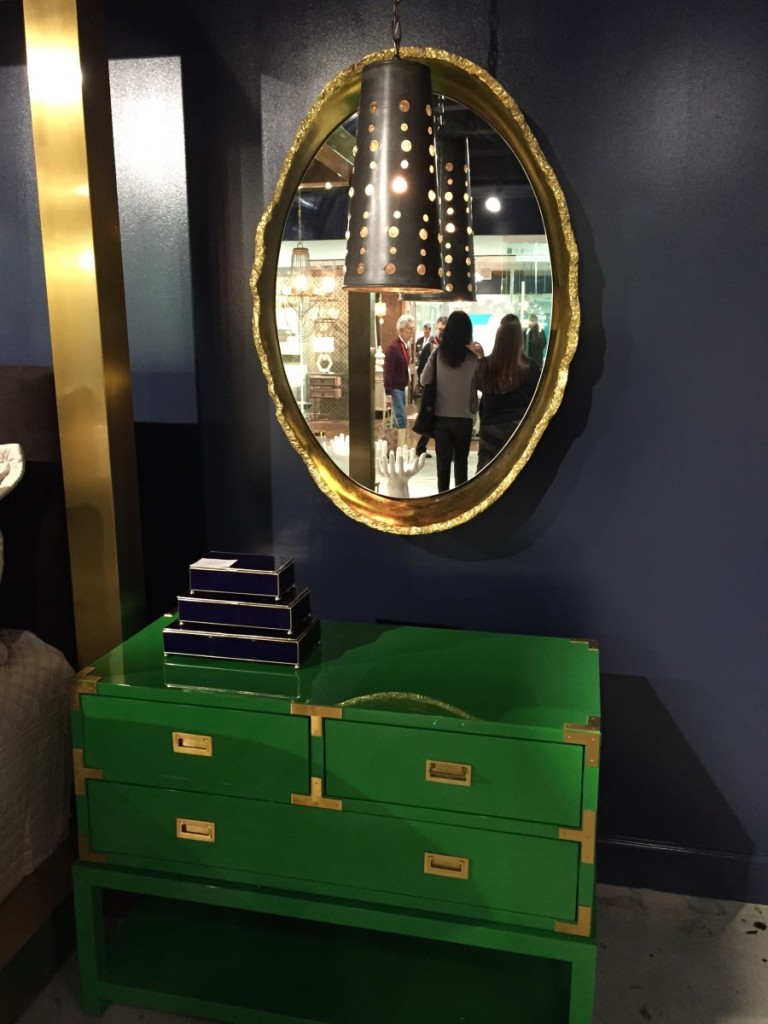 Okay catching second wind and onto Codarus…where thank GOD there was wine!
Let's pause for a moment and talk about this simple wall treatment. Nothing fancy, just board on board, painted white, some gaps bigger than others, who cares, totally organic and rustic – love.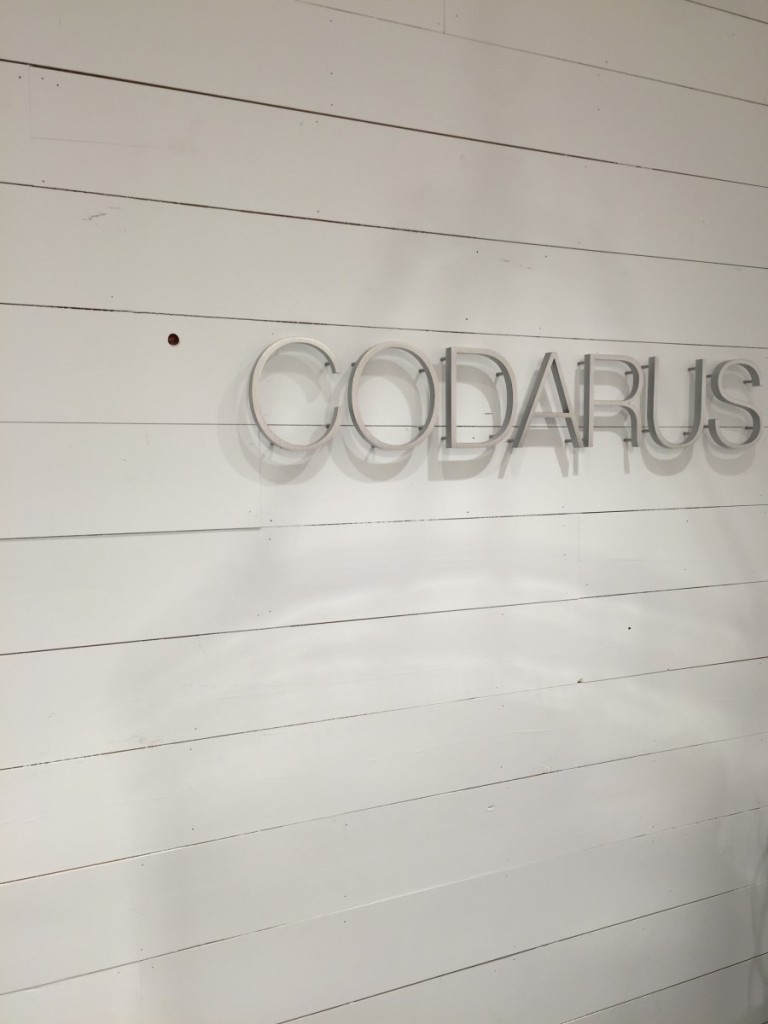 Are you guys still with me????? I thought about a two parter but who am I kidding, I'll never sit down and do part two…market will be a distant memory when that happens.
okay next up…two words…
BARBARA
COSGROVE
!!!!!
Makes the must beeeeeutiful lights, all right here in AMERICA. Way to go girl. Keep it home.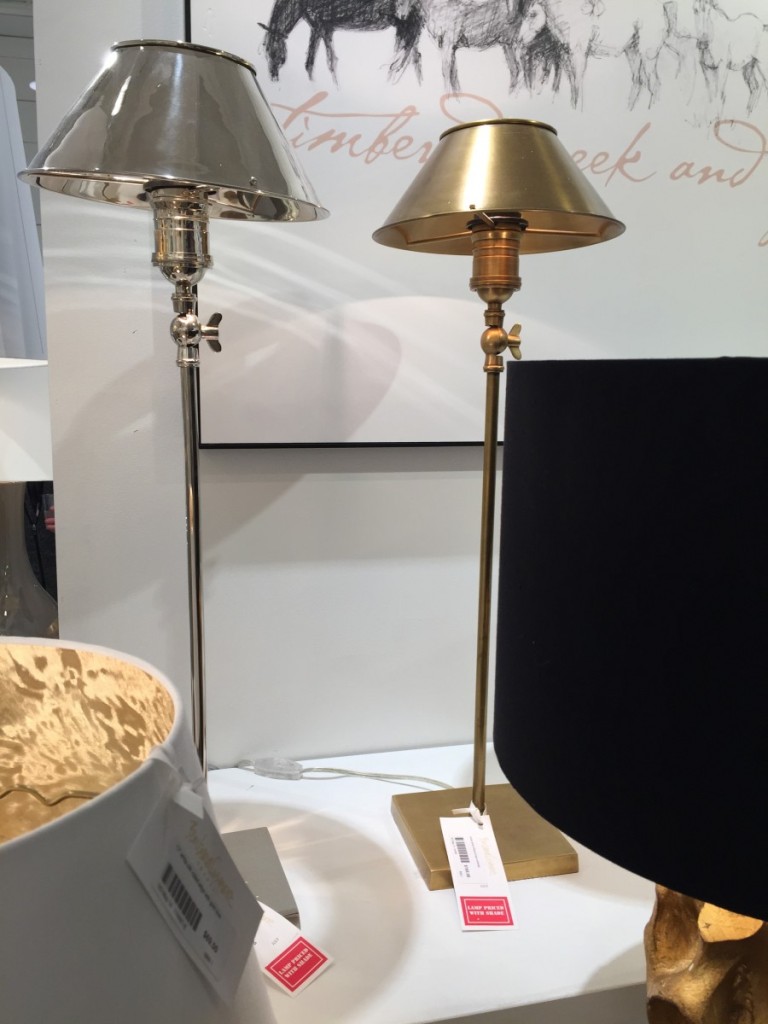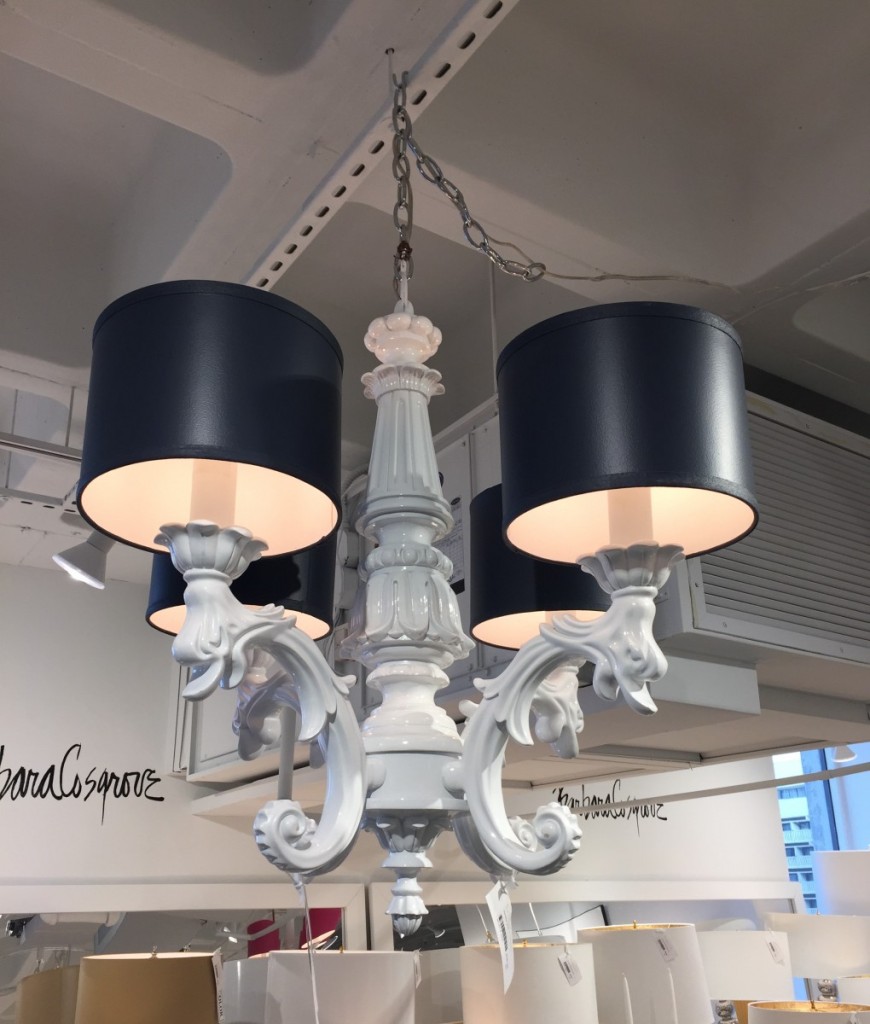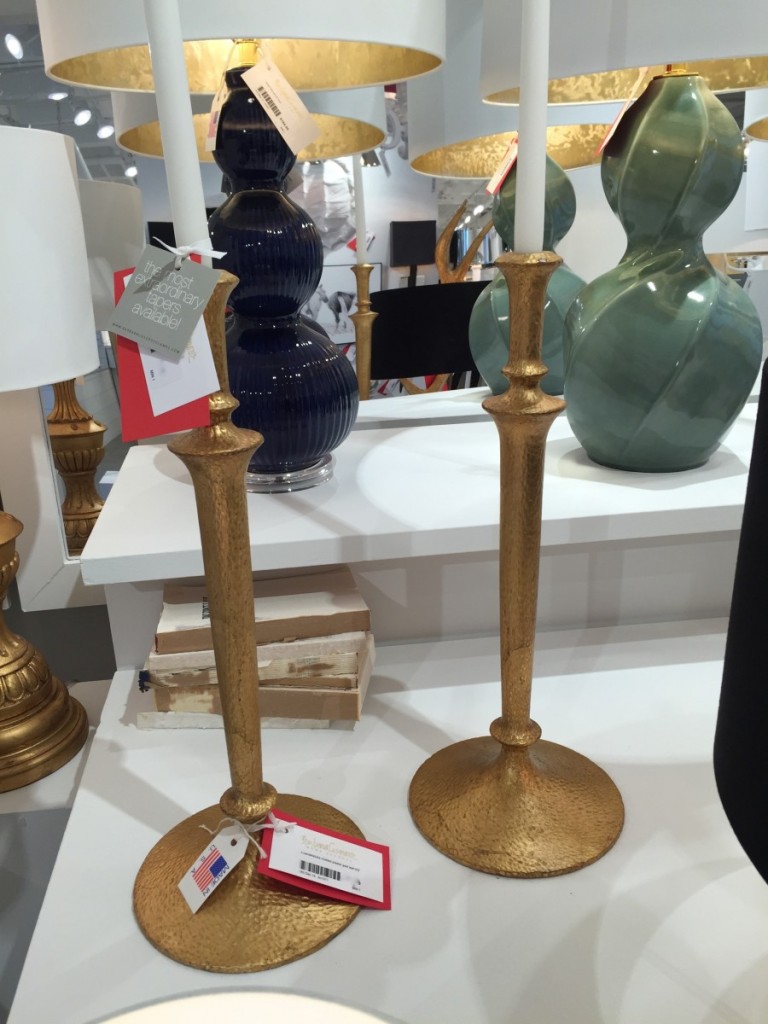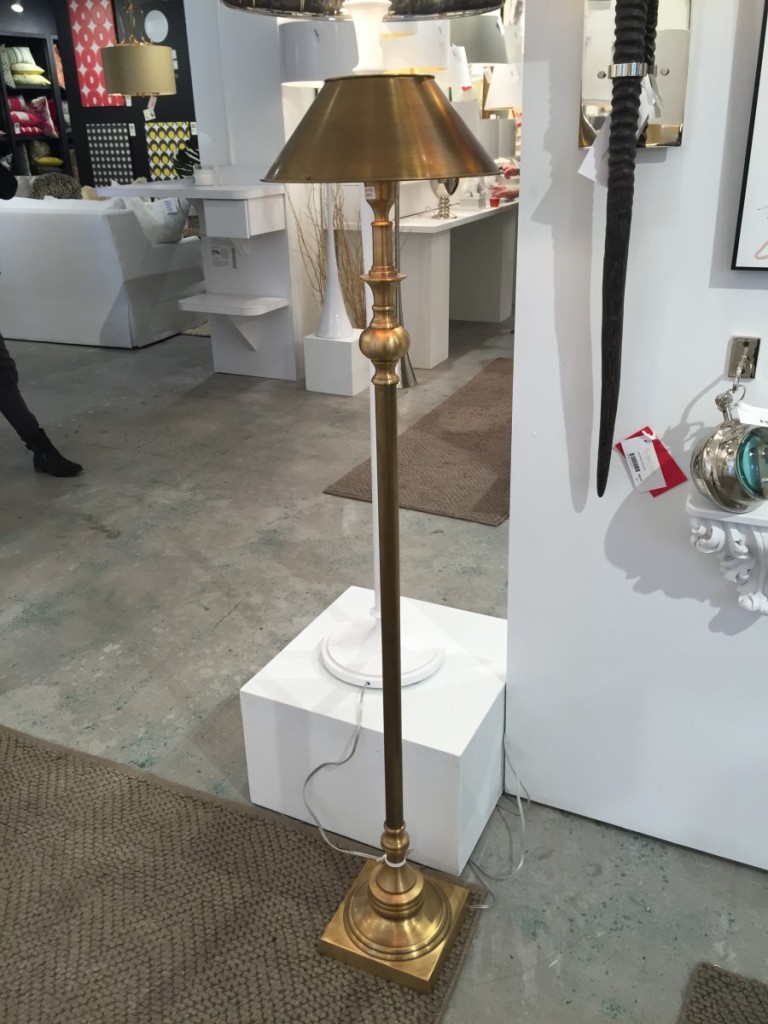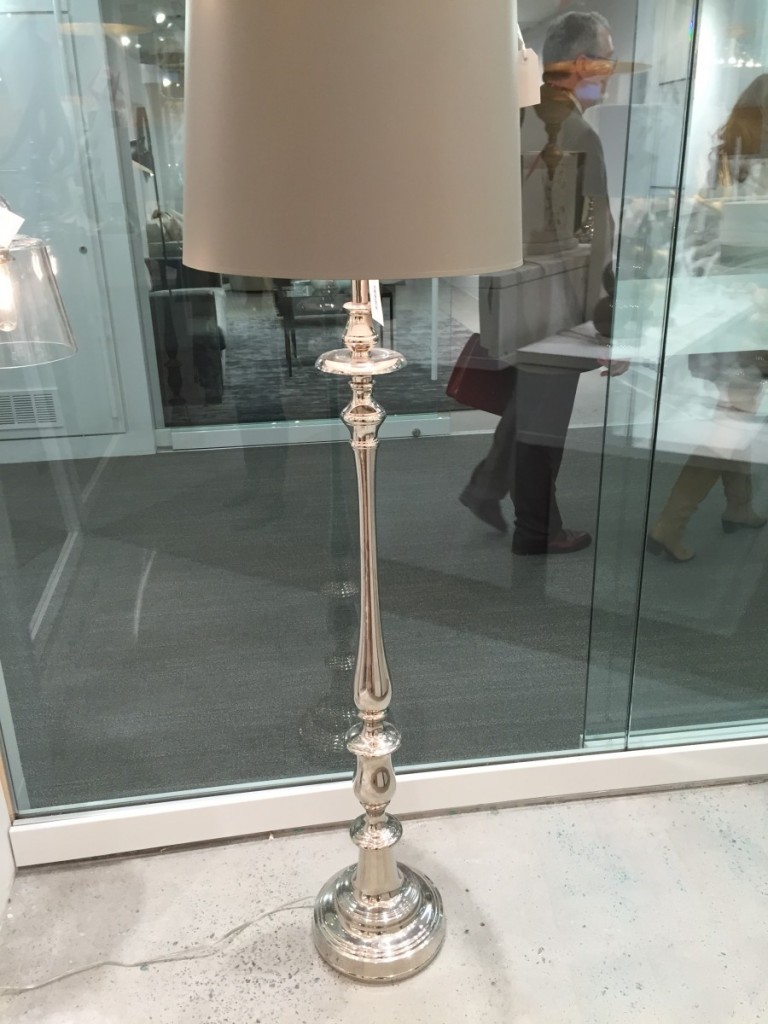 I can't wait to put this into someone's design plan, one lucky soul!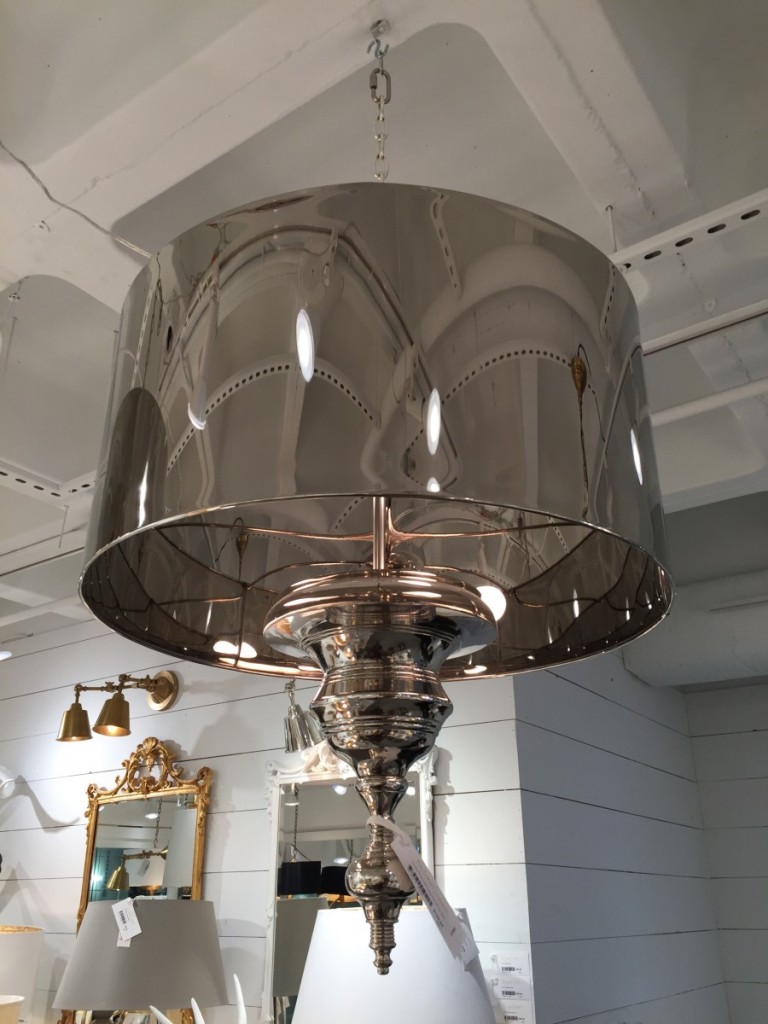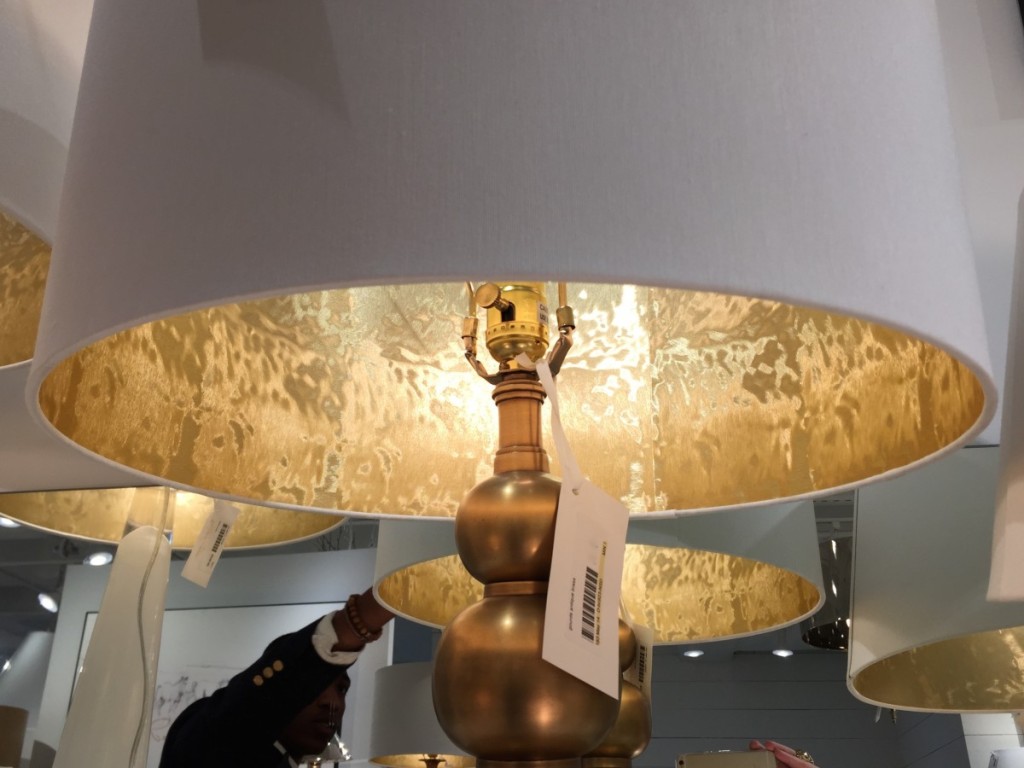 Gotta have these foo dog lamps in my life…they're so cute!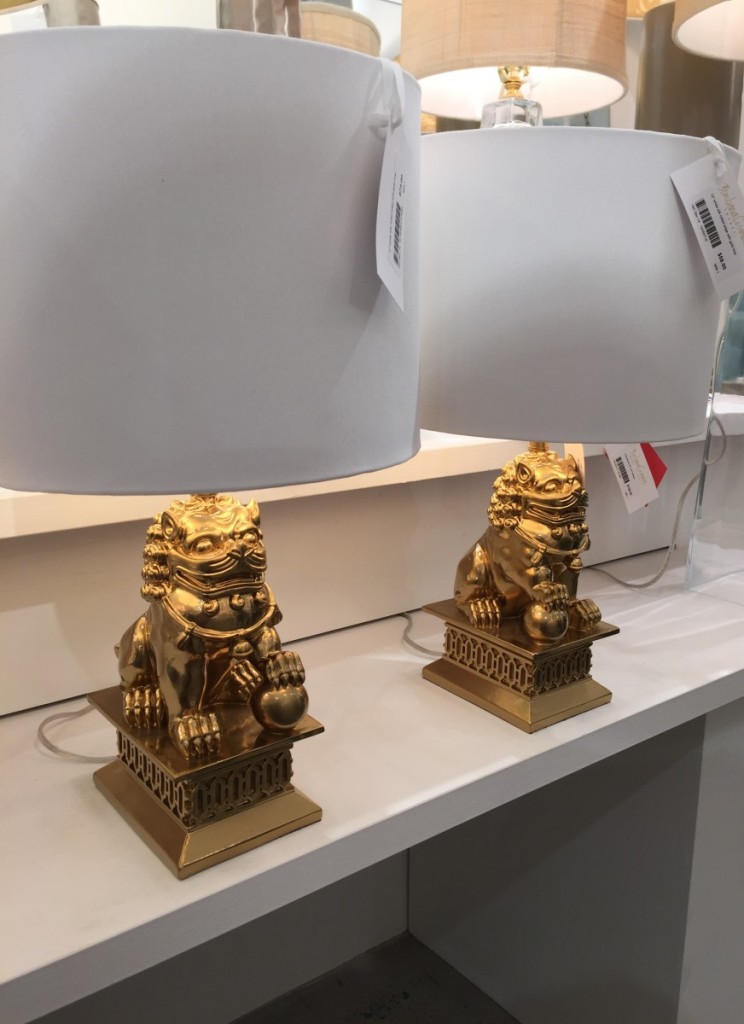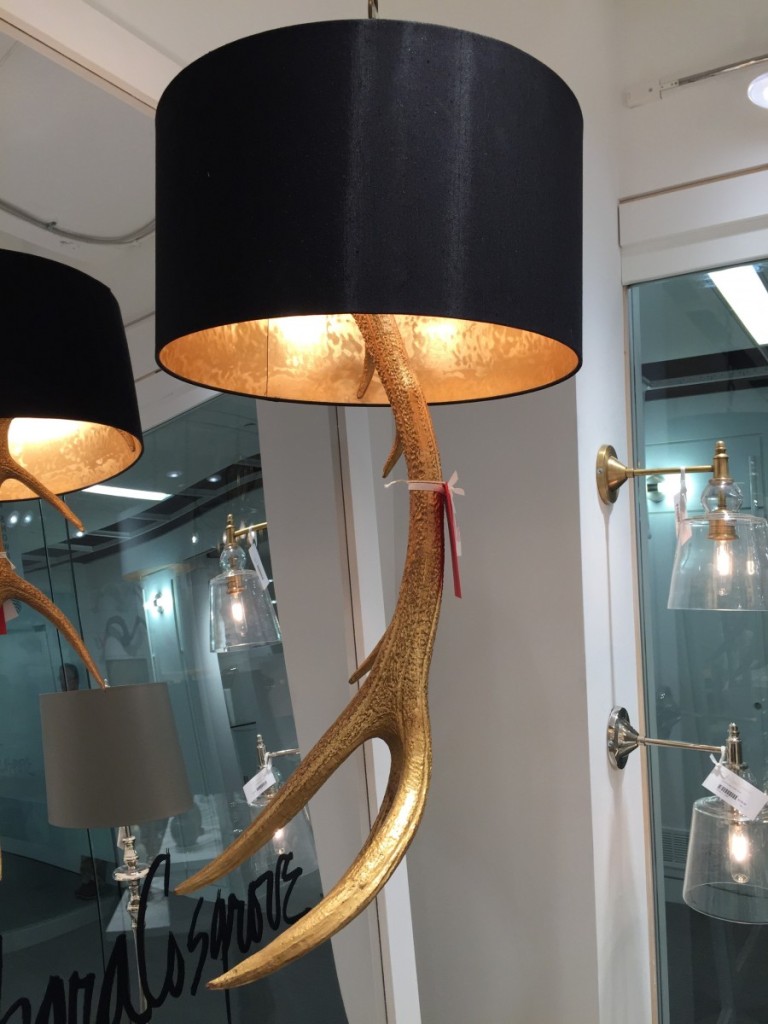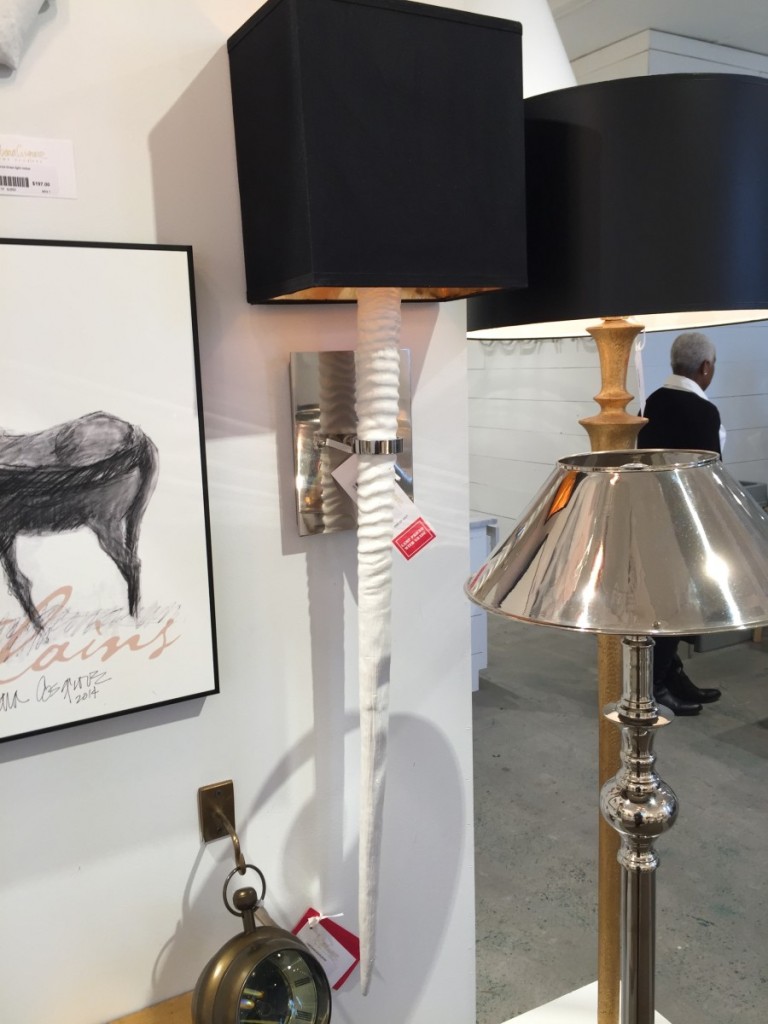 While I was sipping and shopping I discovered a great new accessories line called Couture, also out of Codarus….
pretty psyched to investigate Couture further.
The next showroom was rocking! I shazam'd some sweet music to download later #shakinthatass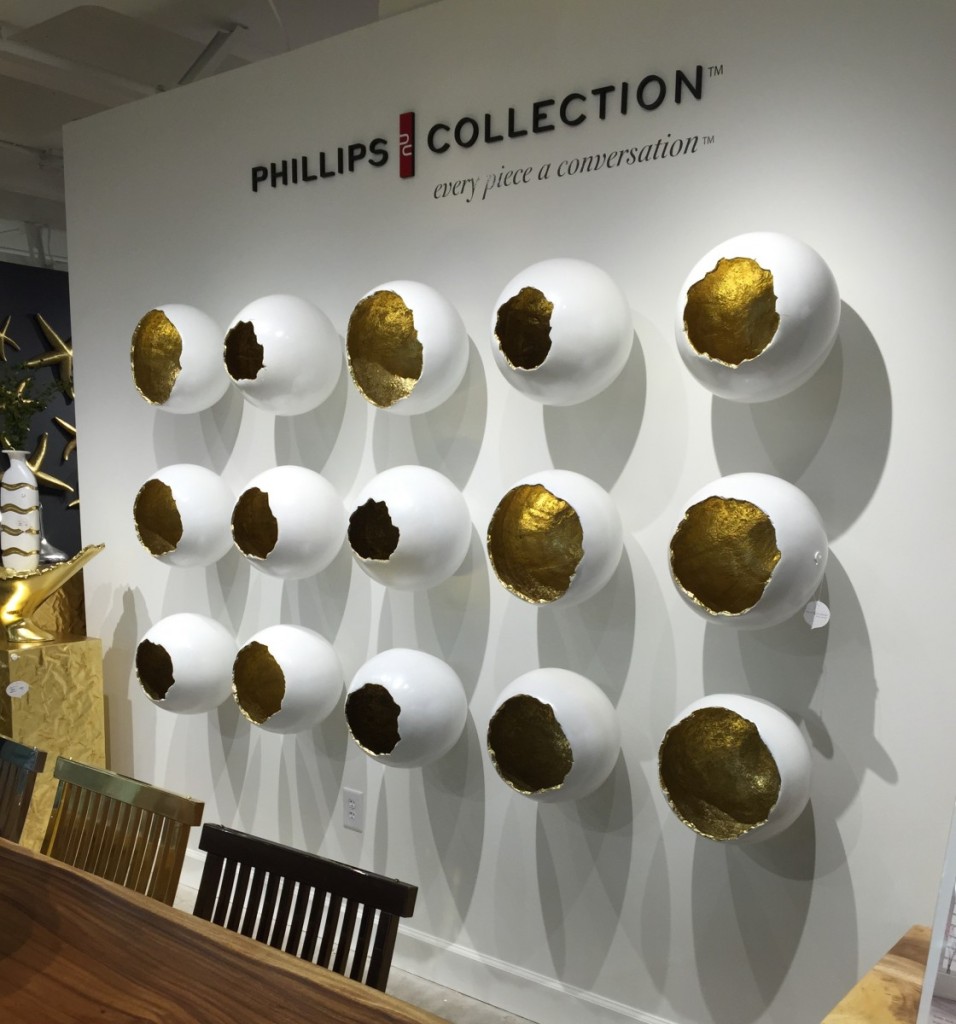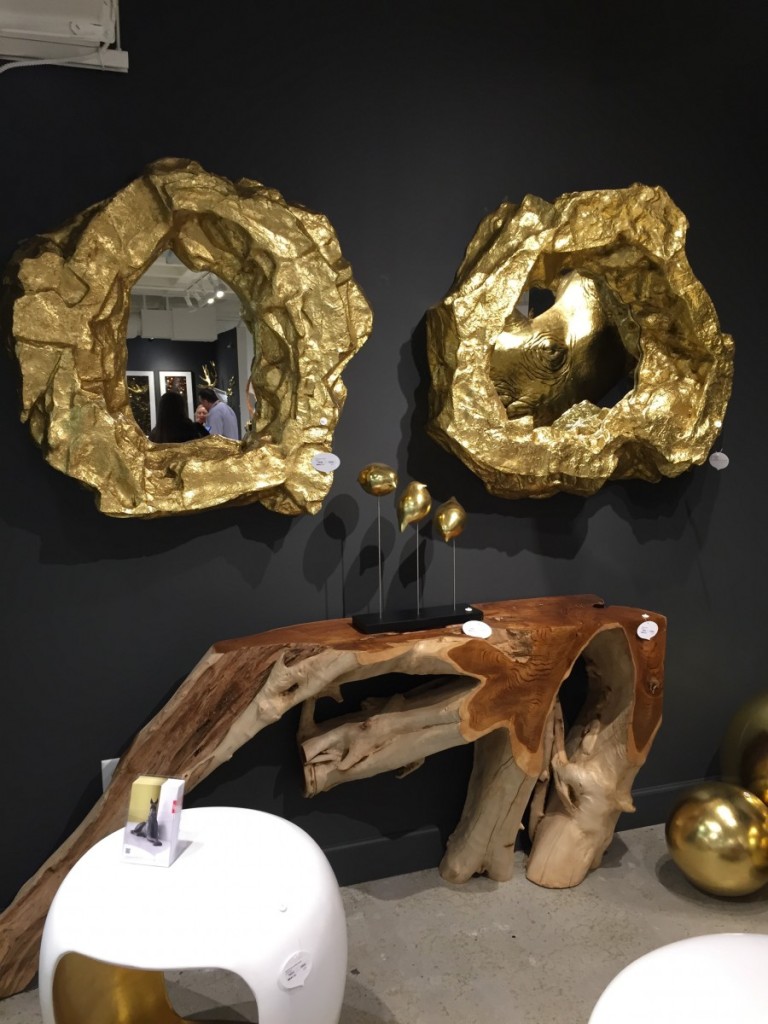 nothing like a great cheese spread to stop you dead in your tracks.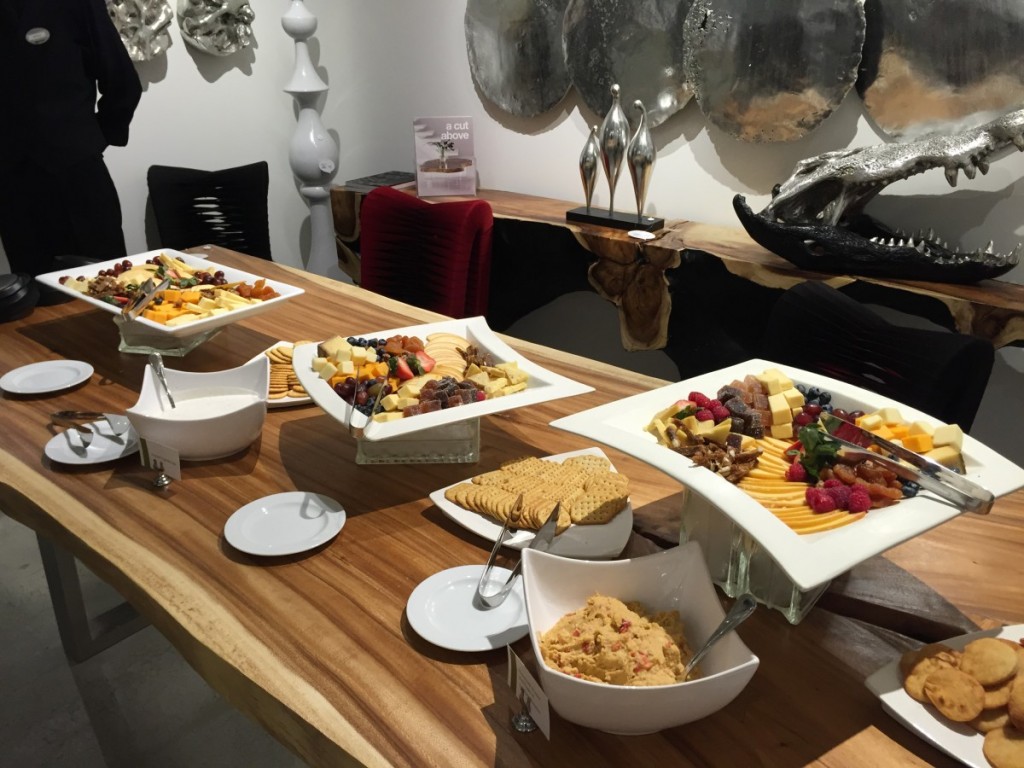 got balls?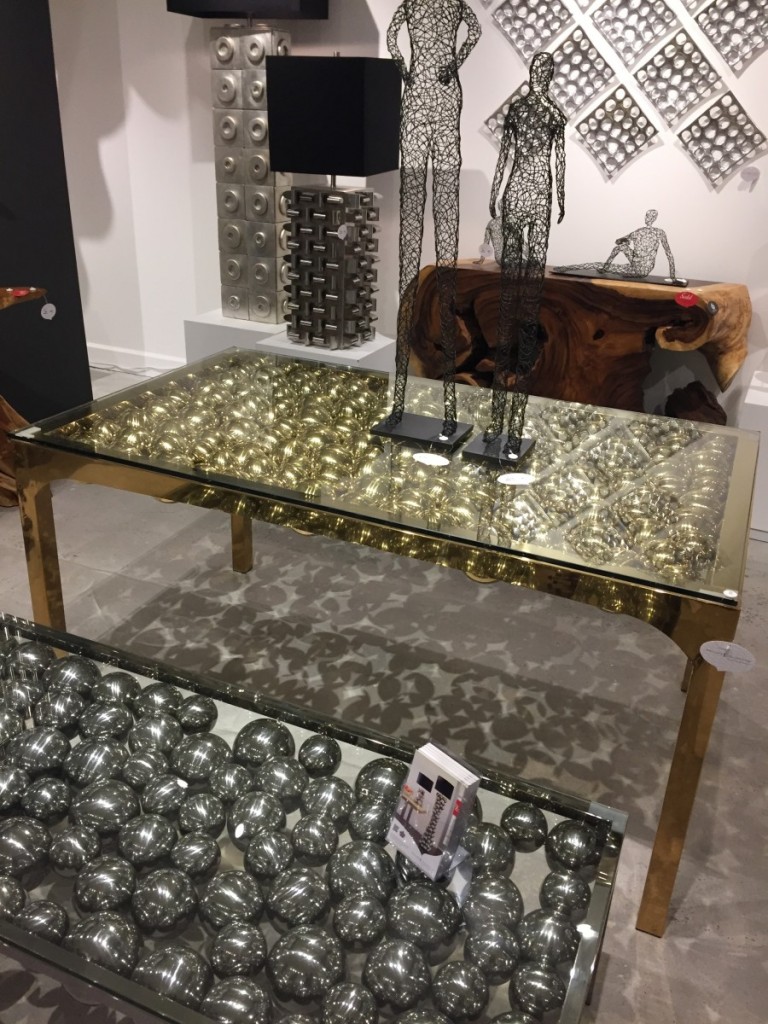 And lastly (take a breath) we saw some old friends and met some darling new ones at Taylor Burke Home and Cotton and Quill space on the first floor.
I mean really, how adorable is she (and her designs are too!)  modeling one of her fabrics? Makes you wanna do a twirl.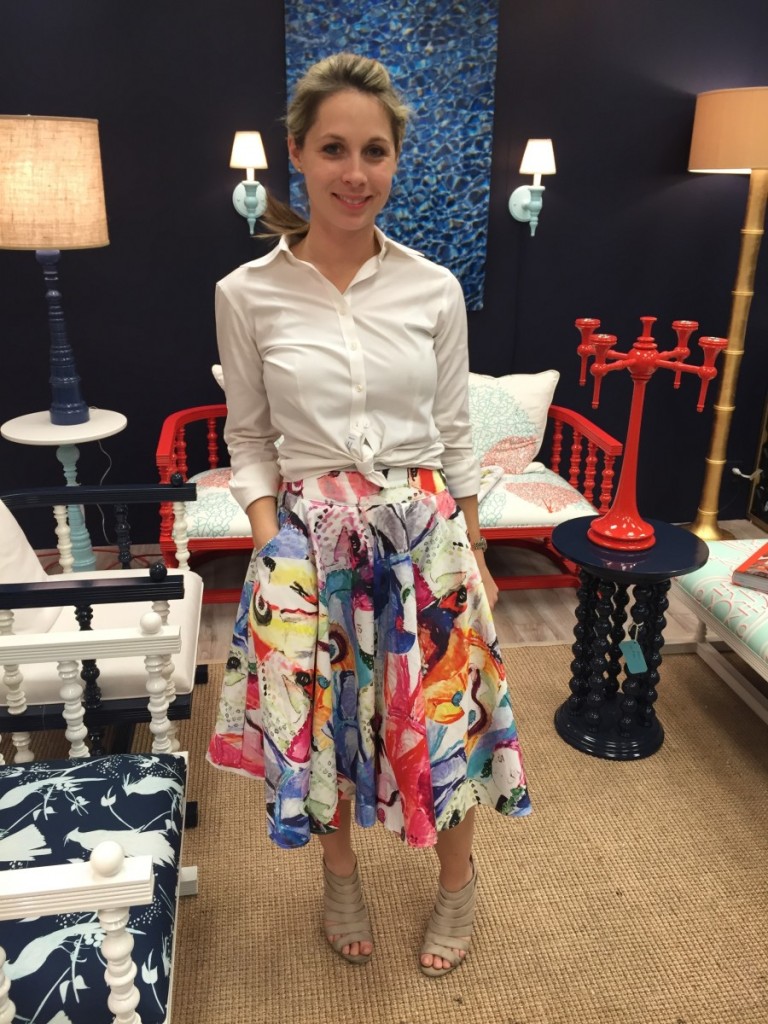 More awesome x benches, this time with hide…which might be the only way to go!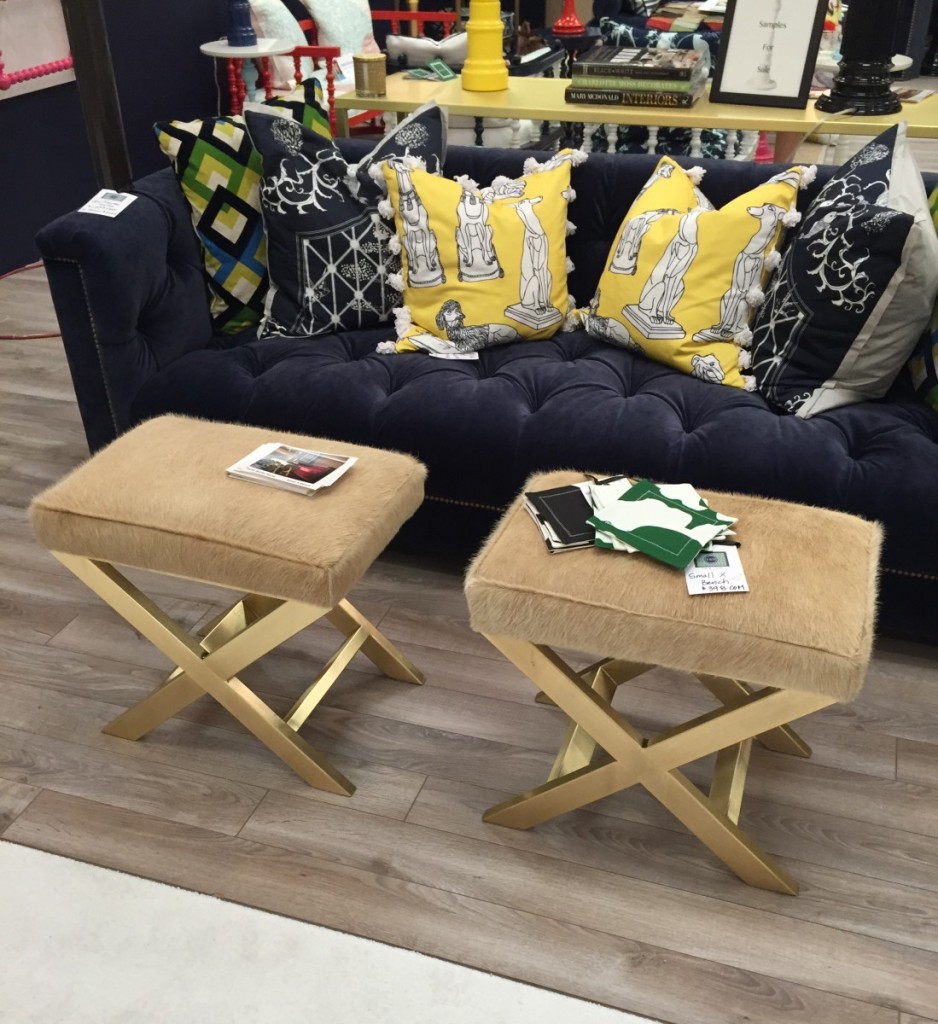 I had a total soft spot for this Cotton and Quill wallpaper design after hood ornaments! Growing up in Detroit and born, raised and educated by Ford Motor Company, I couldn't get enough of it. If anyone in Detroit is designing a restaurant space, this needs to go in the restrooms stat!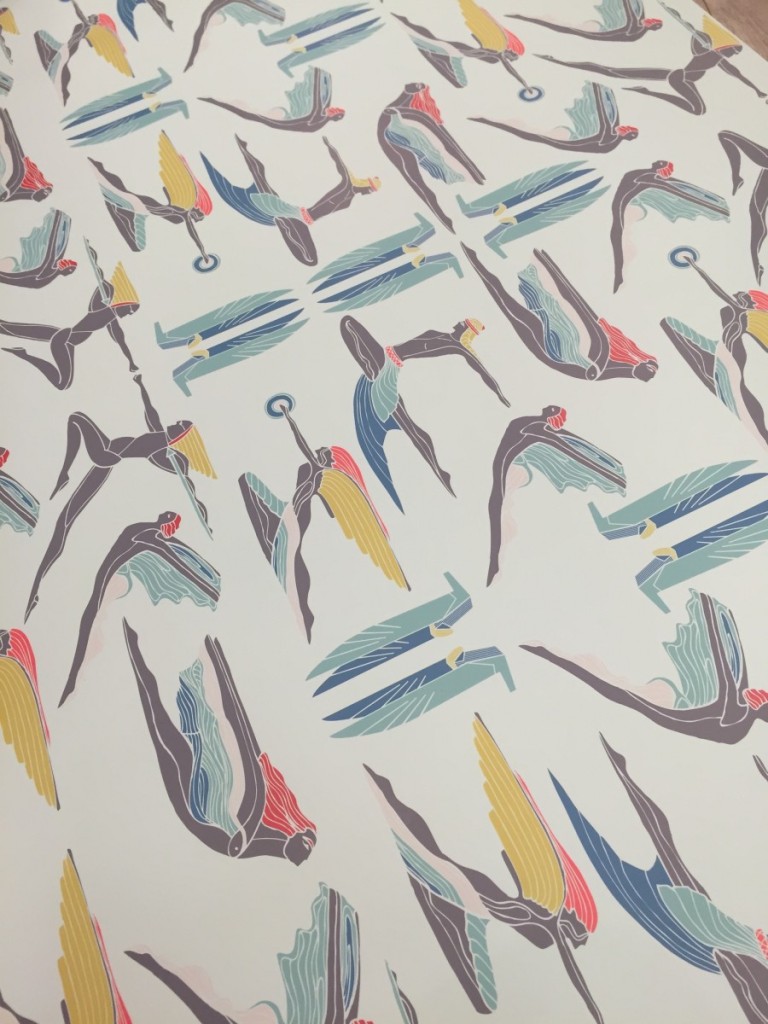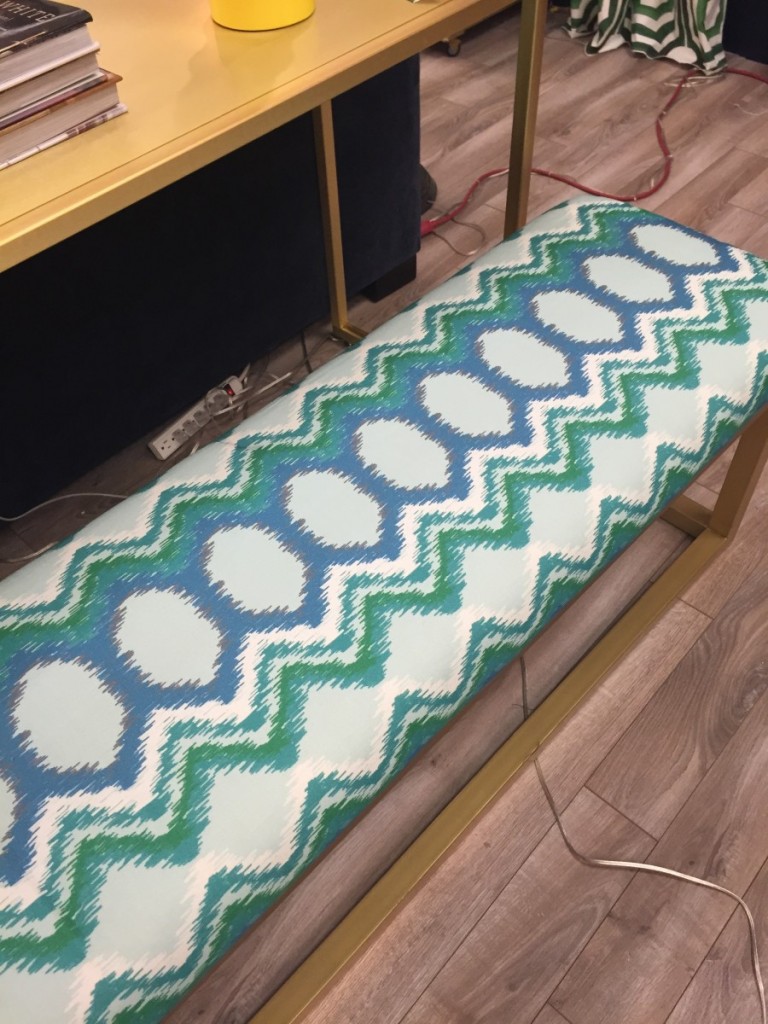 This looks like a GREAT book from first glance, flipping through… I'd definitely like to attend one of her soirees no doubt.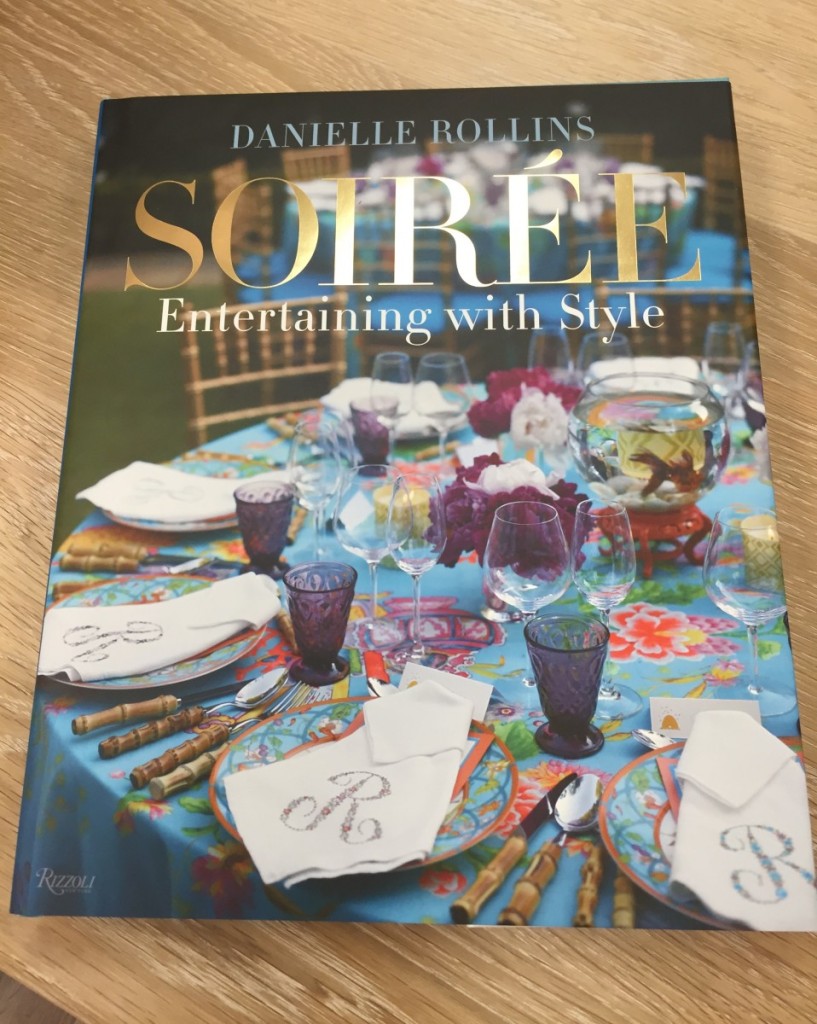 Green and gold…go rams for my FRHS classmates xo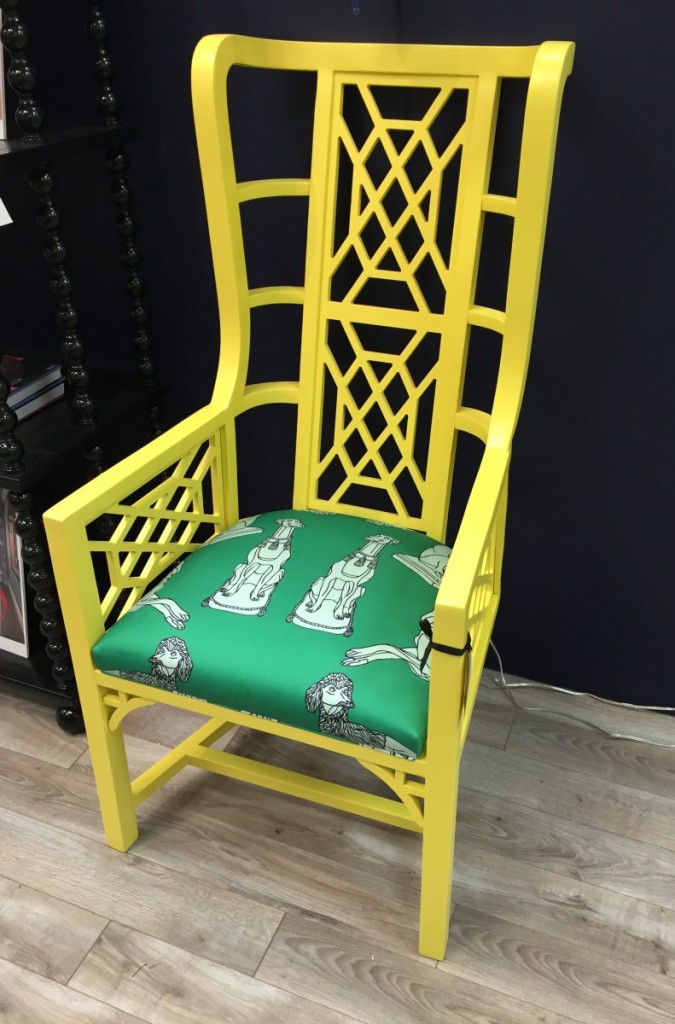 A close up of that fab skirt fabric she modeled…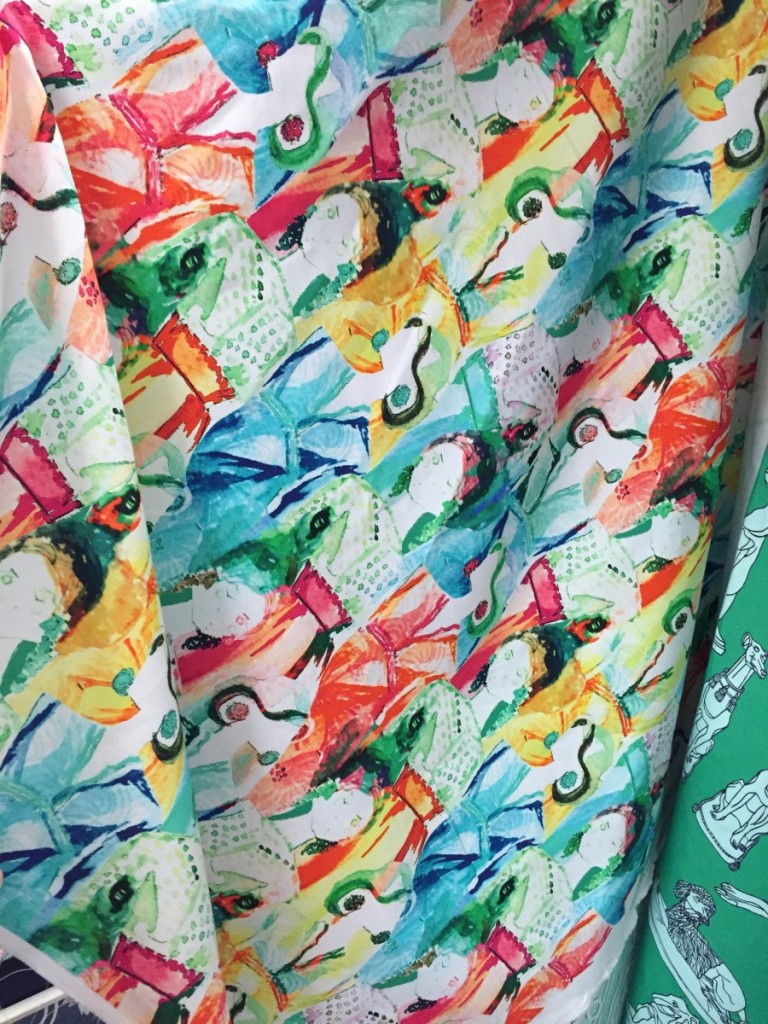 And this wallpaper!!!! I want to cover some lampshades in it, wouldn't that be fun?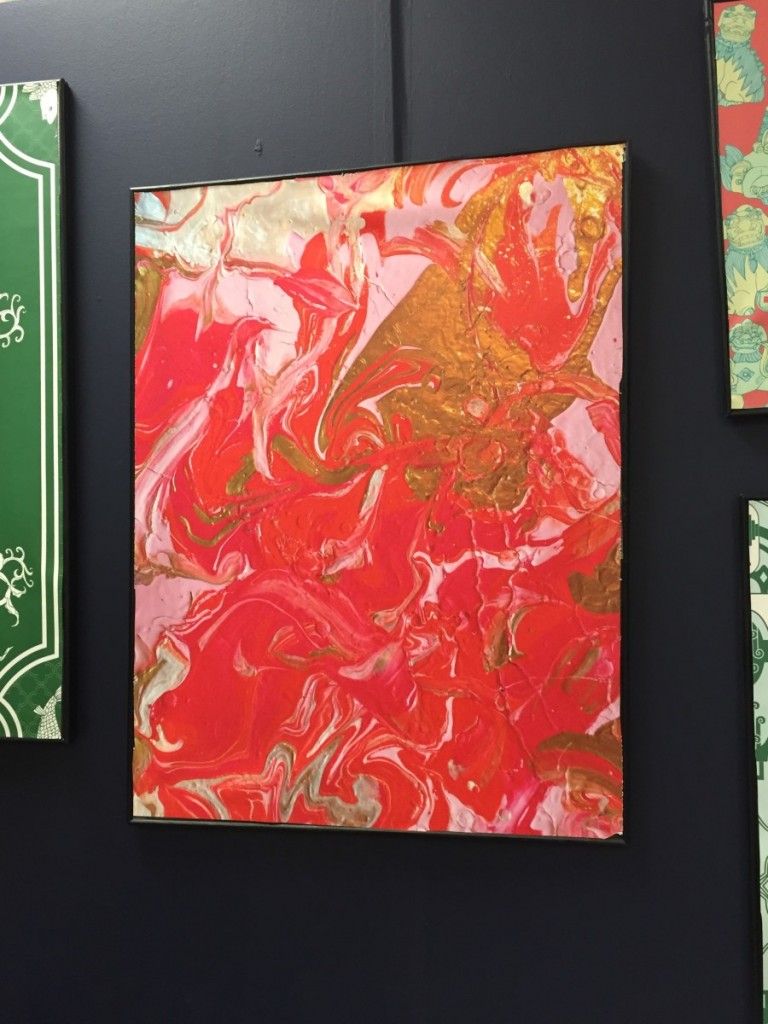 If you've made it to the end of this post, God bless you! It was A LOT. I hope you enjoyed touring our rocking day at market. We were so inspired and hopefully you are too. Truly I write this blog in hopes that when you are done reading it, you start to look and walk around your own house and think of new and exciting ways to rearrange, redeux!
If you are interested in purchasing any of the items I've featured or would like more information, please don't hesitate to contact me. I love hearing from you!
Cheers all and happy hump day!
Jenny from the rock