Happy holidaze!!! I hope you all are enjoying the season. Its been SWELL having some down time and thought I'd share what's been up around here, along with some holiday cheer…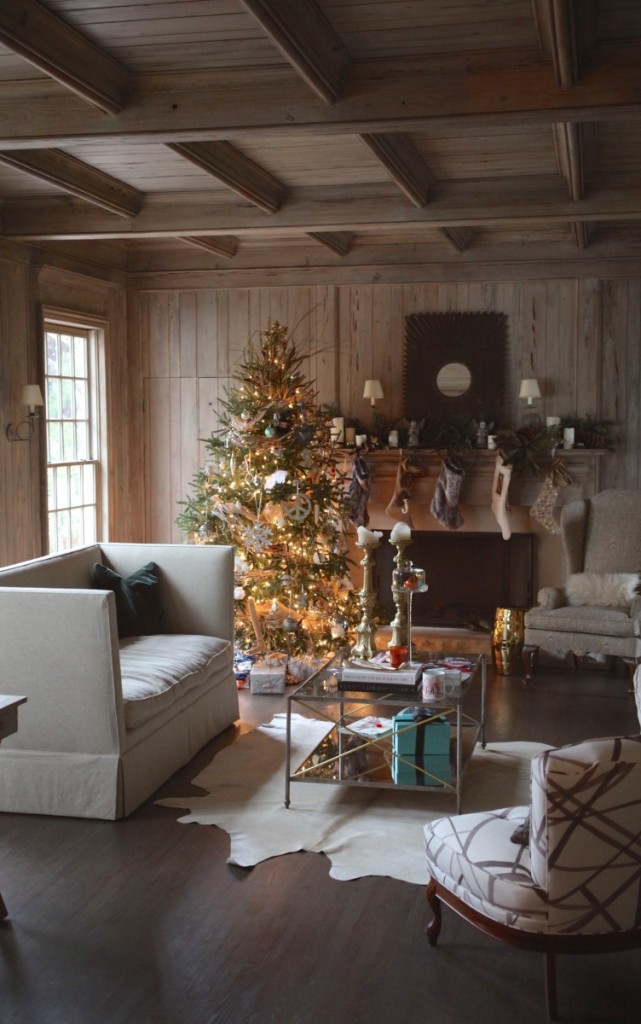 Let's start in the pecky cypress room…notice the slipper chair to the right. It was bound to happen sooner or later! Restyled in Kelly Wearstler's "channels" in taupe.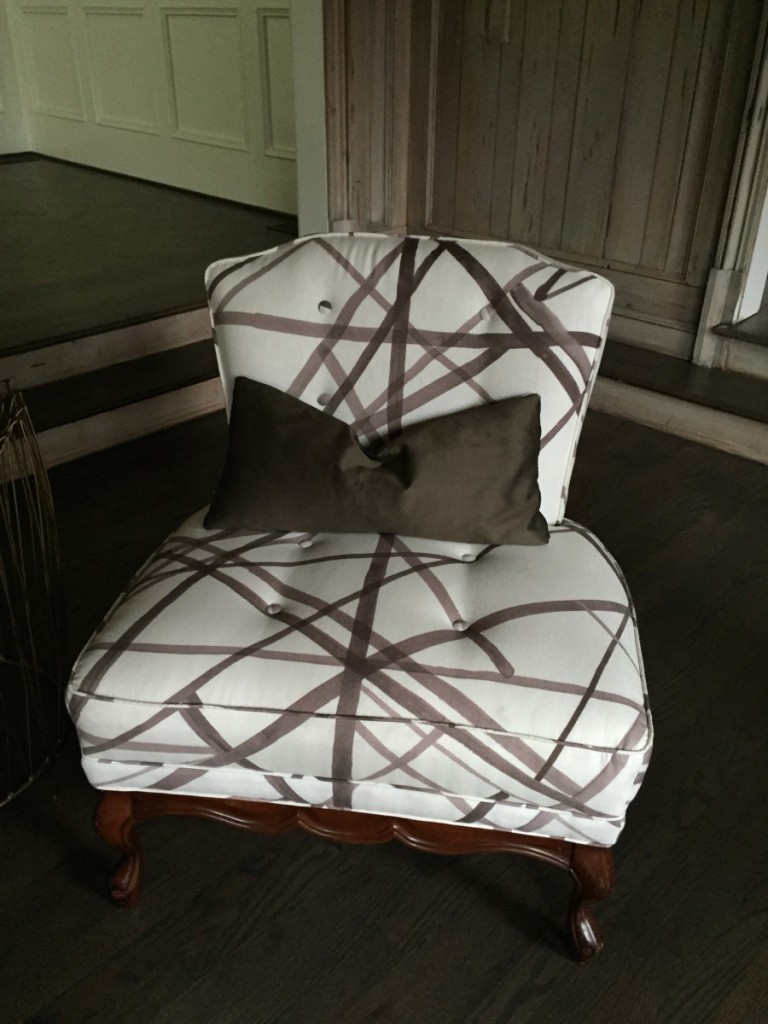 I recovered all but the seat cushions on the sofas in a natural linen and then went disco with a linen metallic finish on the cushions for some contrast. I love the tiny bit of sheen it brings to the space. My estate sale wing back was recovered in Thom Filicia's faux bois from Kravet (obsessed with). I've been debating the color of the window treatments in here BIG TIME. I know I want taffeta with fancy pleats but WHAT COLOR??? I've contemplated blush pink, lilac, mint green, emerald green, duck egg, pewter and now I'm thinking WHITE…but of course not totally sold. We decorated our one live tree here, where Santa came, and tore it up Christmas morning…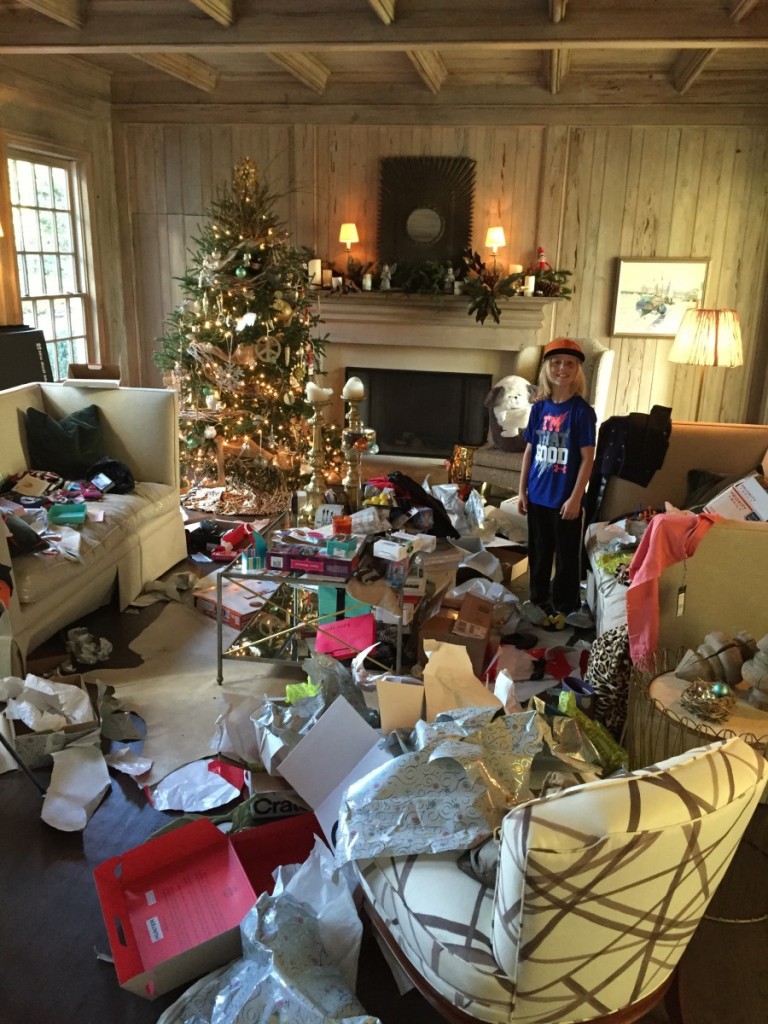 We left it like this the entire day as a happy reminder. I call this my fancy tree, decorated in all neutrals, textures, sticks and thistle.
Moving on to the dining room/hallway/foyer…I think I've made some decisions/progress relative to these areas. Thank the LORD because I was beginning to wonder about myself. I decided that this whole look here is being moved to the front foyer (ugh to move those mirrors again).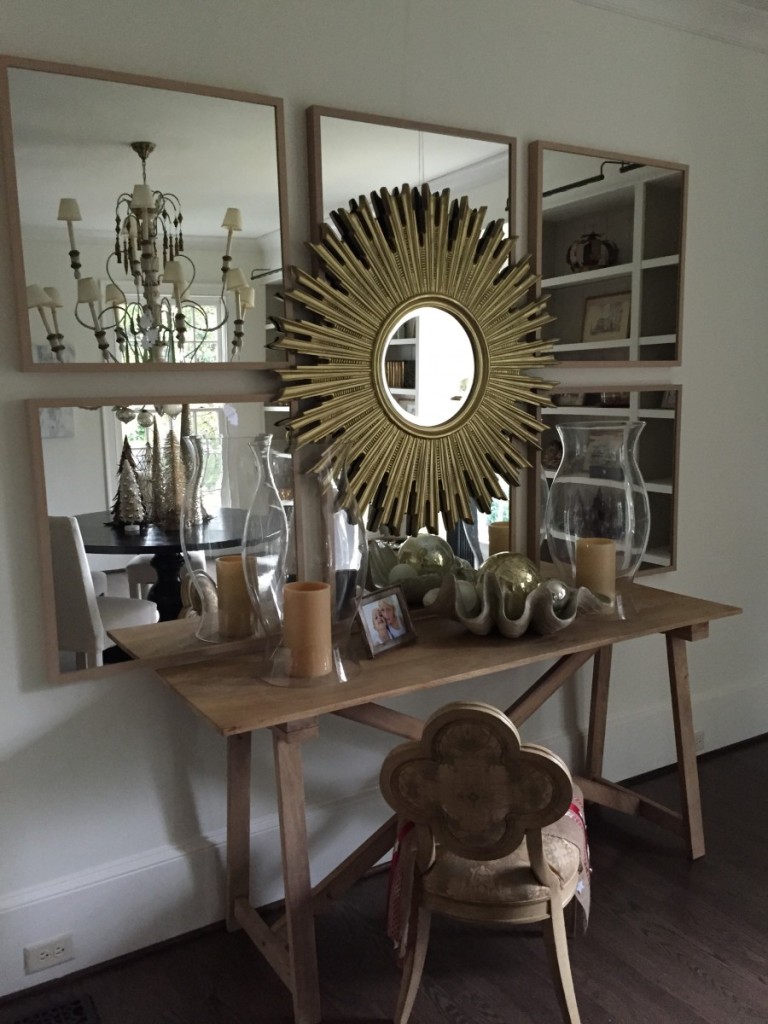 But its just too much visual clutter with all the bookshelves in here. I want the back wall to be the main focal point and vision. AND I struggle with visual clutter. I think I might just get a Roll off dumpster and de-clutter the room a bit. It's just too overwhelming at the minute and it's not the minimalist style that I was going for. Definitely time for a de-clutter in my opinion. Although there is a lot of stuff in my house that I do want to keep but I don't want in the house right now so I am considering using a short term storage unit to help cleanse my home of all the clutter. All those shelves make my head hurt a little bit. By moving this to foyer, fills a big hole there, and puts all the attention on shelves. SO after holidaze, at last, my favorite wallpaper will be setting up shop in the back drop of the shelves, giving them some uniformity and some spark! yeee haw. ;-)))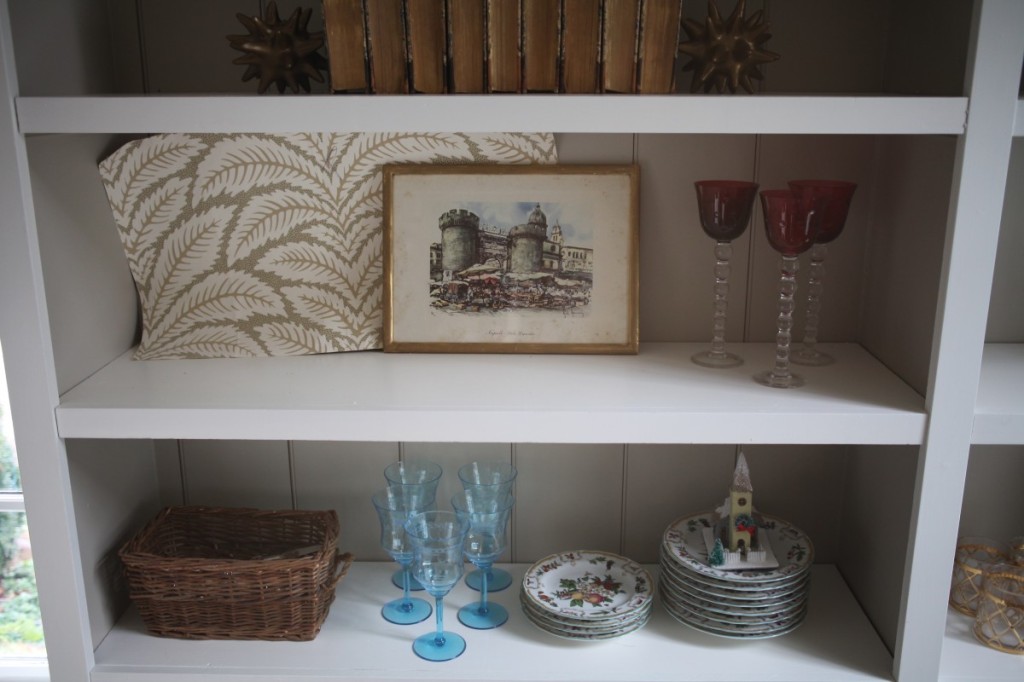 I've then got my eye on a pair of one of these funky shaped mirror beauties to hang in the center of each side aeh?
We moved my old dining room table (the round from the first house) into the dining room and booted the old/new one to the screen porch. I've decided I'm just a round table kind of girl. As much as I wanted a long, mixed seating, kind of look – I just wasn't feeling it. All the finishes in here were too light and it needed something dark to ground it. And the black in the table picks up on the tiny dark dots in the wallpaper. Granted its only a 60 inch round, so I'll be checking sites like Lulu & Georgia for something a bit bigger, but it will do for now.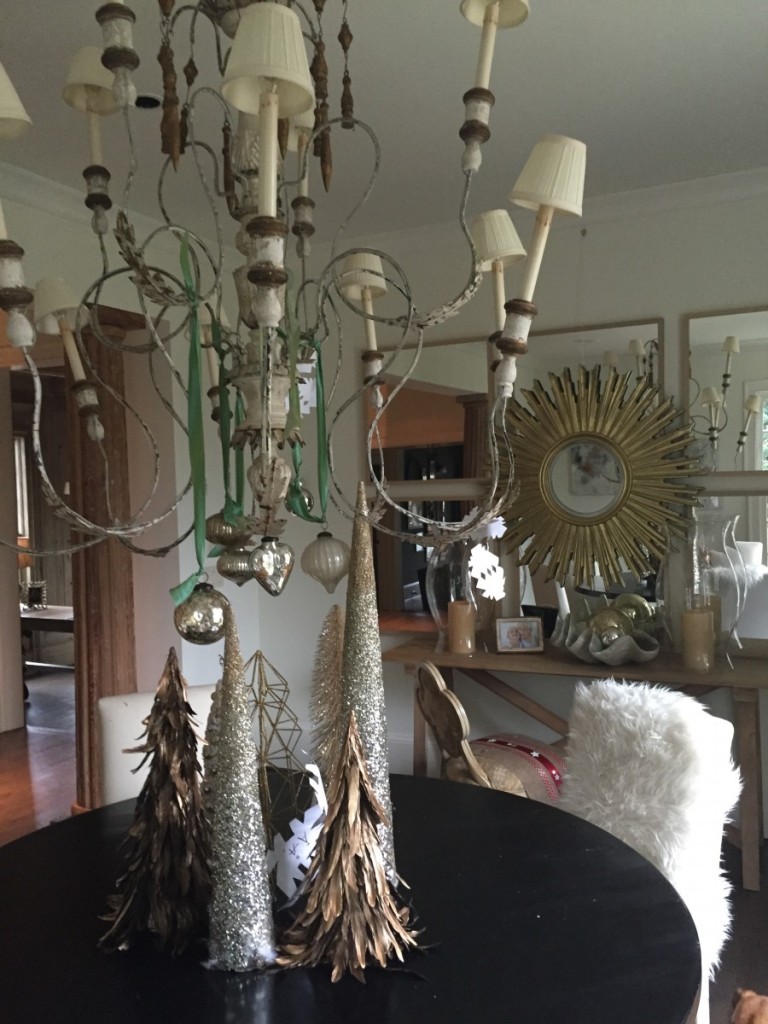 Added one new tree to my collection this year and hung the usual mercury glass ornaments from the chandelier. Moving this year really took a toll on my holiday decorating inspiration hah. It all came and went so fast. Again.
Drummed up this vignette for the hallway, moving miss skirted python from the foyer to here. Hence the BIG hole in foyer needing a BIG look. With all this awesome, extra time, I painted a pair of my gold urns white and placed them here as well. Saving myself from wanting to order THESE.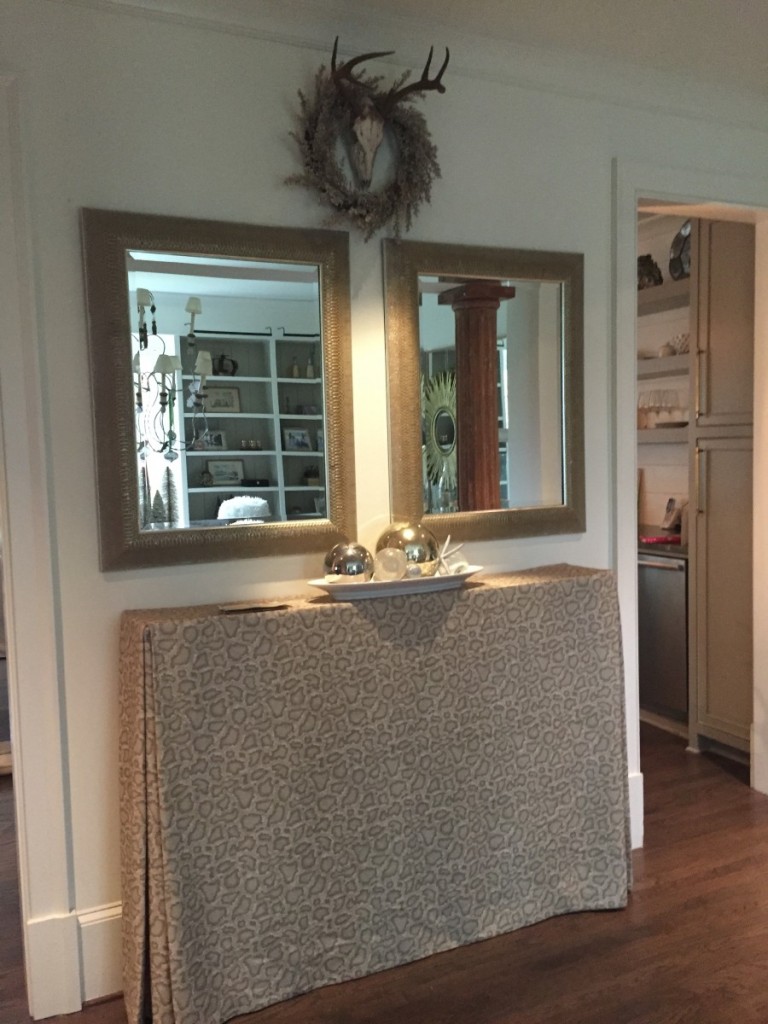 Let's pop into the keeping room, where I did a semi retro/funky/colorful tree. Lots to talk about in this room. I've been trying to keep my ADD decorating focus in here. Long story for later.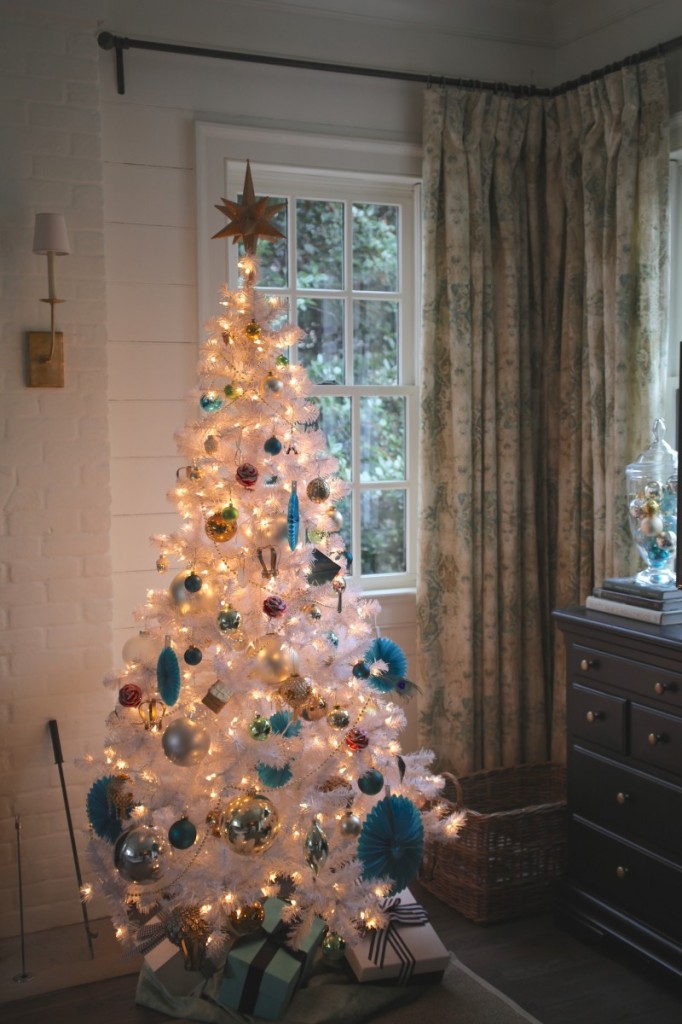 For starters, we've got drapes! Broke my own rule and put pattern on the "big pieces" aka window treatments. Hope I don't regret that. But to me their pretty neutral and the scale makes them a good mixer with lots and lots of other patterns.
Apparently I had a lot of left over bulbs in this palette (???) so I filled up all the empty glass jars taking space in my cabinets and displayed them here.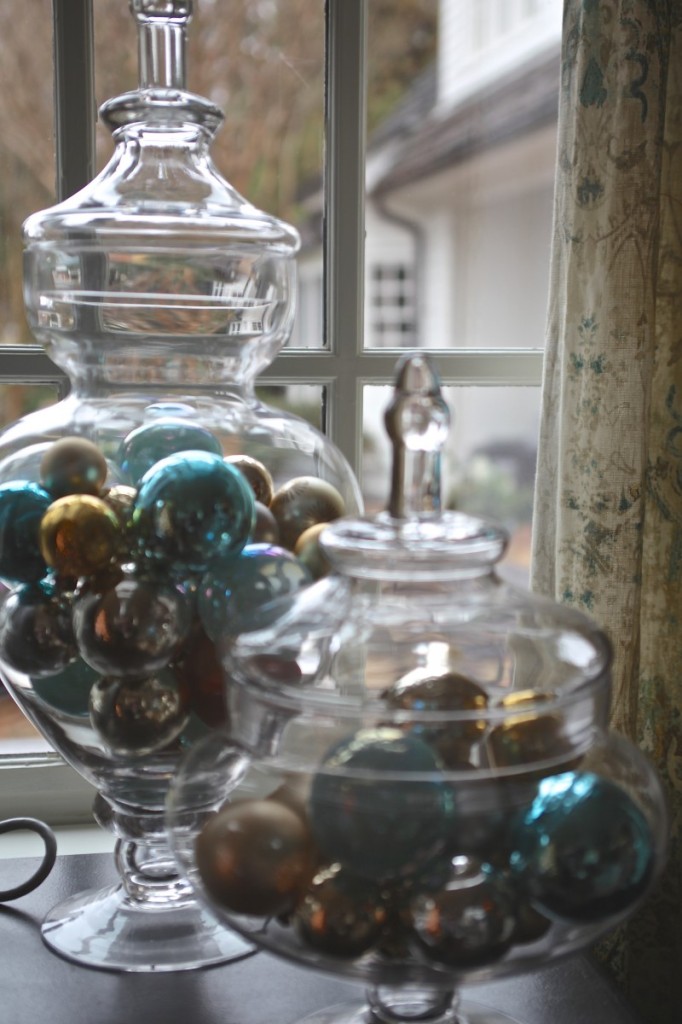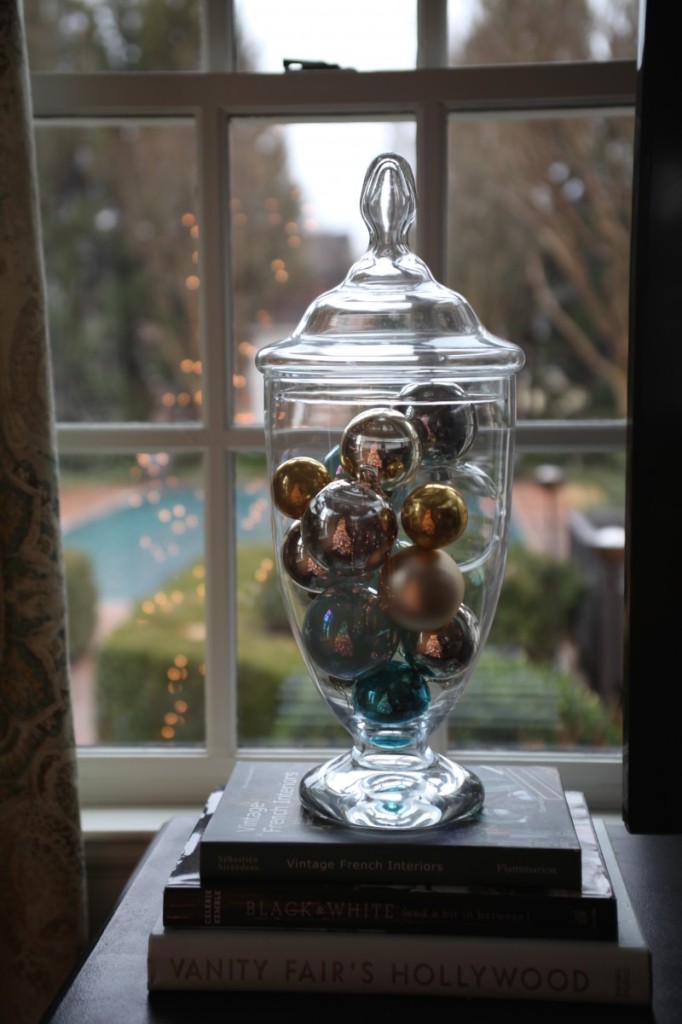 And RIGHT after new year's they're going straight to the attic as is, to be pulled out quick and easy for next year. Getting organized is a huge goal for me this break. Making serious progress but much more to be done. Is it ever done? I wonder.
All new lights were installed. To get the exact lights that we wanted, we actually had to contact an electrician to carry out some work on our circuits and wiring. To be honest, it was about time that we called someone out to take a look at our electrics as our lights had been flickering for the past few months. Our electrician was actually recommended to us by a friend. She told us that nowadays you can find some fantastic electricians online using websites like acelectrical.ca/services/circuits-and-wiring/. Anyway, take a look at the sconces on the fireplace above along with these funky stars next to the stove with mercury dipped bulbs from CB2.
I turned them sideways to fit. Tricky. ;-)))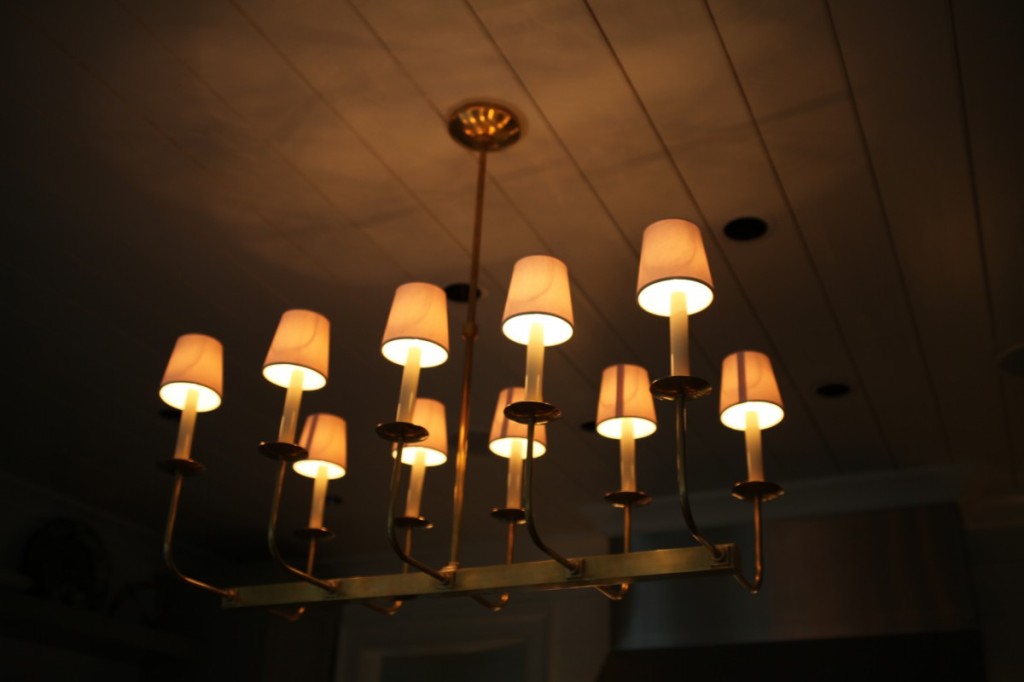 I debated no shades, the single square shade and the above round shades for weeks. This now hangs over the island. I'm really happy with the mix. A new sofa came, the banquette has been recovered in faux ostrich, a square table (that may be too big and moved to screen porch) is in here and a pair of KILLER blue chairs that I've tried to convince myself I can live with. But in the end I'm so neutral when it comes to my own space. Calming. So the hubs and I decided to recover them. Like I said, there is a lot going on in here. We'll dissect this space later with more pics. But can't help but think of this quote from a new design book Santa brought…
"THE DESIGNER IS A LITTLE BIT LIKE A CHINESE ACROBAT WHO SPINS A LOT OF PLATES AT THE SAME TIME."
-Paola Navone
Moving on to the third (and final) tree in our home, the man cave tree, all decked out in traditional ribbon and the kid's handmade ornaments. Some of Mom and Dad's childhood ornaments are in here too. The big hurdle here is fabricating the cheesecloth drapes from our old house and installing. Removing the existing hardware from the wall in this space was no easy task! I'm grateful no windows were broken in the process. Two double widths flank the windows in here…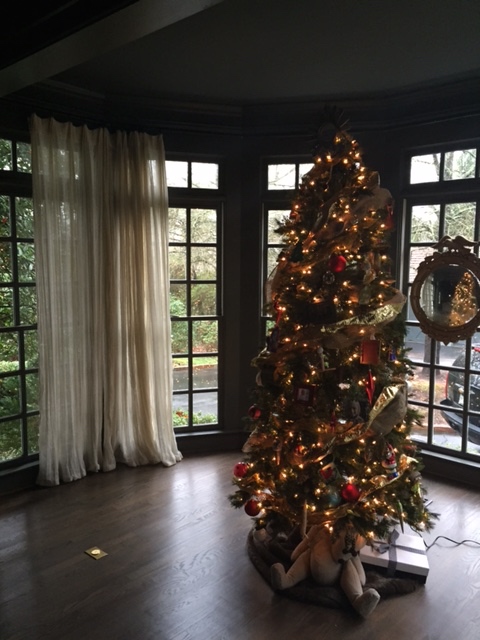 And a single width hangs asymmetrical on each pair of windows here…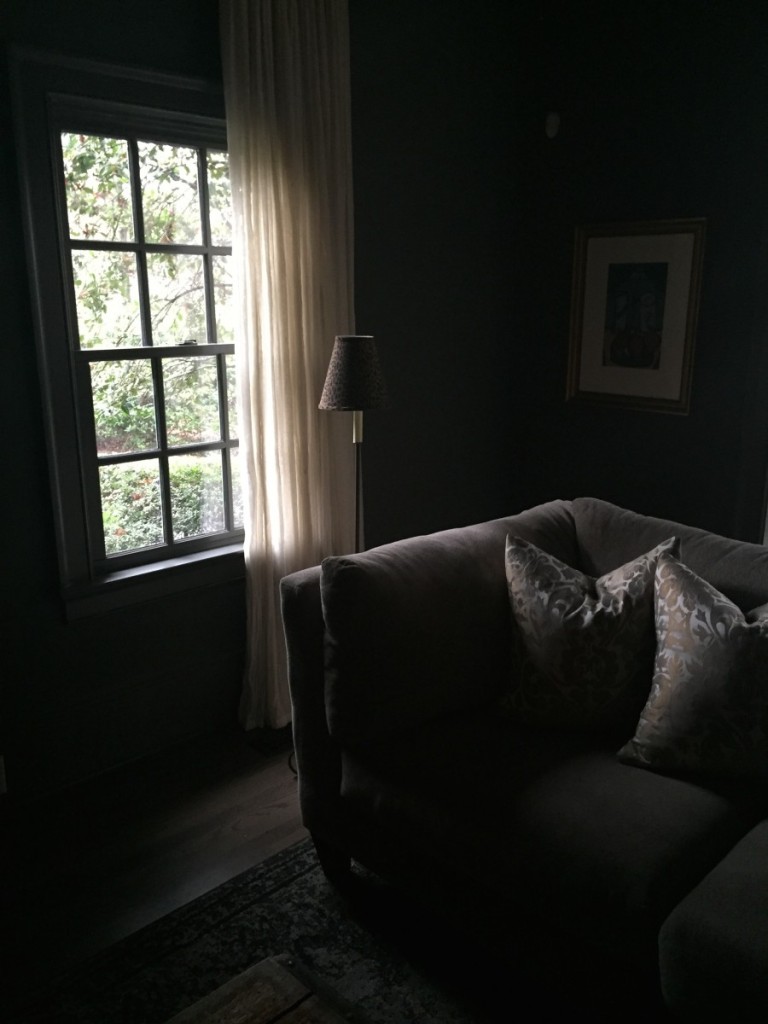 I made a hasty decision and ordered a pair of these consoles for in here and they are all wrong. Into the sale you go.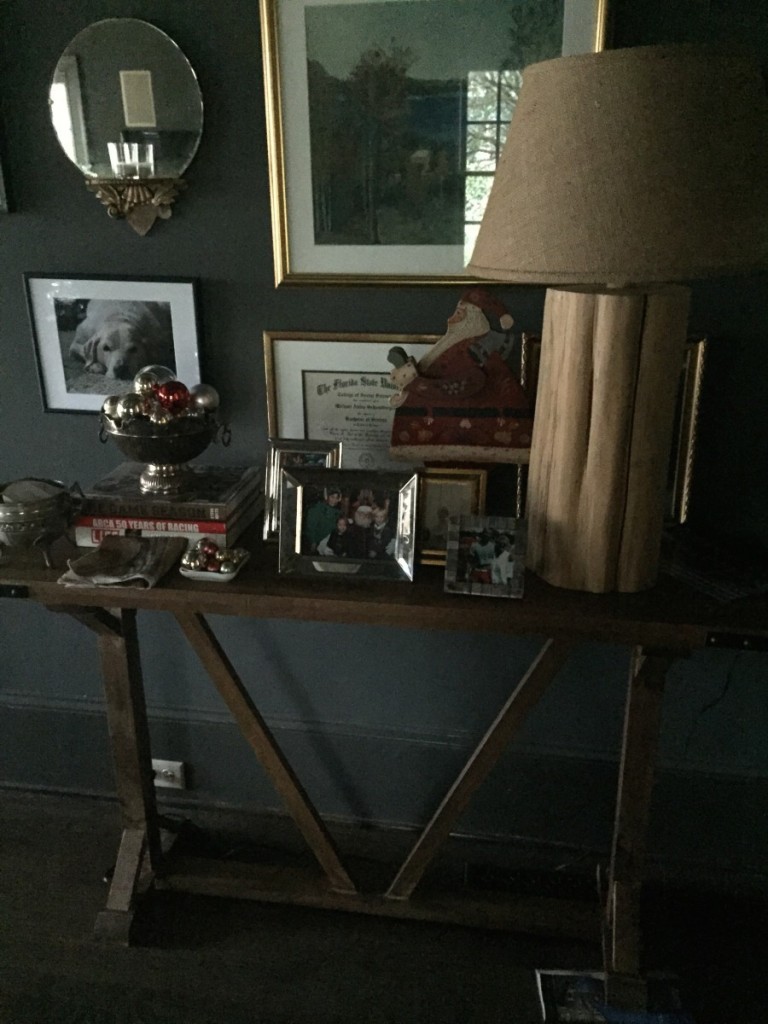 The gallery walls will take on several iterations and ultimately a pair of benches will reside here on these back walls in Kelly Wearstler's Barcelo fabric in truffle.
Lastly, both bathrooms were wallpapered and styled (somewhat). This mirror doesn't have much of a presence in this photo but I promise looks more exciting in person. Verdict still out. I can't seem to get out of my head the burlap framed mirror my friend Pam had in here. Thinking that burlap texture would make a nice compliment…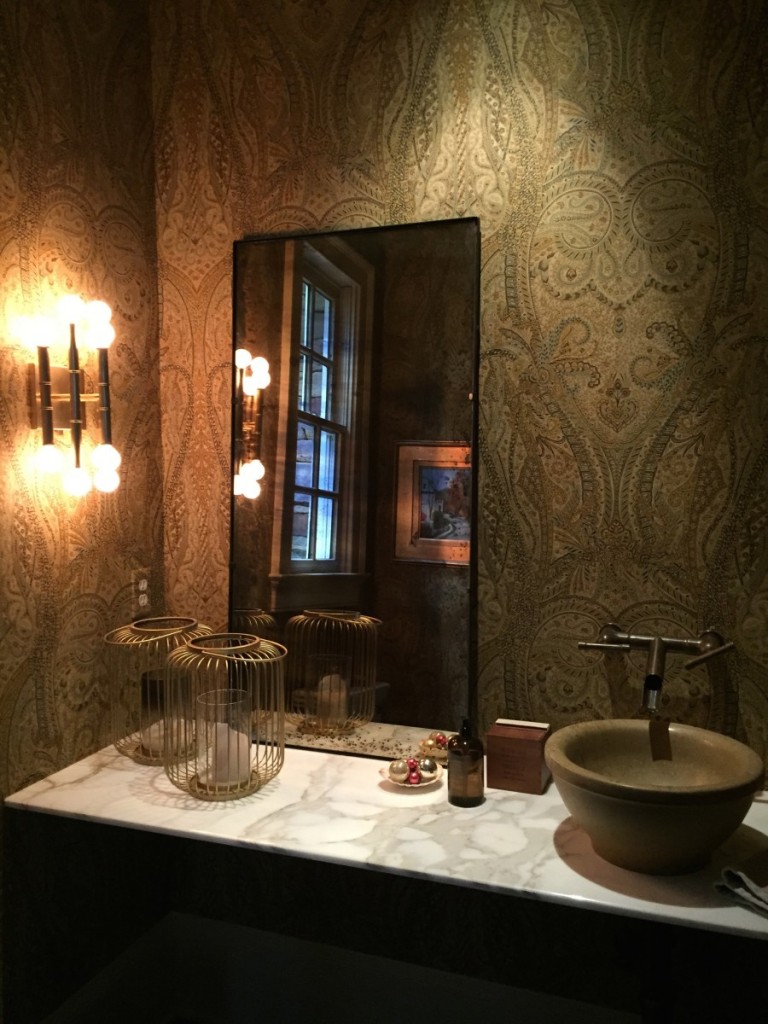 A new Jonathan Adler bamboo brass sconce was installed. I'd purchased the bamboo look when my fave brunschwig and fils paper was going in here (now booted to the dining room shelves), and how the two together would take on a palm beach kind of vibe. But then the hubs decides he wants snakeskin (can't say I blame him) so I put the already-purchased paisley in here. Ultimately they work together, but a crusty old lantern-looking light would rock too.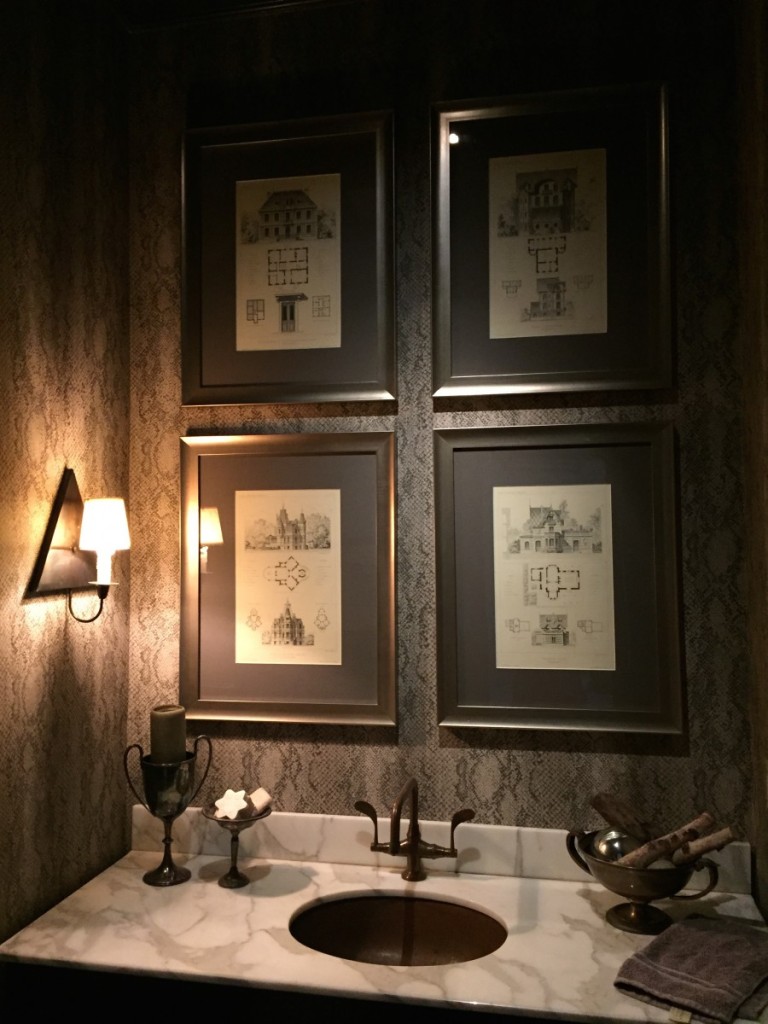 Well my friends, its getting late in the afternoon and the to do list is long. All good. xo
Happy, happy new year!!!! I'll be back soon with postcards from Paris and our design year in review. Oh yeah, and can't forget resolutions for the new year…how long is your list? #letsdothis2015.
Love, Jenny organized