Howdy how friends! And happy new year! Have we talked since the new year??? If not, I hope your holiday was TREMENDOUS. It's safe to say the new year is ON.  While I was "on holiday" I read some more of the book the art of de-cluttering your life and how it brings happiness, "spark joy", to be exact. I might be a believer! I went gang busters purging and organizing, along with the  usual rearrangement of all furniture and accessories that comes with putting Christmas away. I was a hot tornado mess and at the end of a busy design year, I had A LOT of (what I think is pretty) stuff laying around. So I had the idea to go back to where I got my start in enterprenual life and request a small space at The Queen of Hearts, a very popular and very awesome antique mall in Alpharetta. If I wasn't designing interiors, my second favorite job would be designing DRAMATIC window spaces, and I'm taking that approach with my new space.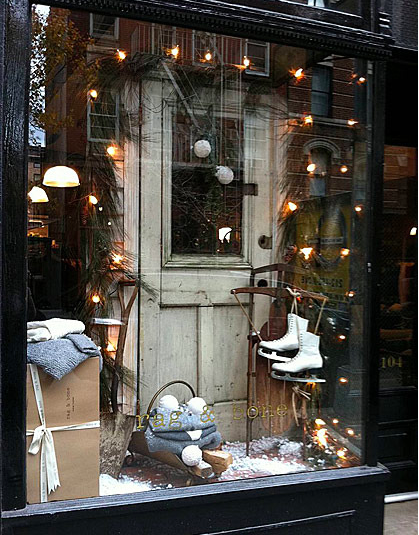 (photo credit HERE)
I'm going to treat my little 8 by 9 space like a fun window display or design vignette, while clearing out at home woo hoo! I took inventory of what I had, extra fabrics, colors I love together, themes I've always wanted to design (blue and white, black and white, pink and gray) and came up with a menu of themes to design. As if I don't have enough to do?! Hah. But this also feeds that studio itch for now, as well.  And I must admit, I'm so excited! I had a lot of fun this weekend, prepping, pricing, creating. For example, I took this vintage screen that was starting to show spots and finally got to splatter paint something, kinda. ;-)) I like it, but not sure if anyone else will. Ha.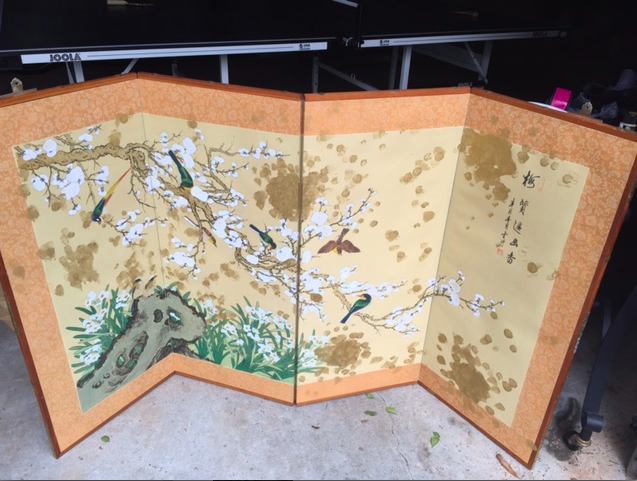 In other news, I was totally surprised to find the show house kitchen we designed pop up in the 50th Anniversary issue of Southern Living this month!  That didn't suck! Hahaha.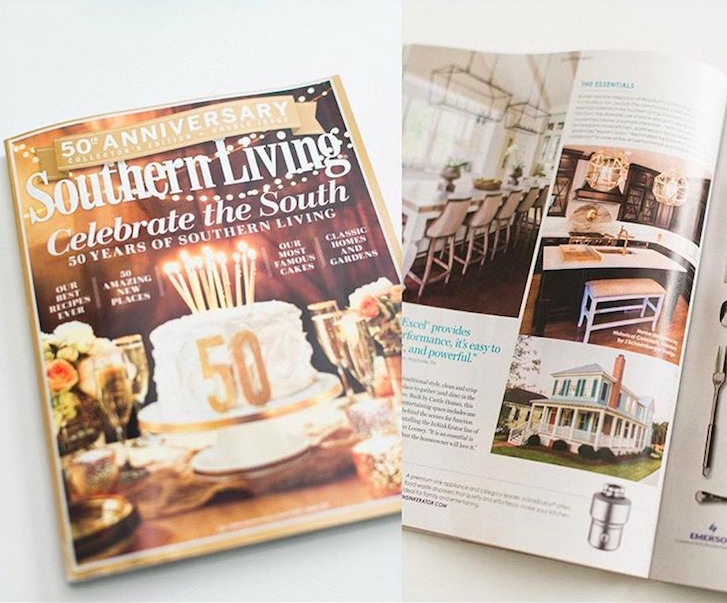 On that topic, I was having lunch with a favorite heart of mine, Julie Holloway of Milk and Honey Home, and we were discussing our excitement over being invited to The Southern Living + Coastal Living Designer Network (that was the other big news I wanted to share with you all)  and the doors that have already opened for Julie because of it. We will be attending their designer summit at the end of this month, in one of my favorite city's ever, Birmingham, Alabama. Can't wait! I too, have already experienced opportunity and recently signed a great new client, whole house design overhaul and when asked how she heard about me, "I saw you in one of my magazines". Welllll that was a first (and pretty darn special) to hear…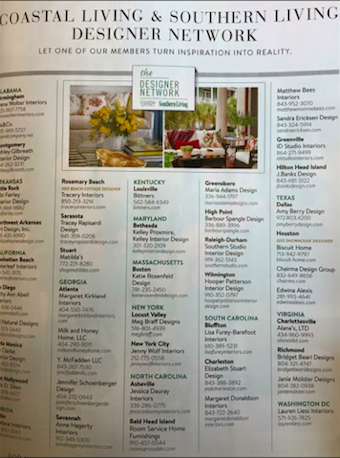 I sat there reading the names of so many amazing designers I admire (and love to pieces) and had a moment, not gonna lie. I was very proud. Always, my mind goes straight to MOM and I wonder what she's thinking and telling all her angel friends. I miss her so much.
Next up, is the mad rush I'm in to finish and photograph my house by February 26th, ahhhh! My sweet friend and magazine producer Lisa will be submitting them to the editors at Traditional Home, coupled with a nomination for a New Trad Talent. WOW.  The opportunity to have my name floating around their editorial meetings, well wouldn't I love to be a fly on the wall for that one! Or would I??? 😉 Just the thought of someone else thinking my work is good enough to present, makes my eyes water for sure, so I'm good!  However, asking people to vote for me in the New Trad Talent contest, not so much. But I  hear Mom…"you'll never know if you don't try" so I'm putting myself out there! Look for some uncomfortable announcement from me, in the near future, saying hey guys vote for me! Hahaha.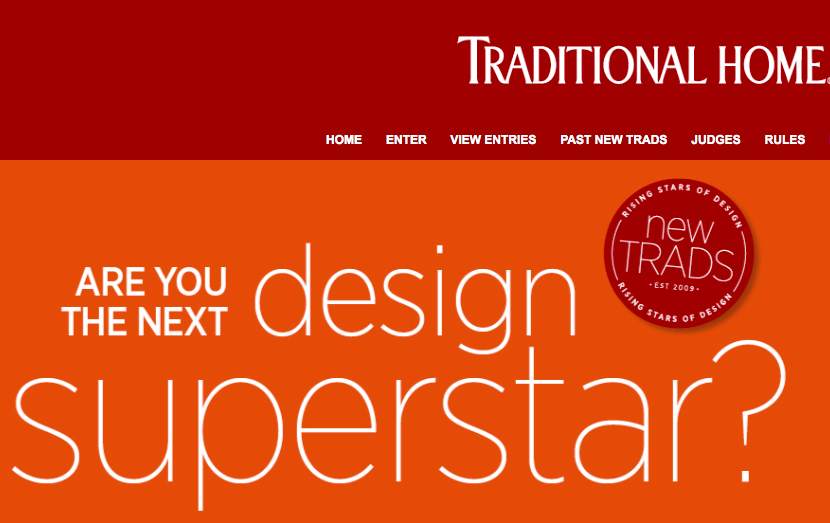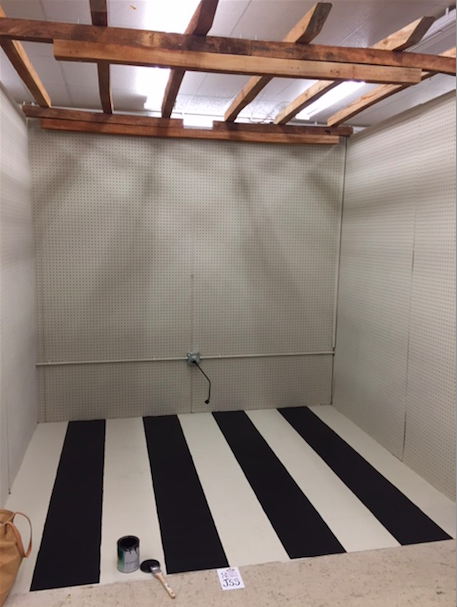 Here is a shot of my "window display" I painted over the weekend. I was hoping to move in today but its been very rainy so I think I'll try again tomorrow. Please come on by the Queen of Hearts in Alpharetta soon. My booth is located on Church Street and I'll be posting pictures of my first vignette, "Tangerine and Tan" on Instagram.
Lastly, I'm so close to some exiting new adventures for my philanthropy I'm working on starting, called Charm School. But I don't want to jinx it. But it makes me smile ALL THE TIME and I'm so grateful to my husband who has blessed it and bearing the brunt for now. Fingers crossed we will have some fun new adventures in remodeling, DIY, up cycle, antiquing, you name it!
Well that's what's new with me. I'll be back later this week, or weekend, with some beautiful new portfolio pictures from the fabulous Christina Wedge of two young persons bedrooms we shot last Spring. Here's a sneak peek…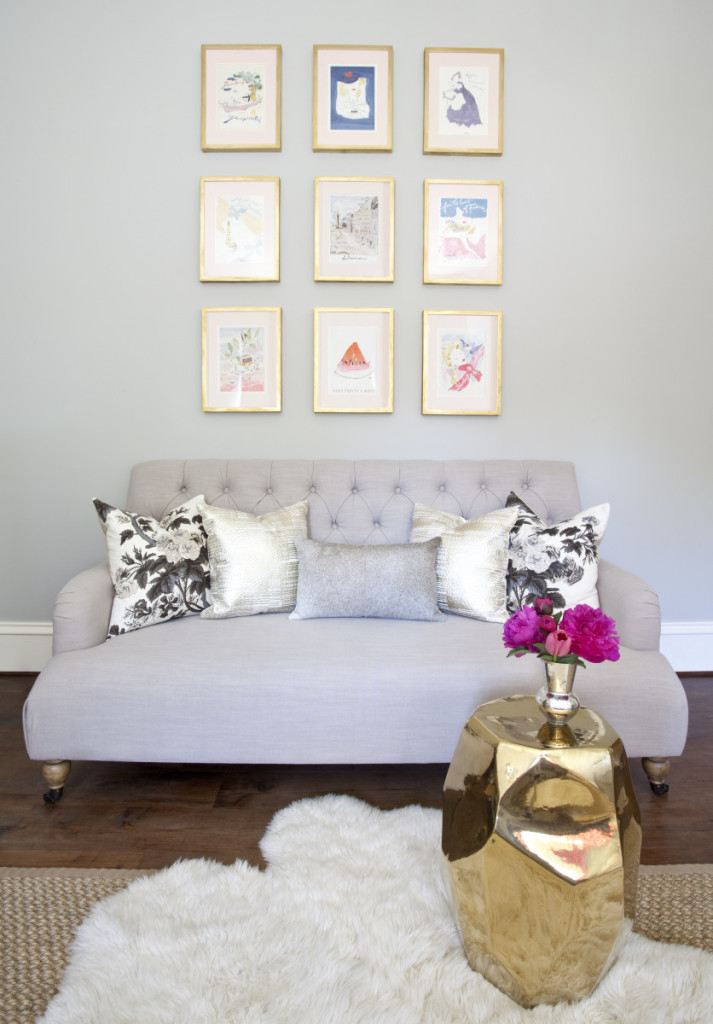 (vintage perfume ads matted with pale pink matts and brass frames. Big love them and this client).
I really hope your new year is off to a raging start! I for one, was more happy than sad, to see the holidays over. I know, downer! But they are hit or miss for me every year…last year a hit, this year kinda a miss….Mom, Lori, they make me sad sometimes, if I'm being totally candid. Which I am always so thank you for dealing. I hope you don't judge my lizard tongue or crazy thoughts. ;-)). Ultimately I think its my longing to be with extended family and the good ole days of hanging out with all your cousins, relatives, the new stuff, smashing honey baked ham sandwiches with faygo red pop mustaches.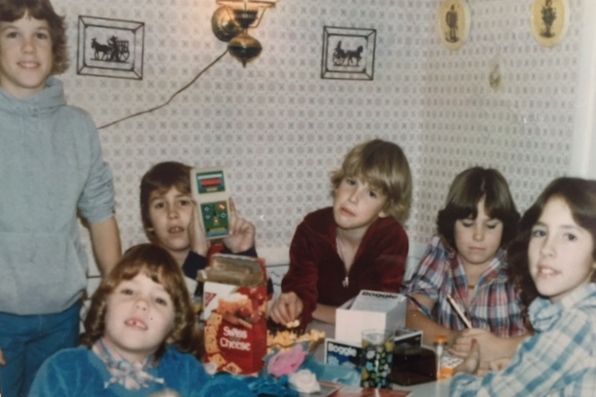 (Christmas day with the cousins at my Great Grandma Lee's house…I loved her pink wallpaper in the kitchen!)
I long for that festive atmosphere we had growing up and the big gatherings. It's like the longest day ever, why not throw down?! Next year we are bashing! Hear that friends and neighbors… If you aren't out of town and want to get out for a bit, bring the family and come on over for some ping pong, prime rib and holiday cheer…pajamas, street clothes, ugly Christmas sweater… Santa does not care!
happy new year team!
Jenny from the rock