Hello friends! I'm just off the plane from Homecoming and our class's 25th reunion. I cannot begin to express in words what a meaningful and touching weekend it was! I will try at some point, but right now I'm so exhausted from it all. A good, grateful exhausted. But not too tired to rally up this update post on Lori's House after seeing this weekend's progress!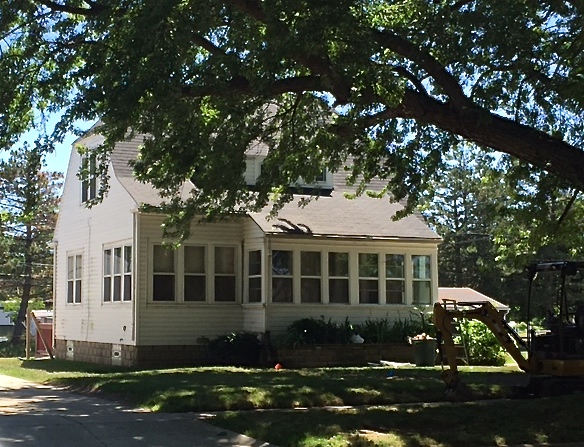 I haven't been able to share with you all, ALLLLL, the things that transpired after the closing, I will be brief and give you some history but it was daunting and kind of depressing to find out the basement was leaking and needed to be entirely waterproofed. That sure took some wind out of the sails and forced me to reevaluate my expectations while at home last Summer. With the weather so beautiful, I decided focus all energies on getting the outside looking good and worry about the inside when Winter comes.
A day after I arrived, they dug up the entire perimeter of the home. Gone were the front porch steps and we took this wonderful opportunity to create a new, and badly needed, front porch entry. Bring in the X motif! A favorite practice.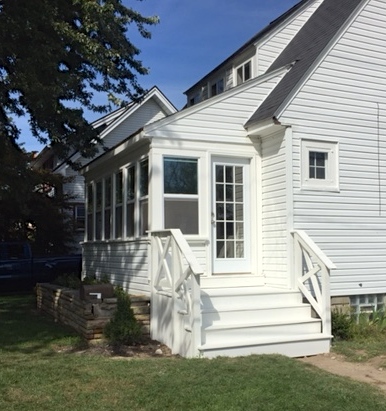 And while we were at it, added a french door (that needs painting) and now the front porch inside, is a legitimate, functioning, added space that can be utilized 75 percent of the year. And outside there is space to stand, grab your mail, plant a flower box, etc. Here is a shot of inside before…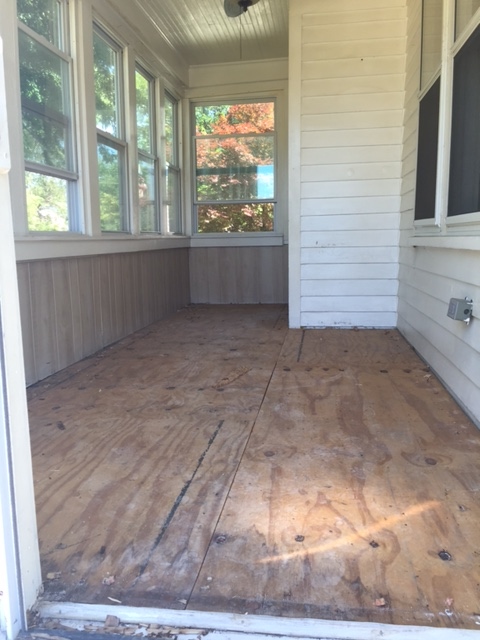 And now with a fresh coat of paint and ceiling porch blue…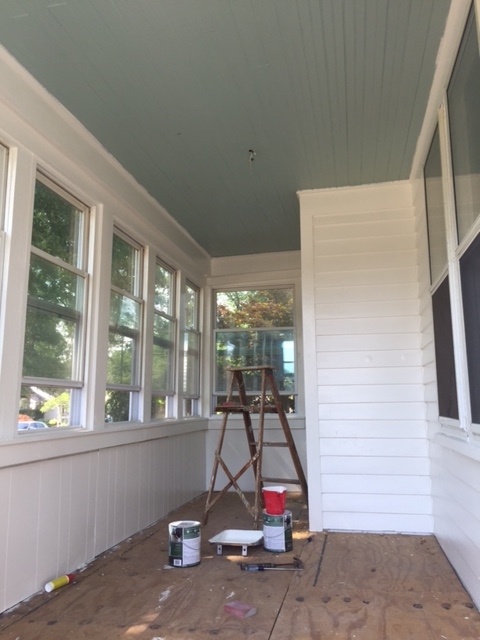 A very traditional, classic black lantern was scored on clearance at Lowes for $32 and will hang in the center and some form of laminate flooring that resembles something like below will be installed. I'm working with our partners at Shaw to see if they make a similar "whitewashed" look that I suggested last Summer at a designer network event. They have wonderful products coming out of Shaw!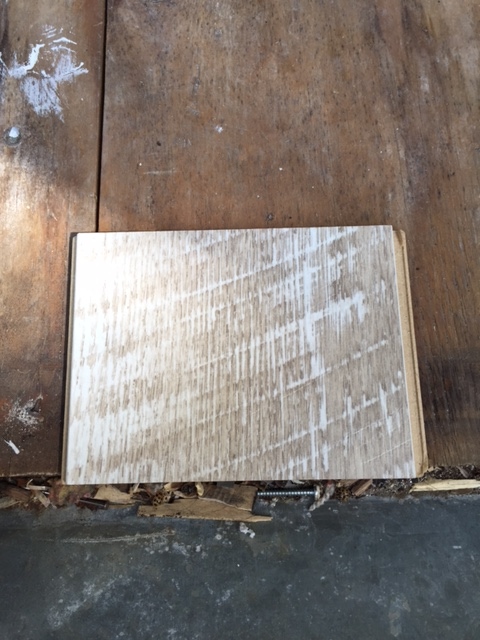 I have an outdoor drapery rod standing by and will have some sort of striped outdoor drapery here by the Christmas season. ;-)))
The garage received some major upgrades, including electricity! There was none. All the rotted wood was replaced, board and batten detail added, new gutters and a fresh coat of paint. Yeah man! We also installed some new garage flooring products just to protect the original floor and to give it a more polished finish. The doors were at death's door so they needed some urgent TLC. If your garage doors need some attention – perhaps they need a touch up or need to be replaced completely – you could think about reaching out to a company that specializes in just that, like this: aplusgaragedoorco.com.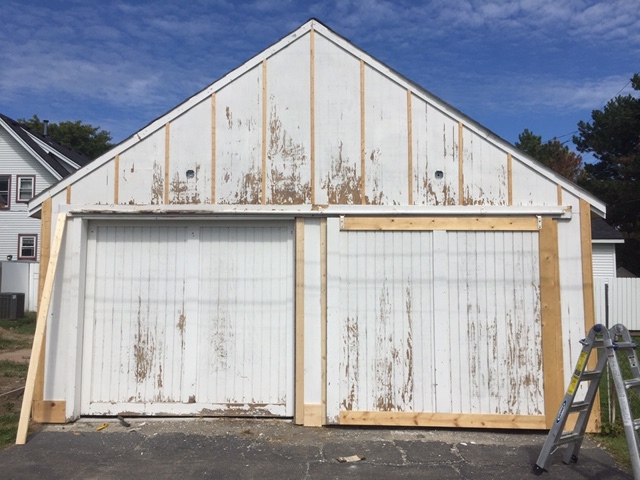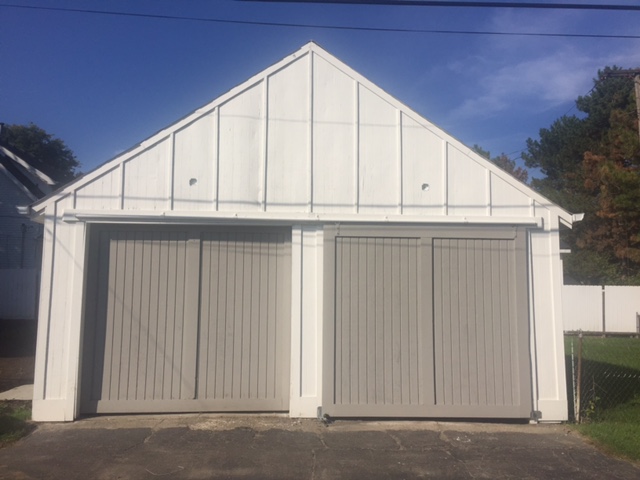 Eww remember all that junk back there?! So many random pieces of hardscaping, hot tub, rotted door, deck in the middle of nowhere…and the city hauls it all away?! I'm so impressed with the City of Flat Rock's municipal services thus far, being a new tax payer in town.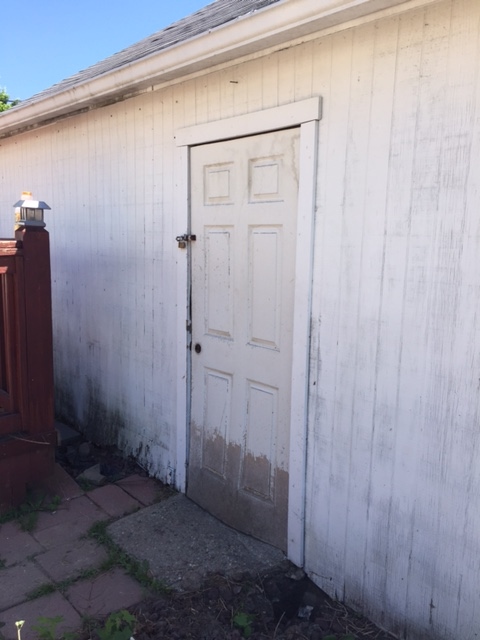 All gone now!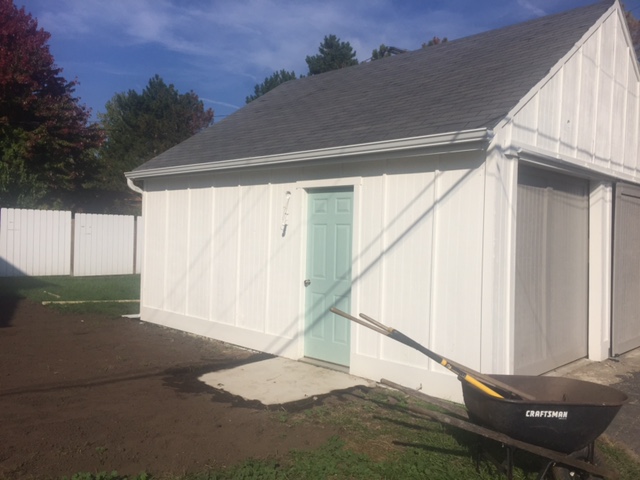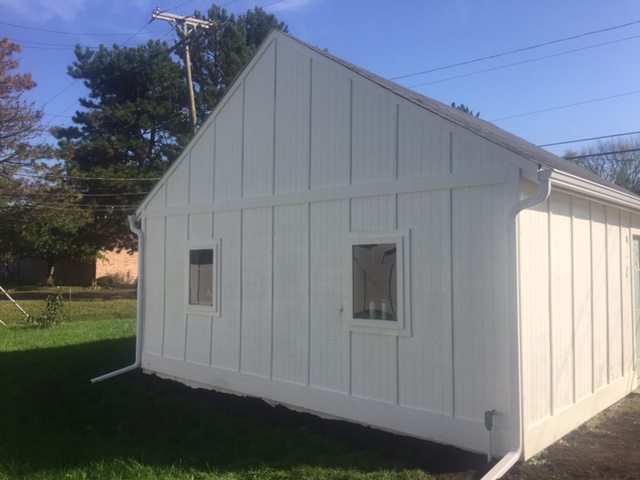 Lots of folks tried to talk me into replacing the sliding garage doors with automatic. No way. They are one of my favorite details and add so much charm. And there is plenty of space back here to add a third parking space if needed. The Fall colors were on their way!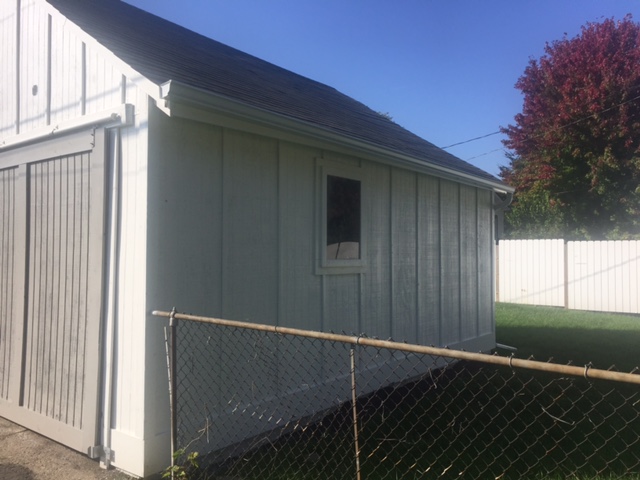 I planted two lilac bushes back here last Summer and was happy to see them still alive. Big Poppy was on strict orders to water accordingly. ;-))
New concrete pads were poured at the garage and back doors. You want a what? A circle? Yes! I wanted it to feel approachable from all angles and still have earth close by to flank the back door with landscaping and climbing vines. The entire home's trim was painted a fresh coat of "Alabaster" by Sherwin Williams. The doors are "Wyeth Blue" by Ben Moore. Sweet.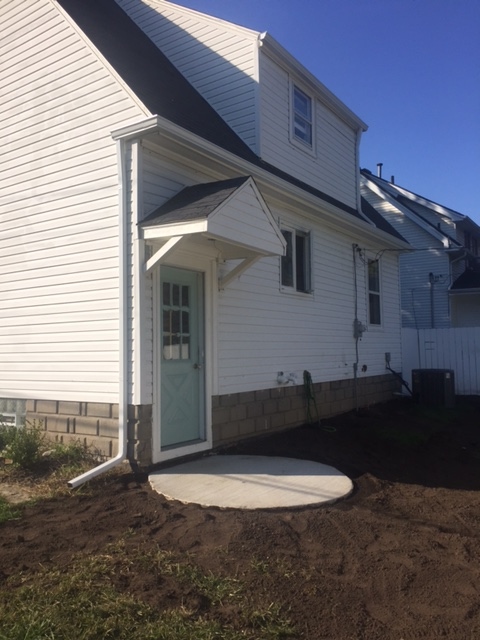 I managed to rip out and transplant a ton of the irises that were planted in the front stone wall. That was no easy task. They were rooted deep. Replaced them all with hydrangeas to bring in more of our color palette of lilac and light blue. Notice my furry friends :-)))) They hung around all Summer and watched me work. I think its good karma when animals like hanging around your space. I'm convinced they know more than we do. After last night's debate, I'm sure of it.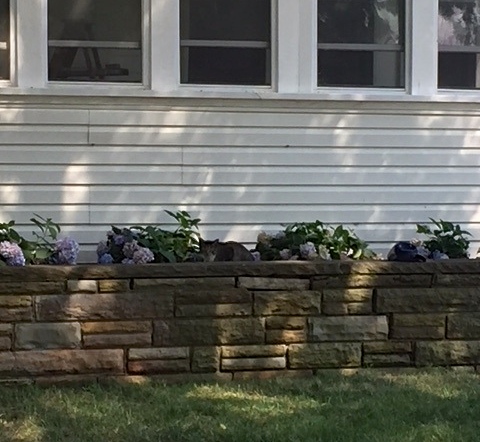 The remaining front and sides were landscaped. I used as much "stay green all winter" varieties as possible as things can get pretty bleak here in the dead of Winter. We need all the green we can get.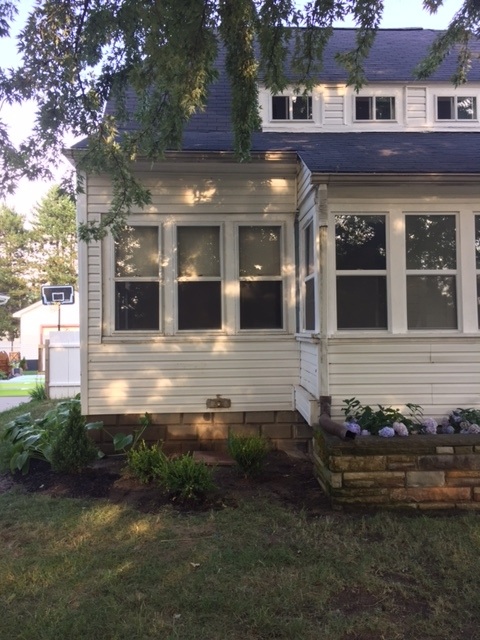 Transplanted a bunch of Mom's hostas, and will continue to do so, for good luck. Wishing I had one day to plant this past weekend. The weather was perfect for it. I did manage a couple of pumpkins for the front porch. ;-)))) Feel free to carve them for Halloween if anyone's reading.
Here is a shot of the kitchen with all cabinets and appliances removed. You can see where the hall closet from the living room jets right into the kitchen making it nearly impossible to place the appliances in a functioning space while trying to successfully utilize the random closet in the corner.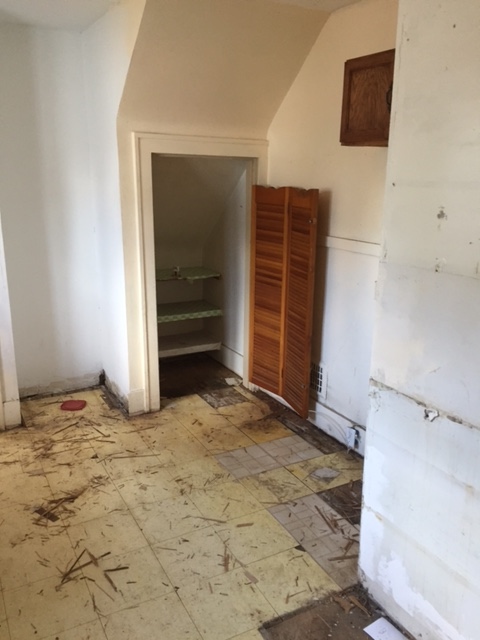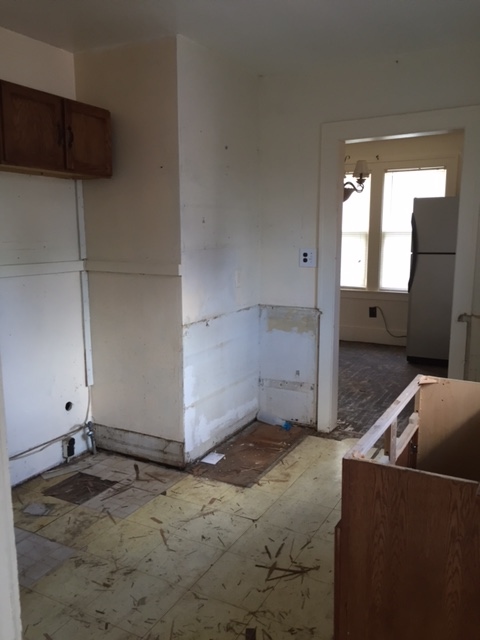 Here it is last Summer, yikes, getting demolished.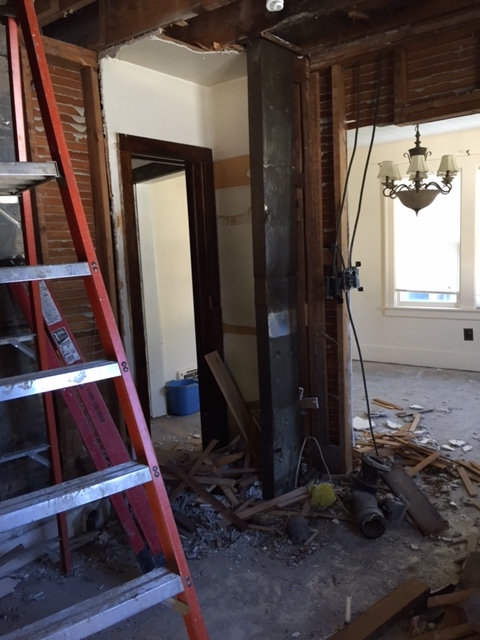 We widened the opening to the dining room and it made such a difference.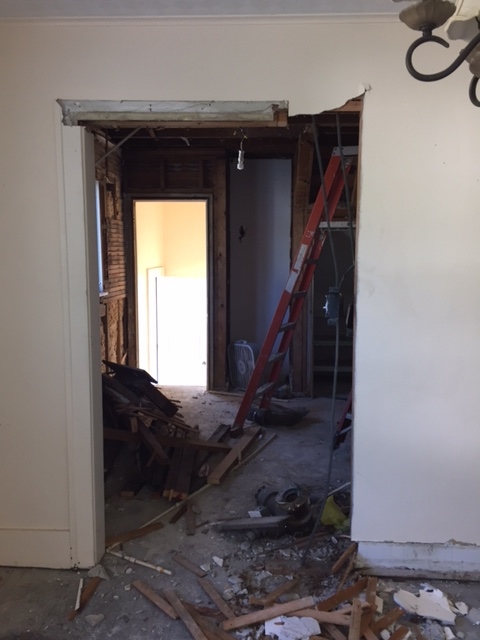 All the plumbing and electrical was replaced. More not so fun money to spend but completely necessary. We saved this house. Without spending this money, we wouldn't have any access to appliances that needed electricity and plumbing access. It was a good job that we got it fixed by professional companies similar to Tom Moffett Plumbing, (https://moffettplumbing.com/) to help us get it all done in time. I just couldn't believe how much damage there was. It was rotting away with its leaky foundation and completely out-of-date wiring. And someone is going to fall in love with it and want to live here when we are done. That someone is me! LOL. I wish. But I am absolutely loving this project and all the joy and satisfaction it brings. I already can't wait to do the next one! BUT simmer down Jen and learn all you can from this one first.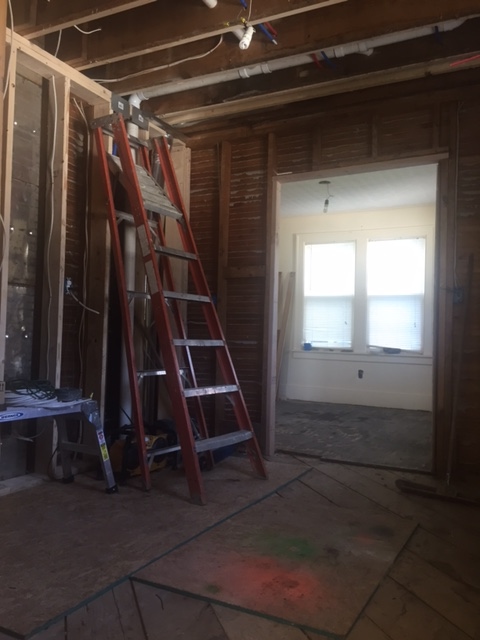 Here is the kitchen now, ready for the electrical and plumbing inspection this week. Someone told me that a license plumber can carry out an inspection so hopefully the kitchen will pass the inspection with flying colours! They were unable to salvage the wood floors so that leaves us a new option for flooring in here, which is exciting. We like it when we get to pick out the pretty stuff!
The awkward closet is now removed and will act as an appliance garage atop an Ikea blind corner cabinet that will allow us to use the space all the way to the back of the closet, while accessing it from the front. Its so cool. I can't wait for you all to see it. I'm super pleased with the function and storage this space will provide now. Stay tuned! hehe.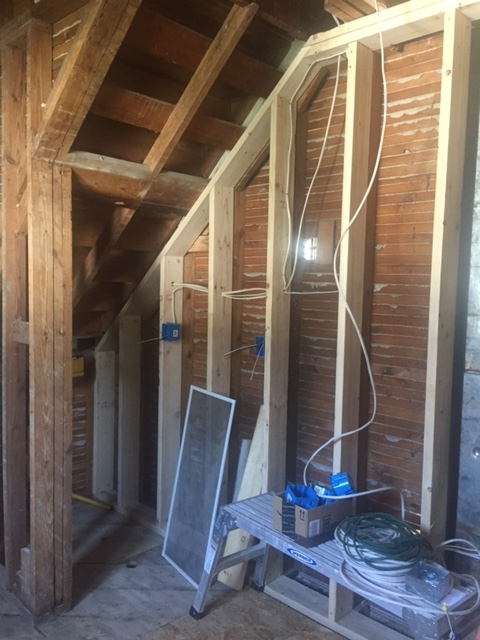 More good news from the weekend, Ikea will come out and measure for all your cabinets for $200 and reimburse you when you purchase the kitchen. Winner! Let someone else do the math. I hate that part.
Other fun updates, Pauly wired for another sconce on other side of the window for symmetry. We lovvve that.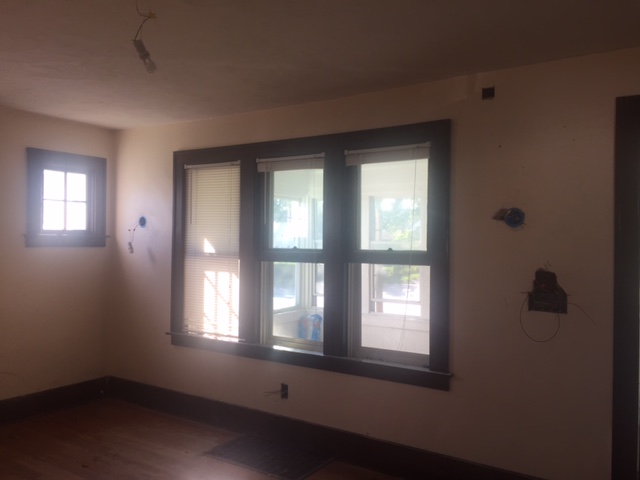 The upstairs bathroom is ready for phase two as well. We ripped out the shower/tub insert and are going with a custom shower only.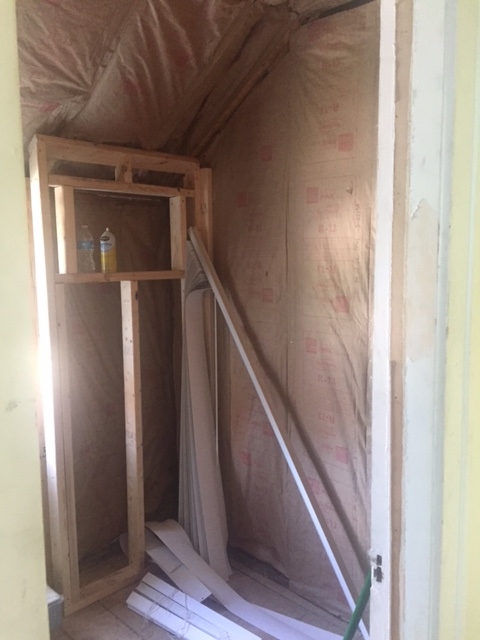 All shower walls and niche will be white subway tile with darker grout and this pale river rock on the shower floor with warm gray grout. The Y71 tile pictured will be the floors. We used this in a clients beach house and loved it. And I've been dying to use some river rock tile forever. There is something so natural, organic and durable about it that I'm contemplating it for the kitchen and back door entry as well. I think it could be cool BUT I'm still sorting out the kitchen in my mind.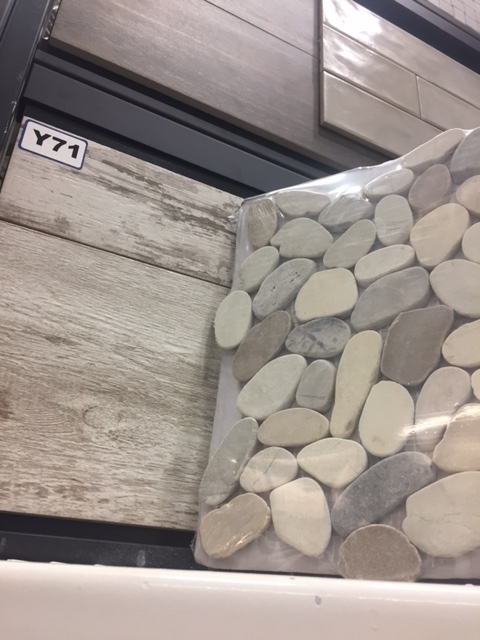 This wall use to consist of the toilet on your left, tucked behind the door, and the sink to your right, facing each other. It was all wrong. Moved them both to the larger wall, side by side, and flip flopped so you stand in front of the sink, where the ceiling is the highest (and sit where it isn't). What a novel idea. ;-))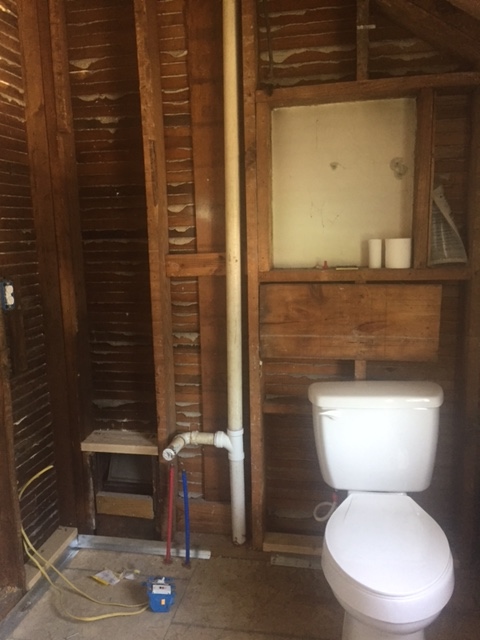 I ordered a gray vanity cabinet with marble top and changed my mind mid-shipping and sent it back already, thinking its not quite the right tone of gray with the tiles selected. I'm hunting down the perfect white, affordable, stylish vanity right now and will let you know if I have any luck. A vanity bar light was purchased from Home Depot's Hampton Bay line. All very classic, cottage style for wide appeal.
So now its onto the fun phase! Interior paint, floors refinished, new kitchen and bath. And I cannot wait to stage and style it all for one big, bad, open house party to celebrate Lori's life, life in the Rock, life in general. All the joy and blessings this fixer upper journey has provided. So many to talk about! But another time. I'm still rolling in what a wonderful weekend was had by so many folks back home. There were several different classes, different generations celebrating their reunions and it was great to witness all that. All the proud parents celebrating Homecoming with their kids. Just the most genuine, down-to-earth, pure Michigan peeps everywhere you look. It was priceless! I hope yours was every bit and then some!
Much love and gratitude,
jenny from the rock.
#classof91