How are you friends?! Once again, its been too long since we last talked. Boo. I've been working like a dawg and trying to be all things to all people. I've already decided one of my new year's resolutions is making more time for ME (and my family of course ;-)). I'm helpless lately. I love helping folks find happiness inside their four but bite off more than I can chew. Thank God they have been extremely patient with me this Fall. Soooo with all this busy bee-ness I started decorating early, like before Thanksgiving early and then hit a WALL. That was until I toured the Atlanta Homes and Lifestyles "Home for the Holidays Showhouse" last Saturday. Hubba. Hubba.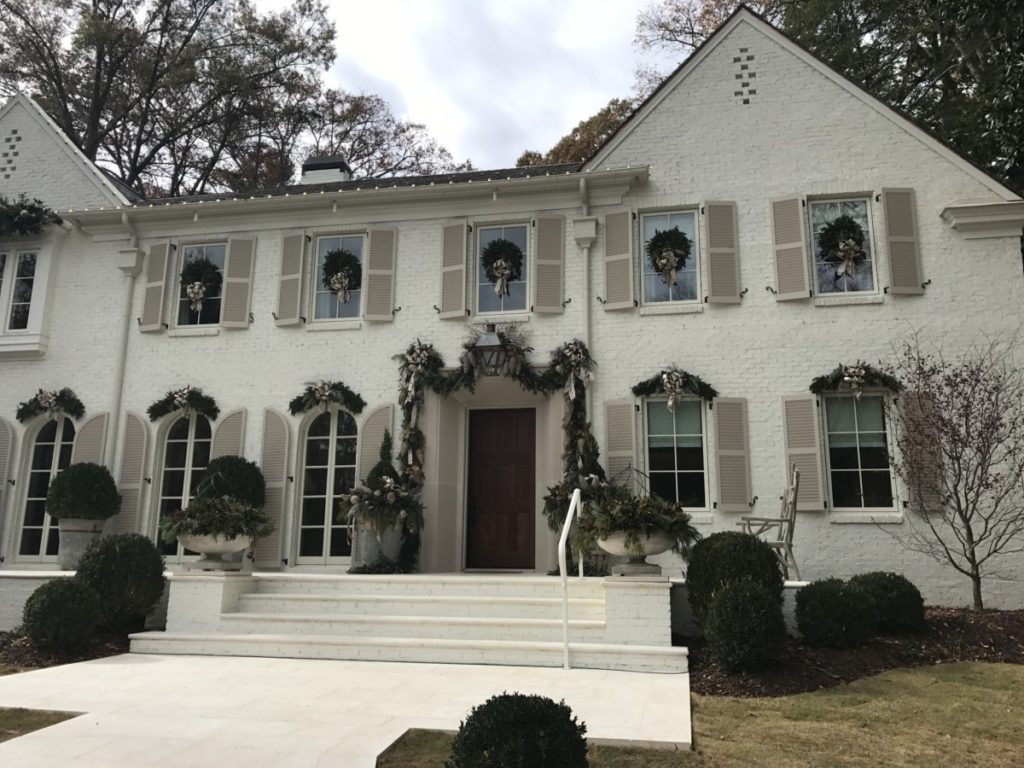 SWAG GOALS!!!! The entire exterior was designed by Boxwoods. Local legends at this point and huge supporters of the design community.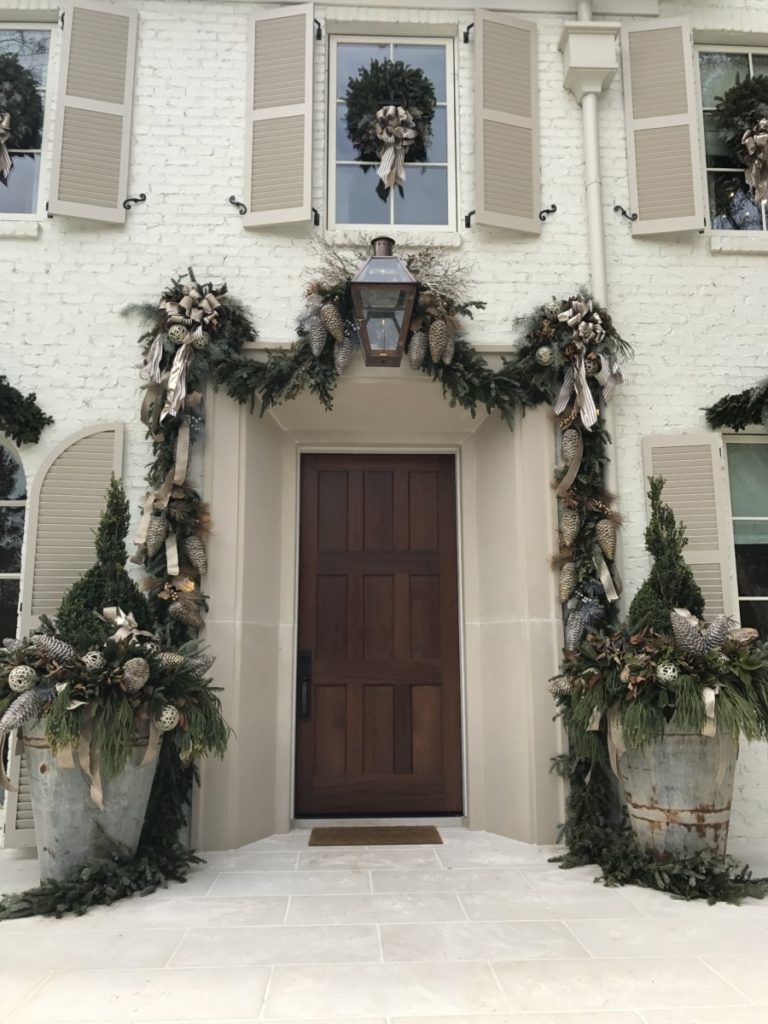 You can find these FABULOUS containers at their emporium in Atlanta, an emporium of treasures.
I'm going to approach these next photos like a designer's notebook, listing my reasons for taking them which hopefully will inspire all kinds of good ideas for you too.
The entry hall by Melanie Millner. I selected this Bernhardt console for a dining room and I'm seeing it everywhere now which is a great sign!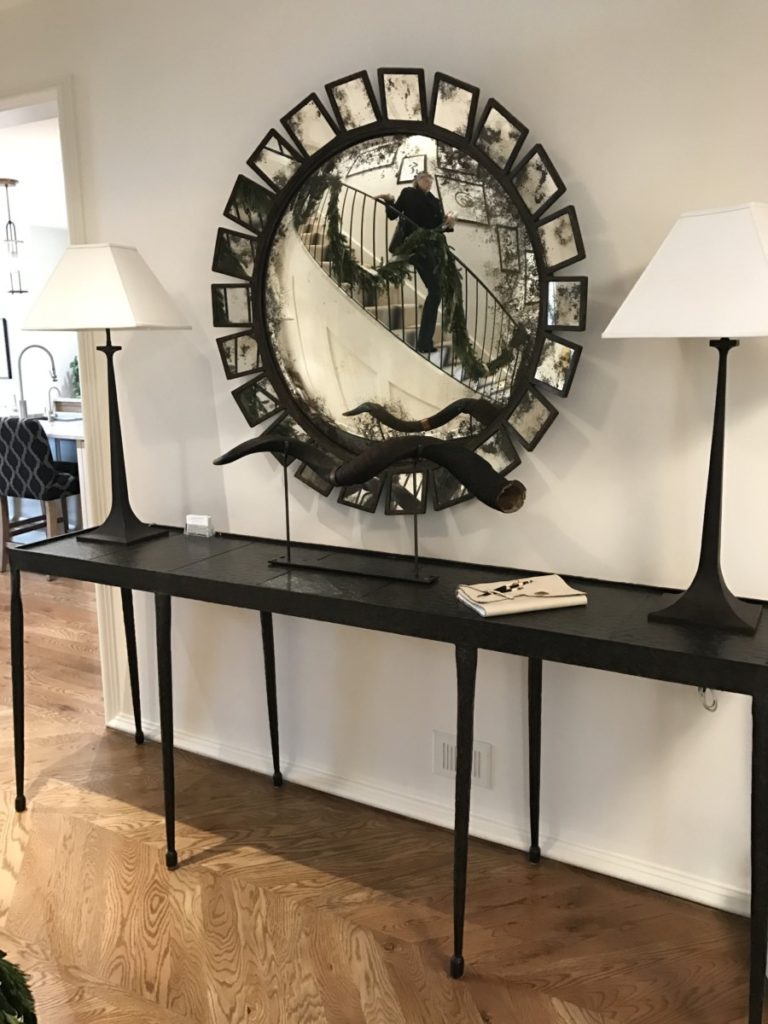 Stair runners are a must! They add comfort, coziness and STYLE.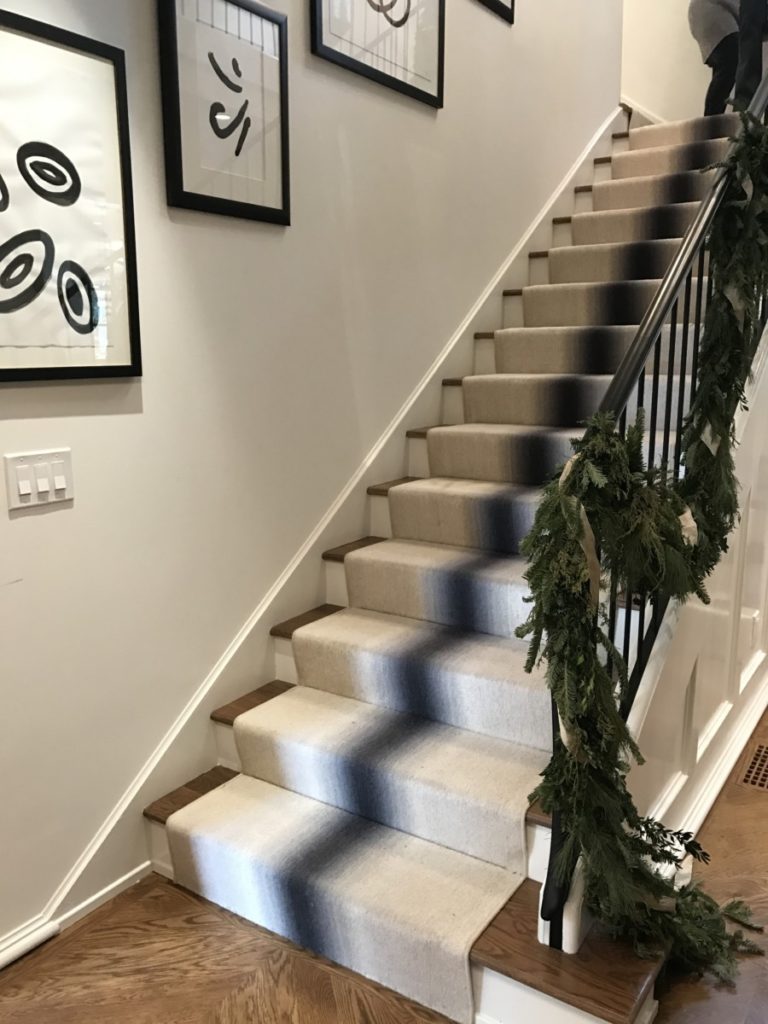 Probably my favorite spaces of the tour were the living room, dining room and bar by Womack Interiors. Bomb.
CEILING GOALS!!! Insanity.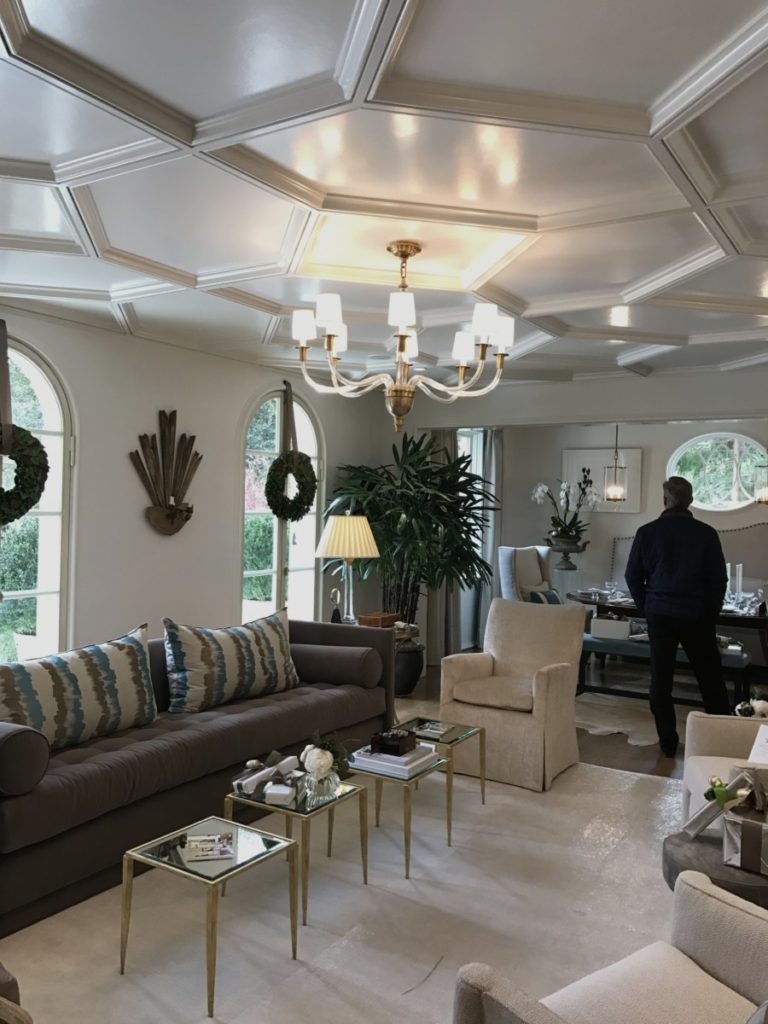 They converted this old screen porch into a formal dining off the living room. This pic got a lot of love on insta over the weekend. Gorgeous symmetry. I'm sounding like my daughter "insta" #ohdear
Details, details, like this tiny piece of leading edge trim that went all the way up and across the top of the panel.
Notice the fireplace interior styling. Always one of my favorite things to look for when touring show houses…each designer does something incredibly creative and different. I couldn't wait to style my own take on a fireplace in this showhouse I designed last year…check it out HERE.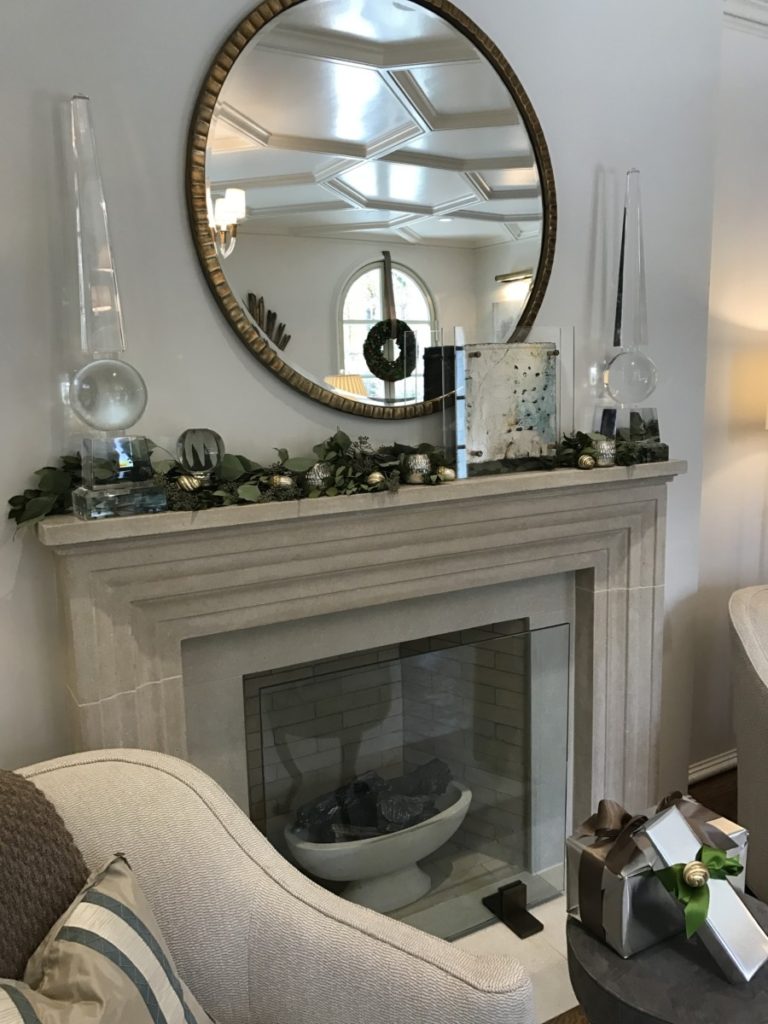 Fell in love, love, love with this light! They were sprinkled throughout the hallways on the first floor. Gotta love a good reflecting-on-the-ceiling light.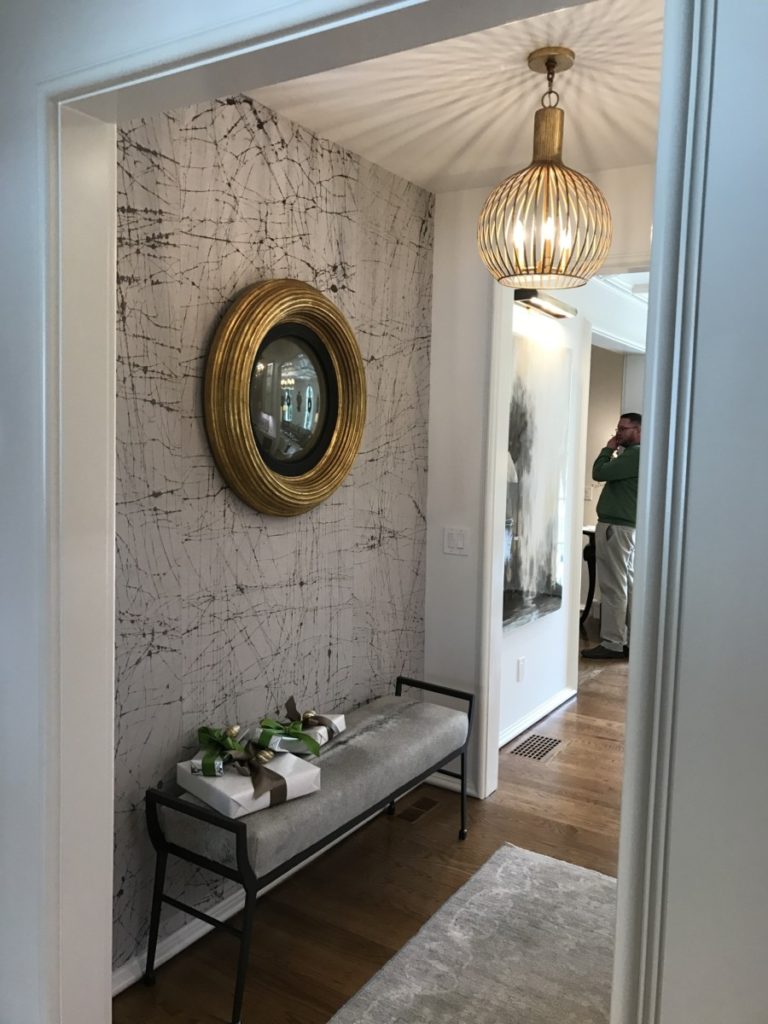 Let's hit the loggia next by Don Easterling and Nina Nash. Love these two pillow patterns together!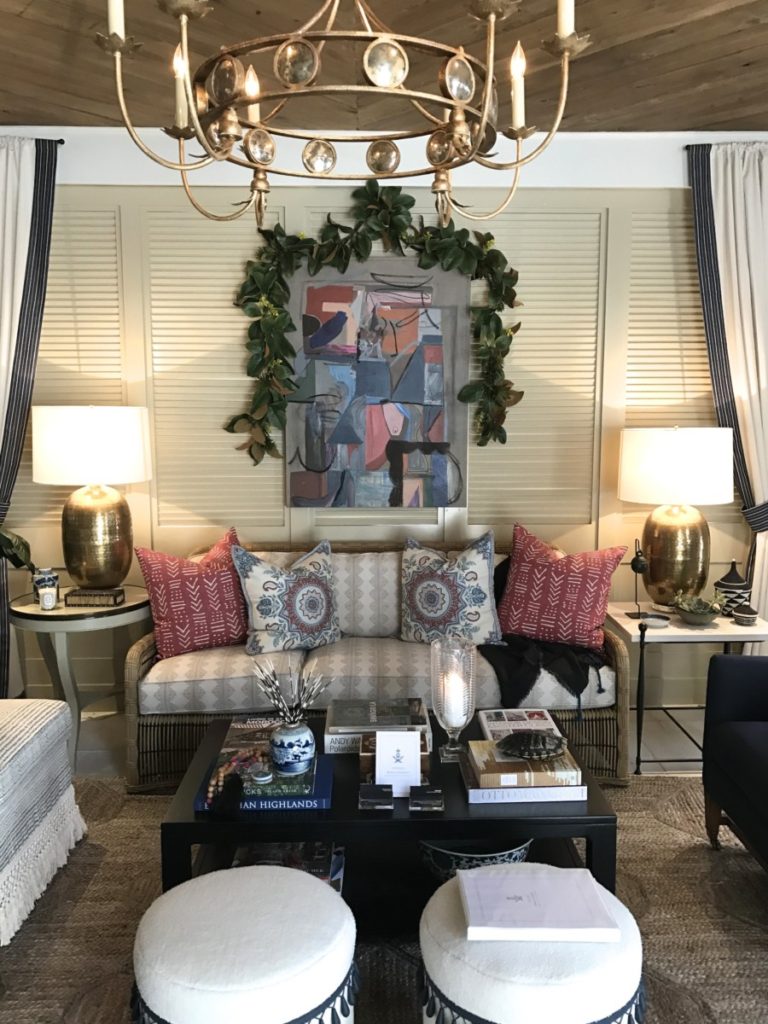 I recently picked up a chair like this for $35 at an antique store for my Santa Fe inspired mudroom so I was very excited to see how they styled it. Three opportunities to bring in color and texture. Especially liked the throw hanging over the back.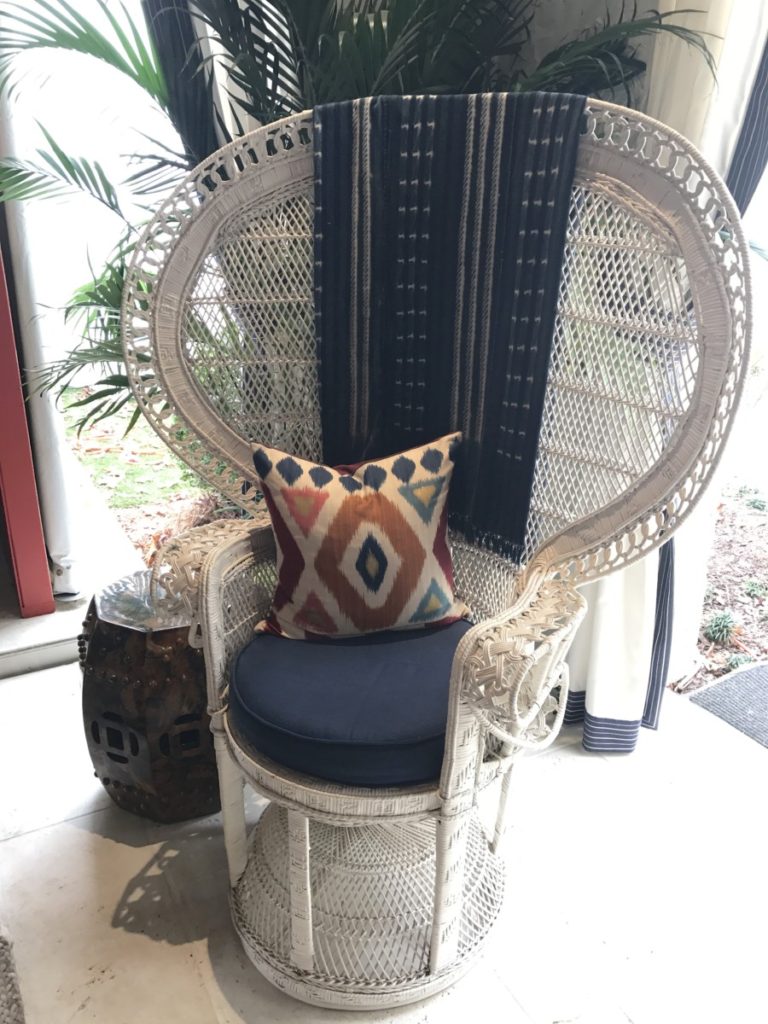 The Family Den was phenomenal by Courtney Giles. That blue!!! Loved it. Great styling, great everything…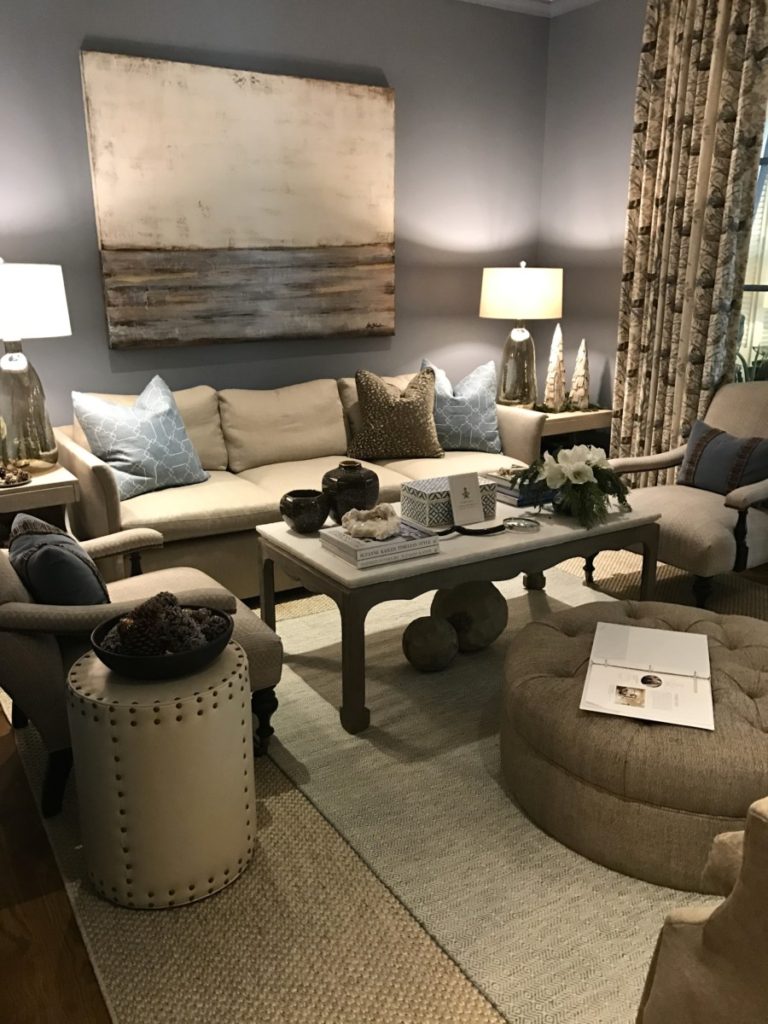 Beautiful job on the bookcases! I was inspired to hang two wreaths on mine after seeing this…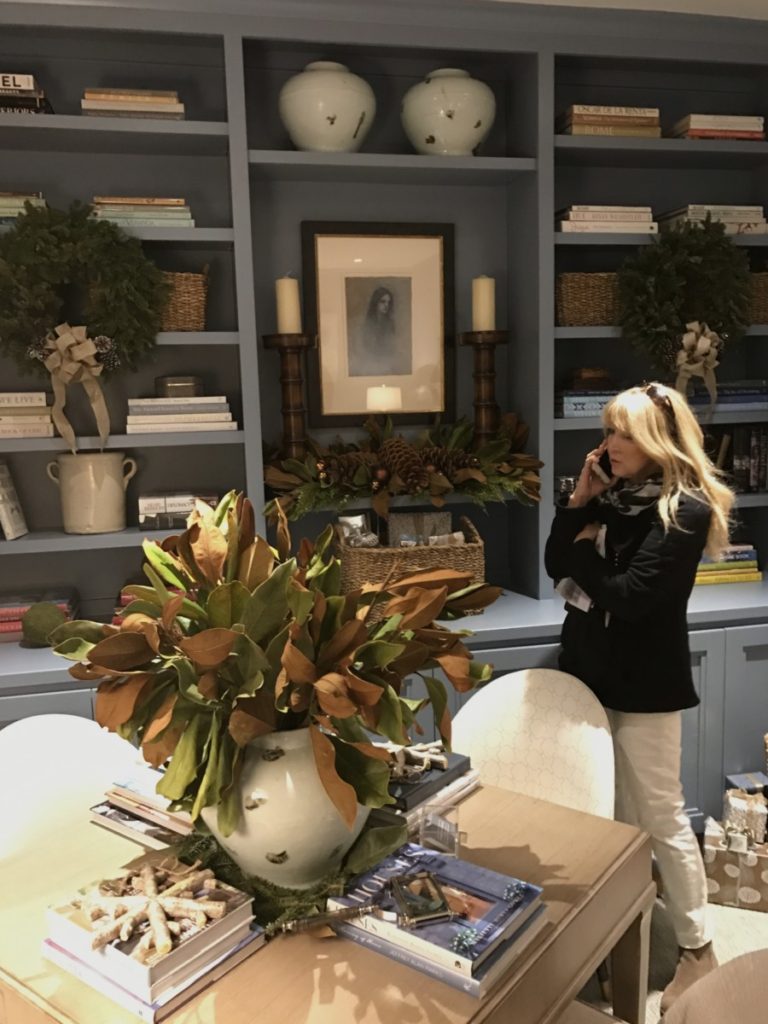 As I waited in line to use the powder room, shot this and am in love with the wallpaper. Hoping it comes in a fabric as I'd like to use it on an arm chair for my Chicago project. And you can never go wrong layering a wreath over a mirror!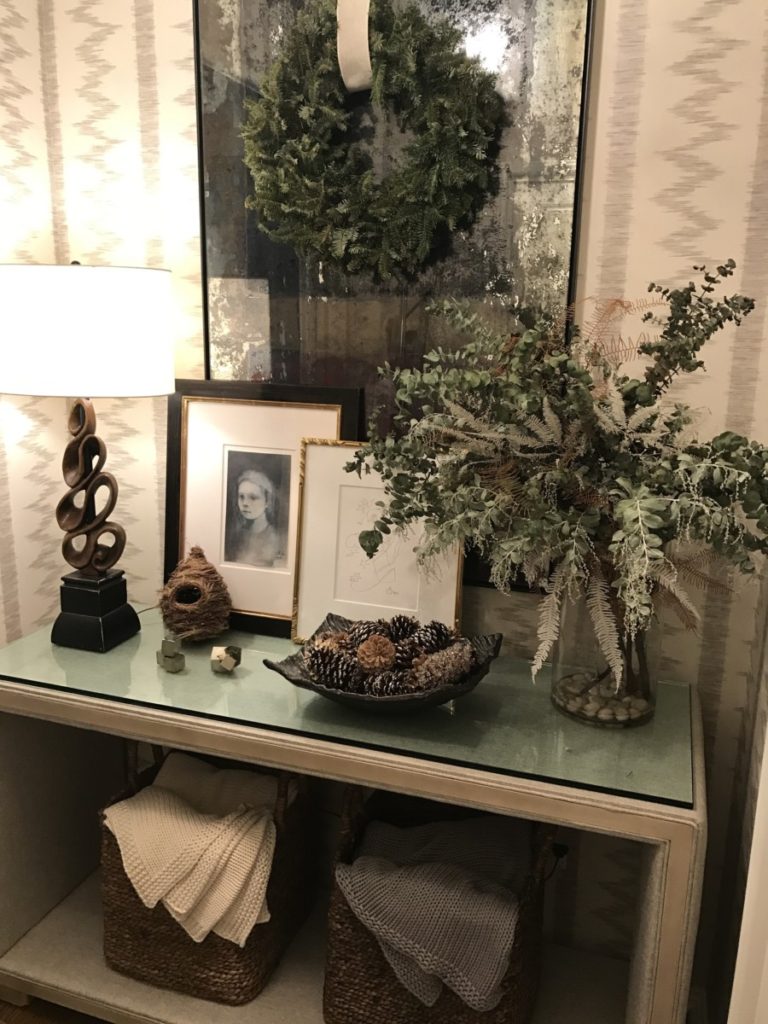 A couple of styling notes to mention from the powder room…
These metallic jars with cotton twigs. Totally going to use this for my farmhouse bathroom project. Big win as I was stalled on what to top the metal cabinets with.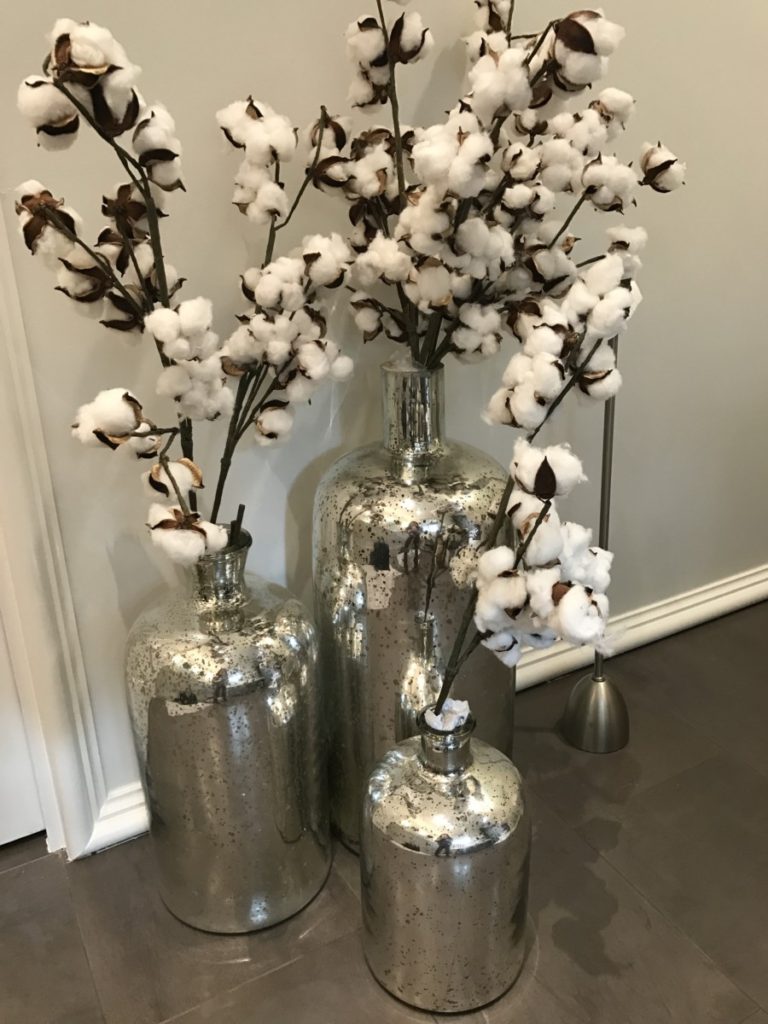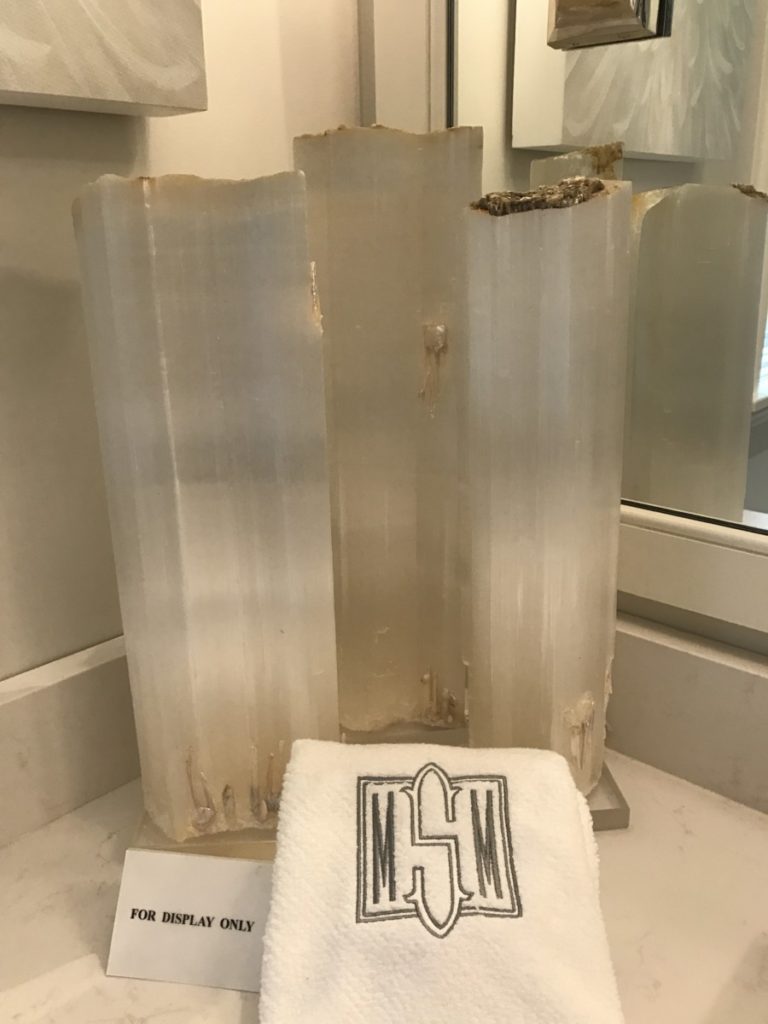 Gorgeous art everywhere!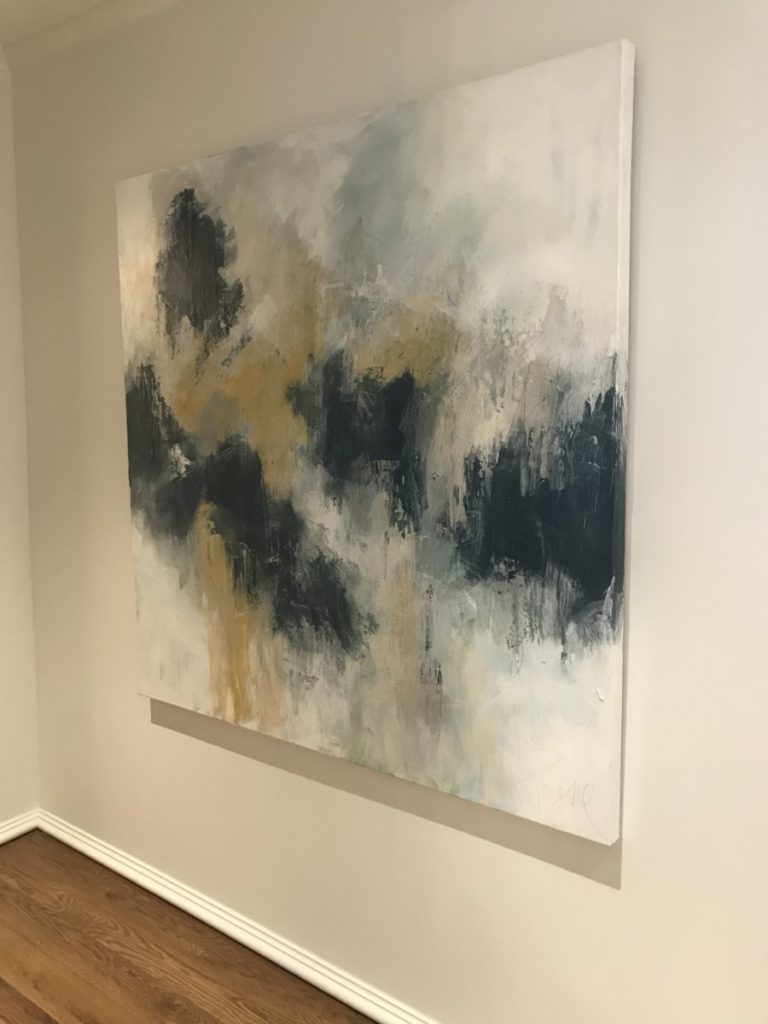 Carole Weaks did the family room. I took this shot so you all could see the beautiful water feature view outside, past those gorgeous metal windows. Metal windows and doors are everywhere now. I just love them.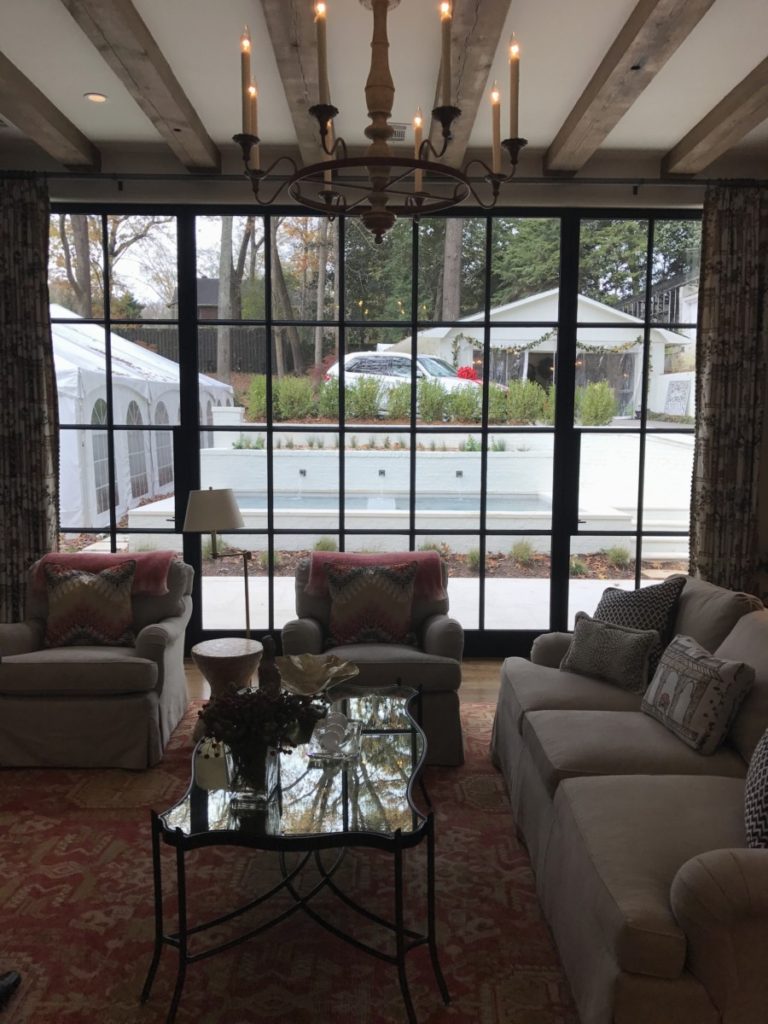 I like how she placed these throws on the top half of the chairs just so.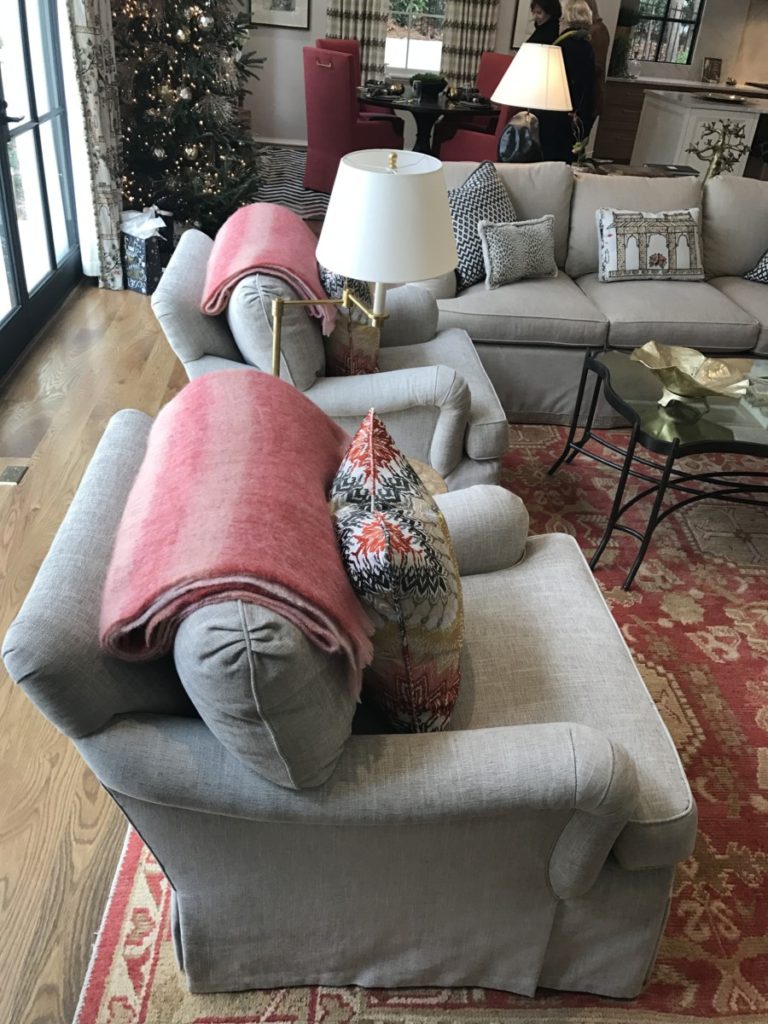 And this nice big round table next to an arm chair. I'm on the hunt now for one of my own for Mikey's man cave. I've made some progress in there, with a proper sofa, pillows, and such. Will share soon for our holiday home tour post.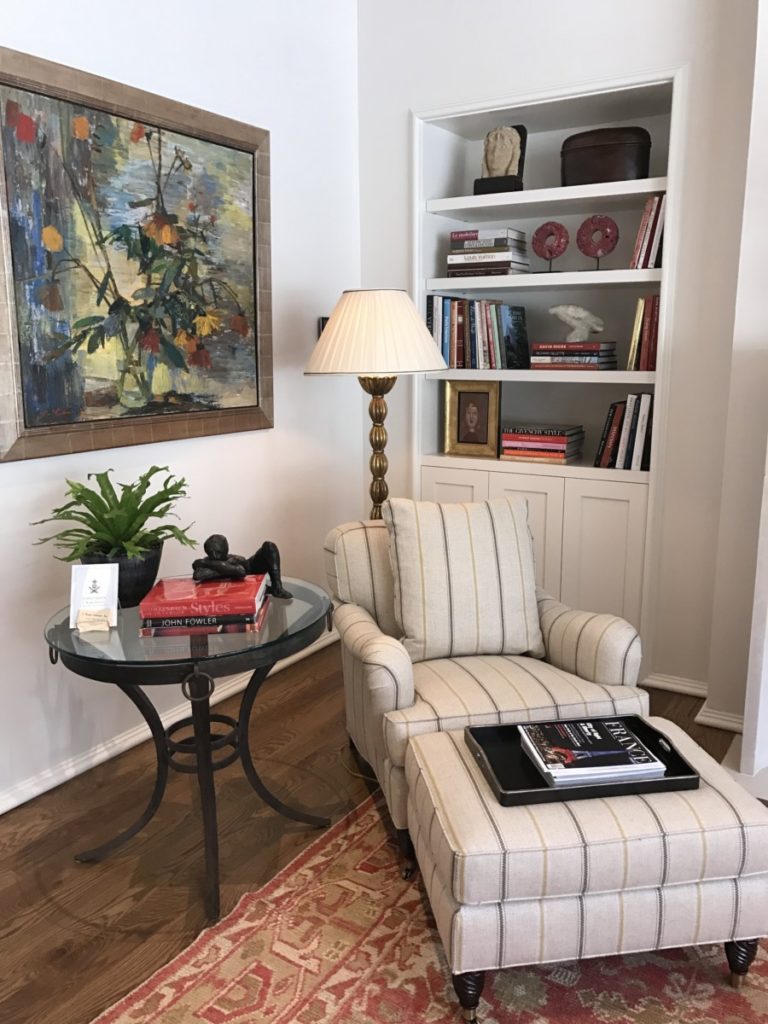 The kitchen! By Shayelyn Woodbery. Did you all catch her house in Atlanta Homes and Lifestyles last Summer? Obsessed! How she threw that tapestry over her outdoor table. Haven't been able to stop thinking about it! The kitchen was all tricked out with the most custom cabinets, drawers that lit up when you opened them, etc.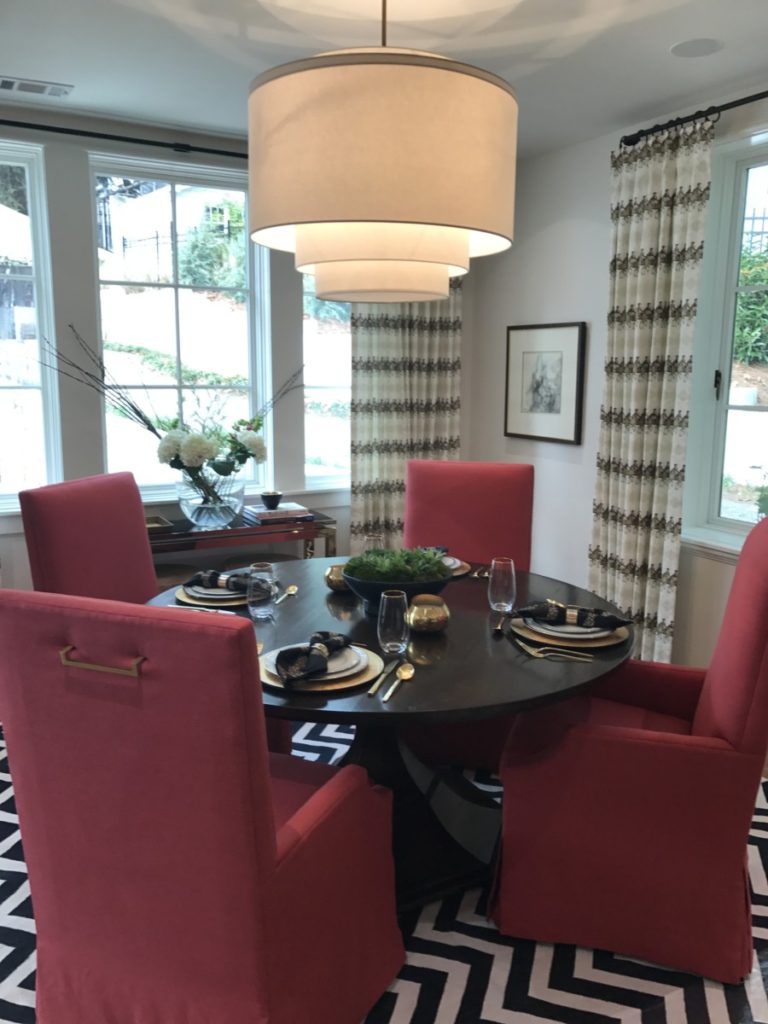 (Yikes, I just realized I didn't get a good shot of the kitchen. I'm sorry! I was too busy eating the cookies fresh out the oven -they were the best!)
Let's check out Jason Mitchell's butler's pantry, laundry and mudroom (the former formal dining room which they converted into all this great, practical space). He's one of my favorite designers going in the ATL right now. I just love his vibe and can't wait to blow up my laundry room in the new year to look anything close to this…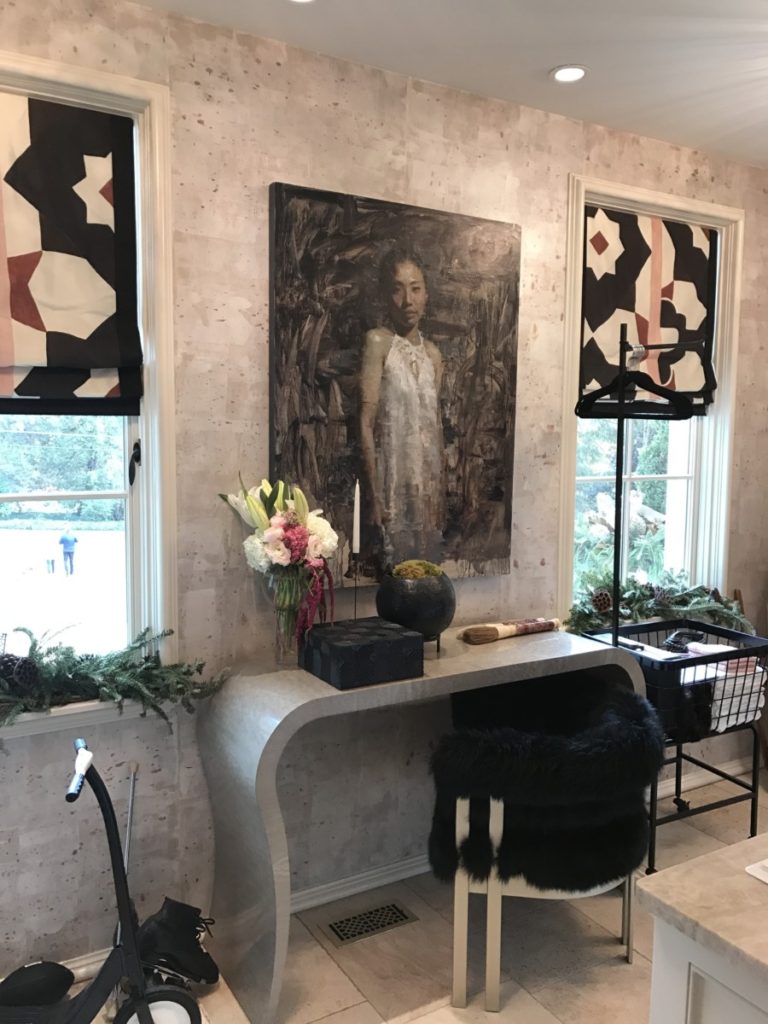 Note to self, find out where to get this gorgeous fabric!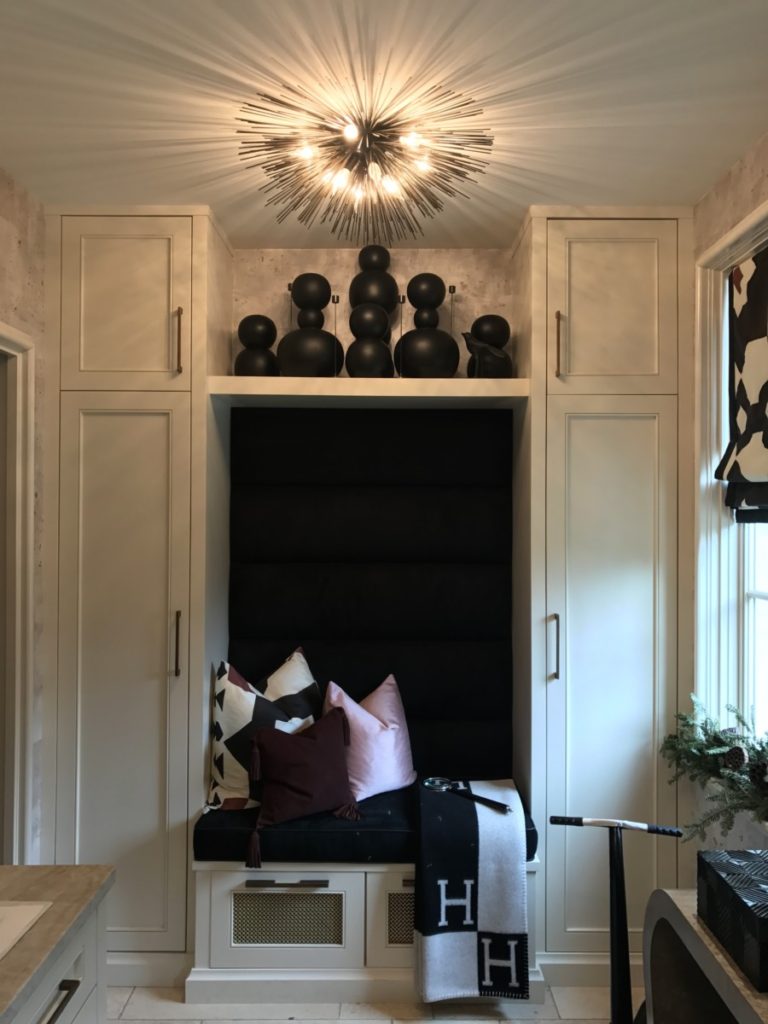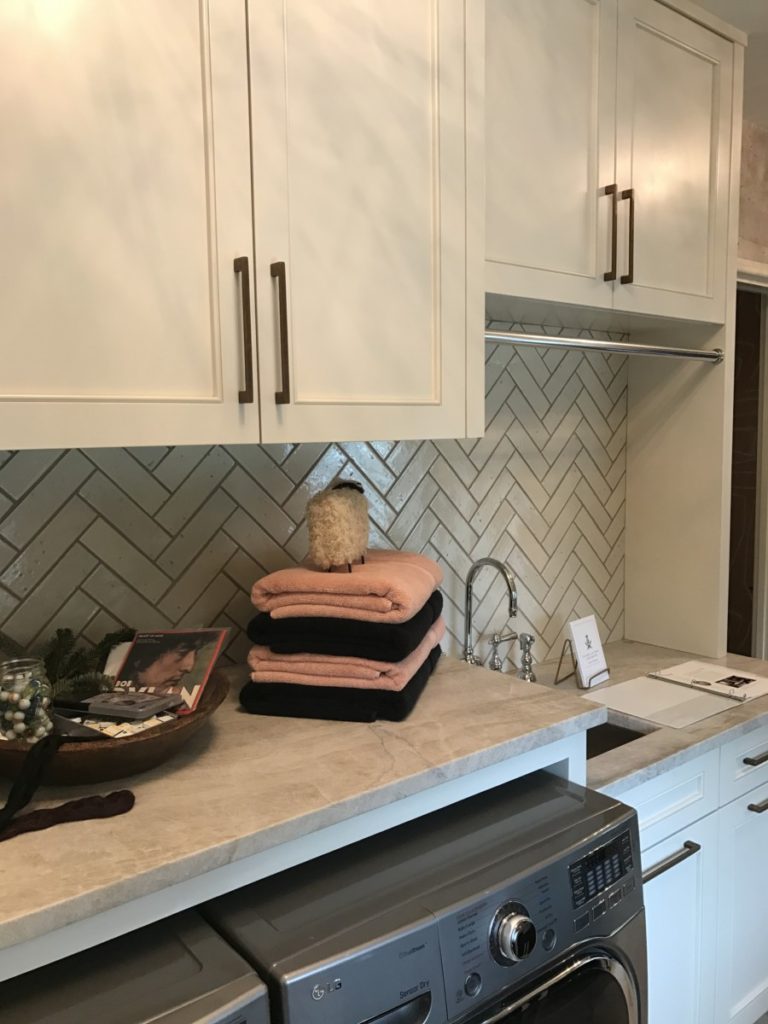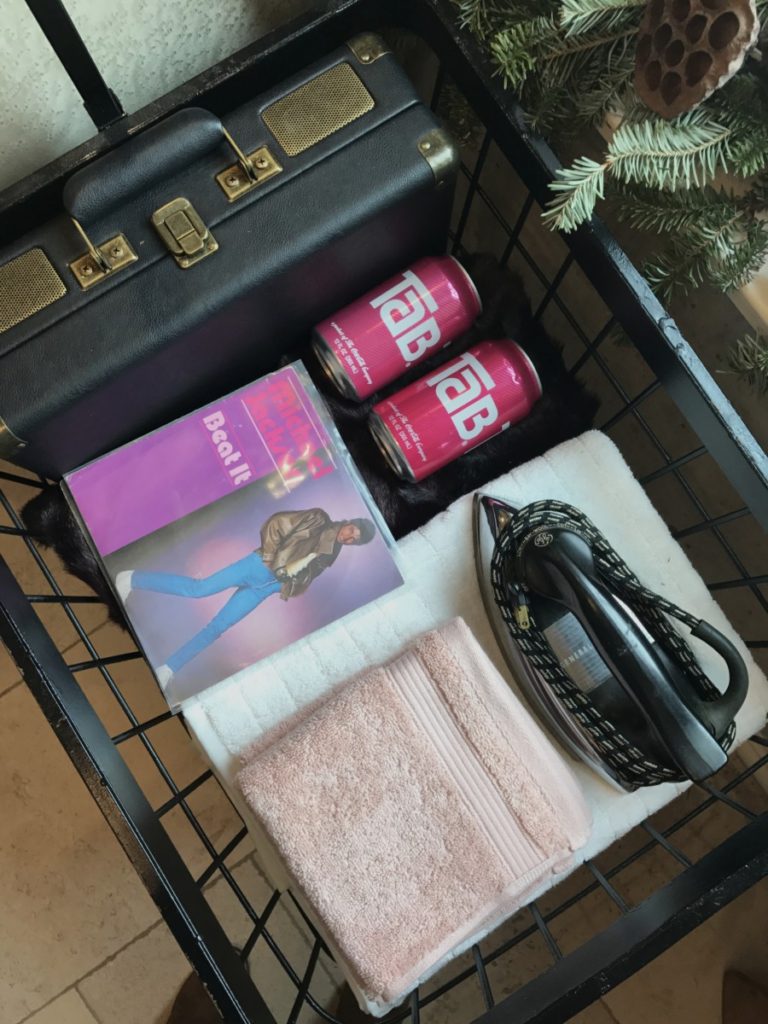 Moving into the Butler's Pantry, the accessories ALONE made we want to go shopping and buy nice things like this for thy self! One for you, one for me this holiday shopping season. Hah. And that light fixture!!!!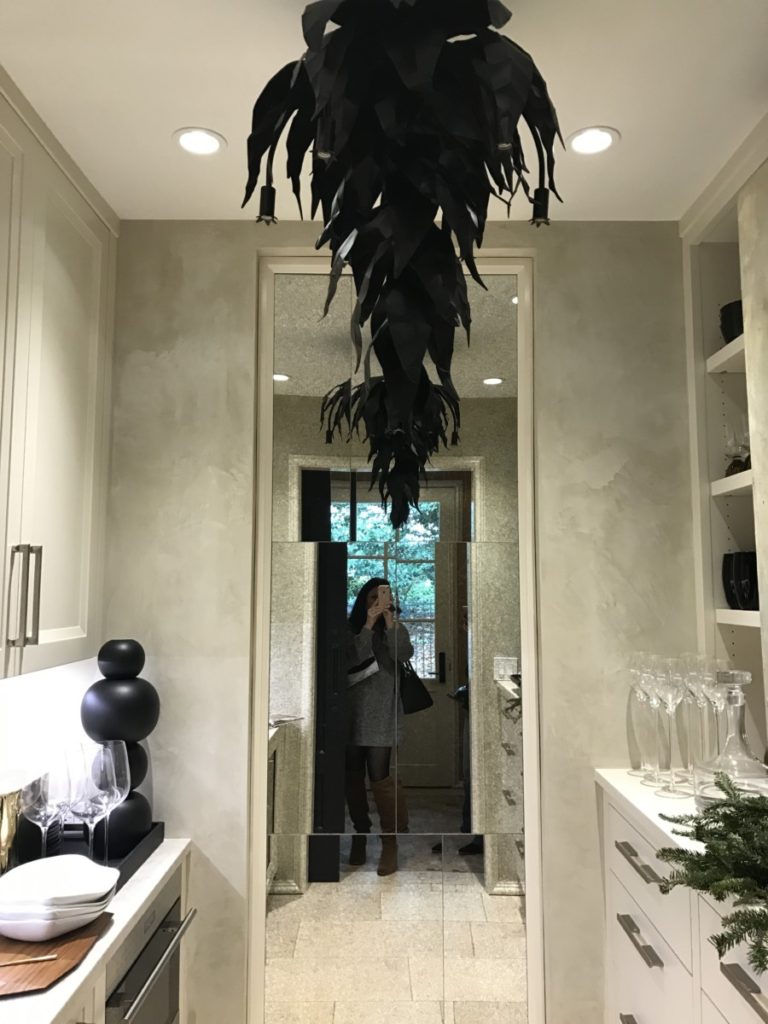 I pick the plates, the hobnail glasses and the ice bucket…what's your pick?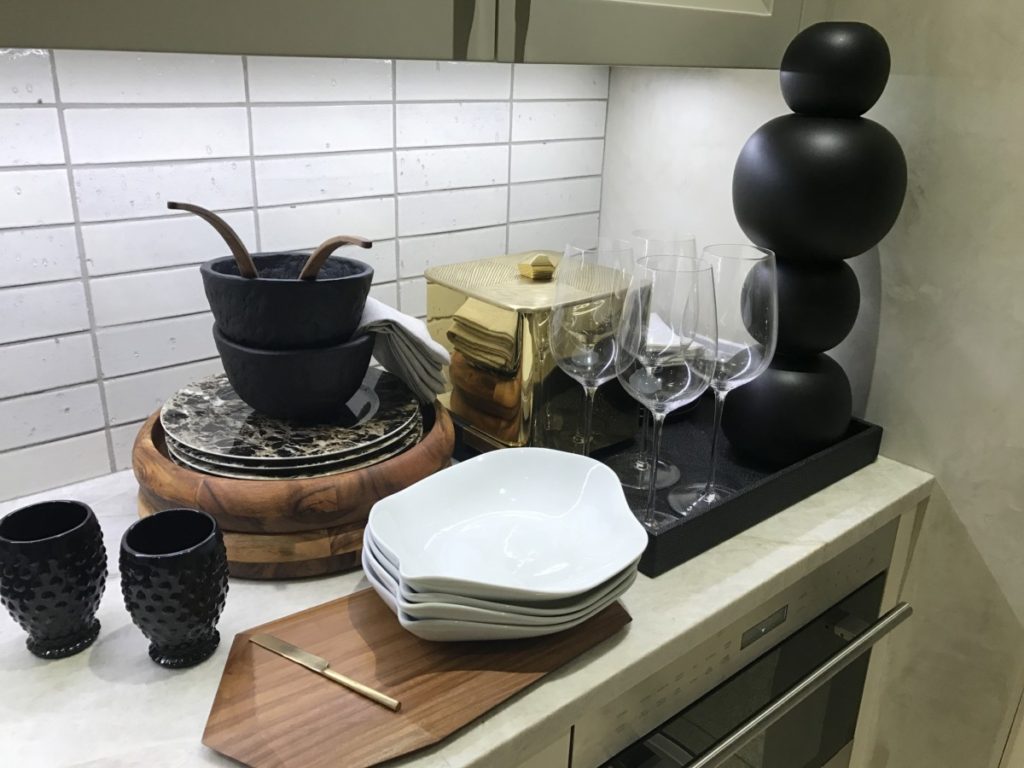 And what about floating a massive piece of artwork over your built-ins? Or the badass iron easel it sits on. Tasty.
And these extra tall wine glasses! They'd last a week at my house but I still want them. You can find them at Zgallerie…thanks Tyler!!! xx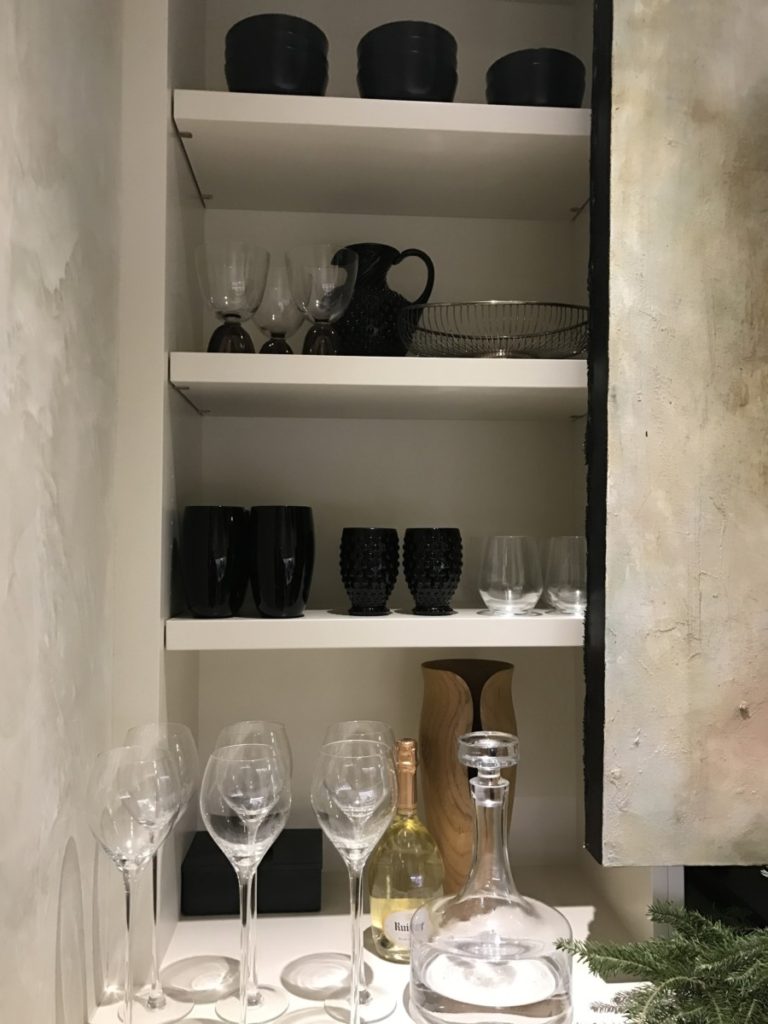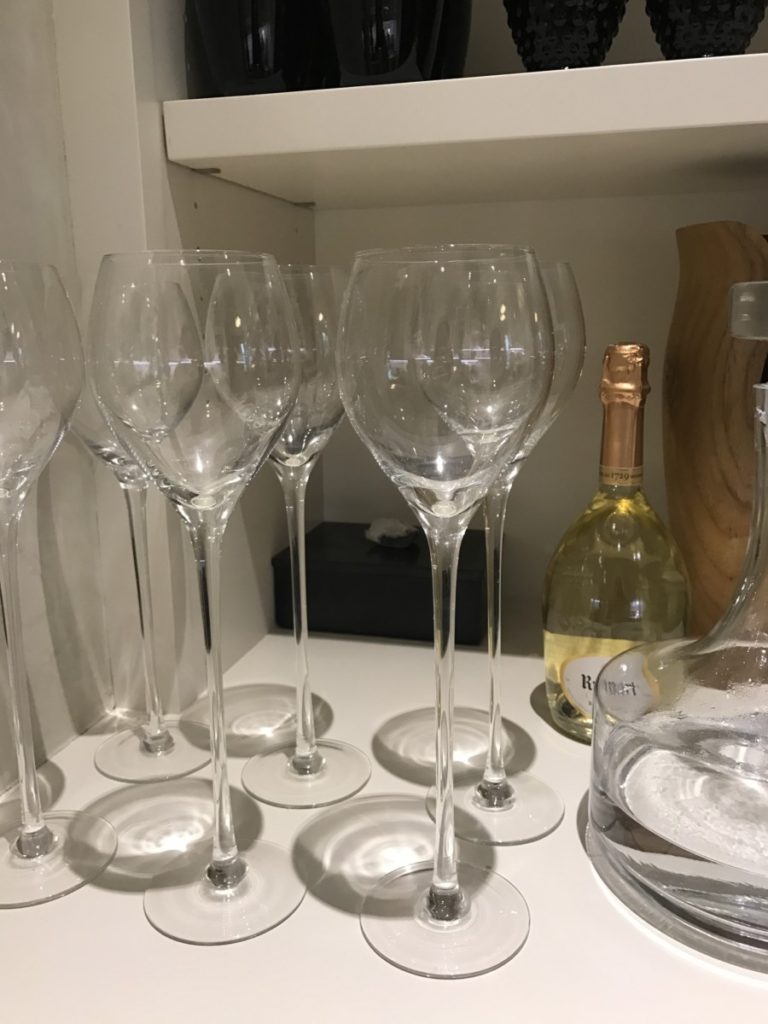 And lastly, the new badass Kelly Wearstler wallpaper. Tasty again. I'm totally going to paint this over the grasscloth in my foyer after seeing it here. I'm thinking I got enough of Mom in me to make it work?? Stay tuned. Fingers crossed.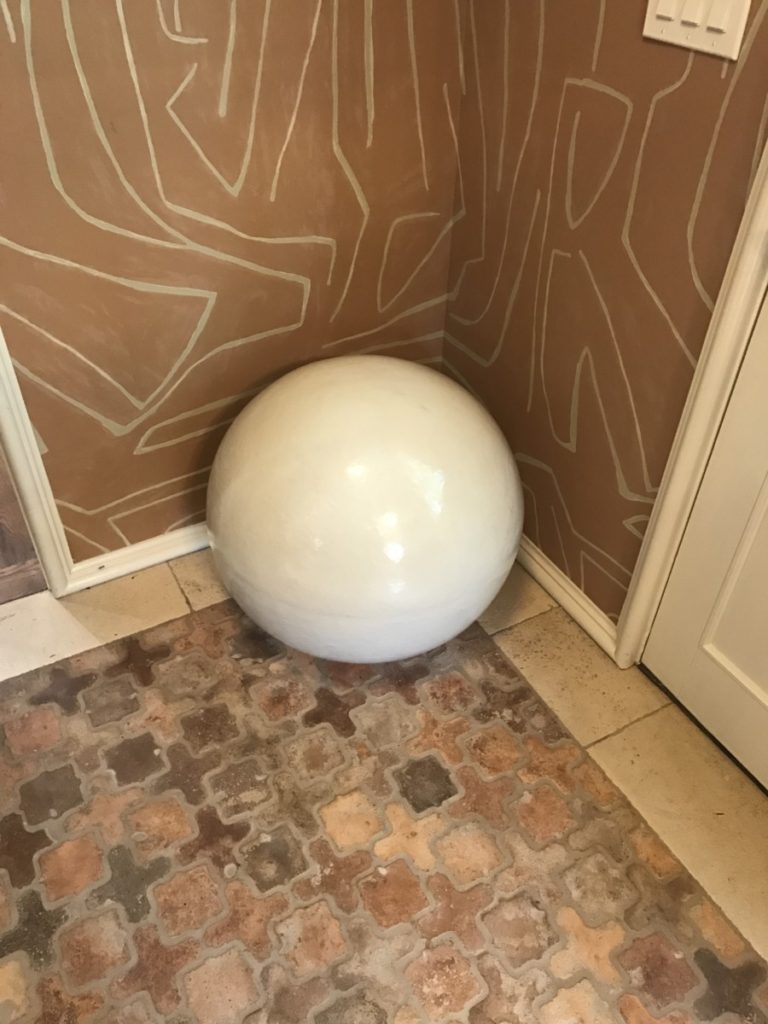 Some good, crusty, textured grasscloth in another powder room by Peacock Alley.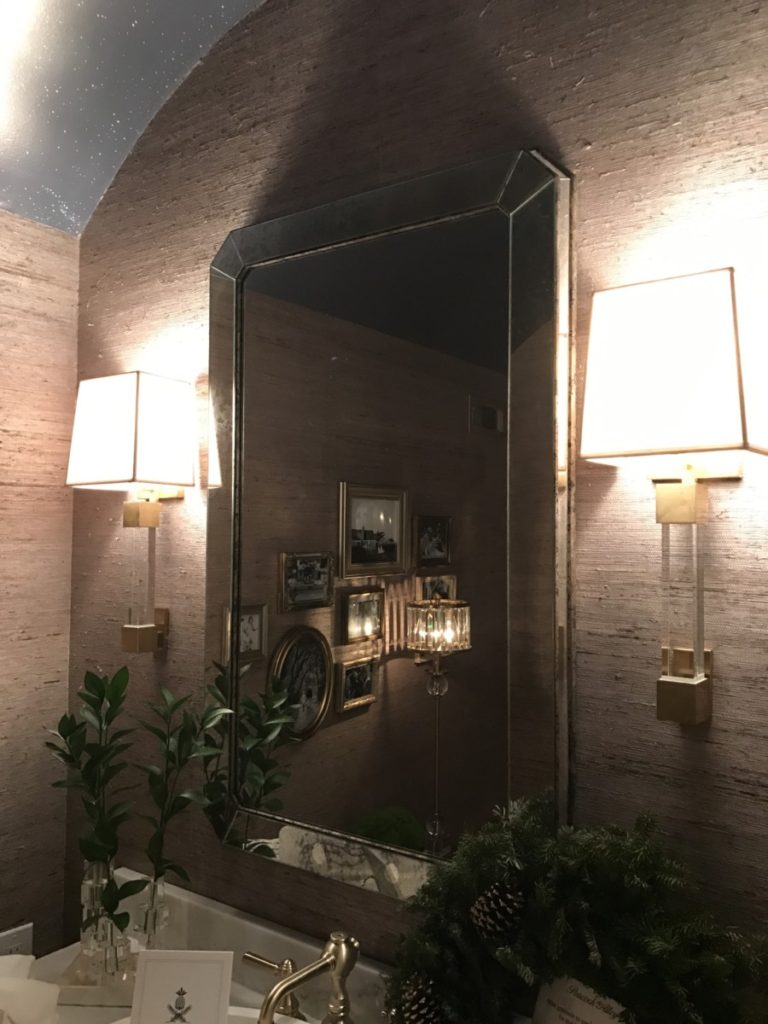 Moving upstairs, let's hit my friend Heather's home office. The wall color was to die for. FYI, I will track down all these paint colors if anyone needs to know them. She is such a hoot! And all her interiors are always so FUN and glam. You can check out her site HERE and see what I mean.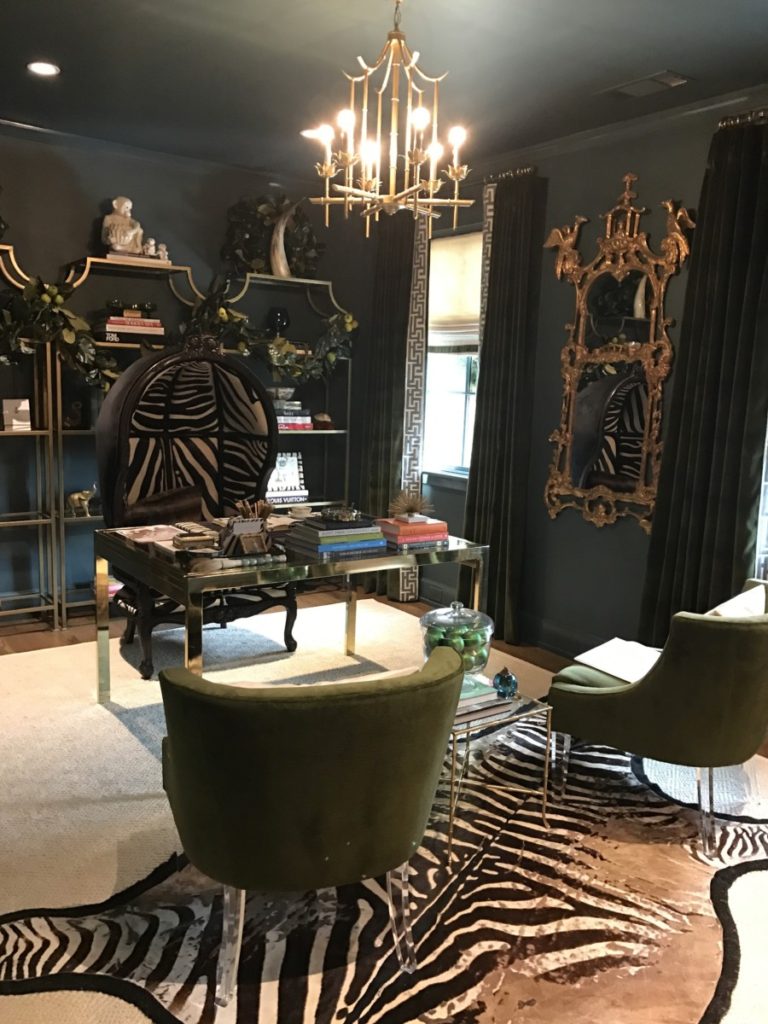 We mixed these brass peacock lamps in with a traditional interior that I've been working on this past year. Good times. I can't wait to share with you all that project too. We're so close! Feels so good.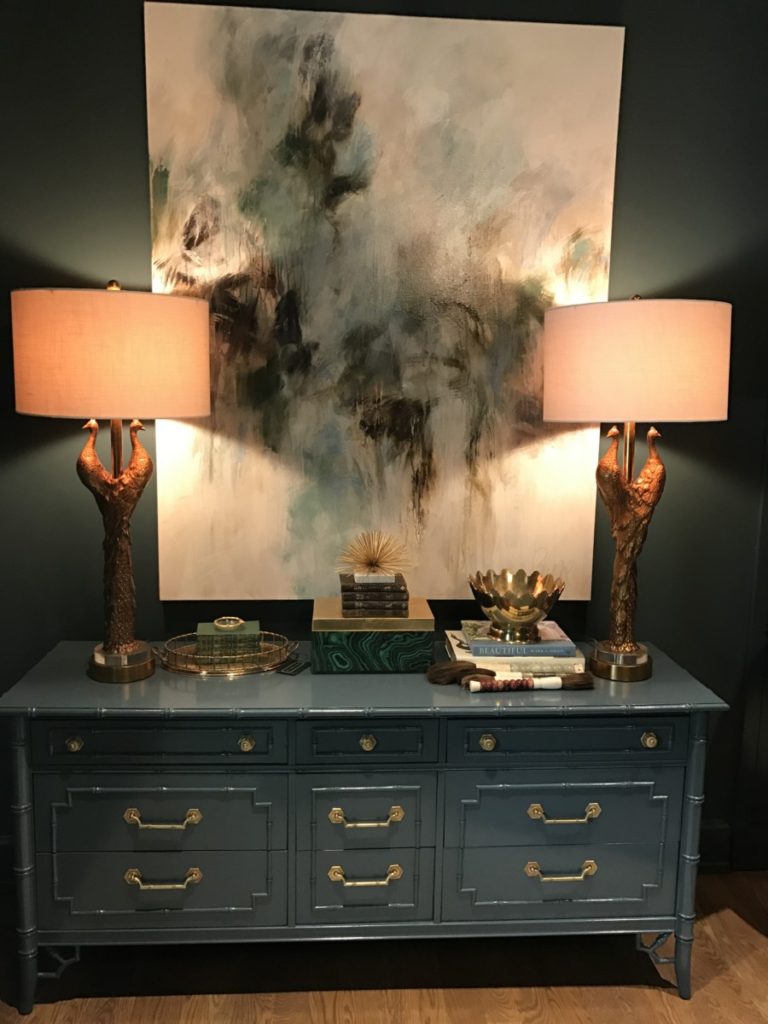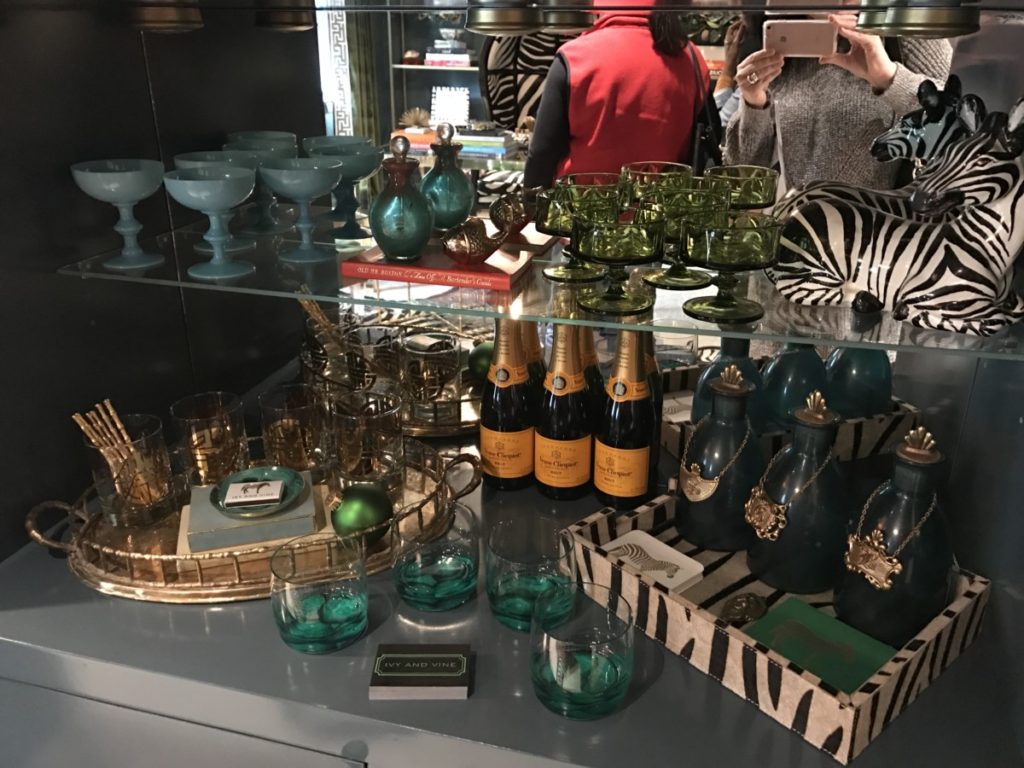 And for some more rock and roll, the guest room by Michelle Workman. Holy Pearl River by Schumacher and those walls!!!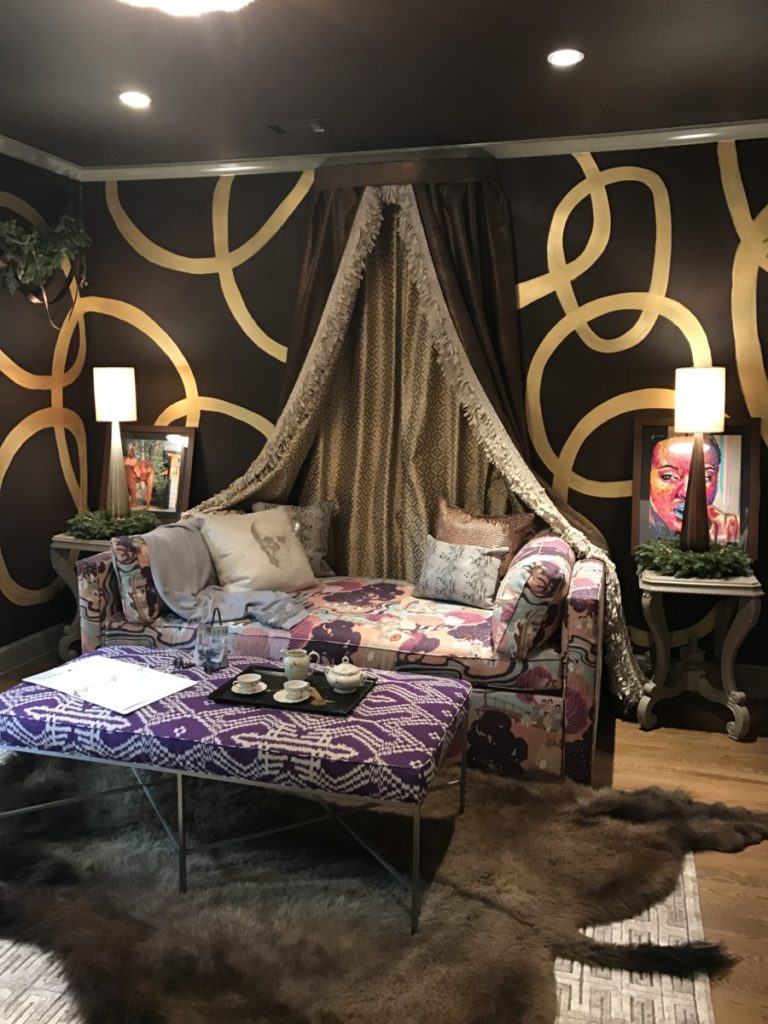 This chair right here was my absolute favorite thing. If you could pick one thing to take home…its this chair. GAH.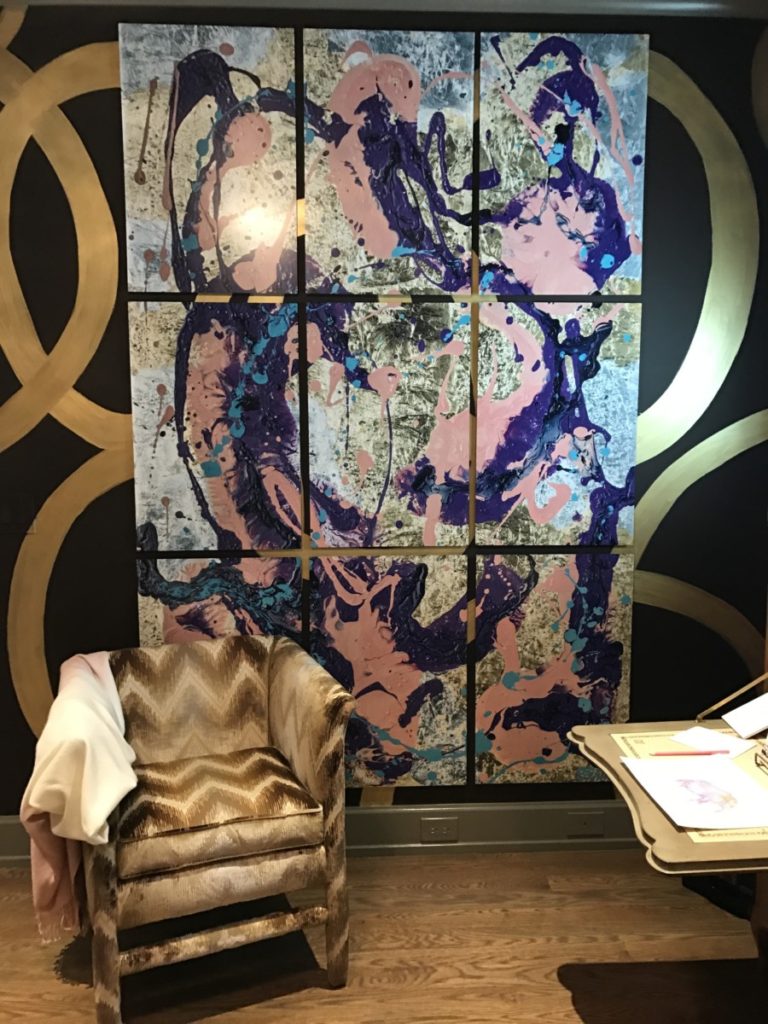 And maybe I can throw in this sweet little Asian print in the adjoining bathroom. These are the kinds of unique things you find when you frequent antique malls. I encourage you to shop them as much as you can! You will have a collected home of goodness and one of a kind finds. And you are shopping local and saving the environment. Hello, can we do much better? That's some guilt-free shopping right there.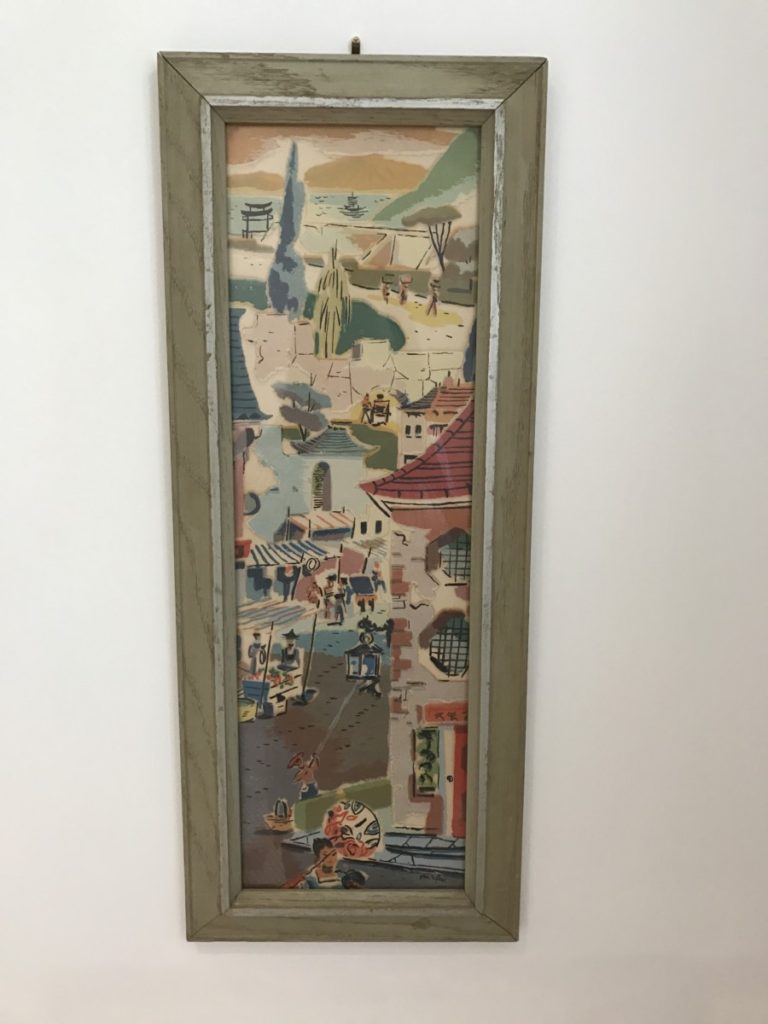 We roll all our interior doors so why not our shower doors too. Awesome. And such a space saver!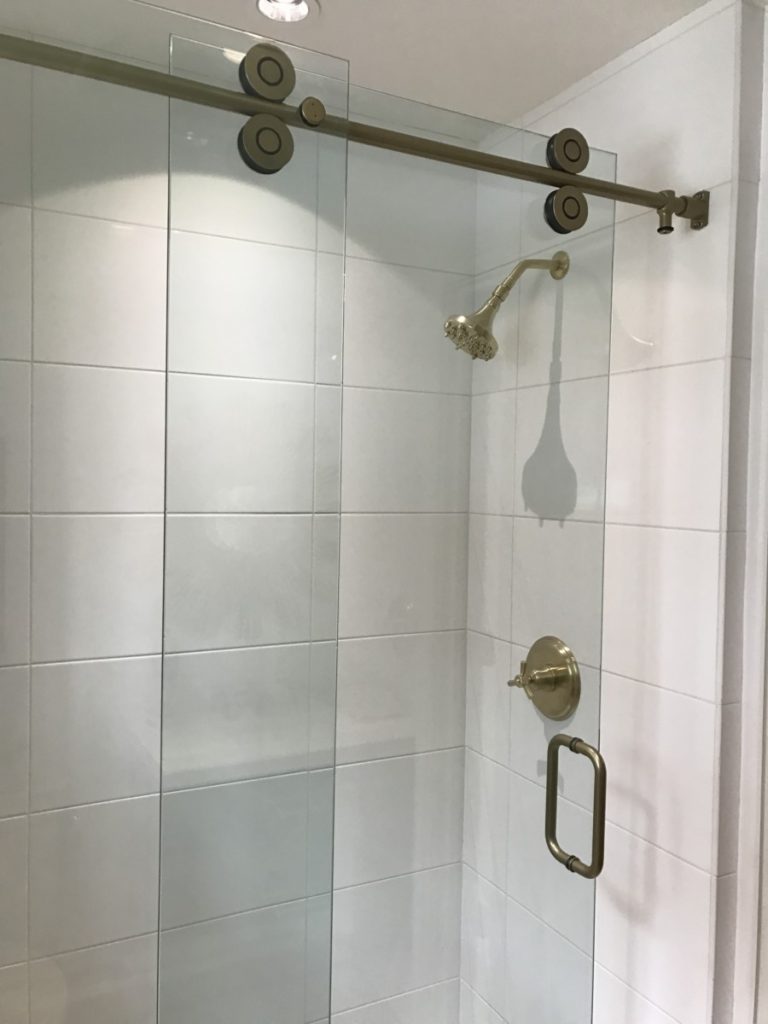 And a sweet little girl's bedroom…ohhhh if only all our children were so neat and tidy! The dream maker behind this space was Jessica Bradley Interiors.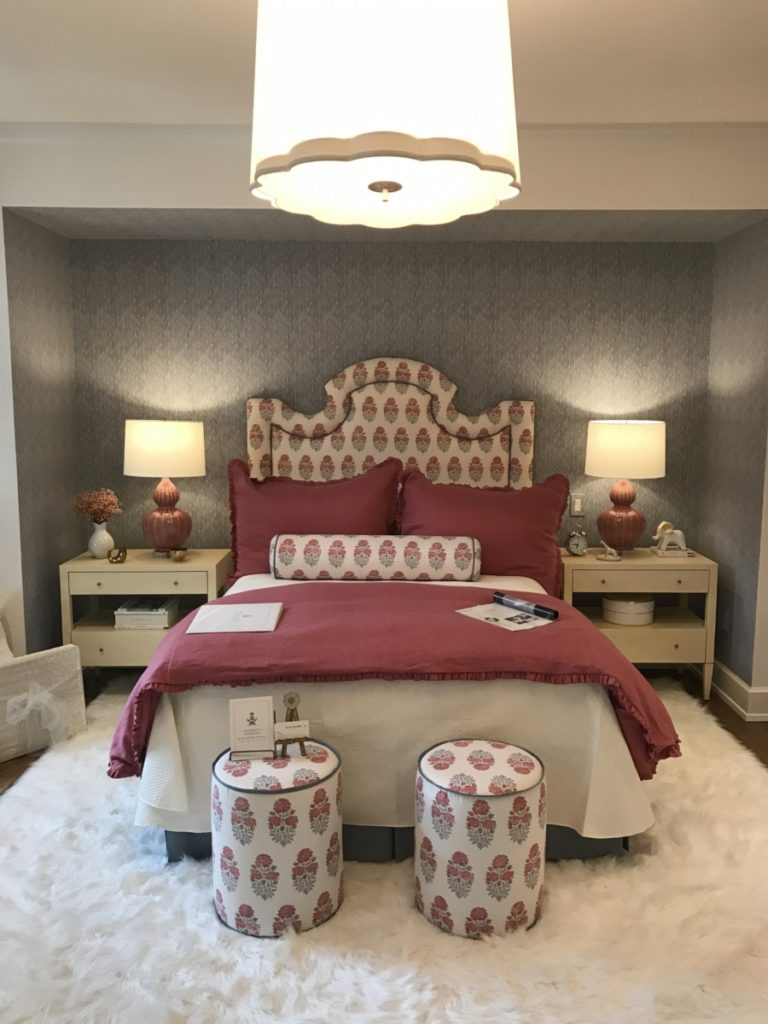 The grouping of four square custom art panels were a take a way for me…I'm like could I paint those???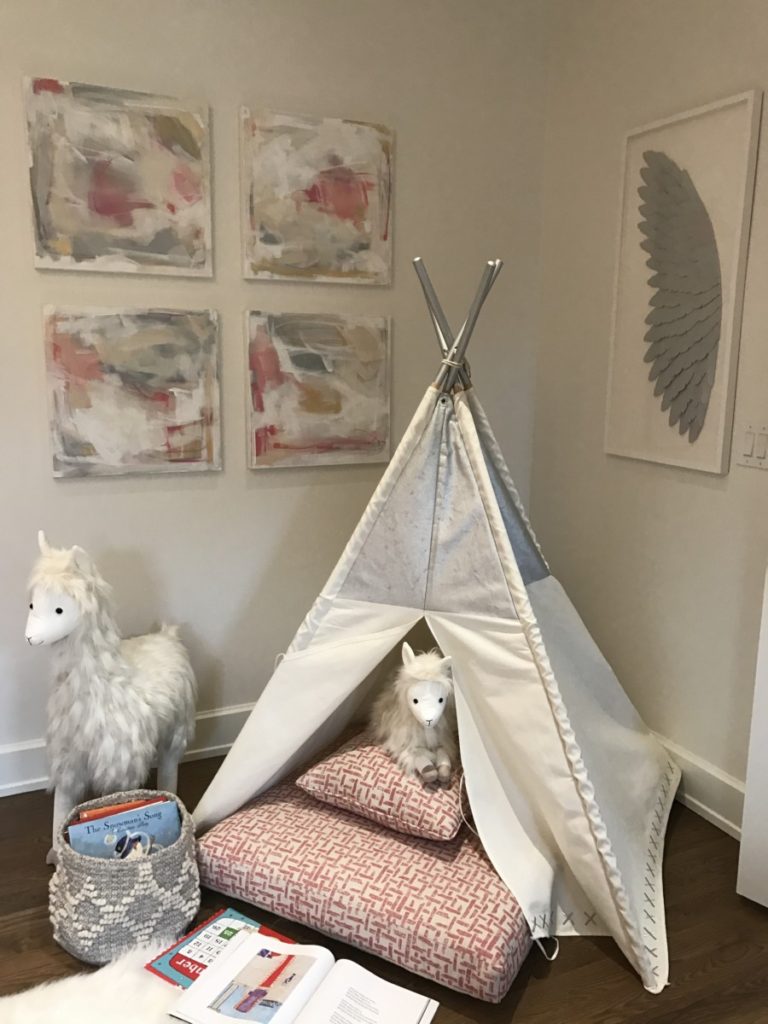 and the stuffed animals in baskets…so sweet. My Sophie Sunshine is still very much into stuffed animals and that makes Mommy happy.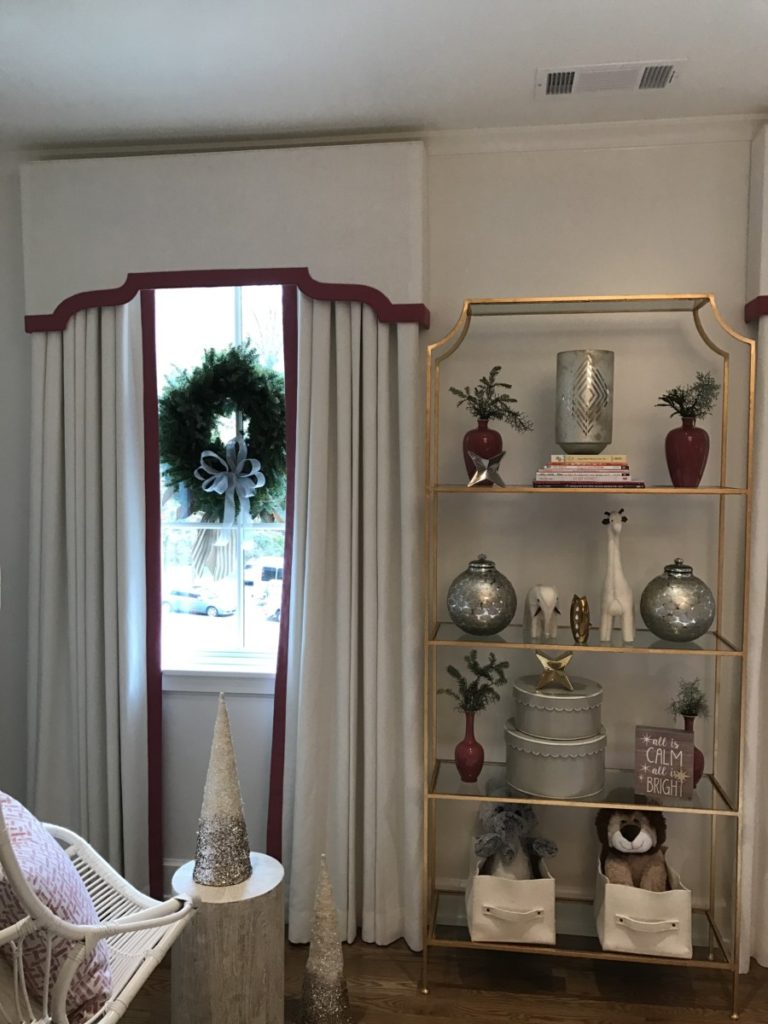 This gorg fretwork on stairs, another take a way.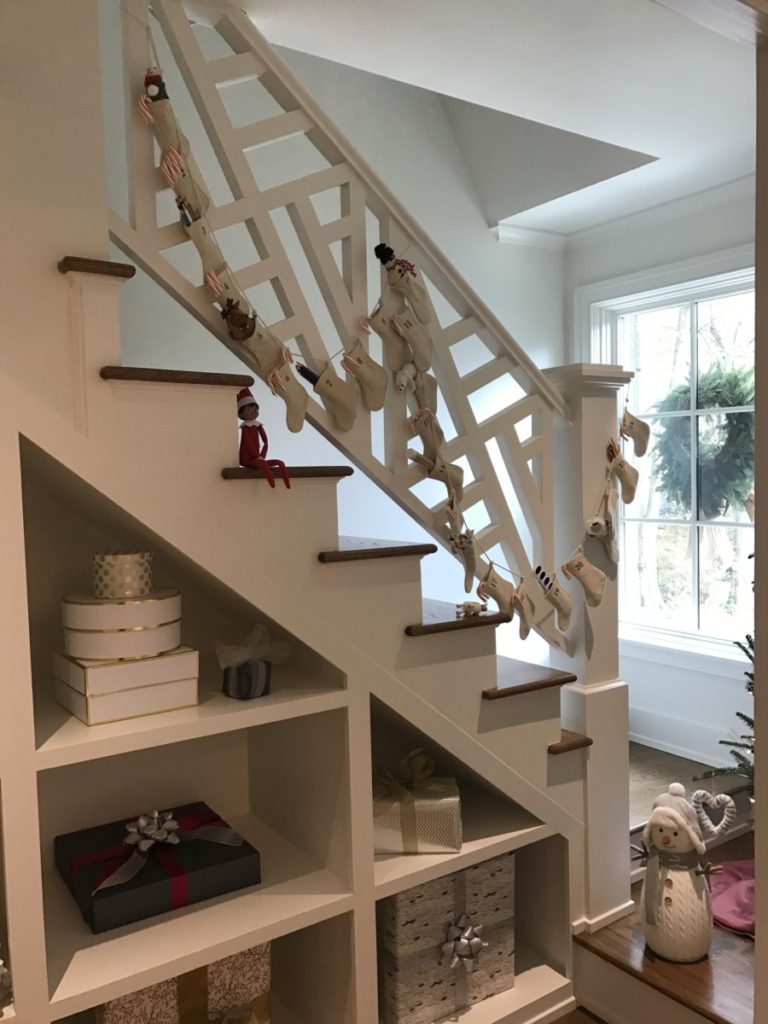 Gorgeous herringbone tile in the little gal's bath. Note the grout color for when you have to choose one for yourself.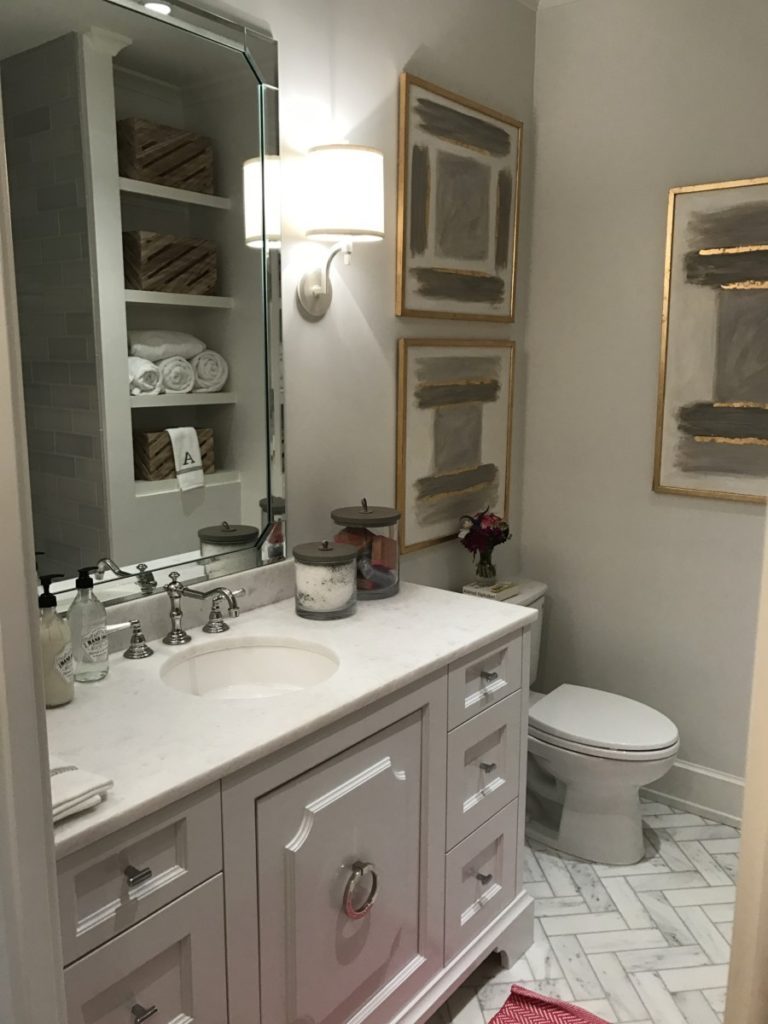 This is a shot of the master bedroom by Musso Design Group. Dig this vignette.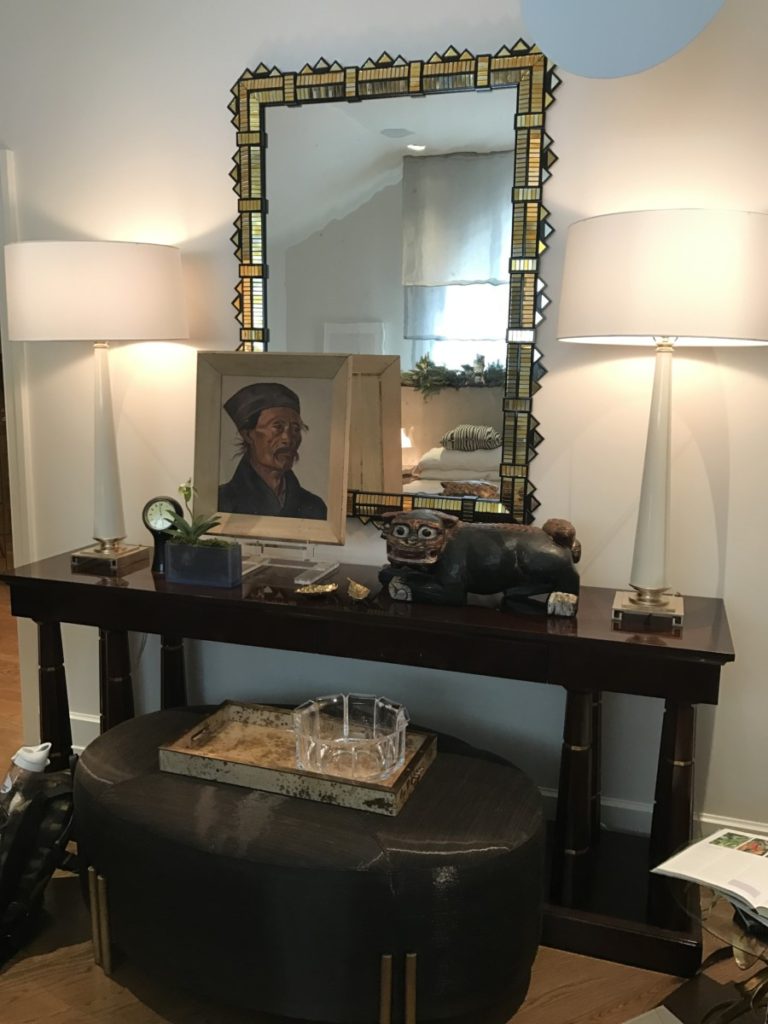 I'd like to have this tray, that would be my third pick of goodies to take home in fantasy design land…
We are using this bleached burl wood finish on some massive frames in a rock and roll t.v. room we're working on. We mixed so many different finishes in there. LOVING it.
The master bath was amazing…the tile on the floor…the floating vanity…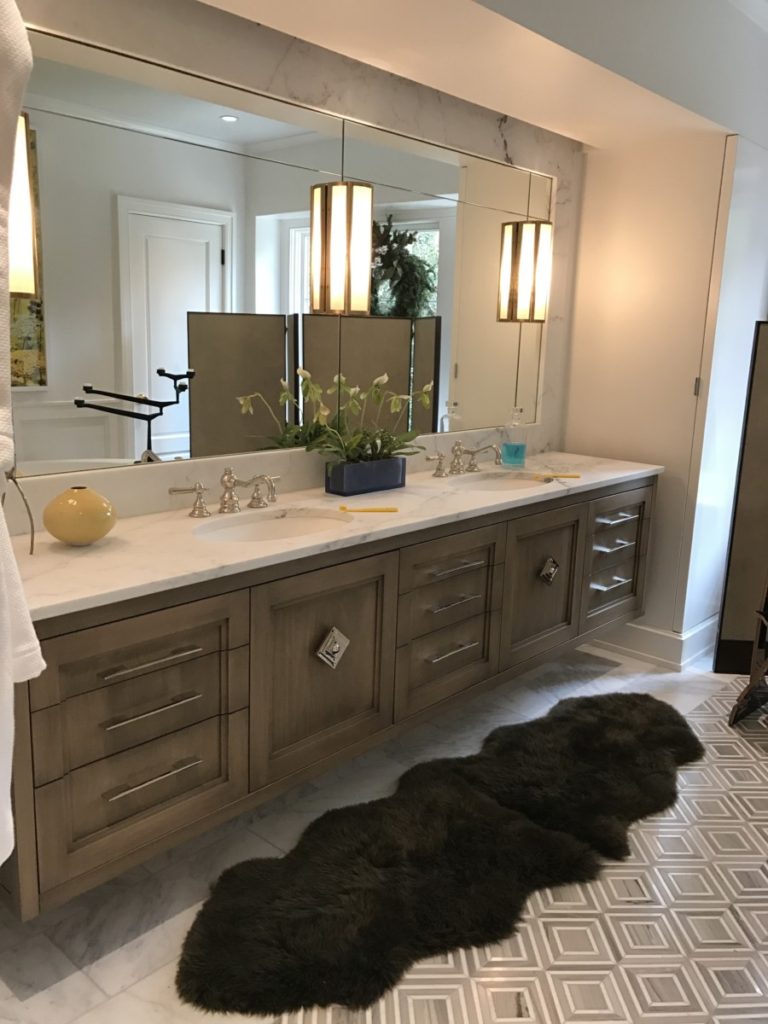 down to the dang door knob…
And that's the end of the tour! The home is located off of Habersham Road, which is a must street to cruise or stroll down during the holidays. So many beautiful homes to view and everyone goes bananas decorating their homes and their mailboxes. One of the things I love about living in Atlanta. Go big or go home! This town taught me the meaning of living beautifully in your homes and gardens. I like to say I was schooled jogging up and down the roads of Peachtree Battle ten years ago, taking notes for my future design self on every street.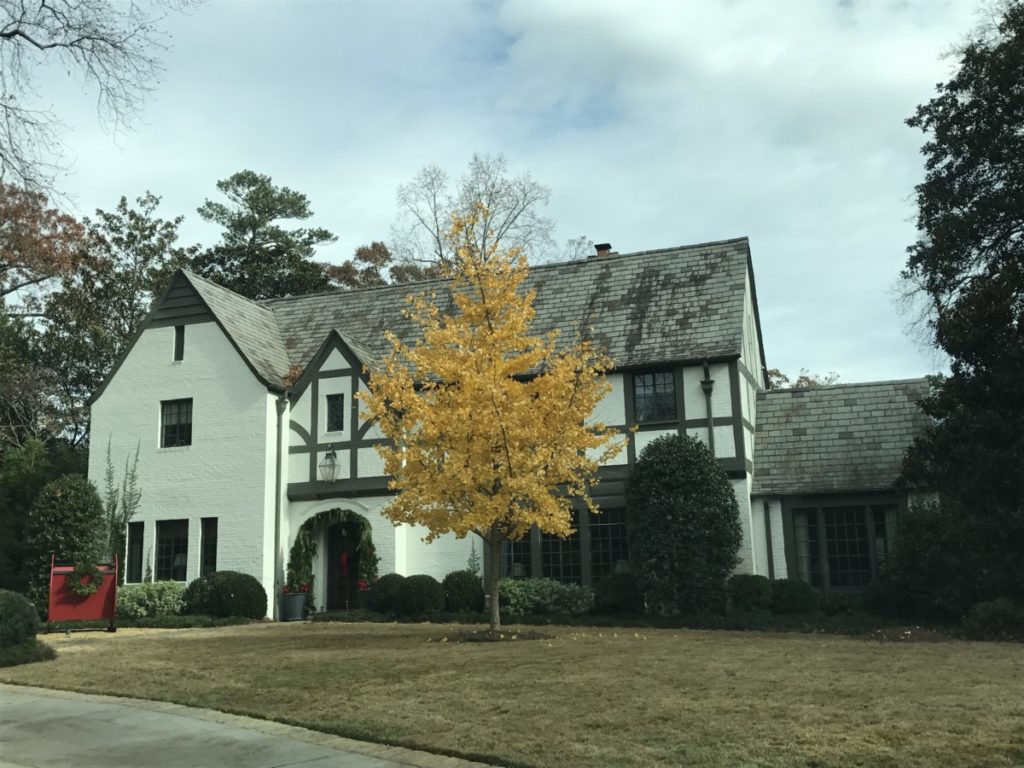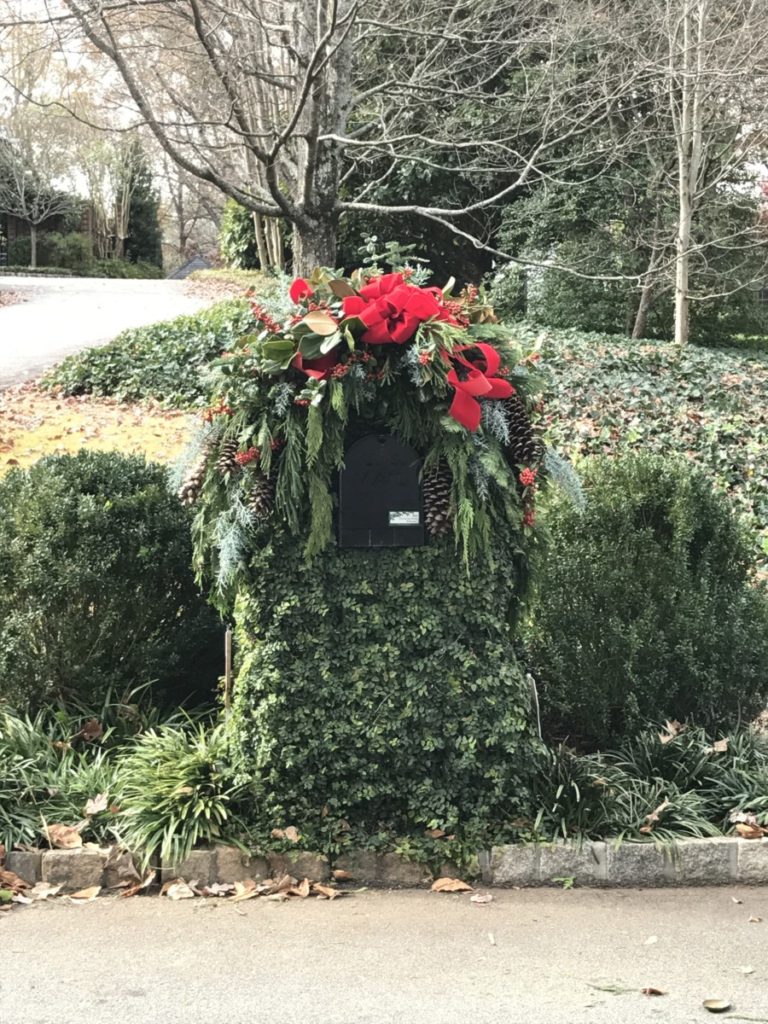 If you live in Atlanta, the showhouse is open until December 11th and you can purchase tickets HERE.
Happy holidays friends! I'll be back soon to share with you two charity installs I designed in November that changed me, or should I say brought clarity to my outlook on a happy life. I believe the secret to a well-lived life is GIVING of your time and talents. I cannot wait to share with you those two feel-good stories. Tis the season!
Much love and kindness to you and yours this holiday season,
Jennifer Sunshine