MERRY CHRISTMAS EVE!!! The excitement, the hustle and bustle, the baking, the holiday music bangin – there truly is nothing quite like it! I love our country's holiday traditions (and do we know how to party).
Welllll I hope you all enjoyed part one of the tour. Welcome back! And for those of you new here, we are selling our home. So this year's tour is especially bittersweet.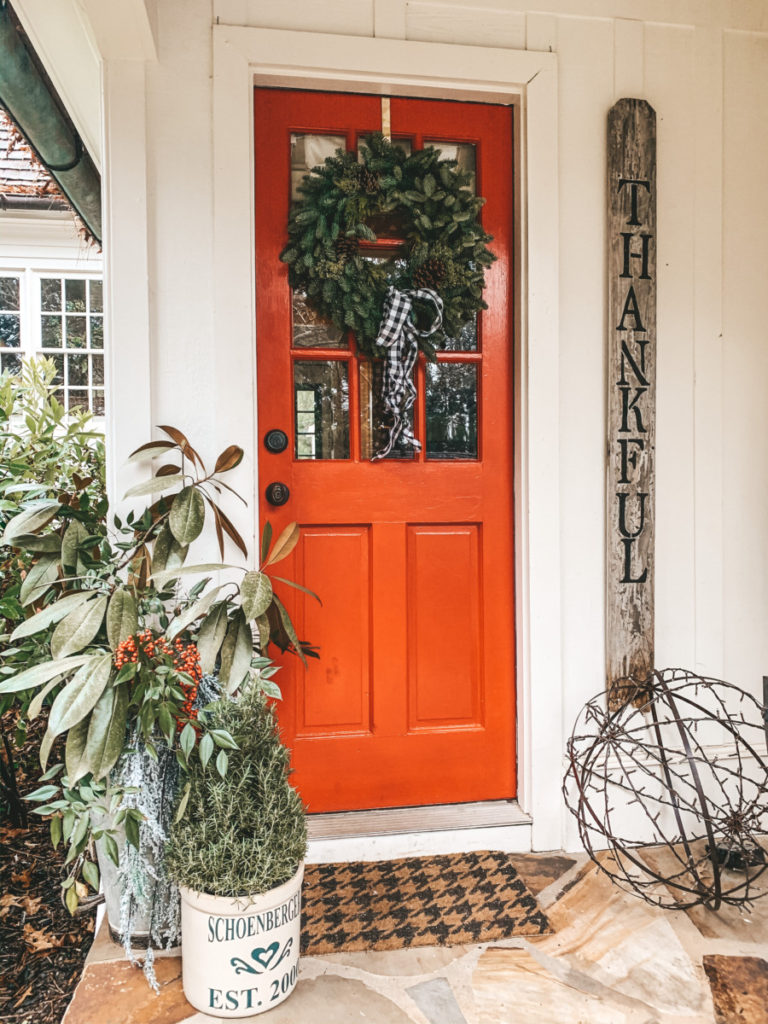 We'll start at our back door where I love a good red door. Again keeping it simple this year with clippings from the yard and a wreath. No fresh roping everywhere this year. Hurts to much to take it all down ha!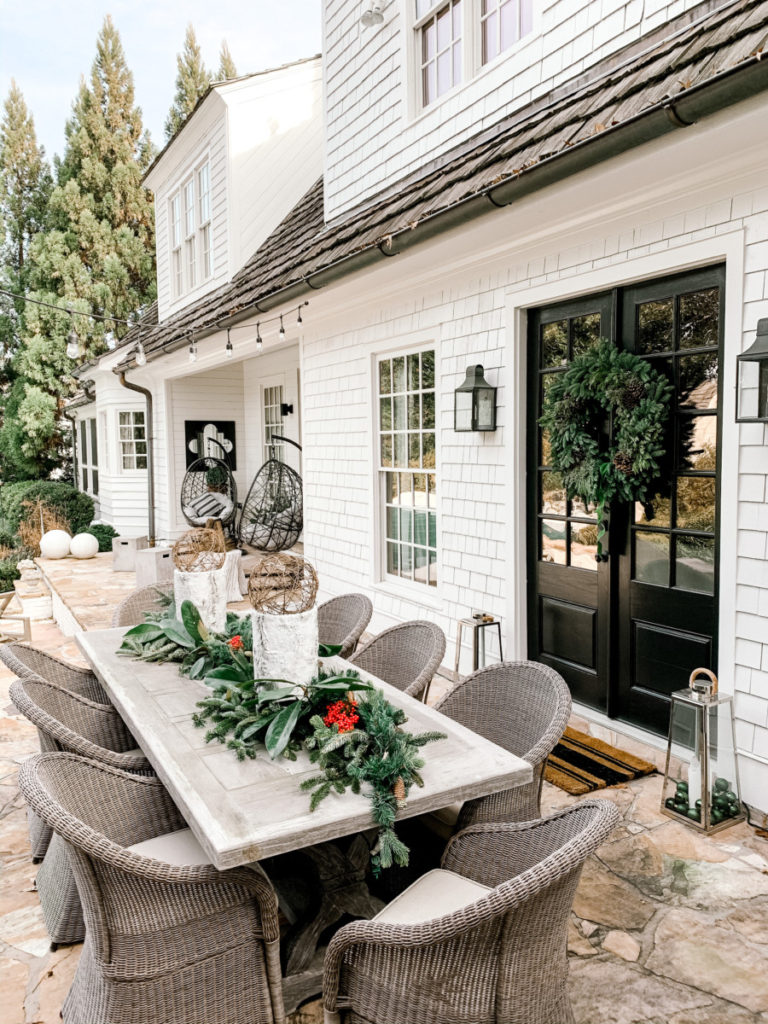 Just off our kitchen is our outdoor patio. I decided to jazz it up this year with a wreath on the doors and faux lighted garland and fresh clippings from our yard on the table. Good thing because its looking like mid 60s for Santa so more than likely we'll be sitting out here at some point tomorrow.
And maybe later make a fire.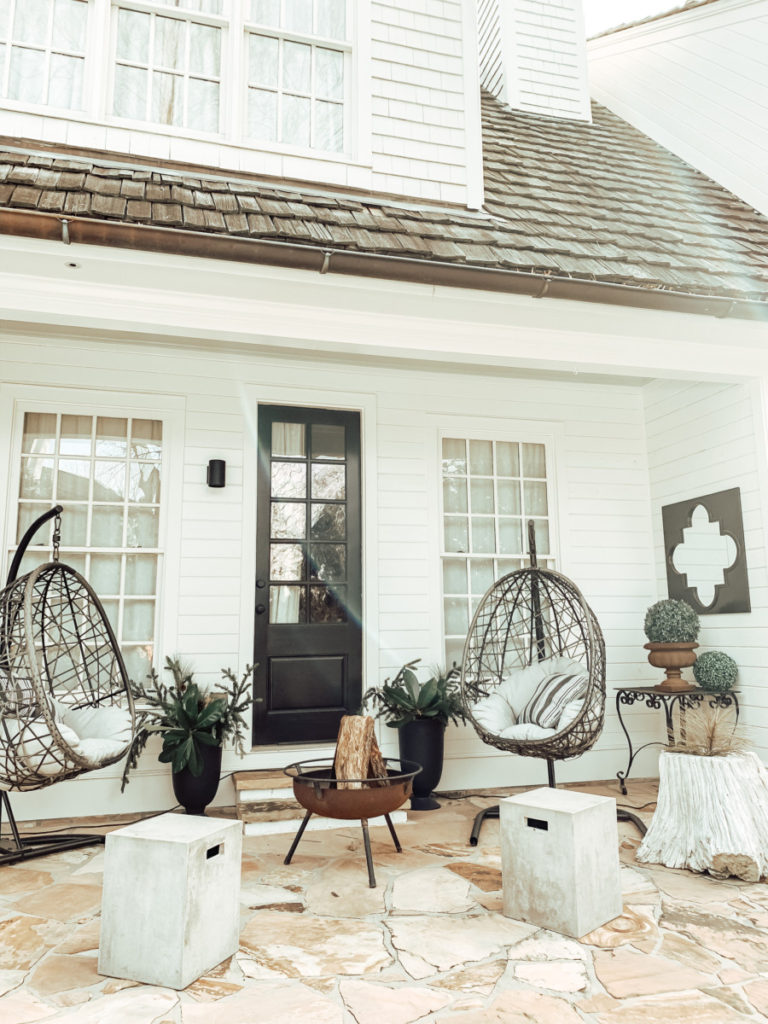 Back inside, just off the kitchen, is our laundry/mudroom. I recently renovated this space with custom cabinets, wallpaper and these rough hewn shelves I can style with the seasons. It is a great place to charge your phone, hide your ear buds or get a quick thank you note off in the mail.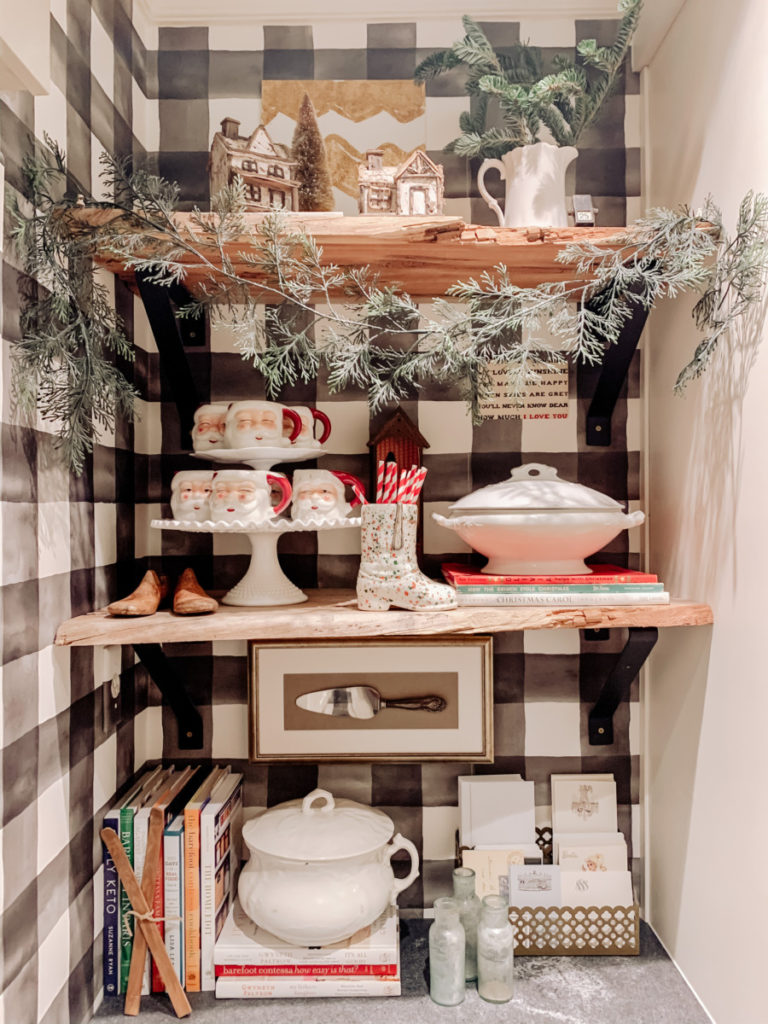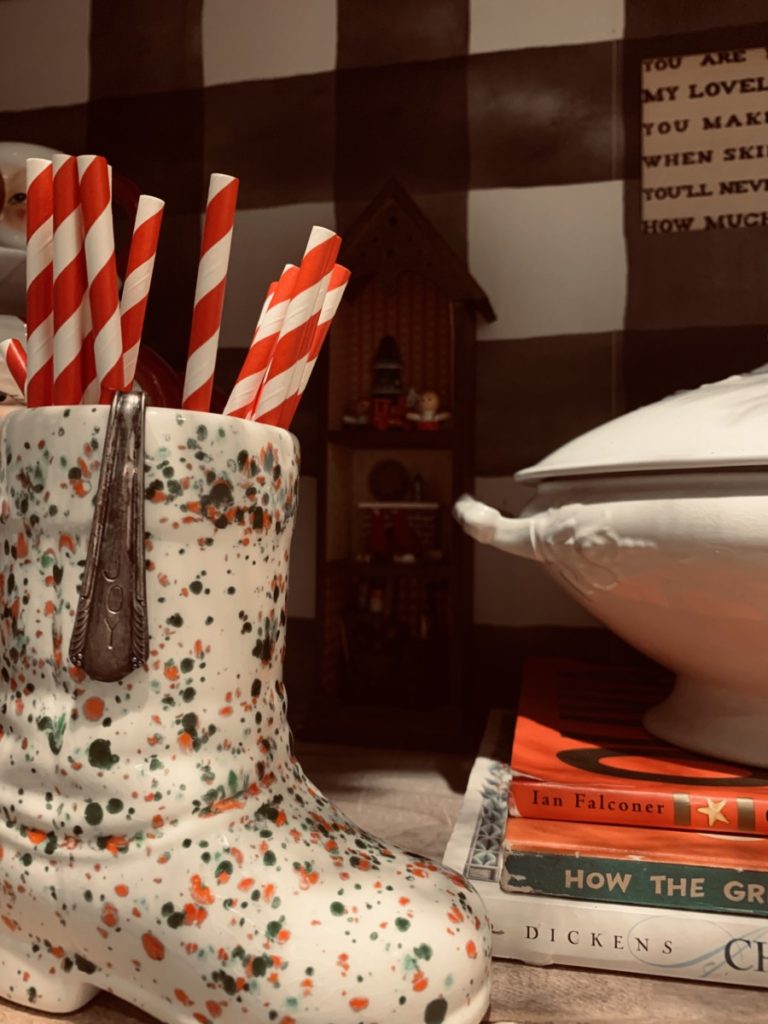 On the first floor of our home, we have two half baths, which really comes in handy when entertaining 50 amazing ladies at your annual "Favorite Things" party. Here's a peek inside the other half bath with just a touch of sparkle.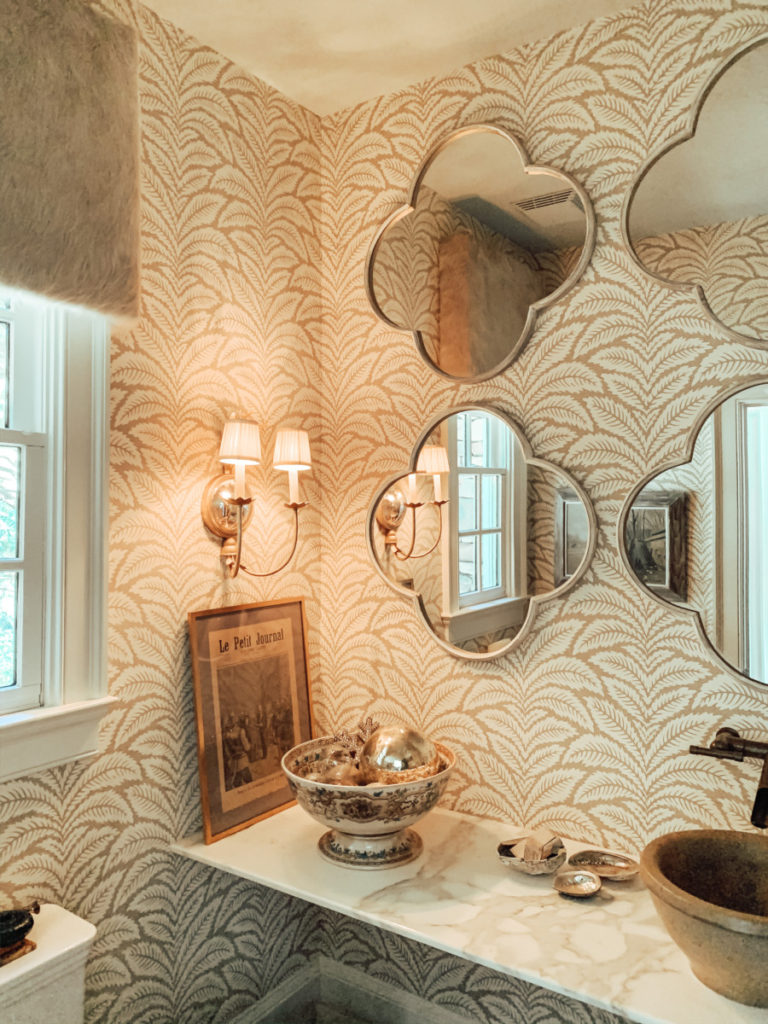 Right next door is our master bedroom on the main level. And it got a major infusion of Pyne Hollyhock from Schumacher this year (Merry Christmas to me!). I've adored this pattern for years and finally told myself, girl cover those vintage chairs that have been siting at the upholsterer in it?! What ya thinking?! I love a good design breakthrough hahaha.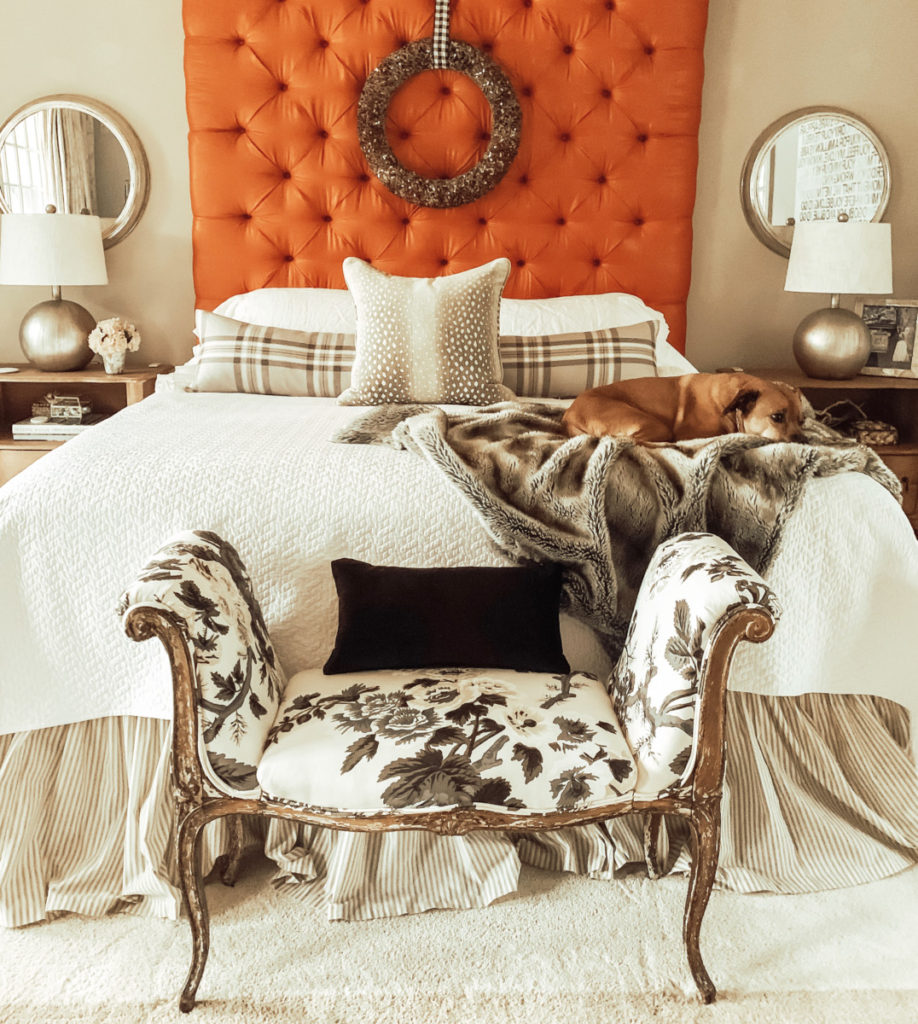 Again stuck to my guns, and kept things super simple in here: garland, wreath and a few baubles.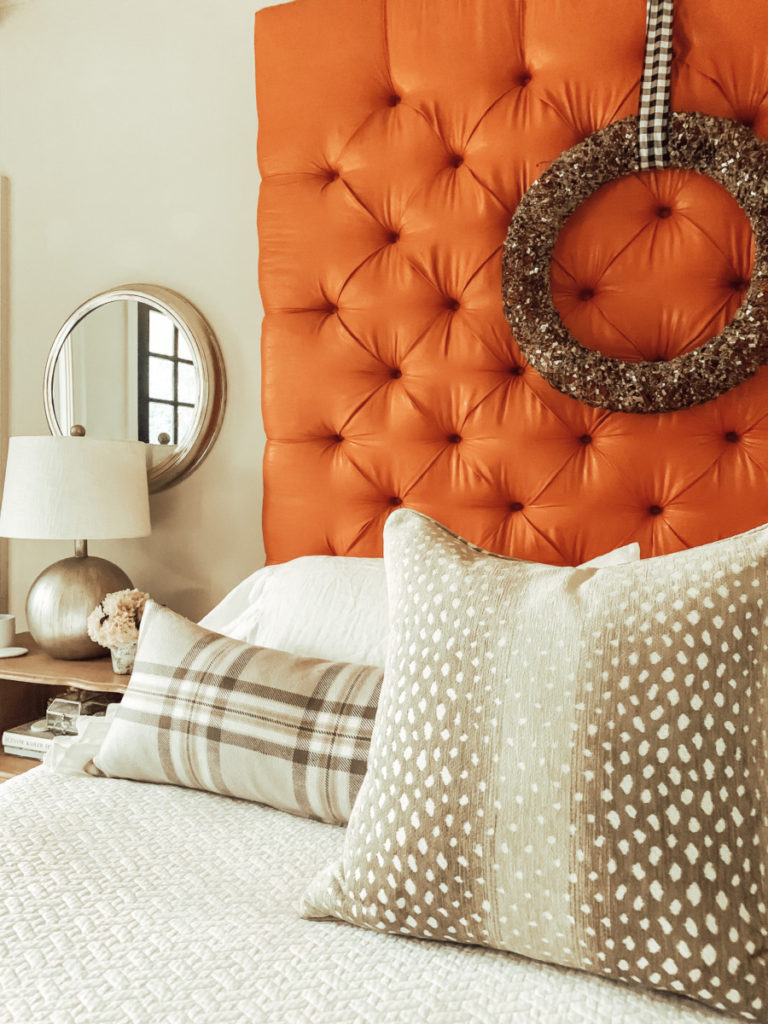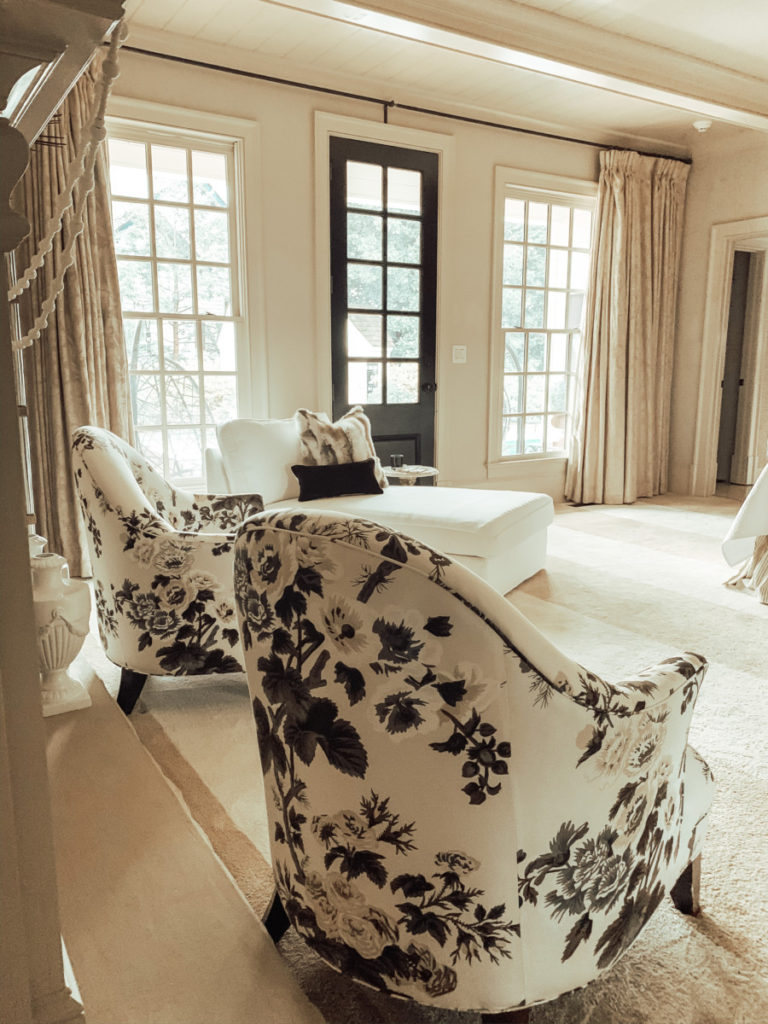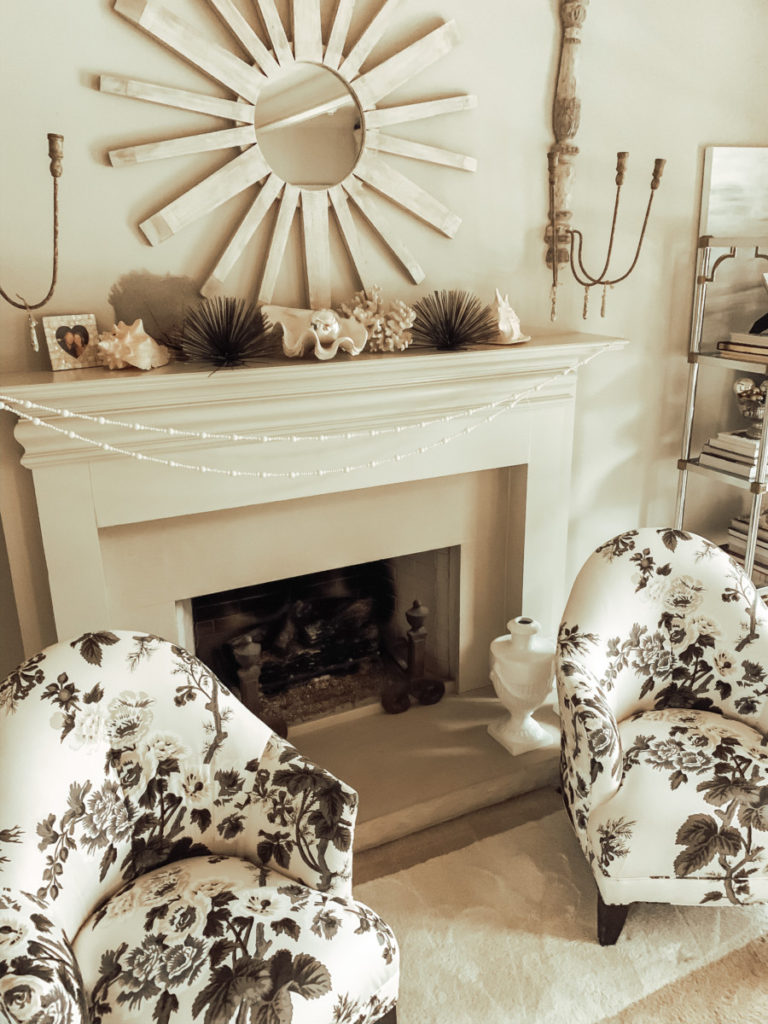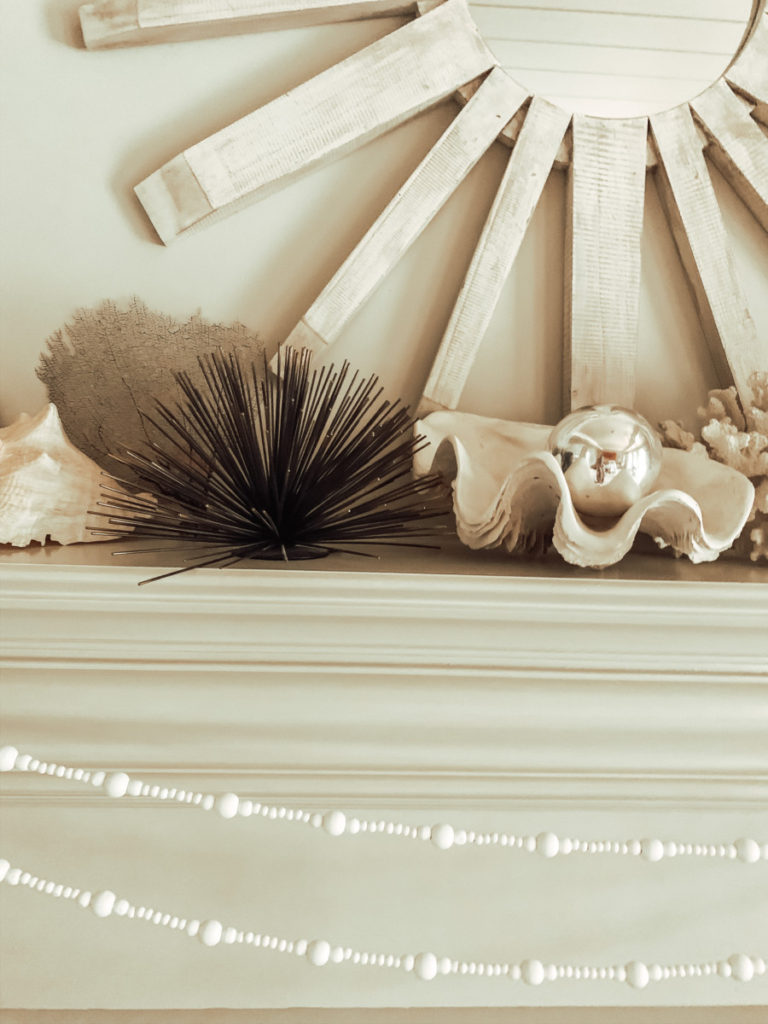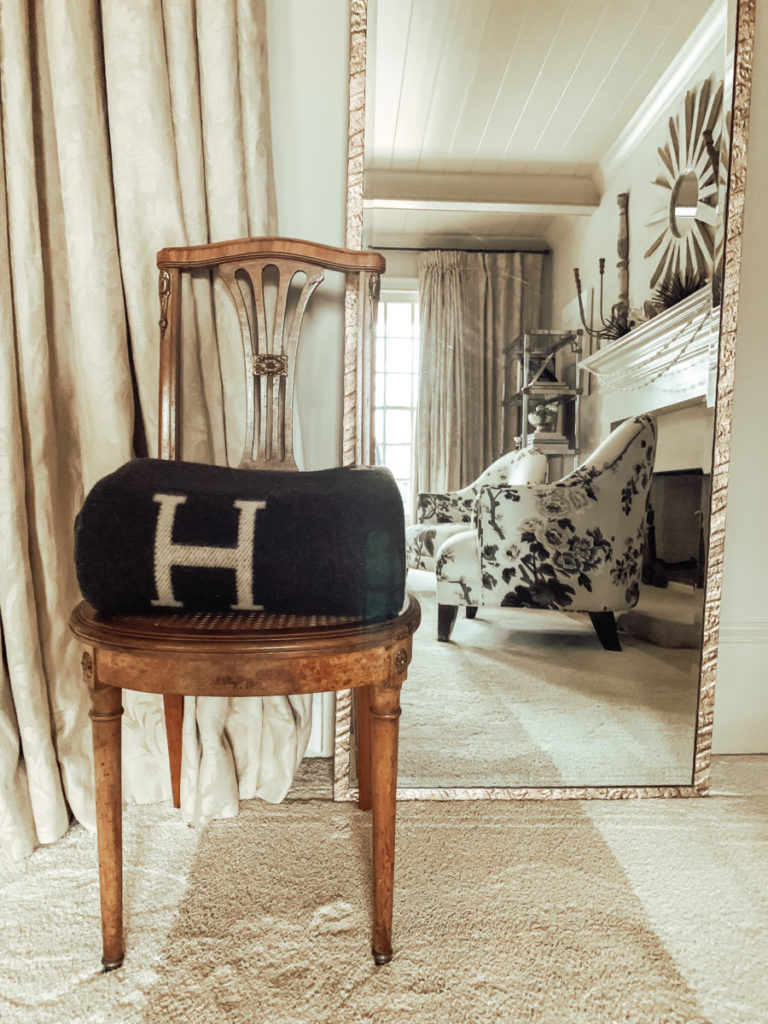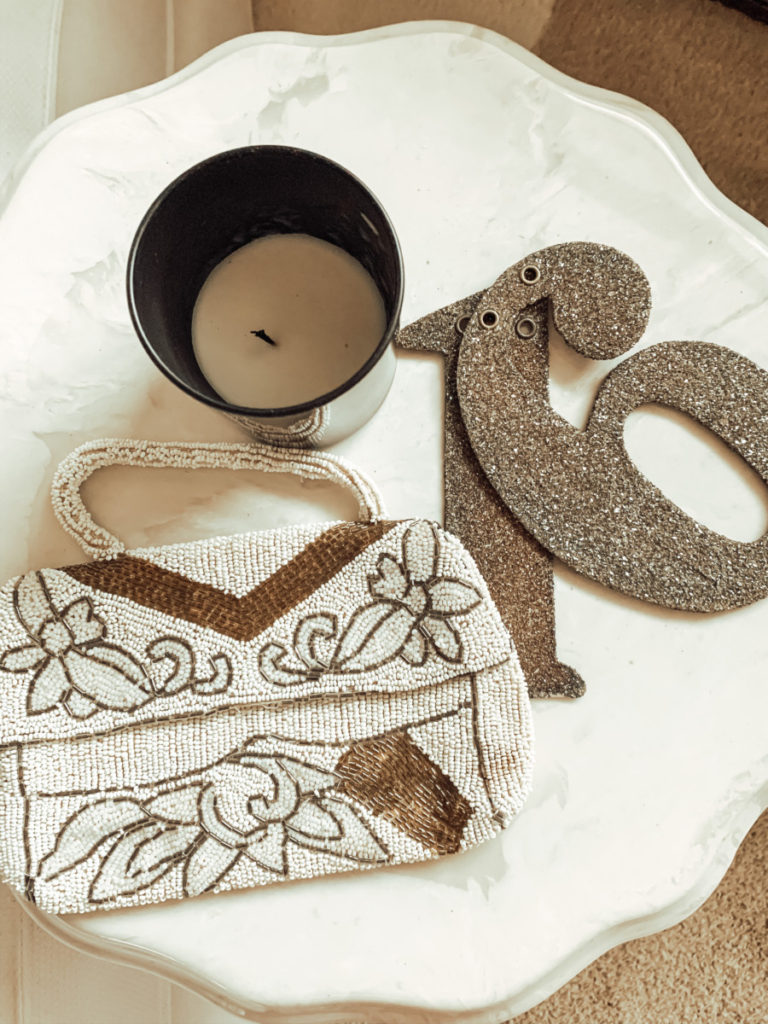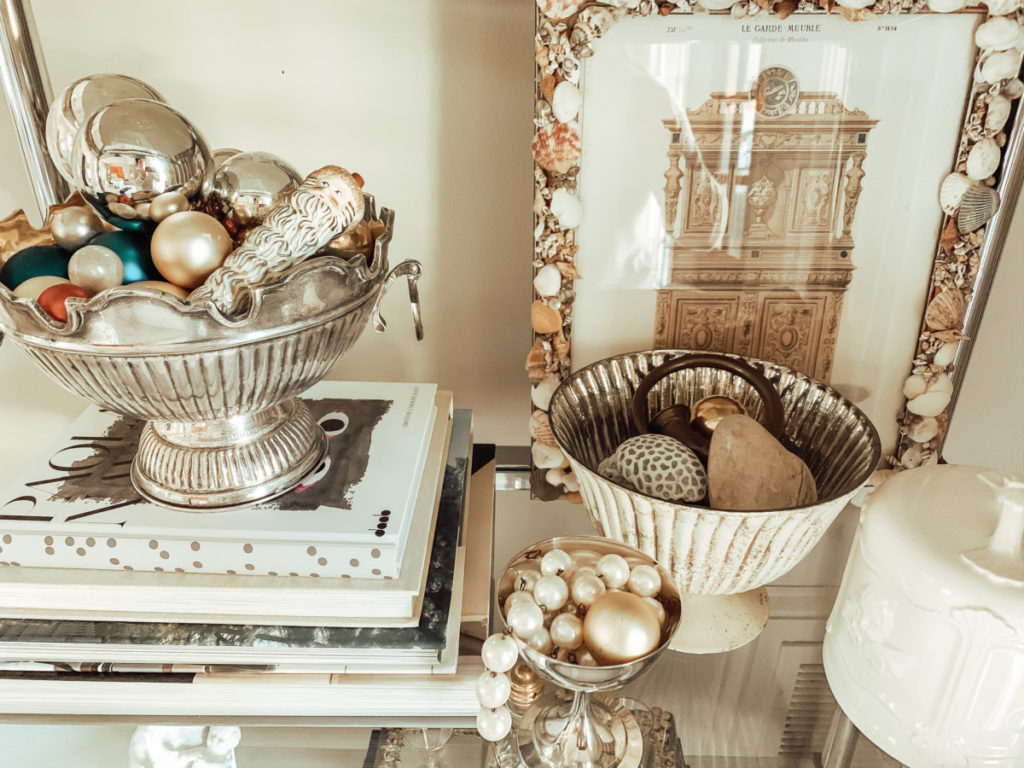 Let's head upstairs where I did something new this year that I think you might like…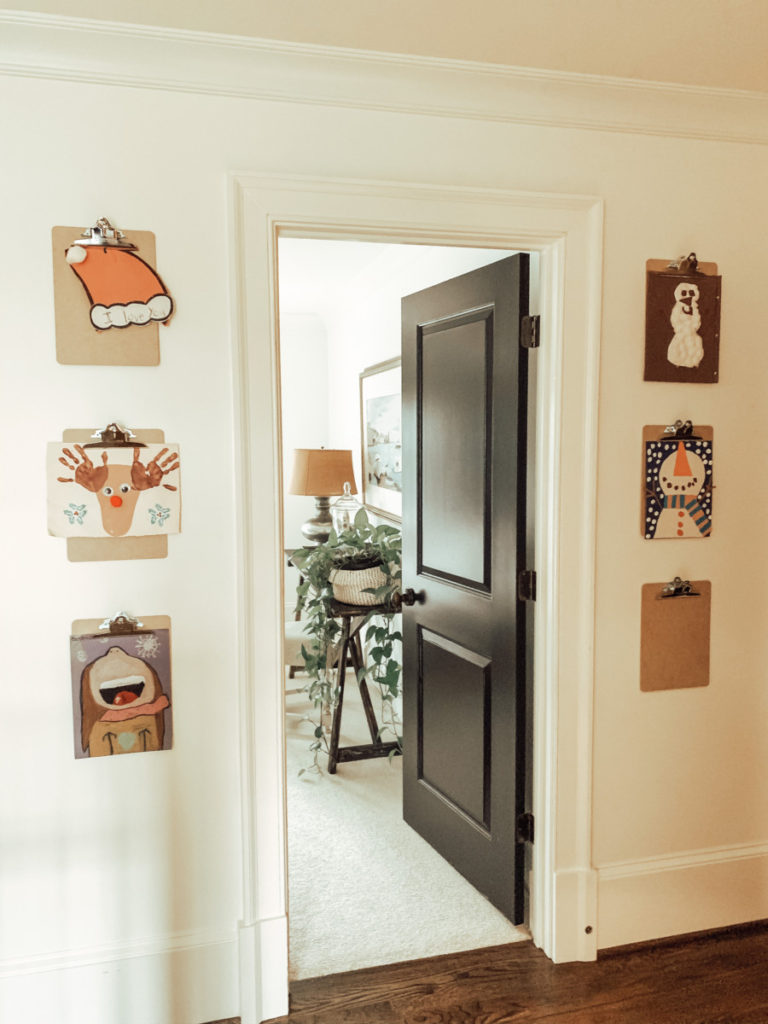 I framed the guest bedroom door with clip boards to display the kiddos holiday art work from the years. And it got me thinking, I'd like to do a whole wall/grid of clipboards in our next home, mudroom or back door area to easily swap/display artwork, photos, mementoes, reminders, you name it!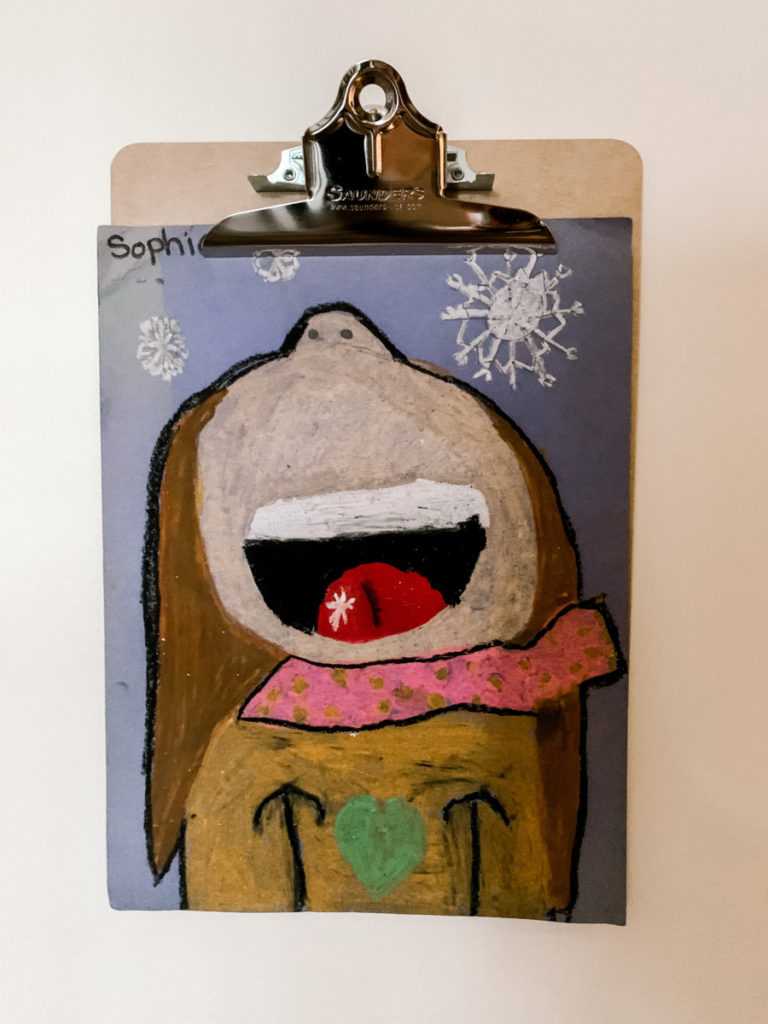 Here's a happy little corner at the top of our stairs folks rarely see…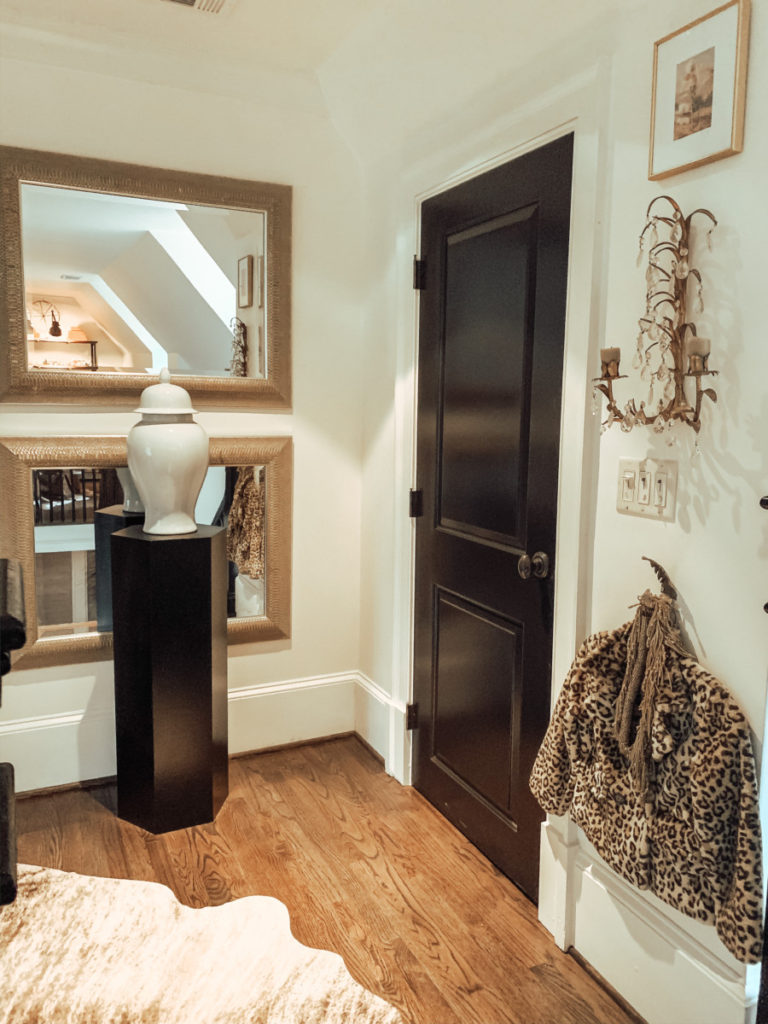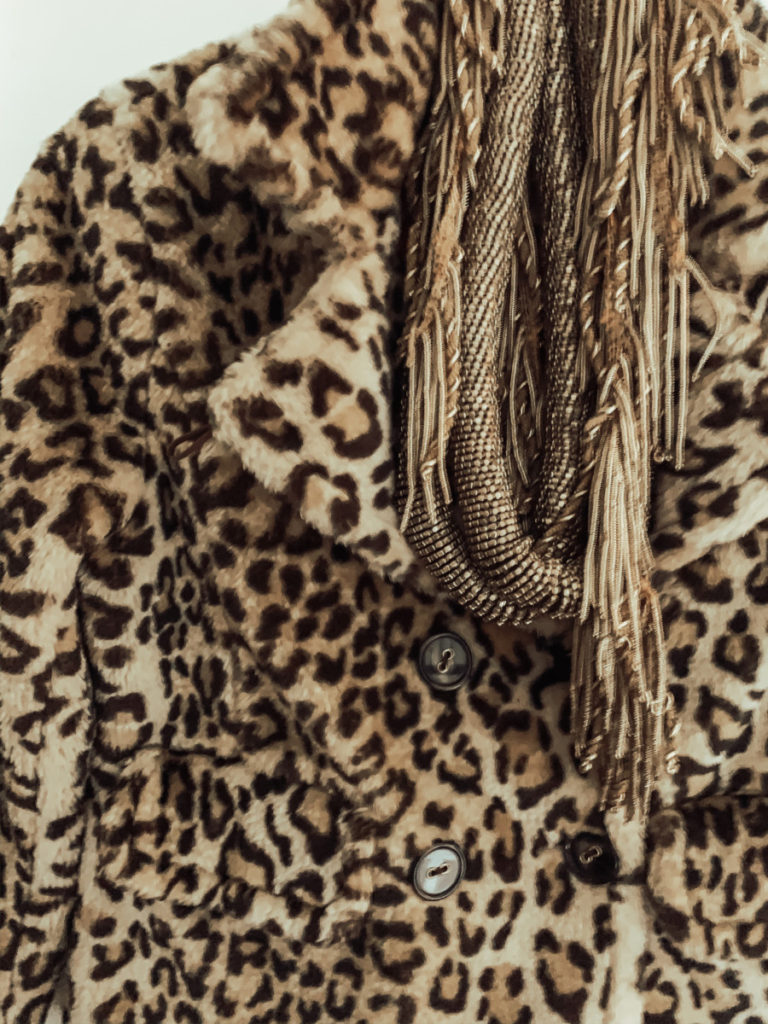 Opposite this corner is quite a bit of landing space, so I utilized it for all our classic book titles, artwork, puzzles, games, kid stuff with a table and chairs nearby. Its key (in my book) to have one consistent element, the orange boxes here, I think is crucial for exposed shelving on a larger scale. Otherwise it all starts to look like clutter, which is still kinda does here, ha, but you know where I'm coming from.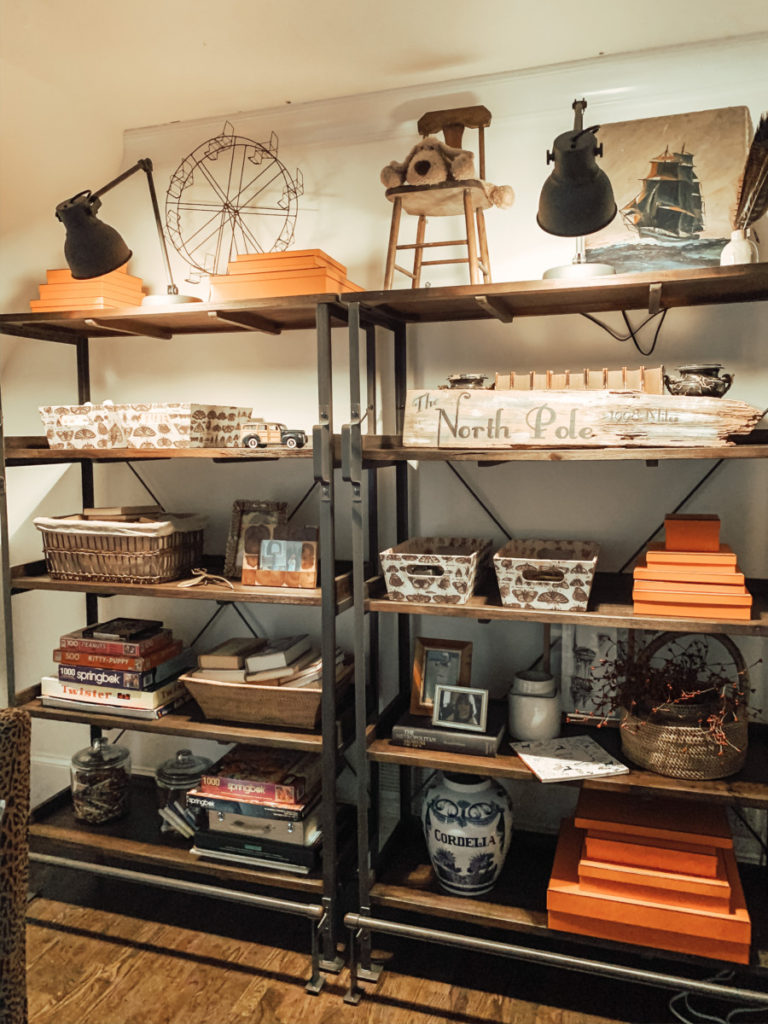 And that my friends, rounds out the tour! Now for an exciting new twist. I asked some of our clients to please send me pictures of your trees in the spaces we designed…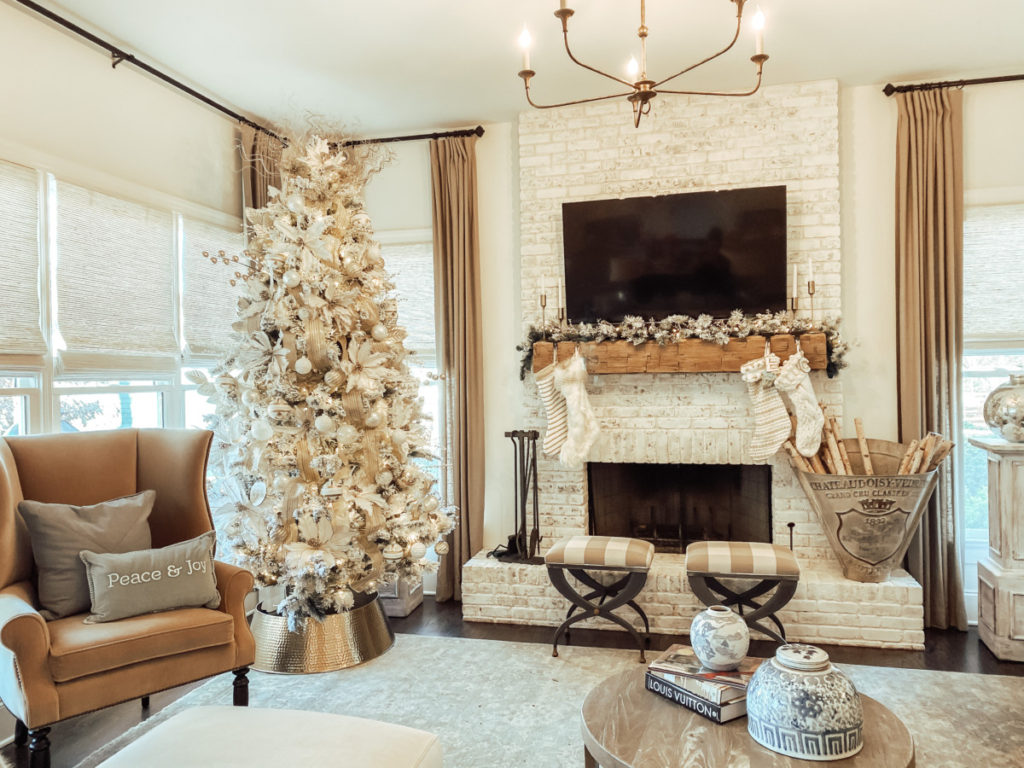 Next up is another total renovation that Lindsey lead the charge on this past year. A blue and white BEAUTY that I was so lucky to be asked to decorate for Christmas.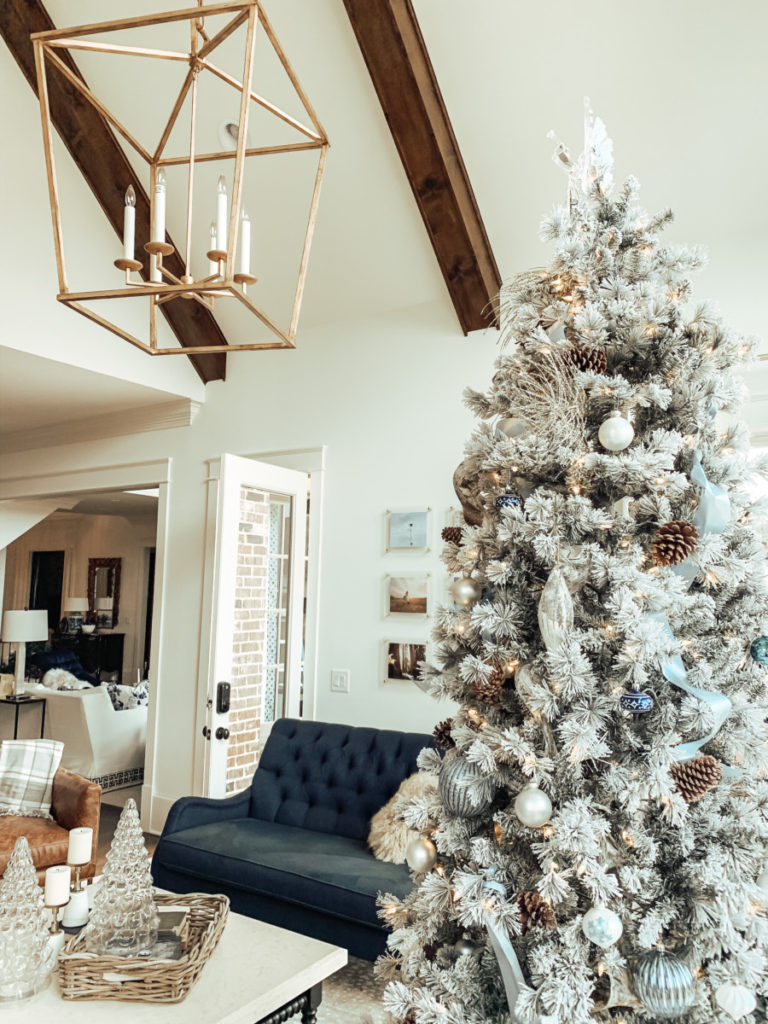 And lastly this black and white beauty we are happily still working on. I made a last minute pit stop to drop off these preserved orchids we had made in a $40 target bowl that will last a lifetime. So worth the investment.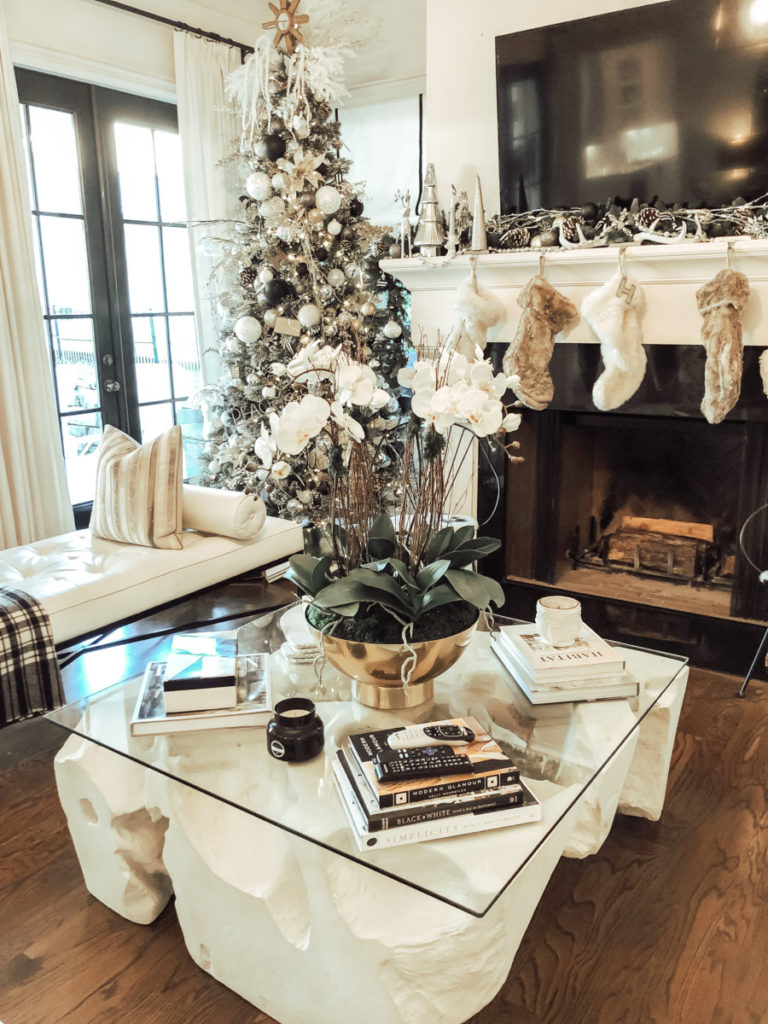 Well there you have it folks! I promised a Christmas favorites play list but you all know the good ones…just off the top of my head here are a few you know and maybe one or two you haven't heard yet…
"Step Into Christmas" Elton John
"Christmas is the time to say I love you" Billy Squier
"Rocking around the Christmas Tree" Brenda Lee
"Do they know its Christmas" Band Aid
"Holly Jolly Christmas" Burl Ives
"Hard Candy Christmas" Dolly Parton
"God Rest Ye Merry Gentlemen/We Three Kings" Barenaked Ladies and Sarah McLachlan
"Blue Christmas" The Lumineers
"Santa Clause is coming to town" Bruce Springsteen
"Christmas (baby please come home) by Darlene Love and U2 (love both versions!)
And lastly EVERYONE's favorite, good ole Mariah Carey's "All I Want For Christmas Is You" It just never gets old.
Rock and roll team!!! Please go have the best Merry Christmas yet!!! And be safe and love each other with abandon! We love you!! 2020 here we come guns ablazin! :-)))))