Hello friends! I swear I've sat down four weekends in a row trying to put this post together, to no avail. Maybe, finally, this is the time. Happy weekend to you! I always feel so fortunate to get back here to write and share.
Do you recall the last time we talked, (like a month ago…bad friend I am) about the "before" tour of our still sorta new home? Well here it is! I wanted to share with you these pictures because my friend Pam (and Don, who blessed us with this home) have the MADDEST of skills and taste and I just know you all will glean some great ideas from them! And its always fun to see before and gawd knows what's going to happen after #crazytrain
So here is what the outside use to look like. However it was in need of a new paint job and I've always loved a good ole, cant-go-wrong-with-white house. This was my chance.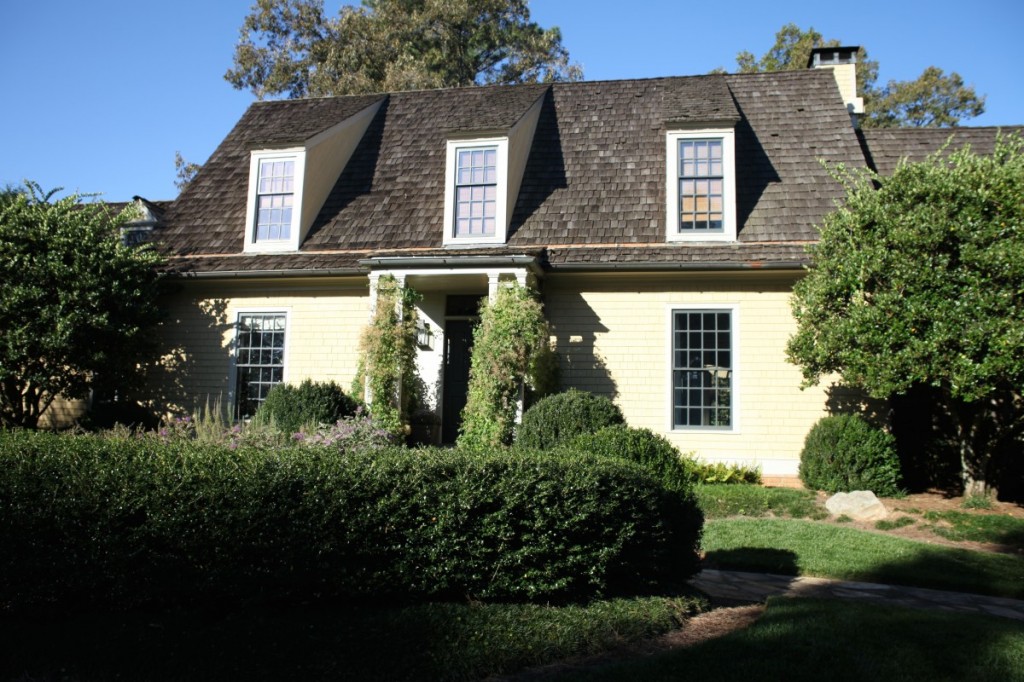 Voila! I chose China White by Benjamin Moore, Tricorn Black by Sherwin Williams for the doors and Contented by Sherwin Williams for the porch ceilings and side entry door. Big shout out to my designer babes Sherry and Angela for making this choice so easy on me #xoxo Someday I'd like to add shutters to the front windows, but I cannot decide if I go with straight-up colonial revival style…something of my own design…then what color? Sometimes you just gotta let it come. So I'm going to be patient AND my #brainkindahurts right now.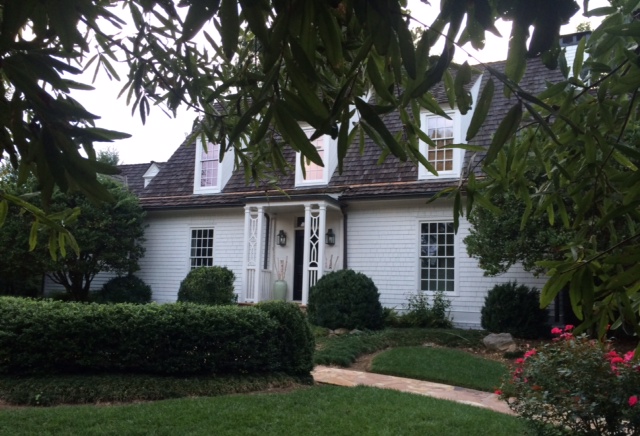 First stop, the fhannncy room that's ALL MINE to design (insert evil laugh) without any male input.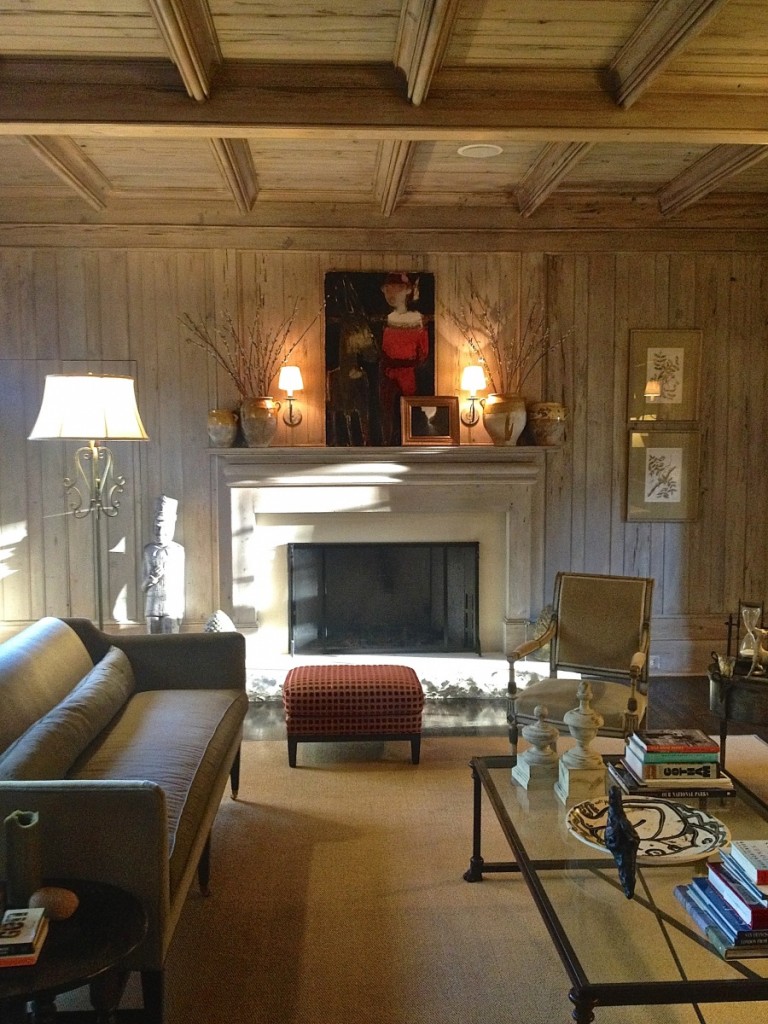 Its an absolute dream, clad head to toe in pecky cypress. Still blows my mind. But at the same time its kinda intimidating…like how are all my goodwill and DIY finds going to work in here? Pressure, in a good way. Are my ideas BIG enough to carry a room like this? Your guess is as good as mine. Hah!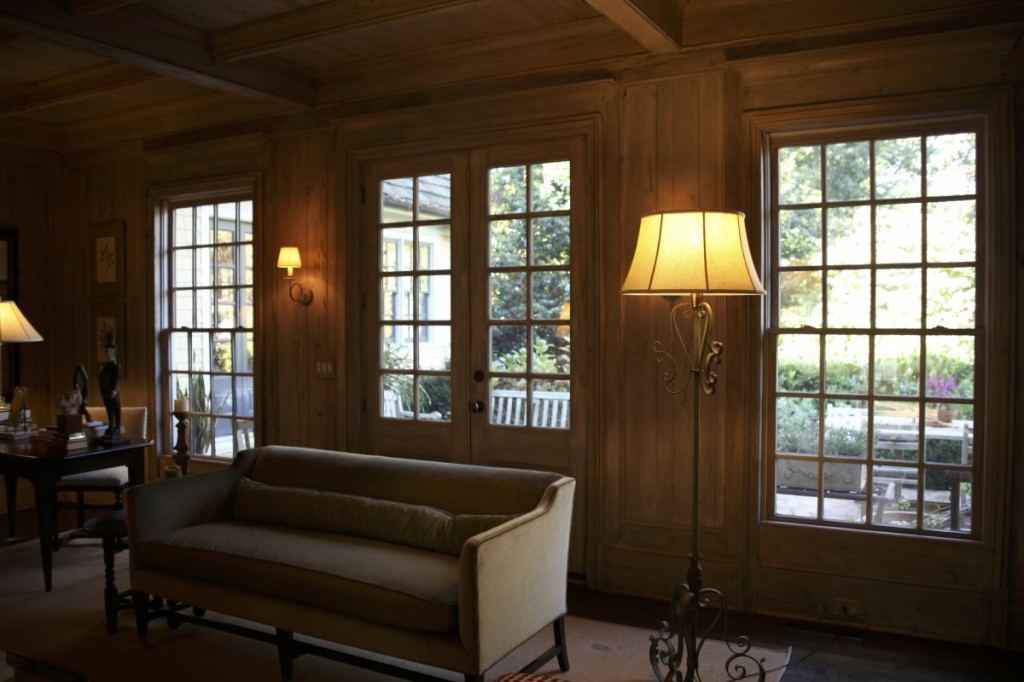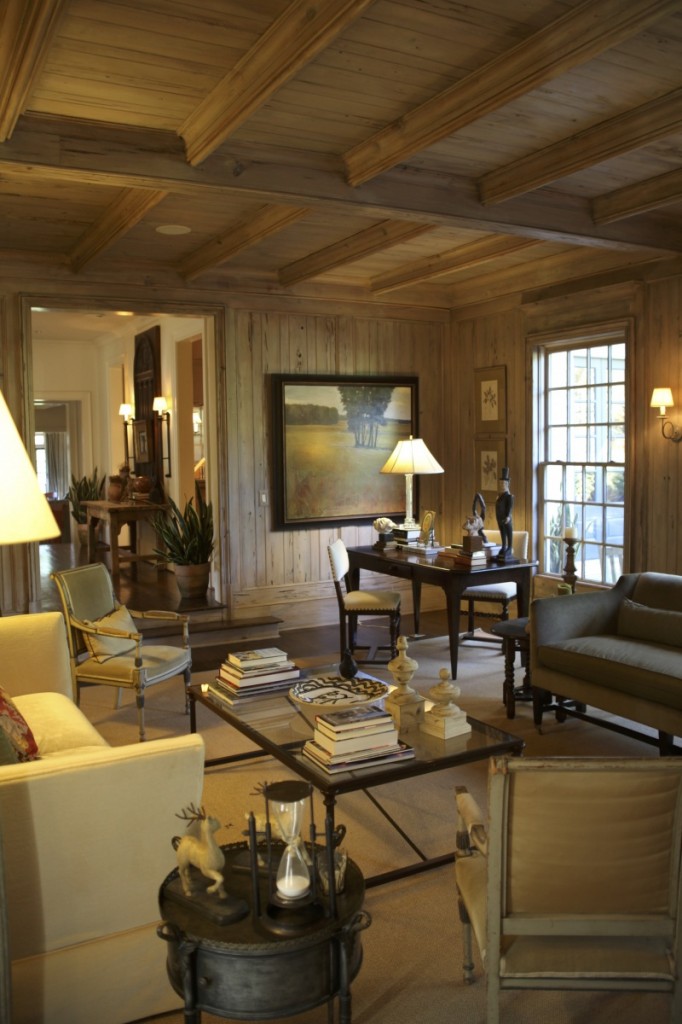 Hidden in the walls is what we call "the bat bar"…
Robin, to the bat bar! #happyhour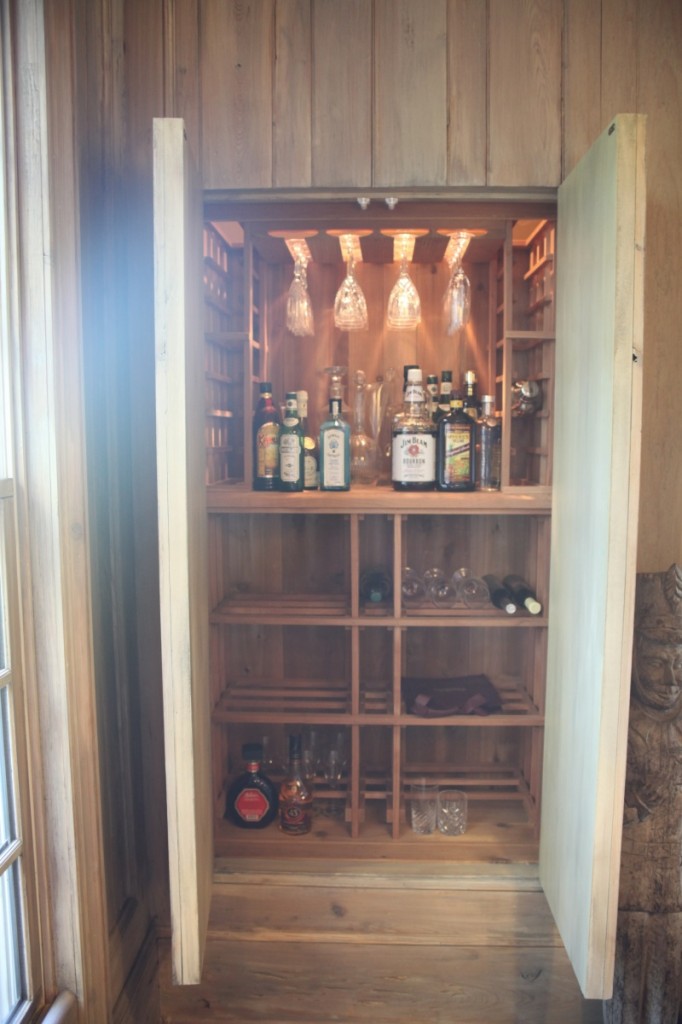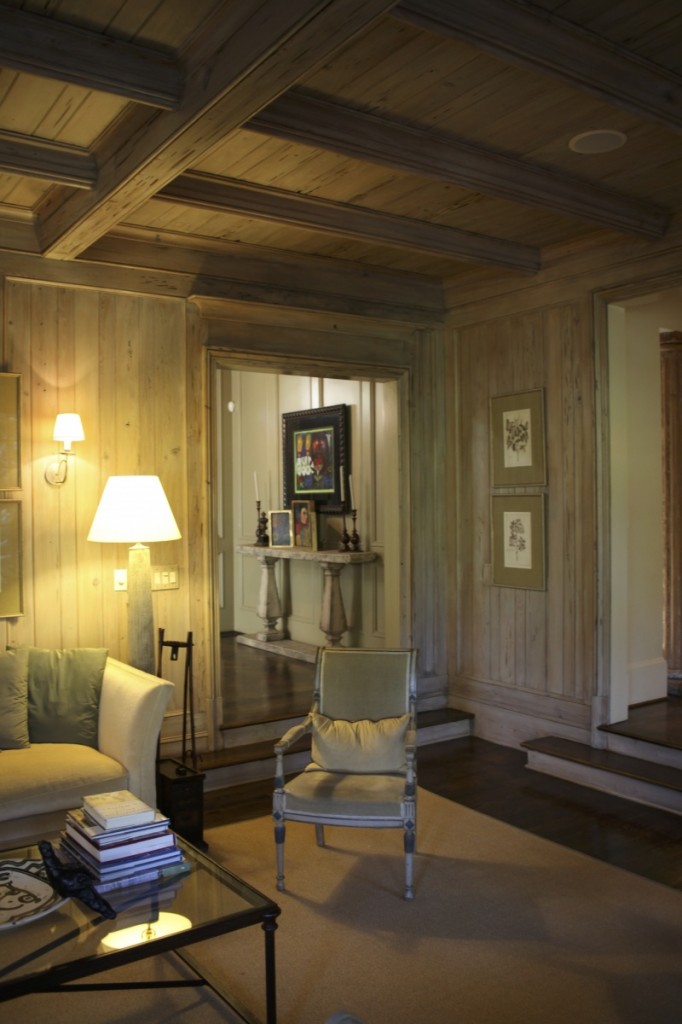 I just love these lamps and sofa.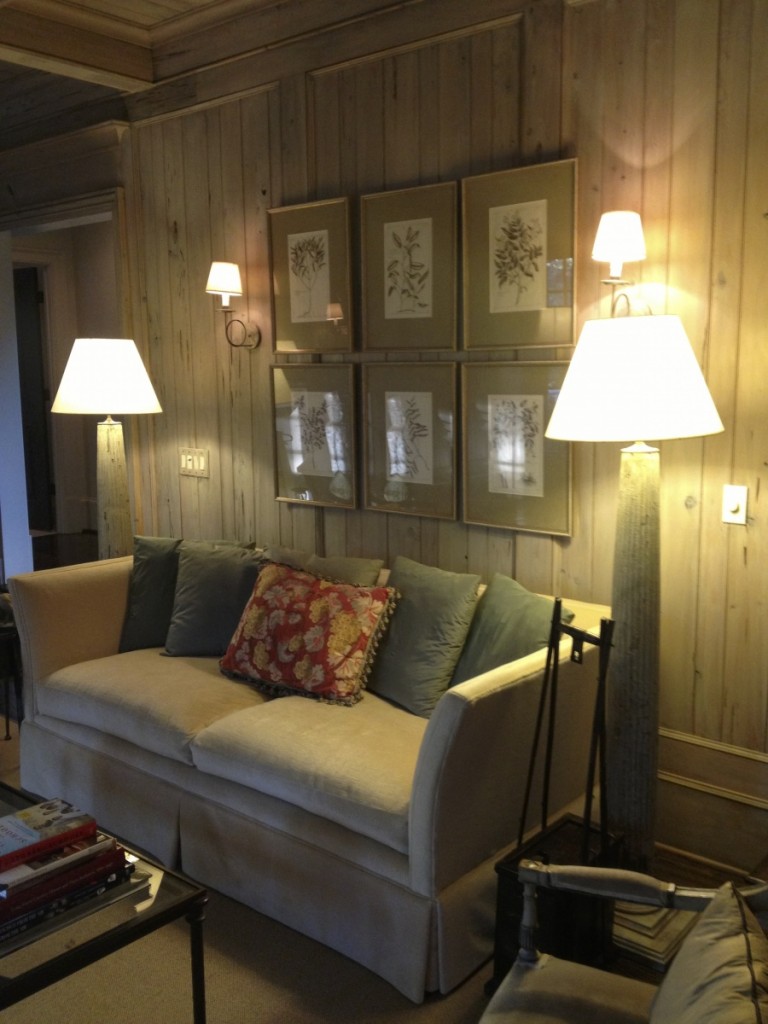 Here's a peek into the foyer with herringbone floors. Pinch me.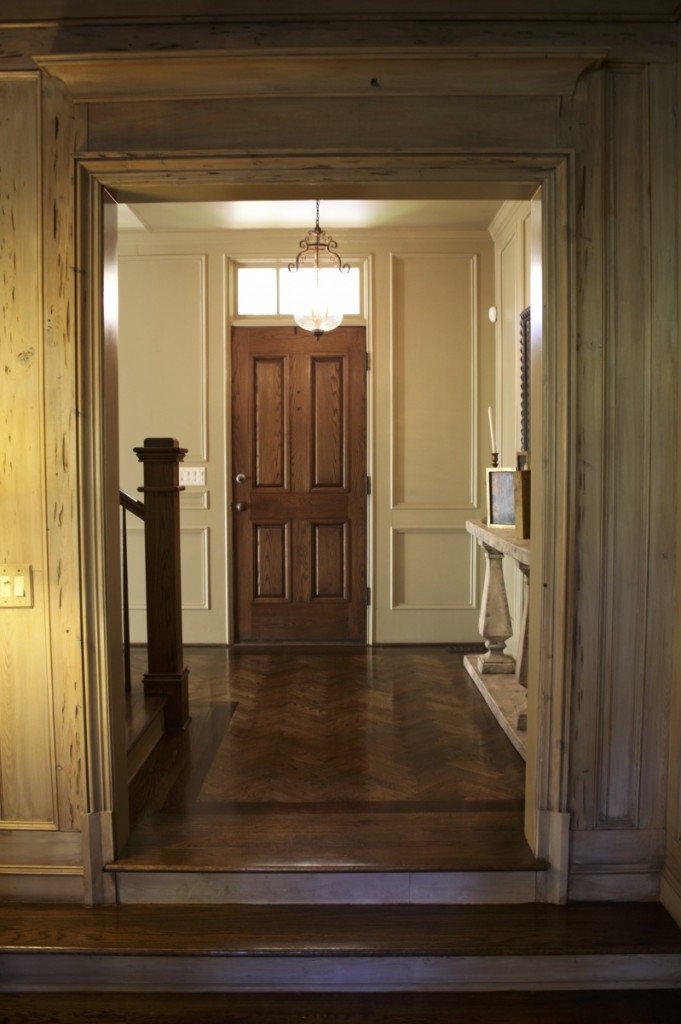 I've repainted the majority of the home "Mascarpone" by Benjamin Moore to brighten it up and set the foundation for all the fun to come.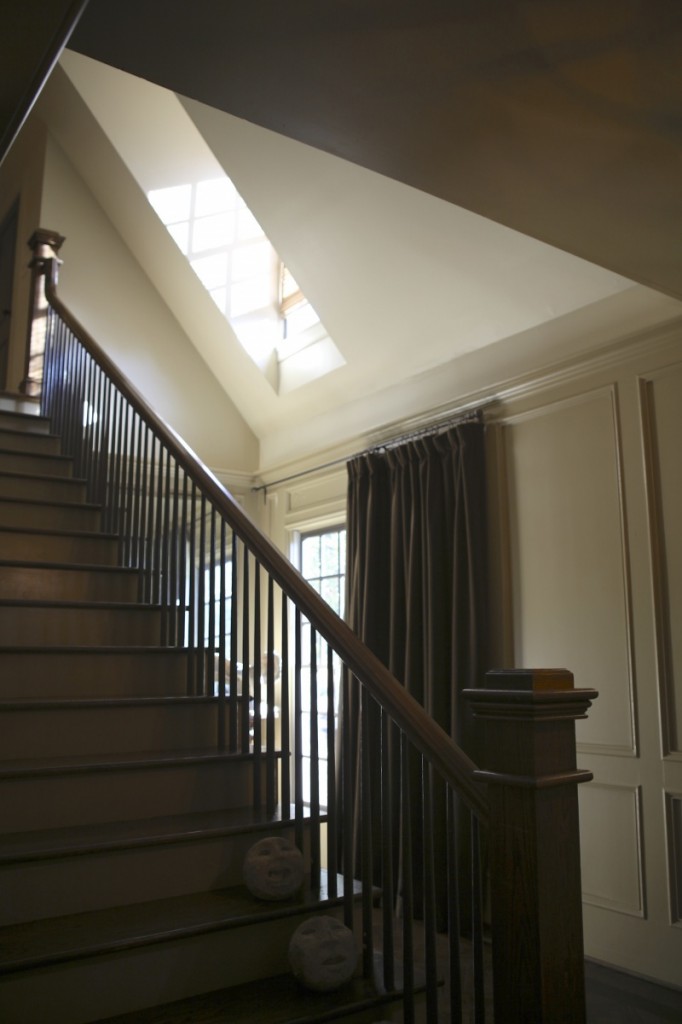 Gaaah. This mirror. A dream.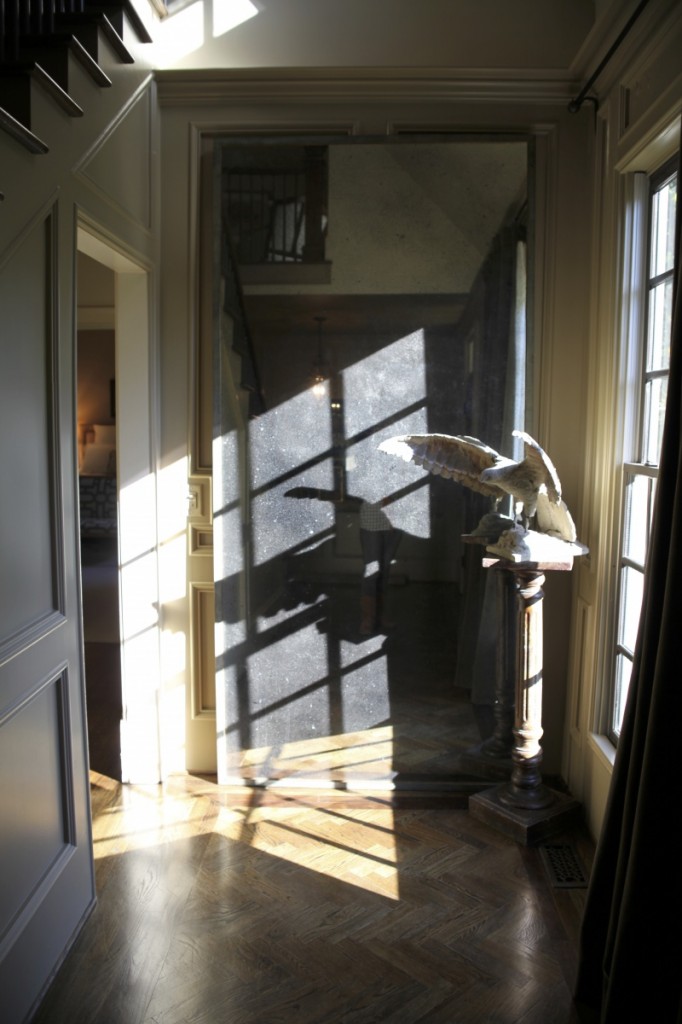 The door you see to the left there takes you back into the living room, and also a half bath and our master bedroom.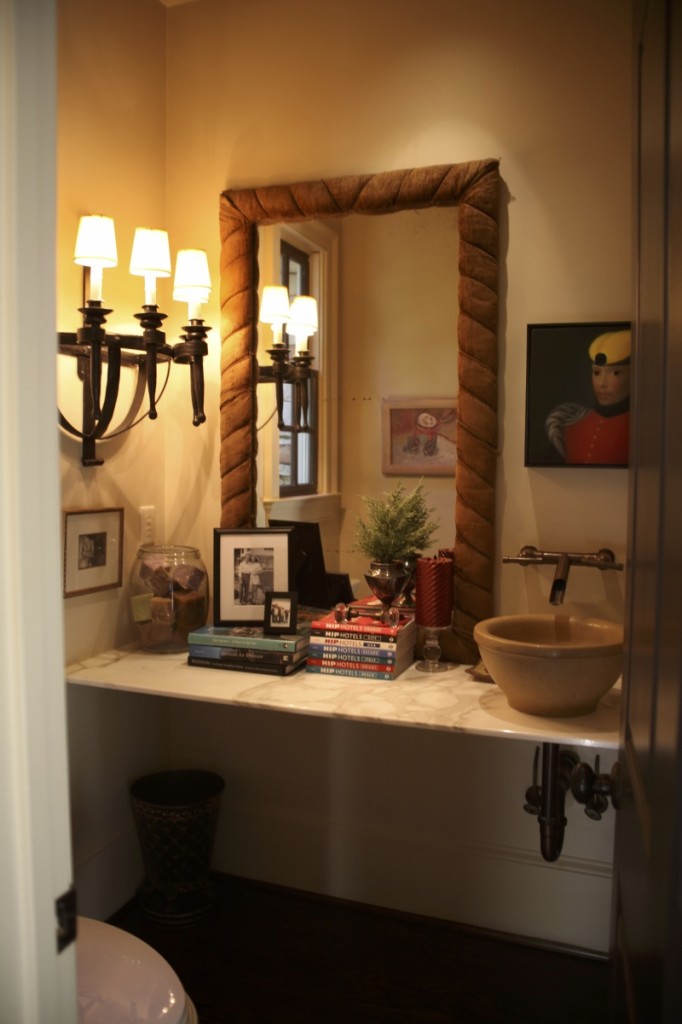 The burlap mirror RAH-OCCKS. Recently installed some paisley wallpaper in here and am loving it.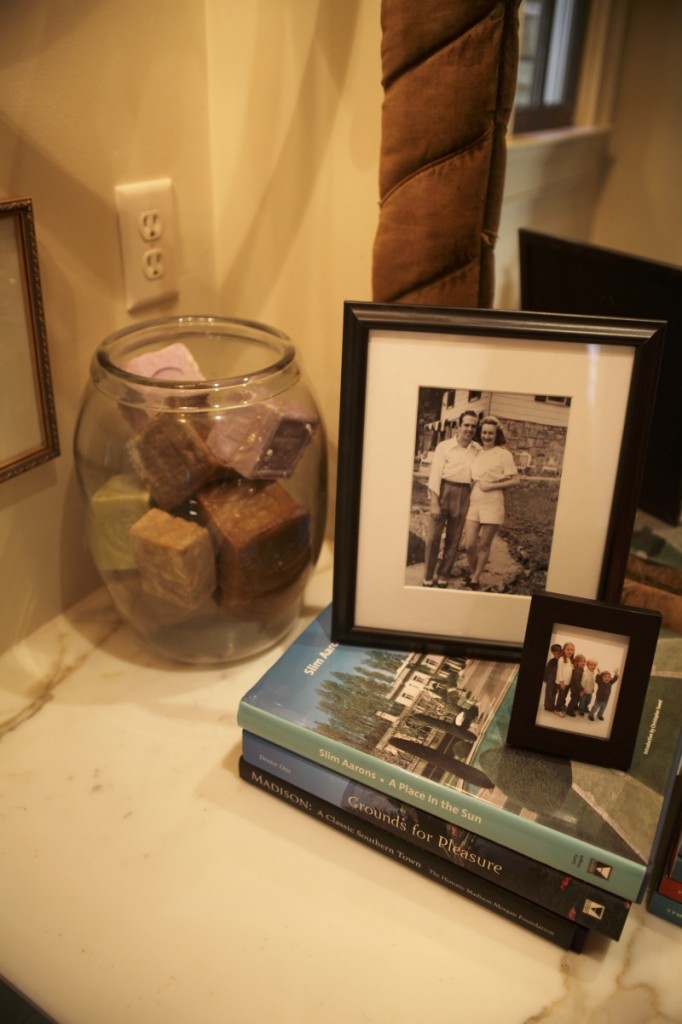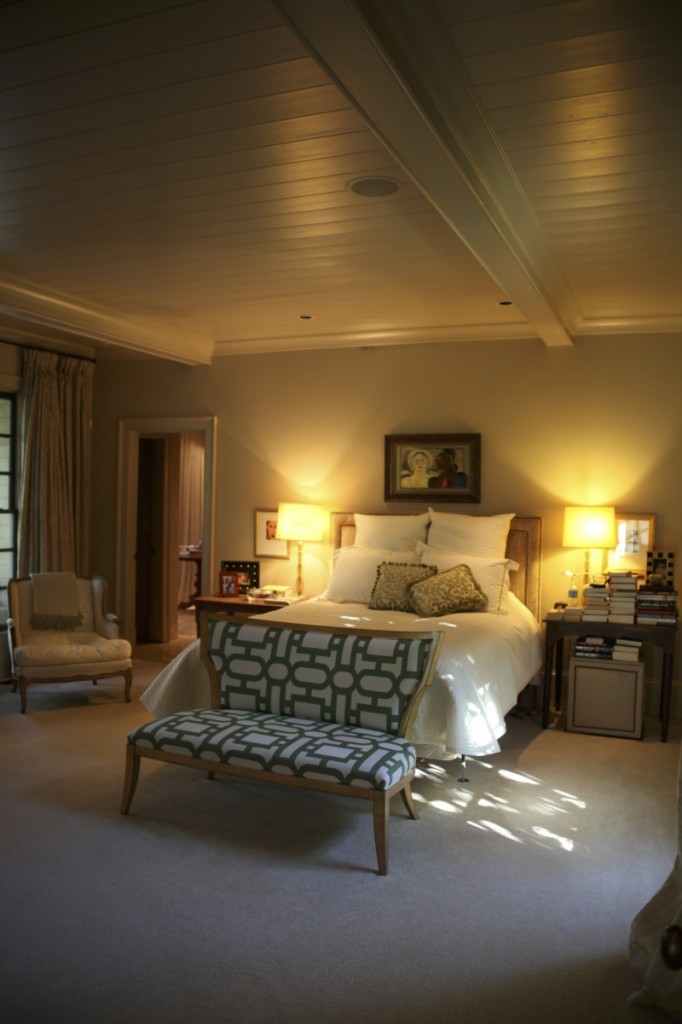 A shot of the master bedroom. The drapes stayed! Imagine my excitement. I pull those suckers closed every night and give em a kiss!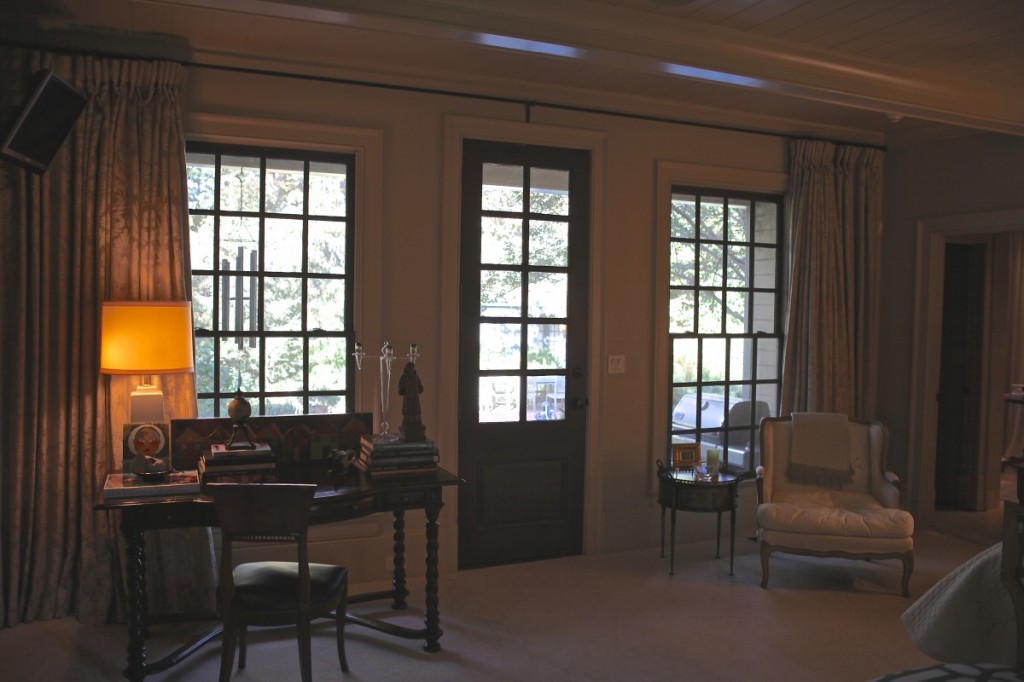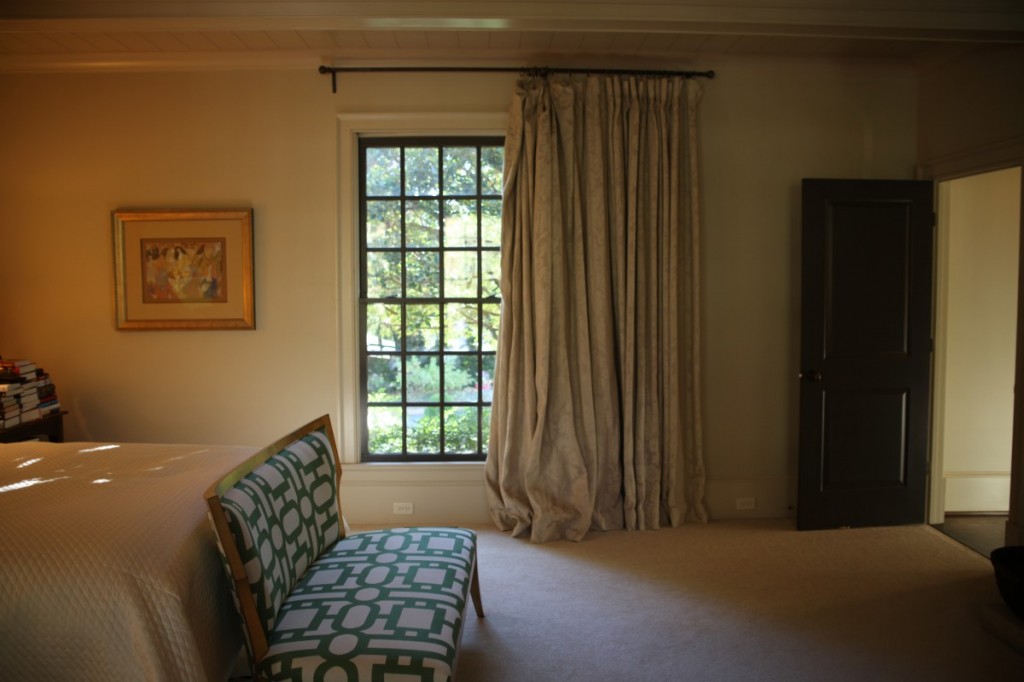 The fireplace…expertly styled with a gorgeous starburst.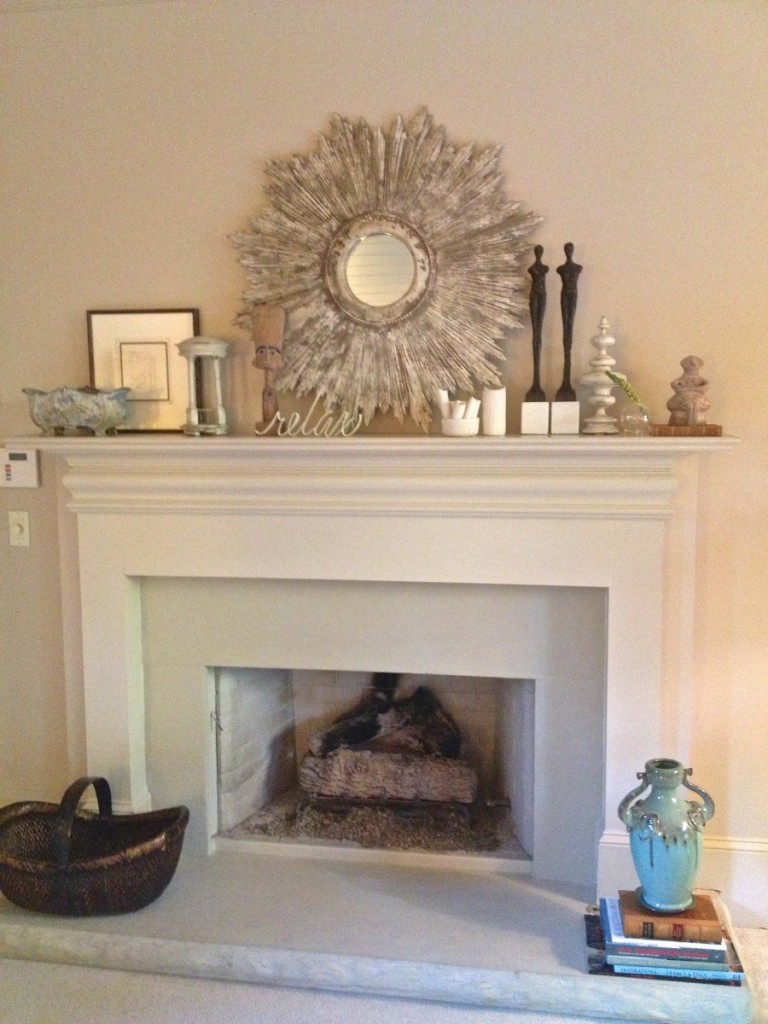 I recently styled ours and stop the presses, may have actually gotten it right the first time around. I have no complaints. So far, so good.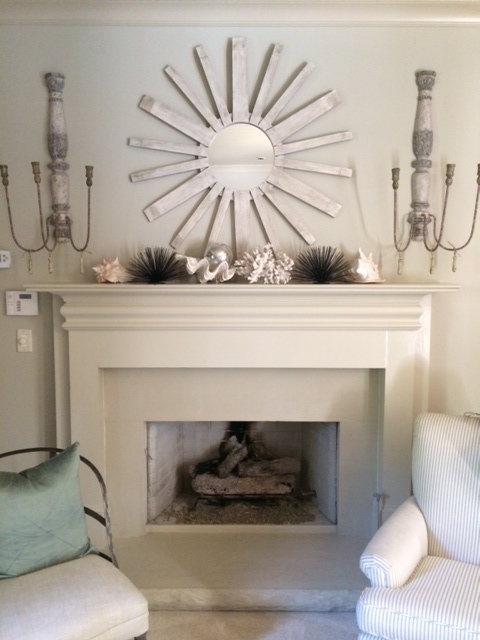 There were a lot of things I was excited about with this house but probably my top top jump up and down was the master bath. As you know, I spent some time trying to jazz up our master bath in our old house when really I just wanted to take a sledge hammer to it. And those that know my design aesthetic know I LOVE FOXED MIRRORS more than life and hanging art and mirrors from chains (Susan Ferrier was so ahead of the times in 2003) so when I rolled up on this, it was definitely a Cinderella moment. The glass slipper being the glass knobs I swapped out from our old house (big, square, from Anthro. Wish I could say they were still available).
Its plumbed for a tub, however, they had furniture instead. Which Mike loved but I'm a tub gal. Right now we have a tufted ottoman from Overstock layered with a hide rug doing the trick (next time I'll take you on a tour of our progress).
Moving on to the kitchen and keeping room…
This weekend all of the lights are being replace so if anyone is interested in these gorgeous iron lights, they are available. The trained eye can spot them in many designer spaces across lots of portfolios. They're what we call a goodie.
There is a gallery hall (another great architectural element I've always admired) that runs through the center of the home with "miss pecky" on one end, dining room and entrance to the kitchen in the middle and Mike's man cave on the other (which at one time was the garage before the home was renovated my renowned architect Bobby McAlpine). If we ever have to utilize his current man cave for something else, we'll probably invest in something like a man cave shed because I think it's important that he has his own space.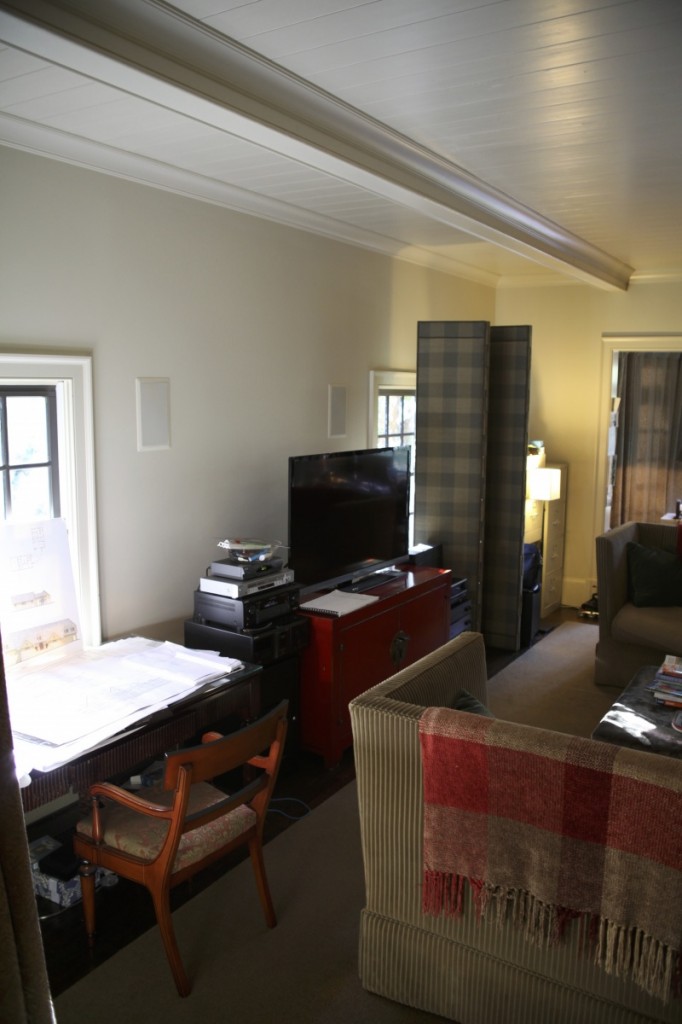 I took down all the gorgeous draperies you see here and replaced them with my favorite cheesecloth drapes from the old house against dark Kendall Charcoal walls from Benjamin Moore. The hubs has been begging me for a dark room for years and he got his wish. The man cave is born.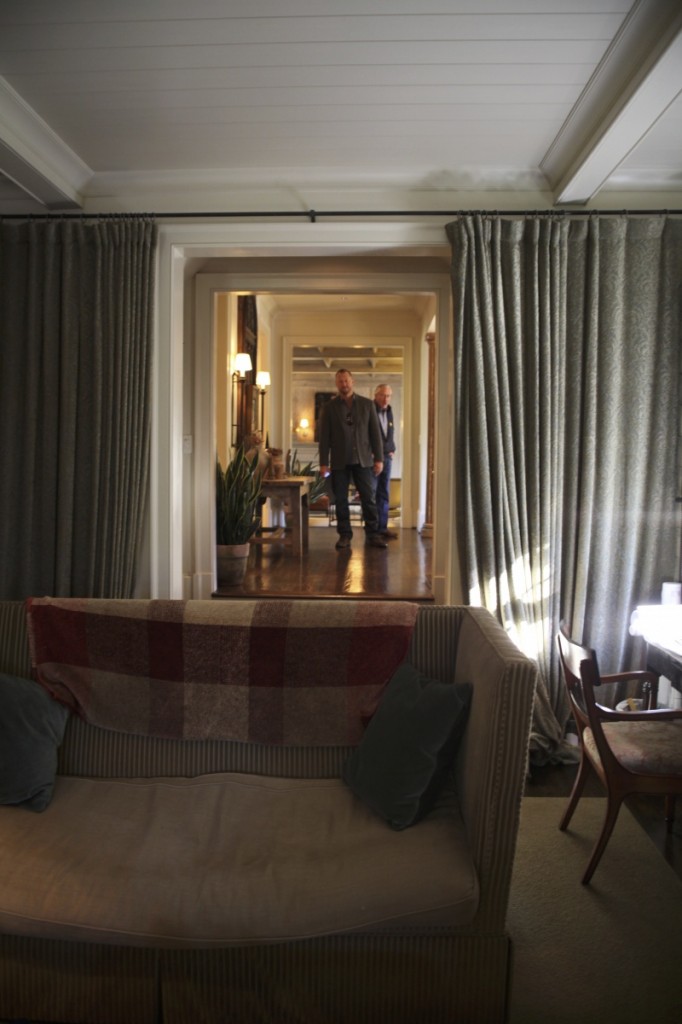 There's a gorgeous solarium type space at the very end, where my potted lemon tree will go to die to grow this Winter.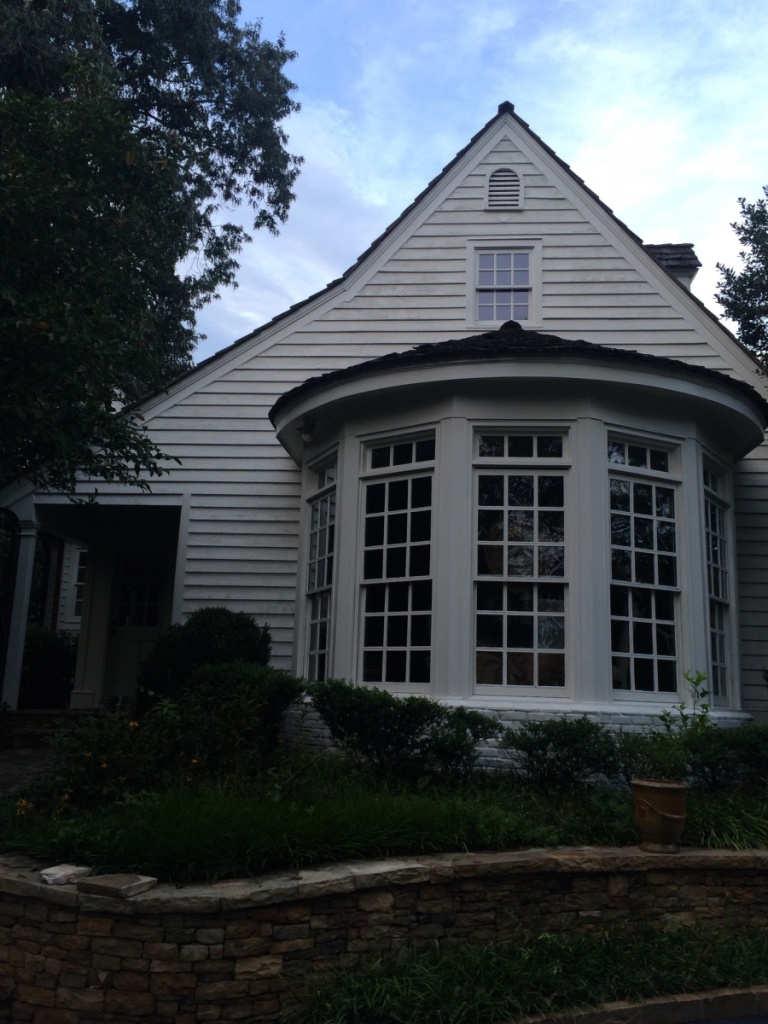 And off of the man cave is a half bath, mud room, laundry room and a separate stairway up to my new studio space.
I look forward to sharing the second floor and the grounds with you next time we meet. For now, I'm exhausted and will be in bed before ten on a Friday night for the first time in a long time. Work is kicking my ___! All good but still hurts. Wink. Wink. Hope you all have a stellar weekend! The weather has just been off the charts gorgeous here in Atlanta and I've witnessed some of the most beautiful Fall color pictures from back home in Michigan. Beauty-full! Its all around…color, inspiration…soak it up!
xx
Jenny from the rock.