Hello friends! And thanks for all your lovely comments about our new home! I'm really looking forward to sharing all the good design madness with you. XO. I've got lots of amazing ideas for home improvement projects. I've found some granny flat builders Sydney (or another similar company local to our area) and I think I'm going to get one built in the garden. I've always wanted a granny flat and since our new garden is huge, it seems to make sense! I also want to redecorate the spare bedroom as it looks super old fashioned at the minute. These are only ideas though! I can't wait to share the finished product with you guys! But for now, I have a super fun and funky client project I wanted to share. I know you've heard me say it before, blah, blah, blah, but I meet the BEST people/clients in this job, and this gal tops the list. We had a blast taking her home from traditional French country to bring in the noise! Bring in the funk! (cue the club music…ooontz ooontz ooontz).
So let's start here in the keeping room…that's an awfully big vaulted ceiling for just that little lonesome lantern don't you think…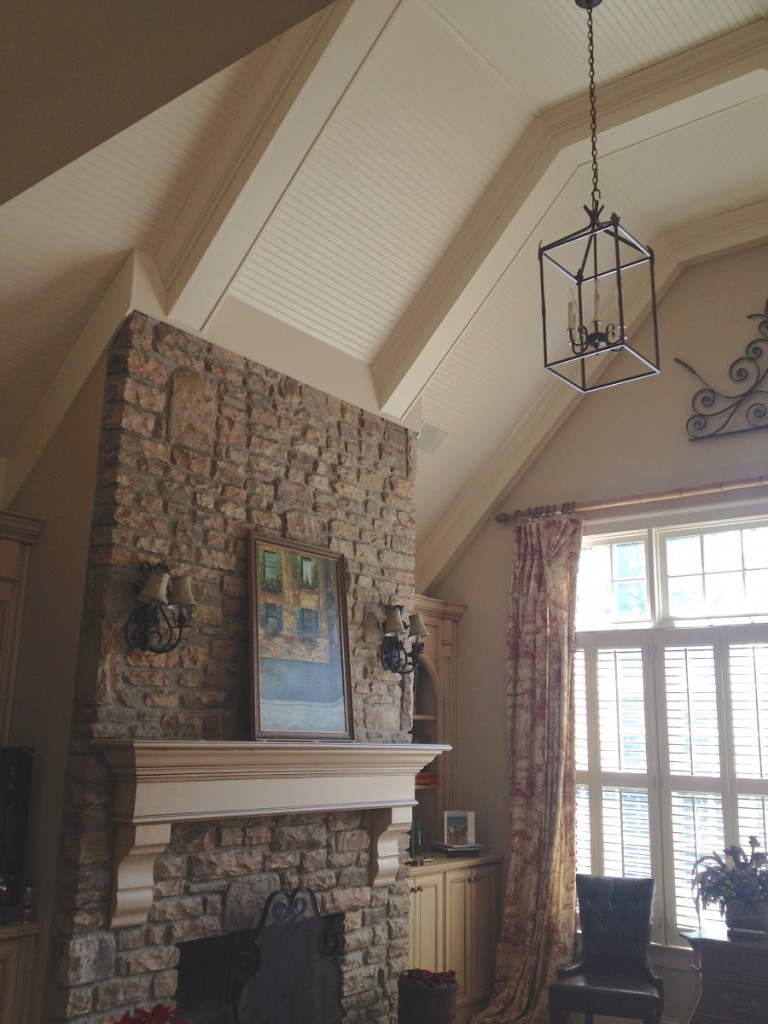 There, there, much better. Later days toile (even though we will always love you). We paired two RH sofas, flanking the fireplace and moved television to main wall, so now you can see it from kitchen, if you wish. I've been DYING to use this chandelier for years – YES! It paired nicely with long-time favorite sconce "deco horn" from Circa Lighting.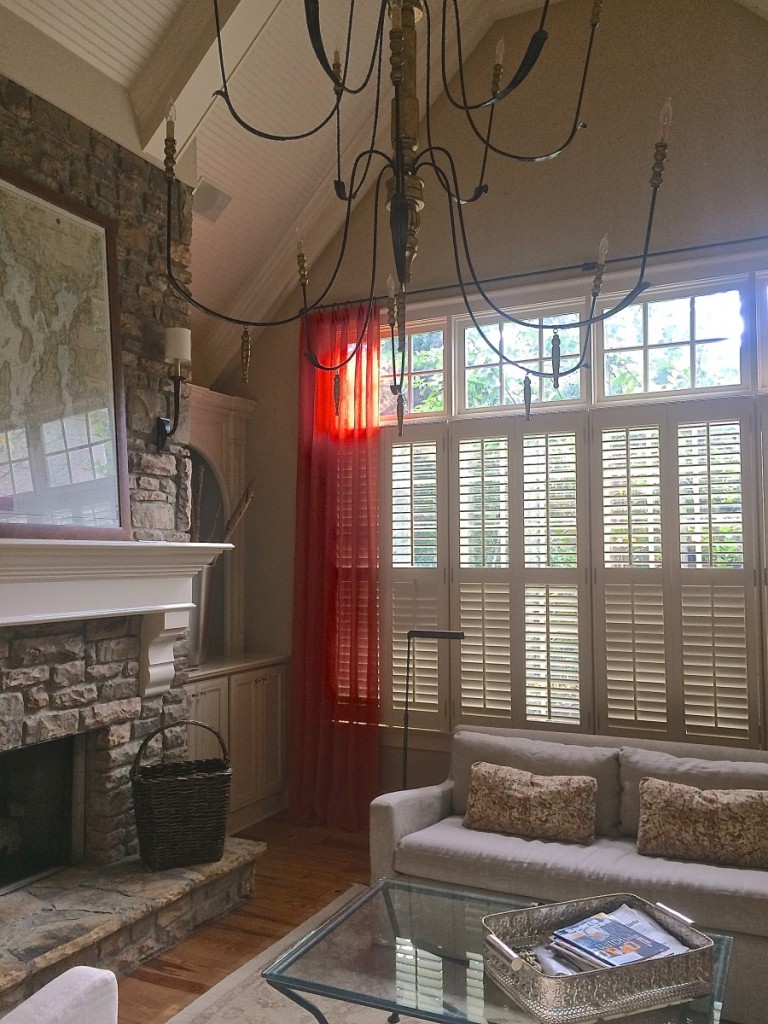 We chose this Jackson Pollack-esque splatter fabric for the pillows as our jump off. Some open weave orange drapes with simple French return rod and removed all the shelves in the built ins (because this house already has a ton of them) and painted the interior blue with some birch and bling. She asked that the pots be casual so we landed on these aluminum ones from IKEA. And now that the leaves have begun to fall, she'll pack some more branches in there for the holidays to make it look nice and full. Another little element was switching out the hardware on the doors, to glass knobs for a little bit of glitz.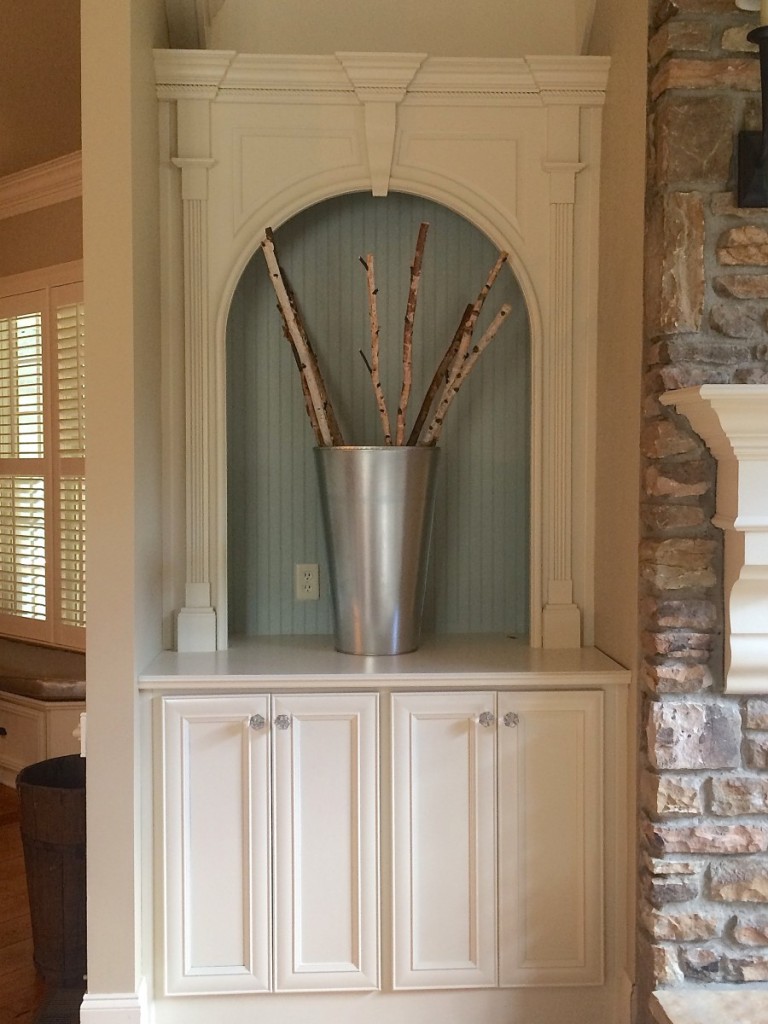 Our new media console for the tv here in the background and we added a CB2 peek-a-boo console table behind the sofa for command central.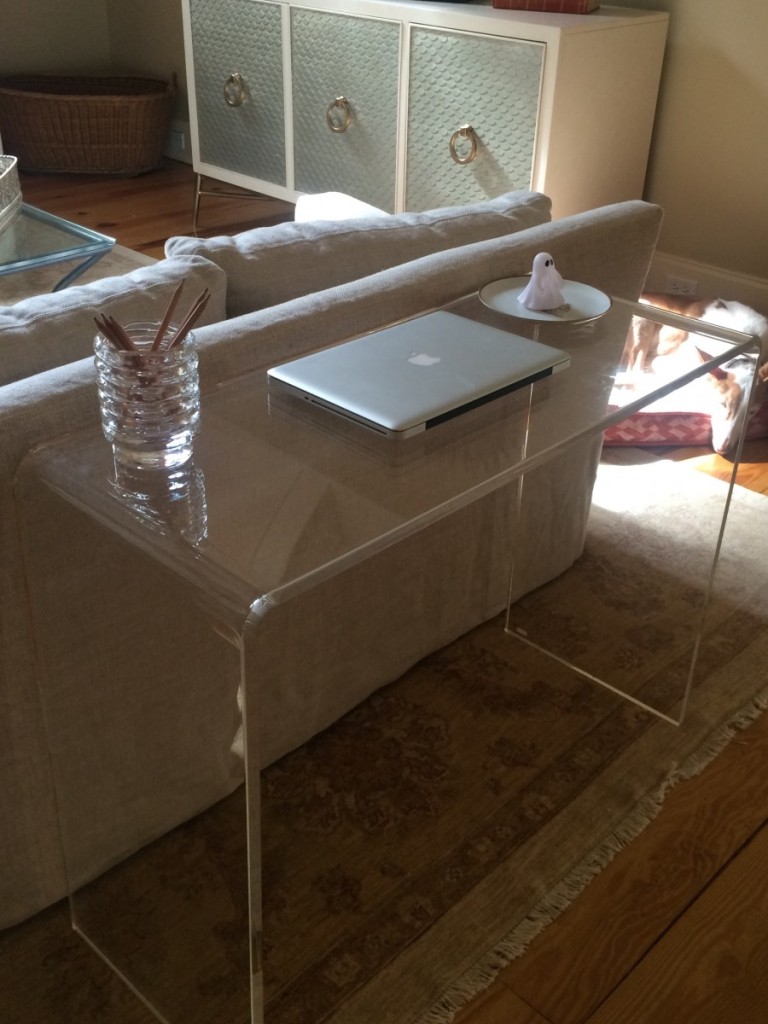 CHECK out the chair that is going here…bananas! Big surprise, I voted for orange on the chair but that was too match-y match-y for my client. #sassypants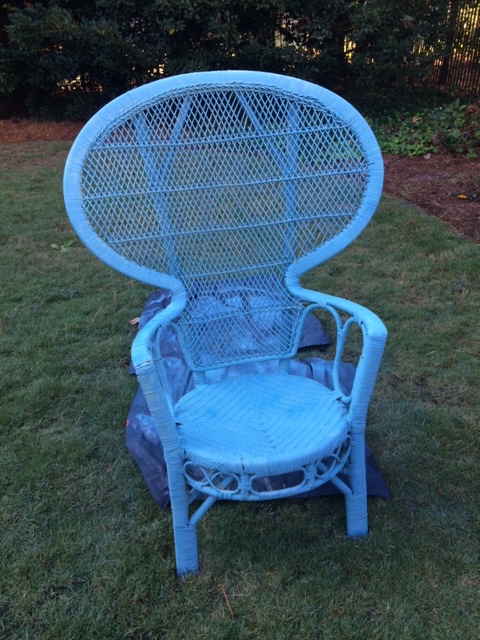 And the middle diamond fabric you see here will be the cushion…ooontz ooontz ooontz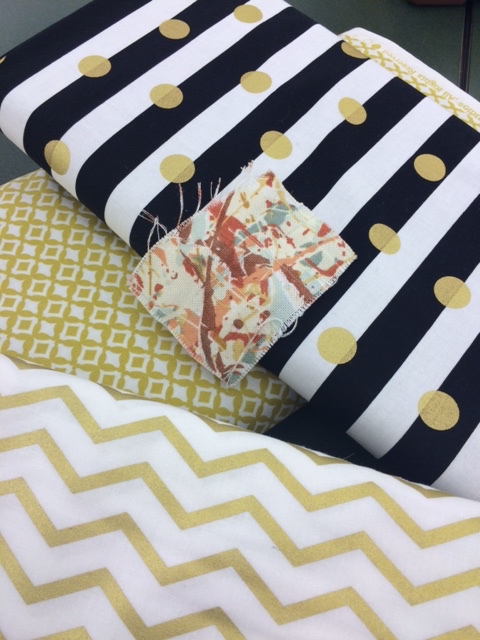 Moving into the kitchen…well…it was just too fancy with those overdone corbels and all that glaze. Be gone – all of you.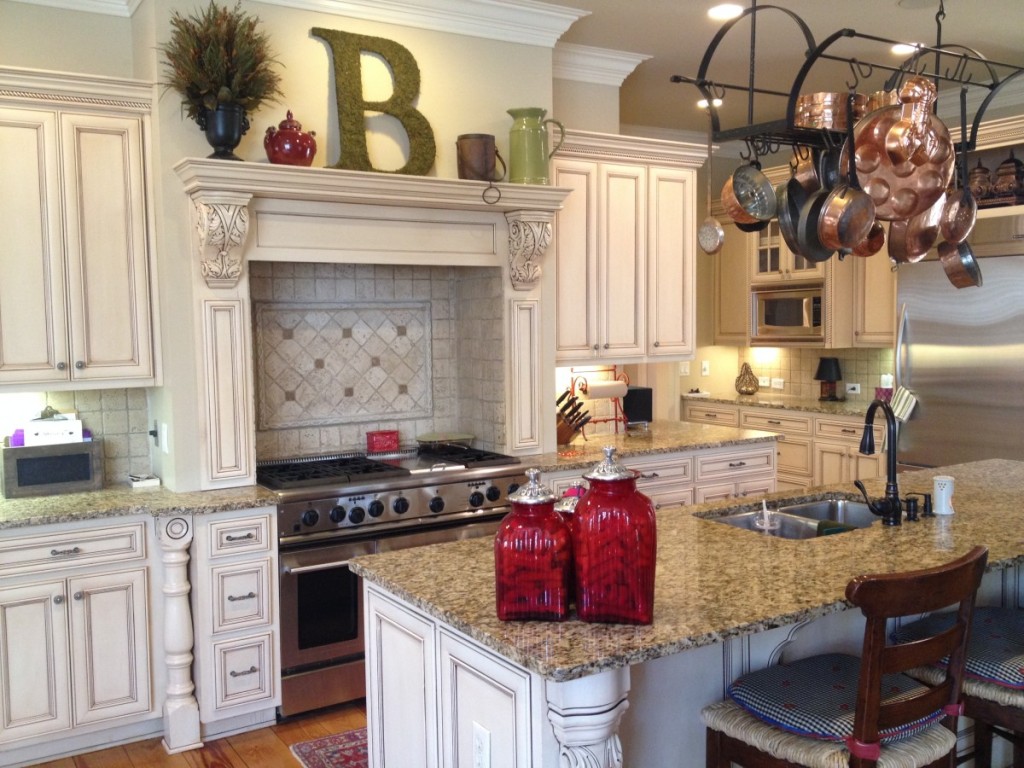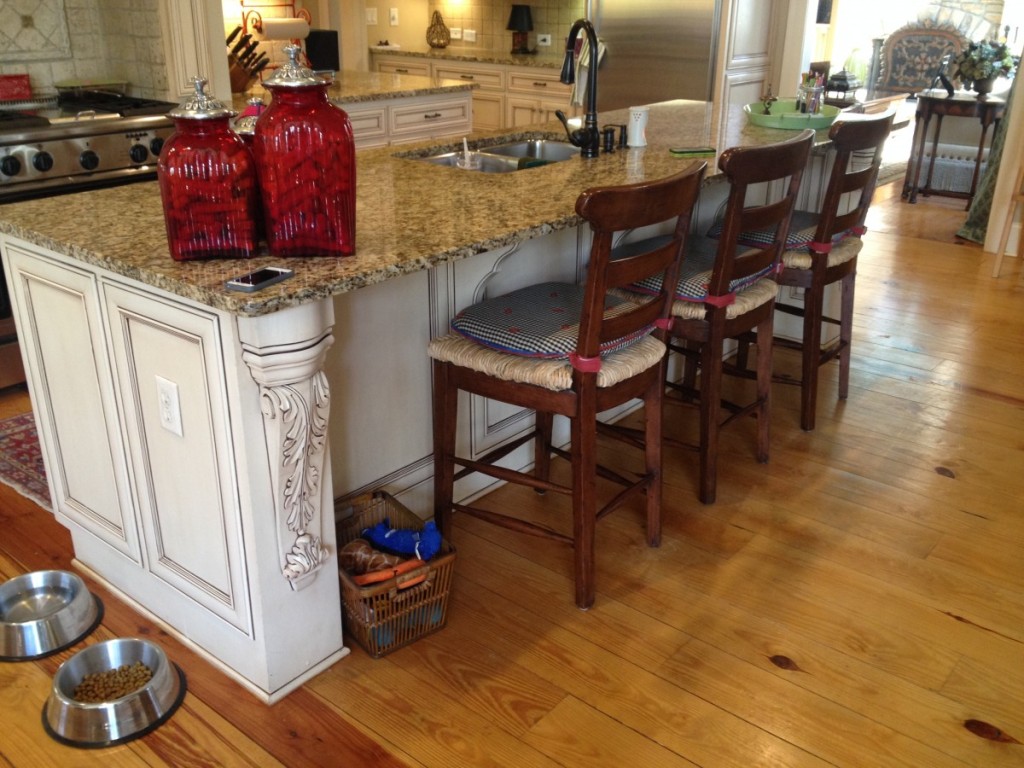 We nixed pretty much everything and had all the cabinets repainted…took down the fancy corbels, the ledge over the cook top and installed all this goodness…a pair of Ballard Design's lanterns and bar stools, in which we had custom slips with cheetah trim made.
The fun does not end there though. We also managed to get a brand new garbage disposal system fitted. Fitting a garbage disposal system is definitely a job that is best left to the experts though which is why we reached out to a company that specialized in disposal repair and installation to take care of it for us. We are quite lucky as there are some fantastic local plumbers in our area so the garbage disposal unit was able to be fitted really quickly. I cannot wait to put it to use over the next few weeks.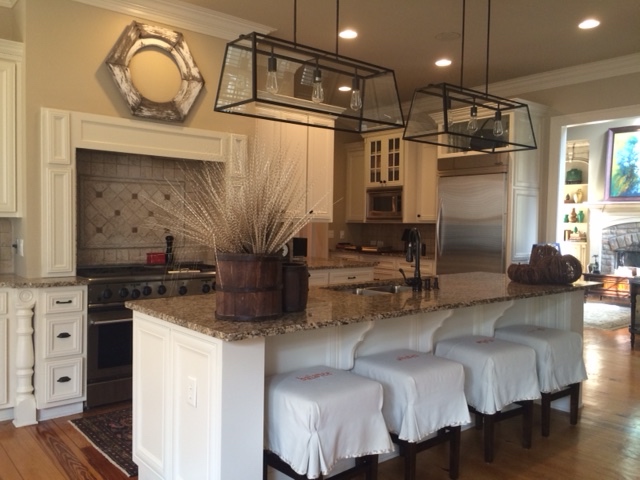 We then had fun and funky family sayings monogrammed onto our bar stools..the only downer being they didn't make them BIG ENOUGH. Bummer but oh well, still fun. You all may recall me thinking those spotted grasses from Hobby Lobby in this POST were pretty cool. I love em here.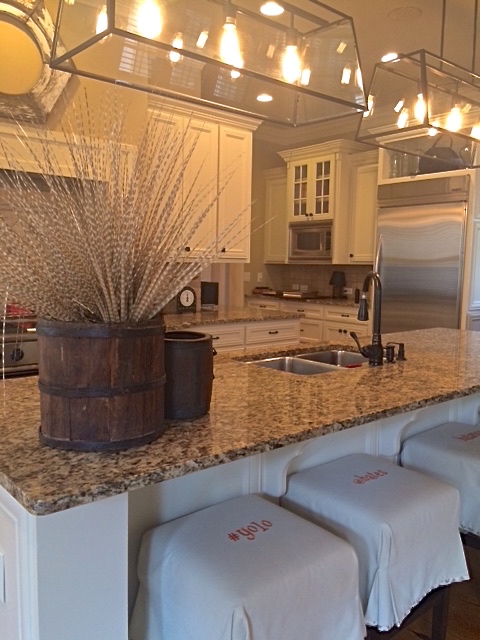 We still have plans to add some emerald green or light blue "frogs" to the corner of the slipcovers just to give them that extra little oomph and dressmaker detail. Not sure what a frog is? The name was news to me too. They are those sweet little embroidered type fasteners you see a lot in Asian fashion that will give the look of clipping the corners together.
Love the old artifact window over the range, a Scott's Antique find…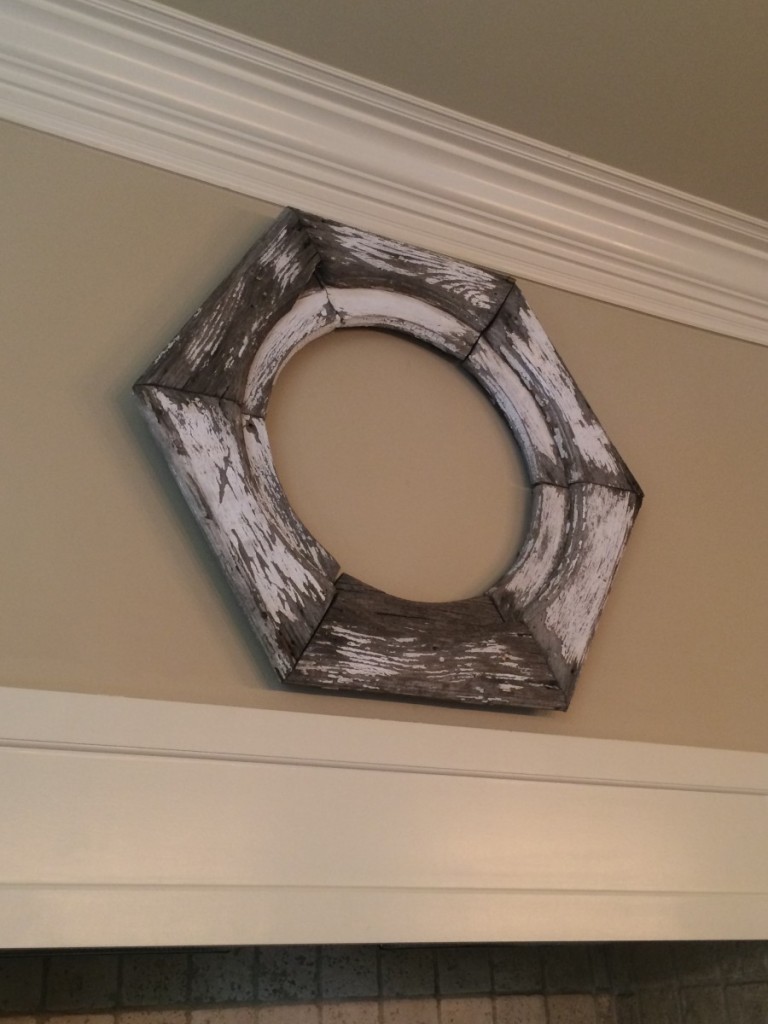 Here is the breakfast area before…
And now…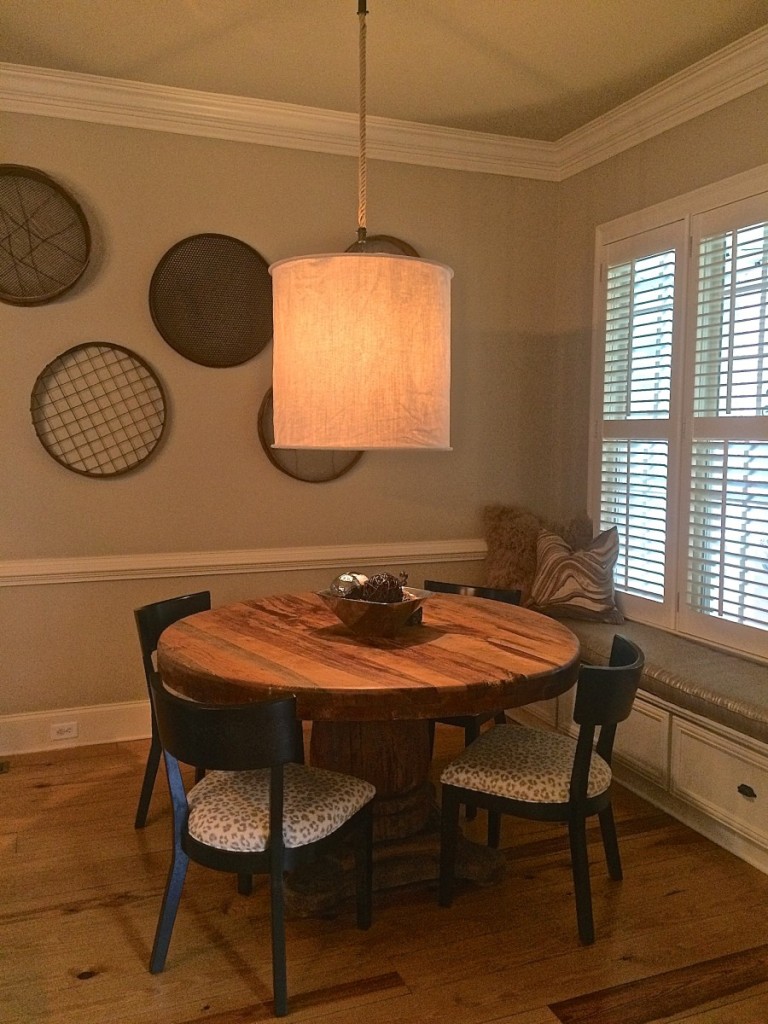 We hung a great oversized Bobo Intriguing Objects pendant over an already fab table and hung the baskets on the wall to keep the whole circle theme groovin. Recovered the window seat with some swanky herringbone metallic fabric (don't get me started on that cushion HAH she gave us a headache or two) and paired it with the West Elm Mongolian pillow and Kelly Wearstler Barcelo fabric pillow…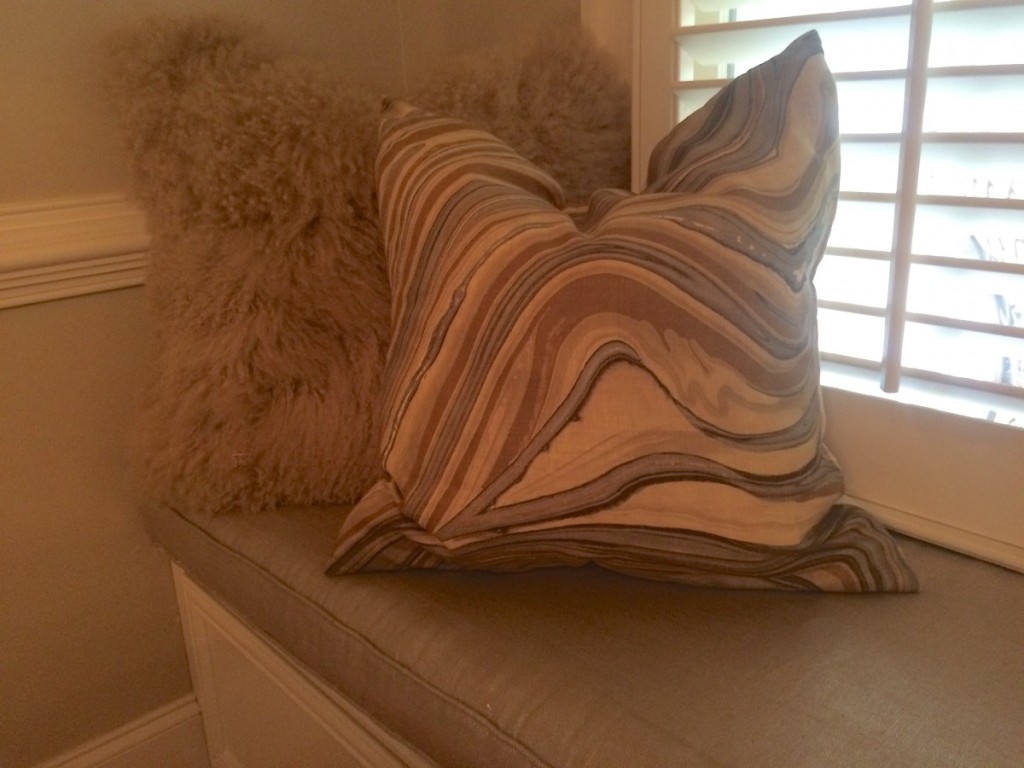 I'm currently OBSESSED with all of the above. I wish we could of put the KWID fabric on the barstools to really make em pop, but she thinks a lot of herself Miss Kelly LOL ($$$).
We took the laundry room up a notch because let's face it team, we all spend A LOT of time in here and its the first thing you see when you walk in the back door.
Before…bye bye bunnies…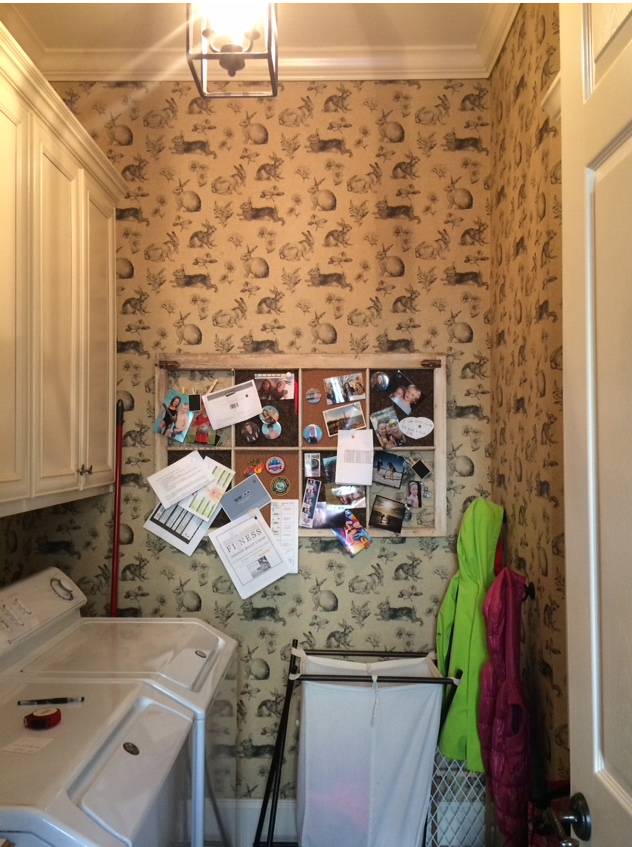 We fell hard and fast with a Galbraith and Paul wallpaper but its like a thousand bucks a yard so we found a similar stencil instead…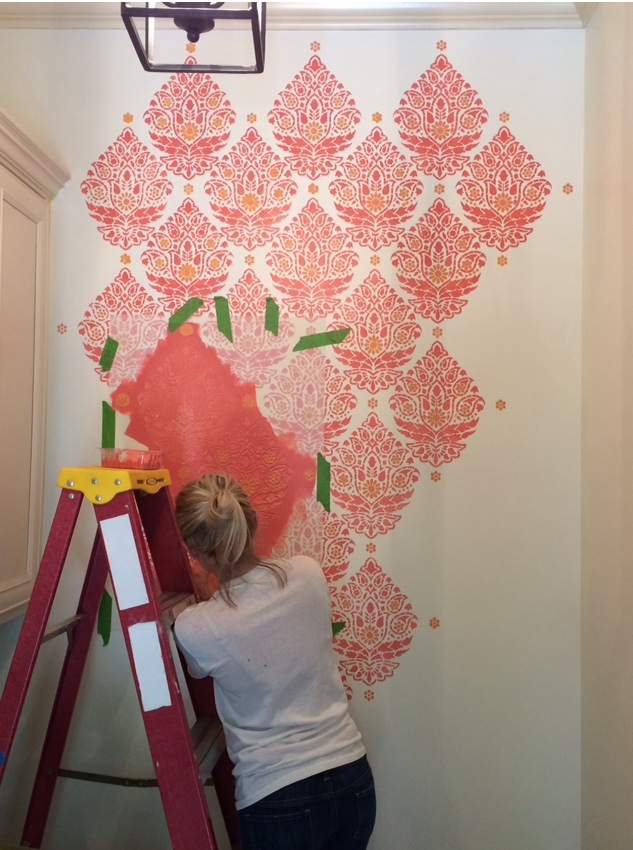 And voila…bright and cheerful…
(I think we should paint the ceiling in here light blue???) #designisneverdone
We took old unsavory accessories and painted them all white for a modern/repurposed life and don't cha just love the little lucite shelves…The Container Store.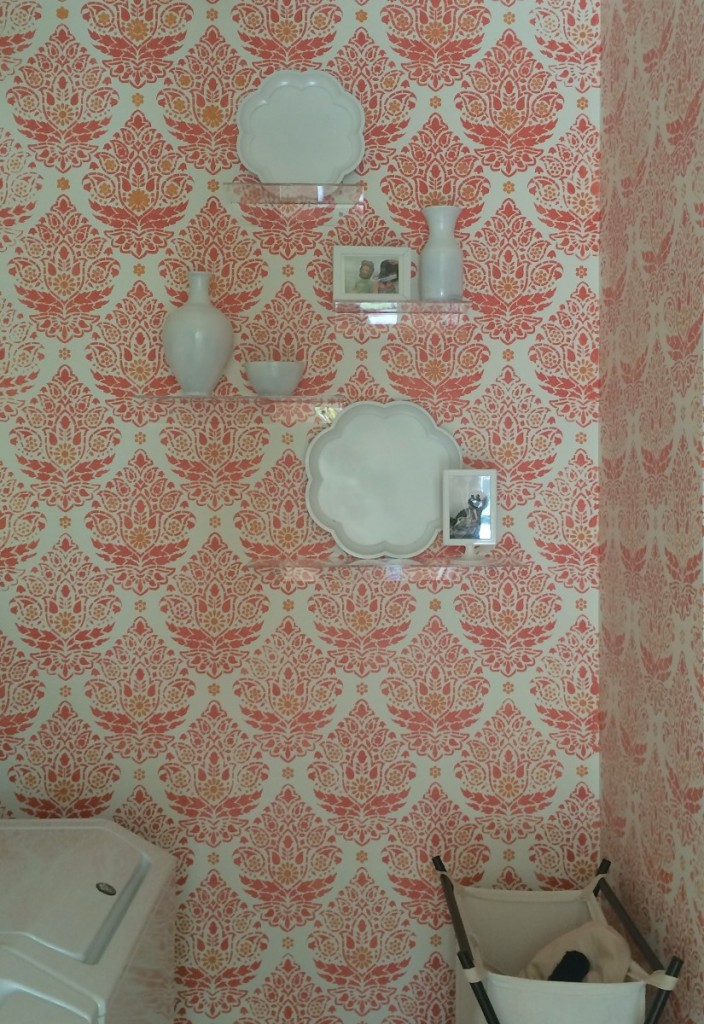 We did a lot of repurposing of old unsavory accessories…you know all the ones with great lines but maybe not such a great color or finish. Here in the formal living room, I shopped her house and put together a look that was balanced and appropriately scaled, then marked which accessory was going gold and which was going emerald green…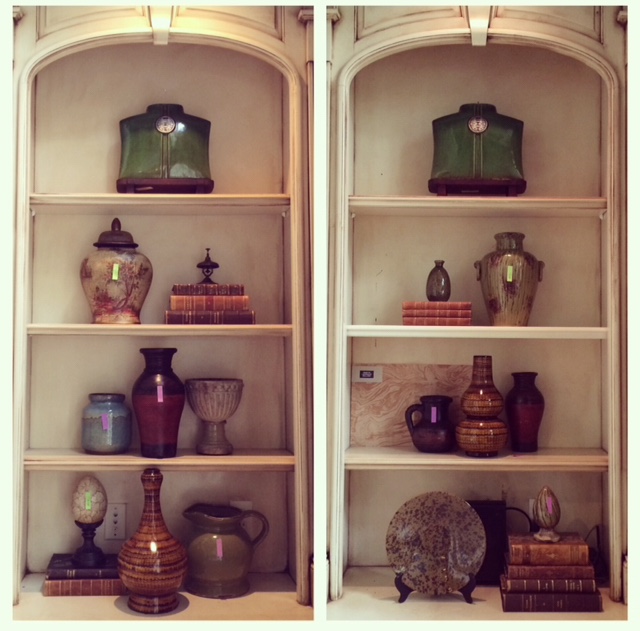 and here they are after to give it a more unified and hip look. I just discovered Target's removable wallpaper (thanks to another savvy client) and will be hunting some down for the back of the bookshelves.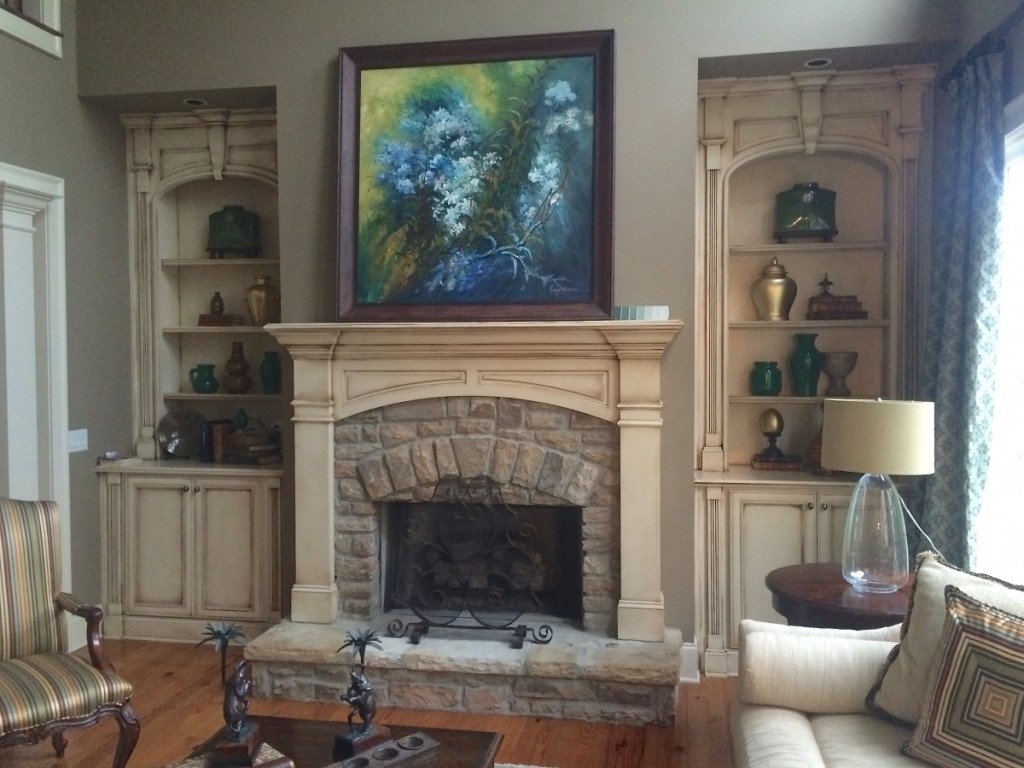 I love my cleaning lady as much as the next person but isn't it funny how they always jack it up, and move everything so its just off. Its like I trust you. You don't have to move it to make me think you cleaned it? So my clients take pictures for reference later. The only other quick fix to report in this room was removing very heavy ornate lamps and replacing them with a pair of casual glass lamps you see here.
And lastly the powder room…#blessyourheart. That sink base was just screaming to be showcased. Such a great piece!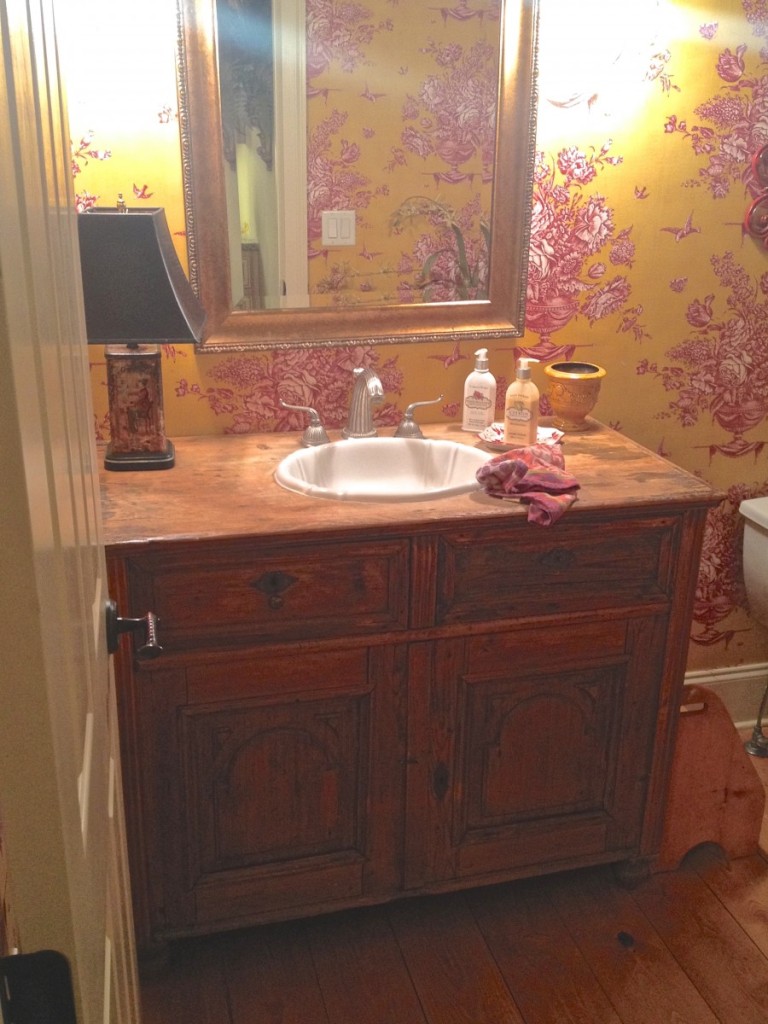 BAM! Schumacher's Cody Snakeskin (my husband loved it so much, he requested it and now another bachelor client wants it). Men and snakeskin…who knew?
Ok let's talk…new marble top, faucet, mirror, and lights (that need edison bulbs but she aint having it! lol).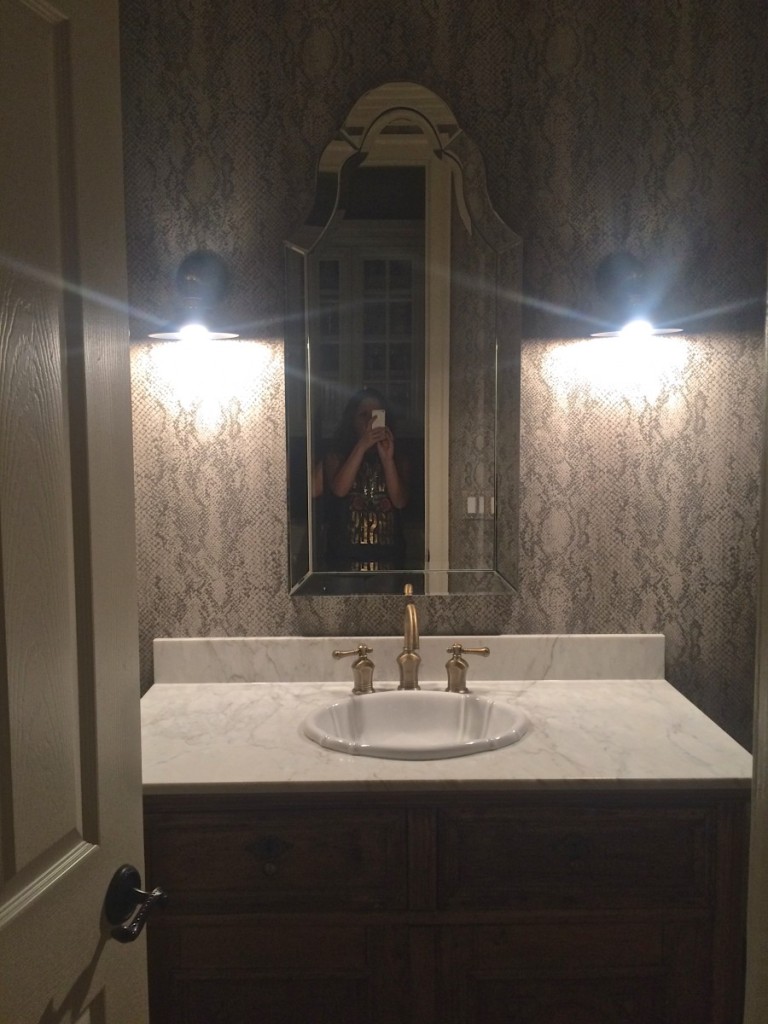 Here's a better shot of the lights (when the bulbs aren't blinding you hah) from Restoration Hardware.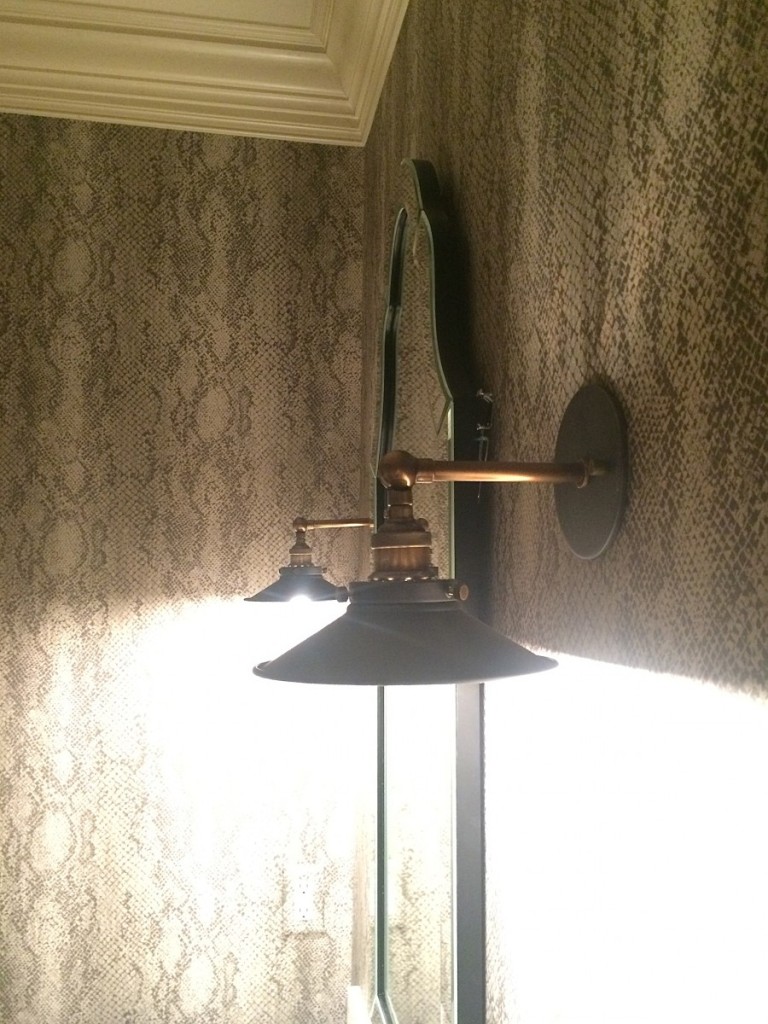 I recently hit the mother load of deer antlers at Scott's Antique Show and yes, you guessed it, repurposed those dawgs too…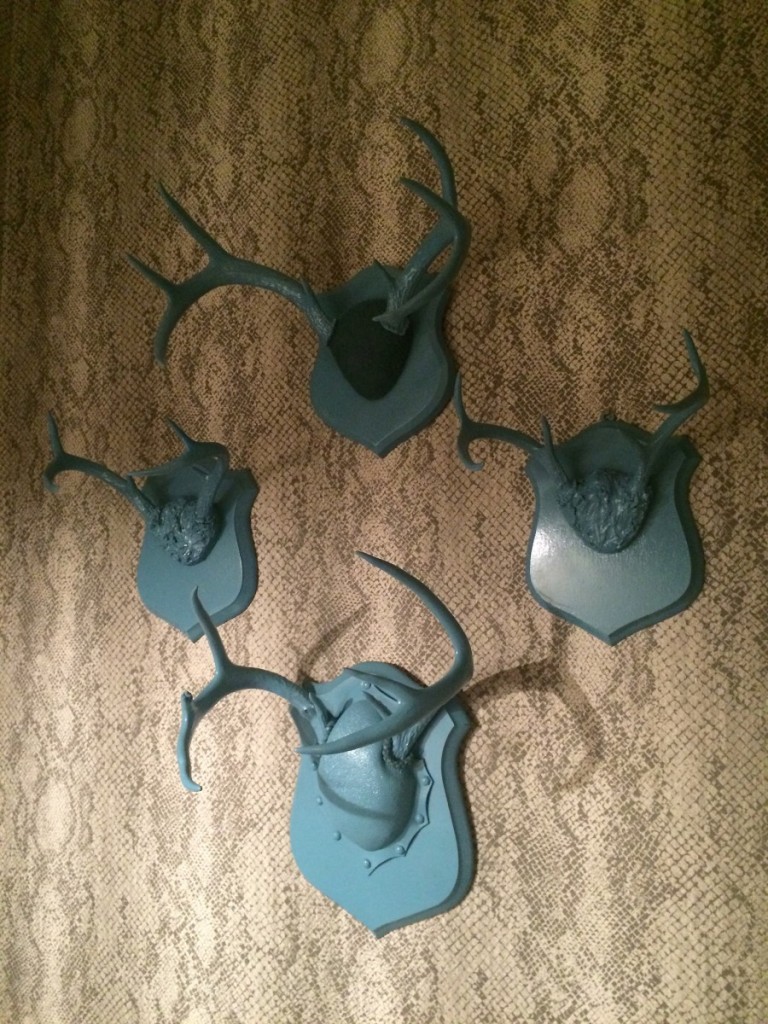 So now we just have to find a coffee table before the big show but we're on it! Spotted this bench at Homegoods and will be recovering it in faux ostrich (another current obsession) for the living room. She requested lightweight and easy to move. Perfecto.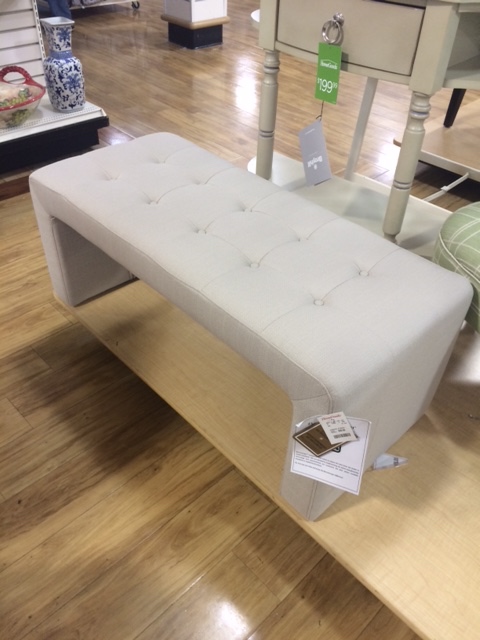 Soon I'll show you all some REAL pictures, and not just my "quick take a pic" ones here. Such a fun project (!!!). I hope you enjoyed and gleaned some great ideas! Much more to come from the road…thanks for stopping by!
xoxoxoxo
Jenny from the rock.