Helllllo friends! Wow, I fell down the show house rabbit hole/recovery room, so to speak. Its so good to be here! In an attempt to save my sanity this holiday season, I halted any new business clients last July and for once I got it right. So far its working. Yeah man. Allowing time for other loves, like blogging. Here's a peek at upcoming topics I want to share. It definitely was the year of sleep, eat, design, repeat…
Details of the show house (today's topic du jour)
Our holiday home tour (almost done decorating for the holidays is kinda like being "finished" with your home, never really happens).
Inspiration take-a-ways from the Atlanta Home for the Holidays show house (hubba hubba)
Design happenings here on the home front. We have towel bars now!
New portfolio pics from two tween bedrooms we shot last Spring, and a sunny, sweet common area in between.
A master bedroom re-design install from last Spring. Not just the bedroom, but how stinking cute the rest of this historic home in Decatur is. One of those "tell me again why you're hiring me?".
And a rock and roll powder room gut job. The homeowners (quite possibly the nicest people EVER) gave me total carte blanche to blow it up and start all over again. Some great before and afters to share.
Oh, oh almost forgot, a big CHARM SCHOOL surprise I'm praying for (if you missed my ideas for charm school, its a charity I'm starting in my hometown to help folks increase the curb appeal of their home for increased home values. Bonus, we'll be restoring charm to the many well-built, turn-of-the-century homes that have truck loads of potential).
Ok, the show house. Wow what a project. I designed the home from top to bottom, all interior finishes, trim work, door knobs, window treatments, hardware, you name it. It was basically like building a home for myself from scratch. Sounds like a blast but it was way more work than I anticipated (dig deep sister!). I'm immensely grateful for all the knowledge I logged away. Papa Maurice says you can't put a price on experience, and that's the truth! Just when you think you might know a thing or two…there's more fun to be had ha ha.
I had first choice of five floor plans, thinking don't get too big for your britches big shooter. So I picked a floor plan, that had (more than one) unique niches, pass throughs, you know, those fun little area's in between. Those are all design opportunities to highlight, as you will see.
Starting with the foyer and mud room (you'll say hello and goodbye to them all day, every day right?). I sorta went gaga for Candice Olsens' Modern Nature wallpaper (which came out with a gorg new blue color way) and used it in that powder room I spoke about earlier, and picked the lighter blue, green, gorgeous one you see here…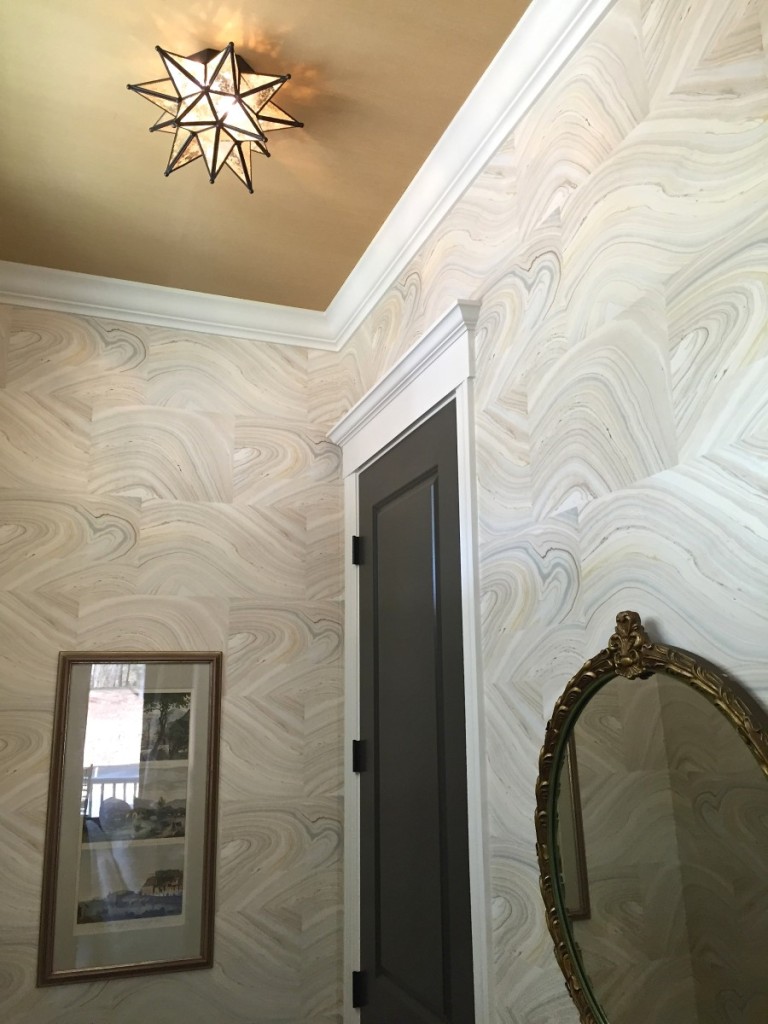 Both the print (all the way from Motor City Antiques in Flat Rock, Michigan #treasurechest) and the mirror are vintage. We added more color and trim in the mudroom. So much easier to hang hooks on! Grasscloth is Schumacher.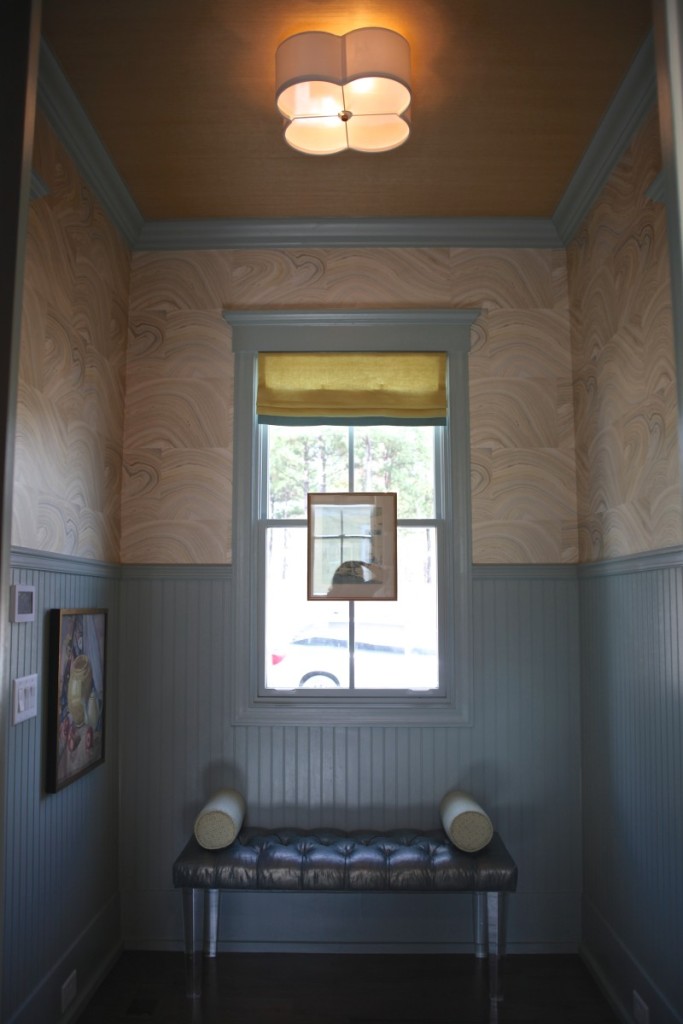 The lucite leg bench was a Homegoods find and I customized it with some rock and roll vinyl and these fretwork pillows, also from Schumacher.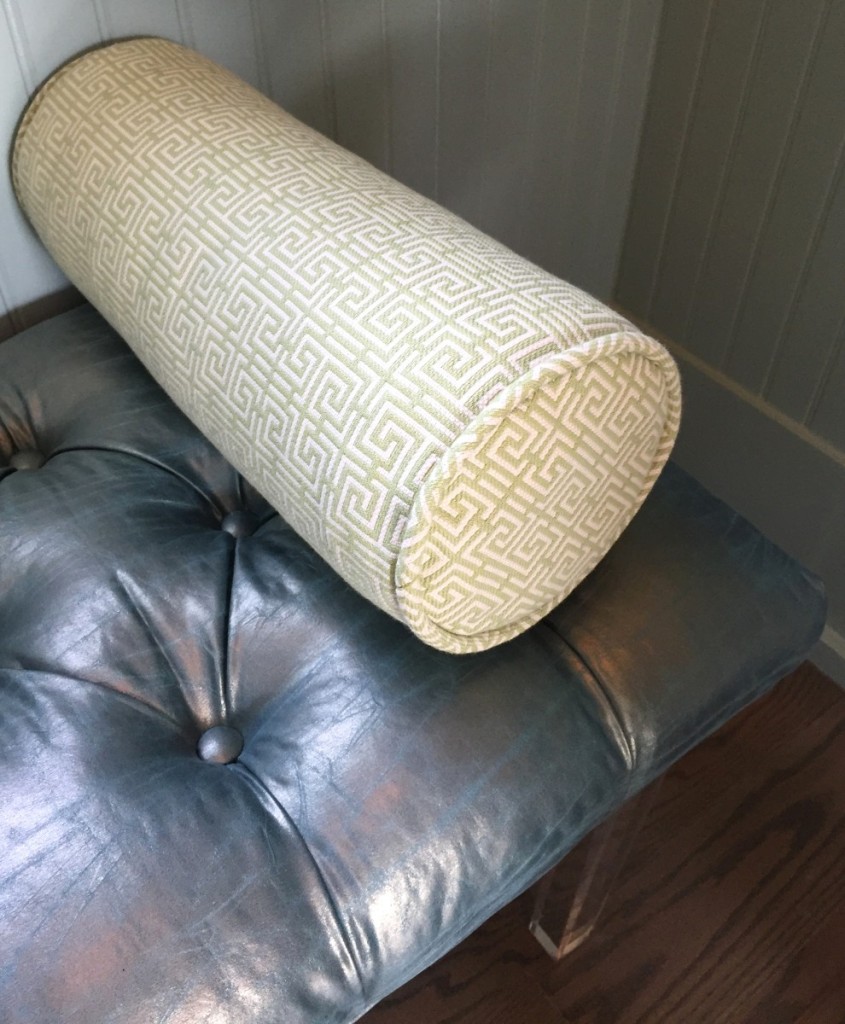 The main living area, we tricked out the ceiling, which I think makes all the difference. I feel like each room had one big splurge, something to make it extra special. I wired for the t.v. to be above the fireplace, but concealed, and added some metallic like knobs to dress em up a bit. Easy peasy and centered is good drama.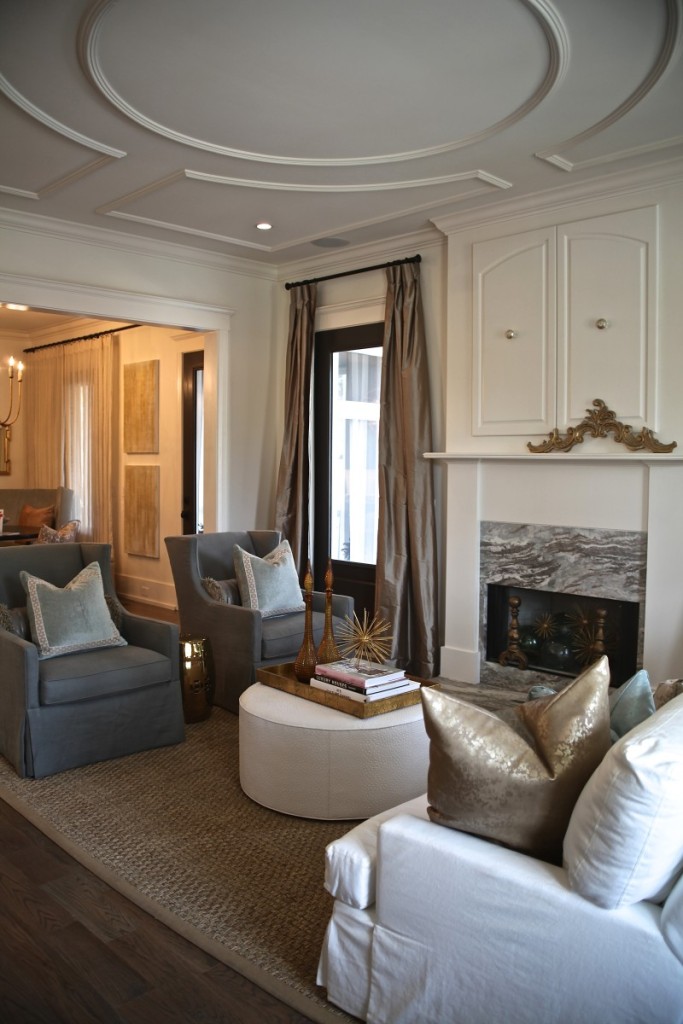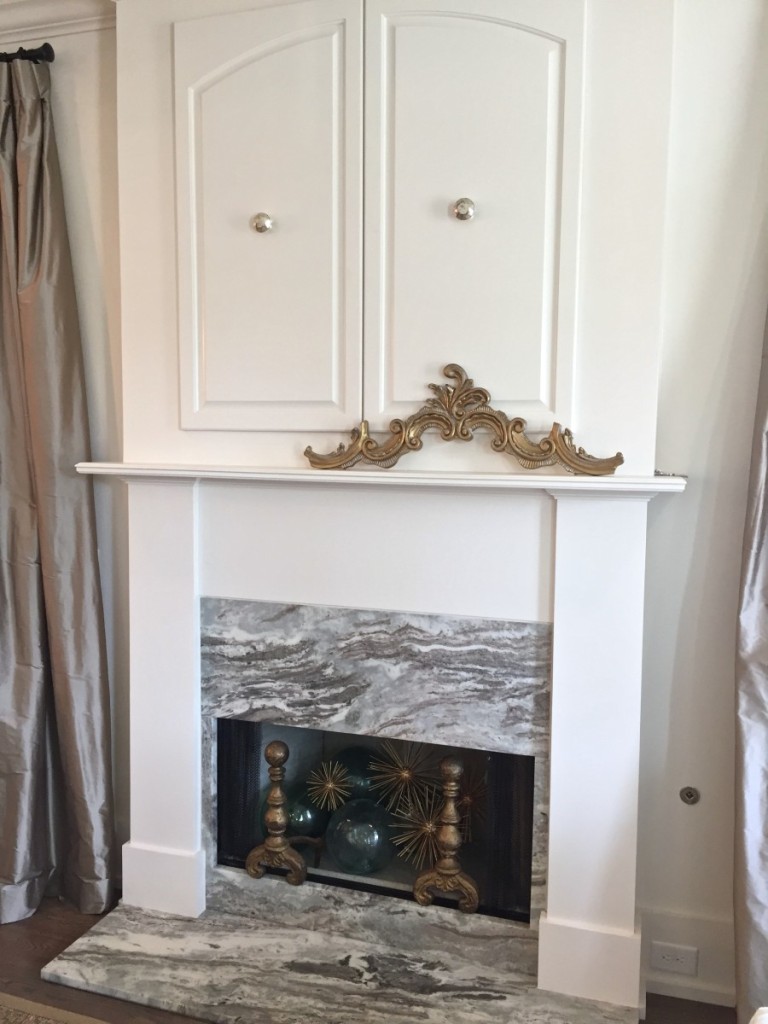 One thing I've learned from touring some of the best show houses in the world (here in Atlanta!) is styling the fireplace with an unexpected surprise (my favorite to date is when Daniel Corrigan filled his with gold bars or Michel Boyd's massive fireplace stuffed with altar sticks). That's what I'm talking about! And to be honest, custom-made fireplaces (like an outdoor patio firaplace) are not that tough to build, are they? It just requires hiring the right builders who have the requisite knowledge and necessary equipment to turn vision into reality. However, sourcing a skilled builder could be tough. That is why it could be a good idea to first do some research regarding different firms (like Willow Gates Landscaping) that provide these services.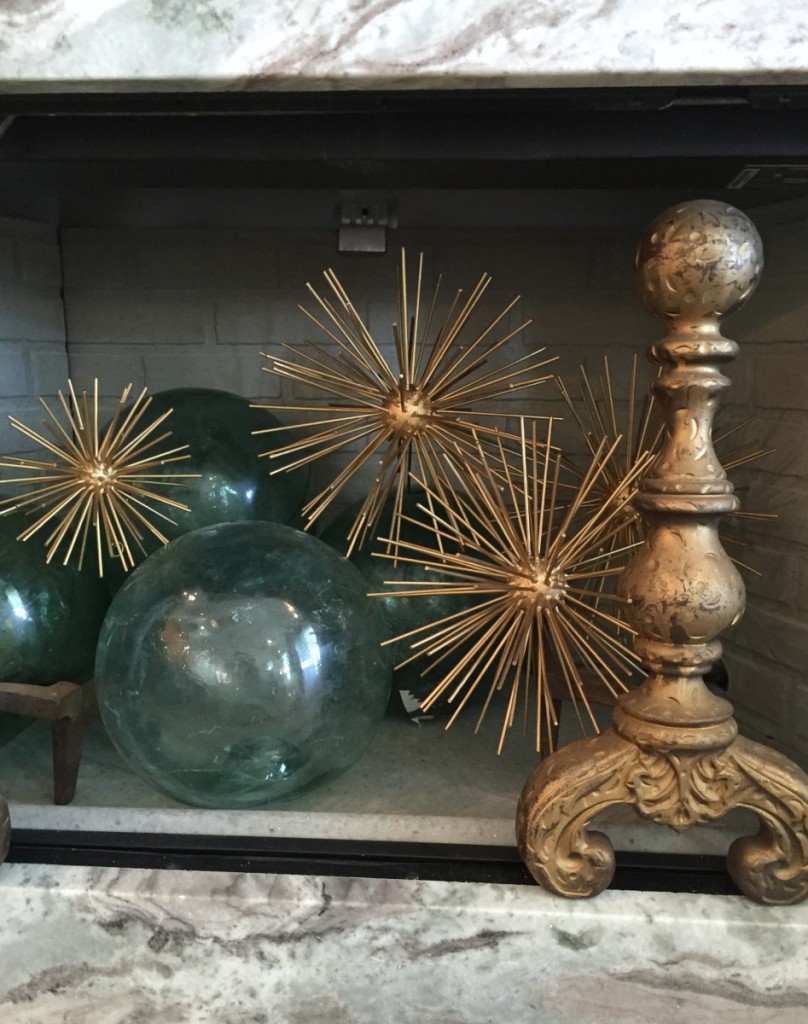 Anyway, let us discuss television decor now. Another option for the television is a sweet little niche on this side of the room. If I lived here, it would be wallpapered too. The thing about show houses, is ultimately they want to sell them, so you have to be cognizant of that. For example, upon walking into the front door, I wanted to do a collage of vintage mirrors but hated to put that many holes in the wallpaper.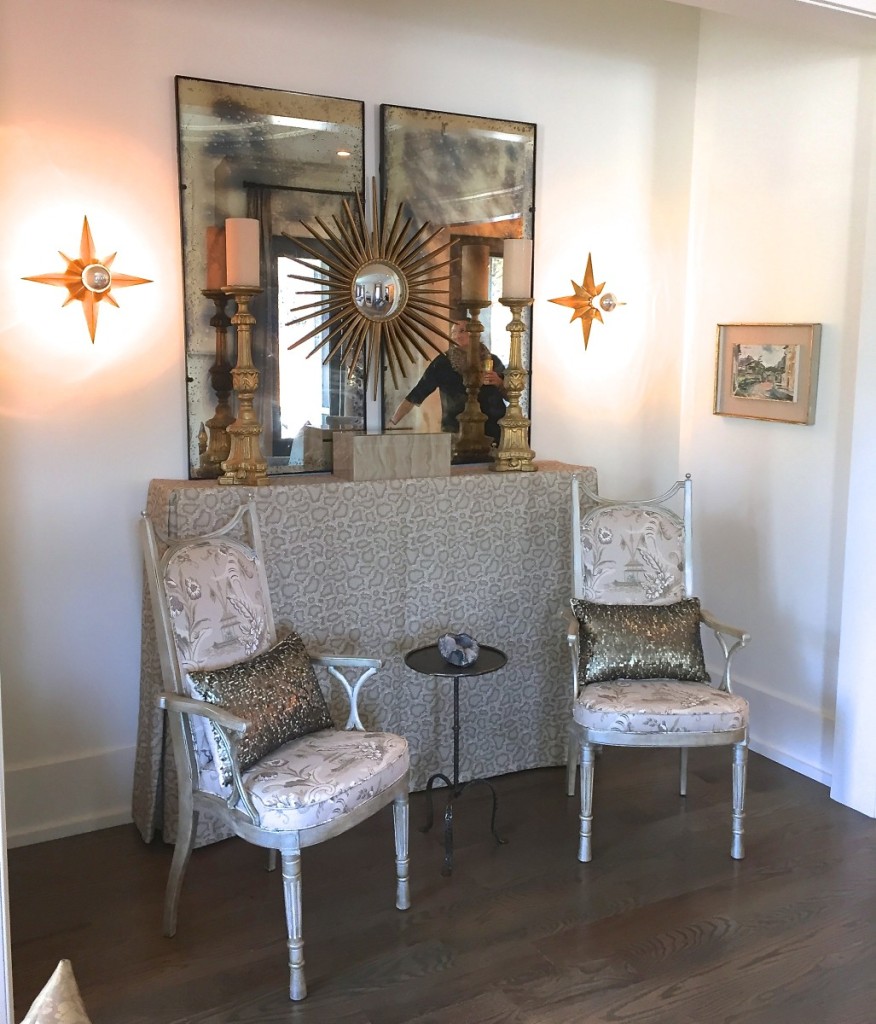 The dining chairs were found and repainted to look princess like 😉 and recovered in a beautiful toile by Suzanne Rheinstein for Lee Jofa. Console is slipcovered in Mary McDonald's Park Avenue Python for Schumacher. We liked the python for this house as you will see hee hee.
A close up of our pillow mix. I spray painted the mama fu appliqué on the center pillow gold, why not? Its not like anyone is ever going to put their head on it. Strictly there to look pretty.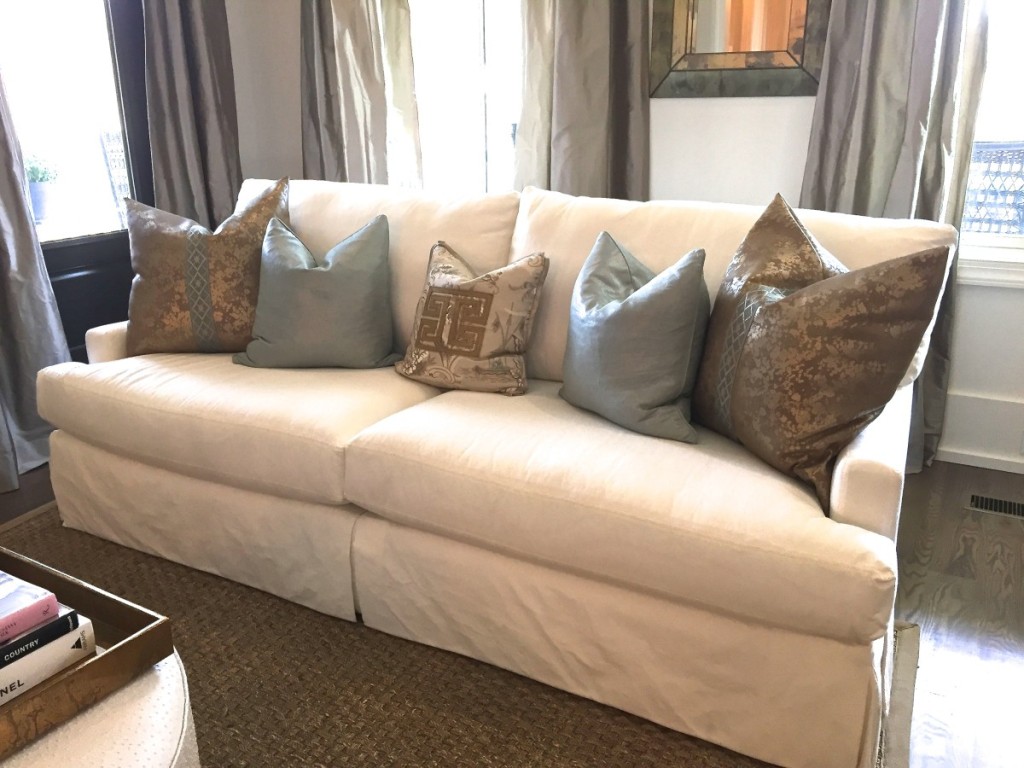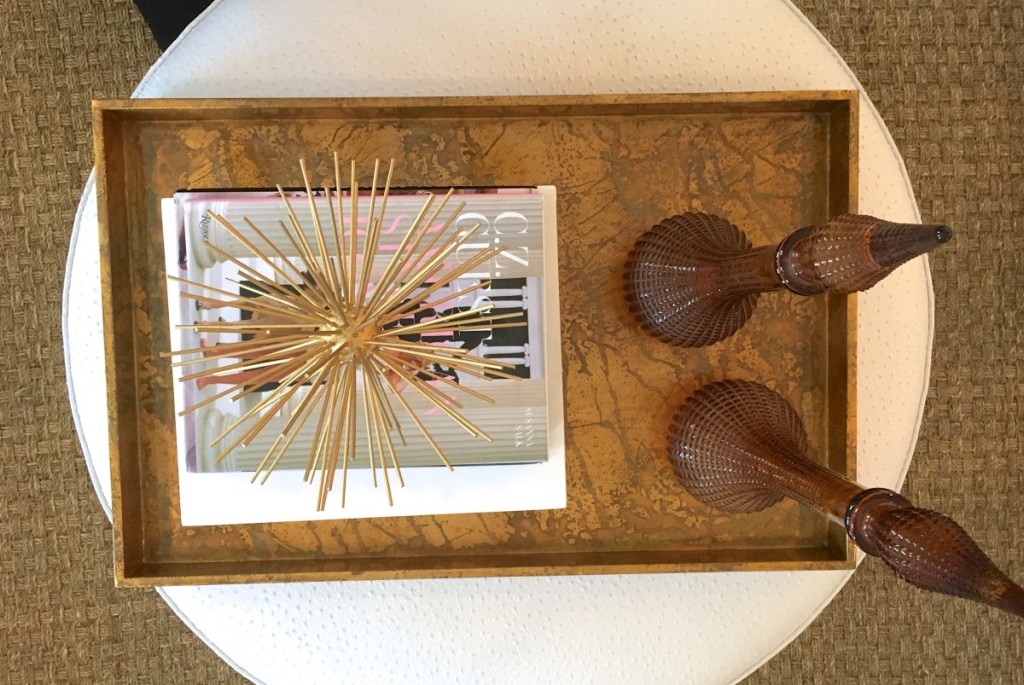 (Gotta little crazy with the gold sea urchins, and haven't stopped. They're a lot of fun and work everywhere)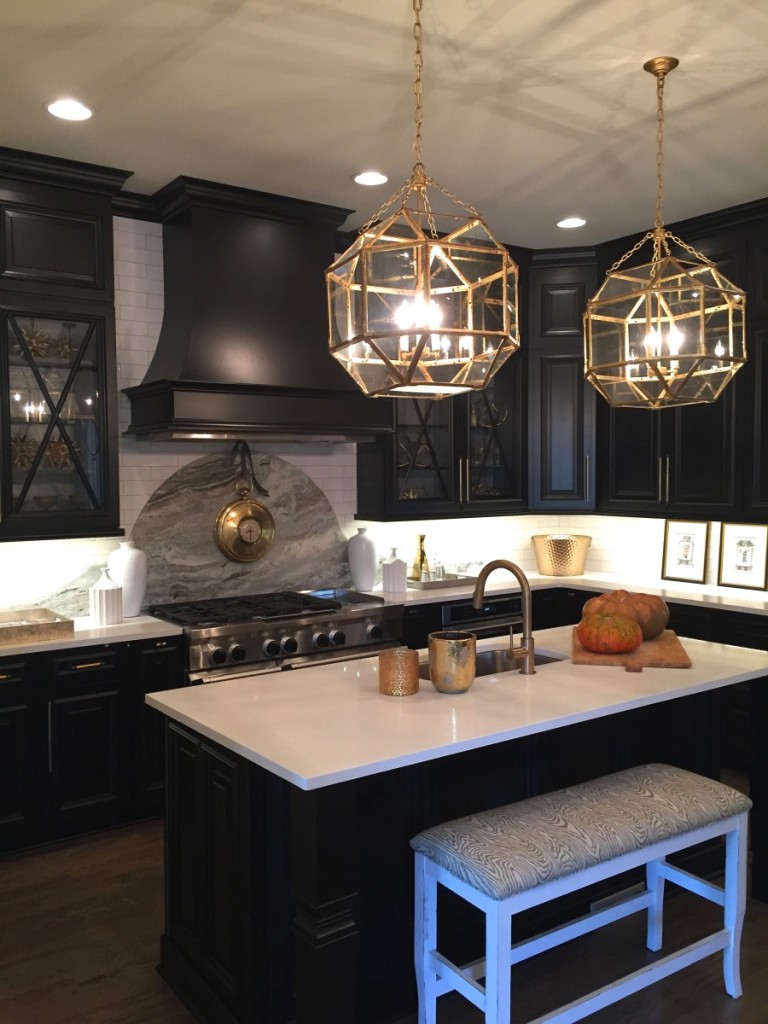 In the kitchen, I went with black cabinets and gold hardware. I wanted something dramatic and glam. The entire time, I had this urge to splatter paint something, like we did to our walls in the 80s, and really wanted it to be the bar bench. But chickened out. Bawk. Kinda kicking myself.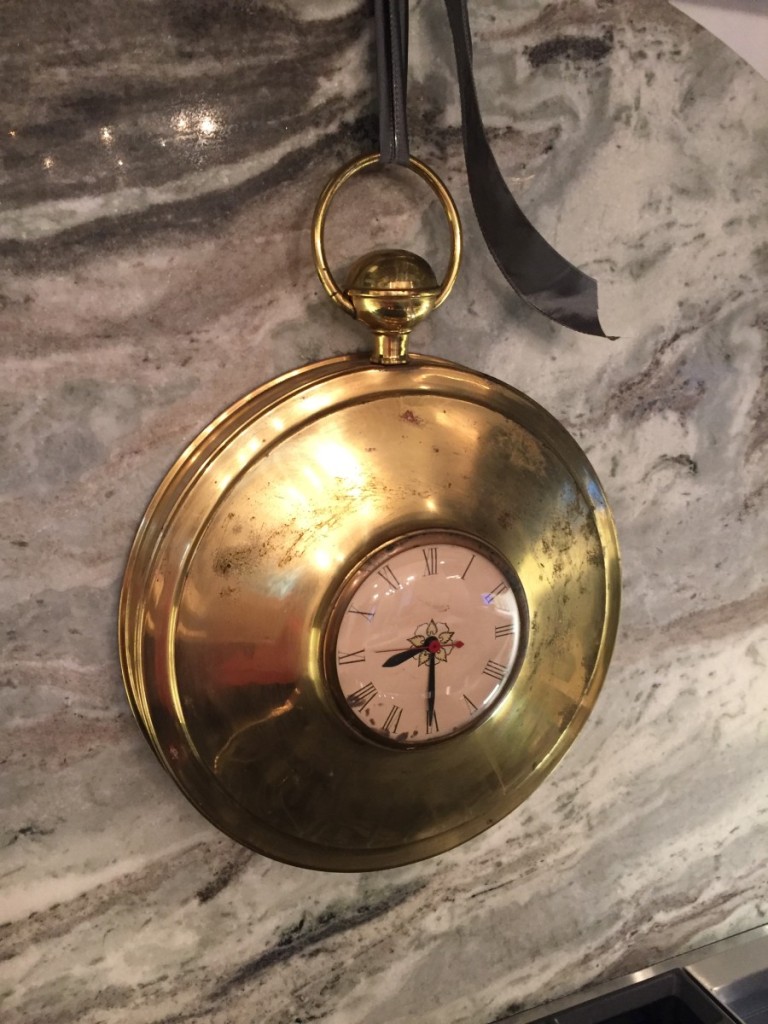 I went back and forth over this clock, but the jury said keep it. 😉 Another motor city find.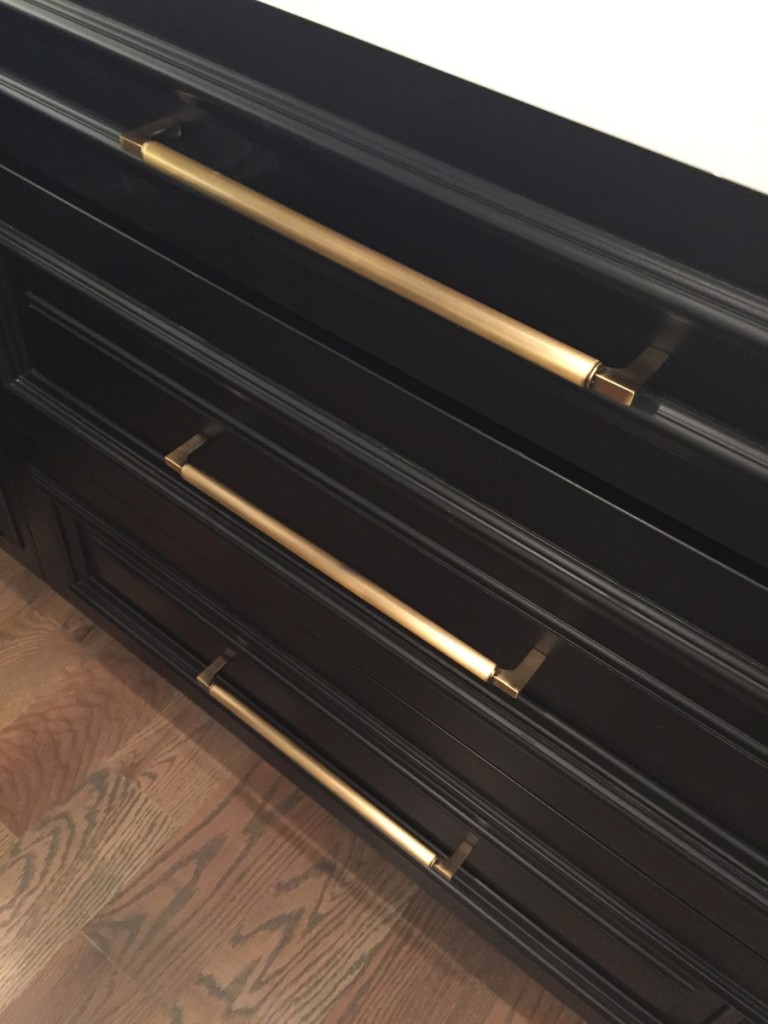 Got my chance to use the curved settee from Lee. Been hot on the trail for years to use it. I will admit I'm pleased with how the dining space turned out. I can't say that about every space in the house, but hey, you are your own worse critic and you can't win em all sweetheart.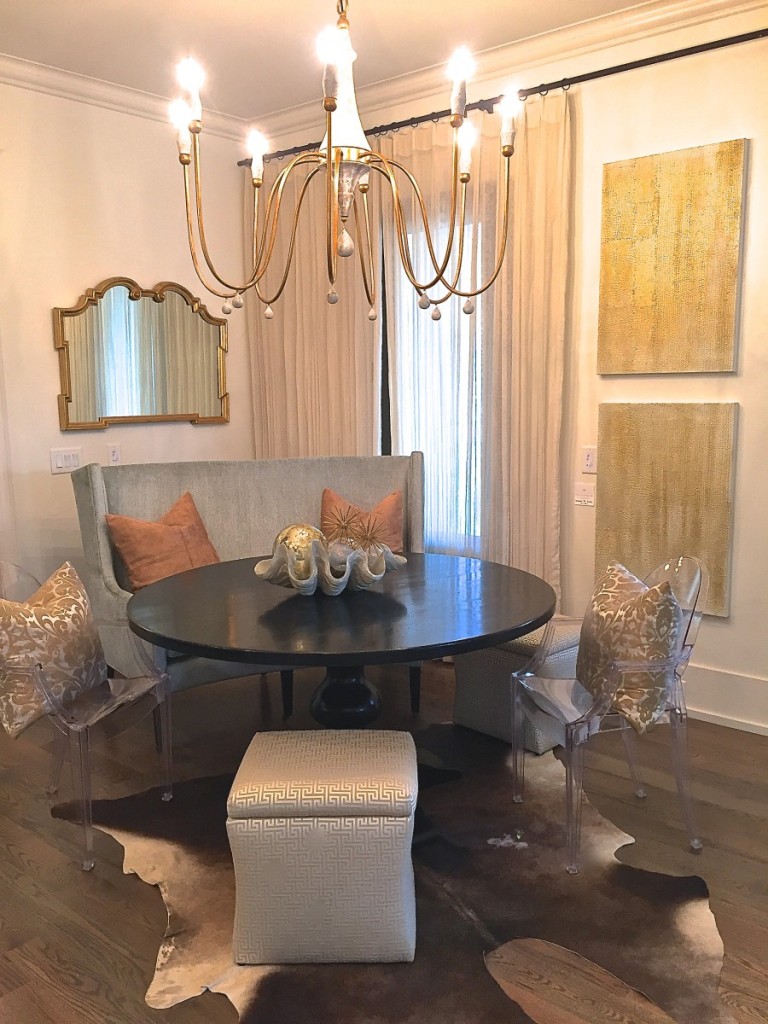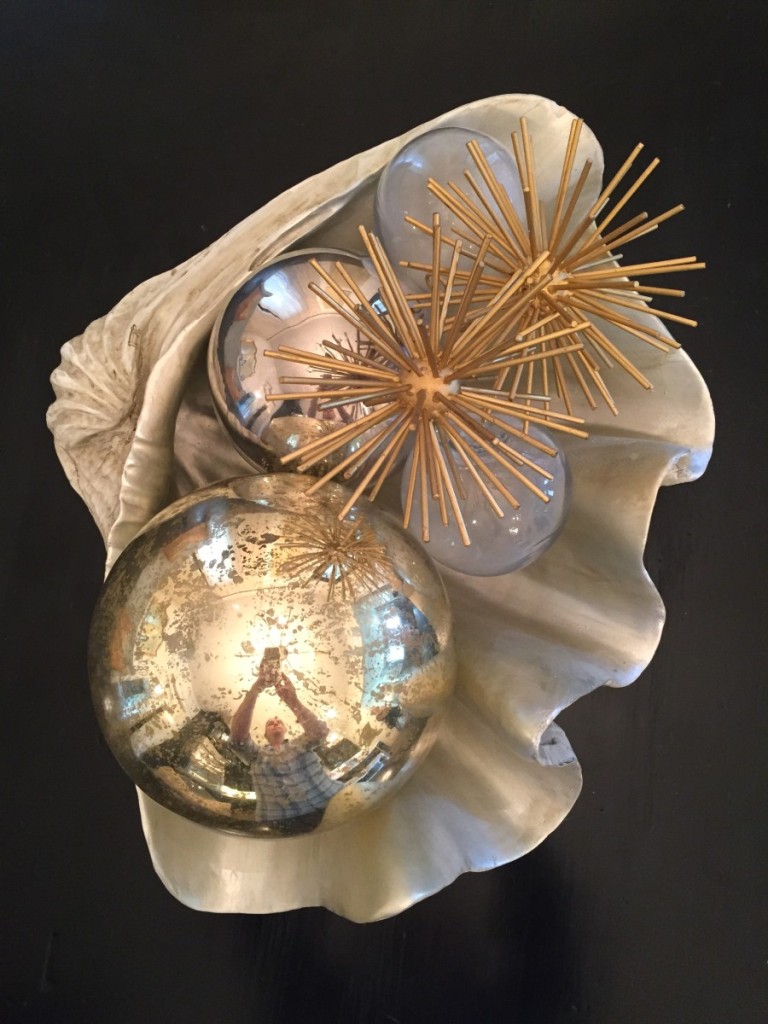 I was SO fortunate, and made an amazing new friend, to have Kristen Stacey, a Southern gal and Atlanta local, to loan any and all the art I wanted. It was like Christmas walking into her basement studio! "How much will fit in the truck?!" AHHHHH.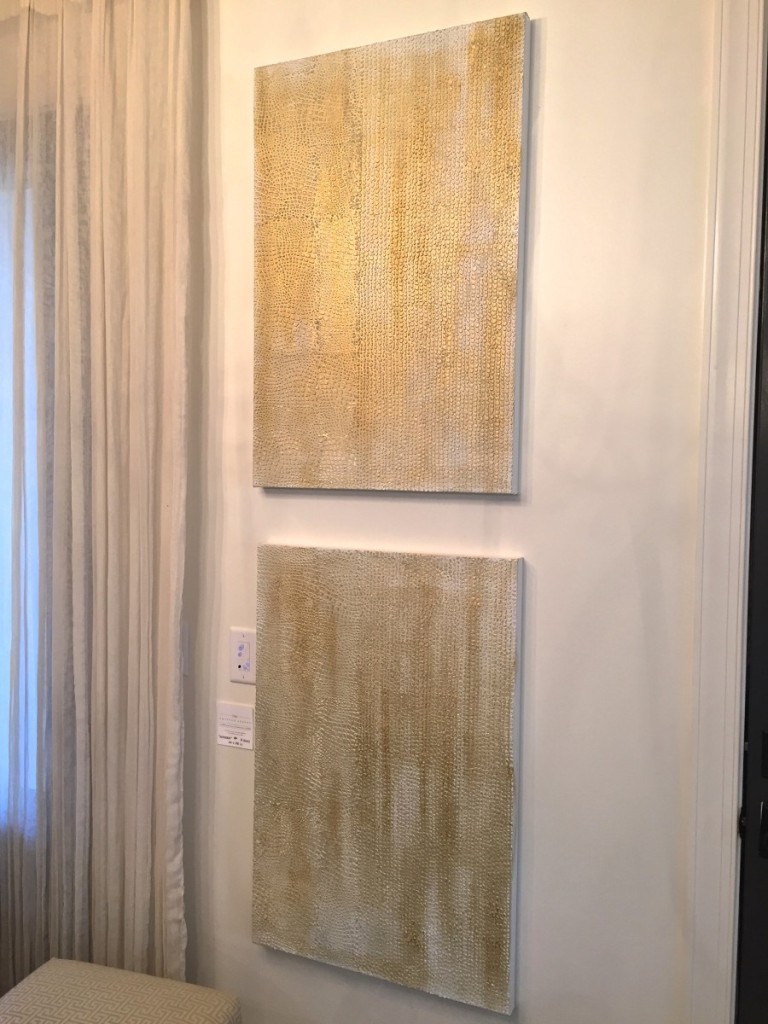 All of her work is still on display. If interested, go HERE and check out all her awesome genres.
Rounding out the first floor, a funky blue, green and gold powder room…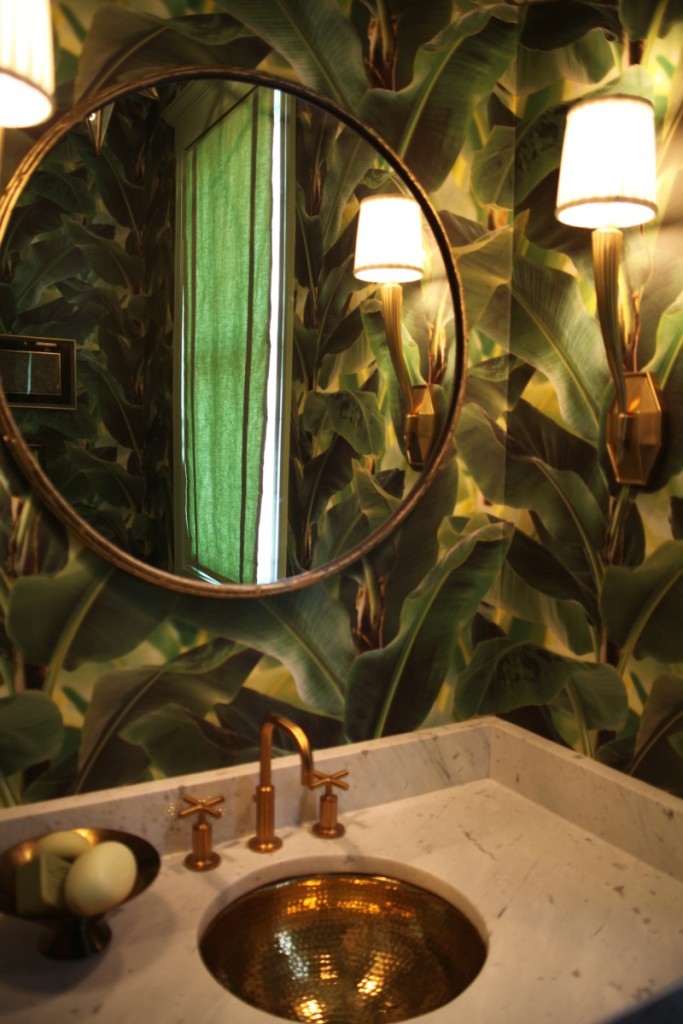 A huge pantry, waiting to be customized. You could have a great desk, coffee bar, command center, etc. in here too. It's that big.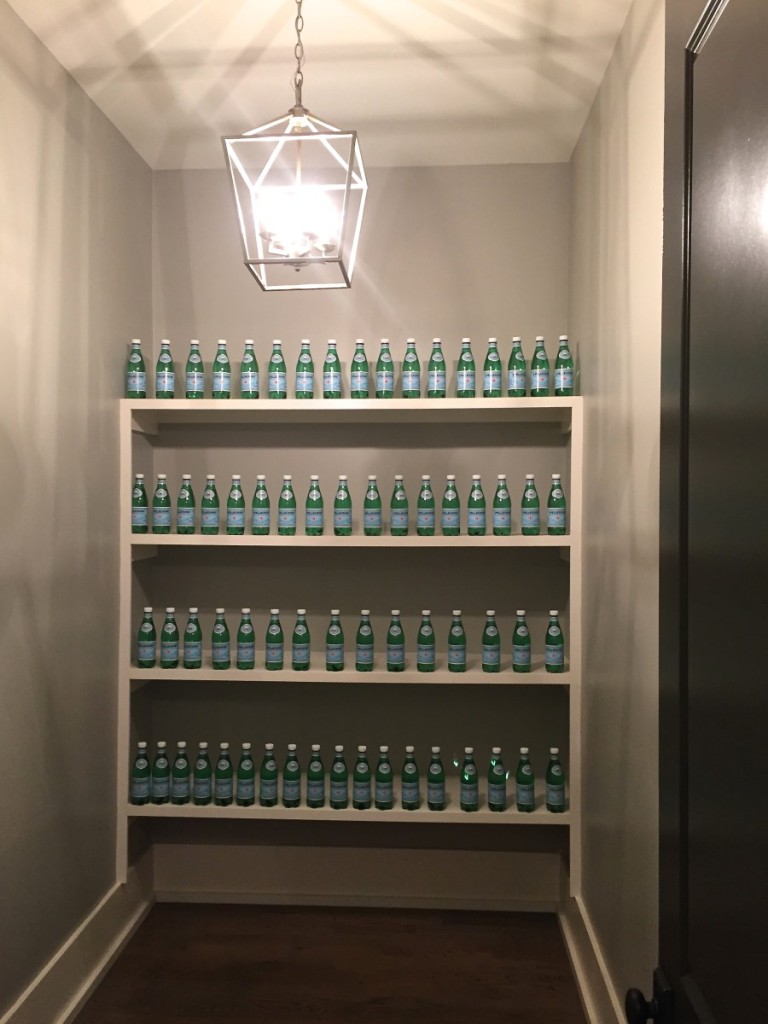 (You all thirsty?)
I unfortunately do not have a great shot of the laundry room, but that was also a fun space to make cute, being we spend half our lives in there! I'll see if I can't go dig one out for later.
Heading up the stairs, I tricked out the wall with more trim moulding. Trim work is money! Wouldn't Stark's antelope carpet runner look great here with the pink silk?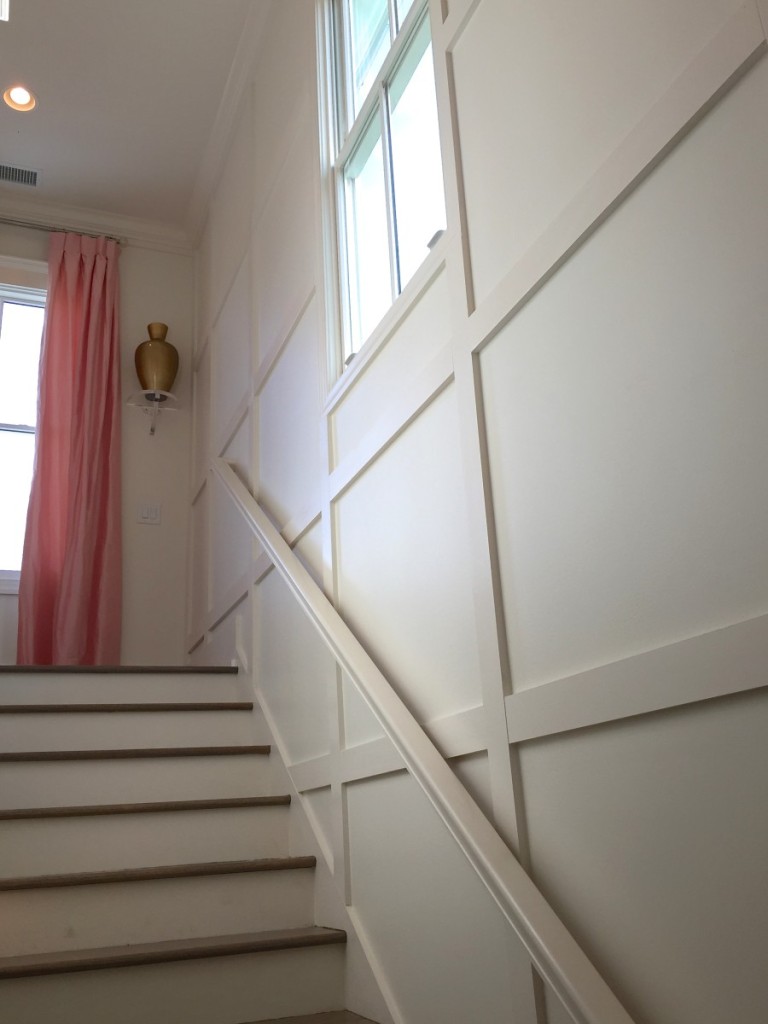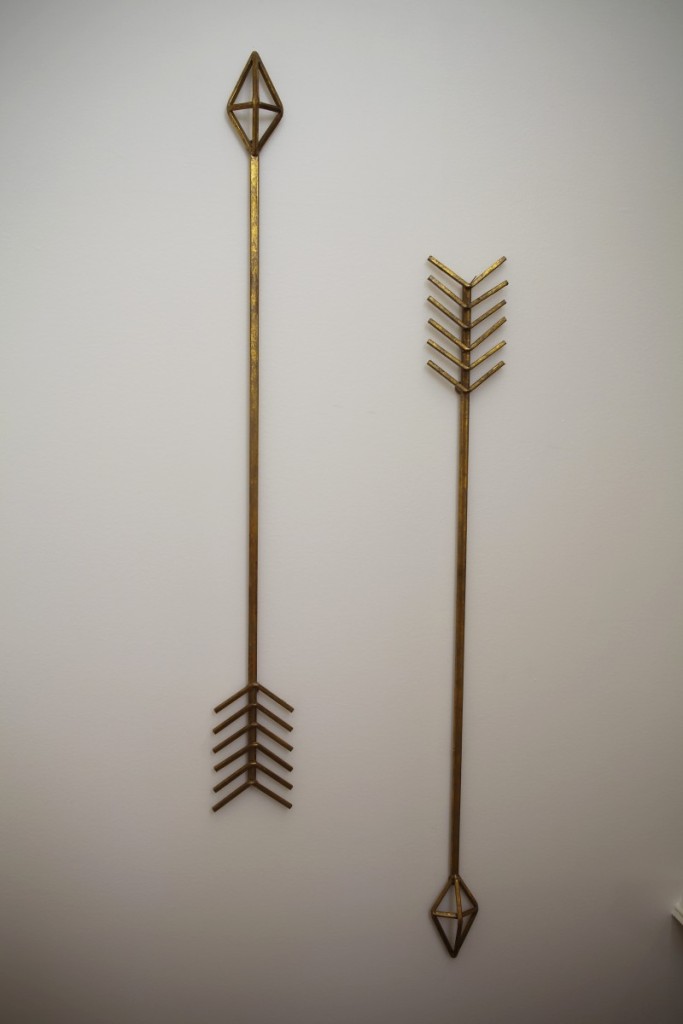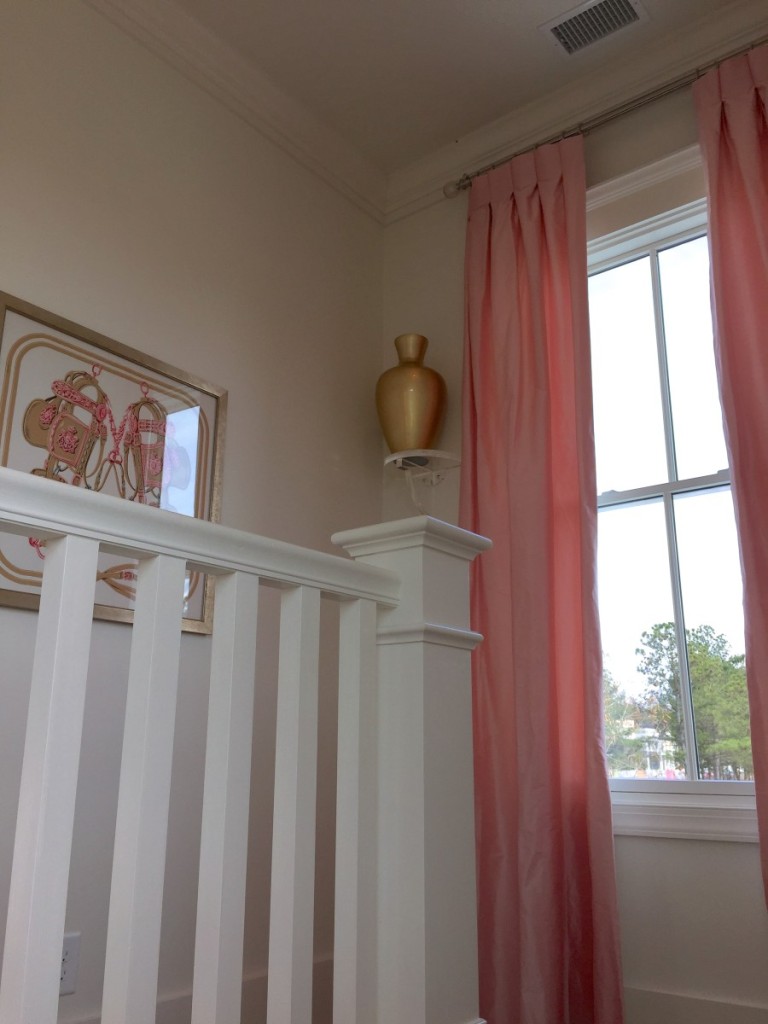 My all time favorite view in the house…every time I looked down the hall, it was all happy.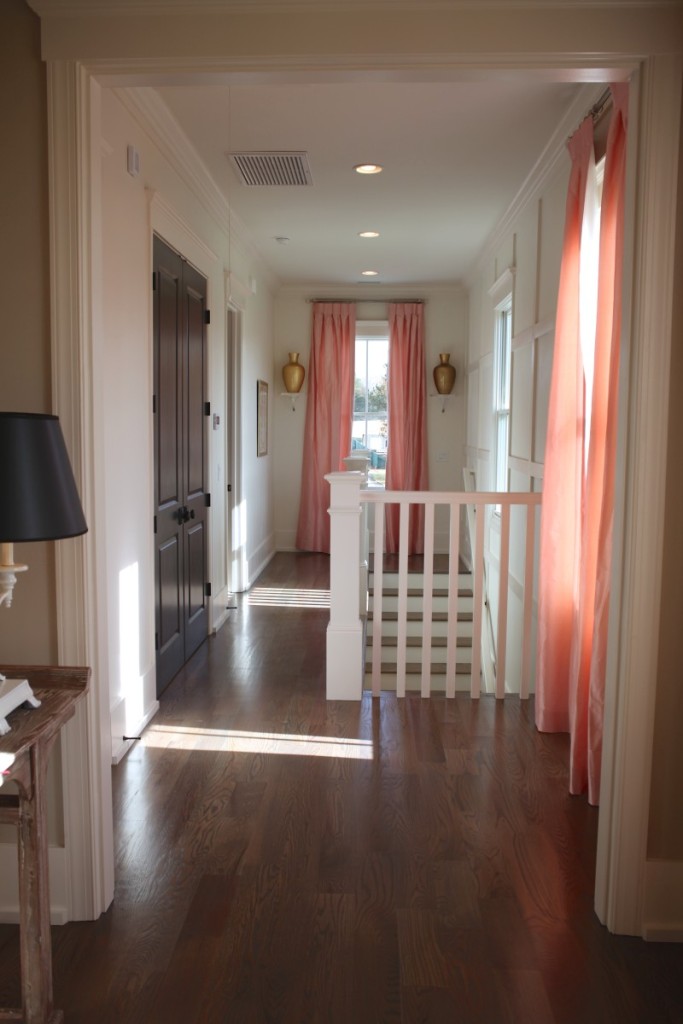 In the partition there, we had a set of pale pink double doors, with big round glass knobs for handles, but were removed for the tour. Boo. They were the perfect shade of pink! Everybody looks good in pink team. Remember that.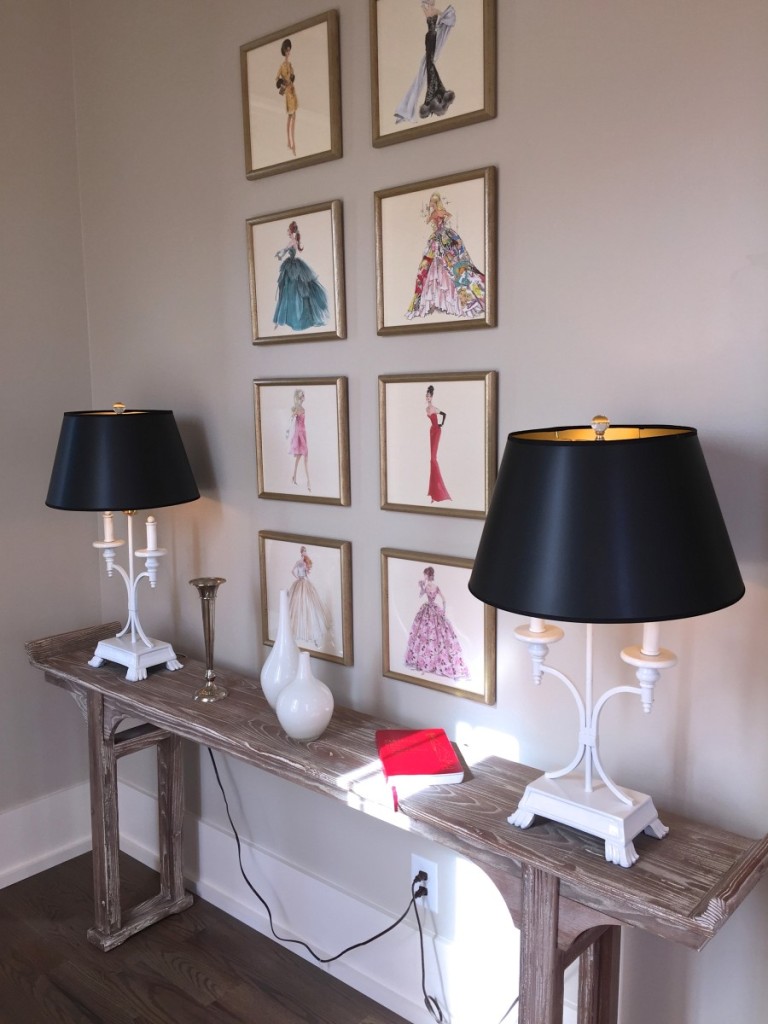 I'm sure you've figured out by now, this is where Barbie lives ;-)) And like Mariah Carey, she likes to have pictures of herself all over the home, hah.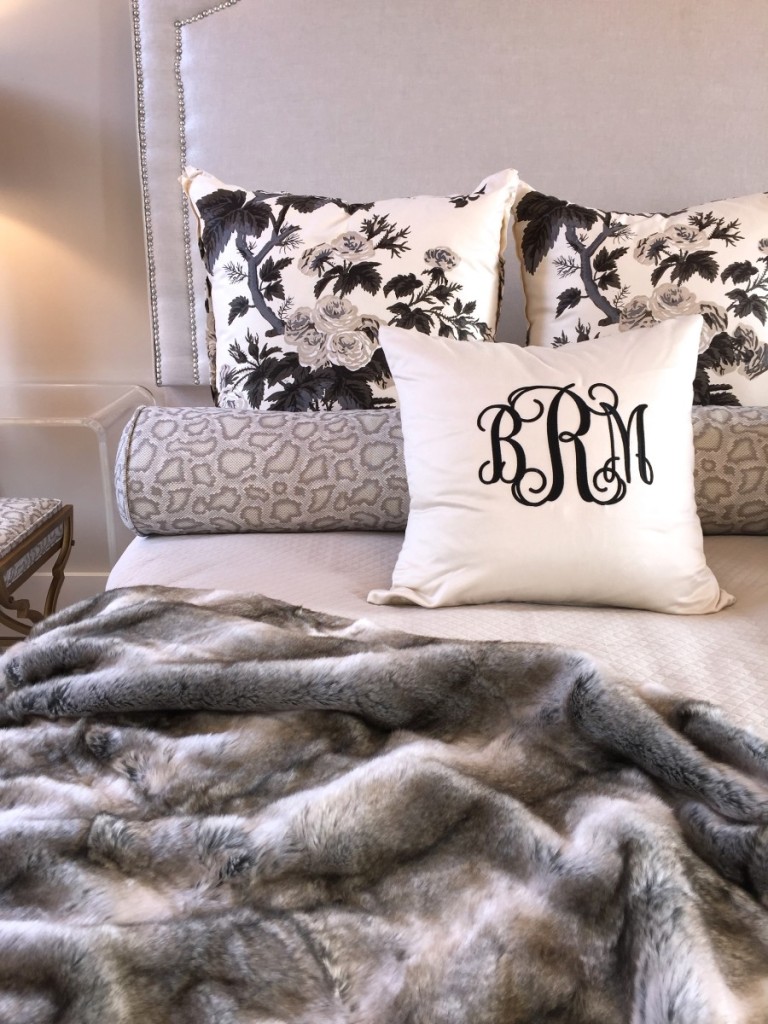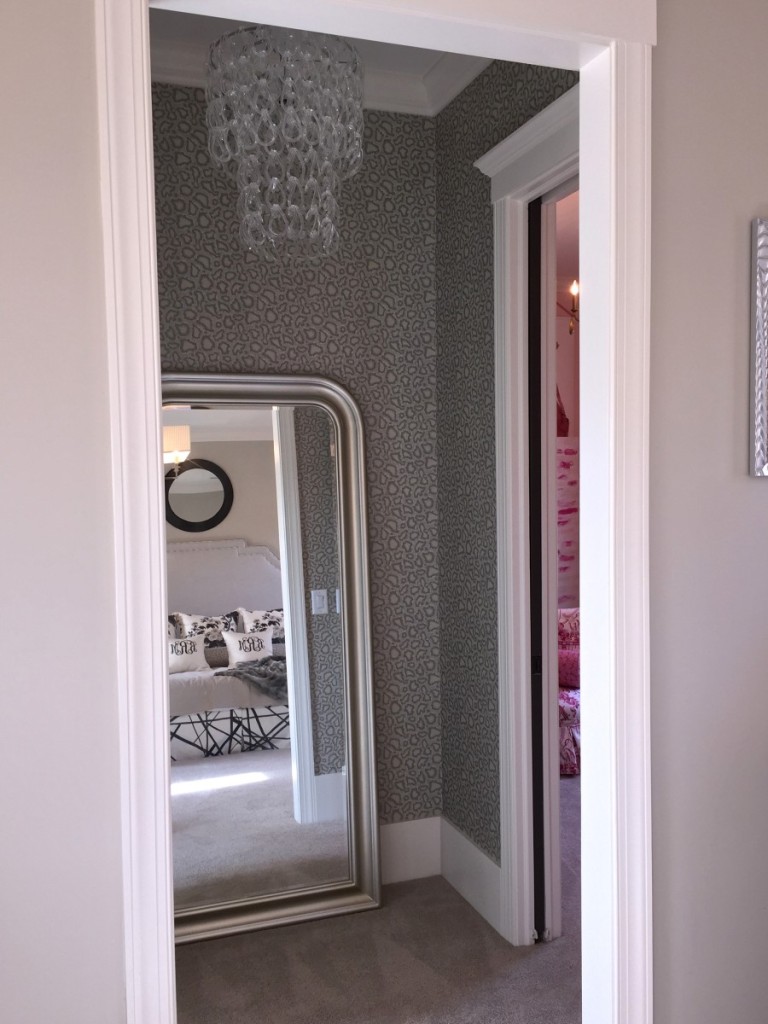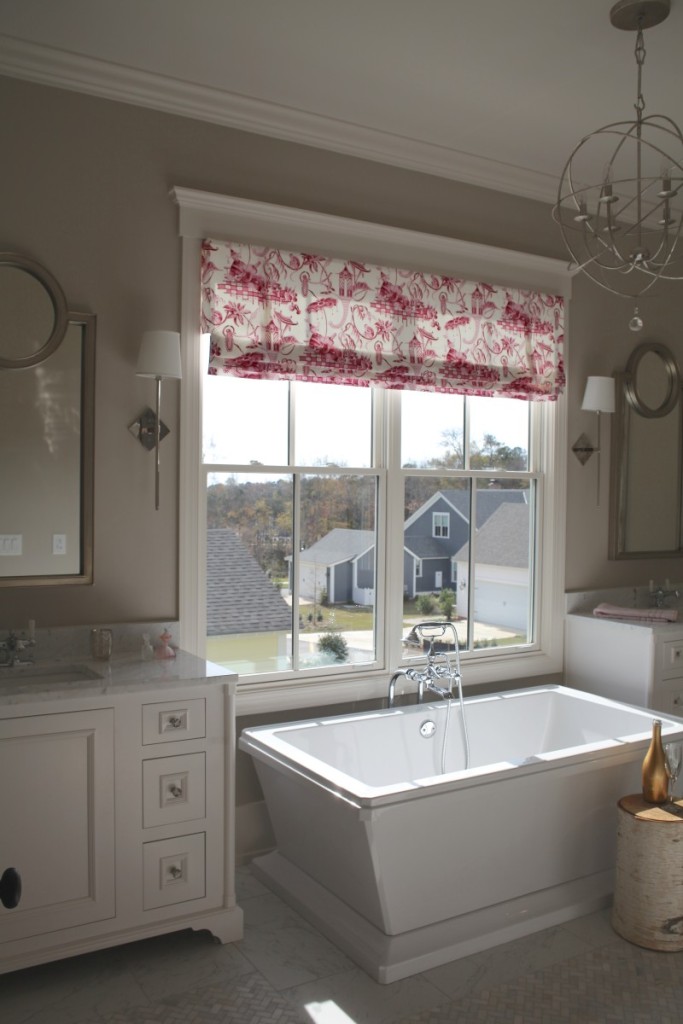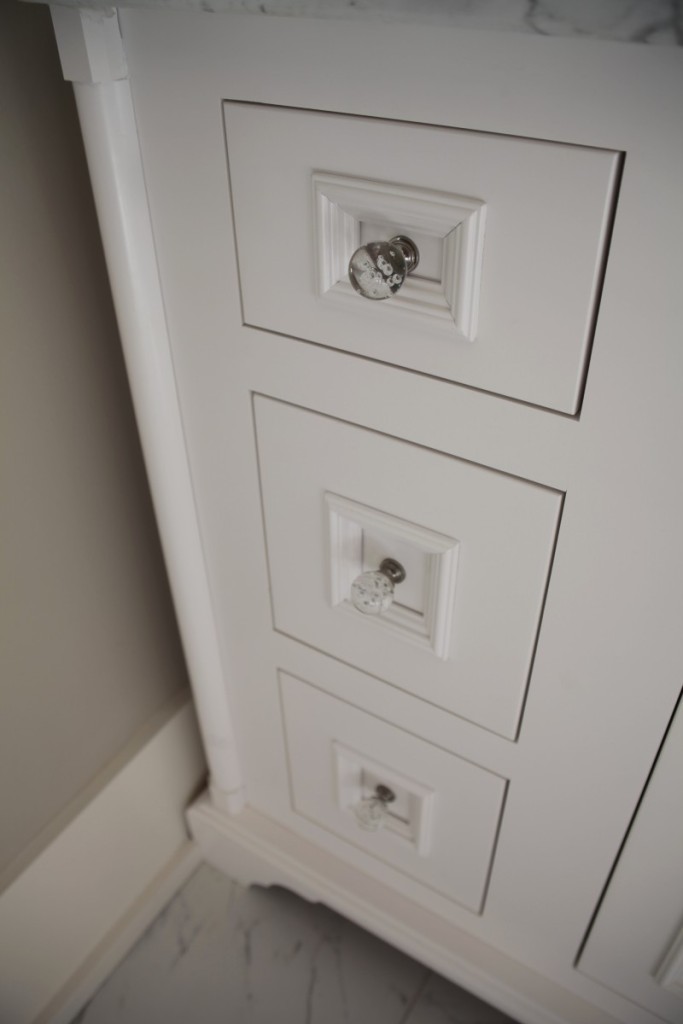 More of Kristen's lovely work, front and center, just made the space and tied it all together!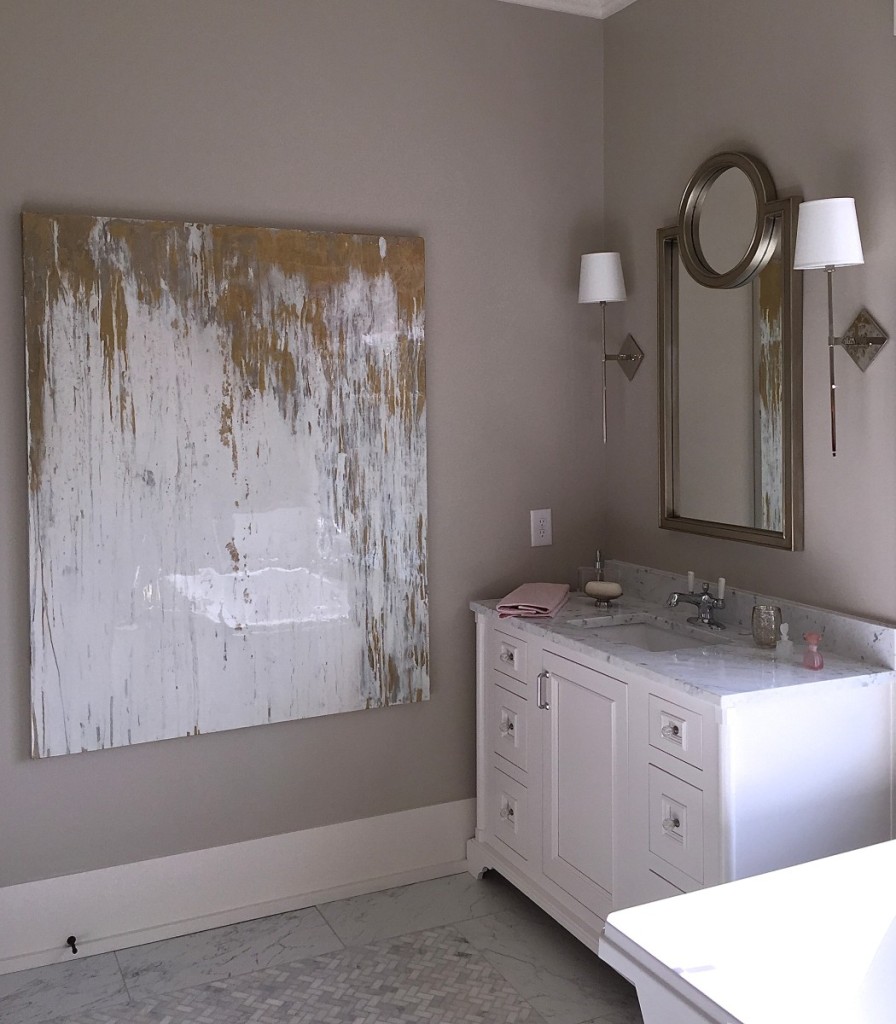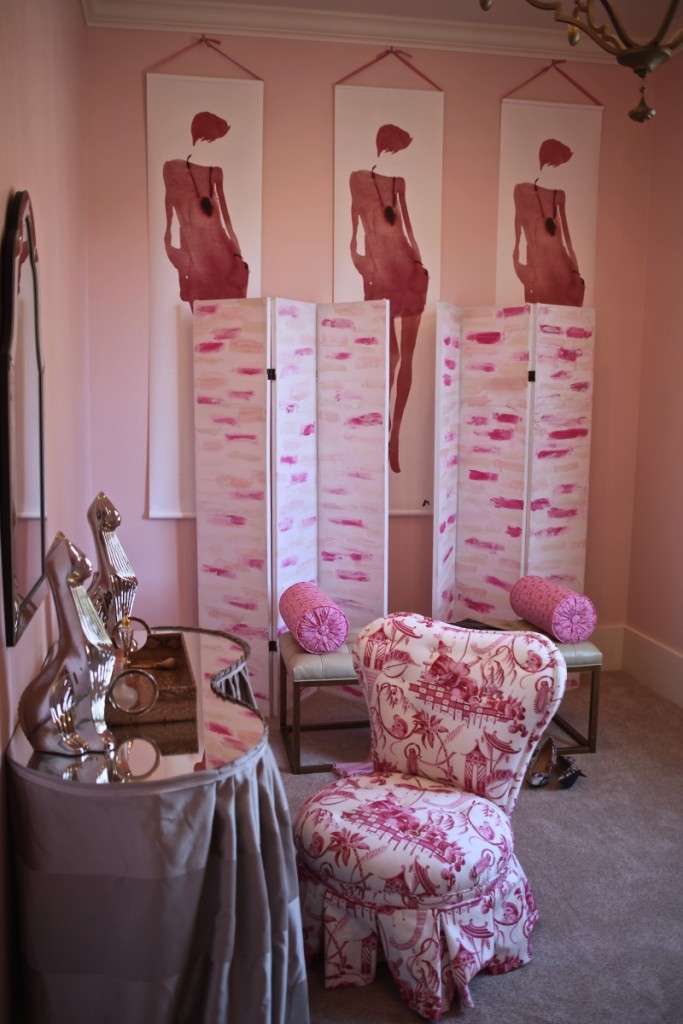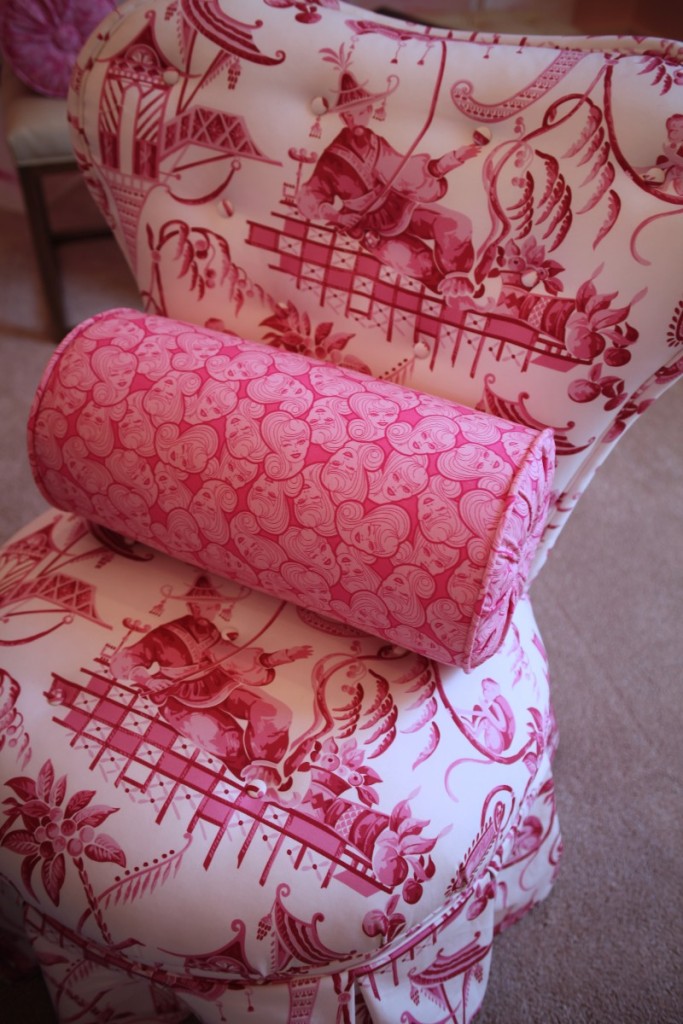 The toile is from Lee Jofa, but discontinued now. Boo. Luckily I was able to get my hands on some of the last yardage left. So sad its gone for good though. Look at me?! I'm so pretty. 🙁
I designed the middle bedroom as an office, where we have some fun mixing patterns. Notice the mixed-media Vogue art by Kristen. Killing it.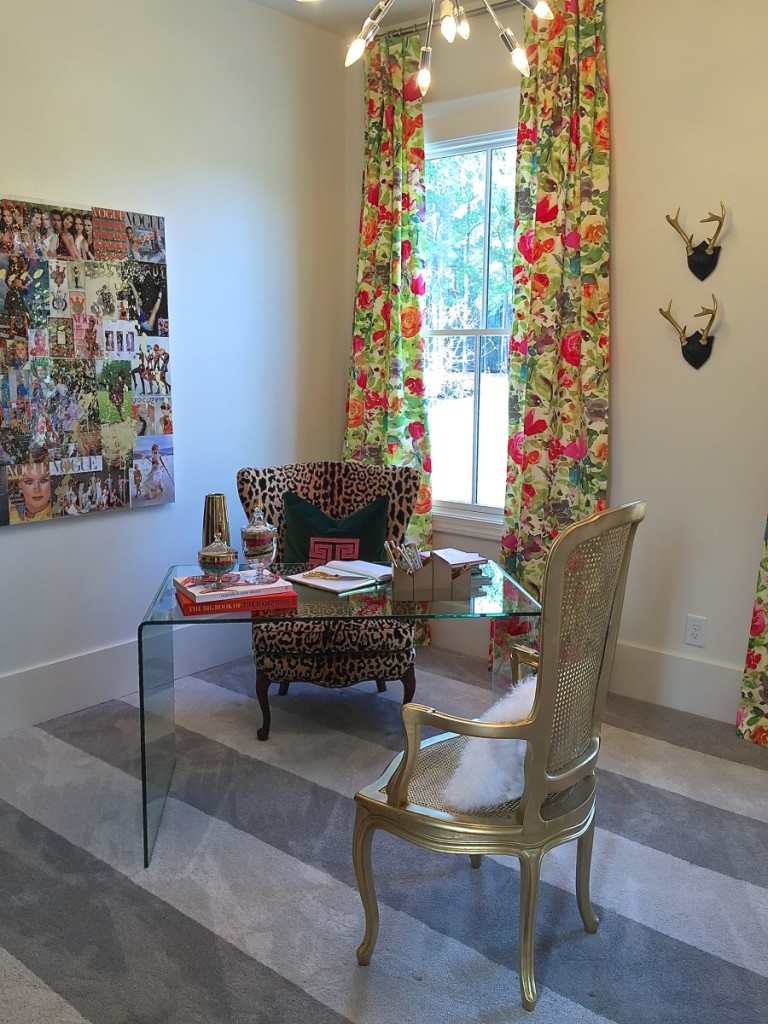 (I need to show you all the before and afters of these chairs, you won't believe it. They were all found and redesigned for the home).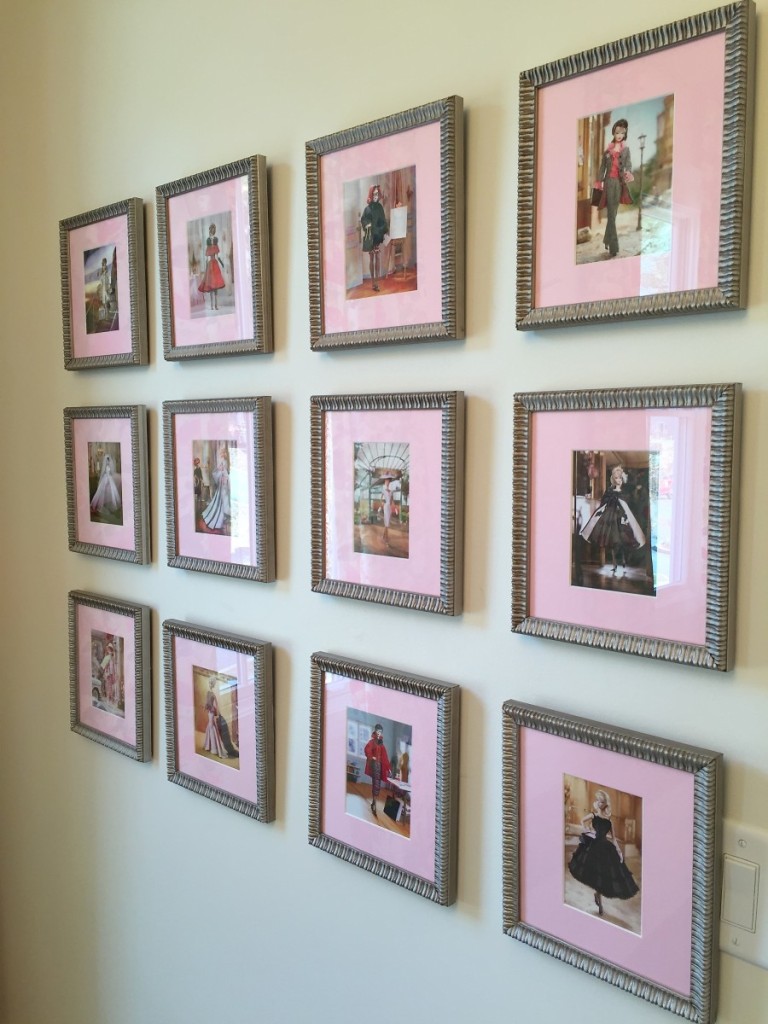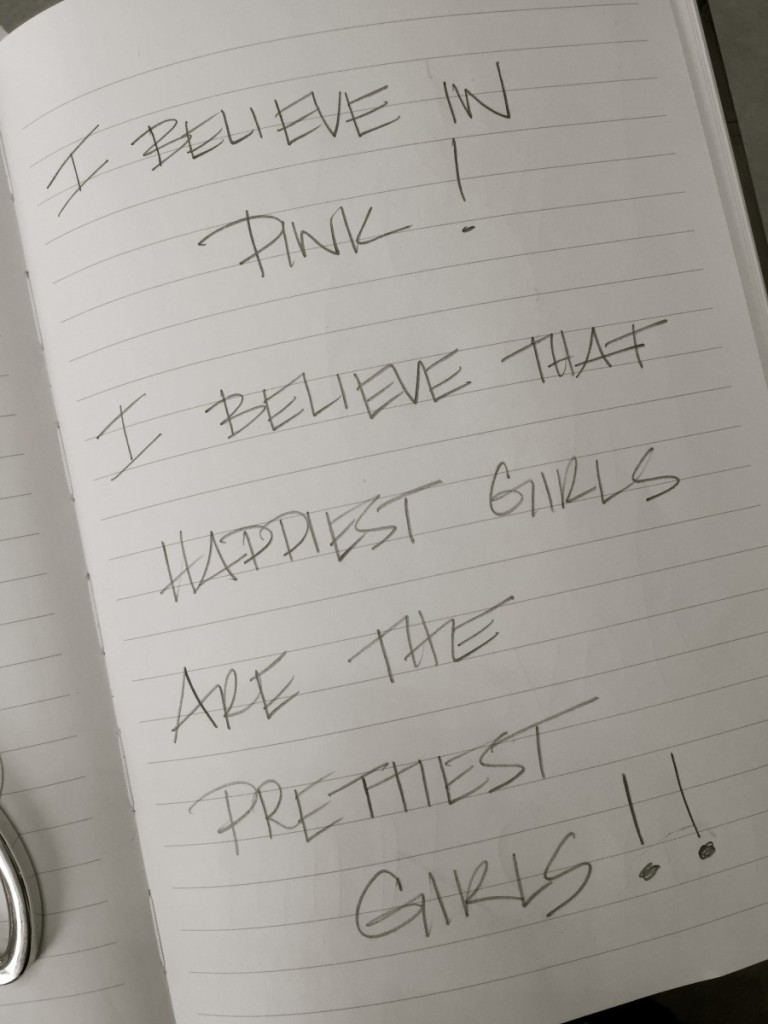 This rad pencil holder can be found at Target…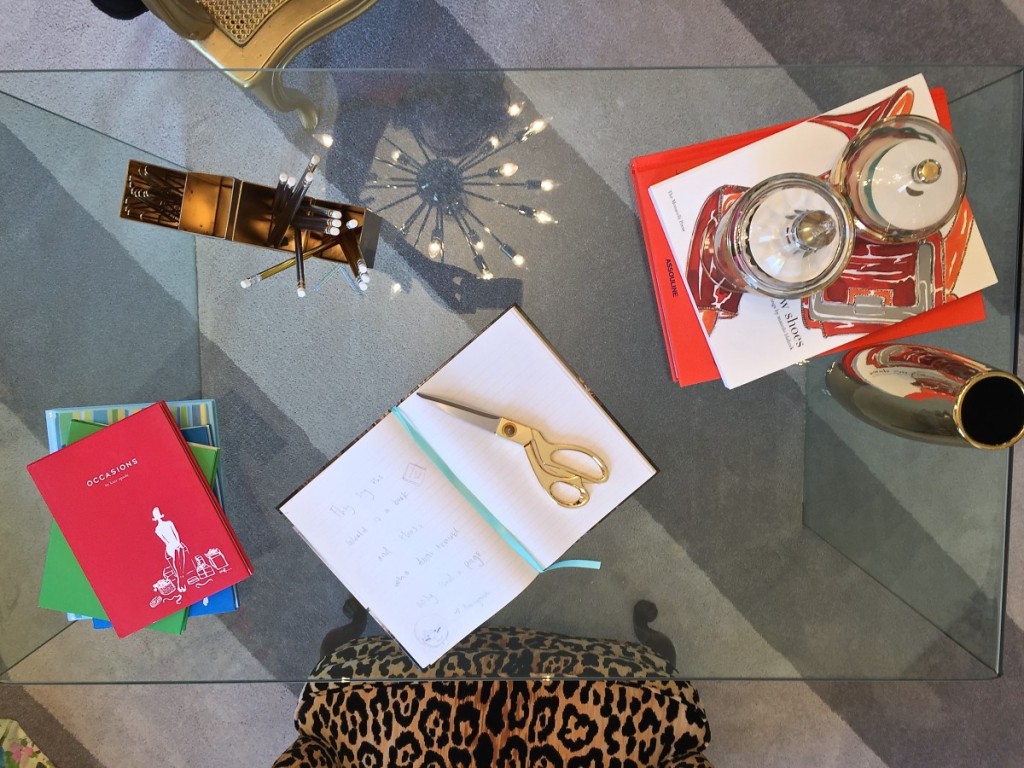 The jack and jill bath, in-between the two secondary bedrooms. The cabinet installer accidentally drilled two holes, instead of one, arrrr. I think one agate knob from Anthropologie in the center would have been better, but oh well.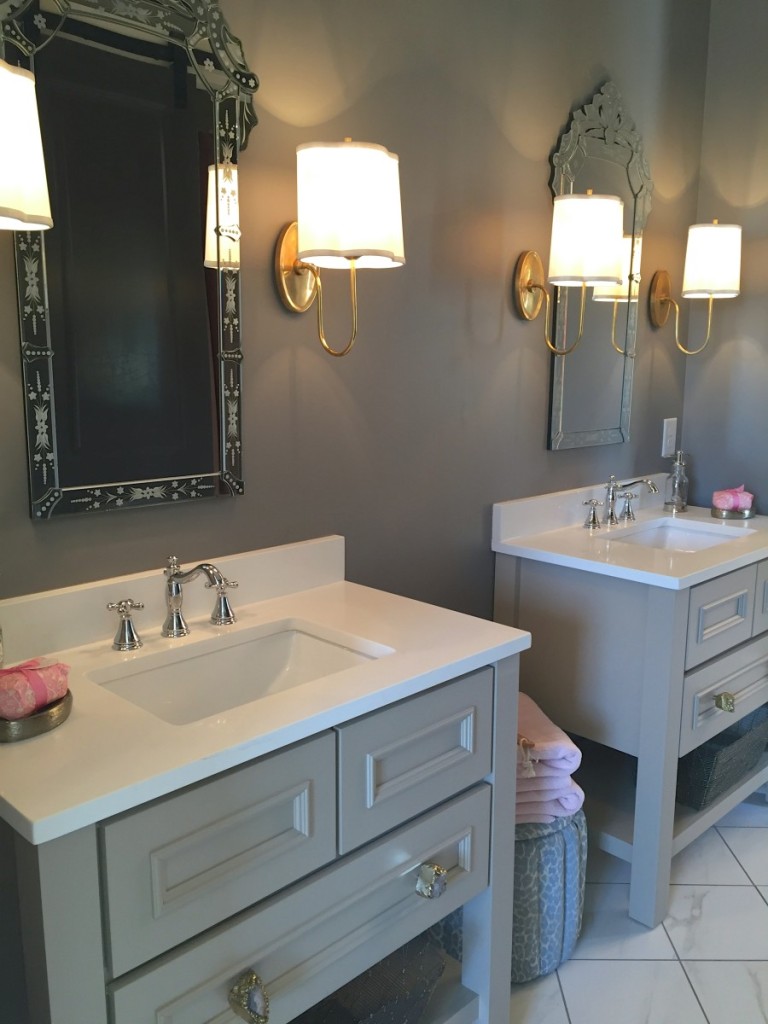 I was crazy excited to make a velvet shower curtain, I must admit. Definite highlight, because what client would okay that? Only the crazy good ones ;-)))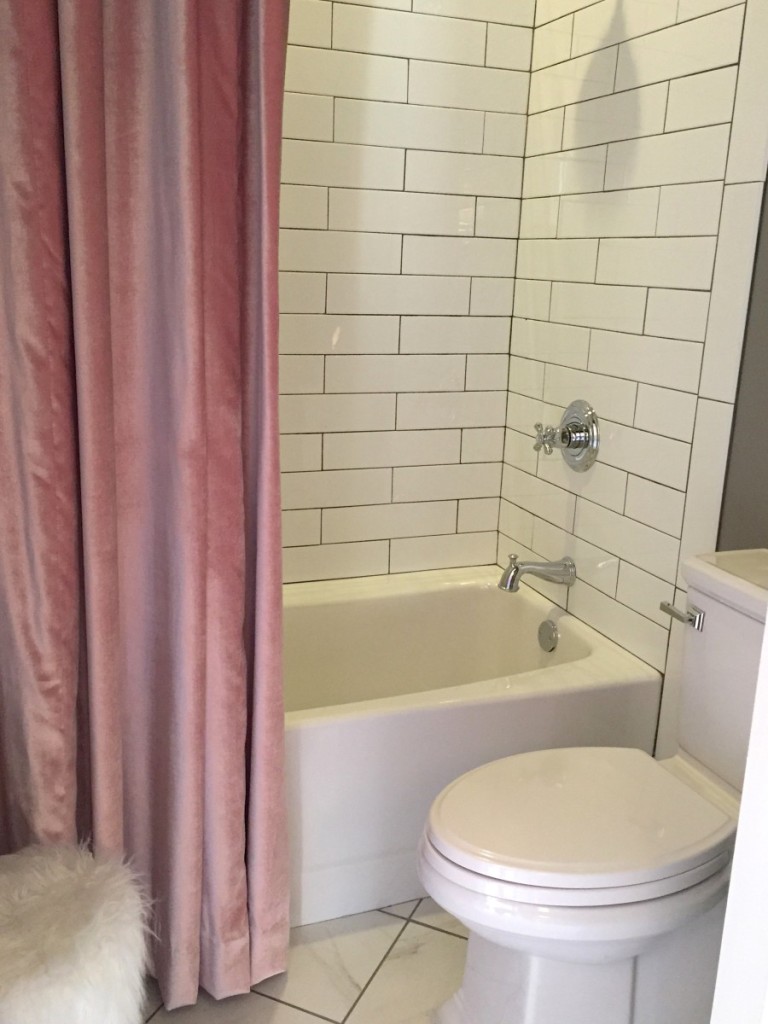 Moving into the last room upstairs, I was also very excited about the canopies, but hindsight, I'm a bit critical of the space, like I fell short or ran out of steam. Just saying and keeping it real. Kicking myself for not having the bedskirts made out of the same badass Schumacher print (also comes in black). Or the high gloss pair of starburst mirrors those windows are screaming for that I had in the wings but just decided against. Dumb. OR how cute some bamboo headboards would be, wedged just inside the drapes. But again you can't win em all. And this is where you learn to listen to your instincts and next time around, you bang that drum.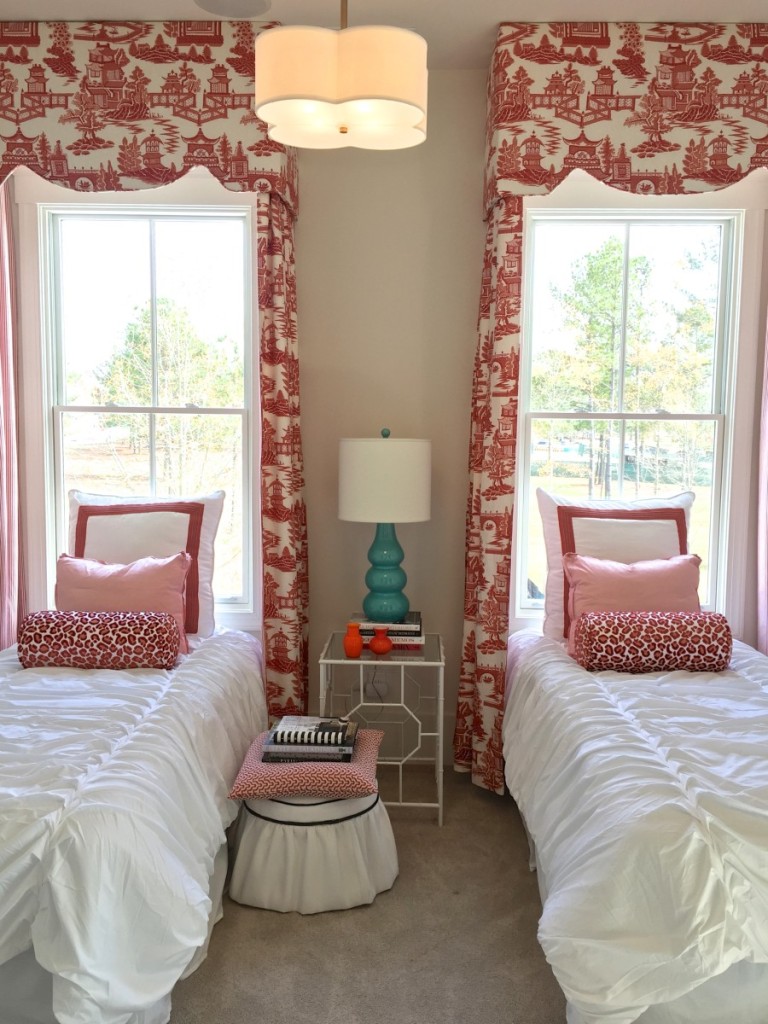 I wish I had some shots from the night of the party, when all the vases were overflowing with color-coordinated flowers. Every room party ready. But we were all too busy having fun and touring the other beautifully designed homes. My first day back to shoot these pictures, I was having happy flashbacks, goosebumps, thinking about that night. It was a great affair! And everyone walking through was very complimentary (thank GOD) and it made all the driving back and forth, all the budget numbers, all the backorders, worth it! I don't know this woman's name, but she was a beautiful soul, you know those unique people you meet for the first time and they just permeate kindness, peace and grace? Well she came walking through one day while I was working, in awe and said …"you are going to make people happy for years to come that live here. What a gift you have". I could have cried (I could cry right now actually). Pretty sure I cried telling the hubby about it. She made it all worthwhile with one simple sentence.
"People will forget what you said. People will forget what you did. But people will never forget how you made them FEEL."

-maya angelou
Lastly, a big fat hug and kiss to my girl Lindsey Hene, for making the trek down one day to help me finalize all my "this or thats" often starting with…"have I lost my mind but what do you think about THIS"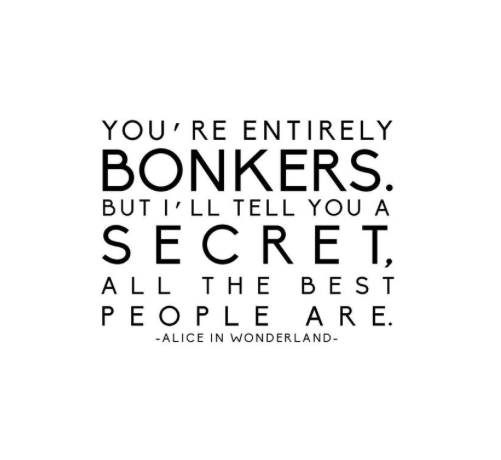 I hope you enjoyed the tour! If you have any questions about anything you see, you know where to find me. Sharing is caring and I'm hoping to photograph our home this week, all decked out for the holidays. And if that doesn't get your bells jingling, I also have great pics and ideas from the Atlanta show house, to fire off next. Discovered some awesome new designers for us to follow too. Until then team, hope you all are soaking up the holiday spirit and today's post offered some new ideas and inspiration in your world!
jenny from the wonderland rock