Happy summer time friends (don't let it end, don't let it end!!!)! It sorta ended for us in early August when they start school here in Georgia- eye roll- such a bummer. But we made the best of our time and I for one felt like I went away to design camp because I worked away on several projects throughout the Midwest all summer long. Loris House was at the top of the list, getting creative, stretchin budgets, preparing her to celebrate and sell. We got started on the Port Awesome Austin space with refinished floors and paint. Sprinkled in some updates at Dad's house with new wallpaper in the bathroom and freshly painted kitchen cabinets and wainscoting. Then took a weekend and drove over to Chicago with my best friends to check on her beautiful home in the Lakeview area we are spicing up for our college Christmas party deadine.
Let's start with Lori's house! It was ON. If I ran up and down those stairs less than 1,000 times I'd be shocked. I promised myself a spa day, and for once, followed through! All the hard work aside, IT WAS REALLY FUN. Seeing everyone's excitement was priceless, even Dad, who doesn't get excited much…"I can't wait to show my friends… I think I might like to hang out here after you leave" :-)))) Super huge thank you to friends and family that came and pitched in. And making new friends with all the good people who worked on the home. I have tons of great referrals if you need. I'm actually headed home this weekend, packing the remaining window treatments and pillows in my suit case to install the finishing touches and clean for the big party/open house Homecoming weekend. YOU ALL ARE INVITED! The home will be open at 4 p.m. Friday, September 29th for tours and celebration so come on by!
Heres some update photos…the first two big ticket items were having all the hardwoods refinished -such a difference! Everyone was pleased and now Dad wants his refreshed. 😉 The IKEA kitchen was installed HUGE (I could not sleep. I was literally having Christmas morning flashbacks in my childhood bedroom). Allow me to quickly hype the Traemand installation team that handled this. SO EASY and awesome to work with. Checked with me first on every single detail. Really great!
Here is a great shot of the floors and the living room almost all styled up for the big show. Sadly my guy Pat who "does it all" was working on a second story addition while I was home and couldn't make it to install my lights prior to leaving. But I can't complain. We all gotta eat ;-)). Will share this weekend. The sofa is IKEA, best deal in town, the chairs were given to me by a great friend and I sprayed them black and had the cushions recovered in a gray and white herringbone. The trunk I've had, end tables and abstract artwork are Homegoods and the rest is IKEA (hide, blankets, pillows) and a few accents I've picked up around town at antique malls. The buffalo drapes are custom silk from Robert Allen showroom in Atlanta. Splurge. Every room deserves one.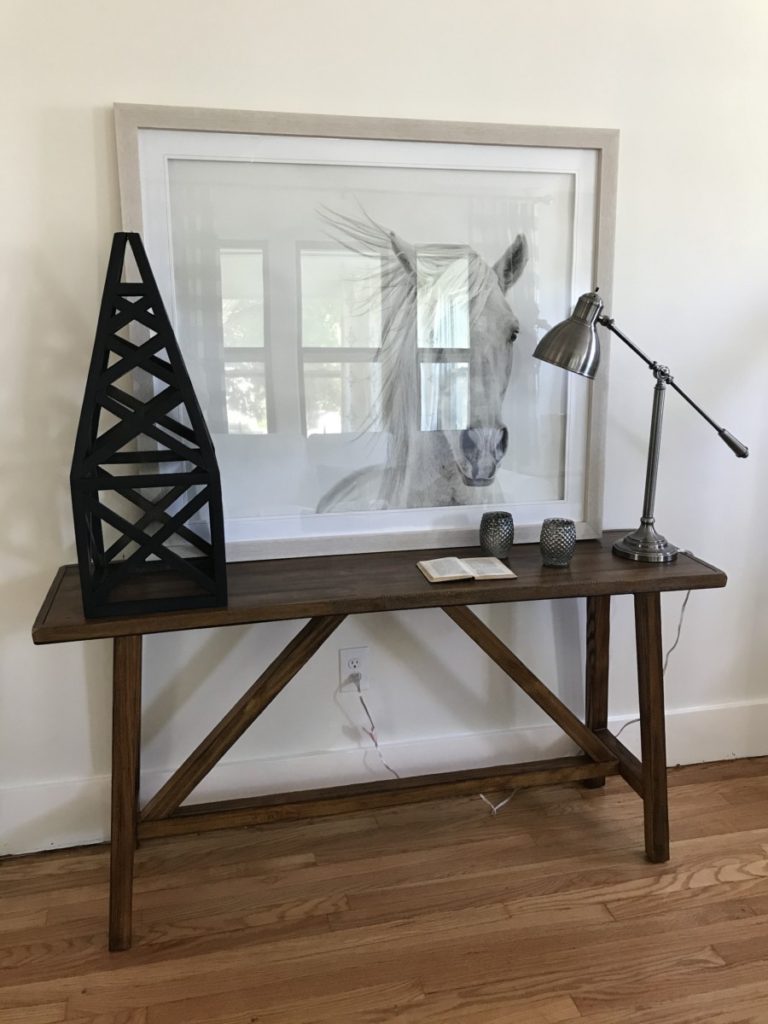 This table needs some styling and possibly a bench or stool in front of it, but I scored the console on Overstock, lamp from Homegoods, Horse photo through my design biz, and that garden obelisk I had in my garage for years from Ballard Designs. I've always loved the obelisk, structural nature of it and knew it would come in handy someday. My garage is full of treasures, to be honest. I seem to have collected quite a lot over the years with the hope of it becoming useful one day, like this obelisk. The garage is quite big, similar to a prefab garage albany ny, so I have plenty of space to store all of my treasures!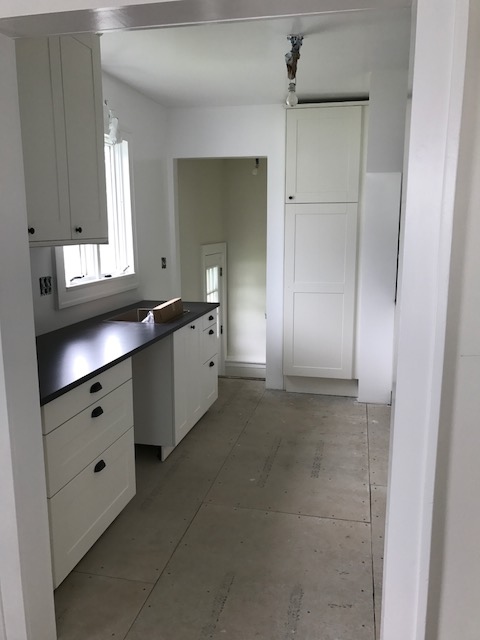 A shot of the black and white kitchen cabinets freshly installed. Here is what it use to look like – completely dysfunctional.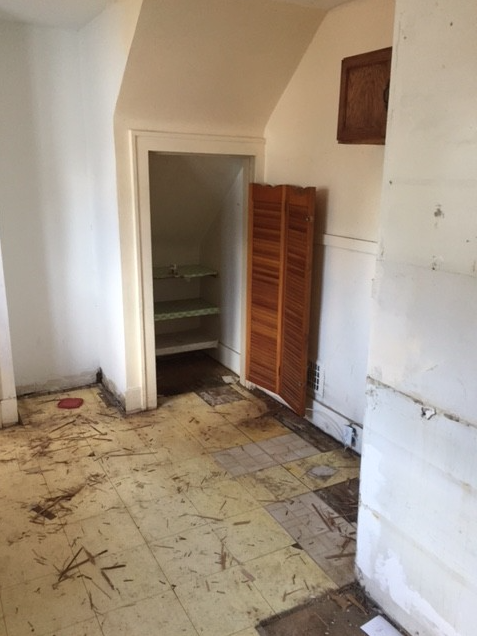 For starters there was a coat closet from the living room on your right- now gone. And a closet in the far corner that wasn't accessible with appliances in the way, and that weird little alcove, that maybe was for the ice box back in the day???
The refrigerator now sits where the coat closet was and I filled the alcove with this pantry cabinet. the tallest one they made to maximize storage.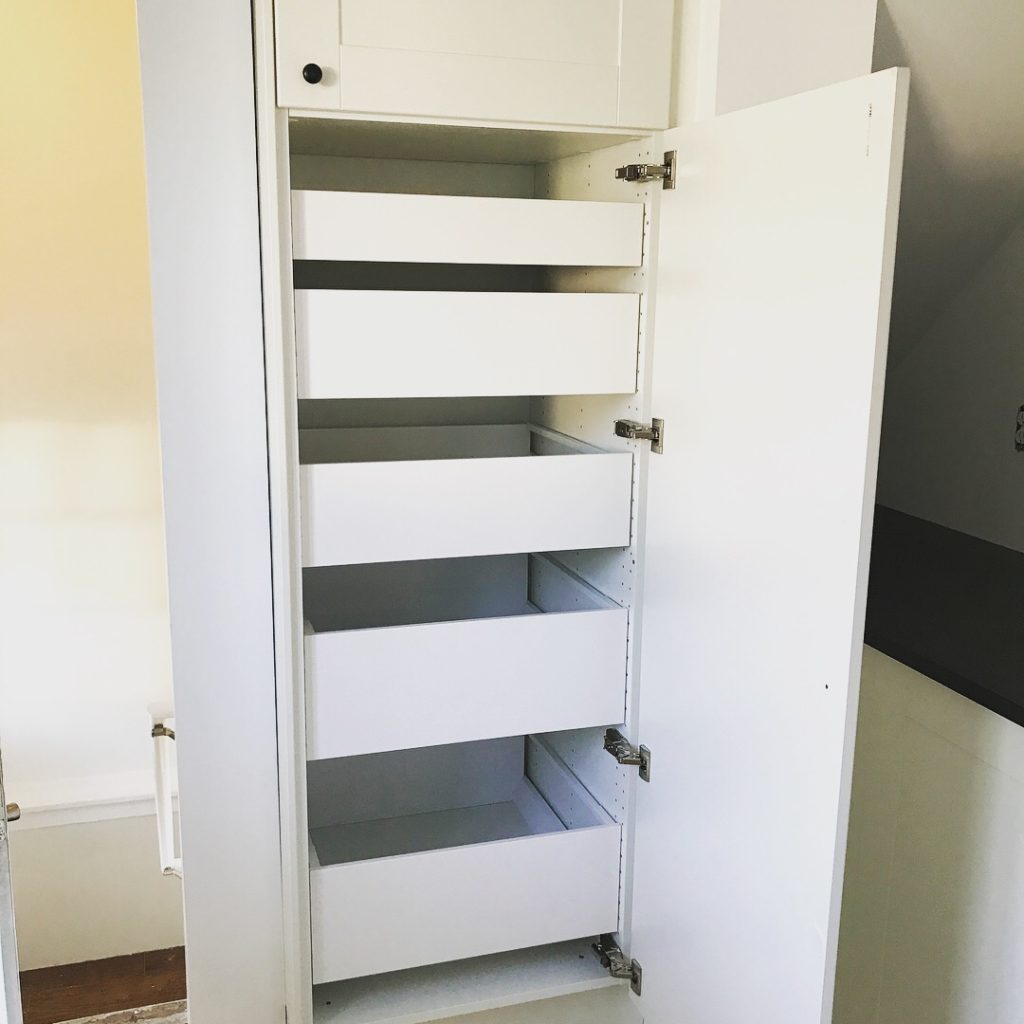 Installed a blind corner cabinet into the closet, perfect for pots and pans, and ran the laminate countertop all the way to the back of the closet to function as an appliance garage and provide more counter space. Its now the little kitchen that could with much more usable space and storage. Very exciting!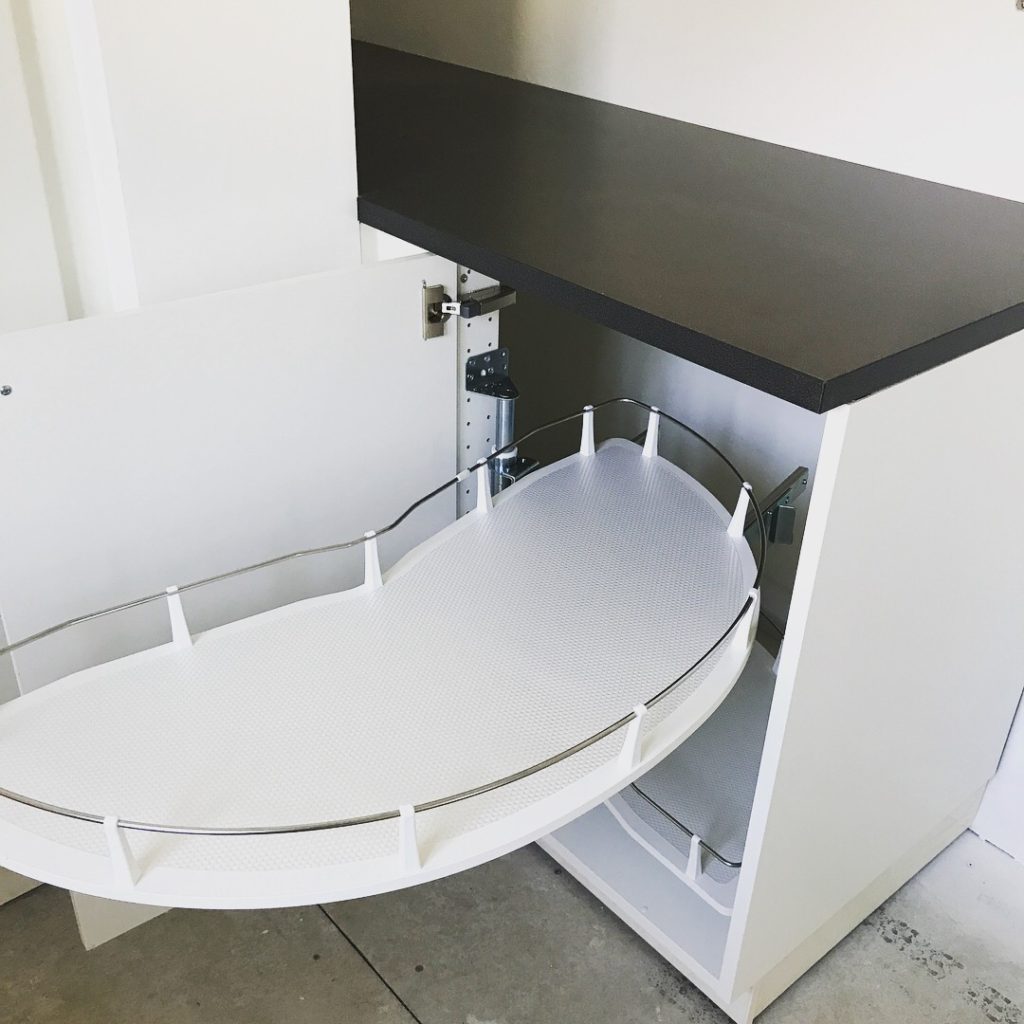 Shot of the patterned tile in progress. SHAZAM! I love these guys. Every room needs a star! After the cabinets went in I thought we really need to spice it up in here, needed some wow. The tile guy was very suspect of the tile at first then called right after this pic to tell me he thinks I should be on the RHOA show designing homes. So now you like the tile??? ;-)) We had a good laugh.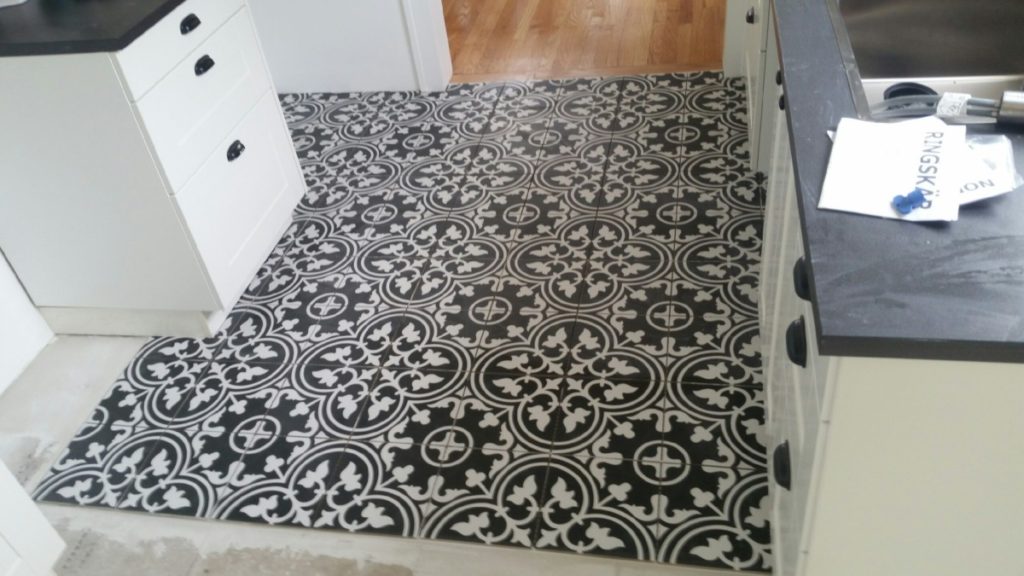 I splurged on a yard of Pyne Hollyhock patterned fabric from Schumacher for a faux roman shade over the kitchen window sink, that I sure hope fits in my suitcase. I added this long linear exposed shelf above the stove for easy to reach dishes and more storage, while keeping the small space feeling open. I stood in there trying to get a feel of what it would be like to cook and entertain and it passes the test! It really helped we widened the door entering into the dining room too.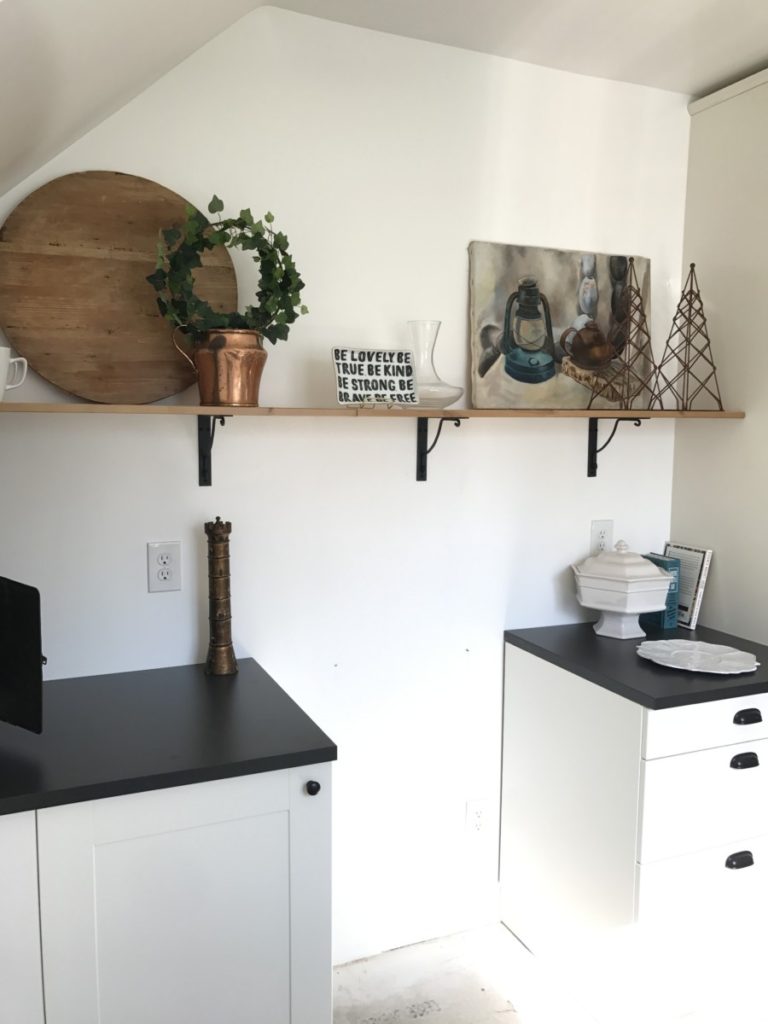 The dining room's splurge was adding Schumacher's Onna Sisal to the ceiling and some POW patterned drapes I found on Overstock. Its not easy finding 95 inch long affordable drapes that look good and if I'm being super picky, I'd add another pair to the big window to look more full. Just saying. I installed all the drapes myself?!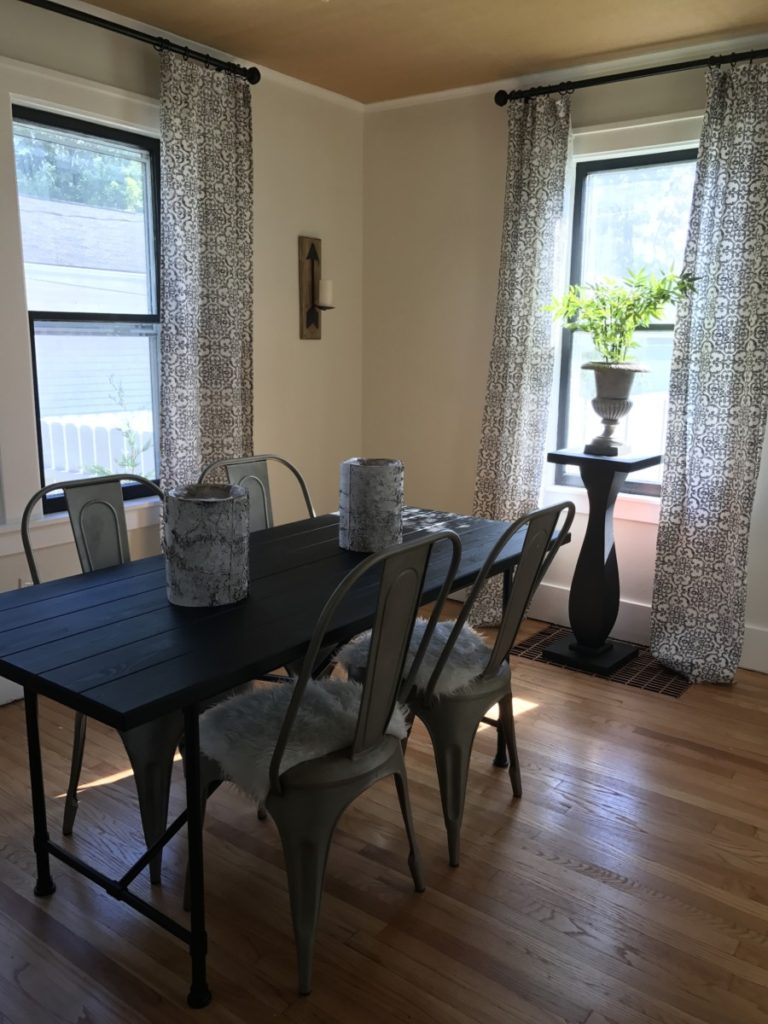 We painted all the interior window sashes black for the big modern farmhouse feel, there was potential of looking at window shutters in black or spraying them black afterward, but ended up just sticking with the drapes, those looking for window shutters are able to get more information here so finding the right shutters can be a breeze. Another great shot of the floors! The table was a clearance item at IKEA for $149 and the chairs I brought from home. I also have two upholstered end chairs from IKEA that were still in boxes at time of pic. I picked up the plant stand from The Motor City Antique Mall (my favorite place!!!) and sprayed it black. It was $30 and loved the lines. Opposite the plant stand is an oversize mirror to reflect light, the view of the backyard and make small spaces appear larger. It was a Kirklands find. It takes a village to style a house!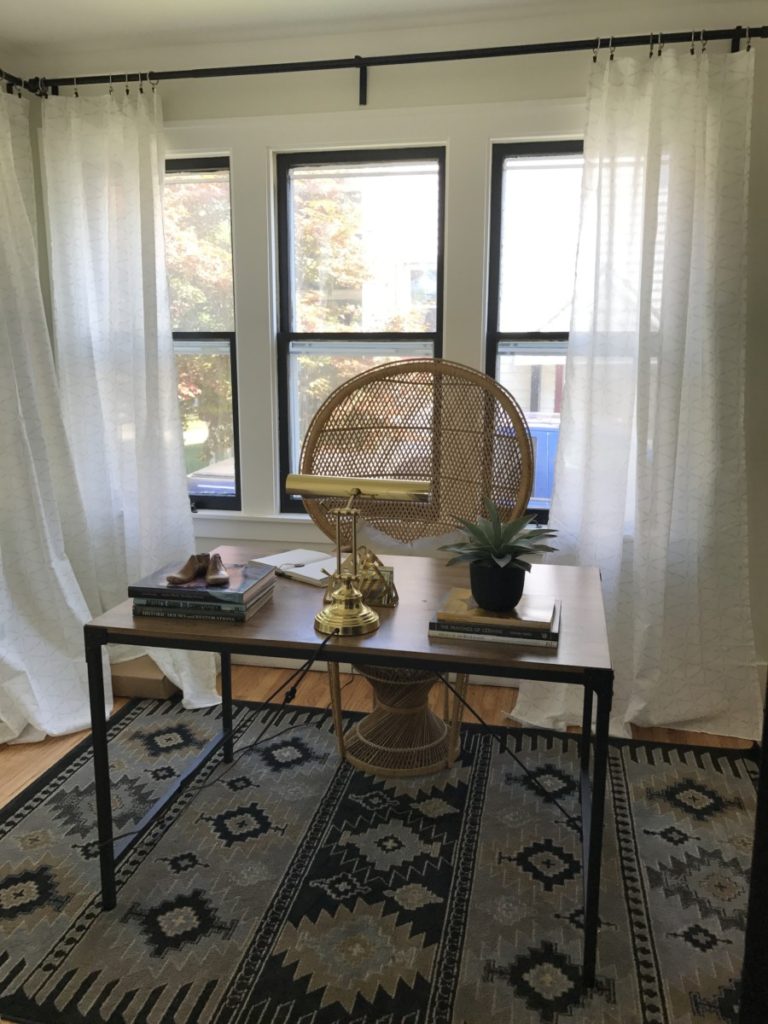 In the front of the house, is this sweet little bonus room space with two walls of windows. It might be my fave. But that's the hard part with a old home full of character traits, its hard to pick a favorite! I staged it as an office and brought the peacock chair from Atlanta, the desk is actually a "dining table" I found on Overstock, along with the rug (really love and needs to be on repeat) and the drapes IKEA. Ikea wins again. Hit it three times in two weeks.
We added this black paint detail to the bannister, love the gothic inlay of the wood and I wanted you to notice how pretty it is. It worked. Everyone says I never noticed this before??? :-))))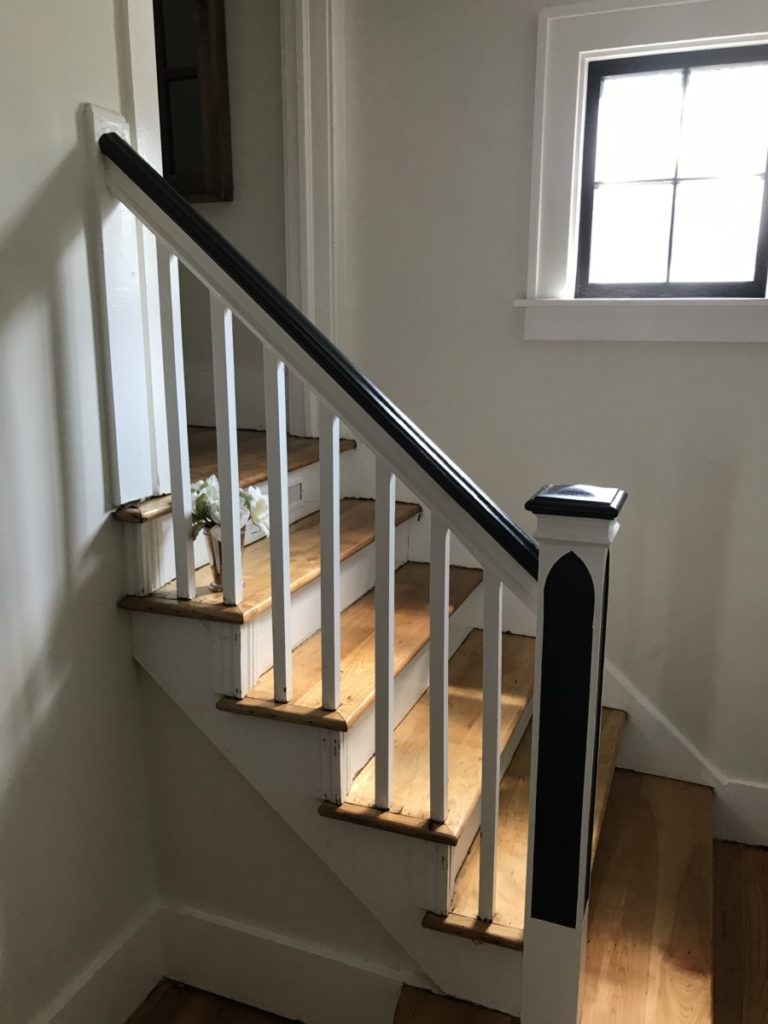 On the landing is a new sconce that will illuminate the art work and the mirror was purchased by my MOM over thirty years ago!!!! NICE EYE MOM! Its staying in the fam. Dad pulled it out of the garage one random day. I'm like geez Dad what else you got stashed up there from Mom? Speaking of garages, my dad told me he's thinking of sprucing his up with a new garage floor. I think it's a great idea! He wants to park his car in the garage so I told him he should check out some of the floors available on garageflooringllc.com.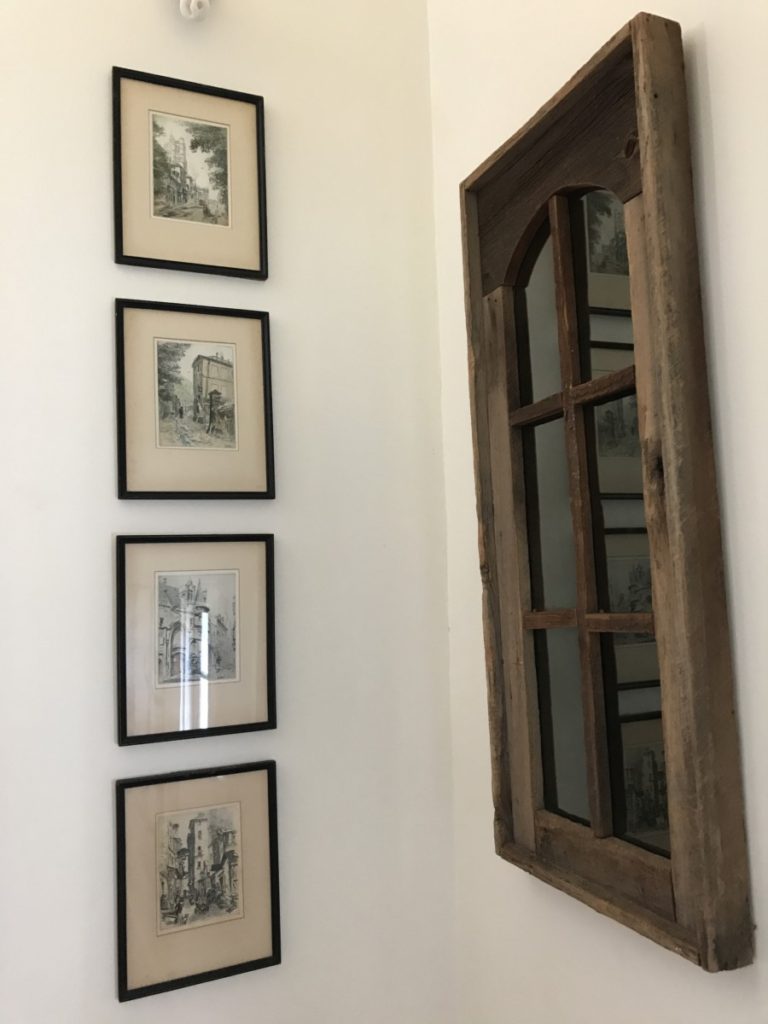 Oh wait! Before we go upstairs, maybe my favorite part of the whole house (this and the "closet that goes to nowhere" I'll share with you) is this little niche by the front door where we put the sisal from the dining room ceiling. And they couldn't get the parquet flooring that was in this tiny little space up off the floor (I don't think they tried hard enough and I'm too nice) so it too will have the pattered black and white tile from the kitchen. One of my biggest hang ups when designing a small home is I want all the spaces to flow, feel cohesive and have one detail that relates from one room to the next. OCD much?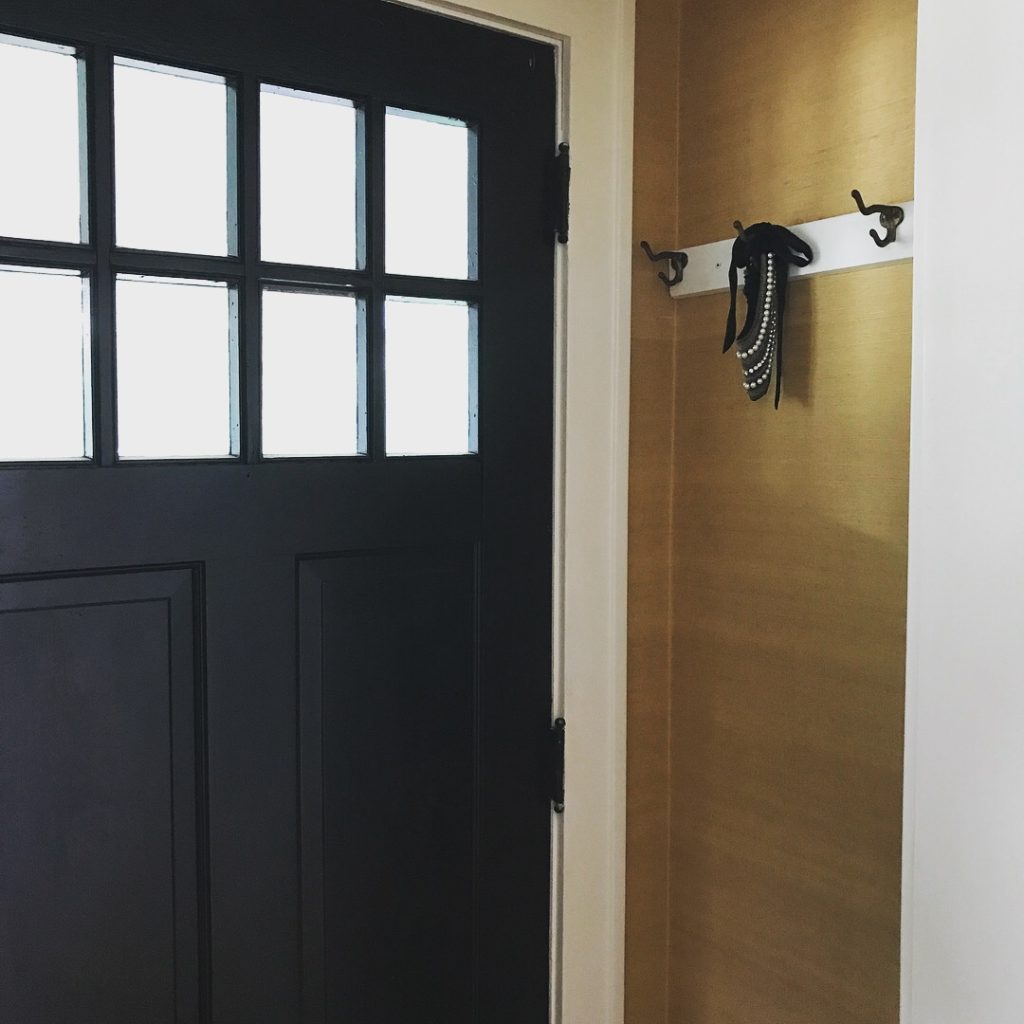 Upstairs is a new full bathroom and two bedrooms. I'm digging the mix of finishes in the bath! That was fun to experiment with. Found it all at the Woodhaven Lowes. They gave me great service getting it all ordered and loaded into big poppy's trunk. Found a cute black and gray plaid fabric at Joannes' for $13 bucks -out the door!- to make a roman shade in here. In the suitcase.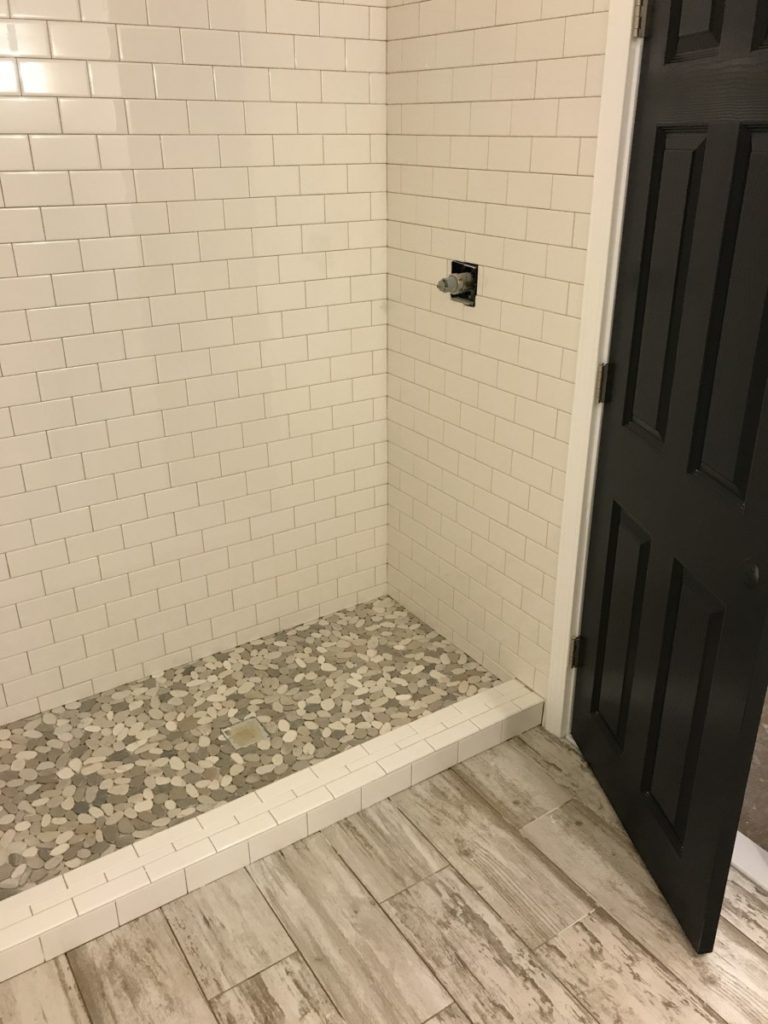 I staged the smaller of the bedrooms to be for the imaginary littles that might sleep here and borrowed some of our old books, pound puppies and "furskin" bears from dad's attic.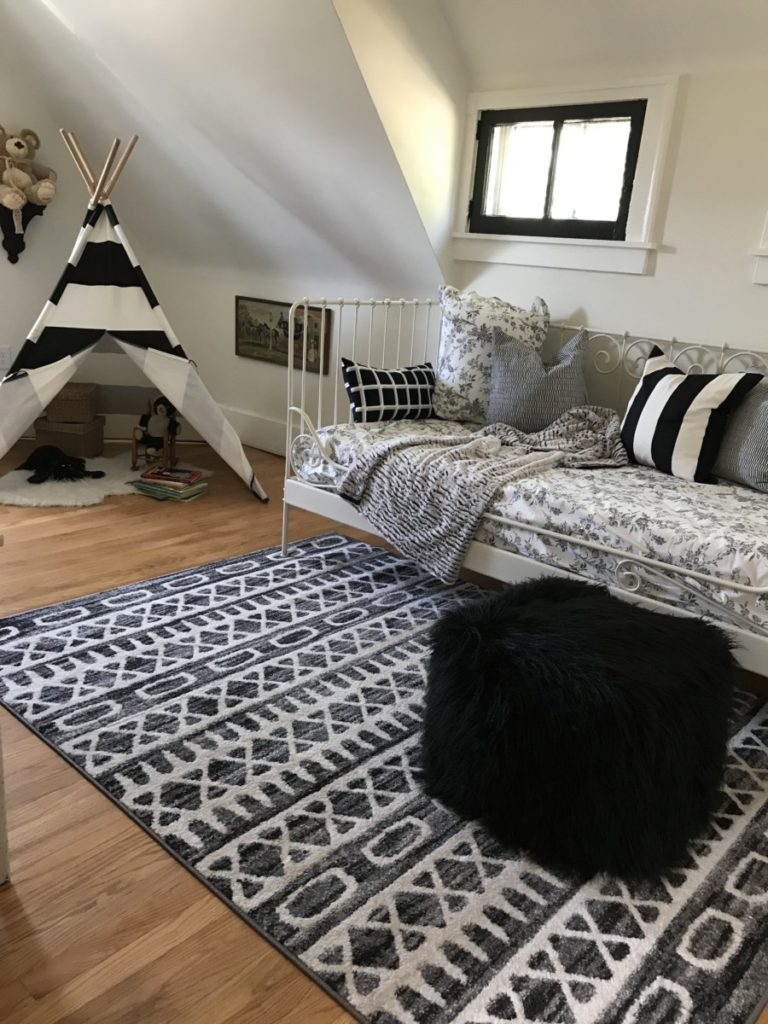 I adore the windows in this space!!! I hope the new owners don't change them for some lame vinyl sliders. Bum deal if they do! If anything, maybe some energy efficient cape cod style window panes (can you imagine this home shingle-sided wow). Just not the cheap white vinyl sliders some window salesperson wants to talk you into. The whole point is to try and maintain the integrity of the architecture at the time it was built. I'd love to try and dig up old pics of this place. I feel like at one point during my childhood it was light blue, but I could be wrong.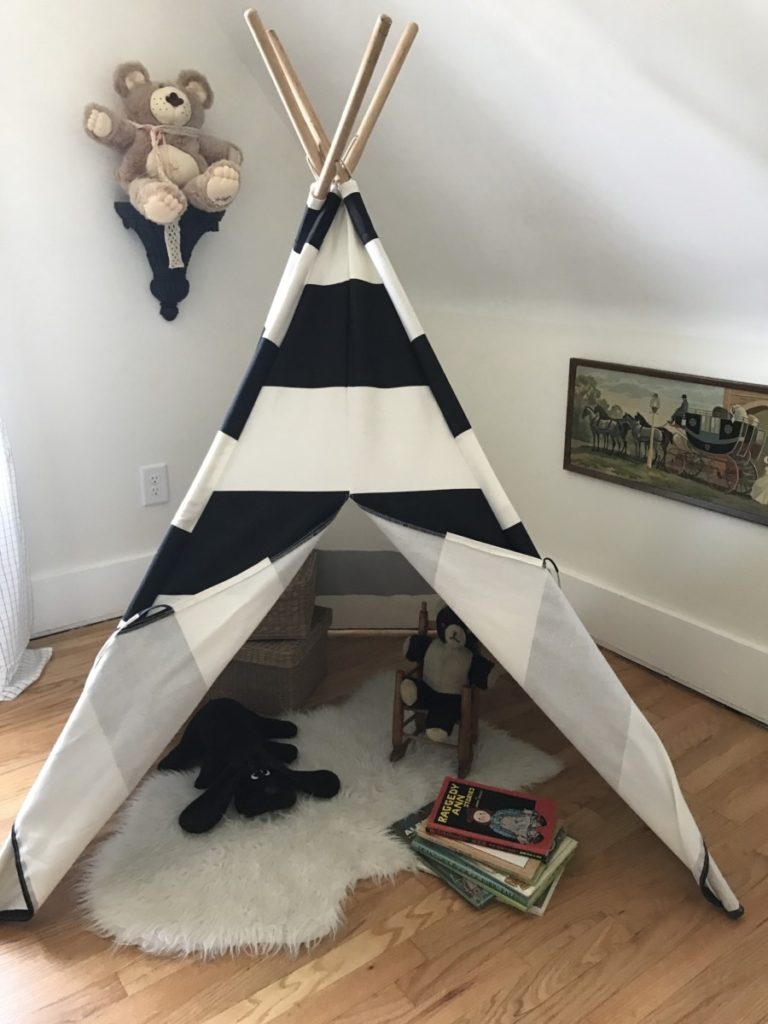 And the master bedroom. I took an old rattan room divider and painted it black to make a headboard and focal point for the room. Then hunted down some black and white scalloped window treatments on line that I'm having made to frame the headboard. Probably similar to the kinds of window coverings you'd find from professional designers it looks so good! But having a designer's touch can make a big difference to the room as a whole so I hear. Found the room divider at Motor City Antiques (can't wait to see you again this weekend!) I think it was maybe $50 bucks and shazam a headboard is born! Saw the idea in last month's Coastal Living, what a fun and easy look. A beautiful vintage crystal chandelier is going up along with a pair of gingham black and white euro shams from the new Miles Redd's collection for Ballard Design. I'm sorry I don't have a better picture of the cute as pie arm chair I found for $20 and had recovered in ticking. I'm having the home professionally photographed in September, so we have that to look forward to!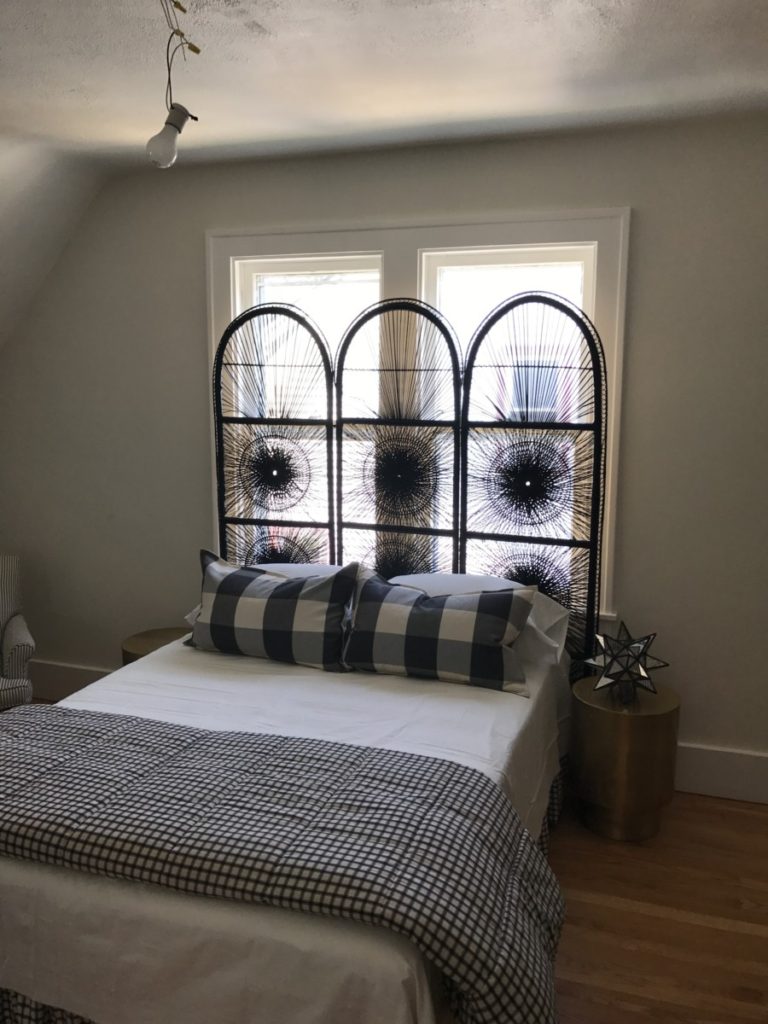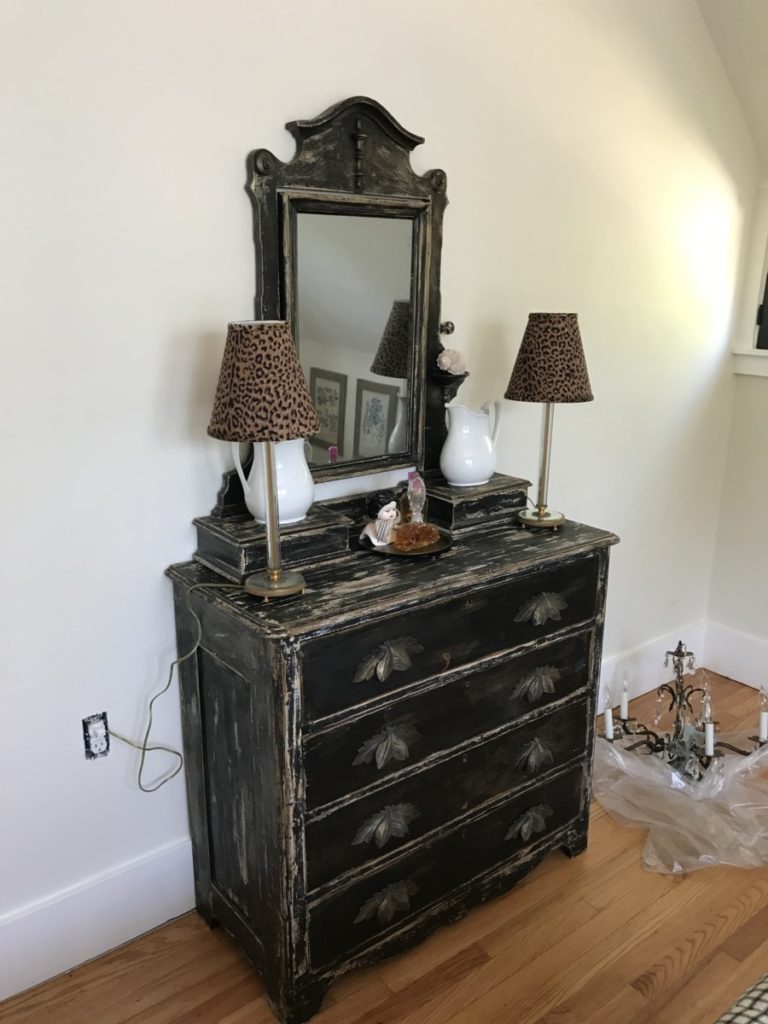 This dresser I found and fell in love with at the Queen of Hearts in Alpharetta years ago however it actually came out of a Detroit Bed and Breakfast SO I brought it back home. EVERYONE loved this dresser. I wish I could explain the finish. Its really unique. And look, there's a glimpse of the light too. Lighting is everything.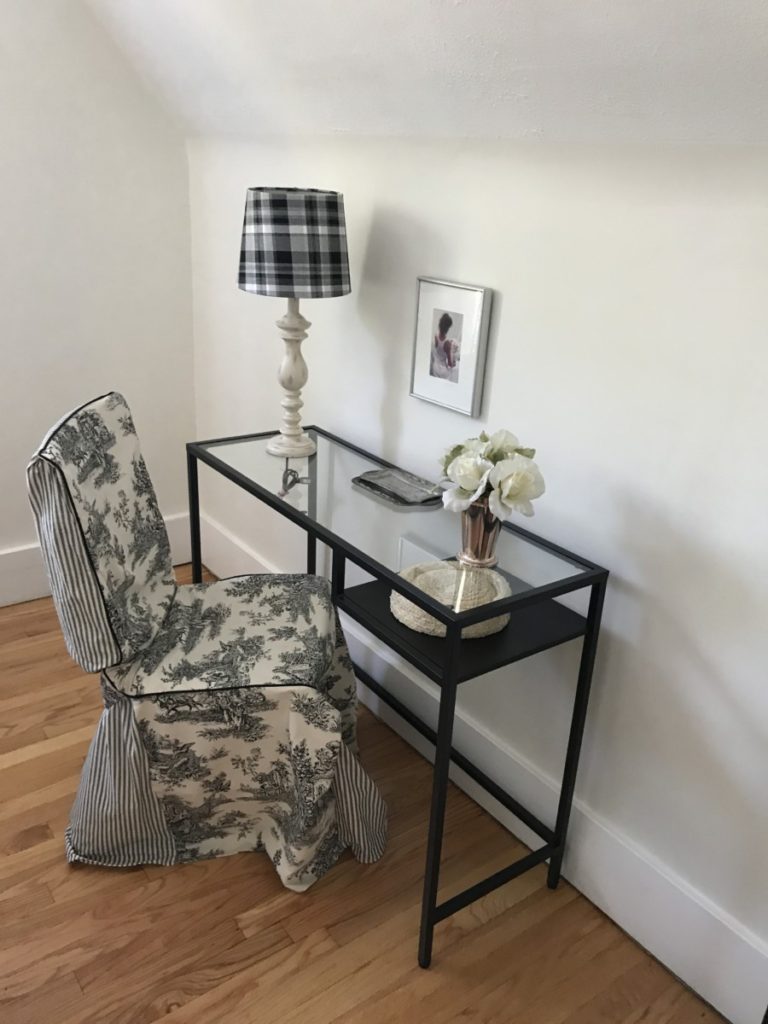 Well that about covers the inside for now. Here's a shot of the front door styled. I ordered a bigger lantern for out here. Felt like we needed bigger. I'll repurpose this guy elsewhere. I've used this light in the past and painted it red for a bathroom. I have dreams to paint a patterned gray and white diamond floor here on the new porch, its so dirty already, but there is that time thing. Maybe some stripes to cover up that dirt?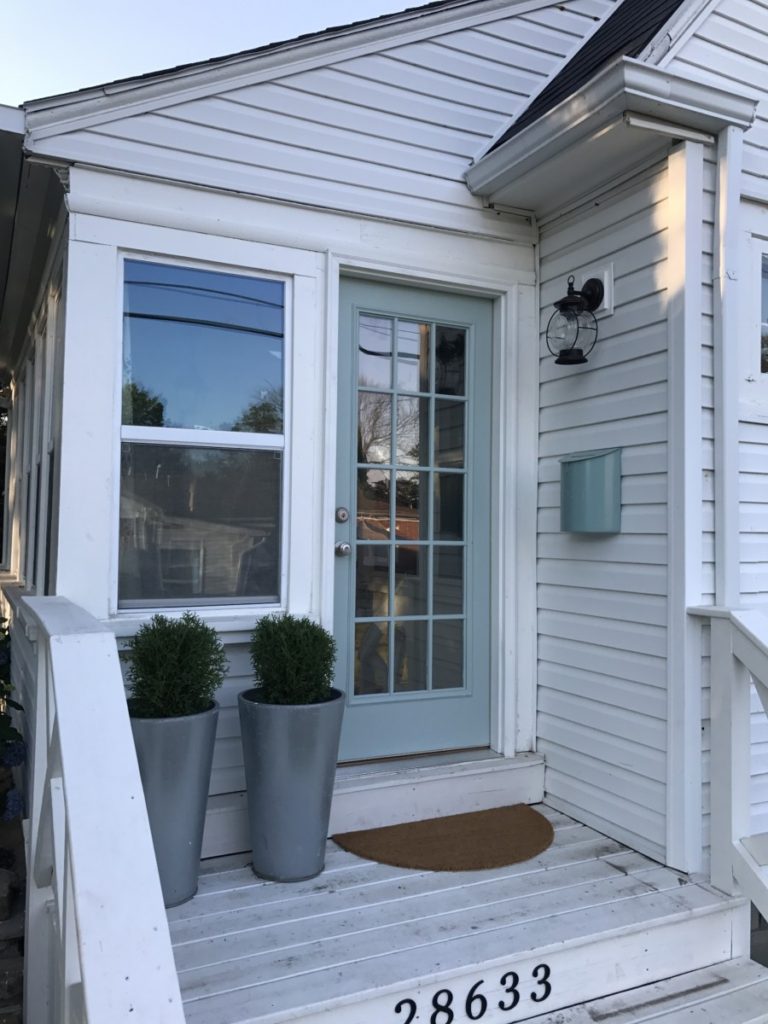 This little eyesore got repaired by a former classmate I found on Facebook to hire. I love Facebook for stuff like that!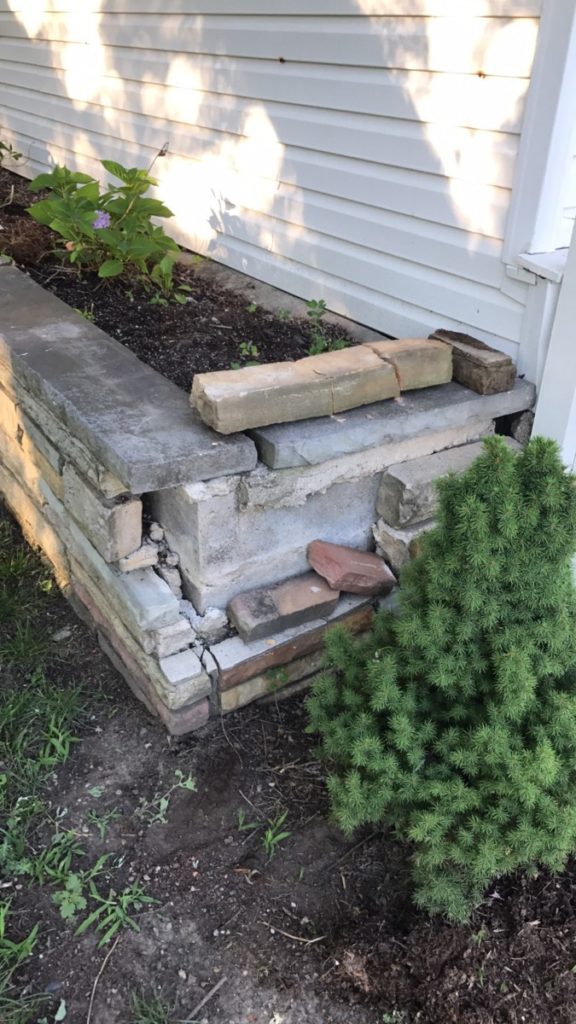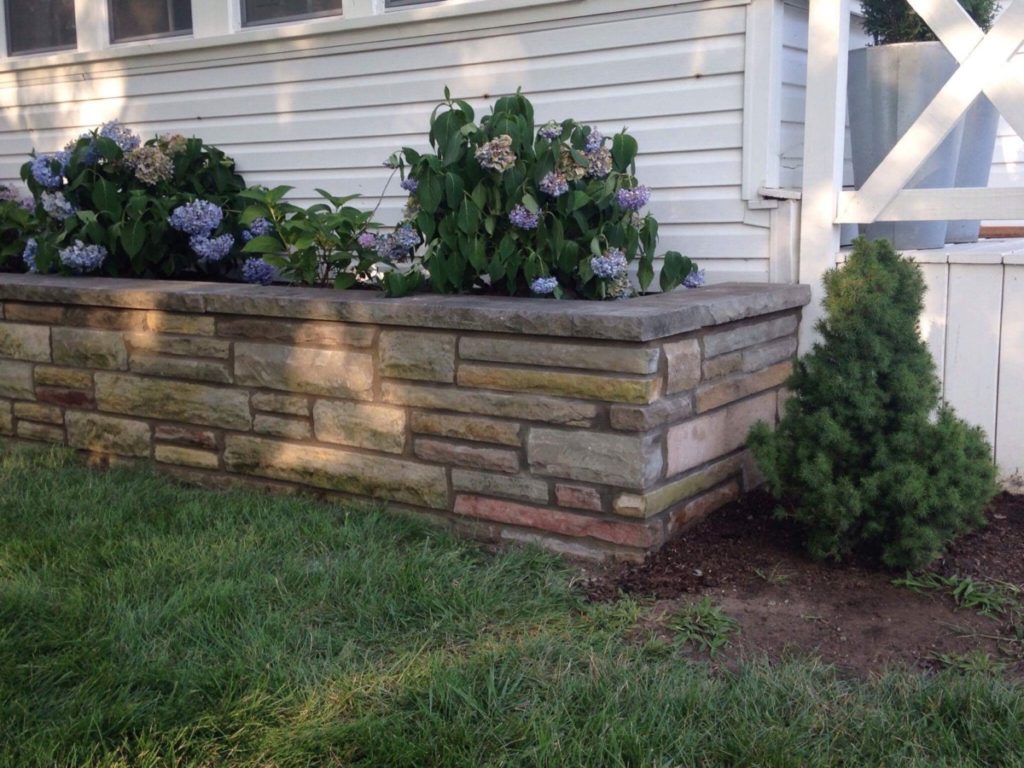 He did an AMAZING JOB!!!! And then I doubled down and painted it white so it would pop from the street.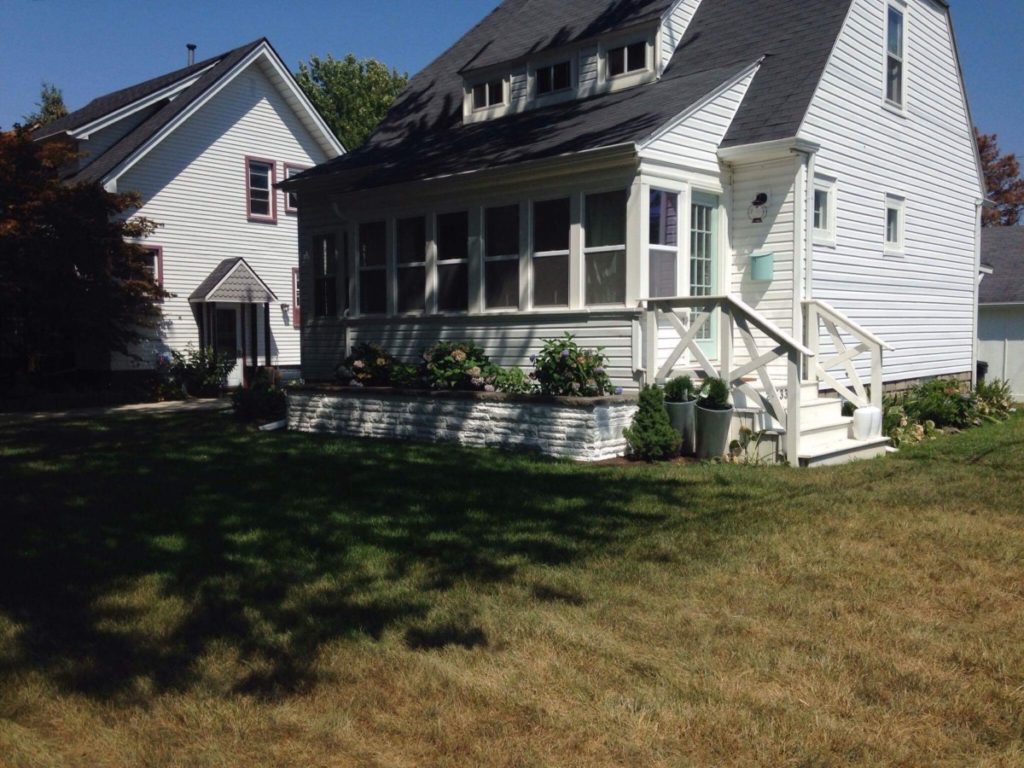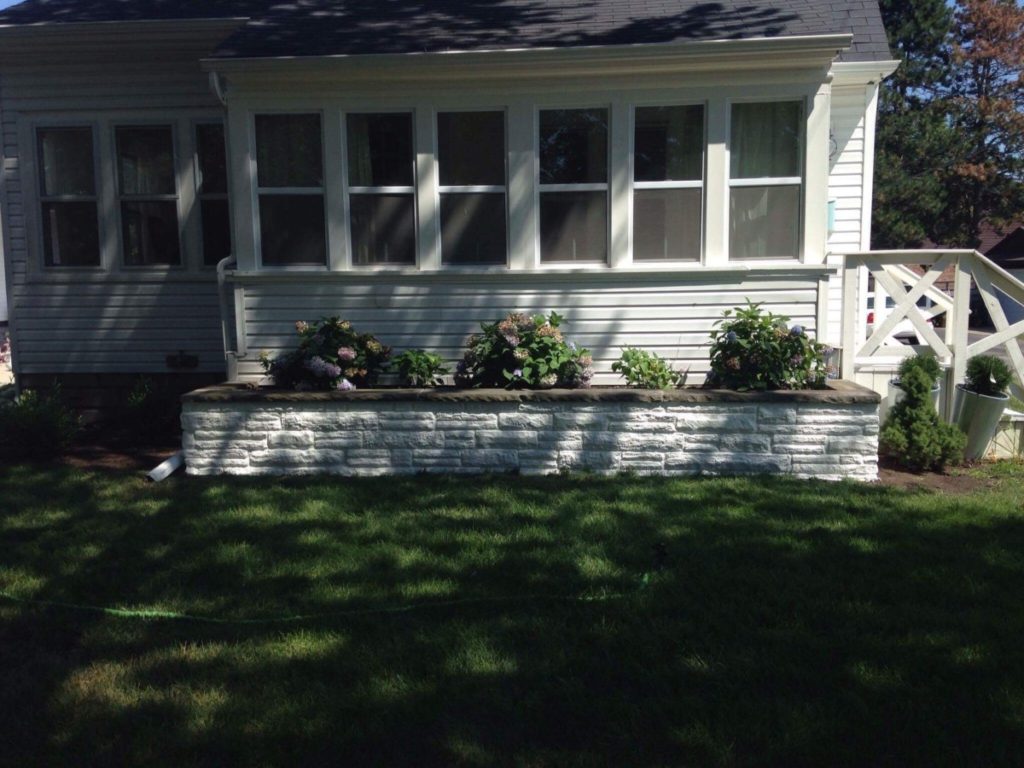 If anyone in Southeast Michigan needs stonework done, I will gladly put you in touch with Mike. He did an amazing job!! He's cursed with the perfectionist gene. Wanted to make sure he got everything just right. Thank you so much Mike! And thank you to all the amazing contractors I've met from the Downriver area. They were all so supportive, wonderful to work with and we all agree, we are going to miss this place!! And wait for it, are you ready for this last piece to the puzzle. "The Dirty Hoe" Landscaping company out of Trenton, yes you read that right, will be installing this in the backyard. And yes I totally hired them because of the name. And she's awesome! And super busy because no one ever forgets the name ;-)). I was driving past their trunk last Summer and laughed out loud. Gotta love people with a great sense of humor. Everybody's so heavy all the time #lightenupfrancis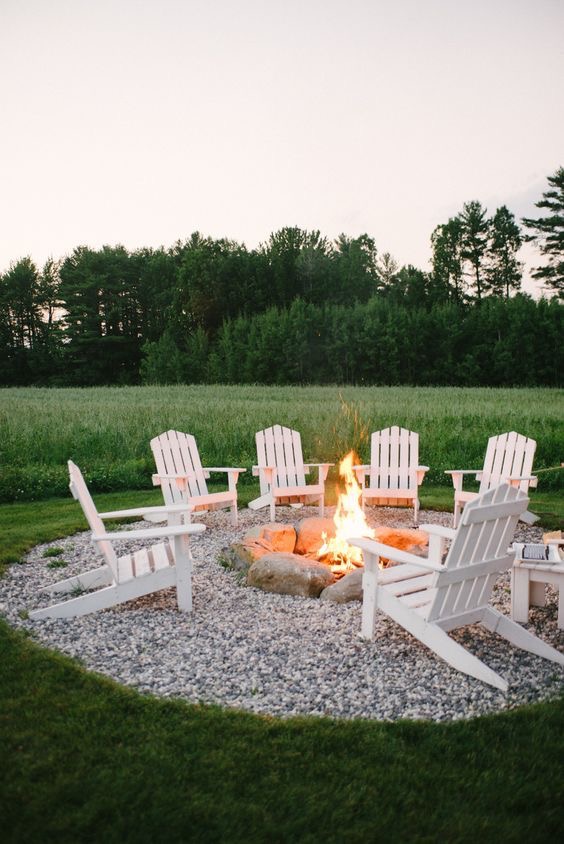 Lori's house is the birth/coming out party for my charm school movement in my hometown. I'm hoping to get the word out to folks that if you are looking to invest a few or several thousand dollars on exterior improvements, call me, and I'll make it look like you spent ten times your money (and your home values go up which is real money in your pocket). You think your home looks like everyone else's on the block, no problem, we can change all that with a few key color choices and well-appointed upgrades (no plastic flower baskets, badly-executed enclosed front porches, or more than one yard ornament allowed, you hear me?!;-)). Do not underestimate the power of curb appeal, what it does for your investment, your attitude and your town's overall character and appeal. There are so many stellar homes, small homes, loaded up with character that you simply cannot buy anymore, like Lori's house. This home will be available for sale at the end of September and would you believe that Lori's Mom, Kathy, is considering buying and living it?! What a great story that would be! She can save it and give it to Kennedy someday, Lori's daughter. The last time I saw Lori, on her 40th birthday years ago, she asked me to design her bedroom the next time I was home. She was in a lot of pain from lupus and was having to spend a lot of time in her bed so we wanted to make it really nice and comfortable for her. We never had the chance :-(((( Lori passed away a few weeks later and I decided I was going to design her a WHOLE DAMN HOUSE instead #suckitlupus. We started a memorial scholarship and are raising awareness for Lupus throughout this whole tour. We're going to celebrate Lori and then its on to the next friends charm school house! And we can ask them to pick a charity they want to raise awareness for. Three prong: give back and help beautify your community, honor a friendship and raise awareness and money for a good cause. I think we are onto something :-))).
"I'm going to make everything around me beautiful – that will be my life" – Elsie de Wolfe
Alright, love you friends! Thanks for being around, following us on this journey and your support! I run into people here in the ATL, three states aways, Mike too, and they all wanna talk about Lori's House. Its been really sweet! I'm beyond GRATEFUL and am sure going to miss this place. Time to set our sights on another one. Never thought my crazy "I'm going to buy and flip houses in my hometown because I know em all, know their potential and I wanna name them after my friends – you in?" idea would come to fruition. I assumed after the kids were gone maybe or when I retire. Its been a fun surprise and I grossly underestimated the friends and family aspect and how much time we would spend together – the best part! Its been a total team effort by everyone on the block and its all in the name of love and family. So don't second guess or wait around on your great ideas. So much more good will come from it that you never saw coming.
Speaking of family, Summer is when we see each other most and today is my big brother's birthday and I want to wish him the BEST DAY and how we all wish we could see you more Uncle Jimmy!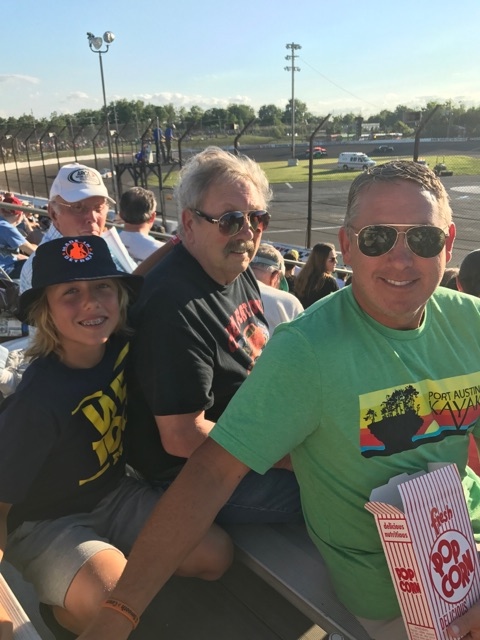 SaveSave
SaveSave
SaveSave
SaveSave
SaveSave
SaveSave
SaveSave
SaveSave
SaveSave
SaveSave
SaveSave
SaveSave
SaveSave
SaveSave