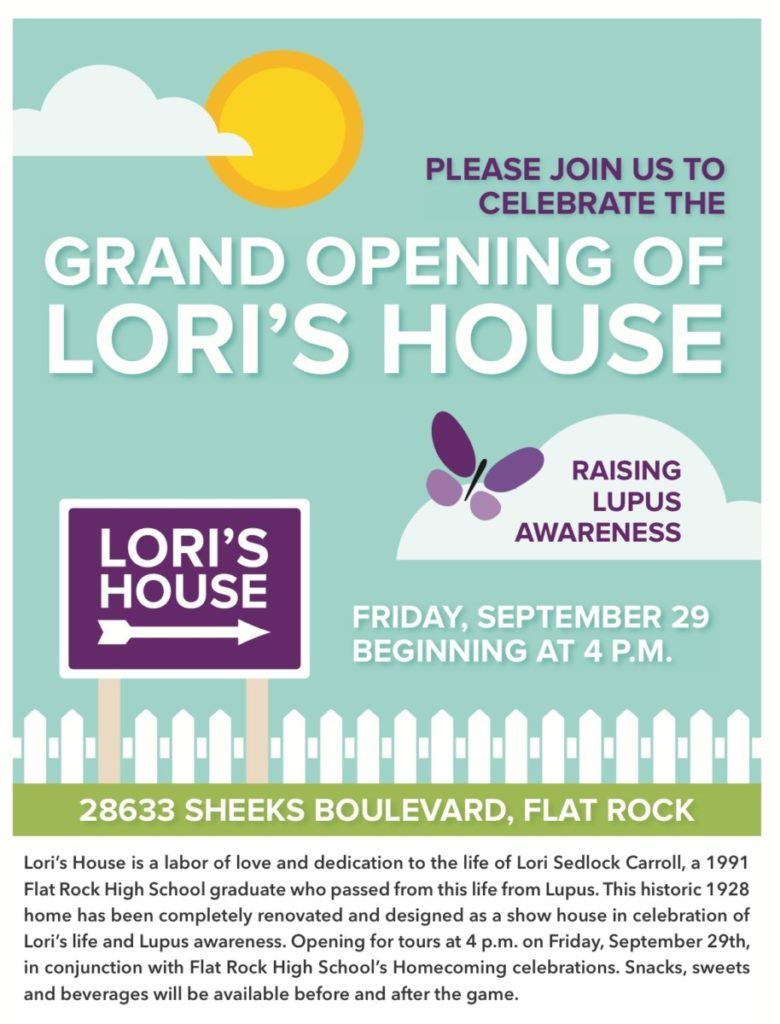 Its finally here team (all the smiles, all the heart eyes emojis)! Two years in the making and we saved this sweet historic home while honoring the life of an amazing woman and friend who battled Lupus. It hasn't really hit me yet that its all coming to completion. However, this Friday is the BIG DAY!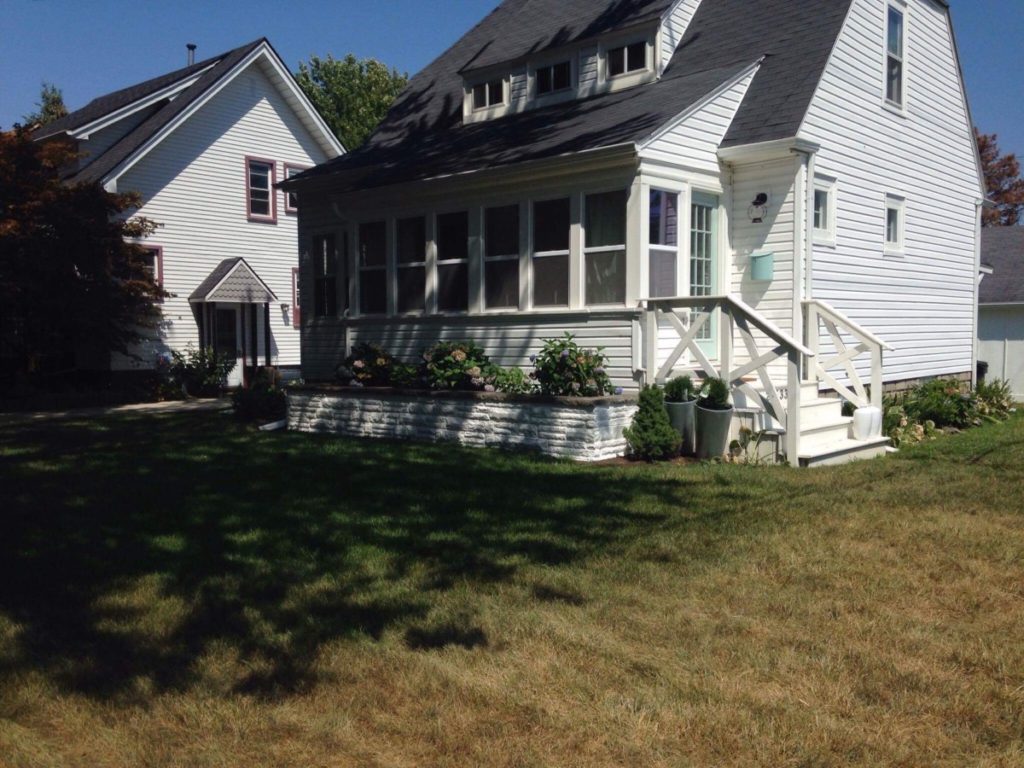 We are hosting an open house at four p.m. in conjunction with our small town high school homecoming game, where graduating classes from the 1960s through 2017, all come home to celebrate reunions with a parade, tailgates, the halftime show and ultimately all end up at the local wine bar til the wee hours of the night. Its super fun and all very "Friday Night Lights" nostalgia. Americana at its best. And we can't wait to celebrate giving back to our home town with this completely "charmed" renovated home, inside and out, for the community to see.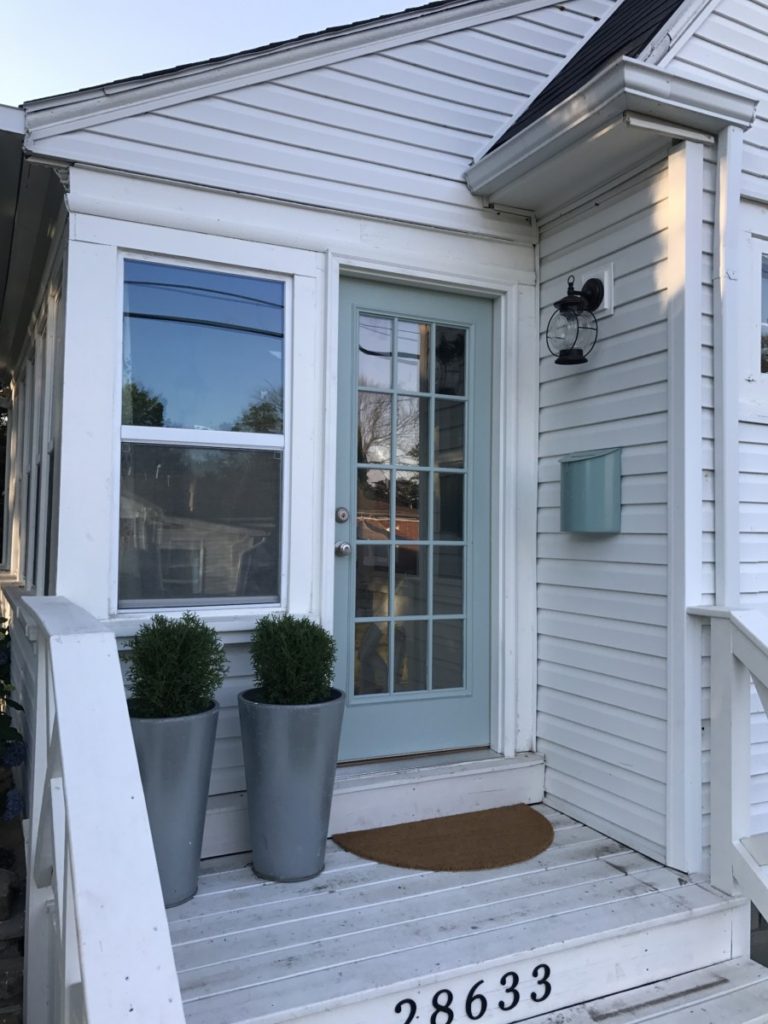 Outside, we designed and installed a more functional, welcoming exterior porch, a french door for a three-season enclosed porch, new lighting, painted all the trim "Alabaster" by Sherwin Williams, new landscaping. We repaired the stone along the front of the house and painted it white for some modern pop. The new mailbox is from Homegoods, paired with IKEA planters and new address numbers installed on the stair risers (I agonized over where to put the address). However I'm missing an American flag?! Add it to the list for Thursday!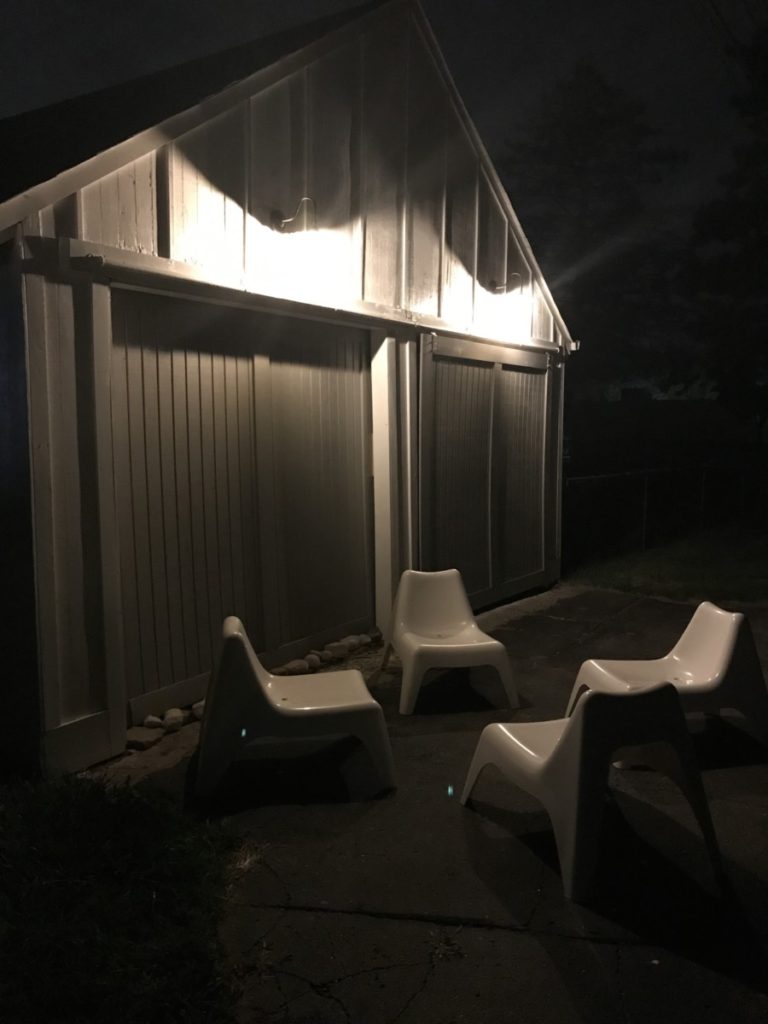 The garage was completely "charmed" with board and batten trim and huge baseboards along the perimeter of the garage. We painted it our Alabaster white and the sliding garage doors a light gray. The garage had zero electricity and three lights were installed including these favorite "goosenecks" with vintage bulbs that you can see aglow from the main drag through town.
When I purchased the home, the basement was "finished" however those finished walls were concealing a HUGE problem…a rotting, water-damaged foundation. So before we could tackle any of the fun stuff, we had to have the entire perimeter of the home's foundation dug out, waterproofed, while demolishing the basement. BUT I couldn't be more happy with it now! Its clean as a whistle with painted white walls, sprayed the exposed ceilings black (love this feature) and the floors gray. We installed a sump pump, all new plumbing and it is a fresh, blank slate for so many possibilities now!!!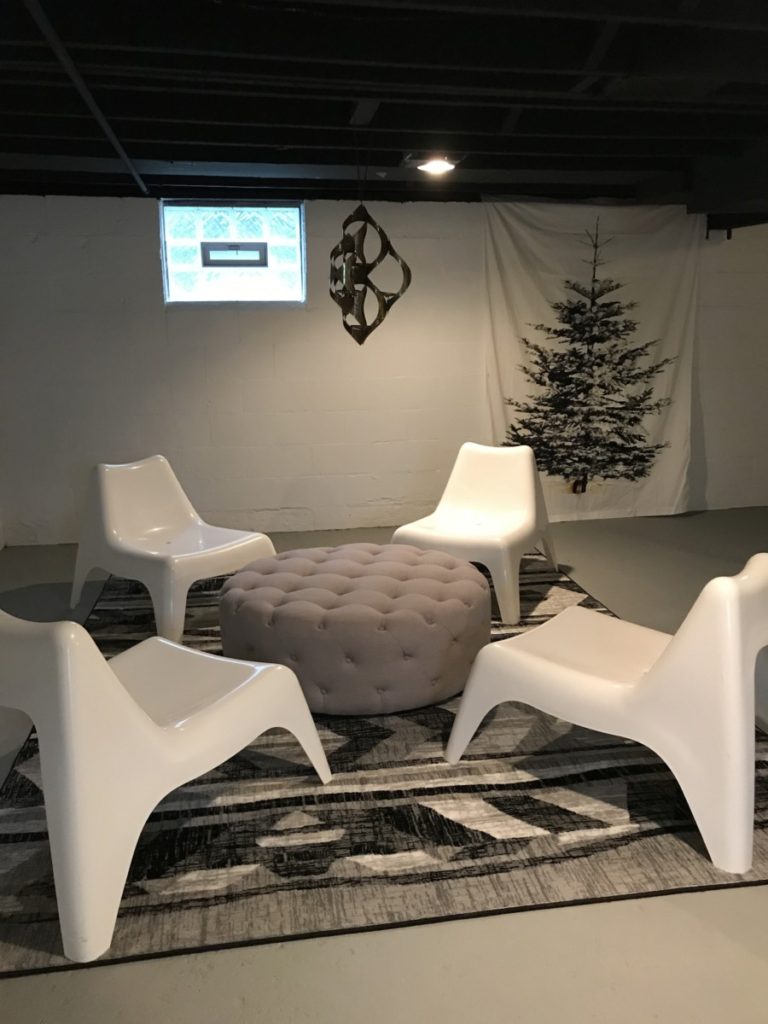 Here is our gorgeous living room, if I do say so myself :-))! The sconces are actual exterior lights. Exterior lights and sconces often work wonderfully and are lesser expensive to consider for interior lighting. We tried to stick to a budget using little tricks like this, but luckily we managed to find some affordable interior acoustic ceiling light fixtures for another room, which suited it perfectly. All new electricity and plumbing was installed inside the house as well.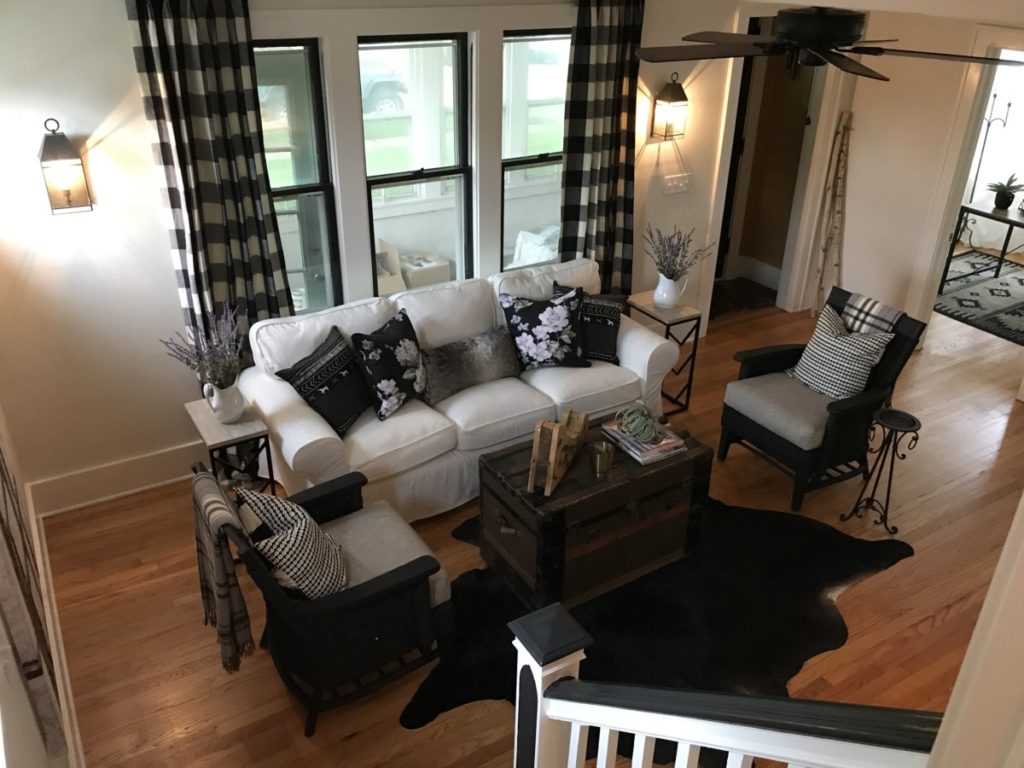 The entire home is original hardwood floors! Some rooms were covered in carpet, some in laminate wood flooring, some in glue-down parquet, but all gone and looking beautiful in a natural sand and stain finish.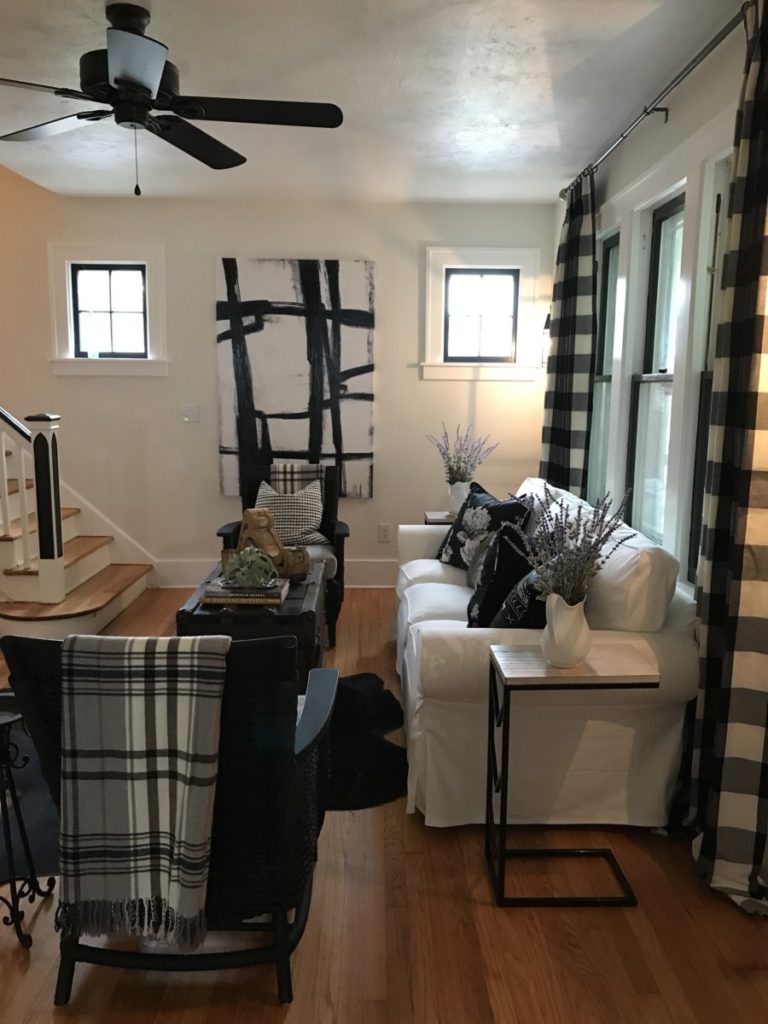 One of the many goals of my charity "charm school" is teaching folks you don't have to have huge budgets to create a cozy, tasteful home inside OR out. Antique malls, Goodwill, IKEA, Overstock, Homegoods are all amazing resources. In the end its all about the mix.
These pillows for example, the ones on the end were $5 on clearance at Target, the floral pillow is actually a Potterybarn king sham I had made into two pillows, because I couldn't find any black and white floral pillows on line I liked. The center pillow came from the Potterybarn outlet in Michigan. The result is a thoughtful, tasteful mix of patterns and textures, which makes things interesting.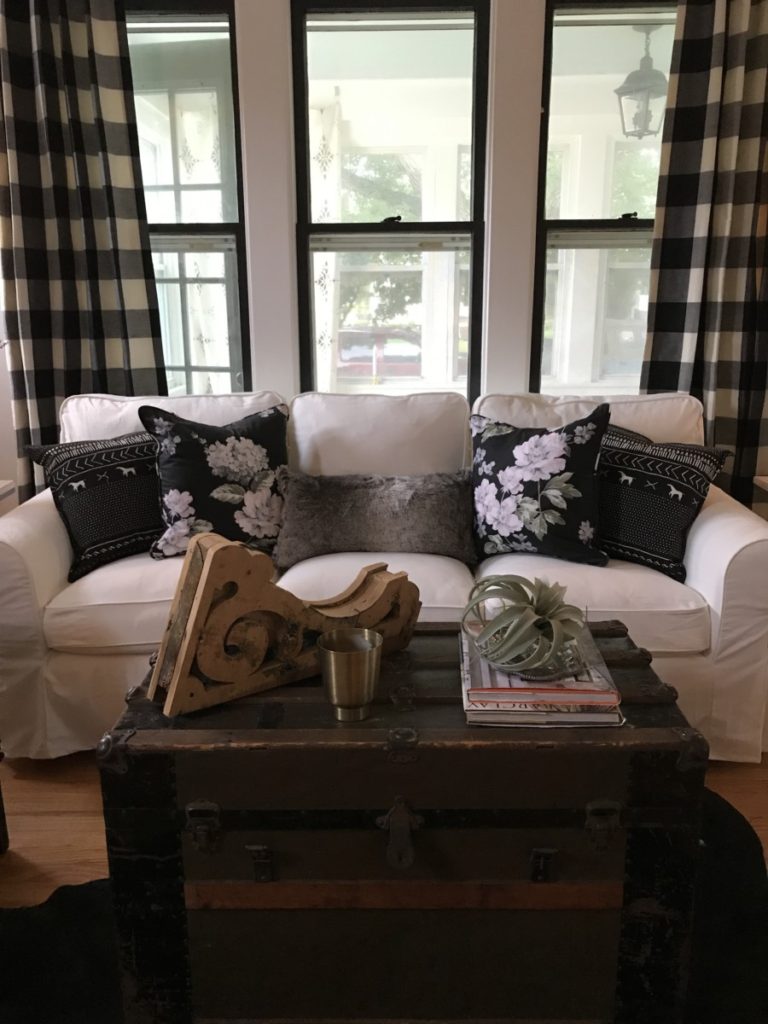 I created this vignette opposite of the sofa, to show folks, hey this would be a great place for the tv and you could squeeze in seating for two more people if needed, making this one cozy, conversational living space. Before creating this vignette, I decided to give my sofa a deep clean by using the best upholstery steam cleaner that I could find. In fact, my friend told me which one I should use and I have to say, it definitely made a difference to its appearance. It looks a lot cleaner than what it did. I just wanted to give off the best impression of the property before the open house on Friday. I hope it has made Lori proud.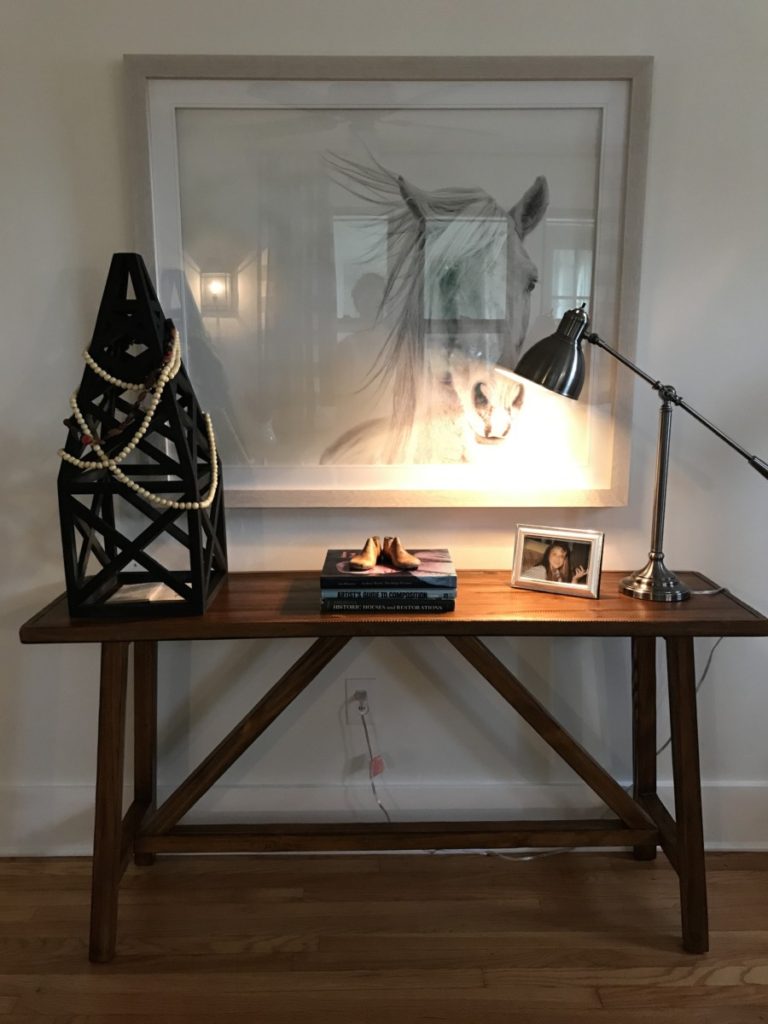 Beautiful Lori! This was taken the summer after high school graduation. We were both working at Lake Erie Metropark, me a lifeguard, Lor in the Wet Shop – great days! Just biding our time, having fun, anticipating our new chapter of college in the Fall. Lor would go on to become a Nurse, me a t.v. news reporter for channel 6 in Lansing.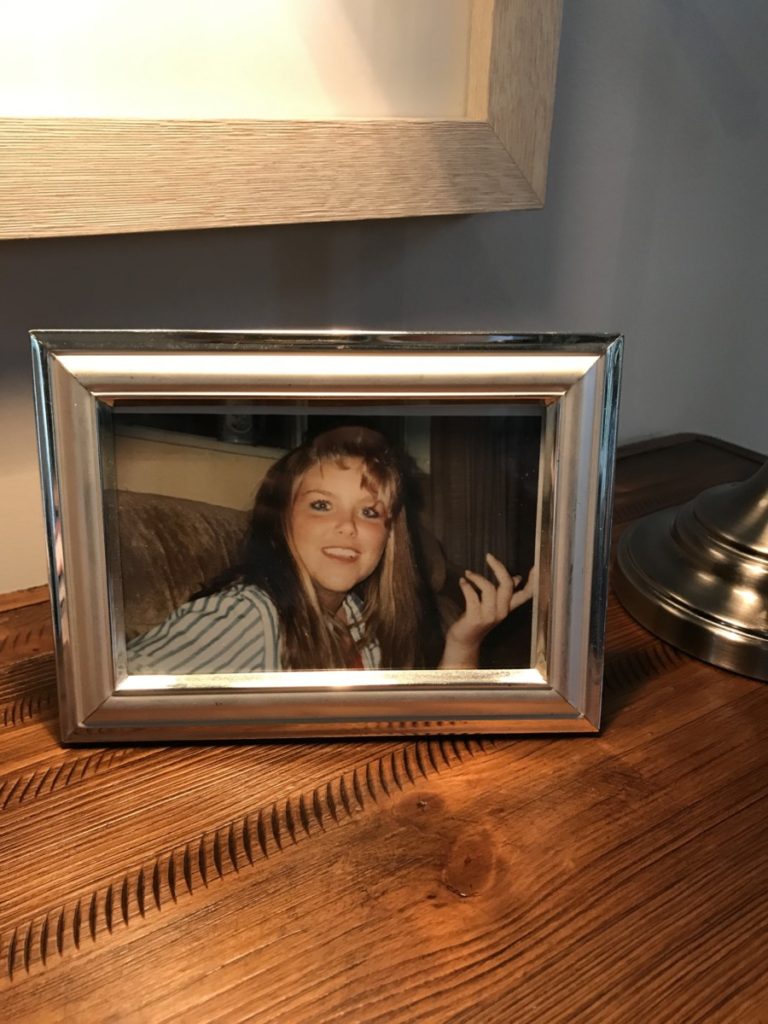 This is a sweet little niche,transition space from the front porch entering into the living room that I wanted to highlight. We covered it in grasscloth and painted all the interior doors black. This is a trick I've been using for years, and it really adds another layer inside your home, as well as camouflaging dirt and grime that tends to collect on white doors. RETHINK the color of your doors inside your home…you can make them dark, gray, bright colored, whatever floats your boat! If hesitant, maybe just try experimenting with your front door and go from there.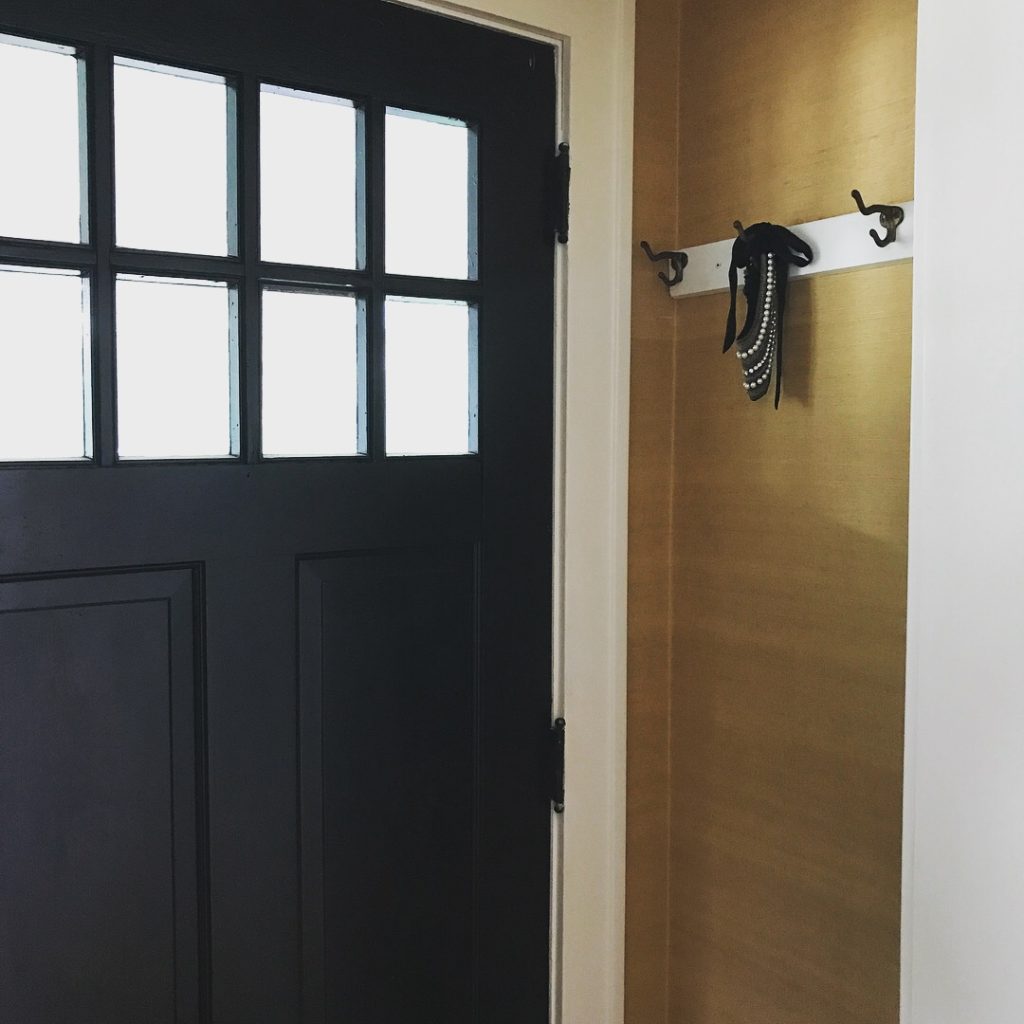 Off of the living room is a sun room/bonus room/third bedroom or office space…I staged it as an office.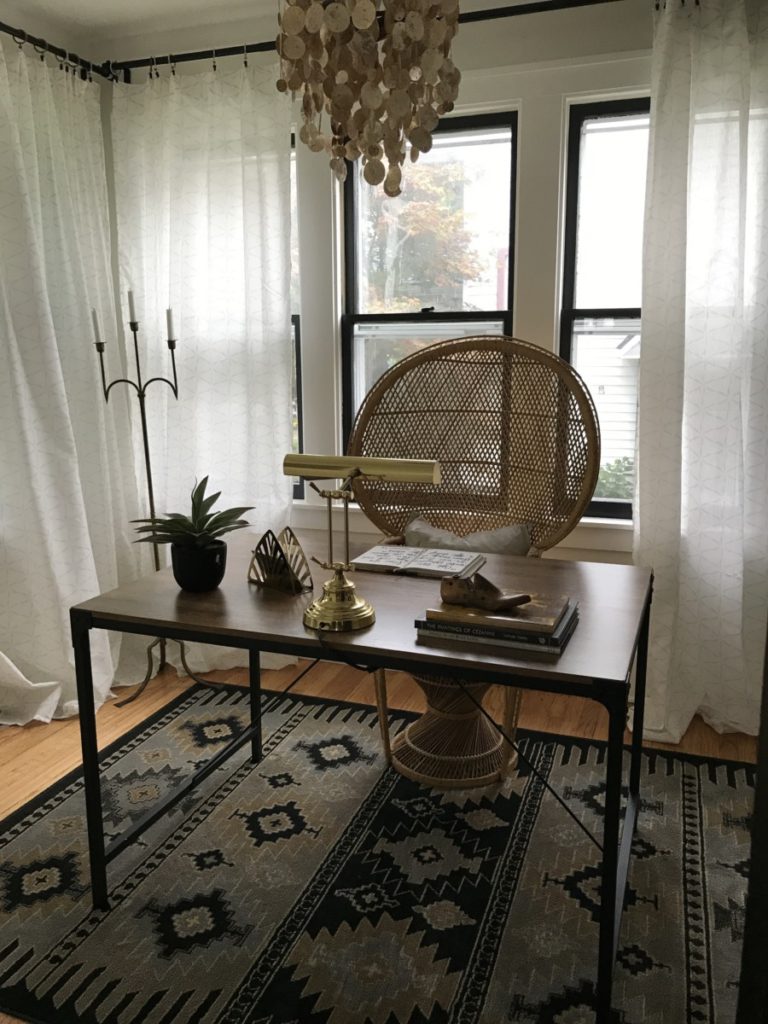 I just love this space. If you missed the previous post (which I rewrote three times because I was convinced I sounded like a total TOOL LOL), I listed the rug and table from Overstock. The desk light I found for next to nothing at an antique store, art books from Mom's collection, vintage shoe mold (Mom also hooked me on these), a good-looking fake plant from Homegoods and a napkin holder from IKEA I styled as a letter holder full of vintage Detroit postcards. These are all the little details you can witness first hand when you come for the tour on Friday! The candelabra came out of a church, from Scott Antique Market and the chair I scored at Lakewood Antique Market. I BREAK FOR ANTIQUES (another assist from Mom). As a kid she dragged me through so many and I HATED IT. "Don't touch! Don't touch!" And now look at me. I can barely drive by one without stopping. At one point I had my own booth at the Queen of Hearts Antiques Market and made amazing finds and friendships from it.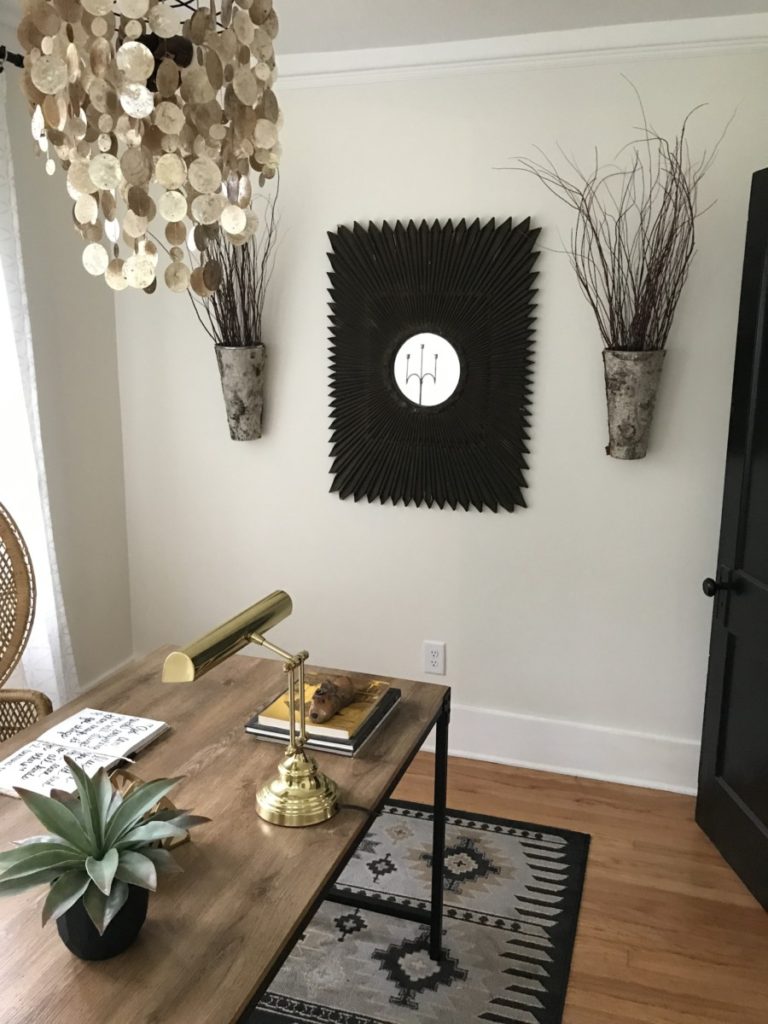 This is an old Ballard Design mirror I've had forever, and those birch covered vases I found at Scottsdale Farms, here in Alpharetta. A beautiful place. I usually go there on Mother's Day and treat myself to a peony bush or something to love and commemorate my Mama in heaven with. We drilled holes in them and hung them on the wall to make this vision that you can see from the street. Easy peasy!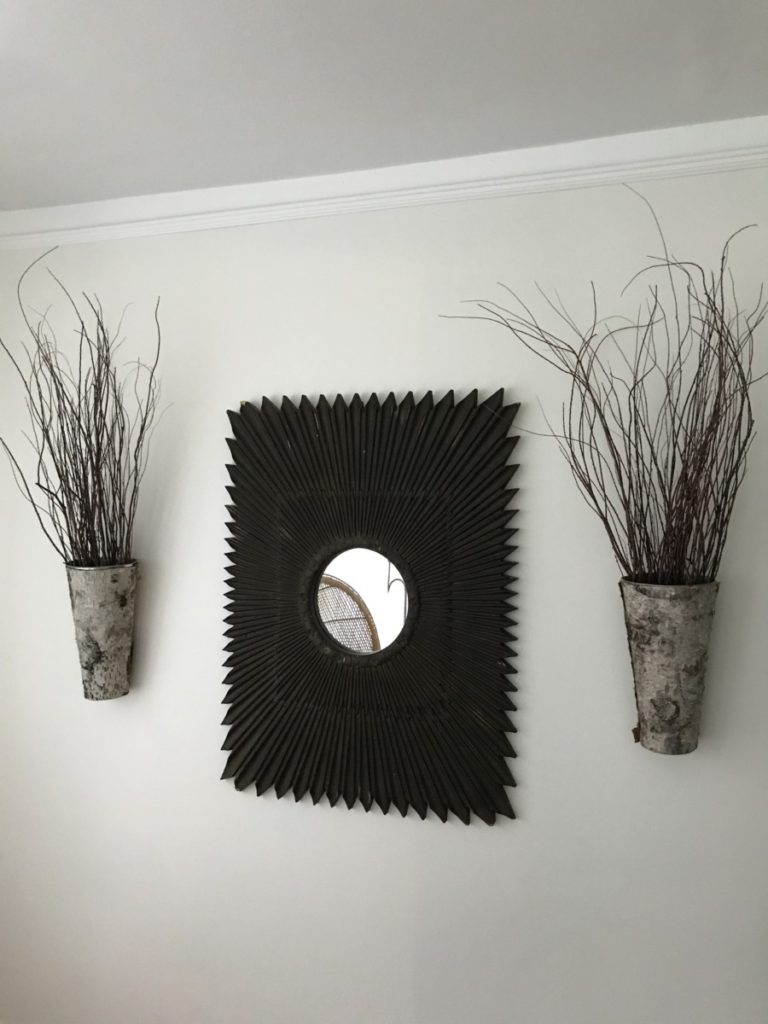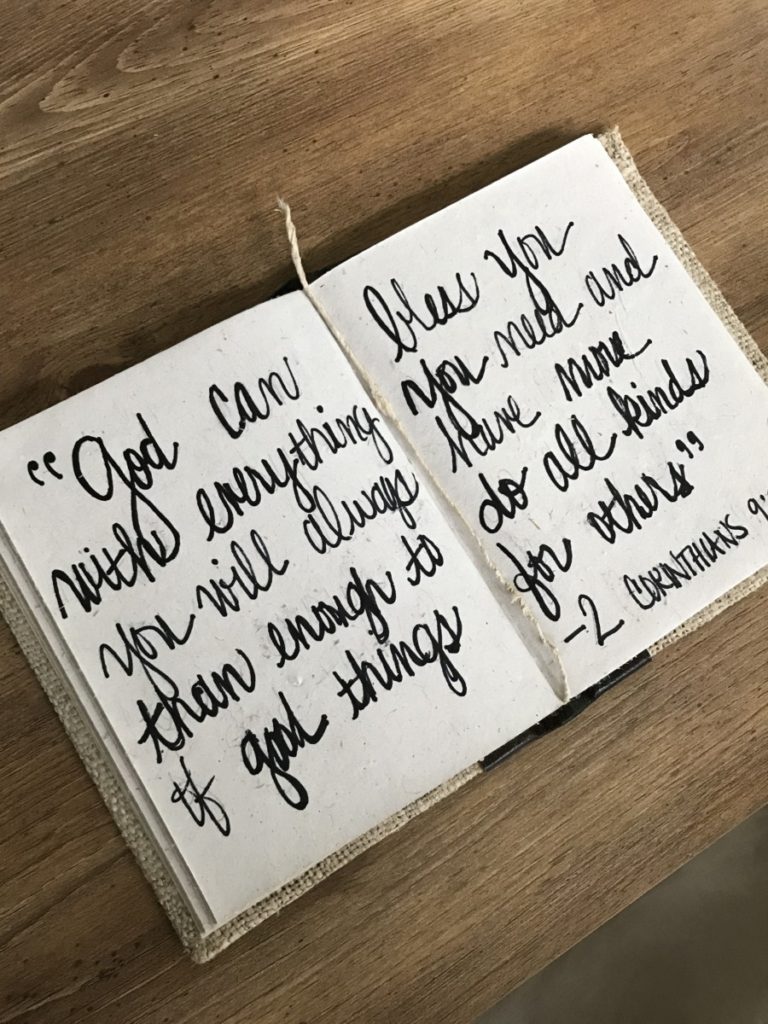 Just outside of the office wall is this vintage French newspaper print – afavorite! Scored this at Motor City Antiques. The next house I renovate/charm in Flat Rock, I'm contemplating challenging myself to style the entire interior STRICTLY from thrift store and antique finds. I think it would make for an inspiriting, unexpected mix. As part of my real estate investments, when flipping a house, I always have to think about what is a good cap rate when I'm looking to rent it out so that I know if the project is worth my while.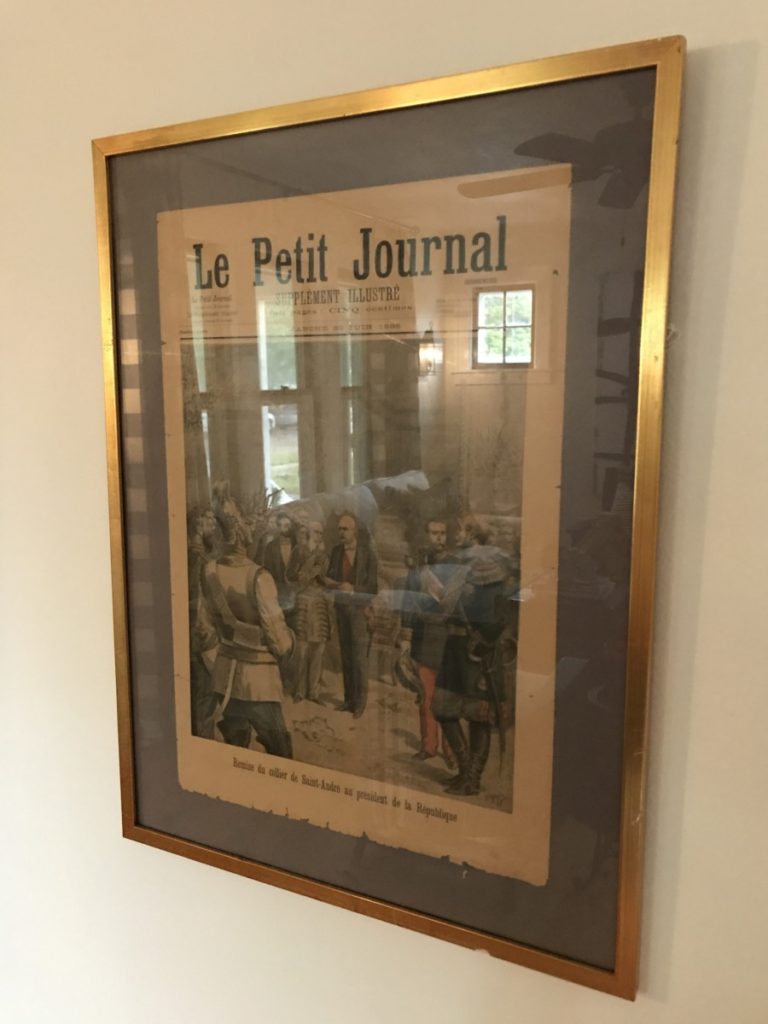 Moving into the dining room. I just LOVE how this turned out in here you all!! It feels very "sit, sip and stay awhile" to me. The ceiling had some funky, 1990s paintable wallpaper that looked like it should have been in the kitchen somewhere, so we covered it with grasscloth. Again the texture and the layers team.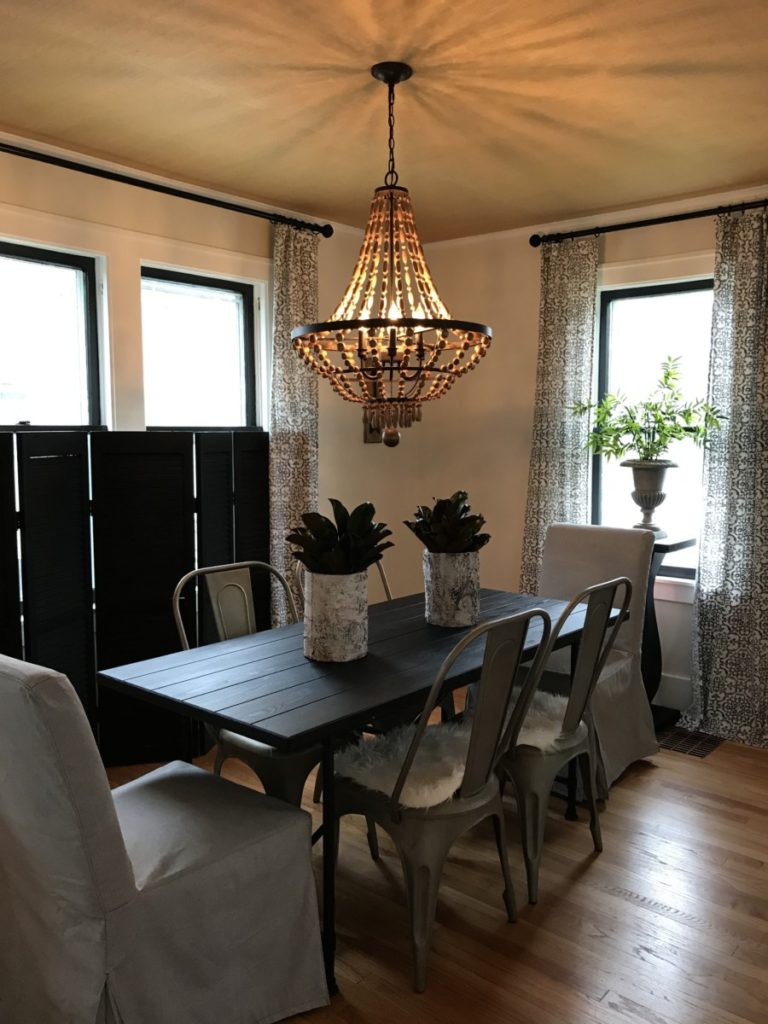 The light I found on Overstock for under $300, the drapes too, the table and end chairs are IKEA, all under $400 and the side chairs are classic metal Pouchard you can find virtually everywhere now for great price. I took two $14.99 faux sheepskins from IKEA and cut them up to place on top of chairs for some softness and that chalet style feel. Again, we furnished this room for minimal investment and a few cans of black spray paint.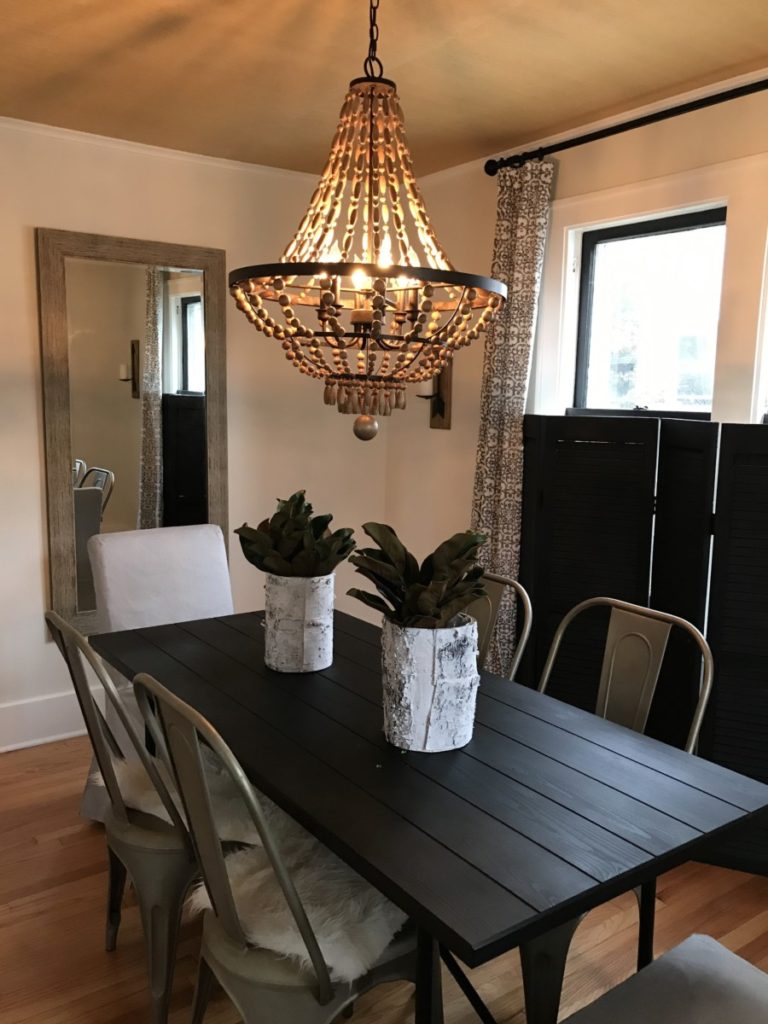 Here is a peek of the new black and white concrete tile floor in kitchen. We widened the door here to flow and open up the kitchen as that's where everyone always wants to be. I contemplated blowing out all the walls in this first floor, and really opening it up as a studio kind of feel but had to reel myself in. There's always so much risk involved when blowing out walls…you never know what's hiding. We already had to reroute hvac because we ripped out the coat closet to make room for the frig in kitchen. We'll have to make sure that we add this back in as the house could become unbearable if it gets too hot. And then, the new owners will have to make sure that they have a regular tune-up from a company like Boulden Brothers, (https://bouldenbrothers.com/air-conditioning-tune-up/) throughout the year so their bills are reduced. It will almost definitely prove to be worthwhile if there is a summer heatwave.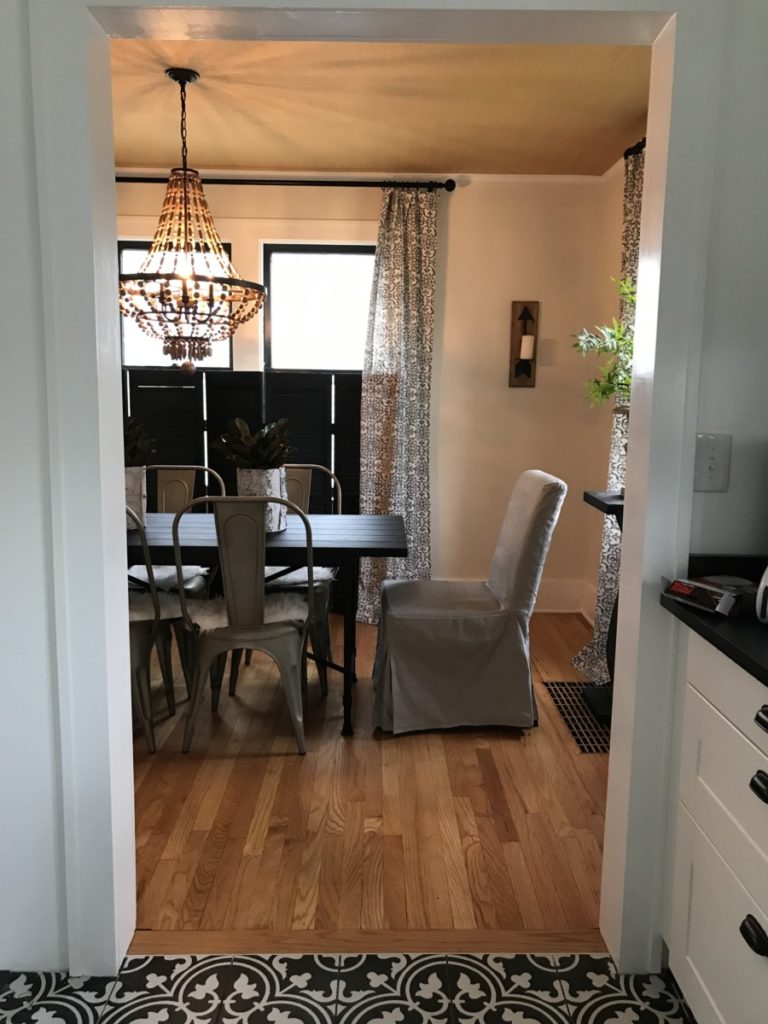 We installed this IKEA shelf from the built in refrigerator cabinet all the way across to the new appliance garage for easy to reach dishes and glassware. I styled it promptly with one of my favorite still life paintings by MOM. I decided not to install appliances in the home, and include an appliance allowance instead, because you just never know what finish and style a buyer is going to want.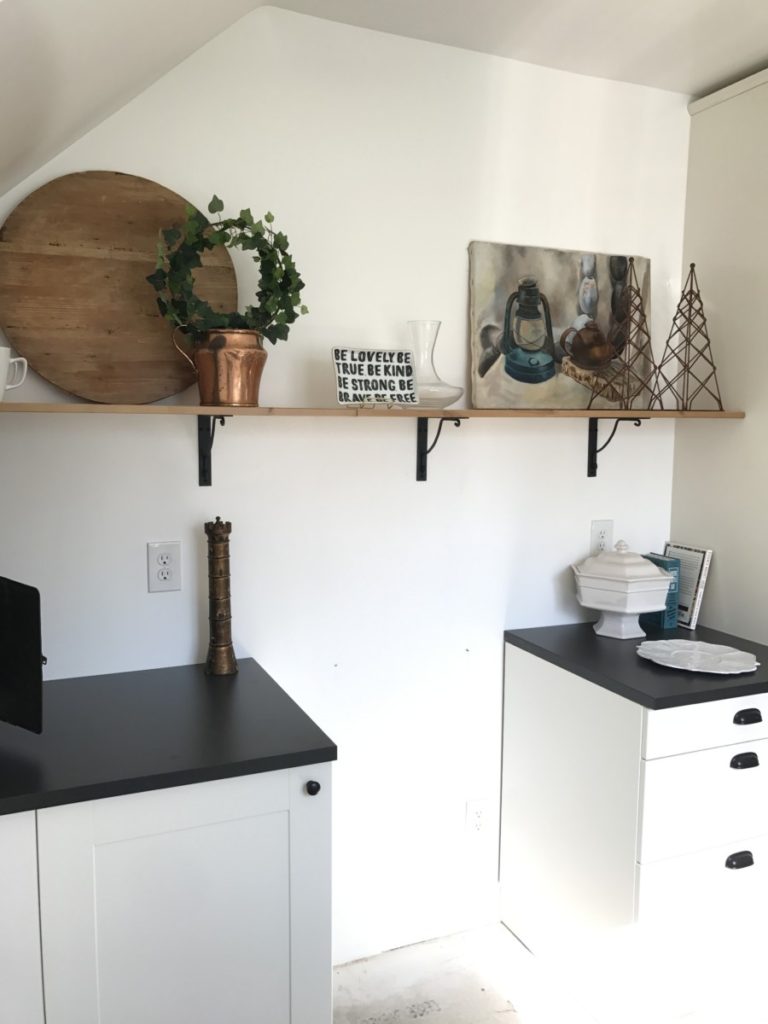 I splurged on a yard of Pyne Hollyhock from Schumacher for a faux roman shade. This is a great place to splurge on an expensive fabric because typically you only need a yard or two to accomplish this tailored, custom look. Same with pillows! If the fabric is sick expensive but can't live without, make a pair of pillows on the fronts and welting only. Something soft on the back, for when you want to take a nap on the sofa ;-))) but don't want to wreck your Mercedes Benz fabric on the front.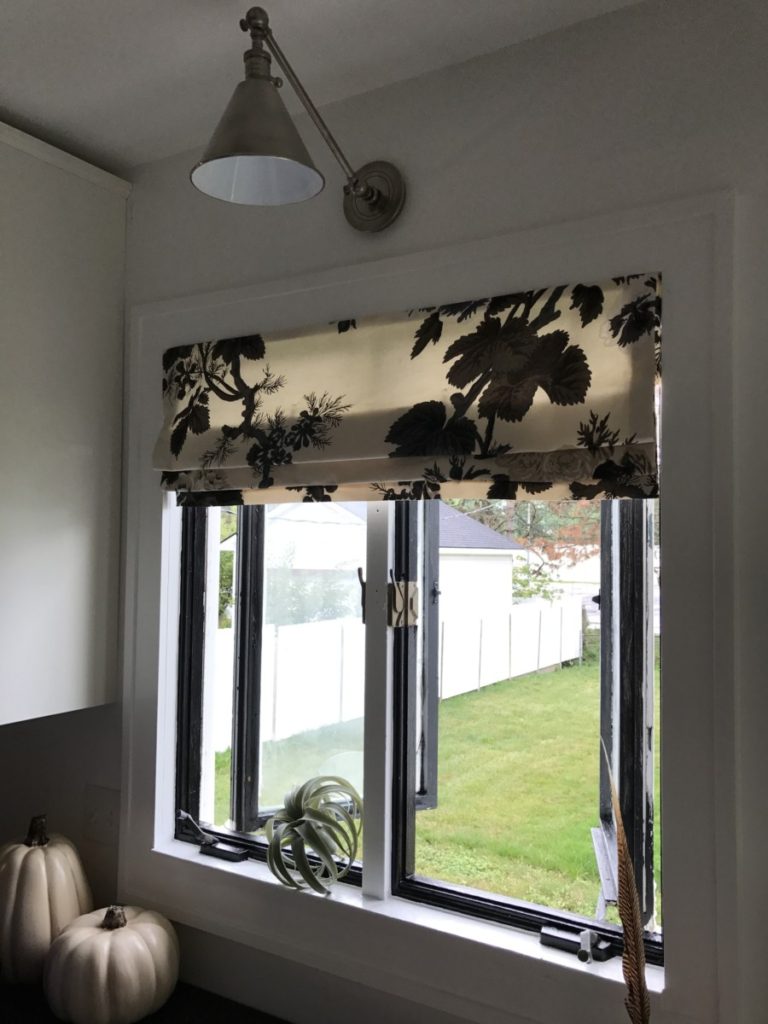 I break for snow scenes and this one I scored at Goodwill for $4! It reminded me of a similar painting Mom did back in the 70s that hung in Grandma's living room all my life. It now looks awesome in my brother's house.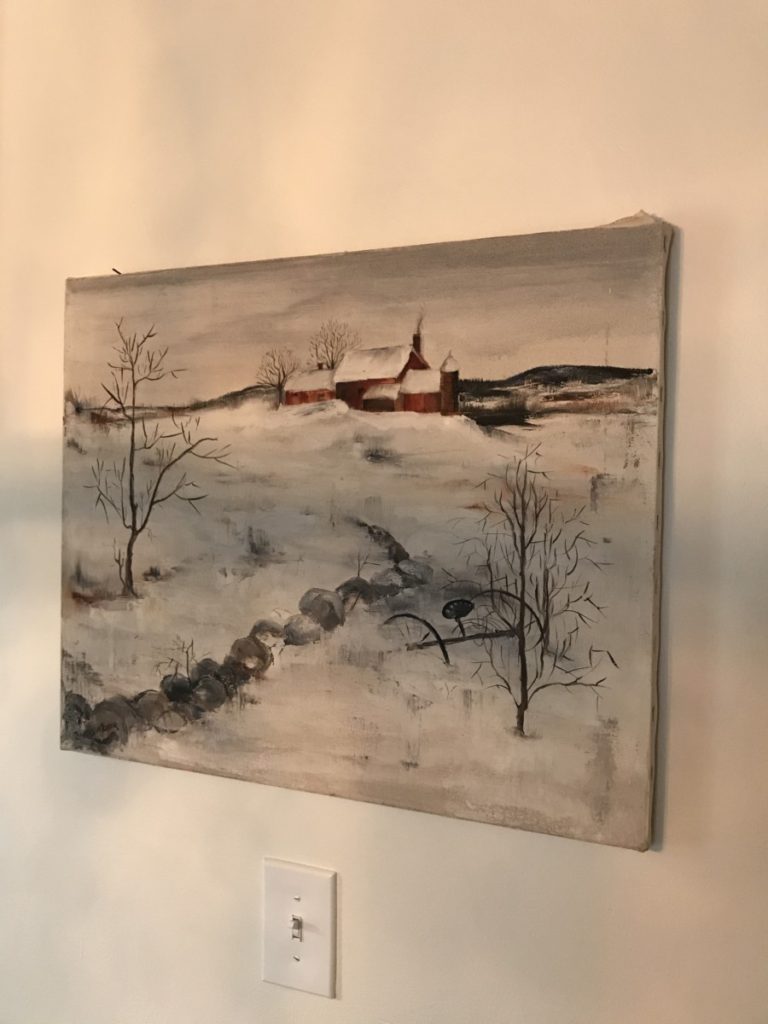 Let's head upstairs to our two cute bedrooms, with their angled walls, and a brand new full bathroom!
This is the landing, with a new sconce.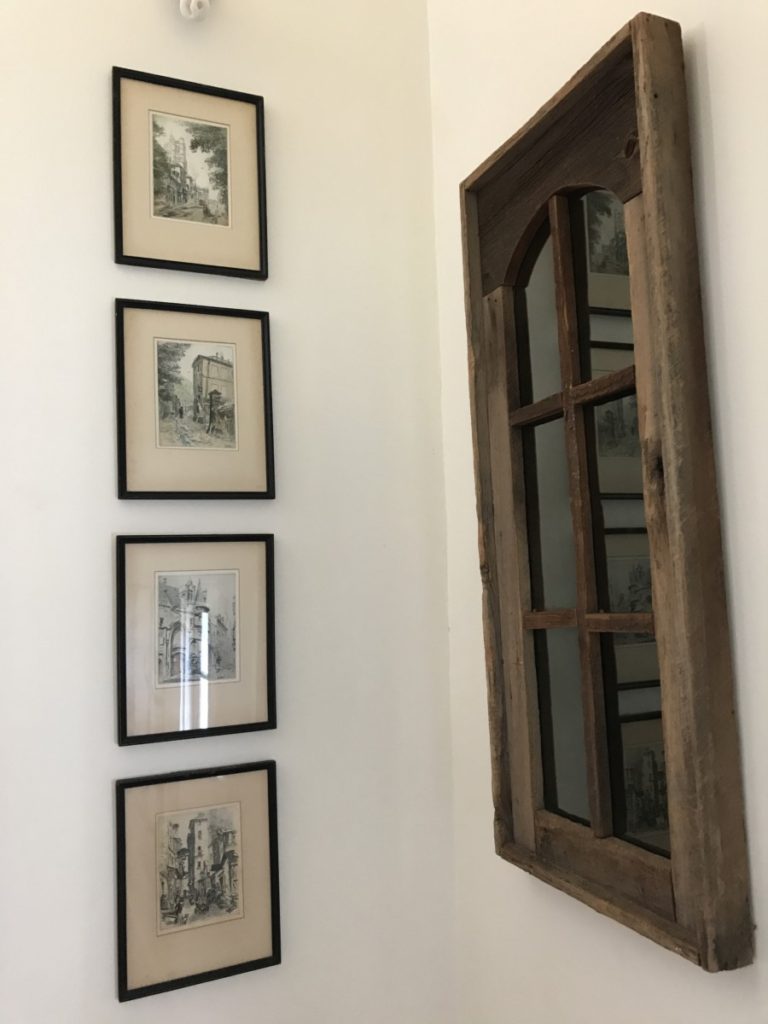 Picking out the lights is the best part!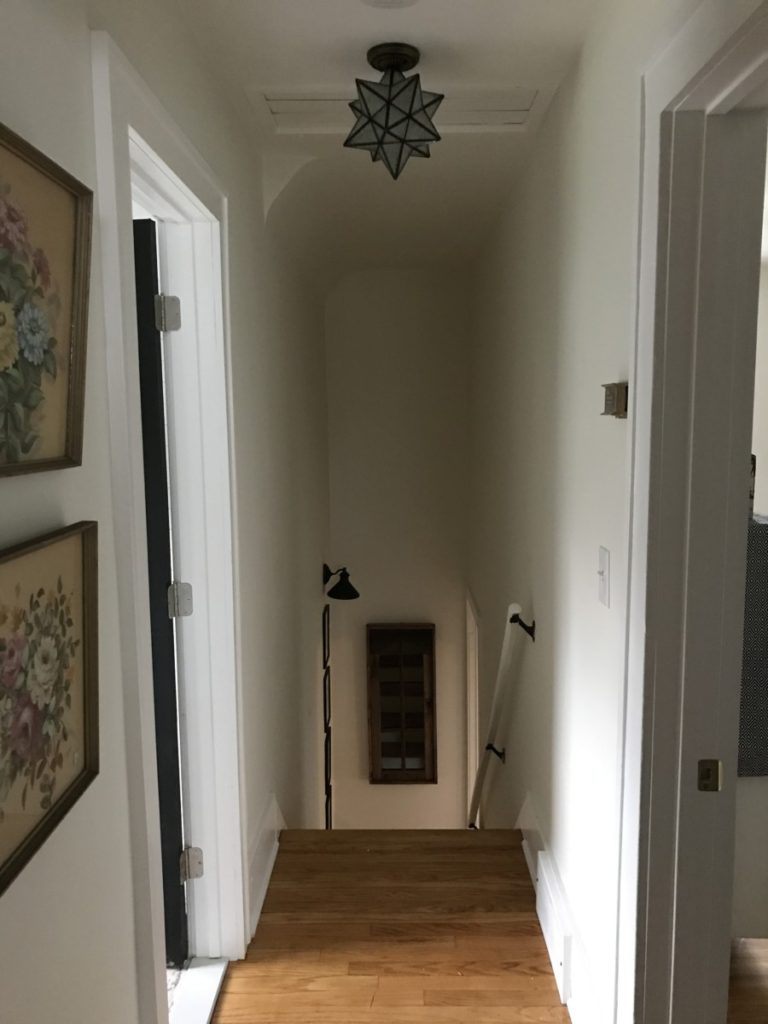 I just adore what we did with the master bedroom. We found this room divider and sprayed it black to make a headboard, while providing privacy from the home next door. I found these vintage ticking stripe drapes on line and had my workroom rework them to frame it all just so.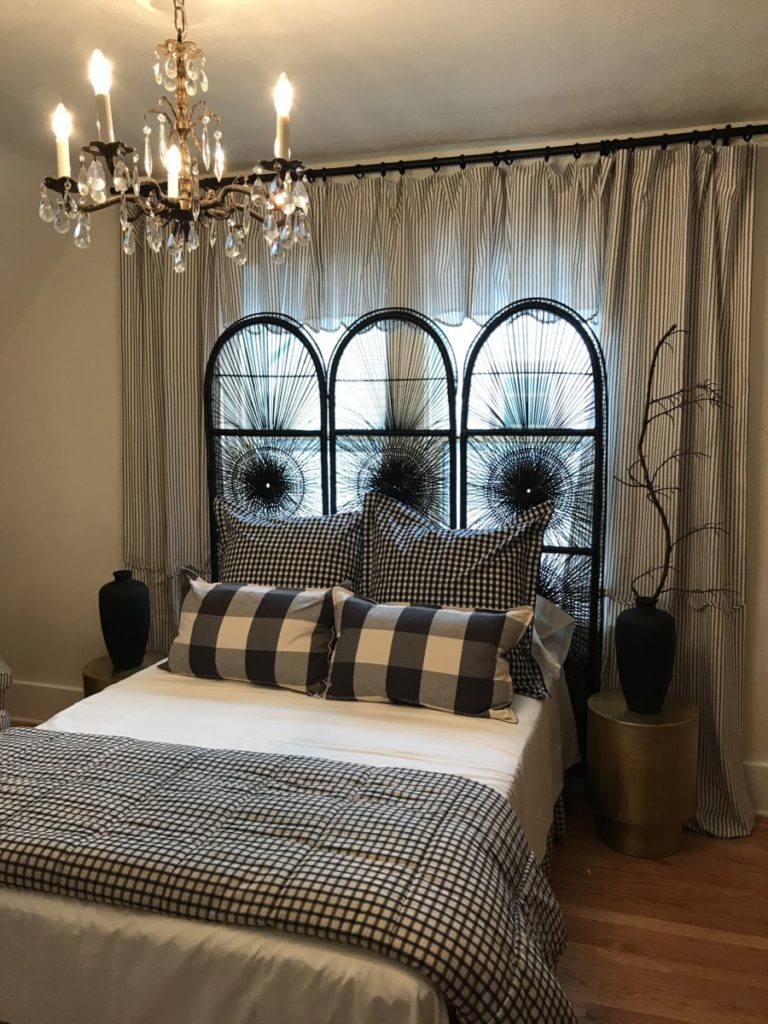 My contractor was constantly shaking his head and rolling his eyes over my crazy ideas and when I told him I was off to look for sticks, well you can imagine. But I couldn't find a one?! Not one flipping stick on my tree-lined street. But then like magic, this badass black stick was laying in the front yard the very next day. Perfect for the vase! My friend calls these instances "God winks" and I'm a believer #angelsamongus
My absolute favorite fabric in LIFE is ticking stripe! I would cover an entire room in it if I could. Its absolutely classic and goes with everything. So when I found this chair for $20, I didn't hesitate to cover it in black and white ticking. It will go with every single thing you pair in the space.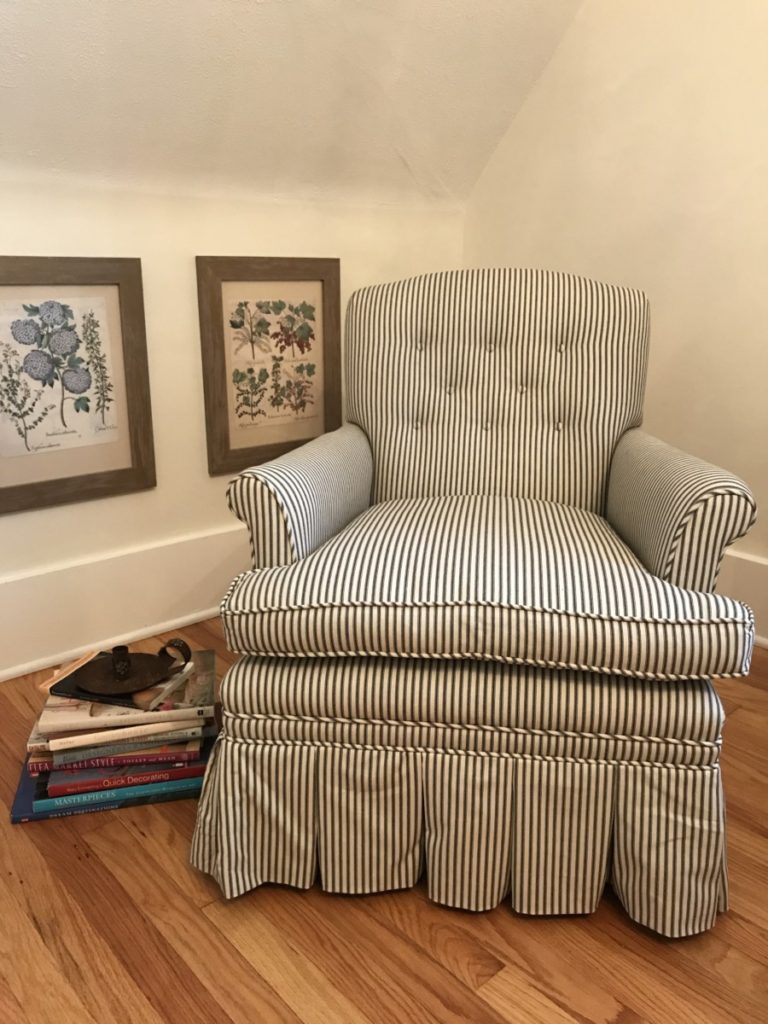 Tina sat back in the chair and coached me as I properly "splattered" these Target sea urchins all over the wall around this antique dresser. This was another Mom antique gene passed down as we had these dressers all over our home growing up.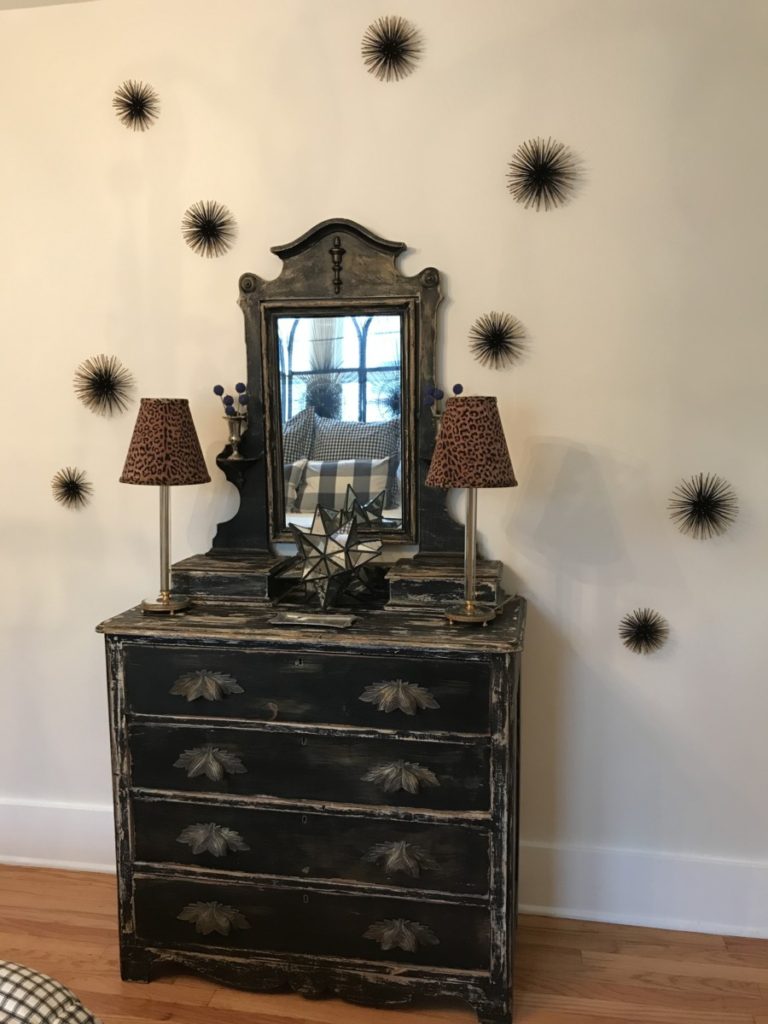 Their little petite shelves are fun to style. I hit the local Hobby Lobby and tried to purchase the best fake flowers and greenery they had to offer throughout the home.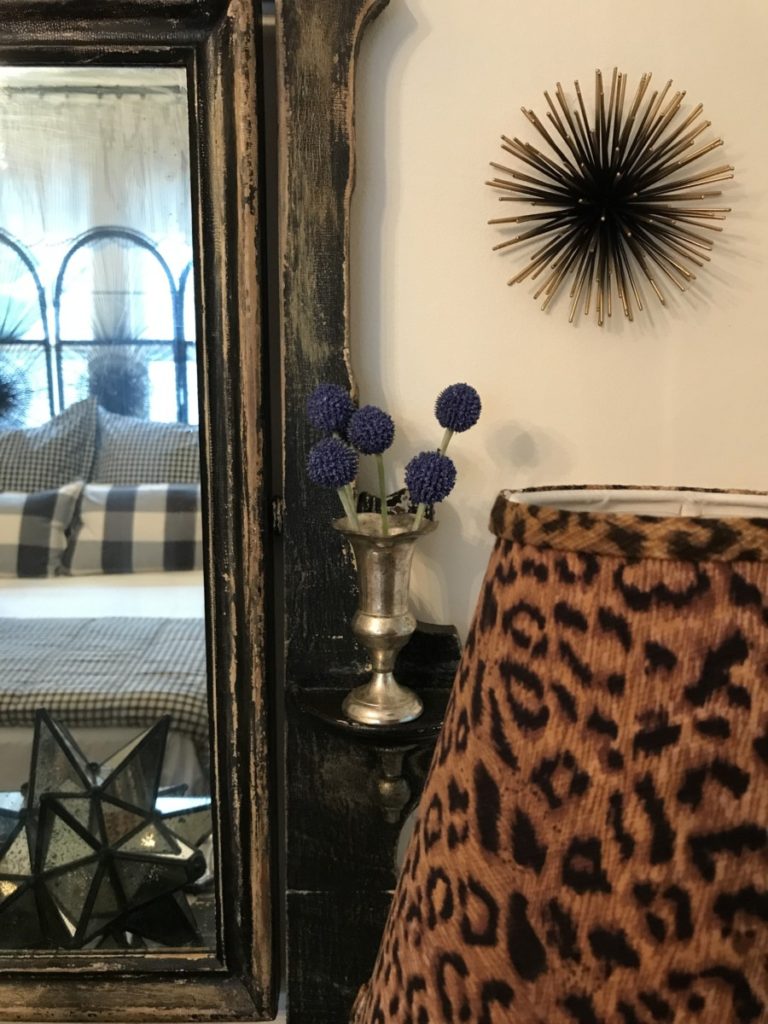 This children's room is so sweet to me! I love designing children's bedrooms and rare when I get a chance.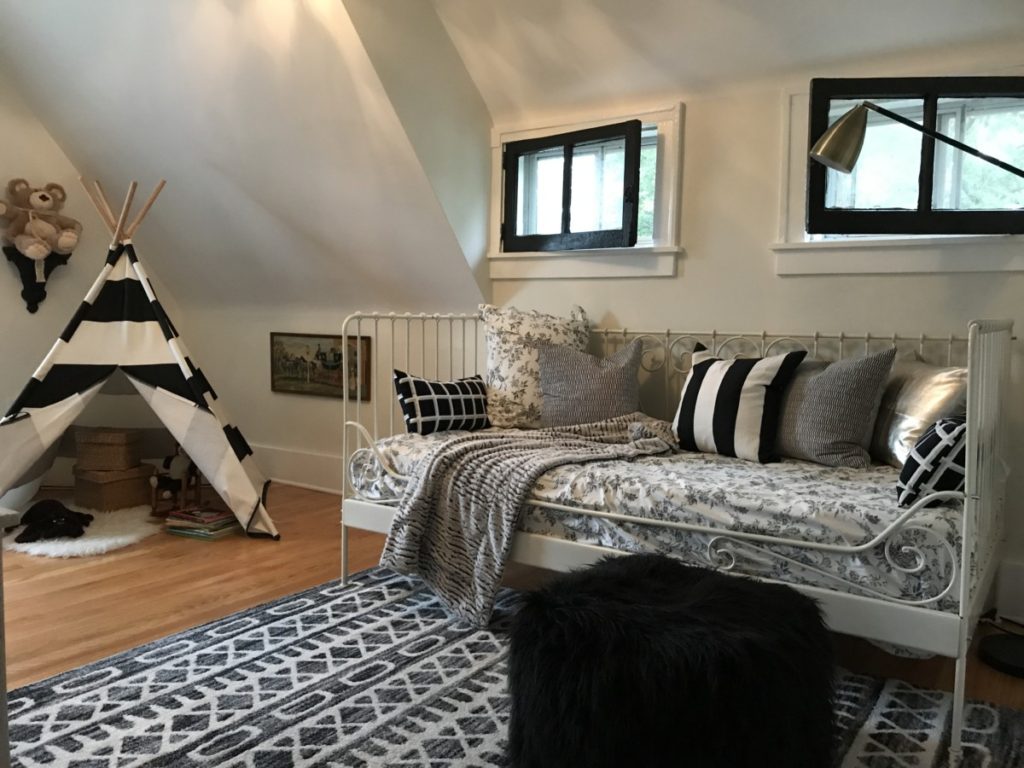 The day bed is IKEA and was used as an extra bed in our children's toy room when they were littles :-(((. The pillows and bedding are all IKEA as well. The rug another Overstock find and the black poof a clearance Target item. Bada bing!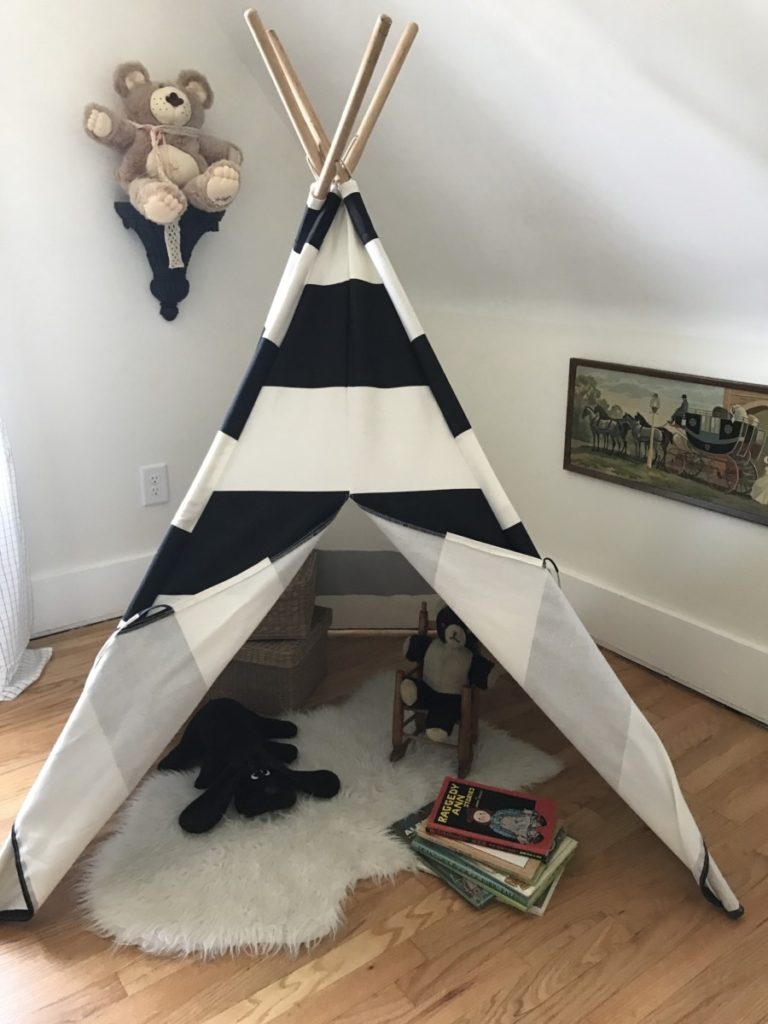 The tee pee is from Land Of Nod. I used our old stuffed animals and vintage books from Dad's house for a nostalgic touch. The dresser below belonged to my Grandma and I crackle finished it back in the day when that was hot and I was living with Dad #thenineties. Perfect for this corner.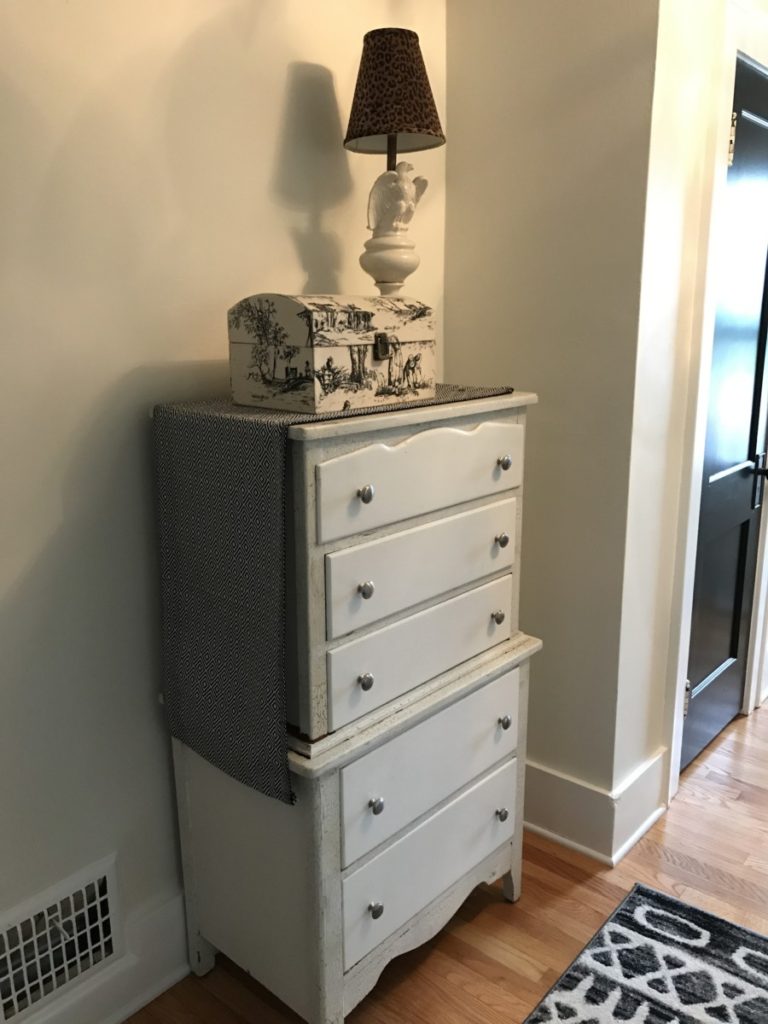 Sadly what I don't have is a good picture of the window treatments in this room. They are two black and white window pane plaid table cloths from Ikea hanging on ring clips and mixed perfectly with our patterns. When all else fails, check out sheets, throws and table cloths as drapery options.
Lastly the bathroom. With a few hours to spare until catching my flight back to Atlanta, I thought to myself, this room is too plain and needs something. If only I'd had the budget to paper this space in ticking stripe. And then it hit me – what would sharpie drawn lines look like? I grabbed my level and went to town! Cue the contractor and his rolling eyes. I was completely satisfied with how it turned out pictured here! Faux sharpie shiplap was born.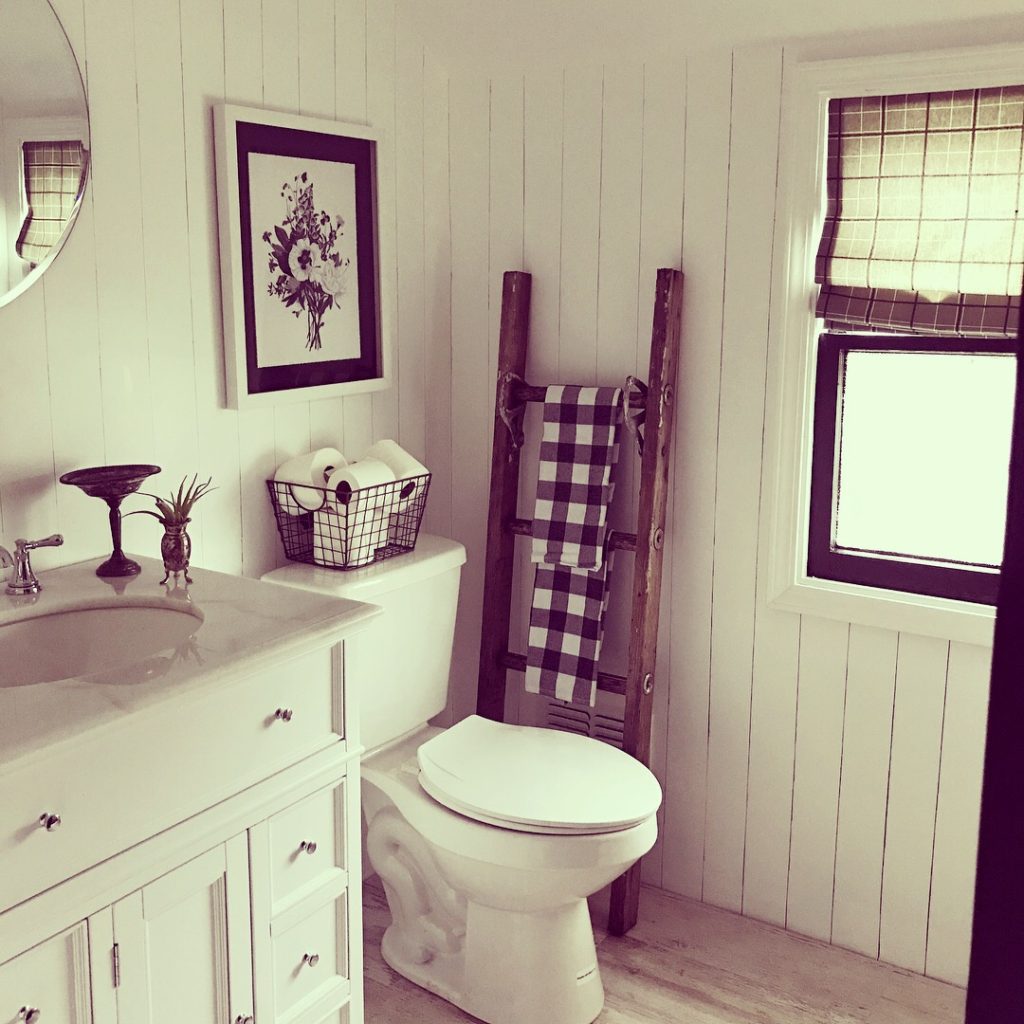 Pat installed the baseboard after I left but the sink is Home Depot with marble top and lots of storage, the vintage ladder from Motor City Antiques functions as a towel bar, artwork Homegoods, wire basket Meijer, buffalo check towels PB outlet, round mirror Target and the roman shade is fully functional with $13 of plaid fabric from Joannes.
Now that we are nearing completion and doing our last minute party prep for this weekend (windows all getting washed tomorrow, new landscaping and sod going in this week ) I simply DO NOT HAVE THE WORDS. So satisfied with what we have accomplished. I love this town. I had the most charmed childhood here (which lead me to the naming of my charity "charm school") and want to give back and do everything I can to preserve and enhance all its small-town character. Add in the Lori factor, being able to honor her life in such a grand and fashionable way, while raising awareness of her condition that affects 1.5 million Americans, it is a dream come true.
Once Lori's House sells, I will be taking the time to officially launch Charm School, with its very own logo and information page found on my website. I will be in conversation with my local government in Flat Rock on how to promote it and make available to all residents interested in beautifying their home's exterior and improving the curb appeal. As my friend Jilly from the South said to me once while visiting Flat Rock…"you've gotta save all these homes, they are like little jewel boxes waiting to be discovered!" Lori's house was a beautiful and extremely special start! See you all Friday!!!!
Loads of love and hugs,
Jenny from the charming rock.
SaveSave
SaveSaveSaveSave
SaveSave
SaveSave
SaveSave