Hello friends and family! Can you believe turkey time is on the horizon? Lordy! A LOT has happened since we last spoke and I wanted to fill you in before the wild holiday rumpus begins. Let's start with the peaks. Lori's open house was a beautiful success! Thank you to all the friends, family, classmates of all ages, who turned out to support Lori and Lupus. We raised over a thousand dollars for her memorial scholarship and covered everyone in head to toe purple Lupus awareness for the Homecoming football game – we are on our way with scholarship opportunities to last a lifetime!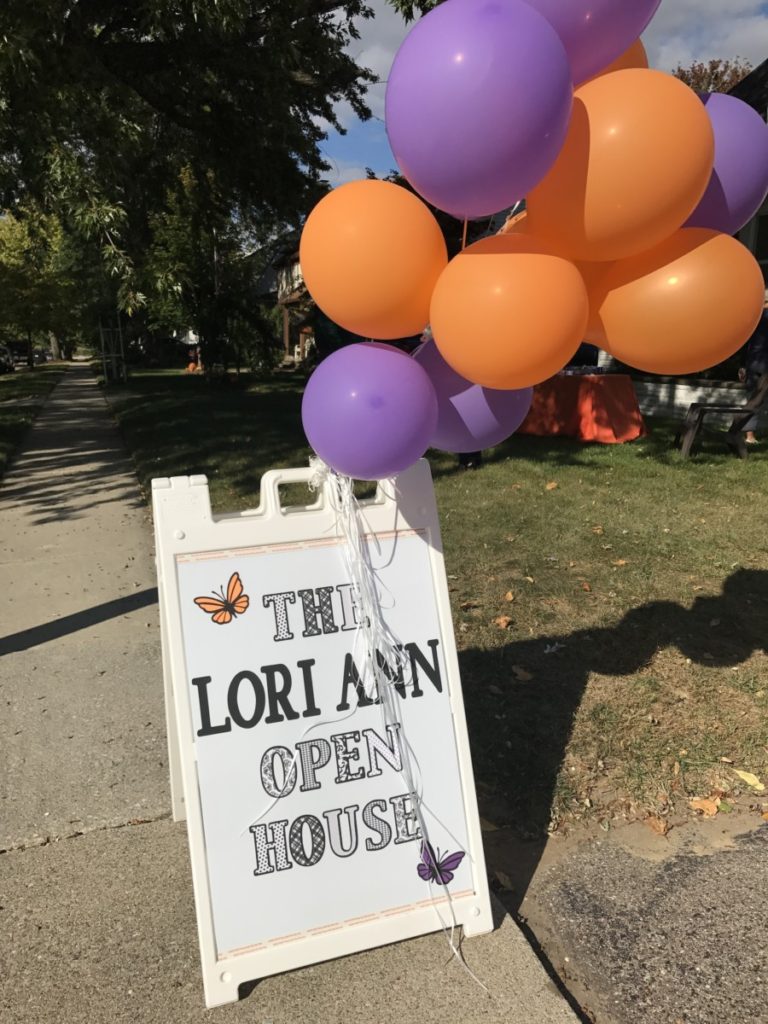 It was a gorgeous Michigan day! So many fun pictures, laughs and great memories.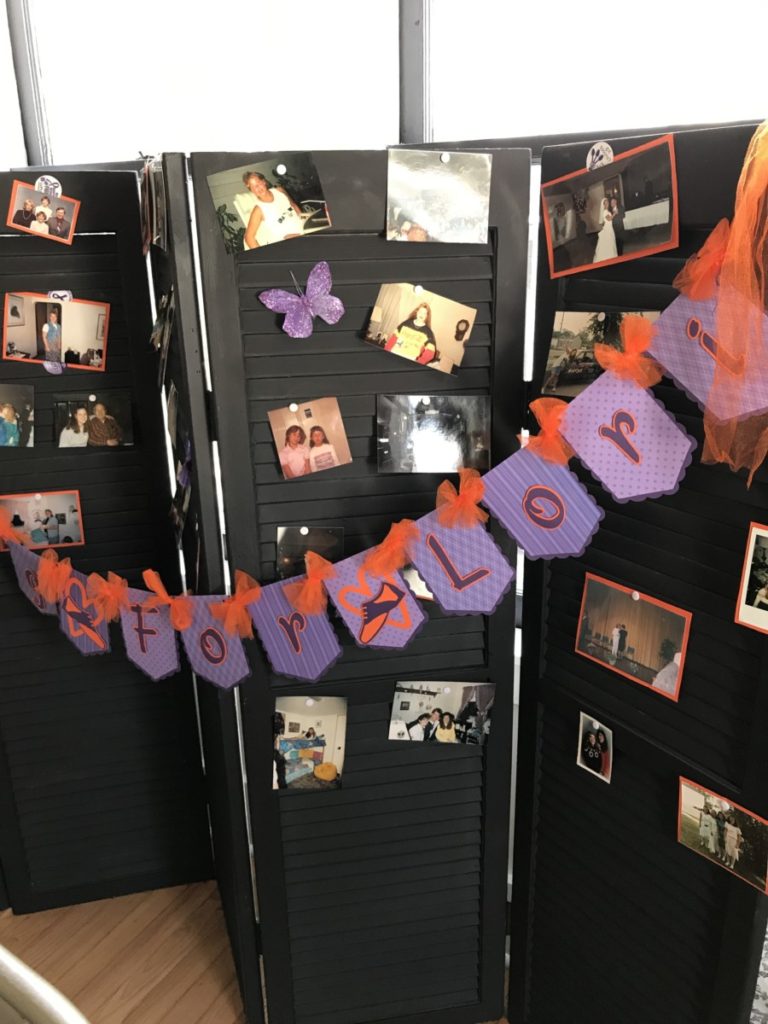 There was much to celebrate that night, including little Celia making the homecoming court!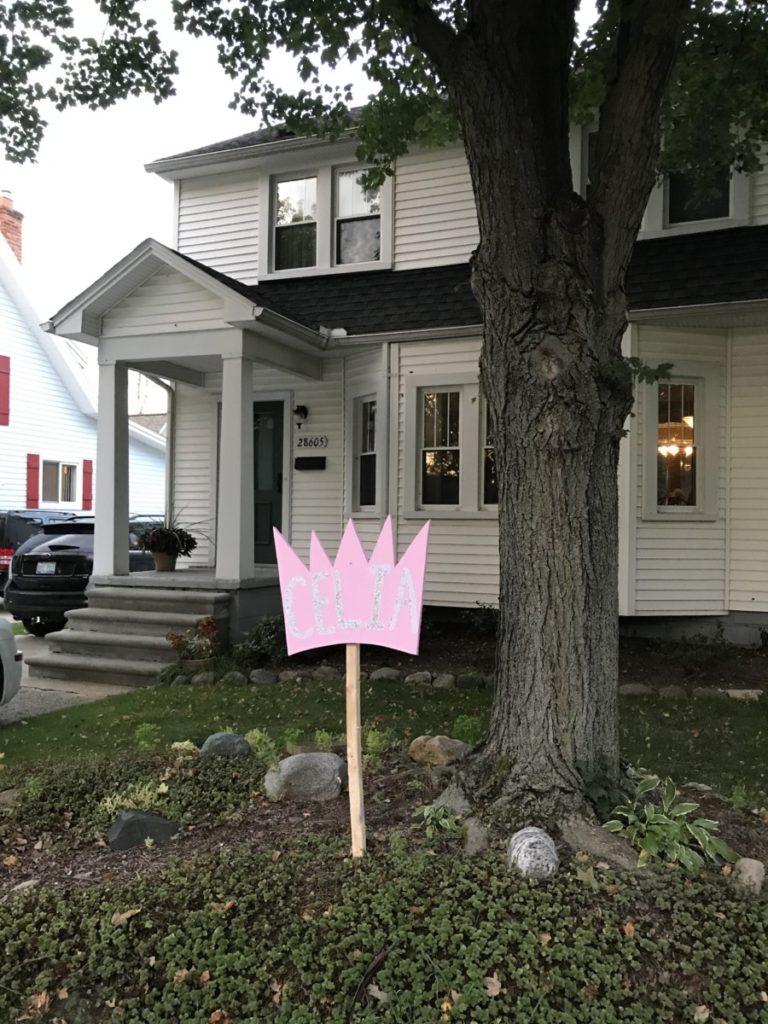 She is the grand-daughter to Florence, one of Mom and Dad's very best friends. The Brule's have lived across the street from us our entire life and she is like a second Mother to all of us, including Dad. She's French Canadian and one of the most full-of-life special people you will ever know! Such a blessing to our family and everyone she meets. Bon jour!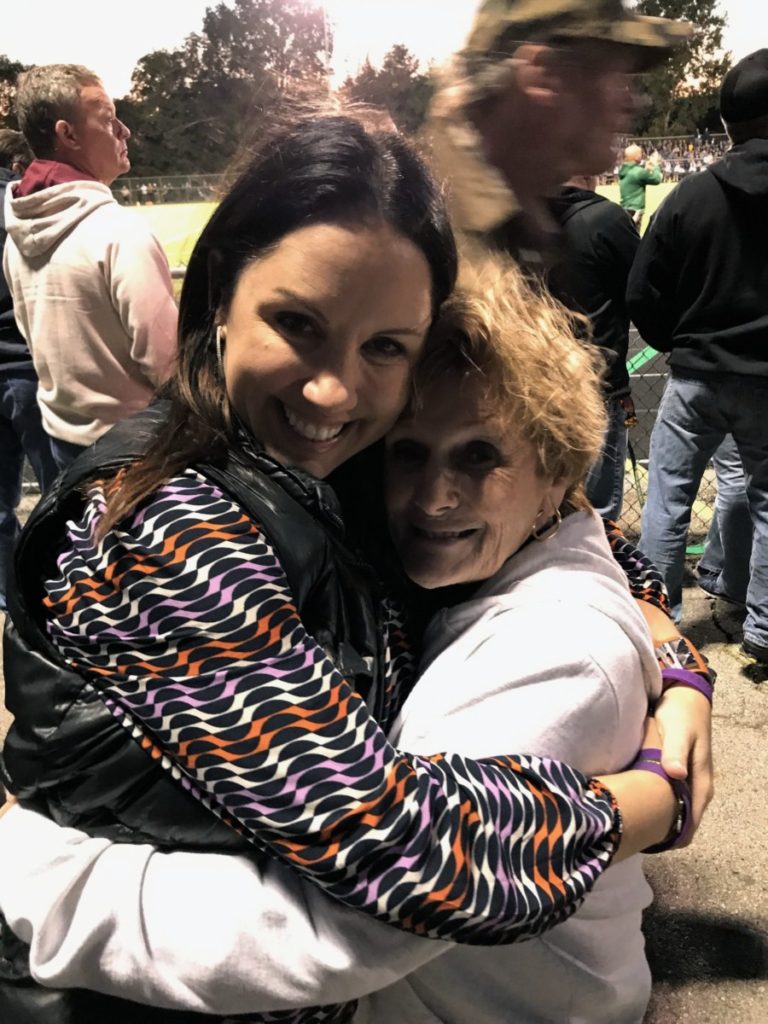 We broke from the open house for a few to catch the half time coronation excitement! And like everything in Flat Rock, we walked.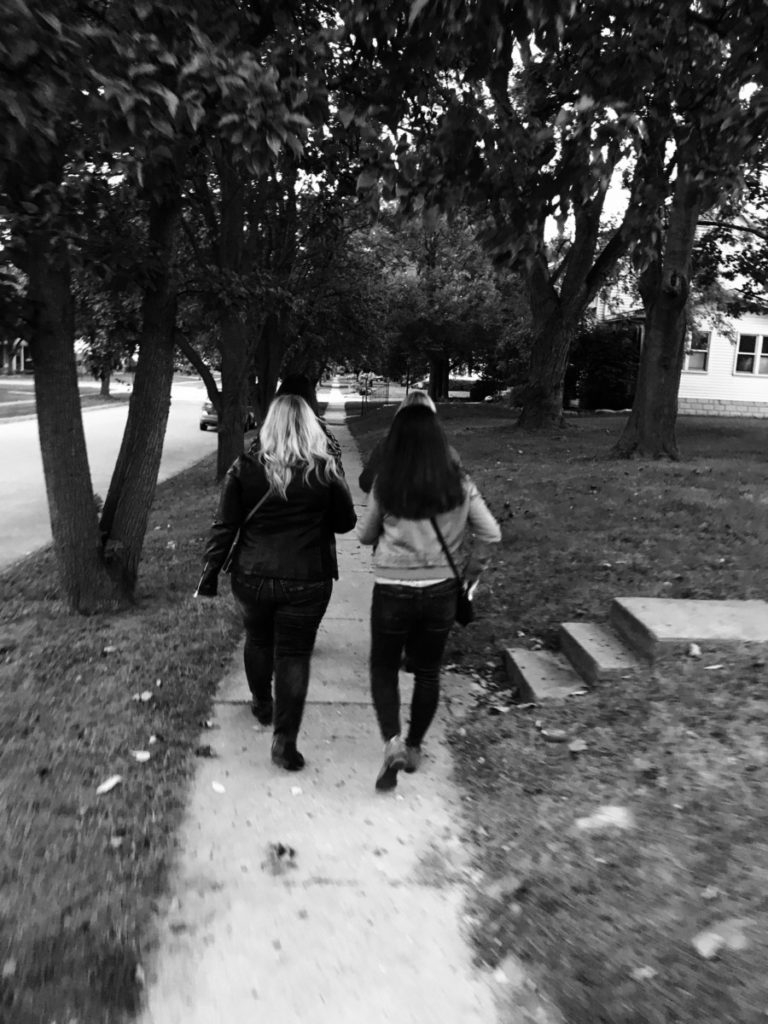 It was a packed house, many class reunions going on and woo hoo we won! This year's football team would go on to the playoffs for the first time since my senior year, and in a small town like Flat Rock, that's a really big deal. Check out this wonderful video Fox Sports Detroit put together about the team called "Earning the letter" here #warh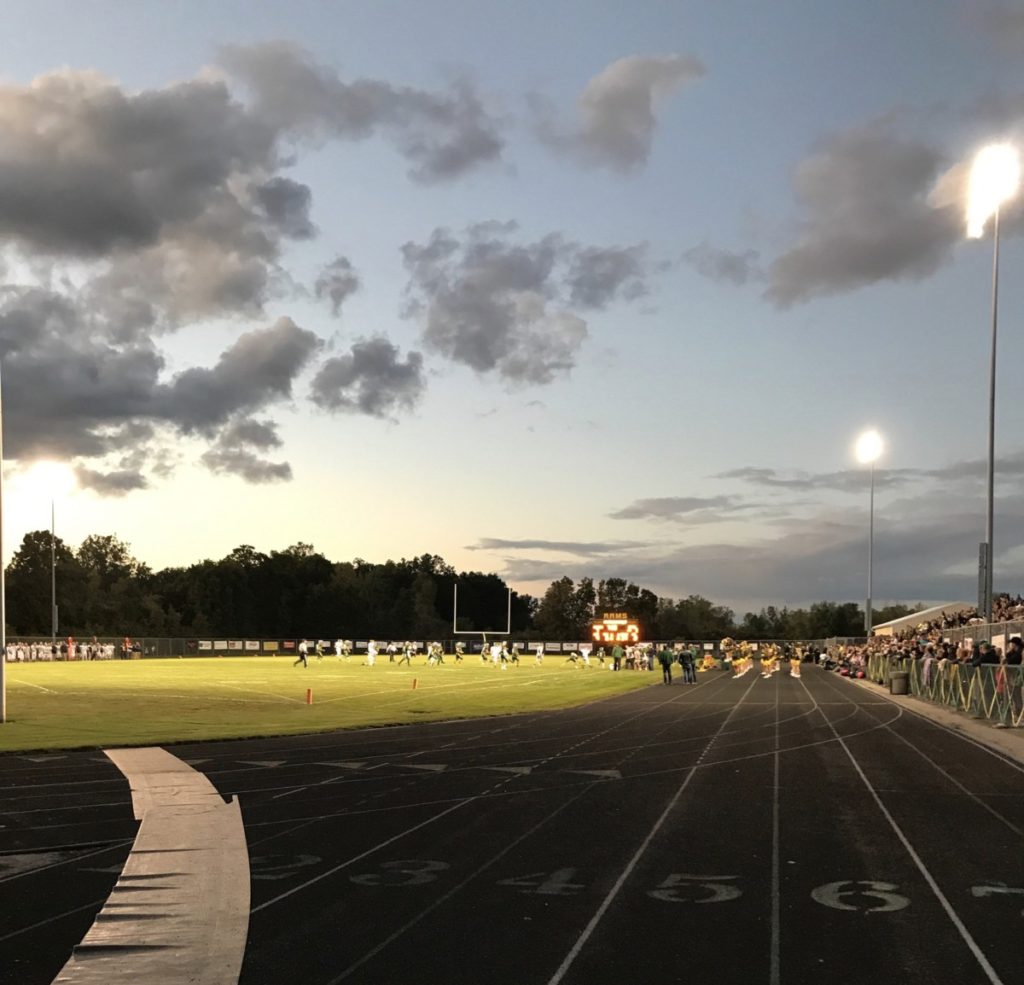 We capped off the night with a backyard bonfire and lots of toasts to Lor!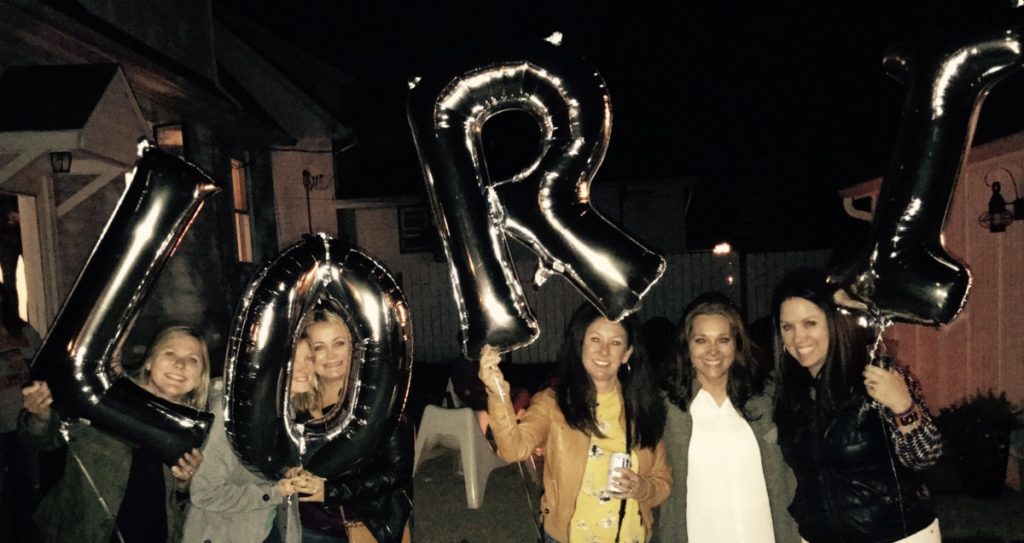 While I was home, I tried to capture a few new angles at Lori's House you may not have seen yet…
Like my IKEA tablecloth drapes I was so proud of below ;-))) All throughout the house we hung Lori's varsity jacket, track uniform, our yearbook, tons of old school stuff. It was simply AWESOME to honor our friend's life in such a special way. Dream it. Do it.
While I was home, a wonderful photographer took some really beautiful professionals for the portfolio HERE and the home is now listed for sale HERE.
With Lori's house on the front end weekend and the Michigan/Michigan State game with my family on the other end, hubby suggested I stay in the Rock in between and spend time with Dad. BEST IDEA EVER. After Lori's house party, we headed to East Lansing for the State vs Iowa game and yay we won! Another record book beautiful day and my brother and sister-in-law threw a great tailgate.
Mike hiked it back to the ATL Sunday and Dad and I had a home cooked meal with Florence, she made her famous Pepper Steak. Later that week I invited her to come with me for a night to Port Austin, to check on the cottage progress and see the sights! Dad wasn't feeling so hot, so he stayed back. "You girls have fun!"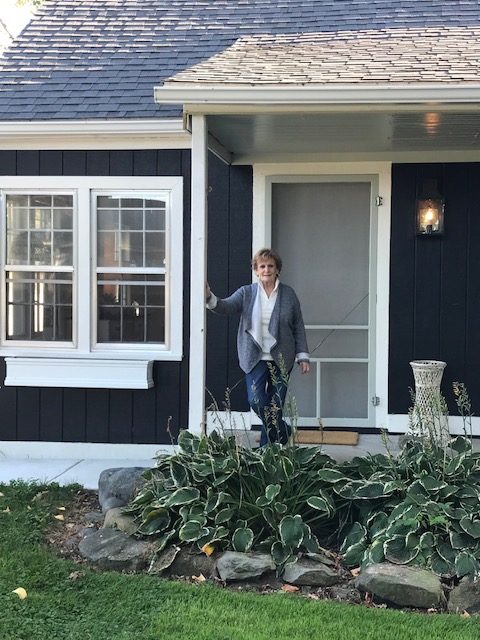 Since we last spoke, we painted the entire exterior black with white trim and this was my first time seeing it live.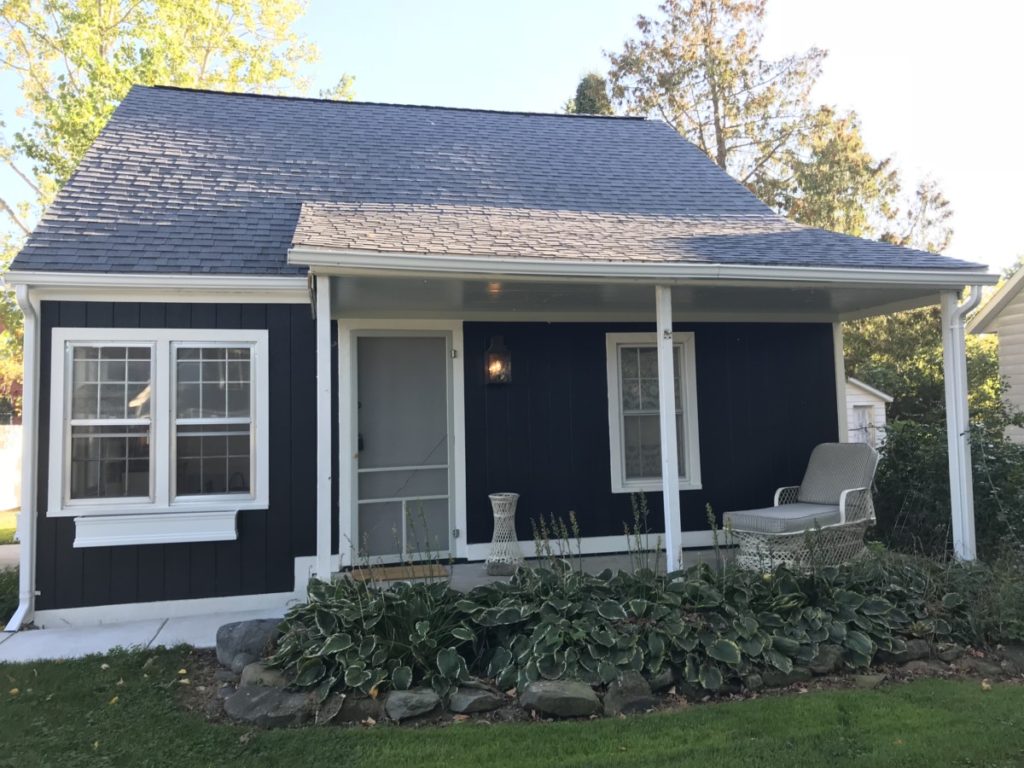 It's coming along. Next up are some board and batten shutters, thicker porch columns and some house numbers, might be nice. ;-))) Still simmering what to do with the front door. Love the slamming screen door, but the main door is nothing to write home about. May have to repeat that little trick from the doors at the beach condo, where we ran 1 x 2 trim in a boxed x pattern to give it some interest. A Dutch door would be amazing.
Inside, we moved some furniture around and did some styling. Shocker. Here's the most recent status shot of the living room. Need to add a pair of chairs and some window treatments and this room is ready for prime time.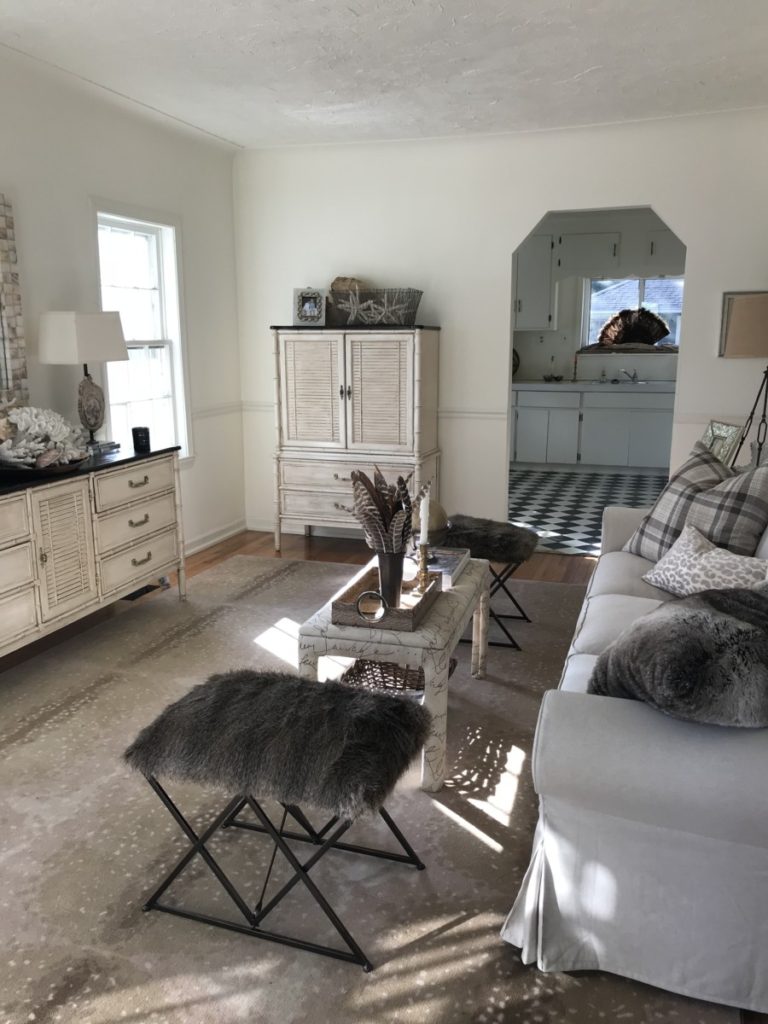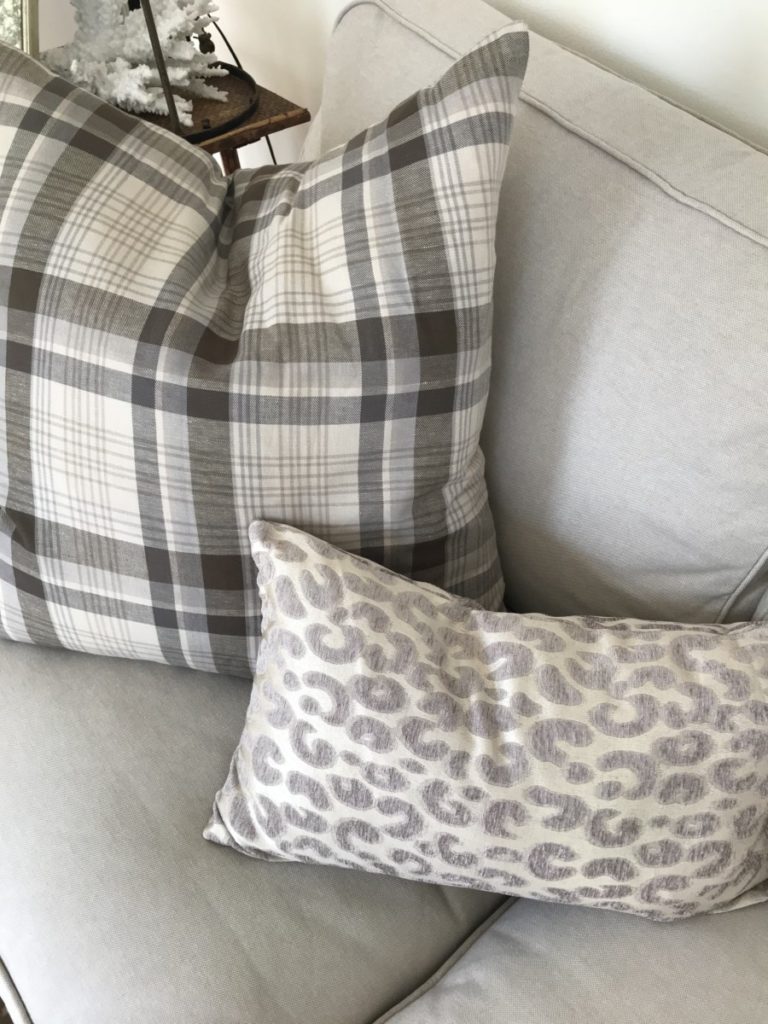 Added some boho bedding to our room from Potterybarn. Its a tight, cozy, little space so thinking a pair of pedestals/columns would make for some great side tables/nightstands and will probably move the antique dresser up from Lori's House once it sells.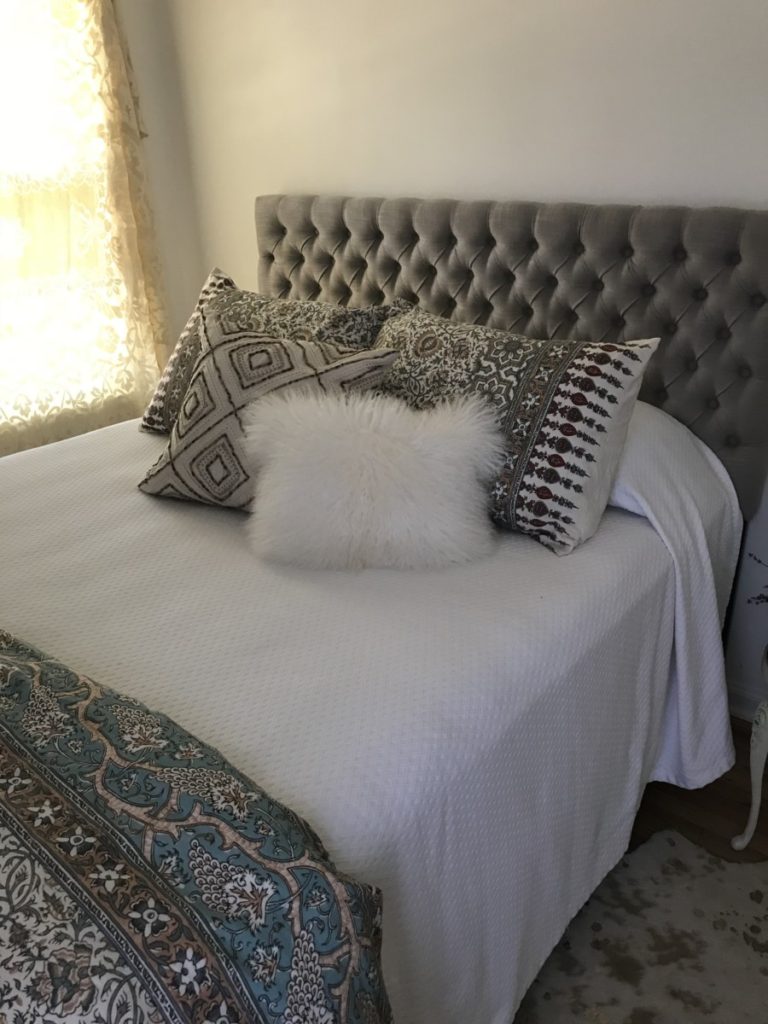 In the bathroom, my handy man painted over the yellow and white checked tile into one big black stripe that goes all around the room. We installed this antique chandelier in here and I hung some pictures from twine.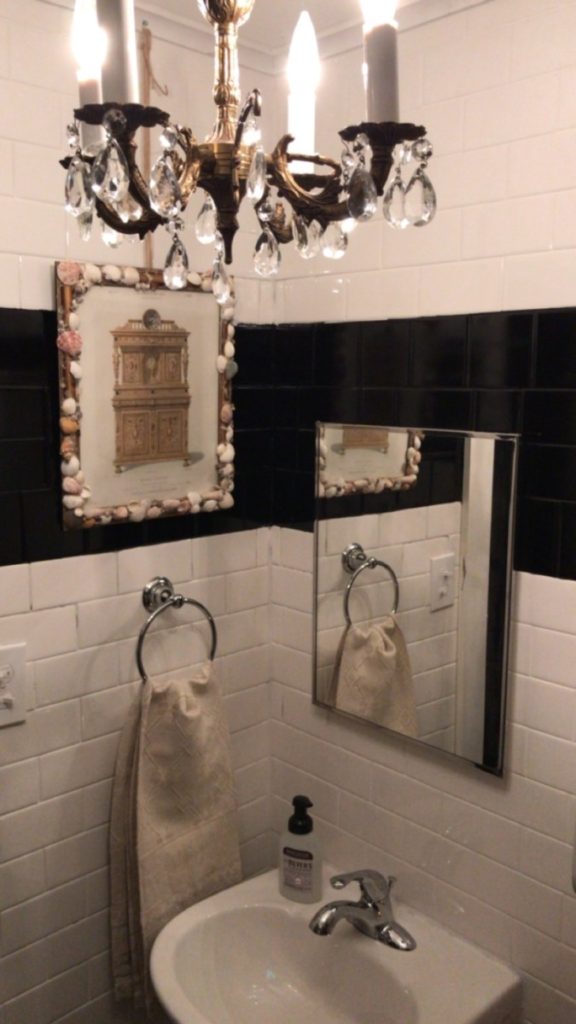 Added some floral patterned shams in Sophs and cousin Jades room, also from Potterybarn, and I've been meaning to look and see if there are coordinating sheets to make window treatments to match. Design on a dime!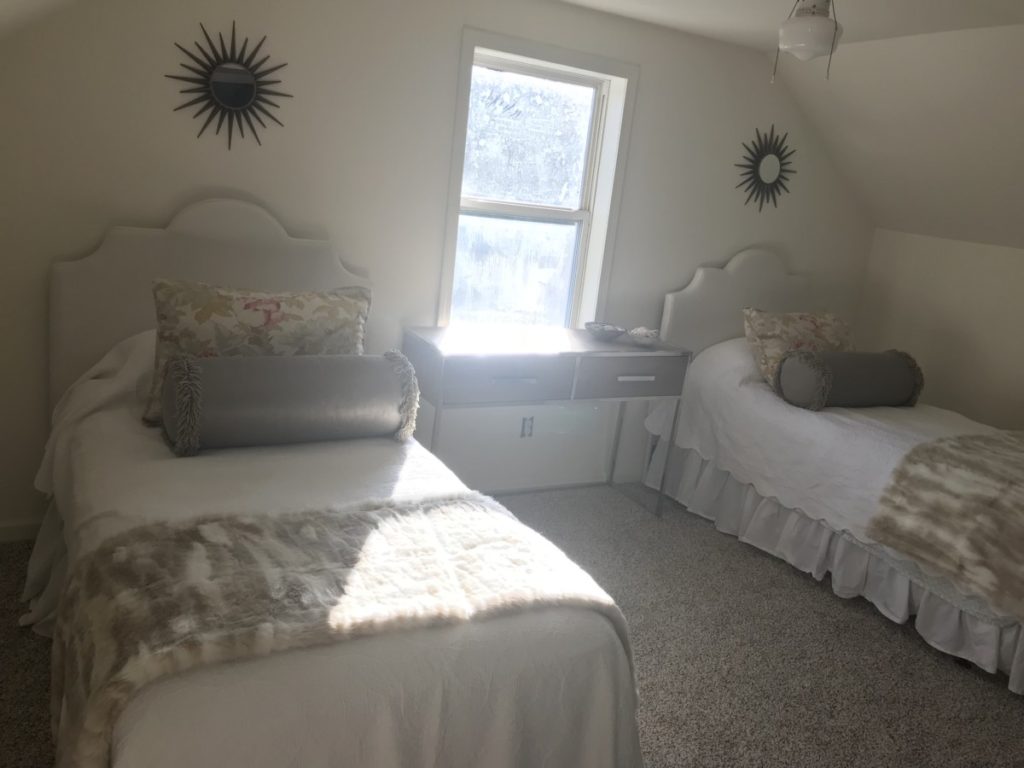 Jack's room is pretty much ready to roll. We hijacked one of the beds from his room here in the ATL, landed some Homegoods tables for nightstands, dresser was left over from his first bedroom and the bench also made the trek from Atlanta. Just need to throw up some window panels here too. It's been fun filling in the blanks with a lot of "use what you have" stuff from our old Florida condo and our home here in Atlanta.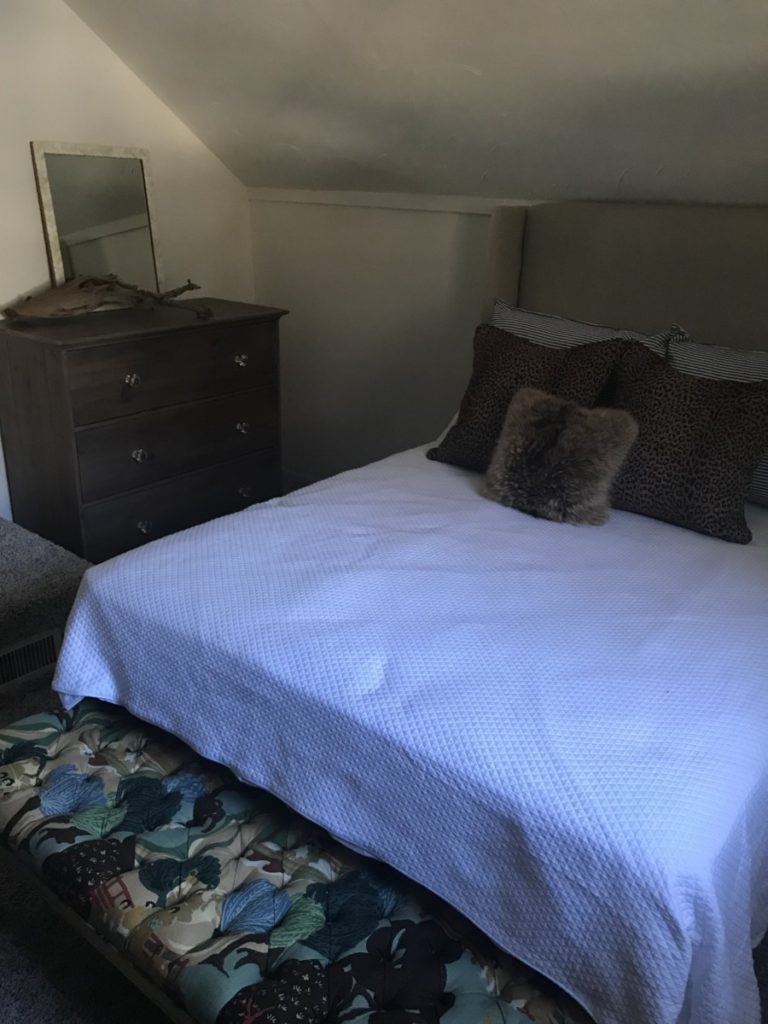 Then it was onto the second round of football weekend with the whole fam. The big Michigan vs Michigan State game. Everyone in my family, but myself, are wolverine fans (sigh). And they aren't the best losers if you know what I mean, wink, wink. Sparty got the win AGAIN and needless to say we Spartys were elated…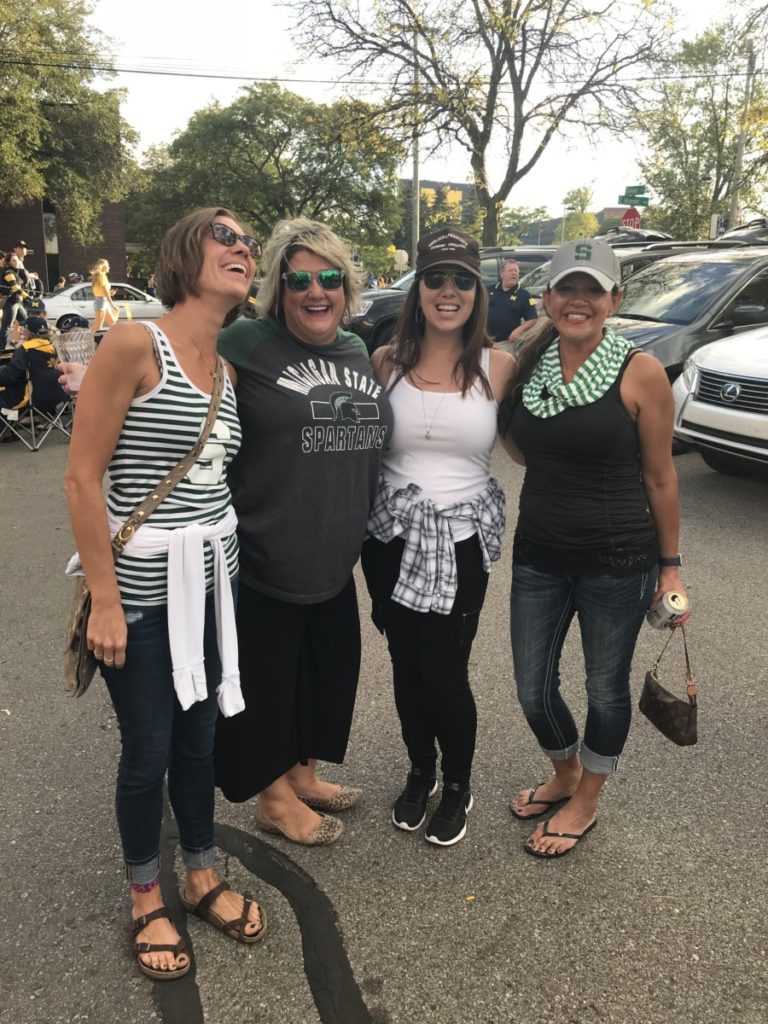 It was a wonderful week! Tons of family and old friend times. Chicken soup for the soul for sure. I didn't want to leave and caught myself crying quietly while walking back to the car after the Lions game Sunday (another football game). We would leave straight to the airport and I didn't want to go. I was wishing we could stay one more night at Dad's and fly back Monday as the kids were out of school, and of course, now I'm mad at myself for not insisting. The Lord works in strange and wonderful ways and I'm sorry to say, he was working on me that day because a week later my world fell apart. Even as I write this, I've blown my nose four times now, because I'm still so broken and in shock. Friday the 13th of October, I woke up to find out Dad had passed away from an apparent heart attack. Those of you who have been there know, there are NO WORDS to adequately explain losing your Mom or Dad.
.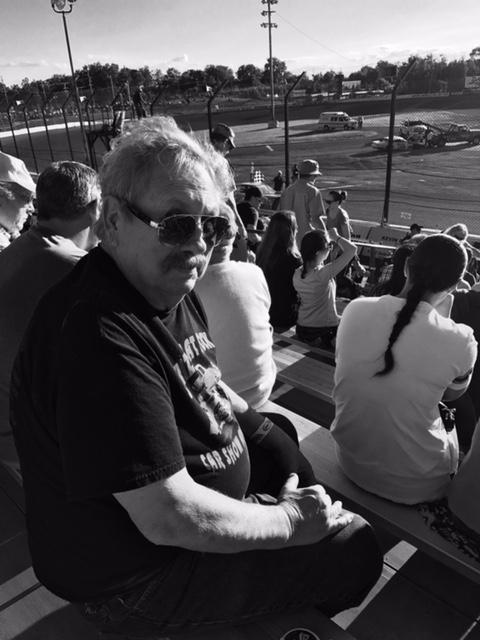 I look forward to sharing with you all how AWESOME Dad was. I've been laying in bed a lot of sleepless nights thinking about all the wonderful memories Dad has given us. The LIFE he gave us. The outpouring of love and support when you lose a parent, is something, frankly, I had forgotten about these last 20 years since Mom passed. I just want to say how incredibly grateful I am for all your notes, calls, cards, food, flowers, texts, all of it! I may not have been able to respond to every one of them, but I read every one of them and they all help in making me feel better, less alone and more loved than I ever realized. Death changes you and I am forever changed. I'm re-prioritizing my life daily (LESS WORK – MORE FAMILY). If you are second-guessing holiday travel to be with family, I encourage you to go! SPEND THE MONEY (you can't take it with you). I implore you to pick up the phone and call loved ones! Coulda, shoulda, woulda, all the things you hear from heartbreak. Its all true! So don't let it happen to you. When you say goodbye, say it with an I LOVE YOU and hold on tight! Those hang-ups, grudges, annoyances, none of it matters. I'm so broken right now, yet resolved to be a better PRESENT person. Put the fricken phone down and engage in lively conversation. Plan those lunches. Plan those date nights. Play games and puzzles with your kids. Insist. So many things I wanna do so I'm off to go be a better wife, mother, sister, aunt, friend and neighbor! I hate to share such awful news with you but I hope it serves as a friend-to-friend reminder that life is short – buy the shoes.
I'm looking forward to sharing the projects and wonderful clients I've been working on all year with you next (oh yeah, that day job of mine) as well as my own home updates. Lots of projects went down here these last few months in anticipation of the photo shoot coming out THIS week with Atlanta Magazine Home. I'm beside myself with gratitude from AMH and God for the timing of this magazine feature. I had given Dad a head's up that it was coming out and he and Mom must have been working angel overtime because I got the COVER! Can you stand it?! We'll hash that out later too!
peace and love,
Jen
SaveSave
SaveSave
SaveSave
SaveSave
SaveSave
SaveSave
SaveSave
SaveSave
SaveSave
SaveSave