Hey there friends!!! Remember me??? Geez I thought this day would never come. Apple updated their photo app awhile back and this dinosaur couldn't compute, ha, and drop and drag my photos into WordPress. Luckily its been fixed because we have a lot to talk about!
I'm going to save our New Orleans trip from February (my last attempt at blogging) for its own post and jump right into a recent trip haul back to Michigan. Very exciting news! While at High Point with my designer loves I was invited to participate in the Detroit Junior League Show House at the historic Fisher Mansion! Cartwheels! You all know how much I love Detroit and to be a part of all the great goodness that is going on, wow what a dream come true! Talk about being in the right place at the right time (and for good friends who recommended me!!!). You can read all about it here and purchase tickets to the tour!
The home is surreal…to think of days of basement ballrooms, pubs, a vault the size of a small bank and architectural details galore!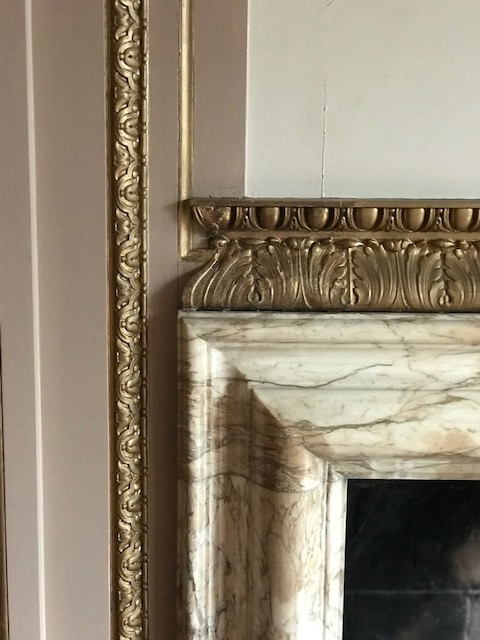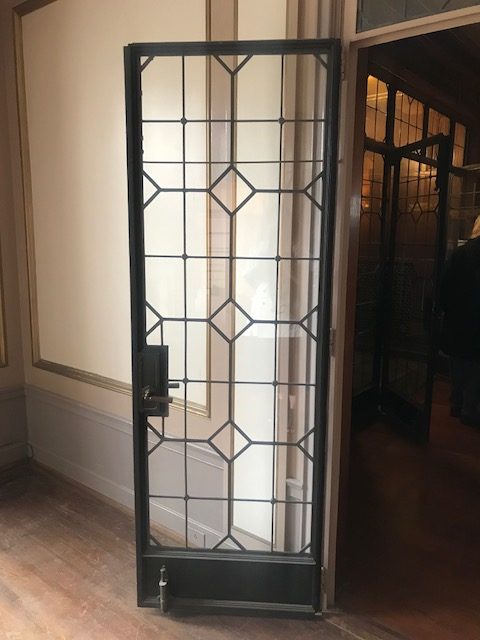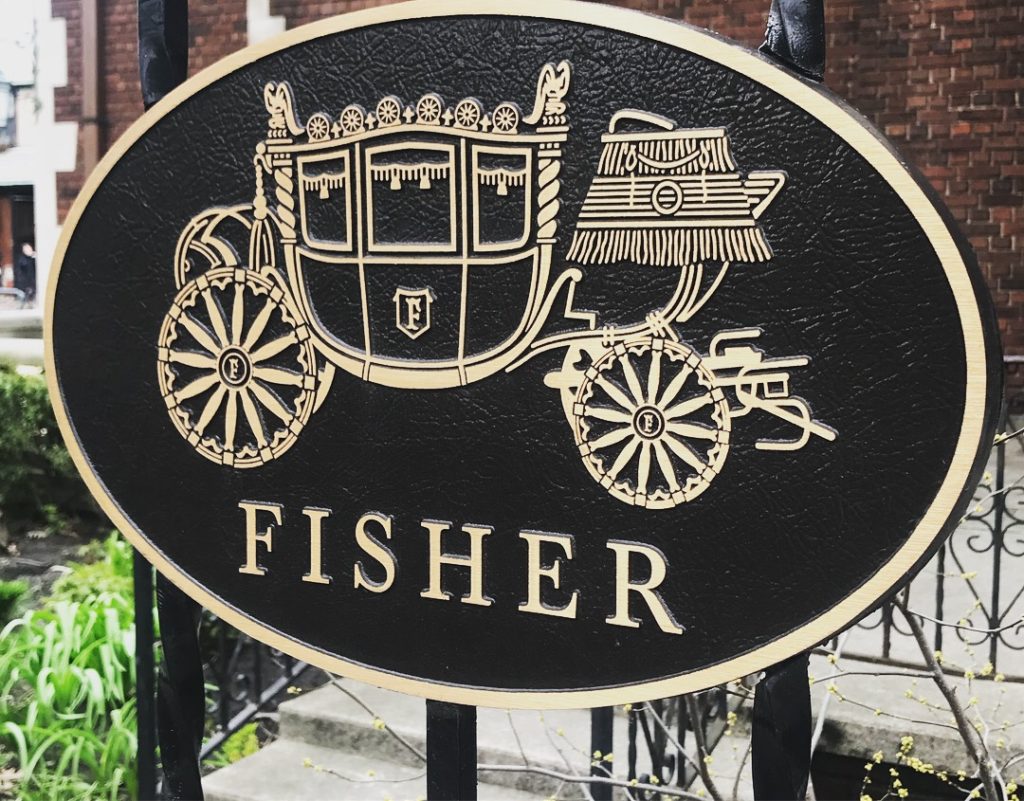 I'll be designing a small bedroom on the second floor, the nanny's bedroom…here is the official before, before, before ;-))!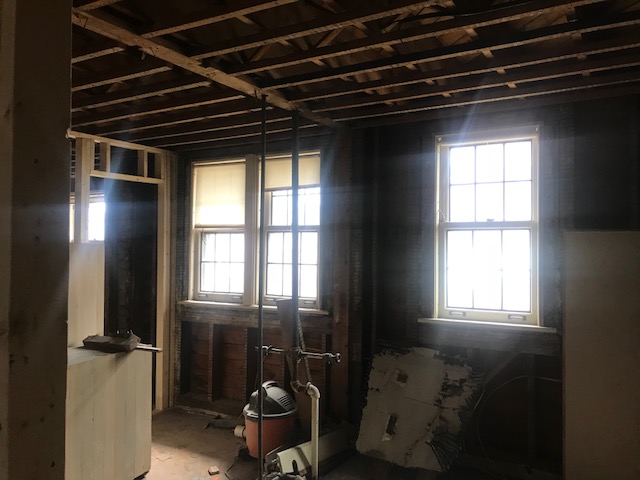 I had already planned on trucking it home to help big Sis chip away at cleaning dad's house :-(((( And since our Summers, as we've known them, are no longer going to be the same with Dad's passing, we decided to put our Port Austin cottage on the market. And while coming all this way, I may as well spend a few days at Torch Lake, styling and profiling in preparation for the Summer season. It was a well-traveled week! And who better to be up for the task than Florence! Thelma and Louise!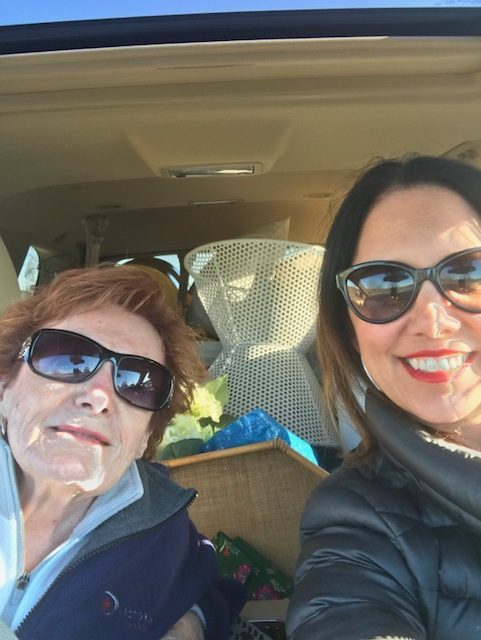 First we rolled into Port Austin to finish staging it for sale. Here is a link to the home in Port Austin, its a find! Three blocks from a great lake and the cutest main street, farmer's market, cafes, shops, neighbors, you name it! We are bummed but have to think realistically how much time can we spend in all three places now that Dad is gone (ugh so much change with losing your last parent you all :-(((( its really hard on a family. I pray for all of you that will endure or have endured it).
However one thing that is not changing, is my home town charity Charm School! I am already working on our next project for this Summer and visited with Mr Jabe while I was home too! Take a peek at his house, our BEFORE, just down the street from Dad's and Lori's House!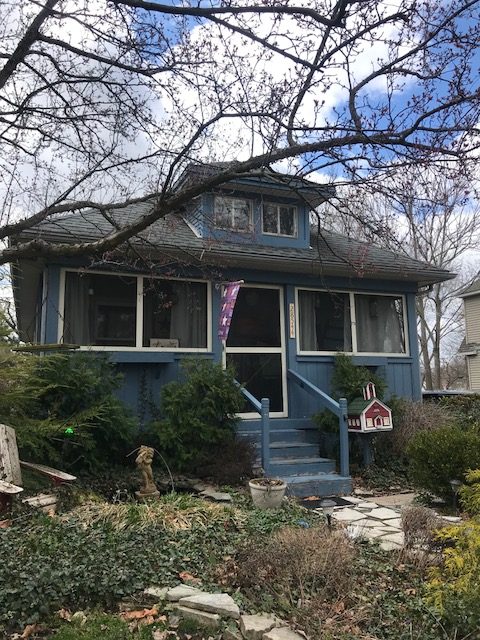 Mr. Jabe is ALL IN on completely renovating the front elevation! Woo hoo! You can follow along on all the charming details here on his Pinterest page. It's going to be super cute with all new white trim, new accent windows, new porch and stairs, lighting, shutters, window boxes and picket fences – oh my! I wish I could spend all my time doing stuff like this.
So that was another big check off the list and then it was off to Torch, where Florence and I worked very hard and she witnessed all the WORK that goes into days of installs! Just to give you a little taste, here is the link to the before photos VRBO listing HERE. It was time to update and breath some new life into Torch!
Here's a shot of the main room. We added a sectional and I found these great marble table tops to put on the vintage table bases my late Mother-in-law Jan found at Pooter Olooms antique store in Harbor Springs. I've been a big fan of these tables and finally got around to giving them their due.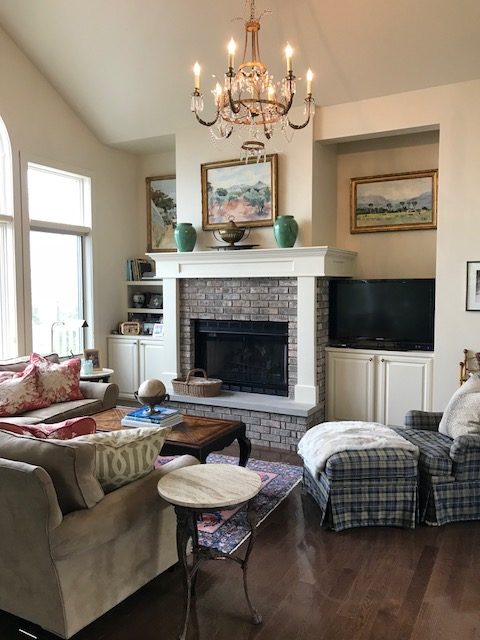 I moved the Ralph Lauren plaid chair and matching ottoman to face the VIEW and for better flow and conversation ;-)) and cozied it all up with new Kelly Wearstler "Imperial Trellis" pillows, fur throws and an antelope pillow that pairs great with plaid.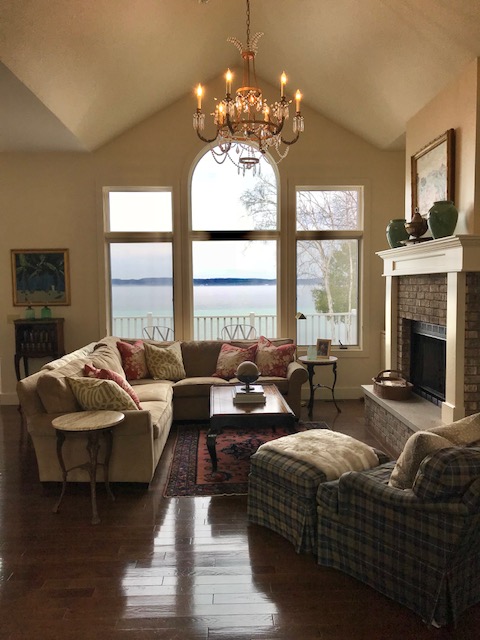 Would love to layer in another rug under that great antique Jan had. For those of you that don't know, my MIL was also an interior designer, had exceptional taste, and picked out this gorgeous Niermann Weeks chandelier and installed the beautiful artwork over the fireplace. This was her dream, to build this house and she saw it come to fruition but Alzheimers took her from us shortly after. :-(((( Jack and Sophia have never really had living Grandmothers on either side. Jack remembers a little bit from pictures and Sophia was just a baby when she passed. I know what you are thinking…I can't imagine life without my Grandma?! ME TOO! Luckily they have many surrogates like G-ma and Grandma Rose, our neighbors here in Georgia.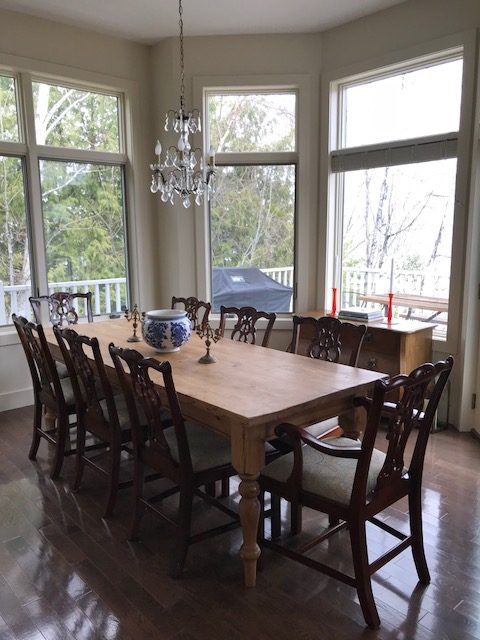 We added a big pine farmhouse table and mix it with the Chippendale chairs Jan originally picked to go with her much fancier dining table, before 8 grandkids grew to be adult size ;-))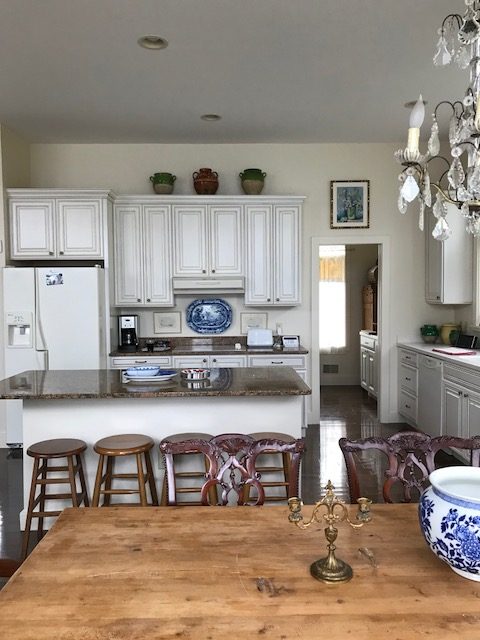 In the master bedroom I took one of her old Brunschwig & Fils memo samples (look at how big they made them back then?!) and had this huge accent pillow made and added some fun and whimsical pink lamps and pottery.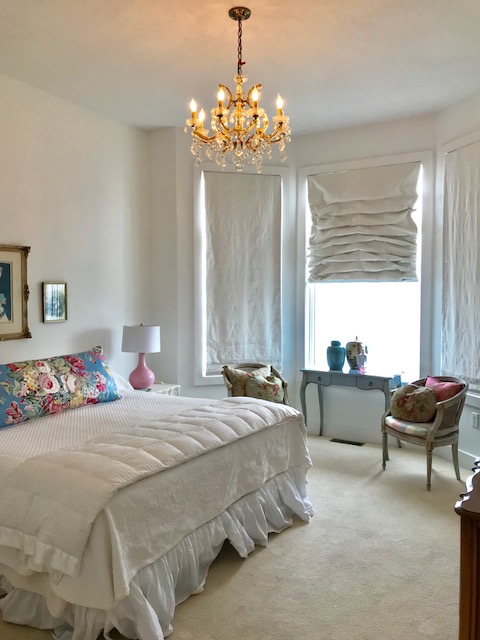 That blue writing desk they bought from Ballards backroom when they drove down for Jack's birth and the chandelier came from the Queen of Hearts in Alpharetta! I'd like to layer in some euro pillows and a duvet cover this Summer, but she's looking pretty in her new pink and floral accents I think?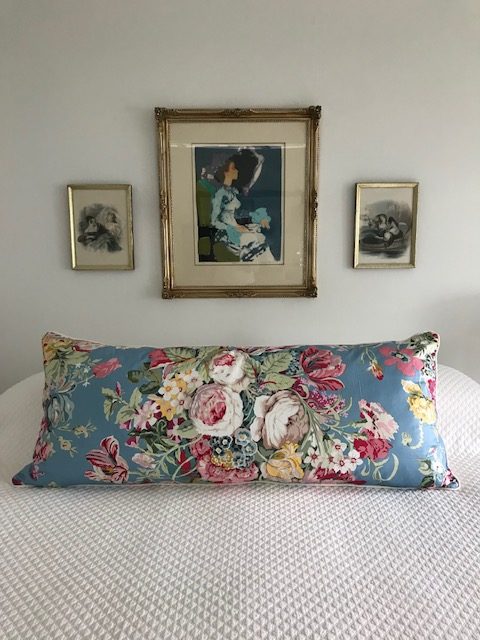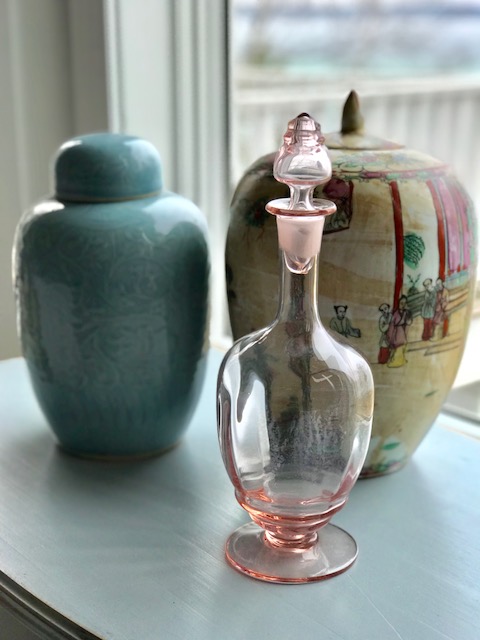 The lower level consists of two bedrooms, a bunk room and two full baths. Let's start with the blue room, and again some great, I believe, Brunschwig & Fils fabric from the 90s. Jan had a great work room! I love how big she made her self-corded welts on her pillows and some old school corded trim #designerdetails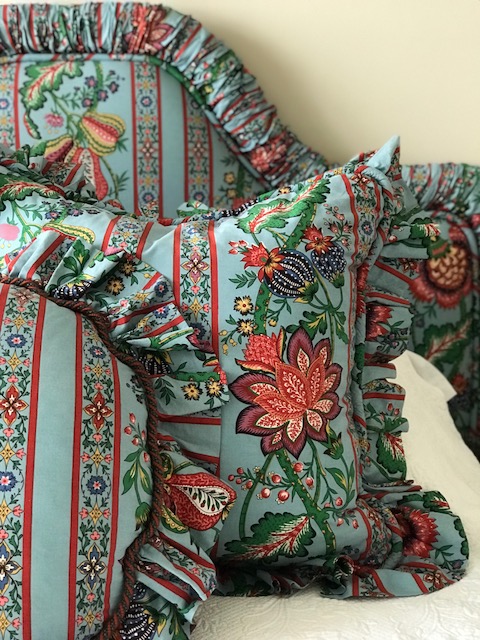 This antique Heywood Wakefield wicker chair is another one of my favorite things!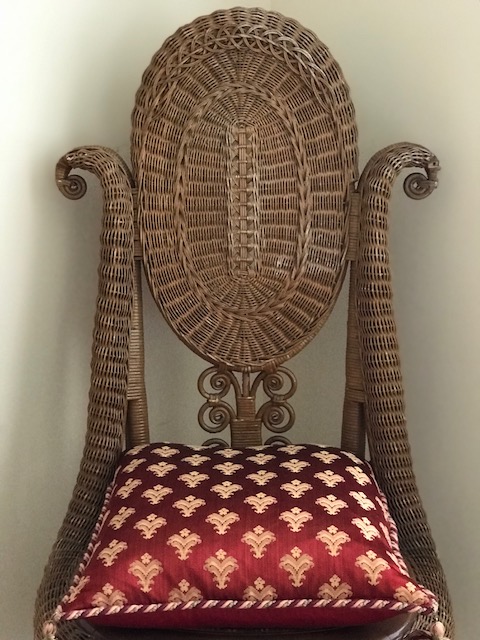 Shame on me for not getting a better picture of this whole starburst, blue and white chinoiserie vignette on the dresser in here. Next time.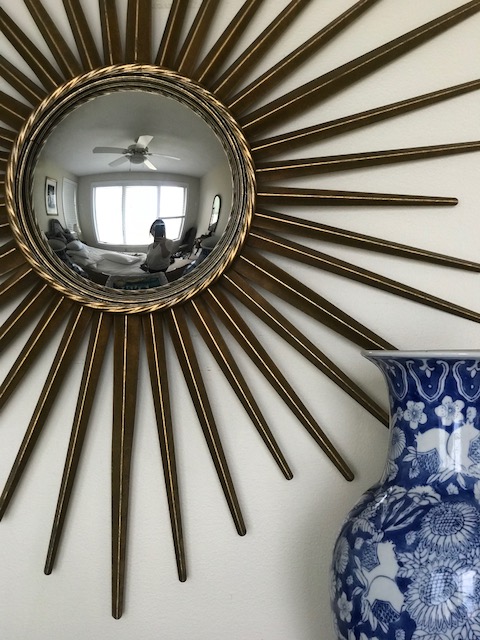 I like for the bathroom to somewhat match with the nearest bedroom, so I moved this amazing vintage poster of the famous French public pool La Piscine into the bathroom and used it as a springboard to bring in monogrammed red and blue T towels for Torch and more colorful artwork. All monogramming by Red Door Gift here in Cumming.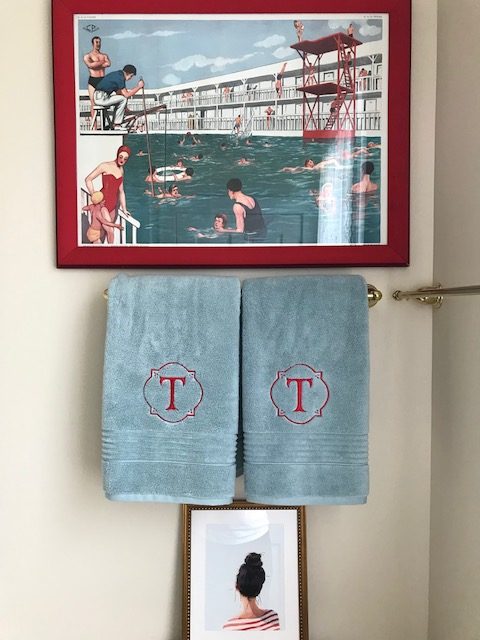 Also made sure every bathroom is stocked with glass apothecary necessities for renters and family alike. No more hunting through four different bathroom's drawers to find some q-tips ;-))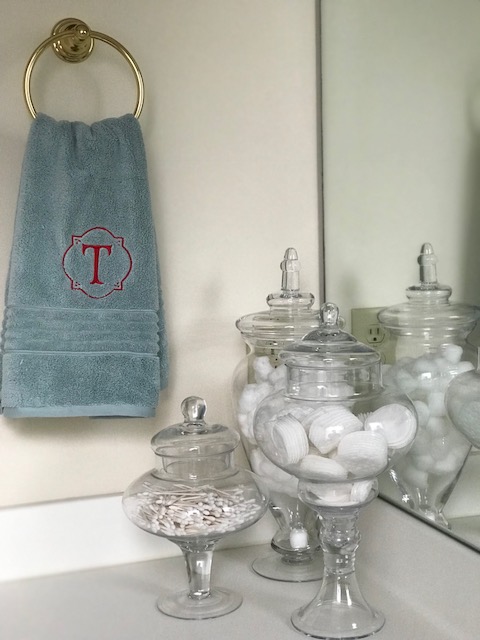 The biggest overhaul was the middle bunk room. It was originally intended to be a sitting room, with its grand view of the lake when you walk in the front door. However its hard to find beds for eight grandkids! So until the bonus room is finished, the cousin cave it is!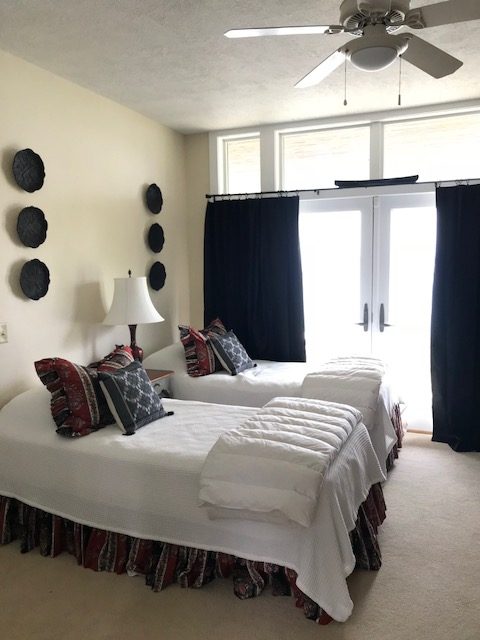 The matching twin beds shams and skirts were made back in the old cottage and I took it from here to mix in some pillows from Santa Fe, buffalo checks and plaids. I spray painted some old cabbage plates black to establish a focal point above the beds and added black draperies.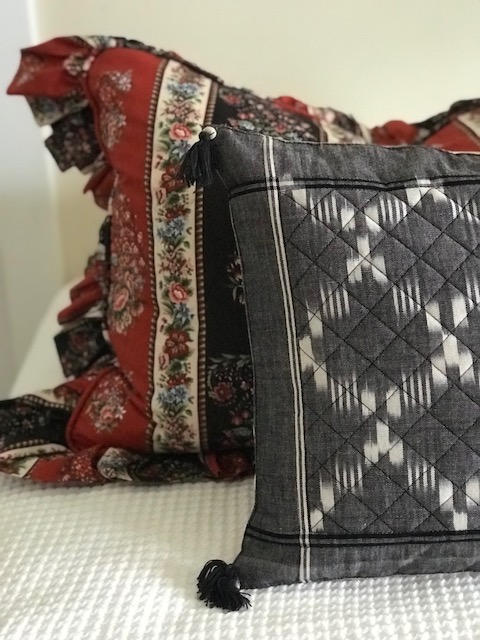 New fur stools make is SO much easier to make the beds (and to get in and out of them).
The hand-drawn vintage fish lithograph prints are from Rare Old Prints in Royal Oak and were a gift from my MIL.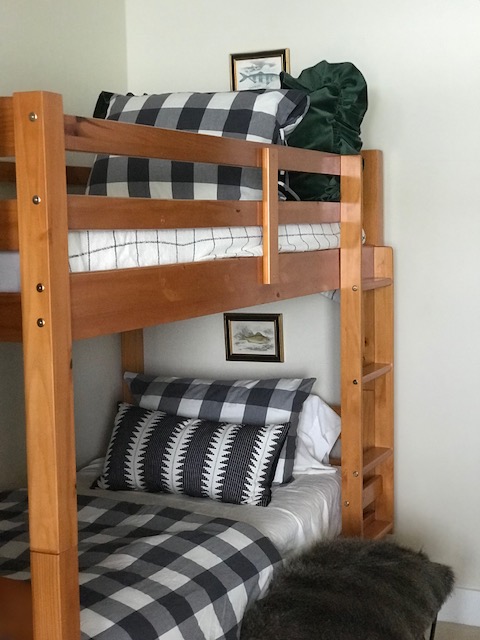 All of the bedding you see here on the bunks is from Target and IKEA.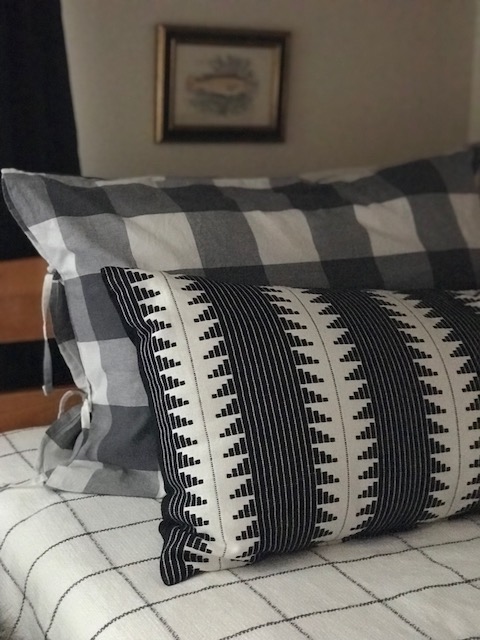 The last bedroom on this floor is the "yellow" bedroom – a floral Ralph Lauren comforter and shams Jan bought years ago. What comes around goes around, all this great floral is back in style! We just hipped it up a bit with a lavender accent pillow with Scalamandre greek key trim and relocated this painting of a home in Bayview (a beautiful historic neighborhood in Petoskey -notice the Spartan flag woo hoo) to round out the vision.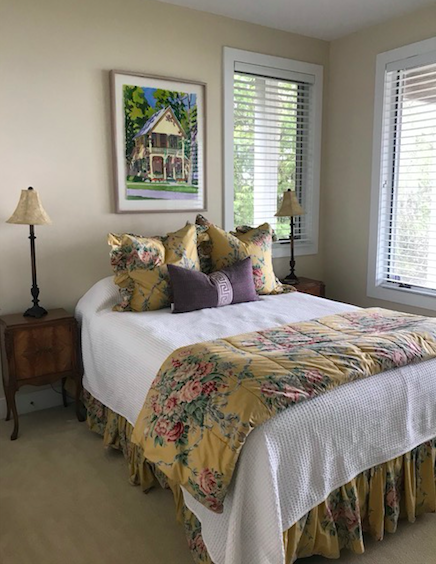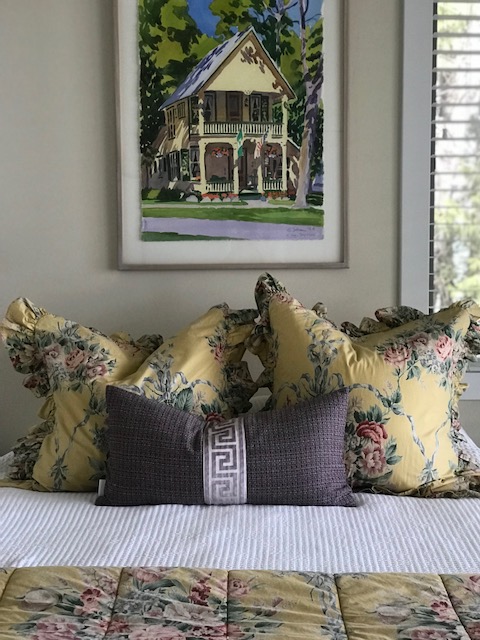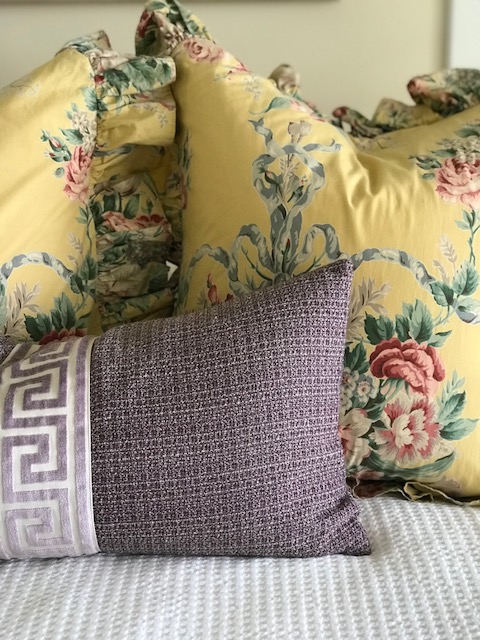 My sister-in-law and I are on a mission to make the outdoor furniture along the shore, around the fire pit and on the dock mix and match vs the random hodge podge of folding chairs in the past. I repurposed all the Ikea stackable (and lightweight) chairs from Lori's House and am loving the modern mix with the traditional architectural lines of the cottage.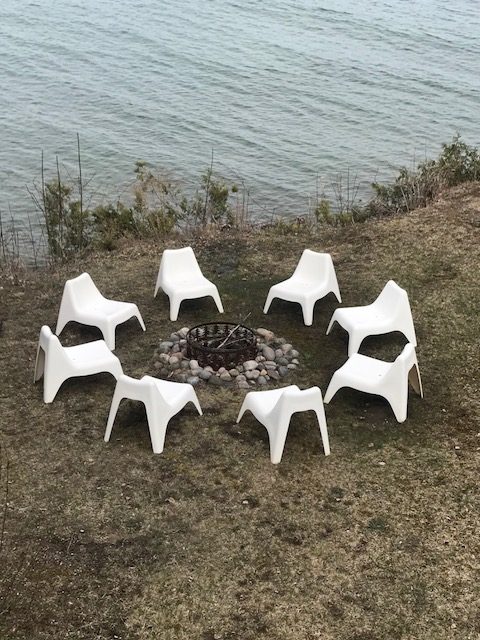 Thelma ;-)) insisted on a photo shoot to share. In her lovely French accent and broken English, "I want to brag to all my friends that I was HERE in such a beeeeautiful place!"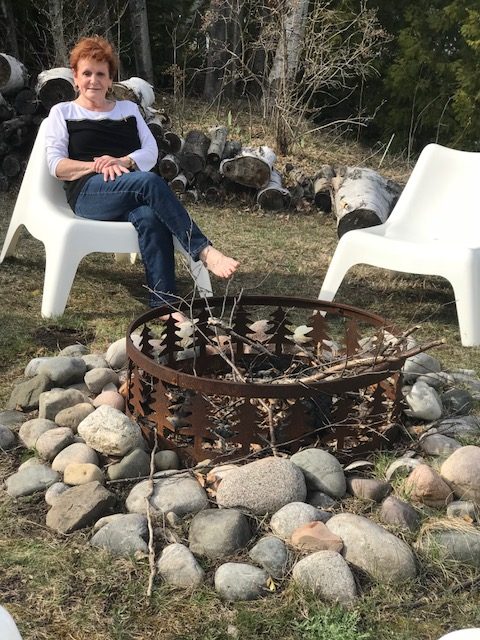 And that is truly the best part of having a home on the water, being able to share it with those you LOVE. Thanks for allowing me to share it with you today friends! Happy Summertime and I hope you are having a wonderful weekend!!! As always thanks for coming by the Road. Grateful we got to catch up and I am doing my best to make time for the things that make me most happy, like writing this blog, so hopefully I'll be back real soon with some home, client and show house updates. Until then CHEERS to crystal blue waters and sunny days at last !!!